Boston High School:

Sarah McGowan
November, 18, 2012
11/18/12
12:46
AM ET
NORTHBOROUGH, Mass. – The plan for Melrose volleyball's designs on Saturday's Division 2 state championship match began immediately after last year's title game.
"Last year, after the match ended, we all look at each other and we knew that we didn't finish," Red Raiders senior Sarah McGowan said. "We didn't go out there and give it a 100 percent. So learning from that, we knew this was the last game of the season, the last game of my career, so I really wanted to come and win this last one."
In last year's final match, Melrose dropped a heartbreaker to Marlborough. Immediately following that ordeal, the Red Raiders planned on returning to Algonquin Regional and carried through that goal on Saturday.
[+] Enlarge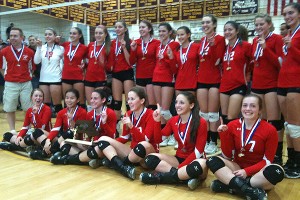 Scott Barboza/ESPNBoston.comMelrose claimed its first volleyball title with a 3-1 victory over Longmeadow.
However, this time the result was different and Melrose claimed its first volleyball title with a 3-1 victory over Longmeadow – 25-17, 24-26, 25-19, 25-10.
"Every year, this is our ultimate goal," Melrose head coach Scott Celli said. "But we've never done it before, I'm just so proud. This is definitely the highlight of it all. This is one of my favorite teams that I've ever had. They've had one goal all year and that was to win this game."
The Red Raiders came out in a furry, breezing through the first game; the second was another matter.
Longmeadow saw senior hitters Jennifer Hurwitz (7 kills) and Amanda Tyler (11 kills) begin to take control in the second. Hurwitz capped the Lancers' 26-24 win with two straight kills.
In Game Three, Melrose returned to its aggressive style.
"That style of play, they weren't able to handle," Celli said. "Our block was unbelievable in Game Four was unbelievable. I thought the play of Jen Cain and Rachel Johnson tonight was fabulous. Our back row in Game Three and Four was phenomenal. Give credit to our serving, too, that put them on their heels."
Cain led the Red Raiders with 11 kills, while McGowan was also in the double-digits with 10. Senior Brooke Bell, who earlier this season set Melrose's all-time career assists record, dished out a game-high 26 assists.
To finish it out, the Red Raiders kicked it into another gear, jumping out a 16-point lead at one juncture before closing out a 25-10 victory.
"Game Four, I don't know what got into them, but they were playing a different level,"Celli said. "They were hungry this year."
In return, Melrose's senior were driven to deliver that elusive state title for their head coach.
"He's an amazing coach, he's a great guy, he's a good friend and he's always been there for us," McGowan said of Celli. "This is the one we wanted for him. He's put countless hours into practice and game-planning, and he's helped make us better players, better people. So to be able to finish my senior year and give him this, he deserves it."
November, 19, 2011
11/19/11
9:11
PM ET
By
Bruce Lerch
| ESPNBoston.com


NORTHBOROUGH, Mass. -- When the chips were down, Marlborough knew its weapons were still there. It was just a matter of getting everything in synch.

The Panthers did just that, rebounding from a disappointing first game to take the next three and capture the Division 2 state championship by knocking off Melrose, 22-25, 25-23, 25-13, 25-20.

The title is Marlborough's third, with the previous two coming in 2003 and 2004. With a final record of 24-0, the Panthers also capped the second perfect season in program history.

Setter Taylor Fearing led the way, dishing out a whopping 51 assists over the four games. Alexa Fearing paced the offense with 22 kills, while Melissa Scott added 20 and Laura Silverman contributed 12.

"We started off slow in the first game and we realized you can't do that against a good team like this," Fearing said. "You have to go out and play every point like its going to be your last."

While the Panthers appeared to be battling the jitters of the state championship stage early on, credit Melrose (23-2) for contributing to their struggles. The Raiders played spectacular defensively, getting either a block or a tip on nearly every ball Marlborough sent toward their half of the court.

Junior middle hitter Sarah McGowan had seven or team high 16 kills in the opener as Melrose led by as much as seven points and held off the Panthers comeback bid.



"I think we had some nerves in the first game," admitted Taylor Fearing. "We were making some stupid mistakes but we really pulled it together. We wanted to show Melrose how Marlborough plays volleyball and I think we really ended up doing that."

The rally definitely helped Marlborough, who looked much more like the team that run through a perfect regular season and postseason. A 6-0 run turned a four-point deficit into a 13-10 Panther lead. Melrose fought back and even regained the advantage at 23-22, but an Alexa Fearing kill and two straight violations gave the game to Marlboro.

Alexa Fearing took over the third game, collecting seven kills, and the Panthers used an 11-1 stretch to build a big lead that they would never relinquish.

Game four resembled a heavyweight championship fight, a confident Marlborough squad trying to fend off a game and determined Melrose group. The game featured 14 ties after reaching a score of 18-18, but the Panthers took seven of the final nine points, appropriately ending the match and the quest for a championship on one final slam by Alexa Fearing.

"Game one that was the case, we did play great defense," Melrose head coach Scott Celli. "And then we just lost the momentum in game two. We didn't serve well and it took us out of some runs. We fell behind and it was tough to catch up, especially against a good team like that. I thought we started to regain that in game four but we could never really get that lead that we could build on. It was always back and forth and they just had a little too much firepower for us at the end."