Boston High School:

Sarah Ropiak
June, 22, 2012
6/22/12
2:21
AM ET
Starting Rotation – First Team
Kiara Amos, Sr., Malden
The Providence College signee led the Golden Tornadoes to their first-ever state finals appearance after claiming the Eastern Mass. title. Amos went 15-1 for Malden, notching 195 strikeouts in 105 innings thrown all while boasting a 0.47 ERA. The right-hander set another first for Malden's program as its first-ever Div. 1 college scholarship player.
Meghan Rico, Sr., King Philip
Rico concluded her high school career as one of the most decorated players in the state, a winner of two state championships and last year's ESPN Boston Miss Softball. The George Washington signee went 17-3 for the Warriors this season, striking out 274 in 142 innings thrown while surrendering just 10 earned runs all season.
Sarah Ropiak, Sr., Acton-Boxborough
Headed to Brown University next year, Ropiak was a three-time Dual County League All-Star and earned MVP honors in the large division this season. The right-hander posted an ERA of 0.69 while leading the Colonials to a Division 1 North final appearance.
Kendal Roy, Soph., Grafton
The second-year sensation lifted the Indians to their first-ever state championship with a win over Abington in the Div. 2 final. Roy went 18-1 with an ERA of 0.72 in 126 innings thrown with 176 strikeouts while allowing just 11 walks.
Shannon Smith, Jr., Milford
The University of Kentucky commit was near unhittable this season while leading the Scarlet Hawks to an undefeated season and the Division 1 state title. This year's ESPN Boston Miss Softball Award recipient was also named Massachusetts Gatorade Player of the Year for the second time (2010, '12) in her career.
Starting Nine – First team
Katie Caruso, Sr. SS, Newton North
Caruso won the Bay State Conference's triple crown, leading the league in batting average (.662), home runs (10) and RBI (47) while also clubbing a conference-best 51 hits. The Bay State MVP was also a standout on the Tigers' hockey team. The four-year starter will continue her playing career next year at Southern New Hampshire University.
Lexi Gifford, Sr. SS, Natick
While Caruso may have been named Bay State Conference MVP, Gifford has been the league's most valuable lead-off hitter during the last four years. The UConn signee hit at a .615 clip while driving in 33 runs for the Red & Blue this season. Gifford was also a true three-sport athlete at Natick, as a four-year letter-winner in soccer, basketball and softball.
Bri Chiusano, Sr. CF, Mansfield
One of the most feared lead-off hitters in the state and a superb slap hitter, the Hockomock League All-Star showed off her power as well with four home runs this season. The Coastal Carolina signee finished second in the Hock in hitting with a .521 batting average.
Olivia Godin, Sr. C, King Philip
The UMass-Amherst signee was a four-year starter for the Warriors, helping guide the program to back-to-back state titles in 2010-11. The backstop hit .299 this season with three home runs and 18 RBI.
Alexis DeBrosse, Jr. SS, New Bedford
Already a three-time New Bedford
Standard-Times
Player of the Year award winner, the three-time Big Three All-Star hit .521 for the Whalers this season. The three-sport athlete also hit five home runs with 26 RBI and a slugging percentage of 1.099.
Julie LeClair, Sr. 3B, Coyle-Cassidy
Comprising one half of the state's best left side of the infield, along with shortstop Patty Borges, the St. Anselm signee led the Warriors to the EAC crown with a league-best .527 average. The three-sport athlete also clubbed a league-leading five home runs along with 32 RBI.
Bella Picard, Jr. SS, Blackstone Valley Tech
The nation's leading hitter resided in Upton this year with the Beavers' shortstop hitting an astounding .877 (57-for 65). The converted soccer player also tied for the state lead in home runs with 10 while driving in 43 runs.
Madi Shaw, Soph. SS, Bridgewater-Raynham
The second-year shortstop powered the Trojans to their first-ever Division 1 South sectional crown. Shaw hit .471 with eight home runs and 34 RBI for the Old Colony League champions.
Reilly Weiners, Jr. C, Agawam
Weiners helped lead the Brownies to the Division 1 West sectional title this season. The backstop led all Div. 1 players in Western Mass. with 35 RBI while knocking out 38 hits on the season, including three home runs.
Bullpen – second team
Megan Colleran, Soph., North Attleborough
Megan Cook, Soph., Bellingham
Mackenzie Coopinger, Sr., Lynn Classical
Audrey Dolloff, Sr., Bridgewater-Raynham
Courtney Girouard, Soph., Fairhaven
Trish Hansen, Sr., Mansfield
Shelby Higgins, Sr., Lowell
Kelly Norton, Sr., Abington
Shannon Orton, Sr., Case
Lauren Ramirez, Jr., Dracut
Jurnee Ware, Sr., Hudson
Bench – second team
Patty Borges, Sr. SS, Coyle-Cassidy
Tori Constantin, Jr. 2B, King Philip
Caroline Fairbanks, Jr. 3B, Milford
Courtney Hoban, Sr. OF, Boston Latin
Emily Hoffman, Sr. C, Malden
Nicole Lundstrom, Jr. C, Dighton-Rehoboth
Michaela Mazure, Fr. INF, Burlington
Kelsey Perron-Sovik, Sr. CF, Fairhaven
Christina Raso, Sr. SS, Burlington
Dakota Smith-Porter, Jr. P/SS, Turners Falls
COACH OF THE YEAR
John Furlong, Malden
June, 12, 2012
6/12/12
12:25
AM ET
By
Ryan Kilian
| ESPNBoston.com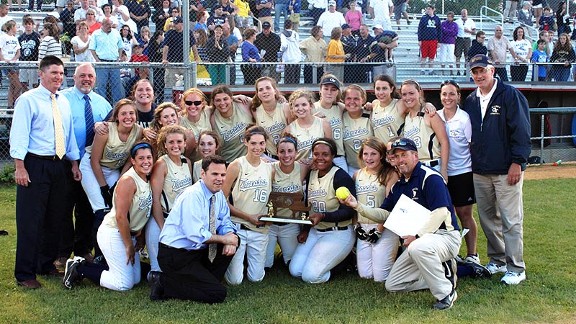 Scott Barboza/ESPNBoston.comMalden will play for the Division 1 EMass title on Tuesday after claiming the North sectional crown Monday with a 3-2 extra-inning win over Acton-Boxborough.
LOWELL, Mass. –- With two future Division 1 college pitchers on the mound in the Eastern Massachusetts Division 1 North final you would expect a low scoring pitcher's duel to play out.
That was precisely the case when No. 1 Malden (23-1) and their senior ace Kiara Amos (Providence College) took the mound against No. 10 Acton-Boxborough (17-7) and their senior ace Sarah Ropiak (Brown University).
Both teams struggled defensively and both pitchers shined on the big stage as the Golden Tornados pulled out a 3-2 extra-inning victory in the bottom of the eighth to advance to Tuesday's Eastern Mass. D1 championship game at Martin Field.
"It was a game of strong pitchers," Malden head coach John Furlong said. "What we have in Kiara they have in Sarah Ropiak."
Amos tossed a complete game, striking out an impressive 13 batters in her eight innings on the mound. She also got herself out of a couple of jams with big strikeouts in the second, third and fifth innings.
"When she gets runners on base she really bares down," Furlong said. "That is why she is going to Providence. She is that good."
Ropiak would match her throughout the night as the Brown-bound star would strikeout 13 Golden Tornados of her own.
"Sarah is so crafty," Furlong said. "Never does she throw a ball down the middle of the plate. Everything is on the corner, outside or a change-up. She is a good player and also scares the heck out of me whenever she gets up at the plate."
Malden plated their first two runs in the bottom of the second inning as junior Melissa Light delivered the big hit to right field in the inning to lead the charge.
A-B would bounce back with two runs of their own in the top of the third inning as junior Michelle Surdan struck the biggest blow in the inning with her own shot to right field.
After the third inning it would be all about the lights out pitching of both ace hurlers.
Ropiak got out of multiple jams herself in the game with big strikeouts. She also provided an offense lift for the Colonials with two singles and one RBI in the game.
Amos would save her best work for the last three innings in the game as she struck out seven batters and looked to be getting stronger as the game advanced.
"In the seventh and eighth inning I did my best," Amos said. I knew what I had to get done, not let runners get on base and not let them score."
Amos struck out the final two Colonial batters in the eighth inning after Ropiak led off with a single to center field.
Light would strike the final blow for Malden in the bottom of the eighth inning with a shot to right field that was mishandled, scoring junior Emily Moran who had singled with one out in the inning.
Program Builder:
Malden High School softball is in unchartered waters as they enter the Eastern Mass. championship game against Bridgewater-Raynham on Tuesday night. First pitch is scheduled for 7 p.m.
"We have never made it this far before and I have never been more proud of my teammates," Amos said.
A-B defeated Central Catholic 4-0 at Martin field in 2011 behind Ropiak's shut-out gem before bowing out to eventual State Champion King Philip in the Eastern Mass. finals.
"A-B is a great program," said Furlong. "They have been here before. This is a great stepping stone for our program. It has taken a long time for us to get here. It was not the flashiest of games but it is what it is. A win is a win and I will take it."
May, 25, 2012
5/25/12
2:00
AM ET
By
Shawn Myrick
| ESPNBoston.com


MILFORD, Mass. -- It was only fitting for Milford ace Shannon Smith to finish her season face-to-face with Colonials' starter Sarah Ropiak.

Dominating all year for their respective state softball semi-finalist teams, the Scarlet Hawks hurler started and finished her schedule scraping for a win against A-B's top senior. As was the case in their season opener, the junior again grabbed a slim one-run tilt for top-seeded Milford (20-0) with a 3-2 triumph over guest No. 11 Acton-Boxboro (12-5) on Thursday.

"Being behind [is] something that has not happened too us much this season," Milford head coach Brain Macchi said. "Shannon threw some pitches that were important for us to get out of jams. She is putting in the work during the offseason (and) coming in physically and mentally strong."

Smith tossed eight strikeouts for Milford, while Ropiak finished two hitters. The Colonials' senior allowed two additional smacks, with 10 hits and one walk.

BATTLING AT THE PLATE
Macchi looked for aggressive at-bats from his girls, but has preached all season the importance of pumping up the pitch count.

A lofted center field triple by sophomore Sam Bonvino brought home teammate senior Lindsey Read from first for the winner in the fourth, while a frozen rope by junior Carolyn Fairbanks dropped through the glove of leaping center fielder Lindsey Chen to score the first run for the Mid-Wach A Conference champs.

After forcing 28 pitches in the second, a foul-line dribbler by junior Rachel Levine knocked in Fairbanks from second for a 2-2 tie in the third.

"From day one of the season, we talked about having the pitcher work and work and work," Macchi said. "Sarah Ropiak is a great pitcher and she is going to be around the strike zone. We are trying to put the ball in play and make their team make plays."

Fairbanks went 2-for-3 with a run and an RBI, while Levine also banged out a 2-for-3 day with one RBI.

COLONIAL COMPOSURE
The Dual County (Large) leaders lost their previous matchup 1-0 at home off a wild pitch. Allowing 17 strikeouts in their last battle, coach Mary Matthews looked for stronger at bats in the rematch.

Facing a one run hole, Ropiak finished A-B's fourth straight single to open the third with a blooper for an RBI along the first-base line.

The Colonials pulled ahead off a fielder's choice rip by Lindsey Chen in their following at-bat.

"We accomplished the goals we wanted to accomplish [to] not to give up an unearned run, not to fall apart after something goes wrong, and
to have quality at bats," Matthews said. "Last time we played them [Smith] just mowed us down. Bunt if you have to [or] slap if you have,
but fight, fight, fight just so you have a chance."

Maddie Hatch and Kirstin Pfister (one run) led A-B, going 3-for-4.

PAINTING THE CORNERS
Smith has won 19 of Milford's 20 games this season, including her eighth no-hitter yesterday in a 2-0 blanking of Leominster. The junior did not avoid hits this afternoon, but looked to work the corners and limit deep knocks.

Smith allowed only singles with nine Colonial hits.

"A lot of the hits where they scored runs were little bloopers," Smith said. "Stuff they were getting off the end of the bat. Keep hitting the corners so they can not hit anything too deep and go yard."
April, 27, 2012
4/27/12
11:15
PM ET
By
Shawn Myrick
| ESPNBoston.com


ACTON, Mass. -- Acton-Boxboro girls' softball looks at the game one pitch at a time.

Well prepped for any defensive scenario, the Colonial fielders have shown the ability all season to buckle down and smother runs no matter the situation.

In their Dual County League (Large) opener, host No. 11 A-B (5-3, 5-1) flexed its defensive prowess once again as it ran over No. 12 Boston Latin, 8-2, on Thursday.

"If the ball goes through your legs or you drop a pop up, just think about the next play," A-B head coach Mary Matthews said. "We do so many different drills. We try to mix it up so they are never surprised."

The defending Division I North champs allowed an average of only 0.71 runs per game coming into action.

A-B's defense was lead with a complete game performance from pitcher Sarah Ropiak who struck out seven while allowing only seven hits and two runs. The senior went 3-for-4 from the plate, including three RBI, while teammate Maddie Hatch was a perfect 4-for-4 with a run and an RBI.

"You have to get them to put it in play where you want them to put it in play," Ropiak said of her pitching. "If we are looking for a ground ball it would be a drop. On a windy day like today, we do not want it up in the air."

A four-run and seven-hit inning helped A-B grab the victory from a 2-0 deficit entering the bottom of the third.

Ropiak opened the scoring with a double down the line for a run, while teammate Hannah Graney lined a two-run frozen rope single with the bases loaded for a 3-2 lead and the winning run. Michelle Surdan then grounded a ball up the middle and the Colonials ended the inning up 4-2.

"Our goal is to get on base and move our runners over," Matthews said. "We are finally learning about having runners on base and hitting deep to score runs."

A-B's Kara O'Riley hit a sacrifice fly for a run in the fifth, while the Colonials added three tallies in their final at bat with four hits.

A pair of singles and a steal put teammates Lindsay Chen and Nicole Geoffrion in scoring position with one out in the sixth, before Ropiak brought both home with a double off the center field wall.

A hit by Kirsten Pfister and a single by Hatch each added a run for an 8-2 margin.

"I know I can battle with two strikes, so I do not worry about swinging at each pitch," Ropiak said of her at-bat. "She had been keeping it low most of the game, so I took advantage of a high throw."

Despite struggling to score late, the Wolfpack knocked in the first run of the match with two outs in the third off a two-run shot from outfielder Courtney Hoban. With teammate Mary DeMoura on first off an outfield long drive, Hoban rocketed a high pitch a few yards over the center-field wall for a 2-0 lead.

Boston Latin (7-2, 4-1) stranded 10 in total, while A-B left eight on base.

"She just turned on it and got up to get a nice charge on it," Boston Latin head coach Tim Holland said of Hoban's blast. "We kept getting runners on with two outs. A couple miscues with a top team like this and they will make you pay for it."

This was the first large conference game for both squads. The pair entered the day with the two best all-around and league records in DCL (Large) division, with A-B grabbing the division advantage after the win.
April, 10, 2012
4/10/12
1:15
AM ET
ACTON, Mass. -- With Acton-Boxborough's Sarah Ropiak and Milford's Shannon Smith working in the circle, it was possible that something as slight as a howling wind might create the margin between winning and losing.

As the gales whipped across the diamond at Acton-Boxborough Regional on Monday, the teams' aces were undaunted. The matched each other strikeout for strikeout nearly throughout. But the only thing that separated the No. 2 Hawks and the No. 3 Colonials in the end were a couple of first-inning walks and one, solitary run score on a wild pitch.

"I told the girls we needed to find a way to scrape across a run any way that we could," Milford head coach Brian Macchi recounted his pregame remarks before the Hawks' 1-0 win.

That run came in the Hawks' first at-bat. After working a one-out walk, Milford second baseman Lauren Hanna took a tour of the base paths with a stolen base, advancing to third on a wild pitch and also scoring the game's only run off another wild pitch.

Ropiak was undaunted despite the early setback, settling into a complete-game two-hitter, while striking out 13.

Of course, Smith was on par as well. The junior, who's one season removed from her performance as a Gatorade Massachusetts Player of the Year, struck out 17 while surrendering a pair of hits and two walks.

Smith struck out the side in both the sixth and seventh innings — despite allowing base-runners in each — capping the complete-game win.

"The umpire really seemed to like to call the outside corner, so you to adjust to that and make sure you're throwing to where they're calling and whatever works for you best," Smith said.

DIFFICULTY ADJUSTING
With Smith nibbled and lived on the outside corner with great success thanks to her curveball, the Colonials (0-1) weren't able to compensate at the plate.

"We weren't able to learn today that she kept going at us outside," A-B head coach Mary Matthews said. "We weren't adjusting our feet and trying to send it the other way."

PUTTING DEPTH TO USE
Milford (3-0) was without its starting catcher Taylor Archer (out 2-3 weeks with an ankle injury) coming into the game, so freshman Taylor LeBrun got the nod behind the plate.

The Hawks' backstop situation went from bad to worse in the fifth, when LeBrun left the game with an ankle injury while sliding into second base on a caught stealing. Macchi then turned to starting shortstop and resident do-it-all Sam Bonvino.

However, Bonvino hasn't had time to work behind the plate in the early season due to a back injury of her own. Still, the sophomore did an exemplary job, filling in a tough spot and working with Smith.

The Milford hurler credited the work all of her catchers have put in, making it easier for her to do her job.

"I have confidence in all of them," Smith said of her battery mates.

Now all the Hawks need is to stay healthy.

"We're a bit of a walking wounded team right now, but as I told the team, it's better to happen now then at the end of the season," Macchi said. "We're going to heal up and keep trying to find ways to win games."
March, 30, 2012
3/30/12
3:02
PM ET
Today we kick off our high school coverage of the spring season with our preseason MIAA softball All-State team, as selected by ESPNBoston.com staff and state high school coaches.

STARTING ROTATION
Kiara Amos, Sr., Malden
Trish Hansen, Sr., Mansfield
Meghan Rico, Sr., King Philip
Sarah Ropiak, Sr., Acton-Boxborough
Shannon Smith, Jr., Milford

STARTING NINE
Taylor Archer, Sr. C/3B, Milford
Patty Borges, Sr. SS, Coyle-Cassidy
Alex Burgess, Sr. OF, Chelmsford
Bri Chiusano, Sr. OF, Mansfield
Lexi Gifford, Sr. IF/OF, Natick
Olivia Godin, Sr. C, King Philip
Nicole Lundstrom, Jr. C, Dighton-Rehoboth
Christina Raso, Sr. SS, Burlington
Reilly Weiners, Jr. C, Agawam

"BEST OF THE REST"
Meg Carnase, Sr. P, King Philip
Katie Casey, Jr. P, Braintree
Katherine Clark, Sr. P, Coyle-Cassidy
Allie Colleran, Jr. SS, Concord-Carlisle
Meghan Colleran, Soph. P, North Attleborough
Stephanie Cornish, Sr. SS, Abington
Abby Curran, Sr. IF, Bishop Fenwick
Alexis DeBrosse, Jr. 2B, New Bedford
Audrey Dolloff, Sr. P, Bridgewater-Raynham
Maggie Hoffman, Jr. P, Avon
Kaleigh Finigan, Jr. C, St. Mary's (Lynn)
Natalie Leone, Jr. 2B, Ashland
Rachel Levine, Jr. CF, Milford
Abby Johnson, Sr. SS, Chelmsford
Galen Kerr, Jr. P, Concord-Carlisle
Jackie Kielty, Jr. P, Middleborough
Kayli Moniz, Sr. SS, Fairhaven
Breanna Monroe, Sr. OF, Shrewsbury
Shannon Orton, Sr. P, Case
Kaci Panarelli, Jr. C, Shrewsbury
Meghan Rich, Sr. P, Chelmsford
Julie LeClair, Sr. 3B, Coyle-Cassidy
Cayleigh McCarthy, Sr. 1B, King Philip
Madi Shaw, Soph. SS, Bridgewater-Raynham
Alyssa Siegmann, Sr. SS, King Philip
July, 1, 2011
7/01/11
10:31
AM ET
STARTING ROTATION – FIRST TEAM

Ali Maloof, Sr. P, Norwood
The senior captain led the Mustangs to the D1 South finals with a 12-1 record and 0.59 ERA with 162 strikeouts in 82 innings. The Southern New Hampshire commit also hit .493 out of the leadoff spot for Norwood.
Emma Mendoker, Sr. P, Amherst
The Gatorade Massachusetts Player of the Year finished her high school career with 1,002 strikeouts, including 300 this season. The East Carolina commit went 23-2 leading the Hurricanes the D1 state final while posting a 0.17 ERA. She also batted .461 with three home runs and 23 RBI as Amherst's clean-up hitter.
Meghan Rico, Jr. P, King Philip
Rico went 21-0 with a miniscule ERA of 0.15 and allowed just 29 hits over 144 innings thrown with 313 strikeouts and 24 walks. The George Washington University commit allowed only seven runs all season, three of which were earned, and threw two perfect games. Rico also threw four shutouts in the postseason on the Warriors' drive to their repeat D1 title performance.
Sarah Ropiak, Jr. P, Acton-Boxborough
The two-time Dual County League All-Star team went 13-2, including 10 shutouts, with a 0.60 ERA. Ropiak is a member of the National Honor Society, Spanish Honor Society and American Leadership Council.
Shannon Smith, Soph. P, Milford
The 2010 Gatorade Player of the Year returned with a fine second season, going 21-2 for the D1 Central champion Scarlet Hawks. Smith posted a 0.94 ERA while striking out 296 in 164 innings. Smith also contributed to her own cause, hitting at a .357 clip with three home runs and 25 RBI.
STARTING NINE – FIRST TEAM
Katie Bumila, Sr. C, Coyle-Cassidy
The senior captain led a vaunted Warriors offense, hitting .536 with a home run and 22 RBI. The four-year starter was also entrusted by Coach Russell Hunt to call all the pitches behind the plate and was a three-year EAC All-Star. A star in the classroom as well, Bumila will attend Worcester Polytechnic Institute next year.
Megan Congro, Sr. Sr. 1B, Sandwich
The URI commit led the Atlantic Coast League with a robust .661 batting average with two home runs and 30 RBI.
Lauren Duggan, Sr. 3B/P, Norwood
At third base, the UConn commit delivered the ball from third to first just about as quickly as you'll ever see. Duggan's cannon arm also helped her boast 1.13 ERA in the circle, splitting time with Ali Maloof. She also led the Bay State League in home runs with eight, while batting .415 with 33 RBI.
Quianna Diaz-Patterson, Sr.
The UMass-Amherst commit was perhaps the most feared lead-off hitter in the state with a tremendous first step out of the box. The captain and three-year starter hit .559 with eight home runs and 40 runs scored. Diaz-Patterson also stole 31 bases this year and held the distinction of never having been thrown out once on an attempted steal during her high school career.
Olivia Godin, Jr. C, King Philip
As much as Meghan Rico garnered the attention of the softball world this year, it was the Warriors' junior backstop who helped call the games for the hurler. The defensive stalwart also managed to put up a .400 on base percentage along with three home runs and 18 RBI. The Plainville resident has a verbal commitment to UMass-Amherst.
Meg Kelly, Sr. 2B, Reading
Kelly was a triple crown winner in the Middlesex League this season, batting .628 with five home runs and 35 RBI. She also struck out just three times all season. The URI commit was also a standout out on the Rockets' soccer and indoor track teams.
Anna Kelley, Sr. 3B, King Philip
Kelley's defense at the hot corner and her bat were main contributions to the Warriors' second straight D1 title. The UMass-Amherst commit batted .375 with a slugging percentage of .697. She also led KP in RBI with 33.
Brianna Martin, Sr. CF, Central Catholic
The three-year Merrimack Valley League All-Star was as strong in the field as she was at the plate. Martin didn't commit an error in her senior year while adding three outfield assists. Martin hit at a .549 clip while setting a Raiders program record for slugging percentage at .985.
Jenn Robillard, Sr. SS, King Philip
The Sacred Heart commit set the table for the Warriors from the lead-off spot with a .467 average and .533 on base percentage. The senior captain also stole 15 bases while contributing strong defensive play in the field.
BULLPEN – SECOND TEAM
Kiara Amos, Sr., Malden
Emily Berardi, Sr., Boston Latin
Noelle Christmas, Sr., Plymouth South
Audrey Dolloff, Sr., Bridgewater-Raynham
Meg Donegan, Sr., Central Catholic
Trish Hansen, Jr., Mansfield
Courtney Lanfranchi, Sr., Burlington
Bridget Lemire, Sr., St. Peter-Marian
Emily Mailloux, Sr., Turners Falls
Kelly Norton, Sr., Abington
Shannon Orton, Jr., Case
Megan Rich, Sr., Chelmsford
OFF THE BENCH – SECOND TEAM
Hannah Byrne, Sr. SS, Lynn Classical
Michelle Cooprider, Sr. P/OF, Hopkinton
Ellen Czuba, Sr. CF, Franklin
Alexis DeBrosse, So. 2B, New Bedford
Zoe Dillon-Davidson, Sr. C, Amherst
Amy Entel, Sr. P/OF, Somerset
Simone Frank, Sr. 3B, Amherst
Laura Kaminski, Sr. C, Amesbury
Nicole Lundstrom, So. C, Dighton-Rehoboth
Breanna Monroe, Jr. CF, Shrewsbury
Christina Raso, Jr. SS, Burlington
Reilly Weiners, So. C, Agawam
HEAD COACH OF THE YEAR
Dustin Belcher, Wahconah
June, 13, 2011
6/13/11
11:53
PM ET
By
Tom Layman
| ESPNBoston.com


LOWELL, Mass. -- The third time was a charm for the Acton-Boxborough softball team.

The No. 7 Colonials (19-5) picked up the Division 1 North final trophy with a 4-0 victory over No. 5 Central Catholic (18-4) on Tuesday at Martin Field in their third trip to the sectional finals (1999, 2007).

"We've been just pushing ourselves to get to this point," said Colonials head coach Mary Matthews, who was a sophomore on the 1999 team that lost in the finals. "All season it's been believe in yourselves after a rough start. To be here today is just awesome."

The Colonials lost four times in their first five games, but have only lost once in their last 17 times. A big reason for that turnaround has been the pitching of Sarah Ropiak and on the biggest stage she made sure that trend continued.

Ropiak allowed a leadoff triple in the bottom of the first, but she would not surrender a hit for the remainder of the game. Only two players reached based, one on a walk and one on an error, but neither of those base runners reached second base. The right-handed pitcher finished with eight strike outs and one walk in the victory.

"I was just mixing mostly, just keeping them off-balanced," Ropiak said.

Added Matthews: "You can never talk enough about [Ropiak's] pitching."

When Ropiak did allow a runner to reach base, her defense and her ability to make pitcher in big spot were on display. Brianna Martin scorched the second pitch of the game over the head of the left fielder and found her way on third.

Ropiak got a swinging strikeout, a lazy pop up to second and a strikeout looking to strand Martin on third. In the fourth and sixth, Ropiak let her defense, most notably catcher Lindsay Gibbs, take care of things with a runner on base.

Gibbs showcased a quick release and a very accurate arm to nab two potential would-be base runners trying to steal second base.

"I've been saying all year why would anyone run on Gibbs?" said Matthews. "She's so solid back there. She calls the entire game and she's been doing a great job.

"We kind of called something high so (the ball) was up, but Sarah pitched it perfectly and we got them both times."

The Colonials offense got a run in the top of the first after Jamay Li hit a RBI triple to plate Maddie Hatch. In the top of the fifth, the Colonials took advantage of some sloppy play by the Raiders to grab two more runs.

Nicole Geoffrion's deep drive to center couldn't be corralled by the centerfielder, allowing Michell Surdan to scamper home for the 2-0 lead. Geoggrion trotted home on a wild pitch to plate the third run.

The Raiders made two errors in the inning behind starter Meg Donegan, who gave up three earned runs in a complete-game loss.

"We gave probably about six outs," said Raiders' coach Stacy Ciccolo. "You can't do that. This is the final of the North and you can't do that. That opened the game for them."