Boston High School:

Scituate (R.I.)
February, 26, 2014
Feb 26
7:31
PM ET
By
Mike Scandura
| ESPNBoston.com
Fact: With one regular-season game remaining (Thursday night at Ponaganset), the East Greenwich boys' basketball team already has clinched the Division III West championship plus the No. 1 seed in the upcoming Division III Tournament.

Fact: The Avengers are the only team in the state with a perfect (17-0) league record.
Fact: East Greenwich, a school that began playing the sport during the 1935-36 season, has broken the school record for most victories in a season. The Avengers are 20-2 whereas the previous record was 18 victories set in the 1990-91 season which was the last time East Greenwich won a championship (i.e. the Division II state title).
Fact: The Avengers are one victory away from posting the first undefeated league record in school history.
Fact: Through games of Feb.25, East Greenwich is one of only two Division III teams ranked in the top 16 Power Point standings which determine the 16 teams that will play for the overall state championship. Currently, the Avengers are 11th while Middletown is 16th.
"I expected us to do well but not to go undefeated," said first-year head coach Matt Records. "We returned almost everybody. Going into the season our goal was to win the Division III state title and also to be a top 16 team and play in the state tournament."Then, reality set in like a punch to the stomach.
"Nolan Cooney, who's our best defender and our best athlete, was diagnosed with testicular cancer," said Records. "He's the greatest kid and a high-quality individual. He walked into practice (on February 24) with a huge smile on his face. He's finished chemo and is cleared to play sports again.
"Nolan's been our motivation all year long. Not only is he a great basketball player but he's one of the most-liked people we have. For that to happen was a shock to our community never mind the team. The team rallied around him. He's healthy and will be able to lead a normal life."
As the saying goes, Cooney's illness put things in perspective. But Records admitted that, even in his wildest dreams, he didn't expect the Avengers to deliver a record-breaking season.
"I expected to have a very good season, maybe 16-2 or 17-1," he said. "I did not expect to be undefeated after 17 games. I knew we could win Division III. But to be undefeated right now, I don't believe it especially considering what happened at the beginning of the year when we lost Nolan.
"What we've done has been remarkable."
Once Cooney was lost for the season, other players had to step up:
Example No. 1 is 6-7 senior center Brandon Eckles who's averaging 13.4 points, nine rebounds and 3.5 assists per game (Records: "He's a phenomenal passer."). In a 56-36 victory over Scituate on February 21, Eckles scored the 1000th point of his career.
Example No. 2 is senior guard Ben Chester who's averaging 12.7 points per game.
Example No. 3 is junior forward Kyle Matus who's averaging 12.2 points per game.
In addition, senior point guard Pat Lavin is averaging four assists per game.
"I always say to Pat, "I want you to come and coach with me some day,'" said Records. "Whenever I have a question, he always has an answer. He's an on-the-court coach.
"He calls the offenses and defenses. He does so many things that don't show up on the stat sheet."
One number that virtually jumps off the Avengers' stat sheet is that, through their first 22 games, they're holding opponents to a mere 40.5 points per game.
"Every night I put a key point on our white board – to play 32 minutes of team defense," said Records. "We know defense is effort and heart. There isn't any reason why you can't bring that every night.
"We beat Johnston, 40-24 (on February 25), and were awful on offense. But we held them to 24 points. Our practice jerseys say 'Avenger Defense.' If the score is in the 70s, I'm shaky because I'm old school. I feel if the game is in the 50s we'll win games."
Eckles' play at the other end of the court is another major reason why the Avengers are cruising along.
"When you have a 6-7 kid like Brandon, he protects the rim like a big Band Aid," said Records. "He blocks or alters shots. That's a big reason why we're such a good defensive team."
Lastly, there's a more subjective reason behind the Avengers' success.
In last season's Division III championship game, North Smithfield beat East Greenwich, 66-55. The memory of that loss has stuck in the minds of the returning Avengers like Super Glue.
"It's what drives us," said Records. "Even though we lost to North Smithfield, we put our hearts and guts on the floor. There were hundreds of North Smithfield fans chanting things like 'Warm up the bus.' We needed to win that game in order to qualify for the state tournament.
"I told the guys 'Don't forget what that feels like.' That feeling has motivated guys like Lavin, Eckles and Chester to get us to where we are this year."
Mike Scandura has been covering high school sports, college basketball, football and hockey plus minor league baseball in Rhode Island since the early 1970s. A native of Oswego, N.Y, he's a member of the Words Unlimited Hall of Fame which is the statewide organization of sportswriters, sportscasters and sports publicists.
September, 25, 2013
9/25/13
6:36
PM ET
By
Mike Scandura
| ESPNBoston.com
By no stretch of the imagination is Pilgrim High considered a contender for a Division II playoff berth. But after enduring a drought of near-epic proportions, the Patriots already have shown that they have improved over the teams the school fielded each of the past two seasons.

After all, when you've lost 15 consecutive games -- as the saying goes -- there's no place to go but up.
Pilgrim took one step in that direction on Sept. 13, when it belted Smithfield, 36-6, in a non-league game.
Ironically, the Patriots' last victory was over Smithfield – 26-12 on Oct. 28, 2011.
Granted, Pilgrim dropped its first Division II-B game, 28-0, to Shea on Sept. 20, but coach Tom O'Connor at least has something to build on and that "something" includes junior quarterback Rob Quaine.
As an inexperienced sophomore, Quaine was under center last season when Pilgrim went 0-12. But in that non-league victory over Smithfield, he completed 6 of 8 passes for 178 yards and scored a touchdown on a one-yard run.
The loss to Shea notwithstanding, Quaine has shown improvement in his passing which can be attributed to his play last summer in the Rhode Island High School Passing League.
For example:
* In nine passing league games, Quaine only threw one interception.
* In two passing league tournament games, Quaine had exactly zero turnovers (i.e. no fumbles or interceptions).
[+] Enlarge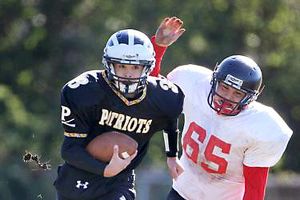 Courtesy of Pilgrim Athletics Pilgrim (R.I.) junior QB Rob Quaine lifted the Patriots to their first victory in nearly two calendar years earlier this month.
"At first, it was slow to catch my attention," O'Connor said. "I failed to realize he wasn't throwing the interceptions that he threw last season.
"I watched Rob and saw that he would eat the ball. After four seconds elapsed, he ate it rather than force a pass. That was a big issue when he was a sophomore. To me, it was a sign that he's taken his maturity up a level which I was hoping for going into this season. Quite frankly, he did so earlier than I expected."
O'Connor then gave an example of what he meant and it didn't have anything to do with something his quarterback did on the field.
In a Rhode Island Injury Fund game (i.e. these games only consist of two quarters) against three-time Division I champion Hendricken (the Hawks prevailed, 28-8), Pilgrim fumbled away the opening kickoff.
Yet instead of stomping up and down the sidelines or yelling at the teammate who fumbled, Quaine was the first Patriot to offer encouragement to the kick return team when it came off the field.
Quaine also gave indications of what was to come against Smithfield.
On Pilgrim's first possession, he guided a drive that stalled inside Hendricken's 10-yard-line due in large part to a pair of long passes he completed.
Later in the game, Quaine audibled twice en route to a scoring drive and then threw a two-point conversion pass.
"I feel more confident this season because I trust all of my teammates," Quaine said. "We came together as a family during double sessions.
"Obviously, when you play Hendricken, you can't be intimidated. That being said, I didn't feel we backed down from the beginning to the end."
Yet Quaine was quick to admit that butterflies were churning in his stomach.
"It was a little nerve-wracking," he said. "But it's not a shock (being the starting quarterback) like it was last season."
That was evident to O'Connor during Pilgrim's victory over Smithfield.
"Rob did a lot of 'hot reads' on his own," said the coach. "He threw the ball more than we wanted to throw it. But they blitzed a lot and he picked up the wide-open receiver.
"Despite the loss [to Shea], he's progressed a lot from last season. Playing in the passing league and against Hendricken showed me he can lead our team. He's a completely different young man – one who's very confident and let's things go that would bother him last year."
May, 31, 2013
5/31/13
4:12
PM ET
By
Mike Scandura
| ESPNBoston.com
What do the boys' lacrosse teams from La Salle Academy, East Greenwich and Smithfield have in common?

Each team is undefeated and is in first place in its respective division and, not surprisingly, is the odds-on favorite to capture a state championship.
The Rams (10-0 in Division I and 12-0), who are coached by Colonel Steven McConnell, the Superintendent of the Rhode Island State Police, boast an offense that's off the charts.
Through matches of May 21, the Rams have out-scored their opponents by a margin of 202-65.
The story within the story is that La Salle attacks Brady O'Donnell and Joe Manown are the top two scorers in the state regardless of division.
O'Donnell, who's a senior, has whipped home 56 goals and assisted on 33 while sophomore Manown has scored 49 goals and assisted on 38. What makes Manown's proficiency all the more noteworthy is the fact he missed most of the 2012 season due to injury.
East Greenwich (13-0 in Division II and 13-2 overall), is riding the backs of 15 seniors who have played an integral role in the Avengers' offense and defense.
Coach Brian Trapani's team leads the division with 163 goals and has allowed a stingy total of 43.
Senior Colin Watikun and senior Colin Bernier lead the Avengers with 50 points apiece, Waitkun having scored 39 goals and assisted on 11 with Bernier having fired home 40 goals and assisted on 10.
Smithfield (12-0 in Division III and 12-2 overall) hasn't lost a division game since the 2010 season.
Coach Joe Renzi's Sentinels weren't expected to be a contender since the team graduated 16 players from the 2012 squad. But attacks Brendan Benoit, Nick Gerlach and Matt Walker have led an offense that's tied with Coventry in goals scored with 139.
MOUND KING
Team sport notwithstanding, the baseball program at Hendricken is heavily reliant on arguably the state's best pitcher, senior Mike King who's signed a letter of intent to play at Boston College.
King is a major reason why the Hawks lead Division I-North with a 16-0 record since he's recorded an 8-1 record replete with 46 strikeouts and a mere six walks in 33 innings.
A right-hander, King didn't allow his first earned run of the season until May 18 when Hendricken beat La Salle, 4-1. King spaced out six hits while going the distance – again.
King also helps himself at the plate with a batting average that's hovered around .500 all season.
In a recent 5-1victory over Cranston West, King's RBI single helped key a five-run first inning.
Another Hawk who's been wielding a potent bat is John Toppa, grandson of the late Rogers High football coaching legend of the same name.
In a 4-3 victory over St. Raphael, Toppa's fourth-inning double drove home the game-winning run. And in a 6-1 win over Cumberland, Toppa contributed a single, triple and two RBI.
Elsewhere:
* Central Falls pulled off the upset of the season regardless of division when the Warriors won their first game of the season – 5-2 over Division II-North leader Tolman (12-2). Emmanuel Antigua smacked a two-run single during a four-run fourth inning while Brandon Canuto went the distance for the victory. The loss sliced Tolman's lead over second-place Scituate (13-3) to one game.
* North Kingstown's Billy Young improved his record to 4-0 by blanking Toll Gate, 7-0, in a Division II-South game. Young allowed only two hits and fanned 10.
* East Providence's Colin Costa collected two doubles, a single and five RBI as the Townies (14-1) held onto first place in Division II-Central by beating Mount Pleasant, 9-4. Teammate Colin Grant struck out 17 Kilties en route to the complete-game victory.
CLOSE SHAVE
Never let it be said that East Providence softball coach Rob Traverse isn't true to his word.
A year ago, the Townies won only three of their first 12 games. Traverse made a "bet" with his players that if they won at least seven games this season he'd shave his head. They did and he did.
East Providence currently is in fifth place in the Division I with a 10-5 record – the Townies' most impressive victory being a 2-0 blanking of North Kingstown (i.e. it was the Skippers' first loss).
In that win over the Skippers, EP broke a scoreless tie in the eighth inning on Amy DeCastro's single and Casey Traverse's subsequent sacrifice fly.
In other games of note:
* Lincoln High to nobody's surprise clinched the Division I title and the No. 1 seed in the upcoming state tournament by beating La Salle, 4-1. Lindsay Mayer allowed only one run on two hits for the 14-0 Lions.
* Division II-East leader Moses Brown (10-5) blanked Central, 6-0, in a crossover game as Emma Rantanen tossed a one-hitter – losing her bid for a no-hitter when Dianna Torres singled with two outs in the sixth.
ENTERING THE HALL
Even though Central Falls is the smallest city in the state, its high school has produced a host of outstanding athletes.
Nine will be inducted into the Central Falls Athletic Hall of Fame on October 11: former boys' basketball coach Ed McVeigh plus athletes Albert Cardosa, Jeff Desautel, James Dougan, Brian Goodhart, Kevin Guindon, Carmen Pizarro, Russell Standring, Ken Vaudreuil and Kinga Dobrzychi-Zuromski.
Mike Scandura has been covering high school sports, college basketball, football and hockey plus minor league baseball in Rhode Island since the early 1970s. A native of Oswego, N.Y, he's a member of the Words Unlimited Hall of Fame which is the statewide organization of sportswriters, sportscasters and sports publicists.
March, 6, 2013
3/06/13
4:08
PM ET
By
Mike Scandura
| ESPNBoston.com
At the risk of using a culinary metaphor, the regular season comprised the appetizer for boys' basketball.

The soup and salad comprised the division tournaments. And the entrée is what 16 teams have been anxiously waiting to devour.
After Hope, Cumberland and North Smithfield annexed the Division I, II and III tournament championships, respectively, they'll join 13 other teams for the third year that the Interscholastic League has held a tournament to determine the overall state champion.
The 16 teams are placed in four regions and seeded according to the final Power Point standings for the first round which tipped off Wednesday night:
Region 1: No. 16 West Warwick (17-8) vs. No. 1 Classical (17-5); No. 9 North Providence (16-5) vs. No. 8 Westerly (17-5).
Region 2: No. 16 Hendricken (11-10) vs. No. 2 La Salle (16-6); No. 10 Coventry (13-10) vs. No. 7 Hope (14-12).
Region 3: No. 14 Cranston West (14-9) vs. No. 3 North Kingstown (20-3); No. 11 Barrington (17-7) vs. No. 6 Mount Pleasant (13-8).
Region 4: No. 13 Prout (15-8) vs. No. 4 Cumberland (22-3); No. 12 Shea (16-8) vs. No. 5 North Smithfield (24-0).
How the three division champions reached their destination is an interesting story in each case.
Hope, for example, only was seeded eighth in the Division I Tournament. Yet the blue Wave captured their first championship since 1994 by beating fifth-seeded Coventry, 65-62 in the semifinals and upsetting third-seeded Classical, 69-65, in the finals.
Manny Kargbo scored a game-high 32 points (including 16-of-18 free throws) in the win over the Oakers while Ben Vezele posted a triple-double with 11 points, 11 rebounds and 10 blocked shots.
The Purple, who averaged 70 points per game during the regular season, connected on only 18.7 percent (3-for-16) of their 3-point shots against the Hawks and needed a free throw from Kealen Ives with eight seconds left in regulation to break a 44-44 tie and earn a 45-44 victory in the other semifinal.
Ives led Classical with 20 points.
Without question the parents of the Cumberland players weren't even born the last time the Clippers won a state title – 1936 when the school annexed the former Class C crown.
Do the math and that championship ended a 77-year drought.
A late 16-4 run enabled Cumberland to build an 11-point lead over the Raiders and eased the pressure going down the stretch.
Dylan Boisclair led Cumberland with 22 points while Tom Lazarus chipped in with 21, including the last nine from the charity stripe.
All North Smithfield did en route to the D-III championship was post the best record (24-0) in school history.
The Northmen beat East Greenwich, 66-55, in the finals, which enabled them to become the first team since Classical in 2008 to go undefeated and win a division title.
North Smithfield's Cody L'Heureux arguably played a game he'll remember for the rest of his life.
Not only did he score a game-high 31 points, but he notched his 1,000th career point in the process on one of his five treys.
DOUBLE DRIBBLES
In other games of note prior to the division tournaments:
Hope's Kargbo scored his 1,000th career point during a 52-51 victory over Cranston East, which clinched a playoff berth. Kargbo finished with 14 points and an assist on Vezele's game-winning basket.
Vezele recorded a double-double with 18 points and 15 rebounds (to go with five blocked shots) as Hope beat East Providence, 66-51, in a Division I preliminary round game.
L'Heureux delivered a premonition of things to come when he scored 27 points, including six treys, as North Smithfield whipped Davies, 79-53.
DOBSON IN ELITE COMPANY
Westerly's Hannah Dobson moved into second place on the school's all-time scoring list (boys and girls) as the Bulldogs belted Coyle-Cassidy, 48-31 in a non-league game.
Dobson now has 1,514 career points.
Scituate (14-2) clinched first place in Division II-North by beating Johnston, 52-40, with Sadie Ross contributing a double-double (16 points, 11 rebounds).
HAWKS LEAD THE PACK
Hendricken (13-2-1) remained atop the standings in the Division I Cimini Division by beating Cranston West, 5-2.
Three was the magic number in that game because Matt Creamer recorded a hat trick while Ed Markowski was credited with three assists.
Mount St. Charles (13-3-0) remained right behind Hendricken thanks to a 5-1 win over Barrington. Brian Belisle played a superb game by scoring two goals and assisting on the other three.
HENDRICKEN WRESTLERS THE BEST
Maybe what Hendricken's wrestling team did on Feb.14 should have been an indication of things to come.
Coach Kevin Hennessey's team handed Cumberland its first dual-meet loss in five years by coasting to a 47-9 victory, improving the Hawks' record to 15-0.
Then, in the state championships, Hendricken won its first title since 2004 even though it only had one boy win an individual crown – Jason Davol at 106 pounds.
Hendricken amassed 168 points while Exeter/West Greenwich and Johnston tied for second with 133.5 points each.
The key for Hendricken was its ability to score points in the "wrestle-backs."
Nicholas Celico, Rob Lanni, Anthony DiMauro, Chris Barone and Dallas Sauer lost in the quarterfinals but maintained their composure and annexed victories that earned them third-place finishes.
In other matches of note:
Warwick Vets' John Alteri won his third state title by blanking Cumberland's Cody Beaudette, 2-0, at 113 pounds.
Alteri's teammate, Nathaniel Colicci, defended his 126-pound state title by beating Moses Brown's Andrew Howard. The bout was tied at 2-2 after three regulation periods and three overtime sessions. The tiebreaker was Colicci's ability to hold Howard for 30 seconds.
While the 126-pound bout was the longest of the day, the 138-pound final was the shortest since defending champion Christian LaBrie of Exeter/West Greenwich pinned Cumberland's Jon Mancini in 24 seconds.
Mike Scandura has been covering high school sports, college basketball, football and hockey plus minor league baseball in Rhode Island since the early 1970s. A native of Oswego, N.Y, he's a member of the Words Unlimited Hall of Fame, which is the statewide organization of sportswriters, sportscasters and sports publicists.
January, 3, 2013
1/03/13
6:50
PM ET
By
Mike Scandura
| ESPNBoston.com
Maybe Mount St. Charles will win a record 43rd state boys' hockey championship. After all, the Mount returns 13 players from last season's team that posted a 21-8-0 overall record and lost in a pulsating, best-of-three finals to Bishop Hendricken.

But the Mounties were unable to win their own Holiday Face-Off Tournament.
In fact, the Mount didn't even reach the finals of this season's tournament because it was eliminated in the semifinals, 6-5, by Delbarton School of Morristown, N.J.
The Green Wave swamped the Mount by scoring four first period goals, including a hat trick by John Balocco, which trumped a two-goal, two-assist performance by Dan Glod.
But in the finals, Fairfield Prep (Conn.) edged Delbarton, 4-3, on Matt Wikman's goal at 5:50 of a second overtime period.
LaSalle College finished third by blanking La Salle Academy, 5-0, with Ryan Williams also recording a hat trick.
The only Rhode Island team to finish in the top five was Hendricken, as the Hawks beat Bishop Guertin (N.H.), 3-1, with Matt Creamer (the son of head coach Jim Creamer) scoring one goal and assisting on another.
TIGERS CRAWL INTO THE NIGHT
While Mount St. Charles made news (albeit of a negative type) on the ice, Tolman also made news that essentially was disturbing.
Tolman, which has won six Division III state championships, will be dropping boys' hockey after this season because, quite simply, it's going to lack enough players.
The current team dresses only 13 players – eight of whom are seniors. And for the second season in a row, there are zero freshmen on the team which also is minus any sophomores.
Nevertheless, the Tigers are 6-1-1 in their first eight games.
Ironically, Tolman's cross-town rival in Pawtucket, Shea, dropped hockey in 1987 – after winning its only then-Met C title – because of a lack of players.
DRIBBLING THROUGH THE HOLIDAYS
Like most states, Rhode Island featured numerous holiday basketball tournaments.
Following are the results of the more prominent ones:
Ben Bradley poured in 27 points as Cumberland beat Woonsocket, 68-58, in the finals of the long-standing Cumberland/Lincoln Boys & Girls Club Holiday Tournament. Bradley, who was voted MVP honors, scored 13 points and dished out eight assists as the Clippers beat Tolman, 62-46, in the semifinals. The Villa Novans advanced to the finals by beating Lincoln, 53-46, with Nicholas Jusczszyn scoring 20 points.
Kody Greenhalgh clinched MVP honors after scoring a game-high 23 points to lead West Warwick to a 67-57 victory over Scituate in the finals of the West Warwick Holiday Tournament.
Justin Pratt keyed a rally that saw North Kingstown overcome a double-digit deficit and defeat Shea, 74-63, in the Barrington Boosters Holiday Tournament championship game. Pratt scored 26 points – 18 coming on six 3-point shots.
Mackenzie Ramsay and Sarah LaMountain scored five points apiece in overtime and West Warwick converted five free throws in the final moments of regulation as the Wizards beat Coventry, 68-60, in the Coventry Credit Union Classic title game. Coventry's Sarah McGrath forced the extra session when she drained a 3-point shot with seven seconds left in regulation.
Juanita Sanchez boasted the MVP in Elfreda Hoff as it captured the City of Providence Holiday Tournament by outlasting Classical, 37-25, in the finals. Hoff scored 31 of her team's points against the Purple after notching 25 in a 53-19 romp over Hope in the semifinals.
Just before the holidays, Prout's Eric Ramelka surpassed the 1000-point mark for his career as the Crusaders beat Lincoln, 61-46.
EAGLES, PURPLE REIGN
Division I champion Barrington and Division II champ Classical combined to place a total of five players on the First Team All-State Soccer Team.
Eagles earning First Team honors were keeper Andrew Jones (who also was named an All-American); midfielder Christian Egglin; and fullback Carson Hall.
Classical was represented by midfielder Asa Sohn (he played on three consecutive state championship teams, two in Division III and in Division II last season) and forward Julio Jimenez (he led all Interscholastic League players with 27 goals and 11 assists for a total of 38 points).
Rounding out the first team were midfielder Dan Apajee and fullback Greg Forgue from La Salle; forward Christian Rodriguez (21 goals) and midfielder Stiven Montiero from Central Falls; midfielder Brandon Jumoas and keeper Justus Heinstchel Von Heinegg from Portsmouth.
SIGNING ON THE DOTTED LINE
La Salle Academy's All-Everything running back Josh Morris has announced he'll be attending Brown University next fall.
Morris, who led the Rams to the Division I regular-season title, rushed for 2,725 yards and 36 touchdowns over his junior and senior seasons.
Hendricken's Mike King will play his baseball at Boston College, after earning Second Team All-State honors last spring for Division I state champ Hendricken.
Alex Perreault, a First Team All-State selection last spring in lacrosse for Hendricken, opted for perennial power Johns Hopkins.
St. Raphael Academy's Nicholas Karalekas, who received the Carl Yastrzemski Scholarship (a four-year scholarship endowed by the Red Sox Hall of Famer), will enroll at Merrimack College and play baseball.
Mike Scandura has been covering high school sports, college basketball, football and hockey plus minor league baseball in Rhode Island since the early 1970s. A native of Oswego, N.Y, he's a member of the Words Unlimited Hall of Fame which is the statewide organization of sportswriters, sportscasters and sports publicists.
October, 10, 2012
10/10/12
10:18
PM ET
By
Mike Scandura
| ESPNBoston.com
Cranston East last won a Division I Super Bowl in 1987 – which, of course, was well before the players on the current team were born.

But the Thunderbolt have an opportunity to prove they're a legitimate contender this season when they play at defending Division I Super Bowl champion Hendricken on October12.
Coach Tom Centore's team set the stage for this matchup of undefeated teams when it waxed East Providence, 42-20, on Oct. 5. Quarterback Alex Corvese threw four touchdown passes to four different receivers – all in the first half – as the 'Bolt bolted to a 28-7 lead. Covese's longest strike was a 46-yarder to Marquem Monroe. Nicholas Ferry caught a 28-yard TD pass just before halftime and, in the third quarter, returned a punt 35 yards for a score that broke the game open.
Hendricken (4-0) and La Salle (4-0) are tied for the division lead, but Cranston East (3-0) is only a half-game back and is 5-0 overall.
The Hawks tuned up for the 'Bolt by blanking Cranston West, 36-0, as quarterback Pat Gill ran for three scores passed for a fourth. In its previous game, the Hawks whipped Tolman, 28-7, converting three turnovers into three touchdowns in the process. Gill scored on a one-yard run and also connected with Marco DelVecchio on a 52-yard scoring bomb.
La Salle remained tied with Hendricken by whipping winless South Kingstown, 39-14, as quarterback Anthony Francis threw touchdown passes of 21 and 63 yards to Keon Wilson.
PANTHERS ON THE PROWL
Johnston maintained its status as the only undefeated team (4-0) in Division II-A by mauling Coventry, 26-6.
The final score was representative of how explosive the Panthers have been this season. In those four league games, they've outscored their opponents by a combined margin of 154-18.
Johnston built a 14-0 lead with five minutes left in the first half, thanks to a six-yard run by Brenden Pappas and a two-yard run by Joe Santilli.
WIZARDS DISAPPEAR – TEMPORARILY
West Warwick was knocked from the ranks of the undefeated in Division II-B when it was routed, 42-14, by Shea on September 28. Dennis Lloyd paced the Raiders with three touchdowns while Tyshon Ashe added a pair.
Cumberland, who blitzed North Kingstown 41-6, moved into sole possession of first place with a 4-0 record. Quarterback Brendan Guerin led the Clippers by passing for 132 yards and three scores.
The Wizards (3-1) rebounded the following week as they pasted Pilgrim, 41-6, with Austin Paygal running for four scores – including one that covered 66 yards.
AROUND THE GRIDIRON
Elsewhere, East Greenwich toppled previously-undefeated Moses Brown, 39-21, in Division III action. Carney Crawford paced the Avengers (4-0) with 230 rushing yards and two touchdowns while quarterback Andrew Minor passed for 117 yards and three scores.
Middletown (3-0) remained a half-game behind the Avengers thanks to a 48-20 victory over Tiverton. The Islanders' Randy Butler had a career game as he carried the ball 12 times for 149 yards and a touchdown and also returned a kickoff 70 yards for another score.
Overall, Middletown amassed 428 yards of total offense against the Tigers. Middletown gave a premonition of things to come when it belted Ponaganset, 48-7, in its previous game. Butler also was a force in that game since he scored on a 31-yard run and caught a 45-yard touchdown pass from Justin Sellers.
In other games of note:
* Mount Hope (2-2) evened its record in Division II-A by beating Woonsocket, 26-7, with Jesse Raiola rushing for 125 yards and three scores.
* Central Falls captured its first Division IV victory of the season by blanking Scituate, 42-0. Quarterback Brandon Canuto threw four touchdown passes – three to Odair Semedo.
* Classical also won its first league game, in Division III, by holding off Burrillville, 16-14. Amilcar Burganza provided what proved to be the winning score when he returned an interception 50 yards in the fourth quarter.
MILESTONE
Long-time Portsmouth boys' soccer coach Mike Stinton recently annexed his 200th career victory as the Patriots blanked South Kingstown, 1-0. Stinton was appointed Portsmouth's head coach in 1989.
Then, the following week, the Patriots (5-3-0) won their fifth consecutive Division I game, 5-1 over Tolman as Brendan Jumoas scored two goals and assisted on two.
RUNNING WILD
The East Greenwich boys' cross-country team ventured north and captured the team title in the Woods Trail Run Invitational in Thetford, Vt.
The Avengers amassed 107 points – 29 better than second-place South Burlington (Vt.) High. Ben Fazio (6th), Garrett Scanlon (18th), Scott Kulm (23rd), Nat Waddell (26th) and Tom Sommer (34th) accounted for the Avengers' scoring.
NO "MIDDLE" GROUND
What had been rumored is on the verge of becoming fact.
East Providence, which had accumulated a $7-million budget deficit and has been operating under a state-appointed Budget Commission, will eliminate middle school sports as part of a proposed plan to help get the city out of the red. Football, basketball and baseball, which have long served as successful feeder programs for East Providence High, would be the primary sports on the chopping block if the overall proposal is approved by November 1.
Mike Scandura has been covering high school sports, college basketball, football and hockey plus minor league baseball in Rhode Island since the early 1970s. A native of Oswego, N.Y, he's a member of the Words Unlimited Hall of Fame which is the statewide organization of sportswriters, sportscasters and sports publicists.
April, 19, 2012
4/19/12
9:01
PM ET
By
Mike Scandura
| ESPNBoston.com
Defending Division I state baseball champion Cranston West has picked up where it left off last season.

Through games of April 18, the Falcons (5-0) were tied for first place with Hendricken in Division 1 Central.
And like any good team, the Falcons are doing it with pitching and hitting.
Just check their last three games:
Rich Reo pitched no-hit ball until the sixth inning – the second time this season he's lost a no-hitter in the sixth – and Frank Pettinato and Tony Crudale each collected three hits and two RBI in a 7-1 victory over Pilgrim.
Ryan Long scattered six hits and went the distance as the Falcons edged East Providence, 3-2.
Rob DeCosta led the last of the seventh with a solo home run which snapped a tie and gave the Falcons a 3-2 triumph over Cranston East.
In other games of note:
La Salle's Caleb Gardner went the distance on a three-hitter, striking out 10 in the process, as the Rams beat Lincoln, 3-1. Frank D'Amato's two-run homer and Jon Lapolla's solo blast accounted for the Rams' scoring.
Kyle Tracey threw only 95 pitches and went nine innings as Cranston East nipped Warwick Vets, 3-2.
Scituate's Scott Iacobucci tossed a no-hitter, replete with 11 whiffs and only one walk, as the Spartans blanked Davies, 14-0, in a Division II-North game.
LAWSON TOPS ALL-STATE BASKETBALL TEAM
Senior forward Jarell Lawson led Central to the state basketball championship, the Knights' first in 20 years.
Therefore, it wasn't a surprise when he was named First Team All-State.
Lawson averaged 19 points and 10.9 rebounds for the 19-4 Knights.
Joining Lawson on the First Team are North Kingstown senior center Evan Scott (he averaged 16.7 ppg. and tied the school record with 69 blocked shots); West Warwick senior forward Ryan Lawton (20.1 ppg. and 1.35 rpg.); La Salle junior guard Tom Hunt (18.9 ppg.); and, for the second consecutive year, St. Raphael junior guard Charles Correa (20.4 ppg. and 7.5 assists per game).
Second Team honors were accorded to St. Raphael senior forward Cesar Mejia, Hope senior forward Emmanuel Kargbo, Mount Pleasant sophomore guard Kip Stewart, North Providence senior guard Austin Van Bemmelen, Westerly junior guard Austin Cilley and West Warwick senior guard John Morrison.
WAS SILVA PUSHED OUT THE DOOR?
As is the case with many schools, coaches must apply for their positions on an annual basis regardless of their tenure.
That was the case with Mount Hope head football coach Ron Silva. But in what was anything but a "harmonious meeting," Silva exited his session with school administrators after confirming he would not apply to remain the Huskies' coach for the 2012 season.
In five seasons at the helm, Silva compiled a 22-19 record in Division II games and guided the Huskies to the playoffs four times.
Mount Hope advanced to the 2009 Super Bowl where it was blanked, 19-0, by Woonsocket.
Silva indicated he would like to continue coaching and noted he's already received a few offers.
December, 16, 2011
12/16/11
12:55
PM ET
By
Mike Scandura
| ESPNBoston.com
And you wonder why coaches become prematurely gray and develop ulcers?

Just ask Hendricken coach Keith Croft and Chariho coach Mike Kelly.
Each coach reached for something to soothe their stomachs after his team won its respective Super Bowl.
Hendricken retained its Division I title by upsetting previously-undefeated La Salle, 17-14, while Chariho won the Division II title – the first state football championship in school history – by edging Central, 26-25.
How each team won was the stuff of legend.
La Salle led 14-10 with 55 seconds left in regulation when Laionel Cintron caught a 15-yard touchdown pass from Ryan Brannigan which helped avenge a 39-14 pasting the Hawks suffered at the hands of the Rams in September.
The championship was the eighth in school history for the Hawks. And, ironically, the reception only was Cintron's 13th of the season for the run-oriented Hawks.
Chariho trailed 25-20 with four minutes left on the clock thanks to a second touchdown run by Central's Mike Washington. But on the ensuing kickoff, Colton place caught the ball on his two and sprinted 98 yards for arguably the biggest touchdown in Chariho history – one that produced the 26-25 victory.
The other two Super Bowls had less dramatic finishes but were just as important to the respective victors.
Rogers, which at one time dominated Division I, beat Middletown 27-7 for the Division III title while Mount Pleasant captured its second consecutive Division IV Super Bowl title by outlasting Central Falls, 22-13.
Senior Reeyon Watts helped the Vikings avenge a loss in the 2010 Super Bowl to the Islanders by rushing for 170 yards and one touchdown on 28 carries.
The title was the first as a coach for Rogers' alumnus Frank Newsome who played on three Division I Super Bowl teams from 1988-90.
Emmanuel Marsh caught a 26-yard touchdown pass from Brandon Dunlap and scored on a four-yard run to pace the Kilties.
In addition, Marsh played a solid game at safety – a position he had not played before the Super Bowl because coach Paul Rao felt he would best fit in a Cover-3 defense.
November, 2, 2011
11/02/11
6:02
PM ET
By
Mike Scandura
| ESPNBoston.com
Is there any sports fan who hasn't heard that cliché' "picking up the slack?"

That's exactly what Division I leader La Salle Academy did on October 28 when the Rams overcame the loss of quarterback Anthony Francis, who was sidelined with an ankle injury, and still throttled playoff contender Cranston West, 30-6.
Junior running back Josh Morris certainly picked up the slack in his teammate's absence by scoring on touchdown runs of 22 and 51 yards in the first half as the Rams remained on top with a 6-0 record.
La Salle also received a lift from backup quarterback Jack Collins who came off the bench and scored on runs of two yards and one yard.
As a result, La Salle has outscored its six division opponents by a hefty margin of 234-86 and is in position to run the table which would enable coach Geoff Marcone's team to clinch the division title and the top seed in the upcoming playoffs.
But as is frequently the case, the title and the No. 1 seed won't be decided until Thanksgiving Day when the Rams play arch-rival East Providence (4-1) in the state's longest-running series on that holiday.
The Townies ventured to Massachusetts last weekend and were blanked, 26-0, by Foxborough in a non-league game – due in large part to the fact they committed seven turnovers. But the previous weekend, East Providence moved into title contention by beating third-place Hendricken (4-2), 35-14, as quarterback Brandon Peters threw a 24-yard touchdown pass to Victor Adewoski and ran for a pair of touchdowns.
Should East Providence and La Salle enter their Thanksgiving game still ranked 1-2 in the standings and if the Townies win which would force a tie, they would earn the No. 1 seed based on the first tiebreaker (record in head-to-head competition).
June, 1, 2011
6/01/11
2:57
PM ET
By
Mike Scandura
| ESPNBoston.com
Prodigy.

That's the appropriate noun to use when referring to Smithfield High freshman Matt Kuhar – all five-feet, two-inches and 93 pounds of him. Kuhar became only the third freshman in Interscholastic League history to capture the state singles championship when he polished off North Kingstown senior and No. 2 seed Dan Hansen in straight sets – 6-3, 6-3.
The only other freshmen to win state titles are Gordie Ernst in 1982 (Ernst, who initially attended Hendricken before transferring to Cranston East in the fall of 1982, holds the state record with four singles championships) and South Kingstown's Andy Singer in 2000.
In the process, top-seeded Kuhar extended his dual-match winning streak to 22-0 and beat the more experienced Hansen for a second time this season (albeit their first match was in April). And in that match, Hansen became one of only three players who would win one – repeat, one – set from Kuhar this season.
Kuhar's combination of groundstrokes and backhands enabled him to win the first set in 30 minutes and break open the second set after building only a 2-1 lead.
The loss was a bitter pill to swallow for Hansen – and not only because he lost in last year's finals to Wheeler's Jessie Frieder.
Hansen on April 20 underwent surgery after he was diagnosed with testicular cancer. But after missing just seven matches, he went 8-1 heading into the qualifying round on May 6.
January, 26, 2011
1/26/11
4:25
PM ET
By
Mike Scandura
| ESPNBoston.com
For decades, Central High ruled boys' basketball in Rhode Island.

The Knights won eight Division I state championships from the late 1960s through the late 1970s, including seven straight from the 1968-69 season through the 1974-75 campaign.
Central added two more crowns in the late 1980s and won its last title in 1992.
At the dawn of the next decade, Hendricken supplanted Central as the king of the boys' basketball hill. Entering this season, the Hawks have won six consecutive state titles under coach Jamal Gomes.
Central gave notice it might supplant the Hawks on Jan. 20 when it routed Hendricken, 76-61, in a game that wasn't as close as the final score indicated. But barely 48 hours later, Central received a dose of its own medicine when it was shocked, 65-61 by North Kingstown.
Central's Robert Lewis was a factor in both games although against the Skippers not in the way he's accustomed to being a factor.
Lewis dropped 36 points on Hendricken, which included five 3-point shots, and raised his season scoring average to 23.9 points. But against North Kingstown, the Skippers clamped down on Lewis and held him to 10 points while the winners' Derryck Kilgore scored a game-high 23 points.
Despite the loss to North Kingstown, Central is making strides under first-year head coach Todd Keefe to restore some its past luster.
Ironically, Keefe coached Classical to a pair of state titles before accepting the position at Central.
Among other things, he's instilled a sense of discipline and respect for opponents and officials which, in turn, has gained the Knights the respect of the Interscholastic League. And while run-and-gun ball has been a staple of past Central team's, Keefe has his team operating more in a half-court game.