It's a couple hours before St. John's Prep will take the ice in its season finale against Catholic Memorial. The Eagles have the historic opportunity to knock CM out of the playoffs for the first time in more than a quarter century.
But Prep goaltender David Letarte is already busy. He stands along the end boards of the Cronin Memorial Rink in Revere. While a bunch of youngsters fall and flail on the ice during public skating hours, Letarte is listening to music on his iPod while feverishly taping his stick. It's not typically part of his pregame ritual; he usually tapes his stick during the previous night's practice. However, his stick broke during practice, so he's going to his backup and trying to get it ready for game action.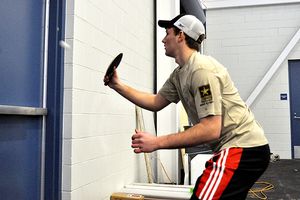 Scott Barboza for ESPNBoston.com
St. John's Prep goaltender David Letarte's preparation for a game begins more than a hour before the Eagles hit the ice with playing ping pong against the wall to work on his hand-eye coordination.Soon after, about an hour before the Eagles are to take the ice, Letarte goes off into a secluded corner of the rink with goaltending coach Scott Hentosh. The pair work through a battery of reflex drills. The series lasts about 20 minutes and it incorporates all elements of hand-eye coordination that are beneficial to playing between the pipes. Hentosh and Letarte started this particular ritual about halfway through the season; its impact has been evident in Letarte's play.
"You can really see the difference." Hentosh says.
Whether it's motor reflex drills, taps against the goal posts, or hopping over the blue line, goalies are always looking for an edge. They're a tightly-bound pile of nerves, ticks and idiosyncrasies. They're a breed of their own and they also happen to be a critical part to any team's postseason hopes.
But, as Letarte will have you know, there's a method behind all the madness.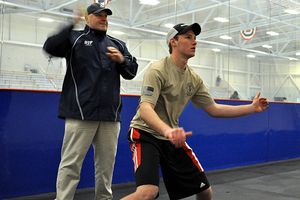 Scott Barboza for ESPNBoston.com
In the next phase, Letarte works with goaltender coach Scott Hentosh, who throws a tennis ball against the wall from behind Letarte. He then reacts, making the "save" with either hand."The thing about anyone's routine is that it makes you feel like you're mentally prepared," the Prep junior said. "It's whatever you need to do to make you feel you're ready to play."
Playing goal is more than just a collection of superstitions — well, somewhat. Letarte also confesses to having his own set of mannerisms in the crease. Moreover, it points to a frame of mind, a sort of Zen that a goalie accesses to play at their highest level.
"The biggest part about this game is the mental," Letarte said. "If your mind isn't right, you're not ready to play."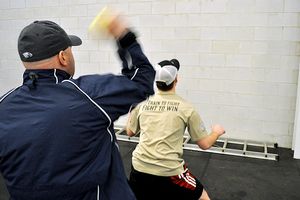 Scott Barboza for ESPNBoston.com
Letarte says the drills help him tune his mind and body in preparation for upcoming game.A mainstay of Letarte's pregame preparation is visualization. He spends quiet time in the locker room running through the game in his mind before he dresses. Putting himself mentally on the ice, Letarte visualizes himself playing the angles, making the saves.
During that process of introspection, he also focuses on breathing patterns. He's taught himself how to slow breathing, which in turn slows his pulse, which in turn has a calming effect. It's an aid he picked up with the suggestion of his brother, Andrew, a 25-year-old Prep graduate and former hockey standout who is now a member of the Army Rangers.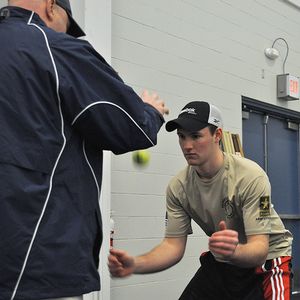 Scott Barboza for ESPNBoston.com
In the next round of excises, Hentosh faces Letarte and holds the tennis ball at the height of his head, dropping the ball and calling out which hand Letarte should catch the ball with -- again reinforcing reflex time."My brother told me about how snipers use breathing techniques to slow their heart rate and how it helps them hit their shots," Letarte said. "He's always been a big help to my game."
Letarte hopes to follow his brother's path into armed forces. Andrew is up for deployment next year, but even when he can't be in attendance for David's game, his younger brother "carries him" into every game. He wears an U.S. Army t-shirt underneath his chest guard the Airborne eagle logo is emblazoned on the back of his mask.
He wears the Army t-shirt during his pregame session with Hentosh. The first installment lasts around five minutes with Letarte playing a game of ping pong against himself. Like Forrest Gump, Letarte bats the ball against the wall, gripping the paddle with his right hand and then his left.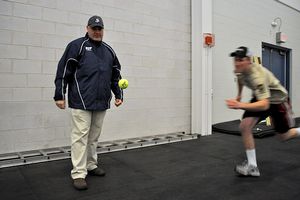 Scott Barboza for ESPNBoston.com
Hentosh next tests Letarte's reaction time. The goaltender stands about 30 paces away, crouched in the starting position. Hentosh drops the ball and Letarte tried to catch the ball on one bounce.Next, Hentosh uses a tennis ball to test Letarte's reflexes. Standing behind Letarte, who's crouched in butterfly style, Hentosh bounces the ball off the wall, forcing him to make a "glove save." After going for several minutes, they switch to a face-to-face drill, where Hentosh holds the ball at eyes' height. While dropping the ball, he calls out: "Left, left, right, left," and Letarte catches the ball with the according hand. Finally, there's a sprint reaction drill. Letarte stands about 30 paces to either side of Hentosh, who then releases the ball. The idea is that Letarte will catch it, mid-sprint, on one bound.
The additions to Letarte's pregame regimen with Hentosh's assistance have helped him to a 2.52 goals against average this season. He's also been no small reason for the Eagles' run to the Super Eight, which begins with Prep's battle against play-in winner Woburn at 4 p.m., Saturday, at Merrimack College.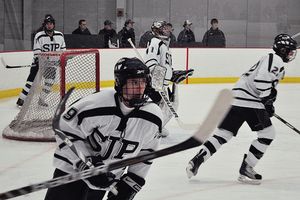 Scott Barboza for ESPNBoston.com
With his exercises behind him, Letarte pulls his gear on and takes the ice for the pregame shoot-around with his teammates."We started out kind of slow this season, but then we started to get know each other's games," said Letarte, a Salem resident. "We've got a good group of seniors and then we had some younger players step up like [freshman Shane] Eiserman. We started to play more physical hockey and we started playing the way we wanted to play."
On Saturday, as before any other game, Letarte will go through his usual routine.
When he skates to his crease, he'll get down in his split, stretch out, get up. He'll put his mask along with catching glove, blocker and stick on top of the net and take one last big swig of water (as he does habitually after every whistle). He'll slip the mask back on, tap the pads in his ceremonial form, face center ice and raise his arm to the official.
Let the puck drop.