Boston High School:

Scott Nickerson
June, 28, 2014
Jun 28
5:12
PM ET
By
Jeff Cox
| ESPNBoston.com
Maxwell Willman, from high school to signing autographs at the #NHLDraft. #Sabres2014Draft pic.twitter.com/UYUlhlwojk

— Buffalo Sabres (@BuffaloSabres) June 28, 2014
PHILADELPHIA – Max Willman almost gave up playing hockey last spring after the conclusion of his high school career at Barnstable High School.
Good thing he didn't. On Saturday, the Buffalo Sabres selected Willman in the fifth round of the NHL Draft. It was the ultimate reward for a year's worth of hard work and dedication to getting better, but it all might not have happened had it not been for communication with a prep school coach.
Williston-Northampton head coach Derek Cunha presented Willman with the opportunity to play a post-grad year at his school and entry into some prestigious summer showcase events, including the Beantown Classic.
[+] Enlarge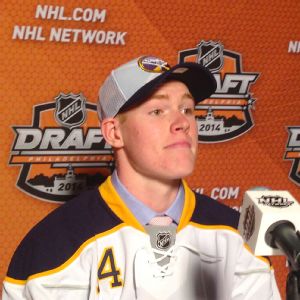 Courtesy Jeff Cox Former Barnstable standout Max Willman nearly gave up hockey before landing at Williston-Northampton for a postgraduate year. On Saturday, he answered questions in Philadelphia after being selected by the Buffalo Sabres in the NHL draft.
"Coach Cunha gave me a chance. He put me in some summer tournaments and I took advantage of it," explained Willman. "It's overwhelming and exciting. It's definitely a dream come true. Hard work pays off."
"One thing he did was he made the most of every opportunity along the way," Cunha said. "Starting with summer showcases last summer, midget hockey in the fall and then with us during the prep season, he got better and better."
It's the ultimate success story. Willman was ready to just head to Quinnipiac University as a regular student like many of his fellow graduates from Barnstable. Instead, he took Cunha up on the offer to play prep school hockey.
"When I graduated from Barnstable, I didn't have very many options. I was looking to go to Quinnipiac as a student," said Willman.
A year later, Willman has secured an offer to play college hockey at Brown University and is now a prospect in the Sabres' system, as the organization attempts to rebuild.
"Some kids level out, but Max keeps getting better. He has a lot more potential for growth," said Cunha, a Nobles & Greenough grad, who played college hockey at Holy Cross.
It wasn't that Willman wasn't a good hockey player when he skated for head coach Scott Nickerson at Barnstable. It was a matter of exposure.
"Exposure is a big thing. Not many [scouts] come down to the Cape to watch public school hockey," Willman said.
Willman isn't the flashiest player fans will ever watch, but he is the type of player who just gets the job done. He is tenacious and brings the play to his opposition.
"I have good vision and can see the ice well. I try to make my linemates around me better," said Willman when describing his game.
He is a versatile scorer that can find the back of the net in many different ways.
"He can beat defensemen one-on-one, shoot and score from the perimeter or bowl his way towards the net," said Cunha. "He really dictates the play. He forces the play and makes defensemen worried about him."
Willman will join a strong recruiting class at Brown that also includes two other locals selected in the 2014 NHL Draft: Deerfield's Sam Lafferty and Kimball Union's Tyler Bird.
"It's definitely exciting with the incoming class. I played with Sam [Lafferty] last summer and fall and played against him in prep school," said Willman, who was also looking at Providence, Union, Holy Cross and Army.
Perhaps most importantly, in the minds of the Sabres' brass, Willman is a character guy who will give his all every shift and be respected by his teammates.
"He's a character guy, he's a great kid," Sabres General Manager Tim Murray said. "He's the type of kid you want to marry your daughter. He's a smart kid going to Brown.
"Every scout on our staff all said he was a good hockey player. There wasn't one guy who said he wasn't sure on this kid. I like unanimous decisions."
Another unanimous decision around Philadelphia was that Max Willman was one of true feel good stories of the draft.
what an unreal feeling! thank you to everyone who has helped me reach this point! I'm excited and honored to be apart of the @BuffaloSabres

— Max Willman (@MaxWillman10) June 28, 2014
March, 6, 2014
Mar 6
1:26
AM ET
By
Phil Garceau
| ESPNBoston.com
BUZZARDS BAY, Mass. – For the second night in a row, the Barnstable faithful had to endure an overtime finish.

But unlike the girls squad that fell on Tuesday night, the Red Raiders boys' hockey team came through in the overtime period, with Kyle Rood notching the game-winner with 36.5 seconds remaining and leading No. 6 Barnstable to a 5-4, come-from-behind win over No. 7 Norwood in the Division 1 South semifinals.

Barnstable will play top-seeded Braintree in the Div. 1 South finals on Sunday (1:45 p.m.) at Gallo.

"This team is a hell of a lot better than we gave them credit for at the beginning of the year," Barnstable coach Scott Nickerson said. "They don't quit, they don't panic, and they get a little excited sometimes and take penalties but that goes both way."

After a Barnstable hand pass put the face off back in their own end, the Red Raiders cleared their zone. With the icing call waved off, Donnie Brodd chased down the puck and fed the puck to an open Kyle Rood who went far-post, ending the marathon event.

"I was kind of chilling on the weak side wing. Donnie Brodd, great hockey player won the battle took them deep down around the net and I was wide open in front of the net and I tapped it in," Rood said over his overtime winner.

It was only fitting that the first line of the Red Raiders would put an end to the game.

In the three games Barnstable has played in this postseason, they have been the heart and soul of the squad and Wednesday night was no different as they accounted for four of the five goals.

However, the Red Raiders were once again plagued by their own penalties. Heading into the second period, Barnstable held a 1-0 lead but penalties let the Mustangs right back in it.

John Galvin tied the game at 6:56 of the second period and four minutes later Mark Powers put Norwood on top with a power play goal.

With momentum clearly swinging over to the Mustangs side, Brodd took it upon himself to tie the game nine seconds later with a wrist shot over Denny Drummey's shoulder.

Adding insult to injury after their penalty-plagued period, the Red Raiders allowed the Mustangs to get the go-ahead goal with 50 seconds left in the second period on a breakaway goal from Jack Sheehan.

Barnstable came out on the offensive to begin the third, tallying the first five shots on net, but it was Norwood that struck first.

Midway through the third, Sheehan struck again when he collected his own rebound and went around Red Raider goalie Kevin Huska to put Norwood on top, 4-2.

"I thought typical of the way we have been playing, we played very well in the first period and we were taken off our game in the second period by taking penalties and it changed our whole momentum," said Nickerson.

With their season staring down a two-goal deficit, the quick-strike Raiders responded again, this time 11 seconds later when Cody Pasic jammed a loose puck home from the doorstep.

Three minutes later, Barnstable completed the comeback when Max Lambert took control of a failed clear attempt and rifled off a shot from the right dot to tie the game at four.

"At this stage anybody can beat anybody and I thought we were in trouble but we fought back and we were able to win," said Nickerson.
March, 1, 2014
Mar 1
11:48
PM ET
By
Phil Garceau
| ESPNBoston.com
BUZZARDS BAY, Mass. – Notice to the remainder of Division 1: When Barnstable's first line is clicking, watch out.

No. 3 Milton found that out in the first period of Saturday's Div. 1 South quarterfinal with the Red Raiders when Mike McDonough and Donnie Brodd each scored two goals. Cody Pasic also added assists on all four goals as Barnstable held on for a 4-3 win.

"That first period was the best we've ever played and the best I've seen a high school play," said Brodd. "I've known Cody since I was about six years old with baseball and hockey we know each other real well and we know where the other is so it works out real well."

Donnie Brodd had the first two goals for No. 6 Barnstable at 7:35 and 9:06 of the first period, while McDonough had a power-play goal 27 seconds later and again at the 13:42 mark.

"We've got five or six kids that are very good and when they are on the ice they control the whole game, Barnstable coach Scott Nickerson said. "The last few games our first line has been dominate and five-on-five, they play exceptionally well."

Despite four Barnstable goals in the first period, Milton got a boost from Jack Halloran right before the end of the period.

With 2.3 seconds left, Halloran went streaking down the left wing, and sent a wrister past Barnstable goaltender Kevin Huska inside the far post.

The Red Raiders offense sputtered in the second and third periods, mainly due to penalties. Barnstable outshot the Wildcats 15-6 in the opening stanza, but over the final 30 minutes, it was Milton that owned the advantage. Four Barnstable power plays gave the Wildcats a 16-11 shot advantage to end the game.

"I think penalties hurt us not in the fact we gave up power play goals but the fact it took away from our momentum," Nickerson said. "On five-on-five, we dominated but when you have to kill three penalties in a row with you top guy killing penalties, it starts to slow things downs."

On their fourth and final power play, the Wildcats' special teams unit broke through. At 2:01 of the third period, Owen Bligh took a shot from right wing that Huska made the initial stop. The puck popped straight up into the air, landed behind Huska and crawled past the goal line to bring the Wildcats within one.

"I credit my senior and the captains for taking change and going down fighting and leaving everything on the ice," Milton coach Paul Noonan said.

Milton got the first eight shots on net to open the third, but Huska rose to the occasion, keeping the Red Raiders on top. His two biggest saves came with less than 10 seconds remaining in the game when Connor Richard scooped the puck up behind the net and attempted the wraparound.

"I think [Huska] played well enough to win us a game but I think it was a team win," said Nickerson. "But when needed to he made the saves."

Onto the semifinals: With the win, the Red Raiders are two wins away from hauling in the Div. 1 South hardware and moving onto the T.D. Garden. They will match up with No. 7 Norwood, who knocked off No. 2 Archbishop Williams on Saturday night.

But whoever Barnstable is playing, Nickerson feels confident in his team that they can take on anyone.

"I honestly feel that we've had better teams in the past but I don't think we've had teams playing as well as this team is right now or in a situation that is lined up as well to win a state tournament."
February, 9, 2014
Feb 9
12:55
AM ET
HYANNIS, Mass. – During the pregame ceremonies at Kennedy Ice Arena last night, it was the Barnstable High School seniors that were celebrated. After the game, it was a junior that had provided the biggest reasons for Raiders Nation to cheer.

Barnstable junior forward Cody Pasic had one of his best games of the season to help spearhead a victory for No. 25 Barnstable (10-3-3) over their rivals from Falmouth (10-5-1). Pasic scored the only goal of the first two periods, and added two more in the third stanza as the Raiders beat the 24th-ranked Clippers 4-1 before a packed house. Senior Kyle Rood assisted on all three Pasic lamp-lighters and junior defenseman Mike McDonough added an empty-netter as time expired.

The victory runs Barnstable's current undefeated streak to nine straight games. Since a 2-0 loss at Falmouth last month, BHS has gone 7-0-2. Falmouth had a five-game winning streak snapped.

Raiders head coach Scott Nickerson said that the squad ribbed their sniper, who now has 17 goals on the season, that his performance wasn't as good as it could have been.

"We were giving him a hard time, thinking that he could have had a few more, because he missed a few," Nickerson said. "But how do you complain about that?"

No one on the Barnstable side was complaining when Pasic got the first one of the game, just seconds after Falmouth was cited for having too many men on the ice midway through the middle period. On the draw after the penalty, Rood won the puck back to his right and Pasic let into a slap shot through traffic that beat the Clippers' Jake Beaton down low to make it a 1-0 game.

Pasic struck again, even though he wasn't trying to, at 2:46 of the third. The winger was attempting to fling a pass to the far side, from the blue line, for a cutting teammate. The puck changed direction off of a Falmouth skate and knuckled by Beaton to the near post to double the Raiders' advantage.

That one fortunate hop in the home team's favor, and a couple of bad ones that went against the visitors, loomed large at the end of the night.

"(Falmouth) hit a couple of pipes. We got some breaks. Our second goal, the goalie was sliding it over and it hit a (skate) and got deflected and went the other way," Nickerson said.

Falmouth head coach Paul Moore agreed. "We didn't get the breaks tonight, and I think they got one on their second goal, that was a pass going across the middle and it hit Cam (Tobey's) foot and redirected. Jake was playing the pass."

Falmouth cut into the lead four minutes later on a pretty shot by Marc Rocheleau off a faceoff, on a play that was very similar to the Raiders' first goal. Freshman center Patrick Coyne won a faceoff back to Rocheleau, who ripped a hard slap shot to the upper far side.

Barnstable keeper Kevin Huska never saw that one, but he saw the other 22 Falmouth shots on net, and stopped them all. His biggest save of the night came with 4:50 left in regulation as the senior flashed his left leg pad to halt a laser off of Cam Tobey's stick from the slot. Seconds later Rocheleau had a solid bid to tie the contests, but his shot from the right point hit the post.

Nickerson was very pleased with the play of his keeper. "He's a good goaltender. That's why we play him in the big games. He wins the big games. He does a good job."

Pasic struck for the third time 70 seconds later, icing the game while completing his hat trick. Rood stole the puck away from the Falmouth defense in the right wing corner and flung a shot on from a tough angle. Beaton stopped that one, but Pasic was camped on the crease and muscled in the rebound for the back-breaker.

Nickerson said that the win further legitimizes something he feels strongly about -- that his his team deserves to be in consideration for the Super 8.

Should the Red Raiders continue to win like they have, his club will certainly have to be a part of the conversation.

"A lot of our games have been against strong competition," Nickerson said. "I feel really good about what where we're at … I think we're better than people give us credit for. I know that there's a Super 8 Watch List and I was disappointed that we weren't on it. Maybe our last two wins will get us on it. It certainly should, based on what I see there. I assume we were on the bubble, and we won two games against two pretty good teams."

Moore, who is on the selection committee, has firsthand knowledge of just how tough the Red Raiders are, and is a believer that Barnstable's case is getting better and better.

"That's a good team. They probably play one of the best public school high school schedules. They're battle tested and they keep coming at you."
December, 29, 2013
12/29/13
12:37
AM ET
By
Phil Garceau
| ESPNBoston.com
HYANNIS, Mass. – The Panthers may be a young team, but the message they sent this weekend should have any team that crosses their path a little worried.
Barnstable coach Scott Nickerson might have summed up Saturday night's game against No. 8 Springfield Cathedral the best.
"We were outmanned, they just did everything well. They've got some of the best players I've seen in the last 10 years."
The Panthers followed up Friday night's six-goal game by hanging nine goals on their second ranked opponent in as many games to capture the Cape Cod Freeze Out championship.
[+] Enlarge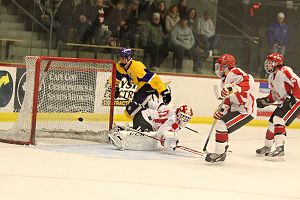 Phil Garceau for ESPNBoston.comSpringfield Cathedral winger Peter Crinella was one of three Panthers with multigoal games in a rout of No. 19 Barnstable at the Cape Cod Freeze Out.
Sophomore Johnny Leonard paced the offense with a hat trick and D.J. Petruzzelli chipped in with two goals and a pair of assists in the win. Both players were named to the all-tournament team.
Leonard scored two of his goals in the first period as the Panthers took a 3-0 lead into the first intermission. Leonard scored his first of the night was he got behind the Red Raiders blue liners and was fed a perfectly timed pass Matt Cieboter. All alone on the breakaway, Leonard made a quick move to beat Kevin Huska and gave Cathedral the lead just 69 seconds into the game.
Freshman Riley Prattson added a goal midway through the first and Leonard was set up for a power play goal from Perruzzelli in the closing minutes of the period to put the finishing touch on an all-Panther first period.
"Always when you can score early and get a lead you're always better off. It's a tough game and playing from behind is hard," said Cathedral coach Brian Foley.
Barnstable was at risk of being run out of their own building, but 20 seconds into the second period Cam Curtin got a hold of the puck and took it up the left side and rifled a shot past John Liquori.
Peter Crinella and Pertuzzelli scored a minute and a part from each other to give the Panthers a 5-1 lead and Crinella goal with 25 seconds put the visitors up 6-2, but the pesky Red Raiders refused to go away. Cody Pasic got two goals in the final five minutes, including one with seven seconds on the clock giving the Red Raiders a shred of hope to cling onto as they skated back to their locker room for the second break.
"We played a better second period, tying them 3-3 in the period and we go into the locker room trailing, 6-3," said Nickerson. "If we don't give up the goal at the end it's 5-3, and I think it's a different story."
But Springfield Cathedral put an end to any thought of a Barnstable comeback, scoring two quick goals to open the third. Leonard scored his hat trick goal with 3:05 on the clock to end the high scoring affair.
"At the end of the second they took the momentum away so it was important to come out in the third and score the three goals to win the game," said Foley. "I thought the next goal in the third was going to be huge. If they made it 6-4 we are on our heels."
No inexperience here:
Cathedral is skating one of the youngest teams in the state. The only senior on their team is their goaltender, John Liquori. The Panthers have five juniors in first-liners Crinella and Petruzzelli, second line right winger Zach Prattson and their second defensive pairing of Cieboter and Bryce Peritz.
That leaves 15 skaters and two goalies between eighth grade and sophomores. But don't let that fool you. They need be considered amongst the most explosive teams in the state. Six goals against No. 22 Braintree and nine goals against No. 19 Barnstable with Kevin Huska in net.
"We are really young so obviously its work in process," said Foley of his team so far. "Its nice we're scoring a lot more goals than we have in the past, but we are allowing more goals than we had in the past so we need to work on team defense but we are making strides and improving."
With such a young team, the hot question on everyone's mind is how they will react come tournament time in February. While the season is still young, Foley isn't worried about that quiet yet, "Its very strange but credit to those kids. They are a talented group of kids and as long as they keep working and improving, age won't be an issue as the season goes on."
A learning experience:
Nickerson didn't sugar coat his loss after the game and gave credit where credit was due.
"We reacted slow. At this point in the season I don't think we could beat them one out of 20 times but down the road, who knows. It's a good learning experience."
Barnstable had gotten off to a solid start this season, but Saturday's game should be a wake up call to the Red Raiders. If they want to be the best they have to beat the best and Cathedral reminded them just how far they are.
But the season is still early on and there are things that the Raiders did well that can be built upon. How they reacted when they were down after the first period is a good starting point.
"We attempted to make a game out of it but at this point in the season we aren't ready for that type of competition," said Nickerson. "Its good for us, it shows us where we stand and where we need to be but also a reminder that we aren't a super eight team."
Power-play dominance:
The Red Raiders were sent to the penalty box four times and the Panthers did their best to make them pay for every mistake that made.
Four penalties translated into three power play goals for the Panthers.
Barnstable needed to play a perfect game when they were at ever strength to win the game, never mind when they were outmanned on the ice.
December, 28, 2013
12/28/13
4:23
AM ET
By
Phil Garceau
| ESPNBoston.com
HYANNIS, Mass. – Through four games this season, almost everything has gone Barnstable's way. And Friday night's game against Newburyport was no different.

Donnie Brodd nearly matched his season's output with four points (two goals, two assists) and Dylan Campbell recorded the shutout in his first game of the season in a 6-0 win in the opening round of the Cape Cod Freeze Out.

Their reward? The No. 19 Red Raiders get No. 8 Springfield Cathedral in Saturday's championship game.

Newburyport will meet Braintree in the consolation game.

Barnstable hadn't played since last Wednesday, when a last-second goal from Duxbury gave them one point instead of the two they had hoped for. After a nine-day layoff, Barnstable coach Scott Nickerson wasn't pleased with his what his team showcased despite the lopsided victory.

"I didn't think we jumped on the puck, I didn't think we did a lot of things well. We capitalized on some chances to take a lead so that made it a bit easier but we have a long way to go. I thought we weren't reacting quick enough, I didn't think we moved the puck quick enough, there's a lot of things I was disappointed in."

The Red Raiders did get a solid performance from Campbell, who saw the ice for the first time this year. Campbell gave starting goalie Kevin Huska the night off and looked solid. In Nickerson's eyes, he was one of the few bright spots.

"He made the saves he had to make, he didn't give up any bad rebounds, I thought he played the puck well. If you are looking for a strong point that's certainly was one and that makes us better."

Offensively, the Red Raiders took advantage of a handful of mental errors from the Newburyport blue line. Kyle Rood and Brodd gave the Red Raiders first period goal but the defensive breakdowns didn't come until the second period.

The first came when Brodd took the puck up the middle, and sped by both defenders, finding himself alone with goalie David McDonough. Brodd made a quick move to beat McDonough and gave the Red Raides a 3-0 lead.

Less than three minutes later, Brodd found Kevin Conway behind the defense in the neutral zone and fed him a beautiful pass up the middle. Conway took the puck in stride and was off. He beat McDonough stick side seconds later, ending the sophomore goalies night.

"It was nice to get goals from a couple new guys and I thought some of the younger guys played well," said Nickerson.

Chris Fowler added a power play goal a minute later when he fired a shot off of the initial faceoff to give Barnstable a 5-0 lead heading into the second break.

"Soft" team? Just ask the coach: Clipper coach Paul Yameen was not happy about the effort his team put forth and rightfully so. He was not shy in telling it like it was after the game.

"I don't think that's ever happened to us in my 10 years here and its very disappointing because we're better than that."

Newburyport didn't look good all game. Barnstable was faster, hit harder and made plays all night and the Clippers had no answer.

"That's not how you play hockey, that's not how we play hockey. I just told them that, I'm embarrassed and that's the first time in 10 years I'm embarrassed. We are soft. We are a soft team right now and that's very disappointing because that's not the way we coach."

There didn't seem to be much fight from the Clippers team who fall to 1-3-0 on the season. Things don't get any easier for Newburyport either as they get No. 22 Braintree in the consolation game Saturday afternoon. Braintree is coming off an ugly 6-0 loss from the hands of Springfield Cathedral and will be looking to take their frustration out on someone.

"I wish we could play in an hour, but we just need to put this one behind us and play our style of hockey, said Yameen. "We're not an overly skilled team up front so we need to do the little things to score and we're not doing that. We're not crashing the net, we're not sustaining a heavy fore-check.

Taking the body: Barnstable was dishing out the hits like they were going out of style. After taking the constant battering, it softened up the Clippers a bit and they shied away from attacking the net as the game went on.

But Nickerson wasn't a fan of that style of play and was worried that his teams desire for the big hit would come back to haunt them.

"I think a lot of times where we hit just to hit and hitting just to hit isn't effective. We need to play the body better and have a purpose to what we are doing or some of these better teams will make you pay. It doesn't make sense to bang the body and make a lot of noise."

That statement will the put to the test Saturday against Springfield Cathedral. The Panthers are an experienced group and one missed hit could result in the puck going into the net.

Nickerson already sees his team as underdogs against the No. 8 team and knows it will take a total team effort to pull out a victory but knows a victory isn't out of the question.

"If you look at them on paper and you go man-to-man, they are loaded and we are only mediocre and its going to take a team effort," said Nickerson. "There is no doubt we are underdogs. But if we play the way we can and the guys do what they need to do, at the high school level anything is possible."
December, 18, 2013
12/18/13
11:56
PM ET


KINGSTON, Mass. – Even in his mind, Duxbury head coach John Blake knew his team was toast.

"I thought it was over," he said.

After both teams took their timeouts, the Dragons assembled around the faceoff circle with 5.3 seconds to play and down a goal in Wednesday evening's non-league tilt against Barnstable at The Bog. They executed their plan with senior captain Trevor O'Brien winning the draw back to Tyler Powers at the point.

However, Powers wasn't able to get the puck to settle and the shot didn't quite come through. It was about that time Blake was about to put his team's opener in the loss column.

But there was O'Brien. He coolly collected the loose puck and found an opening on the short side to beat the Red Raiders' nearly impenetrable goaltender, Kevin Huska (23 saves). There was then 1.2 seconds remaining and a lot of incredulous-looking faces around the rink – including the one behind the Dragons' bench.

Duxbury escaped with a point and a 2-2 tie.

"That why you have to play to the final whistle," Blake said.

And it was those minor victories that helped Duxbury (0-0-1) get even.

"There were a little bit better on every one-on-one battle, I told my coaching staff, I thought that was the difference," Barnstable head coach Scott Nickerson said. "And it showed itself in the end."

After a scoreless first period, the Dragons asserted their will down low on the cycle through the second. Duxbury dominated the territorial play and was rewarded with the first goal of the game at 7:14, with senior captain Nick Marrocco sliding a back-hander past Huska from the top of the crease. O'Brien and Shawn Errasti picked up the assists.

Yet, Barnstable (2-0-1) showed resiliency, striking back before the period was out. Junior defenseman Michael McDonough stepped into the play to tie it with 26 seconds remaining in the second.

The Red Raiders also transferred the momentum into the third, scoring on its first shot on goal of the period. Junior winger Cody Pasic scored his fourth goal in three games at 3:50 of the third.

Despite peppering Huska with 11 shots during the final 14-plus minutes, the Dragons were unable to find the equalizer.

Ultimately, they just wanted it a little more in the end.

"Everybody just has to bear down, get their guy, win the faceoff and get it to the net," O'Brien said of the game-tying push. "It's all mental toughness at that point."

He continued, "When you have a little letdown when they score, it's hard to pick the boys back up. But once you do, we started rolling, controlling the play and we were all over them."

The onslaught: Duxbury could have widened its lead in the second, when the Dragons had four of their five power-play opportunities.

But, while they weren't able to cash in, the Dragons continued pushing the issue while working the puck down low and set up the cycle below the dots.

"We feel that our strength is our speed and skill up front, and our top nine forwards are very skilled," Blake said. "We want to really keep that puck down low, really work it down low. We feel like we have an advantage over most teams with our forwards going against their defensemen."

The answer: Again, as the Red Raiders came to rely upon him last season, Huska was the backbone to their hopes on Wednesday.

Barnstable's blue-line corps isn't too deep, as Nickerson conceded after last year's roster turnover, but the Red Raiders' top three of Donnie Brodd, Chris Fowler and McDonough is steady and rugged.

But the group thrives when the senior netminder is on point.

"He's a competitor," Nickerson said of Huska. "He's a goalie with a big heart and he does whatever he has to do to stop the puck. When you have that, the team becomes more competitive. When you have a backstop like that, you're in every game, or at least you should be."

Filling the void: For Barnstable, dealing with the graduation of an All-State caliber player in Max Willman and the defection of last year's top-scorer Connor Fries to prep school has left the offense a little thin.

However, the Red Raiders are averaging five goals a game in the early going, spurred on by a host of forwards who've already exceed their production from last season.

Take Pasic for example. In his sophomore season last year, Pasic had just one point. Through three games of the 2013-14 campaign, he already has eight.

Senior Cam Curtin also has five points thus far after scratching the score sheet just once last year.

"It's not an excuse, but we're young, and we're learning," Nickerson said.
March, 4, 2013
3/04/13
12:47
AM ET
By
Mike Abelson
| ESPNBoston.com
BOURNE – It was like the tortoise and the hare except that the hare won.

Three third-period goals powered Barnstable past Weymouth 5-2 Saturday at a packed Gallo Arena. The Red Raiders advance to take on Hingham in the Division 1 South semifinals Wednesday night at Gallo.

"This team here has fought hard," Barnstable coach Scott Nickerson said. "We played well. I think we've overachieved to get where we're at. I thought we played well."

Barnstable senior Max Willman turned the game into his own personal highlight reel. Willman scored three goals, including an empty-netter to seal the deal, but both he and Nickerson said he could have done even more.

"On the score sheet it looked like he had a fantastic game, but I thought he could have had three or four more," Nickerson said. "It sounds crazy, the kid had a hat trick and I'm knocking him, but we're going to be successful because of him. If he had a couple early that he missed it could have been a little bit different."

"I had a couple of breakaways that I missed, but that happens," Willman said. "All that matters is that we picked up the W."

The Red Raiders assaulted Weymouth goalie Kurt Gutting early with 17 first-period shots, but Gutting turned aside 16 of them. Willman's first goal was answered by Weymouth's Kevin Morrissey just over two minutes later to tie the game after one.

Weymouth had a much stronger period in the second. The Wildcats were able to dictate tempo and make Barnstable junior Kevin Huska work between the pipes.

Willman scored his second of the game midway through the period, but junior forward Steve Ganley put one past Huska just 75 seconds later to tie it at two.

After that Huska locked it down and turned aside Weymouth's final nine shots. He had 17 saves during the game.

"I expect him to make saves," Nickerson said. "He's got us here. He played well tonight."

Weymouth pressed during the third period, but the attack, led by juniors Pat Coleman and Joe Flanagan, couldn't solve Huska in the final frame.

A rocket from Chris Fowler at 6:33 of the third period put the Red Raiders ahead for good. Eric Rogerzenski added the dagger for Barnstable 2:10 later.

"We had a lot of chances; lot of breakaways that we didn't capitalize on," Weymouth head coach Marty King said. "They're a real good team. We never gave up though and that's why I'm proud of them."

With a date against perennial power Hingham looming, Willman said that there was still much work for him, and the Red Raiders, to do.

"This is huge," Willman said. "It's farther than we got last year, so it's a bonus. But we've got still got to work hard to get to where we need."
March, 1, 2013
3/01/13
4:45
AM ET
BOURNE, Mass. – All Buddy wanted to talk about was his opponent.

After seeing his 33-season coaching career behind the bench of Falmouth High boys' hockey come to a close in a playoff defeat to archrival Barnstable, the Clippers' head coach spent a good portion of his postgame talk recollecting the finer points of one of Massachusetts' great public school rivalries.

The Red Raiders beat Falmouth, 4-2, Thursday night at the Gallo Arena in their Division 1 South first-round tournament game. It marked the third time this season that Barnstable beat its Cape adversary.

After the game's conclusion, a misty-eyed Buddy Ferreira told his team that it was his last. He walked down the corridor to the Red Raiders' room, congratulating them on the victory and wishing them luck in their playoff journey. He shared a long embrace with longtime counterpart, Barnstable head coach, Scott Nickerson.

He then sat alone for a time in contemplation, as a cavalcade of well-wishers offered handshakes and pats on the back, before meeting with the assembled media. He fought back tears with each step.

While it wasn't a fairytale ending, Ferreira maintained afterward that it couldn't have been scripted any other way. He talked about how difficult it is to step away from something he did every day for so long. But everything he'd built led to this very moment.

"It's not that I want to," said Ferreira, who celebrated his 70th birthday on Sunday, "but it's time to."

In his career, Ferreira joined the state hockey coaching legends and exclusive company in the 400-win fraternity. He guided the Clippers to four state championships, the most recent in 1995-96. Under Ferreira, Falmouth hockey won 16 of its 22 all-time league titles.

But until the bitter end, Ferreira found teaching moments.

The Clippers found themselves in a deep hole. Goals by Eric Rogorzenski, Frank Oakley and Pat Besse built a 3-0 lead for the sixth-seeded Red Raiders (13-4-4) at the tail end of the second period. In the third, Falmouth (10-8-5) clawed their way back, making it a one-goal game with 2:21 to play on Storm Fotiu's goal after Durham Ghelfi opened the period with the Clippers' first.

The comeback fell short, and Barnstable defenseman Drew Kaski's 180-foot clearing attempt, which sailed into a vacated Clippers' net clinched it.

That's when the lesson began.

"I told them to carry what they did in that third period into the rest of their lives," Ferreira said. "I told them if they do that in their lives, they will be successful."

He continued, "These kids played so hard, I'm so proud of them. For me to go out with them playing this hard … I didn't want to tell them until after, especially going out to a team that I respect more than anybody in Barnstable. It's a good way for our seniors to go out."

While the sting of a loss to a rival isn't lessened, both sides were able to bury the hatchet this time.

Ferreira and Nickerson sat side-by-side on a bench as the newly retired Falmouth coach regaled anyone within earshot with the best stories he'd collected from the rivalry. Nickerson, who led the Red Raiders to a state championship win over Falmouth on the Boston Garden ice in 1980, listened intently as Ferreira told a story of two former football players — one from Barnstable, one from Falmouth — who ended up rooming together in college and became friends.

The rivalry is a tie that binds.

"You could sit down ten years later with any Barnstable kid, I don't care if it's football, or basketball, or hockey," Ferreira said, "and they're going to talk about the Falmouth game. With any other teams you play against, you don't have that."

Having lived another chapter, Nickerson resounded the sentiment.

"For our kids to play Falmouth at any time is a big game. With it being the state tournament, it's an even bigger game."

Despite the animosity, there's still room for reconciliation. Ferreira confirmed that while heaping praise on the offensive skill of the Red Raiders' forwards, calling them "the better team" at each turn.

With his hockey coaching career now in the past tense, Ferreira will not retire from the rivalry.

But every so often, even for a man who is as large a reason as anybody for the building of Falmouth's sparking new ice arena, there's reason to call a rival a friend.

"Are you kidding me?" Ferreira darted back when asked if he's rooting for Barnstable to win the tournament. "The only time I'm not pulling for them is when we're playing them."
January, 20, 2013
1/20/13
1:05
AM ET
HYANNIS, Mass. -- Officially they didn't win the game, but try to tell that to the Barnstable Red Raiders.

The MIAA does not sanction overtime, so No. 15 Barnstable and No. 4 Catholic Memorial — by the books — played to a 2-2 draw tonight the Kennedy Rink in Hyannis in the first round of the Nate Nickerson Invitational. Unofficially, the Red Raiders (5-2-3) scored the only goal in a shootout, after a scoreless overtime period, to advance in the winner's bracket of the Nate Nickerson Invitational, to win the game 3-2. They will play Falmouth (Maine) tomorrow for the tournament title.

Ultimately, the tie could serve as a win for the Red Raiders, in a different way. Barnstable scheduled the game to increase the degree of difficulty on their ledger this year in hopes of impressing the Super 8 Selection Committee. Playing in the Old Colony League, the Raiders historically don't have a very difficult road to the state tournament. But, this year, they've gone out of their way to play against tougher competition in hopes of getting to the toughest tournament at the end of the year.

"For us, it goes as a tie, but it feels like a win," Barnstable head coach Scott Nickerson said. "In our minds, it's a win, and it's as big a win as we've had in this program maybe in 50 years, as long as it goes back."

If Saturday night's effort can be used as a measuring stick, the Raiders have made a pretty convincing case that they belong.

Behind a 38 save effort by junior goaltender Kevin Huska, Barnstable hung tough all night long. The home team survived a kitchen sink second period that saw Catholic Memorial (8-3-1) score twice, and outshoot them (17-2) to give themselves a chance at crunch time.

They made the most of that chance.

Seconds after Huska had skated for the bench, for an extra attacker, the Red Raiders struck to tie the game with just 1:27 left in regulation time. Senior center Max Willman forced a turnover just outside the CM blue line, stealing the puck away and sending it deep. Barnstable worked the puck around and it found the stick of junior winger Connor Fries, who flung a low wrister at the net from the right wing circle that circumvented traffic and found space between CM goalie Brandon Collett's pads to tie the contest up at two aside.

"We fought back, we never gave up," Nickerson said. "We pulled the goalie, we were able to get the equalizer and I thought we deserved that. I thought we deserved at least that. No doubt, they're a great team, that's a good program. We outworked them in the third period, which for us is where we wanted to be."

Huska shone brightest in the shootout. After Willman collected the only goal by either team in the shootout, on a beautiful backhander that he lifted to the top shelf, the goaltender stopped three straight penalty shots, with each save prettier than the one before it. First, he used his leg pad to deny Jack O'Hear, then he slid right to left to stymie Liam Coughlin. Finally he ended the game with a brilliant glove save on a shake and shimmy move by Beau Starrett before being pig-piled on by the entire Barnstable bench.



"[Huska] isn't a very good technical goalie, he absolutely isn't, but he does whatever he has to do to stop the puck," Nickerson said. "That's what wins games. I thought he played great."

Huska said it doesn't matter if it looks pretty, as long as the puck isn't behind him.

"I just go around and try to stop the puck any way I can," Huska said. "I'm not really a butterfly goalie, I just try to stop it any way that I can."

After a first period that saw Catholic Memorial carry most of the play, but leave the ice down 1-0 thanks to a nifty shorthanded goal by Eric Rogorzenski, the Knights took the ice with purpose in the second and dominated the action. CM came at Barnstable with purpose, and popped the tying goal just two minutes into the period when O'Hear flung one from the right wing circle that beat Huska to the glove side. The Barnstable goalie said after the game that that was the one shot that he wished he'd had a do-over on.

CM grabbed the lead a little over five minutes later, at the 7:40 mark of the second as they scored on a break-in. Huska made the initial save on a wrister by Starrett, but Tim Weinstein pushed in the rebound on the weak side pipe to put the Knights up 2-1.

CM had chances to pad their lead late in the period, but Huska made certain that they didn't, and he also got a little bit lucky. The junior, who plays the position in a very unorthodox manner – he compares himself to Tim Thomas – made two great stops late in the second to keep his team within one. He stoned Starrett on a tip shot, sliding across the crease and then gloved a wrister by Aaron Clancy with 1:24 to go in the frame.

With 47 seconds left, fate intervened for the Raiders. Zach Sullivan flew past the defense up the right wing boards and let a rocket fly from 25 feet out, but his shot rung the pipe and flew to the corner.

CM head coach Bill Hanson said that, while his team piled up the shots – they held a 40-19 edge in that category – they weren't the best kind.

"Never mind shots on goal … I think the number of quality scoring chances is the most important statistic," Hanson said. "We had three two-on-ones, a three-on-one, with our best guys, and they didn't get it done for us there. We didn't put ourselves in position to really score, I mean the goaltender's good, he played well, but any goalie can make a save when you shoot it right at his chest when you're not making that extra pass with the open man situation. We didn't make good decisions."
December, 27, 2012
12/27/12
4:47
AM ET


HYANNIS, Mass. – Matt Foley thinks there's no better feeling in the road than being in a hostile rink, game placed on the blade of his stick.

"You can't play in a better atmosphere than on the road," the Springfield Cathedral senior defenseman and preseason ESPN Boston All-Stater said.

With his shootout goal in Panthers' first-round game in the Cape Cod Freeze Out against host Barnstable, Foley was able to silence an otherwise rowdy barn.

No. 5 Cathedral, although dropping their first point of the season in a 3-3 tie with the Red Raiders, won the shootout 3-2 on Foley's game-clincher to advance to Thursday's tournament championship game against Newburyport.

The shootout goal was Foley's second of the evening, having knotted the score 2-2 late in the second period.

Barnstable (2-0-2) came back to grab a point from the contest as junior winger Connor Fries netted his second goal of the game at 9:53 of the third period.

The teams skated to a scoreless overtime period before heading to the shootout. Then, Barnstable and Cathedral volleyed goals back and forth through two rounds before Panthers goaltender Adam Mercer (who replaced starter John Liquori in the shootout) made the first and only stop of the shootout session. Foley then ended it with a pretty back-handed finish.

Eighth-grader Cam Peritz had the Panthers (3-0-1) to a 1-0 lead just 2:28 into the game on Artie Potter's set up from the wing.

Barnstable countered with Fries potting his first of the game, coming on a partial break. Working the left wing boards, Red Raiders leading scorer Max Willman lofted a perfect pass through the neutral zone, settling near the Panthers' blue line on the tape of Fries' stick. Fries took care of the rest with a deke and a back-hander past Liquori.

The Red Raiders then took a 2-1 lead just before the first intermission with Christian Holmes banking in a shot from the right-wing boards near the goal line.

Cathedral pulled even on Foley's goal in the second before netting the go-ahead with Dominic Blad's wrister at 2:54 of the third, with assists from Johnny Leonard and Jack Williams.

STACKING UP
With a talented returning group this season, Barnstable head coach Scott Nickerson has bulked up the Red Raiders' schedule with some of the state's top programs.

Considering his team's performance in their first "Super 8" challenge of the season, Barnstable could be primed to make some noise this postseason.

"They're a perennial powerhouse as far as I'm concerned," Nickerson said of Cathedral. "We've had good years in the past, but we haven't had the schedule too often. So we've loaded up our schedule and try to get games like this every night. I think it can only make us stronger. I thought it was a very good showing for us."

Of course, a big part of any Red Raiders run this season will be galvanized by a talented troika on their top line.

Fries and his two-goal game is just the latest cog in Barnstable's top group to rack up the goals. Willman (2 A) has come out of the gates charging with nine goals scored in the Red Raiders' last three games. Senior Eric Rogorzenski centers the line and is an adept passer with good vision.

"I think our top line is as good as any line that we've seen so far," Nickerson said. "I think they can control the game. We count on them a lot. But I think in a game like that, my first line matches up very well against everybody, but I thought they had a little bit more depth than us."

STEPPING INTO THE RUSH
Cathedral's offense is rooted in its defense, in that the Panthers' blue-liners (led by Foley and Williams) are comfortable stepping up into the rush and pushing play into their opponents' zone.

Foley showed off his offensive acumen on his second-period goal. After gloving down a failed clearing attempt at Cathedral's blue line, Foley coolly batted down the puck and started a slaloming run toward the Red Raiders' crease. He also showed a strong finish on the backhand from low in the right side faceoff circle.

While natural ability takes care of so much, Foley credits Cathedral's coaching staff with his development and comfort turning defense into offense.

"We've always had great defensive coaches, we have Coach [Mike] Rousseau, who was a great player at Holy Cross and a great coach. There's Coach Mike Ashe, who played at Clarkson," Foley said. "Offense has always been in our heads, Jack [Williams] and I, that's the type of players we are. We're not big bricks on the D end, we go both ways."

Panthers head coach Brian Foley has seen a gradual progression through the years leading up to their senior season.

"They're a big part of our offense, a big part of our team," Brian Foley said of Matt Foley and Williams. "They're veterans, they're seniors and have been around for three years. They recognize when the play's going up-ice that they can join in and maybe add some offensive opportunities. They're hungry for points and they're offensive-minded. I think that just comes through experience."


December, 22, 2012
12/22/12
11:23
PM ET
FALMOUTH, Mass. -- The sounds of Bruno Mars musing about being "Locked Out of Heaven" escaped the Barnstable High locker room tonight at the Falmouth Ice Arena. His hit song was a remix, with the backing of 20 or so Red Raiders who felt exactly the opposite way.

With a 5-2 upset of their rivals from Falmouth High School, behind a hat trick from sniper Max Willman, Barnstable (2-0-1) felt more like they'd entered the pearly gates and were having the time of their lives.

"When you've got a star player, and he plays like that, you've got a good chance of winning," Barnstable head coach Scott Nickerson said following his team's win in the first meeting between the old rivals in Falmouth's beautiful new rink. "He's a legitimate goal-scorer."

"I was just trying to do the best for my team, and it just worked out in my favor," Willman said after netting his second consecutive three-goal game for the Raiders.

Willman already has seven goals for the season.

His second of the game changed the game's complexion entirely. After a high flying first period, the two clubs settled into a slugfest defensive battle in the second period. Barnstable did not allow the Clippers a shot on goal during the first 11 minutes of the second period, but Falmouth seemed to be gaining some late momentum as they went on a late power play and were hoping to pop one behind Kevin Huska to take the lead.

A shot by Durham Ghelfi, from the high slot, knuckled toward the net and struck Huska in the face, but the keeper kept it out. Barnstable skated the puck out on a 2-on-1 break up the left wing. Eric Rogorzenski brought up the left side and went deep, before crossing it to a wide-open Willman on the right side. The Barnstable forward unleashed a rocket for the top shelf that sizzled past Cody Garcia to push the Raiders into the lead at 13:35 of the second.

The goal gave Barnstable the lead for good, and sent them to the locker room with a 3-2 lead.

"It definitely did [change the game]," Willman said. "It was a great pass from my linemate Rogo [Rogorzenski], and I just put it in the back of the net. To tell you the truth, I wasn't really looking, I just kind of shot it, just found a way.

"That was huge. That really got the boys going and it showed in the third period, and we just capitalized on everything."

Falmouth head coach Buddy Ferreira said that the short-handed goal turned things in Barnstable's favor for good, as it deflated the Clippers.

"[Eighty-five seconds] left in the period and it turned the game around, and you could see it," Ferreira said. "You try to let them know [there's plenty of hockey left], but they're kids. We didn't recover from that right away…you can't let a kid like that [have a chance]. He's a sniper."

In the third, the momentum carried over for Barnstable. The Raiders scored a dagger of a goal early in the final frame when Hayden Murphy smacked in the rebound of a Kyle Rood shot to make it 4-2 at 4:26.

Earlier in the game Rood had been glued to the bench for a while after a mistake had led to a Falmouth goal. Nickerson was pleased to see that the junior learned from the mistake and helped the third line capitalize with a huge goal.

"He got back out there, he fought and we got a goal off that effort. When you can get a goal from the third line in a big game like that, on something that they made a mistake on earlier in the game, they come back and correct it, that's nice," Nickerson said.

Less than three minutes later, Willman capped his hat trick on a penalty shot. With the Clippers killing off a penalty, defenseman Joe Meloni went down in front of the net to block a shot. He slid through the crease and the puck ended up underneath him and refs cited him for covering the puck in the crease.

Willman won his one-on-one battle with Garcia with a pretty move. He came up the right side of the slot, crossed over and backhanded a lazy slider off of a toe drag.

"I wasn't actually trying to do that, it just worked in my favor. I was going to just shoot it, but then I saw an opening," he said.

The first period was the definition of back-and-forth. Falmouth struck, and Barnstable answered. Then it happened again.

Falmouth netted the game's first goal at 9:01 of the first as third line winger Ben Boudrot netted the first goal of his high school career for the Clippers, redirecting a shot from the right point by captain Zack Zaino.

Barnstable won the ensuing draw, skated right down and tied it 16 seconds later. Willman broke up the left wing and crossed a pretty feed for Connor Fries that the junior popped past Garcia to knot it at 1-1.

The teams then traded goals a second time a bit later in the frame. At 12:06, Falmouth tri-captain Cyrus Wickersham hustled into the right wing corner to take the puck away from the Raiders defense. As Wickersham broke for the curved boards, Storm Fotiu slid through the slot and was in position to tip in a great crossing feed from his linemate to make it 2-1.

Barnstable's boisterous traveling fanbase wasn't in the dumps for long after that one as Willman brought them to their feet just 27 seconds later with an electric play.

Rogorzenski let a shot rip from the right wing circle that flew over the goal to the rear boards. Willman was the first one to it and sped out front, circling to a shooting position and rifled a wrist shot under the crossbar to send the teams to the locker rooms tied.
January, 23, 2011
1/23/11
12:43
AM ET
By
Brian Fabry
| ESPNBoston.com
HYANNIS, Mass. -- Barnstable's Scott Nickerson can be his team's worst critic, but even the fifth-year head coach had to admit there was not much to complain about.
Senior captain Zach Wells scored two goals, including the game-winner, as the Red Raiders upended No. 20 Bridgewater-Raynham, 4-1, in a battle of Old Colony League unbeatens.
Wells potted the game-winner 6:03 into the third period, 25 seconds into the second power play opportunity of the period. The man-advantage set off three unanswered goals in the final stanza with the senior captain adding an empty-netter with 1:05 remaining to give him 10 tallies on the season and pairs of goals in each of the last three contests.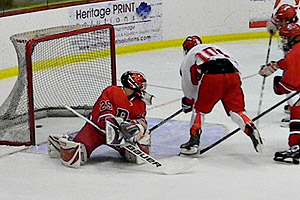 Brian Fabry for ESPN BostonBarnstable's Max Willman (10) slides the tying goal past Bridgewater-Raynham goaltender Peter Drowne in the Red Raiders' 3-2 win Saturday in Hyannis.
"Bridgewater's the only team really [in the league] that this is the biggest game for us all year until the state tournament", said Wells. "They've always been a good team, we usually don't beat them so it's a great win for us."
The victory over the Trojans (5-3-1; 1-1) is the first for the Red Raiders in the last three seasons and puts Barnstable (6-1-3; 2-0) directly in the driver's seat for the Old Colony League title.
"The first period they out shot us, but after the first period we were a better team out there", said Nickerson. "You know I'm negative a lot but that's a big show for us, I'm happy and we had a lot of guys really play well for us."
Bridgewater-Raynham carried the play for most of the first period holding a 9-5 shot advantage as freshman Connor Sullivan gave the Trojans the 1-0 lead only 1:28 into the first period. Corbette McLucas' blast from the point bounced to senior Matt White, who tried to punch home the rebound, but Sullivan finished the frenzy with the easy wrister just to the right of the crease.
Max Willman led a 14-shot effort in the second period with his seventh goal of the season on a highlight-reel toe-drag across the crease for the period's lone goal as the teams skated to a 1-1 tie after the first two stanzas.
Nickerson lit up in his office talking about the equalizer scored at 7:23 of the second period.
"Beautiful, just beautiful but there is a kid, although he's small, he's got a head on him, and he can make that play and we don't have many guys who can make that play," said Nickerson. "If he was even 5-10, he'd be all world, but he's only about 5-5, 125 pounds."
Added Wells: "He has some really good hands and what was a huge goal for us and we really needed something to get back in."
After Wells' game-winner, Will Toffey scored at 8:01, less then two minutes after the senior captain's tally, for the insurance goal and Wells followed with the empty-netter. Wells' power-play strike was all goaltender Sean Cleary needed as the freshman netminder was solid the rest of the way with 21 saves for the Red Raiders.
"The guys that are supposed to score scored tonight, Willman and Wells, Toffey and exactly what happened is what we've been looking for," said Nickerson. "Figure a 3-1, 3-2 game, figure Wells is going to get one, our defense is going to get one, and then someone else."
The power-play goal was only the second of the entire season for Barnstable as they out shot the Trojans 29-22 overall. But the small improvements can add up in the end for Nickerson's Red Raiders.
"We're getting better and better, more aggressive, handling the puck a little bit better," said Nickerson. "This game helps us confidence-wise as they are starting to believe they are pretty good - not getting cocky over it - but our guys are really starting to believe."
BRIDGEWATER-RAYNHAM (5-3-1; 1-1) - 1 - 0 - 0 - - 1
BARNSTABLE (6-1-3; 2-0) - 0 - 1 - 3 - - 4
FIRST - BR - Connor Sullivan (Matt White, Corbett McLucas), 1:28.
SECOND - BA - Max Willman (Ricky Panton, L.J. Fellows), 7:23.
THIRD - BA - Zach Wells (Willman ), 6:03; BA - Will Toffey (Kyle Fontaine), 8:01; BA - Wells, 13:57 (en)
SAVES: BR - Peter Drowne (25); BA - Sean Cleary (21).