Boston High School:

Sean Goldrich
June, 21, 2011
6/21/11
2:20
PM ET
By
Roger Brown
| ESPNBoston.com
Losses don't come much tougher than the one the Southington High School baseball team suffered against Newington in the Class LL championship game.

Southington thought it had won the title when Matt Spruill scored on Sal Romano's double in the eighth inning Monday, but the teams played on after home plate umpire Dave Bindas ruled that Spruill never touched home plate and Spruill was called out on an appeal play.
Newington went on to claim the championship by posting a 3-2 victory in 10 innings.
"I heard the crowd and it was their side cheering," Southington coach Charlie Lembo told WFSB Channel 3 in Hartford. "Then I found out the umpire ruled that he missed home plate. I didn't see it, but Dave's a good umpire so I'll have to go with that call."
Pat Meucci reached on a single in the 10th and scored the game-winning run from second base on an infield throwing error.
That gave 17th-seeded Newington (17-8) the program's first state championship.
Newington's Cole Bryant pitched all 10 innings to earn the win. He threw 176 pitches, struck out 16 and held Southington to six hits.
Romano also pitched a complete game (146 pitches). All three Newington runs were unearned.
September, 21, 2010
9/21/10
11:24
AM ET
By
Matt Stout
| ESPNBoston.com
Xavier-Middletown's defense was relentless in topping Notre Dame-West Haven, 22-15, on Friday, forcing four turnovers before a Veteran's Stadium crowd the New Haven Register estimated at 4,000 fans.

Just how good were the Falcons defensively? They intercepted Notre Dame quarterback Sean Goldrich three times. One of the top signal callers in the state, he had thrown just one all of last season — also against Xavier. Both teams began the season ranked in the top six in ESPNBoston.com's New England Top 10 poll.

In the state's other marquee game of the first week, Montville followed Tyler Girard-Floyd (121 yards rushing, two touchdowns) to a 21-19 victory over New London on Saturday at the Coast Guard Academy.

Playing without head coach Tanner Grove, who was suspended by the school for the first game after an August DUI charge, the Indians ran downhill against the Whalers, also getting 115 rushing yards from Skyler McNair and a 10-yard scoring run by Bobby Johnson. Entering the season, Girard-Floyd and McNair were touted as perhaps the best backfield duo in Connecticut. Their performance should only further the argument.
August, 18, 2010
8/18/10
6:14
AM ET
By
Matthew Stout
| ESPNBoston.com
Kevin Callahan is entering his 11th year as head football coach at Ridgefield High School this fall. Since 2001, his Tigers have never endured a losing season. They've won nine games four times, and six or more every year but one.

And yet, they've been to the CIAC playoffs twice, playing for -- and winning -- their only state championship in 2002.
Callahan thought something was wrong with that.
"It's nice when kids understand how to win," he said, "but you have to reward winning."
Others thought so, too.
In a change met with sweeping applause from the Connecticut high school football community, the CIAC is implementing a new playoff system this fall that features fewer divisions, more teams and a venue that many feel finally fits the bill.
In recent years, the football playoffs featured four teams earning postseason berths in six divisions. This season, there are only four divisions (LL, L, M, S) but with eight teams qualifying in each, the number of playoff competitors jumps from 24 to 32. The hope is to reward the larger schools who play in more difficult divisions. Last season, three 9-1 teams (two in Class LL, one in L) didn't make the playoffs, and the seasons of four 8-2 teams ended on or around Thanksgiving. In 2008, 14 teams with eight or more wins didn't qualify.
"All other CIAC sports, you win 40 percent of your games, you're in the playoffs," said Berlin coach John Capodice, a member of the CIAC football committee. "I felt the football kids were shortchanged."
[+] Enlarge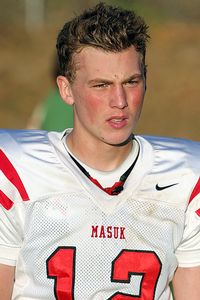 Courtesy of Dave ChoateMasuk-Monroe (Conn.) quarterback Casey Cochran is looking for a repeat performance of last year's state-best 2,968 passing yards in 2010.
It's difficult to find any detractors of the decision, aside from those who would have welcomed further expansion to include as many as 48 teams. Some, such as St. Joseph coach Joe Della Vecchia, believe the system will still keep some deserving schools out only because they're playing tougher schedules.