Boston High School:

Sean Heffernan
September, 15, 2013
9/15/13
12:11
AM ET
By
John Botelho
| ESPNBoston.com
BRIDGEWATER, Mass. -- When the Millis-Hopedale football team played against East Bridgewater at Bridgewater Raynham on Saturday, just about every player looked ready for a knockdown, drag out kind of tussle, in which they peppered each other with jab after jab looking for the eventual win.

East Bridgewater's Owen Harrington looked more the part of a prize fighter with knockout power as the Vikings slipped past the Mohawks, 28-21.

The Mohawks landed the first blow, marching nine plays in just under five minutes to score on the opening drive. After Chris Ahl opened the game with a 24-yard return, Millis/Hopedale used a steady running attack to grind down the field. Quarterback Sean Heffernan threw his first pass of the day on a third-and-goal from the three, connecting with Joe Caretta for a touchdown.

East Bridgewater didn't need nearly the time of possession, nor total plays to tie things up, because Harrington took the ensuing kickoff 83 yards straight up the middle of the field for the game-tying score.

"That was an absolute backbreaker for us," said Mohawks coach Dale Olmstead. "We had a great drive moving down the field to score, and we really thought we had punched them a bit, but he punched right back."

M/H used the remainder of of the first quarter to set up its next score, as they put together another marathon drive, finishing the quarter still with the ball - meaning EB didn't run an offensive play in the first.

Heffernan connected with Sager Dasai for a 24-yard touchdown pass to open the second quarter, on the 10th play of the drive.

After a touchback, EB quarterback Mike Kelly authored an impressive response for the Vikings. For the next 8:30, the Vikings matriculated the ball toward the other end, finally hitting pay-dirt on a 2-yard dive to cap a 15-play drive.

Kelly finished the day with 50 rushing yards on seven carries, and was a perfect 2-for-2 passing, including an impressive 16-yard heave to Jake Pierce with just two minutes to go on a long third down.

"Mike ran the offense very well, I'm very happy with him," EB head coach Shawn Tarpey said. "He did just what I wanted him to do - take what they give you, make a couple plays in the pass game, get north and south and don't try to do much. He did all of that today."

The Mohawks maneuvered the ball back into the Vikings' red zone before halftime, falling short of a score when the drive halted at the 9-yard line. When the teams reached the locker room, the score was knotted at 13 and M/H had out-gained EB, 188-70, on offense.

Harrington made the yardage look a lot more even, while unevening the scoreboard on just the second play of the second half. He took a handoff toward the right hash mark, and by the time he hit the line of a scrimmage a big hole had formed. He plunged through and never looked back, racing 61 yards for a score.

Even the heavy hitting of Harrington couldn't knock off M/H right there, and the Mohawks followed with another impressive and lengthy drive that culminated in a score by Ahl. A 2-point conversion was successful, and M/H grabbed a 21-20 lead.

After the kickoff, Harrington needed just one play to remind everyone what he was capable of. He dashed 63 yards to the Vikings back ahead, this time for good. A 2-point conversion made it a seven point game.

"We've had some stud players, and maybe Owen is going to be one of those guys," Tarpey said. "I'm not going to anoint him that just yet, but he had a great game. The thing is, he's worked his butt off and he's really wanted this. I can't say enough about him."

EB sealed the win in the final minute when Sean Pierce, who had a game-high nine tackles, intercepted a pass just past midfield. A knee by Kelly ran the remaining seconds off the clock.

Harrington finished with 166 rushing yards on 16 carries, and had 100 return yards to go with his three scores in the win against a team led by Jon Baker, a supremely talented lineman headed for Boston College next year.

"Our O-line was pretty amazing, especially on how they handled Baker. I just saw big holes and went right through," Harrington said. "I'll definitely be thanking the offensive line for what they did out there."
September, 7, 2013
9/07/13
12:52
AM ET
By
Josh Perry
| ESPNBoston.com
NORTH ATTLEBOROUGH, Mass. – BC High had one more chance.

Down by eight points and with the clock closing in on 30 seconds remaining in Friday night's season opener at Community Field, the Eagles faced a fourth-and-13 from the North Attleborough 31-yard-line. BC High had gotten the ball as close as the 24, but a bad snap had pushed the ball back.

Junior quarterback Sean Heffernan took the shotgun snap and was immediately under pressure from a North blitz. He rolled out to his right and decided to keep it, but his eight-yard carry was five yards short of the marker and turned the ball back over to the Rocketeers, who took a knee and ran out the clock on a season-opening 20-12 upset.

It was the Eagles' sixth drive of the game that ended in North territory without garnering any points. Following the game, head coach Joe Gaff rued the team's mistakes and missed opportunities.

"We've got to finish," he explained. "We've got to make plays and we just didn't do that tonight. Some of that is on North Attleborough. They were fast; they blitzed us a lot. It was a little bit of that and a little bit of us making mistakes."

It was a game filled with turning points. On the opening drive of the game, the Eagles (0-1) took just three plays to get into the red zone junior running back Brendan Smith fumbled as he was headed toward the end zone and North (1-0) recovered for a touchback.

The Rocketeers would promptly march 80 yards on eight plays for the go-ahead score. Senior quarterback James Kummer, making his first career start, was 3 of 3 for 62 yards on the opening possession and found Jack Blasť on a play-action bootleg pass for the seven-yard touchdown to make it 7-0.

"We just can't come down on the opening drive, third play, and fumble in the end zone," reflected Gaff after the game. "Especially a young team, it took a long time to rebound. I thought we did really well tonight, just every time we needed something – we made a mistake."

Kummer would finish the game with an efficient line of 10 of 13 for 131 yards and drew praise from head coach Don Johnson after his composed performance, but Johnson also noted the importance of developing a balanced attack.

"He's got to be a dual threat for us," Johnson said. "He's got to be able to run and throw the ball and we have to put him in a good position. He's not a guy that can just drop back; he can't see a thing if he drops back, so we got to play action them. But that's only going to work if the run game is effective, so I thought the run game was key."

It was a North misstep that got BC High back into the game in the second quarter. On a Rocketeers' punt, the snap sailed way over the head of Kyle Rodriguez, who chased it down on the edge of the goal line. Starting the drive mere feet away from the end zone, the Eagles would only need one play to score. Fullback Steve DiCienzo powered in for the one-yard TD, but the extra point was missed keeping it 7-6.

The Rocketeers responded immediately. Senior captain Matt D'Attilio returned the kick-off 43 yards to the 49-yard-line. Six plays later, he took the ball into the end zone from nine yards out to build the lead to 13-6. D'Attilio finished with 69 yards on nine carries and had three sacks and a forced fumble on defense.

With 4:29 left in the third quarter, following a fumble by Heffernan, North Attleborough had a chance to pull away, but Mike Lambert fumbled as he was about to cross the goal line. The Eagles recovered in the end zone and turned to workhorse senior running back Robert Harnois to try and get back into the game.

After 84 yards in the first half, Harnois would take over the Eagles offense in the second. After the Lambert fumble, BC High marched 80 yards on six plays, all of them carries by Harnois. He would finish the drive with a three-yard score but the attempted two-point conversion was stopped, which kept the Rocketeers up by a single point at 13-12.

Johnson could only marvel at the struggles that his team had with Harnois, who finished with 217 yards on 26 carries.

"I didn't have an answer for it," said Johnson. "They're running that counter play. They ran it weak, they ran it strong, and you think that you have it shut down and he cuts it back to the other side of the field. We really didn't have an answer for him."

With momentum on the visitors' side, North responded again. The Rocketeers moved the ball inside the BC High 10-yard-line, but the drive was in danger of stalling. On fourth-and-goal from the 10, Kummer rolled out and hit senior split end Dan Moore at the front pylon. It was right on the edge of the end zone and the official on the line signaled touchdown.

BC High would have two more possessions and both ended in North Attleboro territory, but the Rocketeers defense held both times. North's linebackers and safeties blitzed relentlessly in the second half and Heffernan struggled to find open targets. He would complete only 3-10 (his first seven passes were incomplete) and two completions were for negative yards.

Gaff insisted, "I'm proud of my guys, you know, they kept fighting back. We just couldn't get over that edge. We just couldn't catch up with them."

As the crowd and players streamed onto the field following the final whistle, there was a palpable feeling that North had proved the doubters wrong. Johnson hopes that his young team will not allow one impressive win to impact the focus for the next game.

He remarked, "We're a young, inexperienced game with a lot of guys playing their first varsity game, so you hope that this gives them the confidence to propel. The danger with a young, inexperienced team is that they overreact to this one and they come out and flop in the next one."

BC High will have a quick turnaround with a game next Thursday against Andover. North Attleborough will have its bye week before a rivalry game against Bishop Feehan on Sept. 20.
August, 20, 2013
8/20/13
3:00
PM ET
By
Brendan Hall
| ESPNBoston.com
MILLIS, Mass. -- One day last April, Jon Baker had finally had enough.
The Boston College-bound two-way lineman, a returning ESPN Boston All-State for Millis/Hopedale and one of New England's top 2014 recruits, had become increasingly frustrated with the lack of participation in offseason workouts. One morning, a scant six players showed up to a morning weightlifting session.
[+] Enlarge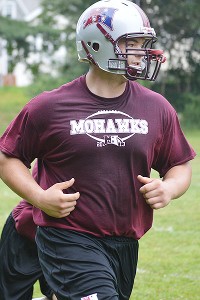 Brendan Hall/ESPNBostonBoston College commit Jon Baker, a returning ESPN Boston All-Stater, came into camp 20 pounds lighter but strong as ever.
Meanwhile, their quarterback/safety and captain Taylor Sack -- two months removed from a skiing accident that left him paralyzed from the waist down -- was down in Atlanta, rehabbing at the world-renowned Shepherd Center, with hopes of one day walking again.
The typically mild-mannered Baker, who has remained close to Sack throughout his recovery, was angry, and fired off a Facebook message to the team letting them know their lack of participation was unacceptable.
"I said, 'Look at [Taylor] right there, if he's doing it, you have no excuses," he recalled.
And perhaps that inevitably becomes the lasting impression on Baker's decorated career with the Mohawks. Athletically, he's a freak, combining nimble footwork and fluid agility with superior lower-body strength to make him the state's most feared run-blocker. In the weight room, he's a dynamo, benching 550 pounds and squatting well over 600.
But it's the mental part of it -- the 4.4 weighted GPA; the soft-spoken, austere leadership skills -- that complete the total package. Mohawks head coach Dale Olmsted compared Baker to former Walpole offensive line standouts Bubba Cox and Michael Cook, from his days on the Rebels staff in the 1990's and early 2000's, but says Baker is undoubtedly the best he's ever had.
"In my 23 years coaching, with 10 years plus at Walpole, we had some great linemen, one that went to BYU [Cox], one that went to Boston College in Michael Cook," Olmsted said. "Jon Baker ranks as the No. 1 football player that I've ever coached. He is the ultimate word of professional, whether it's on the field or off the field, whatever he sets his mind to he does it, and he does it 100 percent. He doesn't stop until he gets it right.
"It's such a pleasure to have him on my team. He looks around and he tells a kid what to do, or he says 'Good job', you're hearing it from a guy like that, it means a lot. That means more...peer pressure, we always talk about the negative things, [but] this is where Jon [separates himself]. They look up to him. He's certainly a role model. He had a lot of opportunities to go elsewhere -- BB&N, Xaverian -- but he's chosen to stay here with his friends, be part of the community, and I think that part speaks volumes of his character."
The Mohawks finally achieved their first winning season under Olmsted in 2011, falling to eventual Super Bowl champ Mashpee in a Div. 4 Eastern Mass. Playoff, and fell to Abington in last year's D4 playoffs. After going 18-6 over that two-year run, there are plenty of fresh faces in the fold that will have to grow up quickly if M-H is to sustain their success.
Baker reported to camp yesterday 20 pounds lighter from the end of 2012, weighing close to 290 and devoid of the familiar baby fat on his torso, and he'll be switching from center to guard (the position he projects to at BC) for this upcoming season. After toying with zone read schemes half of last season, the Mohawks are fully adopting a one-back zone running scheme (that too should please the BC staff, which will be deploying a zone/gap scheme under new head coach Steve Addazio).
With 285-pound senior Gavin Bradbury moving to left tackle, alongside Baker, combined with elusive scatback Chris Ahl and quarterback Sean Heffernan setting the reads, there is a confidence in the air.
"I definitely like the commitment, and the talent we have coming up," Baker said. "I've seen the guys all winter, spring, summer, a lot of them are talented kids. I'm excited to see how we turn out."
Many of those kids got the message after Baker aired his frustrations that fateful April day. The presence of Sack has contributed mightily to the hunger of the program, which suited just 33 at its first practice yesterday, but may be deeper in terms of athleticism.
Sack, who is now able to drive a car using hand-controls, has been with the team everywhere. He's often present at workouts, traveled with the team to Bay State Camp last week, and is on the sidelines at each practice.
"Obviously this offseason was unlike any other," Olmsted said. "It was very emotional, with Taylor, something I haven't had to deal with as a head coach, such a sensitive issue. Our kids did a good job making Taylor feel as comfortable as he can. [He's] going to have a great life ahead of him, it's just going to go a little different than he thought it would be, and he's bought into that.
"He's been to the beach. He's got a new truck. When I see him laying down by the pool, with no chair, he just looks like a regular kid, relaxing. I'm very proud of Taylor, and how he's handled all of this."
Said Baker, "It's definitely helped us out a lot. We all got [his] No. 11 on our helmets. It not only helped us come together as a team, helping him out, but it also gives us something to look to when we don't feel like going to a workout. You go, you see Taylor is there, it's just a great thing to see."
MILLIS AT A GLANCE
Coach:
Dale Olmsted (8th year, 34-45 overall)
Last season:
8-4, lost in Div. 4 Playoffs
Returning Starters:
Eight (four offense, four defense)
Key Returnees:
Jon Baker, Sr. OG/DT, 6-3, 290 lbs.; Chris Ahl, Sr. RB, 5-6, 160 lbs.; Sean Heffernan, Sr. QB, 6-4, 180 lbs.; Tyler Angel, Sr. TE, 6-0, 200 lbs.; Gavin Bradbury, Sr. OT/DT, 6-0, 285 lbs.
Strengths:
Offensive and defensive lines, running game, size.
Weaknesses:
Youth, depth, inexperience at skill positions.
Overview:
There are plenty of fresh faces in Millis, where the Mohawks must replace seven starters on both sides of the ball, but in terms of athleticism Olmsted believes this team is not as top-heavy, but deeper, than last year's TVL Small champion product. Defensively, Baker was one of the state's most obdurate two-gappers last year, earning ESPN Boston All-State honors after recording 78 tackles and four sacks from the defensive tackle spot. This fall, we could see Baker playing some interior five-technique defensive end, a style similar to what you see from the Houston Texans' J.J. Watt. Offensively, moving Baker to guard alongside Bradley makes for an imposing half-line that will outweigh many opponents at the point of attack. And perhaps Ahl is the best compliment to the Mohawks' new zone running scheme, his short frame difficult to pick up behind the big line. He's a one-cut, north-south runner who's good at identifying the cutback lane, but he's also got a little shake and bake in his game. "All summer he's been making kids look silly in passing leagues," Baker said. "I remember one play where he just hopped to the side, side-stepped a kid, and the kid slid flat on his face."
November, 28, 2012
11/28/12
12:23
AM ET
By
Bruce Lerch
| ESPNBoston.com
BRIDGEWATER, Mass. -- With three gifted running backs, it's not always easy to predict which Abington runner will take his turn in the big-game spotlight.

Tuesday evening, it was junior Matt Kilmain who stepped to the forefront, piling up an incredible 274 yards and three touchdowns on just 12 carries to lead the Green Wave in a 29-12 triumph over Millis/Hopedale in a Div. 4 semifinal matchup at Bridgewater-Raynham High School.

Abington (12-0) will face St. Mary's in the Div. 4 Super Bowl Saturday at Curry College (time TBA).

"It was really the blocking. Every time I scored, the hole was huge," said Kilmain when asked what enabled him to have such success. "I would just hit the hole, make one move and I was gone. I got the one touchdown and they just keep feeding me."

Fellow backs Babila Fonkem (38 yards) and Jack Malafronte (32 yards, TD) have also taken turns in the lead role but Kilmain showed early signs that he was going to be difficult for the Mohawks to handle. Despite a somewhat slippery turf, Kilmain took Abington's second play from scrimmage 72 yards down the left sideline for a score.

Millis/Hopedale (8-4) got it right back on an 11-yard TD run by Chris Ahl (100 yards, two scores) and took the lead on Ahl's second touchdown, also from 11 yards. The Mohawks missed both extra points, as well as a 20-yard field goal try at the buzzer, but still took a 12-7 into the break.

Whatever was discussed in the Green Wave locker room during the half seemed to have an effect as Kilmain took the first play from scrimmage through left tackle and sprinted 65 yards to paydirt, putting his team back in front, 15-12.

Two possessions later, Kilmain broke another big run, this time sprinting 42 yards straight through the middle. Malafronte would add the final score on a 12-yard burst in the fourth quarter.

"Matt Kilmain has come into his own in the latter part of the season," praised Abington coach Jim Kelliher. "He's just feeling more comfortable being a running back, more comfortable with the plays, a lot more...just going out there and doing what he can do best and letting everything flow. And when he can do that he's as good as anybody."

DIGGING IN ON DEFENSE
Led by 6-foot-2, 300-pound two-way lineman Jon Baker, who was his typically dominating self, the Mohawks boast a rather imposing group of linemen on both sides of the ball. Instead of cowering and giving way to such beef, the Green Wave defense instead dug in their heels and relied on quickness and technique to find holes in the Millis offensive line to get pressure in the backfield.

The trio of Jason Halpin, Steve Manning and nose tackle Jon Aprile more than held their own and put together more than a few big plays. Manning and Aprile each had sacks while all three consistently swarmed to the ball and made several tackles for no gain or losses.

"We just shut down the middle," Halpin said. "That's all we needed to do. We sent it outside, we got the linebackers going. Just an all around team thing. They were huge, they were a big line, You just gotta find their weakness and attack it.

Halpin added, "We really keyed in on the two main players, [quarterback Sean Heffernan] and [Ahl]. [Ian Strom] was one of the big guys too. We keyed in on them, made sure we knew all of their formations and everything. We prepared a lot."

Kelliher knew his smaller squad was in for a battle but he was able to walk away more than pleased with the effort his defense put forth,

"I thought my kids did exactly what we asked them to do," Kelliher said. "Just hang in there, be tough, keep on coming at them and things will turn. Yeah, we're going to get driven back a few times because they're pretty good, they're pretty big. But at the same time, we have good football players. Stay with what you do best and everything's going to be alright."

ABINGTON 29, MILLIS/HOPEDALE 12
MILLIS/HOPEDALE (8-4) 6 6 0 0 - 12
ABINGTON (12-0) 7 0 14 8 - 29

AB - Matt Kilmain 72 run (Shawn Donovan kick)
MH - Chris Ahl 11 run (kick failed)
MH - Ahl 11 run (kick blocked)
AB - Kilmain 65 run (Babila Fonkem rush)
AB - Kilmain 42 run (pass failed)
AB - Jack Malfronte 12 run (Tim Ferguson pass from Brandon Cawley)