Boston High School:

Sean Holleran
October, 18, 2014
10/18/14
10:50
PM ET


DANVERS, Mass. – The raucous environment surrounding Cronin Stadium in the lead up to Homecoming Day at St. John's Prep did little to translate to the Eagles' start on the field. In Saturday's battle with BC High, No. 3 Prep came out a little flat, allowing its Catholic Conference rival to claim an early lead. BC High also took a 14-10 lead to the half as well.

The second half was a different matter, as Prep scored 23 unanswered points during the final two quarters to capture a 33-14 win.

"We had a little bit of a slow start, but we came out flying in the second half," Prep senior quarterback Ollie Eberth said. "Our offense started clicking. We changed up a few blocking assignments and our receivers came up big making plays. Cody Harwood and [Dillon] Preston, you can't say much more about them. They're bouncing off tackles left and right."

The host Eagles (6-1, 3-0 Catholic Conf.) displayed a balanced offense, with Ebert throwing for 128 yards and three touchdowns on 11 of 16 passing, while senior running back Cody Harwood used 21 carries to run for 129 yards.

Prep's defense was a major factor in building the second-half lead. It tallied eight points, forcing a safety before Owen Rockett's 84-yard interception return for a touchdown.

"Our defense really stood up in the second half," Prep head coach Brian St. Pierre said. "They played a great game. There were a couple turns of momentum, that's when we kind of started to take over the game."

BC High (3-3, 1-1) drew first blood on a 21-yard touchdown pass from Sean Holleran (6 of 8, 87 yards) to Nick Gill (4 catches, 74 yards). It was the first of two first-half scoring plays for the duo, which also lifted BC High to a 14-10 lead at the half.

Prep tied the game, 7-7, on Eberth's 5-yard touchdown pass to Jake Burt, before a Justin Foley 33-yard field goal with 27 seconds remaining in the second quarter. BC High sophomore Connor Cady returned the ensuing kickoff 79 yards to give his team on last crack at the end zone before the half.

On the next play, Holleran hit Gill on a fade for an 11-yard touchdown in the final seconds.

That's when St. Pierre reminded his team of what was ahead of them in the second half.

"He made a point to us that we were playing flat, and that's not the way that we play the game," Harwood said. "He just made it a point that we had to leave everything on the field for the next 24 minutes."

Prep entered the third quarter reinvigorated, as Eberth led a 7-play, 75-yard drive to start the half, capped by 36-yard throw to James DiBenedetto.

Eberth had his third scoring pass of the game on Prep's next possession, hitting Rockett on a 4-yard play on the first play of the fourth quarter.

On BC High's ensuing possession, backed up in its own end at the 4-yard line, Prep defensive lineman Hunter Brown made a tackle in the end zone for a safety and a 26-14 lead.

Miscues would again haunt BC High when Rockett turned in his second touchdown of the game, turning an interception into an 84-yard return for a touchdown.

"When you get a couple of turnovers like that, that really changes the complexion of the game," St. Pierre said.

Next man up: Rockett has been a steady contributor to Prep's aerial attack throughout the season. But even as the two-way starter was hobbled while being tackled on a jet sweep in the first quarter, Eberth still have plenty of weapons at his command.

"It was great, Owen goes down for a series or two and we don't even blink," Eberth said. James [DiBenedetto], we have great trust in. He's got great size and great speed. And I throw it up, he pulls a little Megatron and brings it down. And Michael Calascibetta was making plays. The depth is great. When one guy goes down, we have a substitute right there."

Of course, Eberth also has a security blanket of sorts in Jake Burt. Despite facing consistent double-teams and bracketed coverage throughout the year, the Boston College-bound tight end has remained undaunted.

"He's a mismatch every week and you have to account for that," St. Pierre said. "They did a great job defensively, but we just kept plugging away. We just kept doing our stuff and we believe in our system and our guys."

Rockett returned to the game after a couple of missed series, and he left his imprint with both an offensive and a defensive touchdown. It's something the Eagles have come to rely on.

Just as Harwood has contributed in the ground game as well. The stout running back is a burden to tackle and has made it habit of turning in 100-yard rushing performances this year.

"Everybody knows what kind of guy he is," St. Pierre said. "Owen [Rockett] and Jake [Burt] get a lot of the headlines and [Eberth] get a lot of the headlines – and rightfully so – but I'll take Cody on my team any day. He knows that. He's so tough. He plays the game the right way."
October, 4, 2014
10/04/14
2:15
AM ET


BROCKTON, Mass. – Friday night's duel between Division 1 South powers No. 6 Brockton and No. 19 BC High looked like a "Clash of the Titans" coming in.

No, it wasn't the goofy sci-fi remake flick of the same name. This was the real deal. Two of the biggest, baddest offensive and defensive lines, respectively, going at it.

In all probability, there could be a rematch along the way in the section playoffs, but score Round 1 as a decision for the Boxers. Brockton controlled the point of attack on offense, allowing junior running back Kerry Raymond to run for 169 yards on 10 carries and a touchdown in a 31-17 win over the Eagles.

"I think the last two weeks – both weeks – I like the way we're playing," Boxers head coach Peter Colombo said. "We're controlling the line of scrimmage and you saw Kerry, he's a kid that's just really learning how to run the football. He's a horse and we're going to ride him."

BC High (2-2) claimed an early 3-0 lead on a 34-yard field goal by Jared Mockus. The lead would be the Eagles' last and it was short-lived, however, as Raymond broke off a 50-yard touchdown run on the Boxers' second play from scrimmage.

The long running plays kept coming for Brockton (3-1) in the second quarter, when Jonathan Deroulus took a sweep 69 yards for a score and a 14-3 lead with 6:33 to play in the half.

"Those were the frustrating plays, those long runs," Eagles head coach Jon Bartlett said. "I'm proud of the guys for responding back, but still, we couldn't get that stop when we needed it."

BC High would get the seven points back before the half, as Sean Holleran (12 of 20, 142 yards) hit Nick Gill on a 43-yard scoring play just inside the 2-minute warning to make the score 14-10 at the half.

The Boxers' running game again showed its big-play ability, as Brockton started the second half with the ball. A 52-yard run off a counter by Raymond set up quarterback Aaron Williams' 1-yard touchdown on the fourth play from scrimmage.

On the ensuing Eagles' drive, an Aaron Monteiro fumble recovery returned possession to the Boxers. And, once again, after taking over at the BC High 23-yard line, Brockton wasted no time scoring, but forced to settle for a Ryan Clifford 31-yard field goal.

The Eagles again made it a one-possession game, with fullback Stephen Timmins (9 carries, 72 yards) bruising his in for a 24-yard touchdown run, carrying several Boxers defensive backs with him across the goal line.

On Brockton's ensuing drive, the Boxers turned in their big-play offense for a more plodding, methodical philosophy. It was equally successful on a 9-play, 80-yard drive that culminated in Williams' second touchdown of the half, a 2-yarder with 8:45 remaining.

Putting up a front: While Brockton's offensive line paved the way for another 100-yard game by Raymond, the Boxers' defensive front was just as impressive.

Playing a deep rotation of situational run-stuffers and pass-rushers, Brockton kept it motor high in the face of a physical Eagles' line.

"I've got great coaches on defense with Bob O'Neill and his crew," Colombo said. "[Jason] Mosely and Chris Brennan coaches that D-line and those kids are well-coached. We get a rotation in there and that helps."

Monteiro, the two-way lineman and Boston College commit, was a handful on the interior defensive line, while Ben Cowart, Jean Gelin (pass defended) and Dan Estrella (sack) all provided pressure in pursuit.

"We were flying around all game," Monteiro said. "We did everything the coaches tell us to do – keep making contact, push forward, keep making bull rushes."

On the flip side, the matchup also presented the tallest challenge for BC High. The Eagles, which boasts one of the state's biggest offensive lines, were itching to see how they stacked up against another of the Commonwealth's best units.

"This was a big game for us," Bartlett said. "We want to get this program back on top and so this is a great way to do it. We're disappointed because we lost. We thought how we played up front, we were able to handle them at times, they handled us at times. It was back-and-forth, but overall, we've got to get back up and respond next week."
August, 21, 2014
8/21/14
2:12
PM ET
On Monday,
we unveiled our statewide MIAA Top 25 preseason football poll
. Today, we continue our annual countdown of the poll with Nos. 15 through 11.
In case you missed our earlier installments:
Nos. 25-21; Nos. 20-16.
NO. 15 BOSTON COLLEGE HIGH
Coach:
Jon Bartlett (5th season, 33-12)
Last Season:
6-5, lost in Division 1 South Semifinals
Returning Starters:
9 (6 offense, 3 defense)
Key Returnees:
Sean Holleran, Sr. QB, 5-11 185 lbs.; Nick Locken, Sr. OL/MLB, 6-1 240 lbs.; Will Johnson, Jr. WR/DB, 5-8 160lbs; Ryan Black, Sr. OL/DT, 6-2 245 lbs; Scott Gosnell, Sr. DB, 6-2 195 lbs; Christian Dallas, Sr. TE/DE, 6-3 200 lbs.; Shane Libby, Sr. TE/LB, 6-3 240 lbs; Brendan Smith, Sr. RB/OLB, 6-0 195 lbs; Brendan Lynch, Jr. OL/DT, 6-5 270 lbs.
Strengths:
Commitment, attitude.
Weaknesses:
Inexperience on defense.
Outlook:
When Jon Bartlett took over in May for his second stint as head coach for BC High, one of the first things he stressed to his players was how much of a "team" they needed to be. It didn't take players long to buy into the system, after learning that the man that had been their head coach for the past two seasons (Joe Gaff), would be returning to the staff as an assistant for Bartlett. "For coach Gaff to not only bring coach [Bartlett] back but to also stay with this team, it showed us how committed he is to all of us," explained senior quarterback Sean Holleran. "That commitment makes us even more excited to play." The Eagles will look towards Holleran's leadership to guide the Eagles on offense and also their signature I-formation that will feature senior running back Brendan Smith. With a history of producing talented running backs in recent years, none of this will be possible without the power from the offensive line led by Nick Locken, Ryan Black and Brendan Lynch. On defense, inexperience may be a weakness heading into camp, but coach Bartlett has faith in his younger players to step up when they get their number called. Two returning players to keep an eye are ball-hawking senior defensive back Scott Gosnell and senior linebacker Shane Libby. The Eagles will be challenged like always, having to go through the gauntlet, that is the Catholic Conference, but with plenty of leadership from captains and seniors alike, BC High will be determined and use their loss to conference foe Xaverian in last year's D1 South Semi-finals as extra motivation.
-MIKE UVA
NO. 14 HOLLISTON
Coach:
Todd Kiley (12th season, 91-33)
2013:
9-2, Division 4 South finalists
Returning starters:
17 (8 offense, 9 defense)
Key Returnees:
John DoCarmo, Sr. OL/DL, 5'11, 235 lbs; Nick Athy, Sr., QB/S, 6', 200 lbs; Zach Elkinson, Sr., WR, 5'9, 175 lbs; Joe Bellomo Sr., RB., 6', 215 lbs.
Strengths:
Experience, athleticism, strength.
Weaknesses:
Depth.
Outlook:
It's been an offseason keyed on conditioning for last year's runner-up in Division 4 south, with many of the returners on Todd Kiley's Panthers surpassing their personal records in the weight room this summer. Holliston can be expected to be a favorite in the Tri Valley League as well as in Division 4 south this year, a year after falling to Dennis-Yarmouth 26-7 in last year's D4 south title game. Holliston will also be one of the most experienced teams in Eastern Mass., returning eight starters on each side of the ball to give the athletic squad a veteran presence. "We're definitely a senior laden team , a lot of experience. Our guys have taken it up on themselves to put themselves in position to get a title. A lot of them have been working since day after Thanksgiving last year," Kiley said. After averaging nearly 40 points per game last year, the offense will be based around captain quarterback Nick Athy, his favorite target: senior receiver Zach Elkinson, and running back Joe Bellomo – all three of whom made the cut for our pre-season all-state watch list. The Panthers will get things started quickly this week, heading to No. 25 Natick, who reached the D2 south semifinals last year, in a scrimmage on Saturday "I'm good friends with Coach Mortarelli, Kiley said of the Natick coach, "He's done a great job with those guys. They just put together a solid product every year. A lot of people would have thought they'd take a step back, but they're just as good as they were last year. That's gonna be an awesome test on Saturday." Look for a stingy and experienced Panthers defense to terrorize the TVL this year, led by linebackers Connor Lefevra and Derek Kiley and defensive lineman Michael Chipman. Their toughest test may very well come in just a matter of weeks, when they travel to take on Duxbury on September 5. "This is a hungry group, they're very focused. It was a great summer, they worked their tails off," Kiley said, "Getting that close like we did last year gave these guys some experience. That experience is really going to pay off for our guys."
-CHRIS BRADLEY
NO. 13 MARBLEHEAD
Head Coach
: Jim Rudloff (6th season, 41-17)
2013
: 9-2, lost to Tewksbury in Div. 3 Northeast sectional final
Returning starters:
10 (5 offensive; 5 defensive)
Key Players
: Brooks Tyrrell, Sr. RB/DB, 6-0, 195 lbs.; Derek Dumais, Sr. OT/DT; 6-5, 315 lbs.; Dan Marino, Sr. OT/DT, 6-3, 245 lbs.; Will Millett, Sr. TE/OLB/LS, 6-4, 220 lbs.; Spencer Craig, Sr. QB, 6-2, 205 lbs.
Strengths
: Running game; depth and experience on offensive line; special teams return units.
Weaknesses
: Lack of game experience at key positions on defense.
Outlook:
One of the most talked about players in the state entering this football season will not be playing a down past December. Marblehead's Brooks Tyrrell is a game-changing athlete both on the gridiron and the lacrosse field, but will stick to the latter when he matriculates to Notre Dame next year. While he's with the Magicians, Tyrrell presents a multi-faceted threat, allowing Marblehead to run inside out of a single-back set while also presenting a threat as a receiver out of the backfield and across formations. The Magicians' running attack is also advantaged by a pair of college-grade tackles in recent UMass commit Derek Dumais and fellow senior Dan Marino. Dumais presents a versatile element to Marblehead's line, as he can play both tackle positions and kick inside to guard. Look for a breakout season from Will Millett, an adept blocker and pass catcher at tight end, who will also be an integral part of the Magicians' defense at outside linebacker.
-SCOTT BARBOZA
NO. 12 DENNIS-YARMOUTH
Coach:
Paul Funk (13th season, 89-45-1)
Last Season:
11-3 (4-2 ACL), lost in Div. 4 State Final
Returning starters:
11 (6 offense, 5 defense)
Key Returnees:
Michael Dunn, Sr. QB/DB, 6-1, 200 lbs; L.K. Metz, HB/LB, 5-11, 180 lbs, Andrew Jamiel, JR, SE/DB, 5-9, 145 lbs; Zack Mancini, SR, G/DT, 5-8, 220 lbs; Nick Coelho, SR, C/DE, 6-1, 215 lbs; Chip Evangelista, SR, G/LB, 5-11, 185 lbs.
Strengths:
Speed and athleticism, offensive line, linebackers, secondary.
Weaknesses:
Defensive line, depth.
Outlook:
The 2014 Dolphins will go as far as senior Michael Dunn can carry them, and don't be surprised if that is a return trip to the Div. 4 Superbowl. D-Y graduated a talented group of seniors in the offseason including most of their offensive backfield, but D-Y seemingly has the ability to mass-produce undersized, yet athletic and speedy skill players that perfectly fit into their read-option scheme. Dunn is the lone exception to the Dolphins undersized nature, sporting a 6-1, 200-pound frame and was the Dolphins main weapon from every offensive skill position last season. But with the departure of QB Spencer Tyler, Dunn will take the majority of snaps under center. Despite the move to primary signal caller, head coach Paul Funk says Dunn will still be a threat across the field, "It wouldn't surprise me if there were times where [junior quarterback Ian] Crosby was under center and Dunn lines up in the slot. He's one of those kids who can do it all and him running in our triple option from quarterback is definitely something that we like." Flanking Dunn in the backfield is L.K. Metz who will likely see a sizable increase in his workload at tailback and split out wide is Andrew Jamiel after a breakout sophomore campaign. D-Y also returns three starters from the offensive line; center Nick Coelho and guards Zack Mancini and Chip Evangelista. The question mark surrounding the Dolphins this year is their defensive line. Typically undersized, 2014 looks to be the same up front for D-Y, but their strength remains in the second and third levels where Metz and Evangelista return at linebacker and for those unfortunate to reach the secondary, will be welcomed by Dunn. Over the past three seasons, the seniors have amassed a 15-1 record at home, but only once in the opening four weeks of the season will they be in the friendly confines of the Lagoon (week two vs. No. 19 Plymouth North) while traveling No. 23 Barnstable, No. 24 Marshfield and Scituate.
-PHIL GARCEAU
NO. 11 WALPOLE
Coach:
Barry Greener (6th year, 46-11)
2013:
7-4, lost in Division 3 Southwest Quarterfinals
Returning Starters:
10 (5 offense, 5 defense)
Key Returnees:
Steve Cuqua, Jr. RB, 5-10, 185 lbs.; Matt Ordway, Sr. OG, 5-10, 210 lbs.; Andy Papirio, Sr. WR/DB, 5-10, 175 lbs.; Chris Bender, Sr. FB/DE, 6-0, 215 lbs.; Jack Lavanchy, Sr. WR/S, 6-1, 180 lbs.; Lovie Salvant, Jr. RB/ROV, 5-10, 165 lbs.; James Murphy, Sr. LB, 5-10, 185 lbs.; Mike Curran, Jr. LB, 5-6, 175 lbs.
Strengths:
Speed, secondary, linebackers.
Weaknesses:
Experience at quarterback, depth at running back.
Outlook:
After a sophomore season in which he racked up over 1,500 rushing yards –- including his 300-plus yard, six score performance in an overtime epic with rival Natick –- there is a wave of hype beginning to build around Cuqua, who now clocks in the 4.5 range for 40-yard dash and has put on some more muscle in the offseason. "We can run, we're pretty quick," Greener said. But the Rebels are thin beyond Cuqua, and are hoping the speedster stays healthy. With the graduation of Will Bolster, the Rebels will have two juniors, Tyler Berkland and Noah Maire, vying for the starting spot under center. Defensively, though, they should be in much better shape after last year's trial by fire. Injuries in the secondary led to a slew of youngsters thrown to the wolves, but what was a deficiency a year ago is arguably now their strongest asset. The Rebels will likely stick to a 4-2-5 to counter many of the spread looks they now see in the Bay State Confernece. Between Lavanchy and Papirio -- the latter considered one of the better man-to-man defenders on Walpole's basketball team -- there is a lot to like. "He's a physical corner -- he'll hit you," Greener said of Papirio. Overall, the Rebels have a solid foundation in the junior and senior classes after enduring injuries to key players a year ago, and look suited make another quality run through the BSC. As usual, October's meeting with Natick could decide the Herget division.
-BRENDAN C. HALL
November, 10, 2013
11/10/13
12:39
AM ET


WESTWOOD, Mass. – After his Hawks had won, Xaverian head coach Charlie Stevenson stood at midfield.

His team, down the field near the goal line, was waiting on him to deliver his postgame remarks. Instead, Stevenson was at midfield talking to a member of the opposing team. He held a hand to the side of Connor Walsh's helmet, lightly tapping it to the syncopations of words he spoke. He asked the BC High tight end whether he was, in fact, a senior, and then quipped that he was relieved he'd never again have to coach against the 6-foot-3, 225-pound, two-way player.

"He had a great game, a great season and a great career," Stevenson said of his interaction with Walsh. "I told him to have a great college career as well. I just wanted to tell him he's a great player."

Xaverian and BC High struggled to a 3-3 at the end of regulation in Saturday's Division 1 South semi-final between the old Catholic Conference rivals.

At the game's end, bad luck seemed to follow BC High at every turn. The Eagles had an opportunity to salt away the clock and attempt a potential game-winning field goal at the end of regulation time, but a fumble on a botched handoff returned the ball to the Hawks inside of the 2-minute warning.

Even when the Eagles had the chance to force a second overtime, the 2-point conversion pass fell to ground, following a near incredulous effort by Walsh to make what would have been a circus catch.

Sometimes there are greater forces at hand in football.

Stevenson alluded to the divine during the postgame. After dealing with a health issue in recent weeks, which even forced the 20-season veteran from the sideline, missing a regular-season game last month, a reflective Stevenson said he'd been asking a lot from the man upstairs of late.

The Hawks won, 11-9.

Stifling defense: Both offenses struggled to find pace through the first half, with both offenses combining for just 223 yards of offense through the first 22.

While the only points of regulation were scored in the first half, with Xaverian's Matt Rogers connecting on a 22-yard field goal before the Eagles' Matt Johnson snuck one over the crossbar from 32 yards out in the second quarter, BC High was fortunate to be locked in a tie game after the Hawks forced two turnovers.

The Eagles' opening drive of the game was derailed by Joe Gaziano's strip-sack, at the BC High 34-yard line. BC High's second drive didn't fair much better, as Xaverian junior defensive back Ernest Simon intercepted Sean Holleran.

The Eagles came away with a crucial pick as well in the fourth quarter, when Will Johnson hauled in a tip-drill interception, halting a Hawks drive which had entered BC High territory.

However, the most crucial turnover of the game unfolded nearing the final minute of regulation. A botched handoff by the Eagles resulted in a loose ball, which Gaziano (2 sacks, FF, FR) quickly pounced on with 1:03 remaining. The giveaway came after the Eagles had marched 54 yards on seven plays, with senior running back Ismail Asongwed (16 carries, 92 yards) accounting for 52 of those yards on rushes.

"The defense was outstanding," Xaverian quarterback Jake Farrell said. "Again, we let up under ten points, or even under seven points in a game, they get one field goal. They weren't moving the ball on us that much.

"Our linebacker corps and our defensive line is just stepping it up. It's really hard to run the ball against us. When you do have to pass, we have a great secondary that can step up and make a lot of plays for us."

Mixing things up: While Xaverian's offense was ineffectual, at times, Farrell learned some timely lessons from a couple of miscues in regulation.

Farrell (12 of 20 pass attempts, 159 yards; 8 rushes, 46 yards, TD) earned the Hawks' lone touchdown of the game, taking in a 5-yard rush on second down during the overtime session. The play-call was a check-with-me, meaning it was a discretion play, in which Farrell checked down to the run after scoping out the coverage against a preliminary pass call.

He chose wisely. However, the dive-option play Farrell checked into hadn't gone so swimmingly earlier in the contest.

"It's a just read play up the middle to Kenny [Kern]," the junior signal-caller said. "Earlier in the game, I gave it to Kenny when I should've kept it. I had that in the back of my head. Then, I saw an opening and I just kept going."

The result was a perfectly executed permutation of a second option.

"We were expecting that dive-option," Eagles head coach Joe Gaff said. "[Farrell] did a tremendous job pulling it. He read the D-end, he went down and did a nice job pulling it. We'd done a nice job stopping that all game, but that's we he's a good player. He read it and he got in there."

Kern's successful 2-point conversion run then put pull pressure on BC High's offense to respond.

To counter, Holleran dialed up his prettiest throw of the afternoon, hitting Asongwed on a crossing pattern for a 13-yard score.

As the Eagles were forced to go for two to extend the game into a second overtime, Walsh couldn't corral Holleran's pass to the near right-hand side pylon and the Hawk Bowl's faithful streamed onto the field.

The No. 1 seed Hawks will host No. 2 seed Attleboro for the sectional championship next Saturday in Westwood.
October, 25, 2013
10/25/13
11:57
PM ET
By
John Botelho
| ESPNBoston.com
BOSTON - Before Kenny Kern ever played a game for the No. 4 Xaverian football team, and before he was even born, the school was already a big part of his family as both his dad graduated from there.

On Friday night, he added a page of his own to the family history, powering the Hawks to an impressive 19-0 win over No. 11 BC High, clinching the Catholic Conference and likely sealing the top seed for the Division 1 South playoffs in the process.

The junior tailback paced the offense, rushing 16 times for 91 yards and notching the first score of the game for the Hawks (6-1). Kern also scooped up a fumble deep in Eagles' territory in the fourth quarter to set up Shayne Kaminski's first touchdown.

"Kenny's a great player right now and gives a lot to us," said Xaverian coach Charlie Stevenson. "Not only is he a good running back, a good blocker, a good linebacker, he really bleeds gold and blue. His dad went to Xaverian, as did some of his uncles. Kenny is a really special player."

It was the Eagles (4-3) though who looked like they might steal the show early on. After receiving the opening kick, BC High picked up three first downs and marched into the red zone.

When a third down pass slipped the hands of a wide-open Eagles wideout, BC High was forced to try a 33-yard field goal. Jack O'Brien's drive fell just short and the Hawks took over.

"The biggest thing was missed chances," said Eagles coach Joe Gaff. "We move down the field on the first drive and drop a pass that probably goes for a touch down then we miss a field goal, you can't drop those.

"We had a couple other chances later on, but in all those key spots we just shot ourselves in the foot."

Xaverian's defense seemed to flip a switch going forward, completely bottling up the Eagles offense. They allowed just another four yards of offense in the first half, held BC to just 68 total yards in the game and didn't surrender another first down until the fourth quarter.

"A lot of it was just on the field and in the huddle," Kern said. "Our captains, Shayne Kaminski was pumping us up and A.J. King was pumping us up. In the huddle, we just told each other, 'They planted us for three first downs. We have to pick it up.' And we did."

It took the offense a little bit longer to figure things out, but it was Kern who kick-started thing for the Hawks in the second quarter.

After a BC High punt resulted in Xaverian starting at the 50-yard line, Kern took a handoff up the middle for three yards on the first play. The next play, he ripped off a dive right up the gut for 16 yards. One play later, Kern was slicing through the middle again, this time going 31 yards to paydirt.

"We knew against the four-four, if we got our blocks the middle would be open and we just got it done," Kern said. "If you do a play and it goes for big, you want to do it again. It was coach's call, and it was a great call."

Kaminski made it 12-0 with 9:19 to go in the game plowed into the end zone from two yards out after Kern scooped up a fumble and rumbled down to the 10-yard line.

On the first play following the kickoff, BC High quarterback Sean Holleran broke off a 25-yard run up the middle, but fumbled the ball when he was hit from behind at the end of the play. A slew of Hawks collapsed on the ball and put them back on the offensive.

They ran more than five minutes off the clock over the next nine plays before Kaminski (12 carries, 77 yards) plunged in once again, this time from three yards out, to seal the win.

A quick three-and-out for the Eagles resulted in a punt, and Xaverian was able to run out the clock and complete the shutout of their rival.

"In a game like this, the defense was big for us all night long," said Stevenson. "There was a few times where the offense put them in tough situations and they came through every time and made the play we needed them to. It really was a great defensive effort. Coming in, everyone was talking about the BC High defense and how great they were, but we're not too bad ourselves."
October, 19, 2013
10/19/13
1:48
AM ET
By
Brendan Hall
| ESPNBoston.com
BOSTON -- Trailing highly-touted St. John's Prep by a touchdown at the half, Boston College High quarterback Sean Holleran got, in short, "a good chewing" from his head coach Joe Gaff. Players were getting open, looking for a good throw, and the 5-foot-10 junior was not holding up his end of the bargain, including a bad interception late in the second quarter.

"I deserved that chewing," he recalled, with a laugh.

Tied late in the game, before a boisterous home crowd at Viola Stadium, Holleran came through with the throw his coach was looking for, then let his feet do the rest of the work. His orchestration on what would be the game-winning eight-play, 66-yard delivered BC High (4-2) its biggest statement win of the season, a 13-7 decision over Prep (4-3) that improved them to 2-0 in the Catholic Conference and gave them three straight wins since their bye week in late September.

"Sean is the toughest kid as they come," Gaff said. "He took a good chewing at halftime, and he came out in the second half and responded incredibly. He made some choices tonight, giving and not giving the ball, and he made some great runs."

No play was more important on that final drive, perhaps, than the 18-yard strike to junior receiver Geoff Stillman on third and six at their own 38. Stillman, split out wide to the right, ran a slant to hash marks, where Holleran lasered the ball into a tight window. With quick reflexes, Stillman cradled the ball in traffic and ground forward for the first down.

"He came in, the linebacker stepped up and he made a great catch over the middle," Holleran said. "It takes a lot of guts to do that, and he went up and got it. It paid off for us."

That throw to Stillman was followed up with a 16-yard scramble, then a nine-yard option keeper, sprung loose by a sealing block downfield from tight end Connor Walsh but stepping out of bounds at the Prep 19. After a Prep offsides call, Holleran scurried for eight more yards on an option keeper with a fake pitch, then Mitch LaFerriere capped the winning drive with a six-yard plunge with 46 seconds remaining.

"[I was] just reading the defense and going with it, you know?" Holleran said. "Our pass game wasn't really there for us today, we had to get it done on our feet, and that's what we did."

The point-after kick was blocked, but BC High's fortunes took a favorable bounce when Prep's ensuing hook-and-ladder attempt was fumbled on the exchange in the boundary. Ismail Asongwed pounced on the loose ball for BC High, and they proceeded to run out the clock.

With 37 seconds left, a few timeouts to spare and 64 yards to go, the decision could be considered high-risk. Yet the Prep nearly pulled it off, likely marching to paydirt if not for the fumble. Prep head coach Jim O'Leary said he even considered calling a hook-and-ladder to open the game up.

"We had practice that this week, and we actually thought about opening the game up with it," he said. "The first play, we didn't get the yards we needed or something, but it's not a bad call. It looks likes it's going for a touchdown and then he puts the ball in the ground. More than anything else, ball security was the issue tonight. We just can't be turning the ball over like that, on the road, down here."

Brendan Smith led BC High on the ground with 15 carries for 97 yards, while Prep quarterback Mike Geaslen completed 7 of 11 passes for 96 yards and ran in the lone Prep score on a sneak from the one-foot line.

Prep linemen suspended: As if it wasn't snakebitten enough with the loss of Maryland-bound all-world running back Johnny Thomas (knee) for the season, three of Prep's top linemen were missing from tonight's action due to what O'Leary called "school disciplinary action".

Asked if the suspension could carry into the postseason (Prep has a bye next week, the final week of the regular season), O'Leary said, "If we make the playoffs, we'll see. I suspect with those kind of issues, that there's consequences that extend more than one game."

Harnais makes early exit: BC High lost one of its top running backs, senior Robert Harnais, five minutes into the contest on what would have been a sure-fire touchdown. On the first play of BC's second drive, from its own 12, Harnais took a toss sweep around the edge and took off for daylight before blowing a tire around midfield. The play, officially a 48-yard scamper that could have easily been an 88-yard TD, was Harnais' last of the night. He finished with three carries for 54 yards.

It was more than just a simple cramp. Harnais had to be carried off the field by two teammates, putting no weight on either leg. Gaff confirmed it is an issue with his left hamstring, with an unknown timetable.

"Imagine? He's gone on that, that's a touchdown on that," Gaff said. "It's a hamstring issue. Unfortunately, he's worked his body so hard all season and he's been nicked up all year. Hopefully, we'll get him back at the end of the year."

The Walls of Morrissey Blvd.: Coming out of its bye week, after some miserable first-half showings, it's safe to say BC High has cleaned things up on the defensive front. Two weeks ago, in statistically its best performance to date, the Eagles held then-No. 8 Brockton to 112 yards of total offense in a 6-0 shutout victory. Tonight, they held Prep to 135 yards of total offense, including just 39 rushing yards, giving them a total of less than 250 yards allowed combined against two teams ranked in ESPN Boston's Top 10 at the time.

With a front seven led by Steve DiCienzo and Chris Solis, this defense has developed a nastiness at just the right time, with the first round of Division 1 South playoffs two weeks away.

"This is unreal," Holleran said of the defense. "It's taken a lot of pressure off me, I'll tell you that much. It was a couple plays that got it back for us, and second half we put it in."

Check Mate: At 6-foot-3 and 225 pounds, Walsh plays a unique chess piece in BC High's slowly-evolving offense. Able to set the edge lined up tight in a three-point stance, or seal an outmatched defender inside or outside for a big gain when split out on the perimeter, he plays a significant factor in the run game. In the passing game, he can be a matchup problem when isolated out wide, either in a double-slot formation or opposite trips, as BC High did tonight.

In the first half, Walsh was split out wide as a split end four times and was targeted twice, with no catches and one drop. In the opening drive of the second half, BC ran exclusively out of a double-slot formation with Walsh at split end, running mostly zone read plays but also targeting the big tight end once with no success.

On the game-winning final drive, Walsh again was put out on the perimeter, and he made several big blocks to spring Holleran loose for first-down gains.

"He's a big body, got great hands and moves really well for a big guy," Gaff said. "We've got some confidence moving him out. You've got Stillman, the tall target, with the big catch down the middle on that last drive, so it's nice to have some big bodies on the outside of Sean, who's not the tallest guy to see some big targets."

Said Holleran of tonight's strategy with Walsh, "We were just looking to hit Prep wherever we could. We saw an advantage on the outside with Walsh, and we tried to get it there. It was there, I just couldn't hit him."

BC HIGH 13, ST. JOHN'S PREP 7

SJP 0 7 0 0 --- 7
BCH 0 0 7 6 --- 13

Second Quarter
S - Mike Geaslen 1 run (Josh Hilty kick) 8:20

Third Quarter
B - Sean Holleran 1 run (Jack O'Brien kick) 2:56

Fourth Quarter
B - Mitch LaFerriere 6 run (kick blocked) :46
September, 21, 2013
9/21/13
12:11
AM ET
By
Jeff Cox
| ESPNBoston.com
DORCHESTER, Mass. -- Barnstable senior running back Hayden Murphy ran for more than 100 yards, and quarterback Kristian Lucashensky threw two touchdown passes to lead the Red Raiders to a come-back 20-13 victory over the BC High Eagles on Friday night at James Cotter Field.

Barnstable fell behind by two touchdowns early in the second quarter, but bounced back to score 20 unanswered points for a much-needed victory.

"We showed some tremendous resiliency. I'm so proud of our kids," Barnstable head coach Chris Whidden said.

BC High senior Ismail Asongwed returned the opening kickoff of the game 97 yards for a touchdown and a 7-0 lead before there was even a single play from the line of scrimmage.

On the first play of the second quarter, BC High (1-2) extended its lead to 13-0 when senior Robert Harnais punched it in from a yard out. That score was set up by a 68-yard run by quarterback Sean Holleran late in the first quarter.

The Eagles were in complete control of the line of scrimmage and seemed to be in total control physically. However, the tides turned and Barnstable took over on the road.

"We had all the momentum. We were playing hard, but then we didn't tackle. Some of it is on us, some of it is Barnstable," BC High head coach Joe Gaff said.

Murphy cut the lead to 13-7 when he scored on a 43-yard touchdown run with 7:09 to play in the first half. It was the first offensive touchdown of the season for the Red Raiders.

Barnstable had a chance to score again with under a minute to play in the first half, but couldn't convert on four attempts inside the Eagles 10-yard line.

BC High looked to add to its lead in the third quarter, but a holding penalty nullified a long Holleran run on what appeared to be a promising drive.

"It was the third straight game where a mistake cost us. We went from down on their 15 up six to deep in our own end and they got the ball back and went up," said Gaff.

Barnstable got the ball back and didn't waste much time in taking its first lead of the game, when Lucashensky threw a 62-yard touchdown pass to senior wide receiver Derek Estes.

Lucashensky and Estes connected on another score in the fourth quarter to give the Red Raiders a seven-point lead midway through the fourth quarter.

BC High had a chance to practice its two-minute drill, but after driving to the Barnstable 20, the Eagles could not finish the deal.

After a season opening loss to Dennis-Yarmouth, Barnstable bounced back to even its record at 1-1.

"For us, at this point in the season, getting a win was so important after how down we were two weeks ago," said Whidden. "Now the kids believe we can beat anyone."

Whidden credited the improvement from one game to the next by emphasizing the team's belief in each other. Another big reason was the play of Murphy and Lucashensky. Both players drew praise from the opposition's coach.

"Murphy had a great game," Gaff said. "He's a good running back, and of course their quarterback didn't play in their first game."

The road won't get any easier for the Eagles as they next face Brockton after a bye week.

Notes: The Eagles recovered two Barnstable turnovers -- one interception and one fumble.
September, 13, 2013
9/13/13
1:15
AM ET
By
Brendan Hall
| ESPNBoston.com


ANDOVER, Mass. –- Steve DiCienzo stretched across the goal line to end the first overtime, and the game, as his Boston College High teammates stormed the field in celebration at Lovely Memorial Field. Only then, after a disappointing open to the season least week, could the visiting Eagles truly exhale.

"There's not a better feeling than that. It was just awesome," the senior fullback and Abington resident said of his game-winning score, a six-yard dive up the middle that gave the Eagles (1-1) a thrilling 16-10 overtime win over host Andover (1-1). "I couldn't do it without the hogs up front, I just followed their butts and they got me in.

"It was awesome, though. We've been working so hard for this win. It's great to come back after that tough loss."

A week ago, the Eagles came into North Attleborough High with high aspirations, coming off a disappointing 2012 campaign. But for the second year in a row, they fell victim to the upset by the Red Rocketeers, a 217-yard night rushing by tailback Rob Harnais seemingly wasted.

If last week was a much-needed win, then tonight was simply a must-win. And for a while, it looked like the Eagles might fall to a similar fate after surrendering 10 straight points in the fourth quarter.

After Ryan Payne's 30-yard field goal cut BC's lead to 7-3 with 10:11 to go, the Warriors' Brendan Slattery fell on an onside kick, wrestling his way into possession. Andover fumbled the ball away seven plays into its drive; but not to be outdone, BC gave them the ball right back just five plays later.

Looking for tight end Connor Walsh in the boundary, quarterback Sean Holleran was picked off at the BC 45 by Will Eikenberry. The 6-foot-2, 210-pound senior linebacker broke to the home bench and followed two kick-out blocks up the left sideline, diving over the pylon for the pick-six and a 10-7 lead with 4:35 to go. It marked the fifth turnover of the night for BC, and ninth combined for both sides.

After a favorable return, with an extra 15 yards tacked on from a penalty, the Eagles marched inside the red zone, aided In part by an 18-yard sweep from Harnais (16 carries, 75 yards), and set up Jack O'Brien for a 31-yard field goal to tie it at 10 with 2:34 to go.

Andover called three straight wide zones to Eikenberry, then stalled, then missed a 42-yard game-winning field goal attempt with no time left in regulation to force overtime.

In the overtime, Andover took the ball first and was immediately met with increased pressure, with quarterback Oliver Eberth intentionally grounding on fourth down to give BC the chance to win.

Three plays later, DiCienzo found paydirt. And it was sweet.

"We kinda shot ourselves in the foot last week, and it happened again this week," said DiCienzo. "It was relieving getting this win. We definitely needed this one."

Said head coach Joe Gaff, "You can't take anything away from that Andover team, please. Their effort tonight, this was a great high school football game. We made some mental mistakes."

Turnover Troubles: This wasn't a clean game by any stretch, with the teams combining for nine turnovers, five from BC High. One would venture a guess that ball security will be a big emphasis in the coming weeks for the Eagles, who fumbled the ball away four times. On the flip side, Andover's quarterbacks are going to have to work on scanning the field better, as they committed two interceptions.

However, credit has to go the other way as well. It's no secret BC High head coach Joe Gaff likes to deploy a Cover 1 and challenge the opposition's receivers mano a mano, but the Eagles also showed some nifty Cover 3 looks against trips formations. BC's linebacking corps in particular did a good job maintaining their zone responsibilities, forcing bad throws.

Going the other way, not enough can be said about Eikenberry, a prep school transfer who was made an immediate impact in the Warriors' program. Of the Eagles' four fumbles, Eikenberry forced two of them, both with sound tackling fundamentals. At 210 pounds and with a long reach and a lacrosse-like skill set, expect him to continue being a defensive impact. Right now, he is arguably their most important defender.

Lockdown in the trenches: Andover took the ball first in overtime, from 10 yards out, with four chances to get into the end zone. When all was said and done, the Warriors only moved backwards, the final chance a fourth down from the 25 that ended in an intentional grounding penalty.

Credit defensive ends Darren Amado and Evan Burton for playing excellent containment responsibility, maintaining a depth that did not open up running lanes for Eberth, and then flushing him out of the pocket, eventually wrapping him up for losses.

"We widened our ends out a bit," Gaff said of the overtime defensive stand. "We really made our defensive line very active today, with a lot of stunts. We didn't just want to line up and give that offensive line they have...You know, just be able to pass block. We moved a lot today, I thought that helped our D-line a lot."

Get Big: It will be interesting to watch how both BC High and Andover each integrate their big-bodied tight ends as the season progresses.

The trend right now with big-bodied tight ends is to flex them out on the perimeter and create mismatches on size and strength, a la the New England Patriots' Rob Gronkowski. Walpole toyed with this strategy last year, splitting the 6-foot-5, 260-pound Chris Collins out wide to the sideline at times, and saw very favorable results.

Mansfield's 6-foot-5 junior Brendan Hill may arguably be the best in state at this discipline right now. He is a tight end by definition, but in most games will play primarily in the slot or at split end. In last week's upset of Dunbar (Md.), Hill led the team with eight catches for 109 yards and a score.

In Andover's spread scheme, which operates primarily out of 2-by-2 and trips looks, there is an incredible mismatch developing. Six-foot-7, 220-pound sophomore Alex Marshall is already committed to the University of North Carolina for lacrosse, but has big-play capability in head coach E.J. Perry's no-huddle offense just on size alone.

In the second quarter, Marshall hauled in a 28-yard pass on the run; he found himself targeted more in the second half, only to be over or under-thrown. With his long arms and good sense of leverage, Marshall also excelled at perimeter blocking against the Eagles.

BC High's Connor Walsh, meanwhile, figures to be integrated more into the offense as the weeks progress. Lining up both tight and split out, the 6-foot-3, 220-pound Milton resident was targeted six times and recorded three catches for 44 yards.

"Walshy, the kid worked his butt off all summer," DiCienzo said. "Just to see him making plays is unreal. He deserves it. He worked his butt off. I work out with the kid, he 's unreal."

BC HIGH 16, ANDOVER 10 (OT)

BCH 0 7 0 3 6 --- 16
AND 0 0 0 10 0 --- 10

Second Quarter
B - Steve DiCienzo 6 run (Marco King kick) 5:56

Fourth Quarter
A - Ryan Payne 30 field goal 10:11
A - Will Eikenberry 45 interception return (Payne kick) 4:46
B - Jack O'Brien 31 field goal 2:28

Overtime
B - DiCienzo 6 run
August, 28, 2013
8/28/13
12:18
AM ET
By
Brendan Hall
| ESPNBoston.com
MANSFIELD, Mass. -- Late this afternoon, No. 4 Mansfield hosted No. 19 Boston College High in their annual preseason scrimmage. In three alternating 10-play series of varsity on varsity, Mansfield scored once, while BC High failed to reach the end zone.

Some notes and observations from this afternoon's scrimmage:

The Whole Nine Yards: The spread offense is a wide spectrum, and today we saw a cornucopia of different elements of it from Mansfield. Expect senior quarterback Kyle Wisnieski to throw the ball close to 30 times a game, with such a talented target as junior tight end Brendan Hill to work with.

The two connected for the afternoon's lone varsity touchdown in the second series, a 70-yard fade in which Hill was left on an island opposite the strength of the formation, read tight coverage and beat his man off the line of scrimmage with a move to the outside. Wisnieski delivered a perfectly-threaded dart deep down the right sideline, in stride, allowing Hill to scamper the final 35 yards easily.

Mansfield operated primarily with trips formations, with Hill away from the strength, but also experimented with him lined up tight with his hand in the ground. The Hornets did a lot of funky stuff, from zone read triple options to even some shovel options; considering Hill's unique versatility, and the fact the Hornets were missing a number of key bodies such as receiver Michael Hershman (more on that later), it will be interesting to see what direction head coach Mike Redding ultimately goes with this talented offense.

"Obviously Brendan is a big part of what we do, we're gonna run him wide away from trips. We're gonna bring him in as tight end and run some drag, short routes," Redding said. "We'll balance up when we get Hershman back, we'll go Hershman and Hill on opposite sides and see how people want to play us. A lot of it is personnel. Miguel [Villar-Perez] has had a great preseason -- he didn't play tonight, but he's a great counter, bubble guy, and he's a great receiver. I think when we get the full package in there, it'll be pretty tough to defend. I just think right now, we're in flux with injuries and waiting on guys to be back."

King of the Hill: It's no secret that Hill will line up in a variety of spots in the passing game, both tight and split wide, to utilize his strengths. Last season as a sophomore, Hill led the Hornets in all major receiving categories (48 catches, 849 yards, 17.7 yards per catch, 11 TD), knifing through the middle of coverage with crisp vertical routes and also making some great catches along the sidelines.

Currently the 6-foot-5, 205-pound Hill holds one Division 1 FBS offer, from UMass, but the list of suitors should grow. His athleticism speaks for itself -- last year, he was named the Hockomock League's MVP in basketball -- and Redding makes no effort to hide how involved the kid will be in the offense.

"The game plan has about 12 highlighted sets and plays, and they're all for him, how do we get him in a position to get a bad matchup for the defense," Redding said. "He's a franchise guy, so we've got a lot of different ways to get him in spots where we can have this or that, and if he's double-covered, we've got a run call to take advantage of the double. He's an integral part of what we do with the spread, he's got to be the one guy in a balanced look, away from trips, make him a receiver and then we've got the ways to make him an inside guy on the trips, trade to the other. There's a lot of creativity to move him around formation-wise."

Eagles stuff the run: Try as they might, Mansfield simply could not establish any sort of running game, as the BC High front seven routinely overmatched them. They attacked and filled the inside gaps with tackles Rory Keohane and Yacoub Dobieb, preventing any cutback lanes from forming. When the play spilled to the outside, ends Darren Amado and Chris Solis were there to greet them for a minimal gain. In the second level, linebackers Steve DiCienzo and Mitch Laferriere shed blocks well and were aggressive in sideline pursuit.

"They've had a great offseason working, getting themselves into great shape," Eagles head coach Joe Gaff said of Amado and Solis. "They've been great for us all preseason. And then Steve DiCienzo, and Mitch Laferriere has really... [he's] healthy for once, and we've got Roy and Doubs in the middle, we like what we've got there."

For most of the afternoon, BC's front seven controlled the edge, which should help them out early in the season when they face similar-minded spread teams like Andover, North Attleborough and Barnstable.

"That's something we've really been working on, setting the edge, because we're going to see a lot of that jet stuff, spread," Gaff said. "It's been a big camp push for us, juust to know our roles, every kid knows his role on D. We're like the no-names, you know? We don't have those big guys this year. They understand that. What I liked today is when someone made a play on the ball, there were four or five jerseys flying to the ball, and that's what our defense is about."

Hershman finally in the clear: For much of the last year, Hershman has been nagged by injury. He missed most of basketball season, which made some of us wonder what could have been, with the Hornets losing to Springfield Putnam in an overtime thriller of the MIAA Division 1 State Championship.

It looked as if things were going to persist into this fall, his senior season. But doctors have recently concluded that what was believed to be a groin injury all this time is actually a sports hernia. Hershman was cleared for contact today, and will finally suit up for practice on Wednesday.

"Literally, all the time he rested, the only thing that allowed the doctors to do is diagnose it as a sports hernia," Redding said. "So he's cleared today to do football, basketball, he'll have a little discomfort but it won't get worse and he'll have surgery after basketball season. If we had figured it out in March, he could have had the surgery then [and] he'd be good now, but it actually took the months of resting to realize it was a hernia and not a groin pull.

"He's been out running routes, covering, just not been allowed contact, so now finally he'll be allowed to join us as a football player, and he's very anxious to play some football."

Battle at QB: Junior Sean Holleran got the start at quarterback this afternoon, and he has been the frontrunner for the position through most of camp. The spunky Holleran gives them a certain toughness under center that seems to trickle down to other players. When he scrambled, Holleran was unafraid to lower his head and invite contact. On a quarterback sneak in the third series, Holleran tucked behind his center and followed him up the middle, making a violent collision at the end of the play.

"He's a funny kid. He is a tough kid, and the kids lead after that," Gaff said. "It's just one of those things that, if your leader's tough, you're gonna go through a wall. He's got that nice presecne about him there, and he's enjoying what he's doing."

Still, Gaff is not yet ready to declare Holleran the starter for Week 1. Keep an eye on sophomore Marco King, who has been impressive as of late.

"Marco King's pretty good, behind him, we've got some guys competing for spots, so it's nice to have that," Gaff said.

Eagles run well: Operating primarily out of the I-Formation with either two-receiver or two-tight end personnel, BC's running game was fluid, with tailbacks Rob Harnais and Brendan Smith showing flashes of high potential.

The Eagles' best run came in the third series, when Smith took a toss left and was sprung loose by the left tackle Solis, who sealed off his man away from the play, for a 40-yard gain.

"Chris is hungry, some of these seniors are hungry," Gaff said. "They've been waiting after that nice class we had last year. They've been waiting to get up there, so they've been really biting to get in. I just like this group, I think you saw some energy today. I thought we got after the ball pretty good today."
August, 23, 2013
8/23/13
10:31
PM ET
By
Bob McGovern
| ESPNBoston.com
DORCHESTER, Mass. -- Slot receivers dart across the middle of the field, running backs run track-meet speed between the tackles, and the scout-team defense spreads cautiously out of the box.
There is certainly a different look to the Boston College High football team.
[+] Enlarge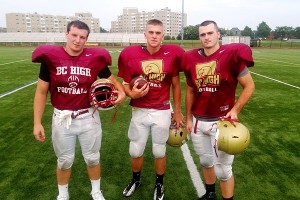 Bob McGovern for ESPN No. 19 BC High will look to rebound from last year's 4-6 campaign behind (L to R) Steve DiCienzo, Sean Holleran and Rory Keohane.
The Eagles typically run a pro-style offense, but with questions at the offensive line, and a healthy stable of smaller sprinters, head coach Joe Gaff is adding a little spread attack to to the playbook. However, he is adamant that B.C. High is maintaining its offensive identity.
"We're still an I (formation) team. We're still a pro style team. We just have a little speed that we're trying to tinker around with and have some fun," he said. "We're trying to get some guys with a little quickness the ball more."
Part of the new-look spread attack is junior quarterback Sean Holleran, who at 5-foot-11 doesn't exactly have a pocket passer's frame. The first-year starter airs the ball out, but also looks comfortable running the read option.
"Sean is a good athlete, and there are some guys behind him that are pushing him. Sean is really a great athlete as a junior, and we're really excited to have him out here," Gaff said. "He gives us a different look than we've had in the past."
Holleran started for B.C. High's junior varsity team last year and said he's been "studying the playbook all summer." He added that he and his receivers have been working out together during the offseason. Holleran has particularly good chemistry with Scott Gosnell, who he refers to as "Goose."
The offensive line, with a list of newcomers, will be charged with replacing Jack McDonald, a hulking 6-foot-5, 275-pound athlete who will play guard for the University of Virginia. Joe MacDonald and Evan Burton will look to step up, while team captain and defensive lineman Rory Keohane will lead the group.
The Eagles will also go through some changes on defense. While B.C.'s base will still be the 4-4, Gaff said that the emergence of the spread attack is forcing him to change philosophies.
"We don't sit in it. It's pretty tough to sit with eight in the box when the other team is running spread on you," he said. "I think we're going to see quite a few teams in it this year. You won't be seeing the 4-4 much when we're up against the spread."
Linebacker Steve DiCienzo, who stepped in when Princeton-commit Luke Catarius went down with an injury, is going to be asked to be a physical leader for the team. The senior captain acknowledged that there is no way to replace guys like McDonald or Catarius, but indicated that this year's Eagles team has some intangibles.
"What you can replace is team chemistry. Our team this year is really tight, and that is the difference between this year and last year," he said. "That's why we struggled a little last year. This year, we're all friendly, while last year there were a few different groups."
The Eagles will also look for linebacker Connor Walsh and Sean Malone –- a speedy defensive lineman with a motor –- to make plays this year. Malone suffered a separated shoulder during the Eagles' first full-pads practice but is expected back in a few weeks.
After a disappointing 4-6 season, the Eagles are hoping team speed tied with the new spread attack will pay dividends.
"We're going to take things one game at a time." Keohane said. "I think we'll surprise some people. We're faster, and we're a lot tougher than we were last year."
BC HIGH AT A GLANCE
Coach:
Joe Gaff (second season, 4-6)
Last season:
4-6
Returning Starters:
Two
Key Returnees:
Sr. DT/OL Rory Keohane, Sr. RB/MLB Steve DiCienzo
Strengths:
Speed, team chemistry, athleticism
Weaknesses:
Lack of size, offensive line, unsettled special teams
Overview:
With a smaller and faster team, B.C. High is going to rely on its athleticism to get by. The Eagles have a tough running back in Rob Harnais, who has decent size and doesn't hesitate when looking for running room. He will work well with Sean Holleran, a first-year quarterback who is dangerous in the open field and can extend plays with his feet. The Eagles have some bulk, and they will need to figure out how to best utilize it when they come across teams with more meat in the trenches. The kicking situation is unsettled, and Gaff is hoping to find a starter during camp. "We have a few guys trying to take that spot right now, so we're still trying to fill that out," he said. The senior leaders said that last year's team had a few cliques, and that doesn't exist anymore. The Eagles may be able to run past a few teams, but they are going to have to make up for their lack of size with hard-nosed football. "We have a lot of tough kids. Everyone likes to hit, and no one is afraid to bring the wood," team captain Steve DiCienzo said. "What we lack in size we make up for in toughness. Discipline, toughness and speed are the three keys to success for us this season."