Boston High School:

Sean MacDonald
November, 16, 2013
11/16/13
10:36
PM ET
By
Phil Garceau
| ESPNBoston.com
NORTHBOROUGH, Mass. -- At the end of that day, there can only be one team standing. And for 10 of the last 11 years, and the fourth consecutive year, it has been the Barnstable Red Raiders. A true decade of dominance.
And the way the Red Raiders are playing right now, it looks as if they are set for a century of dominance.
The scene is all too familiar for Barnstable coach Tom Turco. Clear his schedule for the middle of November, because he has a trophy to hoist. It's almost become as regular as an annual family reunion.
[+] Enlarge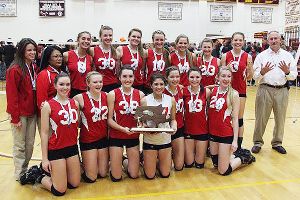 Phil Garceau for ESPNBoston.comBarnstable beat Newton North in straight sets to capture its 10th Division 1 girls volleyball title in 11 years.
From start to finish, the Red Raiders were quicker, stronger and faster than Newton North, winning in straight sets 25-10, 25-15 and 25-11, capping off a perfect finish to one of the more dominant seasons in recent memory.
Sure, a 23-0 season is pretty impressive. But the Red Raiders took it a step beyond that. Barnstable played a total of 73 sets this season and won 69 of them. Twenty of their wins came via a 3-0 victory, including every match this postseason. Twice they were pushed to a fourth set and only one time did a match go five sets.
"It feels sweet," Turco said following his fourth straight championship season. "These girls go out on a limb, set their goals really high and they sacrifice, they work and they stuck together out there and I'm really happy for them."
This Barnstable team was not the same as we've come to expect from the Red Raiders. This team takes their defense and turns it into offense. They don't allow the ball to hit the ground and transition quickly from defense to offense. Once they are set up, they don't attack through the middle, which the Raiders have done for years, and instead attack from the outside.
""Barnstable forever, we've been attacking from the middle, 90 percent of our hits come from the middle," said Turco. "This year we kept Hannah [Andres] and [Ciara] Bruning on the outside and we knew we had to quicken it up. The quicker you can get the attack off, the less time the defense has and the block has to set up."
Seniors Bruning and Andres couldn't be contained on the Barnstable front line. Sophomore Madison Sollows added a third dimension to Raiders attack for which the Tigers had no answer.
"I give all the credit to Barnstable," Tigers coach Richard Barton said. "It was very cool to watch them play, uncool to be the team losing to them, but we played fine and got nothing out of it."
Three of these Red Raiders, from the time they were freshmen up until Saturday night, were on the floor for each of the four championships. Stephanie Martin, Holly Wilson and Andres saw all four and Martin saw something special about this group of players.
"This team, we're closer and we spend more time together and we work hard on the court. We bond more off court and on court and it brings the team together."
The Red Raiders wasted no time establishing themselves as the dominant team, grabbing a 12-1 lead to begin the game. Three times in the opening set the Raiders made runs of six points.
Barnstable got off to anther hot stat in the second set, jumping out to a 15-6 lead before the Panthers, led by Infiniti Thomas-Waheed, found a bit of a rhythm. Newton North lost, 25-15, but matched Barnstable every point for the remainder of the set giving them hope for the third set.
The first eight points were evenly split before Barnstable went on a dominant 11-0 run, giving themselves a 15-4 and a championship coming into sight.
"This is why they're different this year," said Barton. "They attack every ball that came over. They're steadier in every regard. They run offense from all positions instead of the middle, they pass better, nothing hits the floor."
Junior setter Olivia Brodt set the ball up for all of her hitters, leaving the Tigers defense guessing.
"[Brodt] came into camp in unbelievable physical condition," Turco explained. "She worked for this and wasn't going to be denied."
D2: Notre Dame Hingham 3, Westborough 2
Holding a 18-12 lead and momentum at their backs, Notre Dame Academy had the Division two championship in their sights.
What they weren't counting on was a Westborough team that refused to give up. The Rangers went on a 15-7 run to force a deciding game five, setting the stage for Notre Dame Academy's Julia Flynn.
With a championship on the line in a winner take all set, it was only fitting for the senior hitter led her team to claim the state title, just as she had all season.
After a nail-biting back-and-forth battle all afternoon, it was the Cougars that prevailed in the fifth set, taking it 15-12 in front of a capacity crowd at Algonquin High School.
"It was a very very big opportunity for these young women to step up into a moment that big," Cougars coach Joshua Sheperd said. "After having a lead and letting it slip away in game four, to recapture it and move forward."
"We had some inspired volleyball tonight. We saw Julia [Flynn] be as advertised both in the front row and back row. Moments carrying her team, and showing them the strength when they needed it."
Trailing 14-12 in the final set, Westborough got what they wanted. A perfect set to Samantha Kehoe, who had carried the Rangers all game. The senior hitter wound up, but a perfectly timed jump from Notre Dame's Casey Thorbahn blocked Kehoe's hit and bounced back into play for the championship point.
"Sam did exactly what I told her to do on the last hit," said Rangers coach Roger Anderson. "I told her to go up and rip it and she did. And I'm so proud of her for that. She got us here and if we're going to go down, we're going to go down swinging."
Notre Dame saw some excellent defense from senior Megan Barrett, but the story of the game was the emergence of sophomore Avery Spaziani. And what better place to make a name for yourself than the state championship game.
"We saw inspired defense from our other captain Meg Barrett," Shepherd said. "We saw an unbelievable dawning of a new player in Avery Spazeroni tonight. She came to play and played the game with heart that was very admirable."
With time running out on their season, Westborough seemed to bury themselves in too deep of a hole. In the fourth set, already trailing two sets to one they found themselves down 18-12.
An ace from Kehoe, kills from Maria Hession and Julia Arsenault and a couple of fortunate bounces tied the game at 18 and sent the massive Ranger student section into a state pandemonium.
The teams exchanged points up until 25, where a long serve and a bad hit from Notre Dame sent the game into a fifth set.
"That comeback was built on playing a schedule that is really tough and being in battles all year long," Anderson said of his team in the fourth set. "We don't relent to anyone. You can knock us down but we're going to keep coming back."
Every match was a closely contended game. In the second match neither team strung together more than two consecutive points until Westborough put together a four-point run to take a 20-15 lead. The Rangers went on to win that set 25-18.
"They sent us a message earlier in the year saying Westborough is for real and we're going to come with it and they did," said Shepherd. "They came as advertised."
Notre Dame took a close first set 25-20, with Julia Marshall sealing the win with an ace, and capping a 5-0 run to close. The Cougars also took the third set 25-18, using a 6-0 down the stretch.
D3: Frontier 3, Fairhaven 1
This was supposed to be a rebuilding year for the Red Hawks. After three consecutive state championships, Frontier lost their star hitter Cassidy Stankowski to graduation, leaving a gaping hole as their team's leading hitter.
With a new philosophy this year, Frontier had no trouble running the Division 3 tournament this season for their fourth title in as many years.
"It's really special to win when you don't have an all American on your team," Frontier coach Sean MacDonald said following the game. "They wanted to show that Frontier volleyball isn't just Cassidy Stankowski.
"We had that cannon last year, and now we have a bunch of little guns all over the place shooting at you, so we're a little less predictable."
After weathering off a ferocious Fairhaven rally in the fourth set, Sarah Woodward clinched the championship with an ace, giving the Red Hawks a 25-22 edge.
The Blue Devils fell behind 20-15 after a 5-0 run from Frontier. The Blue Devils responded with a strong run of their own, but their rally to force a deciding fifth game fell just short and were forced watched the Red Hawks receive the division three championship trophy.
"I thought Fairhaven played pretty well in that set," said MacDonald. "A couple fluky things and its like okay, things aren't going our way this set. But we didn't come in here expecting to sweep Fairhaven."
After a back-and-forth battle to being the first set, Frontier ended on a 9-3 run, with Cassidy Ciesluk putting the exclamation point on the win with the final kill to give the Red Hawks the all important 25-20 first set victory.
A balanced Red Hawk attack in the second set kept the Blue Devils searching for answers. The Blue Devils offense also had a tough time, as they struggled to find any rhythm. Farihaven never strung together more than two consecutive points in a lopsided 25-15 loss, setting up Frontier with a quick 2-0 lead.
"A lot of it was they needed to relax and they couldn't get themselves to relax and play their game," Fairhaven coach Karen Arsenault said. "I don't think they really did relax, ever, and just play how I've seen them play."
It looked as if Fairhaven was on their way to being swept, falling behind 5-2 and 15-11 and still looking for answers on their offense.
With their backs against the wall, senior Mariah Nicholas led her team back with five kills and a block in final stretch and Fairhaven went on to win 25-20.
"They've had this resilience all year," said Arsenault. "We've come back all season, we came back in the semifinals. I knew they could do that, it was just a matter of would it be enough and unfortunately it wasn't."
"They had a much quicker game, way quicker game than the semifinal game. They had a lot of go to people and ran a really clean offense. We don't normally see that. Probably the best team we've played all year."
With Frontier only losing three players to graduation, they look primed to make another run in 2014.
"We have a lot coming back," said MacDonald. "I feel good moving forward."
November, 17, 2012
11/17/12
5:28
PM ET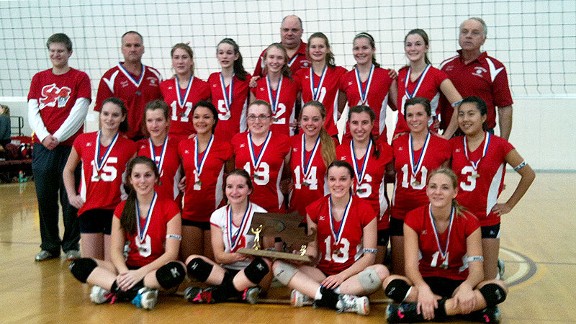 Scott Barboza/ESPNBoston.com
NORTHBOROUGH, Mass. -- You can make a strong case that Cassidy Stankowski
is
Frontier Regional volleyball.
You'd be hard pressed to find a student-athlete that's been with a program for 10 years, but it's been a family affair for the Stankowski clan. Cassidy's been around the program since long before high school, tagging along with her father Jack to her older sister Alyssa's games. In sixth grade, Stankowski graduated to statistician for Sean MacDonald's team. In her seventh grade year, she started playing with the Red Hawks as a libero on the varsity team.
But now, many years and three state championships later, the road has come to an end for the reigning Gatorade Massachusetts Volleyball Player of the Year. With a 3-0 sweep of Eastern Massachusetts champion Lynnfield Saturday at Algonquin Regional, the Red Hawks claimed their third straight MIAA Division 3 volleyball title, the fifth for the Red Hawks.
"I've been putting this jersey on for six years and, now that it's come to an end, I don't even have any words to describe what I feel," Stankowski said.
The Red Hawks carried the games 25-19, 25-16 and 25-21, but they hit bumps along the way.
It wasn't the idyllic ending McDonald was looking for – after all, the bar's been placed so high with the Red Hawks dropping just one match in their two previous championship seasons.
"We weren't very smooth, but we did things well enough to win," MacDonald said.
He continued, "Lynnfield's a good team and I think they forced us into some things that were taking us out of our game."
Frontier was still able to rely on Stankowski, who led the Red Hawks with 17 kills in addition to 14 digs. While Frontier's setting game was shaky at times, particularly during the second game, senior Tori Whitney tallied 24 assists and 12 digs on the back line. Junior Sarah Woodward added 12 kills for the Red Hawks.
"Sarah's been playing strong for us, she's really come on down the stretch," MacDonald said of Woodward.
Yet, it always goes back to the Red Hawks' senior captian.
"When we're not passing well, that's kind of where we have to go," MacDonald said of Stankowski. "If we get a good set, we can hit her; if we don't get a good set, she can get it, too. Cassidy is Cassidy. She's just so solid, that if you we get a good set, there's a good chance that it's going to be a point."
A SPECIAL TALENT
McDonald, who's coached plenty of fine players in his tenure at Frontier, was asked exactly what mad Stankowski so special. A versatile player who MacDonald plugged into many positions, he remarked that her instincts on the court are what set Stankowski, who signed her National Letter of Intent to Central Connecticut State this, apart.
"Sometimes she'll know where the ball is going before anyone else, and she'll fly to the ball and cut in front of someone to get there," McDonald said. "Sometimes I just want them to read it, too, but she's so fast and instinctive, she gets there first."
As for Stankowski, who's been a part of three championship teams now, she was pressed who the Red Hawks title-winning teams have differed from each other. While acknowledging all teams are different, she reflected on one key element that all those squads shared.
"I think that every time I've ever played on is completely different, each team has its own character," Stankowski said. "We definitely all get along. This team, we definintely, with it being our senior year, we wanted to make the best of it. All of us, all the time, we just have fun. We haven't butted heads at all, and if we've had problems, we've figured it out. We were one, big, happy family."
November, 14, 2012
11/14/12
11:31
PM ET
By
Bruce Lerch
| ESPNBoston.com
HUDSON, Mass. -- When his youngest daughter Cassidy was in the fourth grade, Jack Stankowski took her over to Amherst College for a college volleyball tri-match. Father and daughter hit back and forth for a while until Dad said, "Hey Cassidy, why don't you go over and try some serves?"

Recalling the scene, Jack Stankowski remembered thinking to himself that Cassidy had a better jump serve -- as a fourth grader -- than most of the college kids that took the floor that day.

"I started coaching so I had access to the gym and every Saturday morning it was, 'Hey Dad, can we go to the gym? Can we work on this, work on that?" remembered an emotional Jack Stankowski, now in his eighth-year as an assistant coach with the Red Hawks. "Baskets and baskets of balls ... serving, passing, you name it, she wanted to do it."

Nowadays, a Cassidy Stankowski jump-serve is usually followed by a chorus of "BOOM!" chants from the Frontier Regional High School fan section, as are each of the thousands of devastating spikes she has slammed down over her stellar career.

After spending six years as a starter with the Red Hawks varsity squad, Stankowski's high school resume is one game away from being complete as the senior capped an emotional Wednesday with 16 kills and seven digs to lead Frontier in a 3-0 sweep of Archbishop Williams in the Division 3 state semifinals at Hudson High School.

The two-time defending state champion Red Hawks (22-1) will try to make it a three-peat on Saturday when they face Lynnfield for the title at Algonquin High School (nLyoon).

A two-time All-American and reigning Gatorade Player of the Year, Stankowski's day began with a special ceremony at the school where she signed her National Letter of Intent to continue her volleyball career at the Division 1 level with Central Connecticut State. It was an emotional afternoon with her parents and school officials and coaches.

"When I signed my National Letter of Intent, my mom started crying, so that made me cry," Stankowski admitted. "But then, I knew what I had to focus on, and that was this big game. I knew I had to get prepared for that -- stop all the crying, stop all the emotions - and just get focused for the game."

Added Jack Stankowski, "That kid has worked so hard. It was nice to see her finally get rewarded for all the work she's put into it. It was kind of a culmination of all her years of hard work. She's been on the varsity for six years and its just been a great ride. A lot of times kids don't want their parents to be involved."

Stankowski paused for a moment to choke back the tears welling up in his throat before continuing, "And I was just lucky enough she let me be a part of it."

While the 5-foot-8 Stankowski routinely makes the headlines for the tremendous offensive numbers she puts up, it's her play in the defensive end that makes her even more valuable to the Red Hawks. Against Archbishop Williams, Stankowski spent a large chunk of her time in the back row, collecting the Bishops serves and delivering perfect passes to setter Victoria Whitney (to work the ball around to Frontier's other dynamic hitters).

"Her defense, I think, is one of the things I think people miss," agreed Frontier coach Sean MacDonald. "She is just as good at that as she is at hitting the ball in the front row. The front row looks flashy and sometimes the defense is just keeping the ball off the floor."

"I always say how we were down in the state finals last year and we caught up with her in the back row," MacDonald continued. "She was keeping balls off the floor, making perfect passes to our setters so we could run the offense with our other hitters. She does a lot of good stuff to help us, not just getting kills."

Win or lose on Saturday, Stankowski leaves behind a resume matched by few athletes in any sport. In six years with Stankowski on the varsity, Frontier has compiled a record of 136-6 and has not lost a match against any team from Western Massachusetts. Her older sister Alyssa won a pair of state titles with the Red Hawks, a number Cassidy has a chance to surpass on Saturday.

"It's going to be the best finish to my senior year if we can have a three-peat," Stankowski stated. "That would just make my career so much better. I love this team and that makes it so much better for me."
November, 15, 2011
11/15/11
11:20
PM ET
By
Bruce Lerch
| ESPNBoston.com
LEOMINSTER, Mass. -- Every time Cassidy Stankowski went up in the air to unleash one of her powerful serves or spikes, the collective student section from Frontier Regional emphasized the moment with a loud chant of "BOOM!"

The fact that you could still clearly hear the sound of her hand striking the ball was indicative of the strikes the Red Hawks junior was delivering.

Stankowski dominated both offensively and from behind the service stripe, collecting 17 kills and seven aces as Frontier bested previously unbeaten Lynnfield in three straight, winning 25-17, 25-18 and 25-20, in Tuesday's Division 3 state volleyball semifinal at Leominster High School.

The Red Hawks (22-1) will look to defend their state title on Saturday (12 p.m.) at Algonquin High School against the winner of Wednesday's semifinal matchup between Case and Millis.

Stankowski's impressive game will undoubtedly be drawing the attention of college recruiters from elite level programs in the coming months, if it hasn't already. Her devastating serve starts from a spot near the back wall of the gymnasium, continues as she tosses the ball into the air with her right hand, then culminates after several steps as she unleashes her power through her strong right arm.

The key, she says, is in the toss.

"I just got my confidence back in my jump serve and to have that for the tournament really helps me out," Stankowski explained. "It's all in the toss. My toss before was everywhere all over the court, I finally got a pretty consistent toss down so it really helps."

Not only was she able to get her points, but Stankowski strong hitting also prevented Lynnfield (23-1) from getting settled into its offense for a return.

"I think Cassidy was the big difference," admitted Lynnfield coach Michelle Perrone. "Her ability to put the ball down offensively, serving and hitting. I think that makes a huge difference. I think we played well against them but she made the biggest difference.

A GAME OF RUNS
Despite the fact that Frontier swept the Pioneers, each of the three games was a match unto itself. In the opener, Stankowski served five straight points, including three consecutive aces, to kick off a 12-2 run that turned a 12-11 nailbiter into a comfortable 24-13 Frontier lead.

In the second, the Red Hawks took advantage of several Pioneers mistakes during a 7-0 spurt that again turned a one-point lead into a 15-7 margin from which Lynnfield was unable to recover.

Finally, while trailing, 11-10, in the final game, Stankowski had three kills during a game-changing 8-0 stretch. While the Pioneers certainly made the Red Hawks work for every point, those runs simply made Frontier too difficult to catch in the end.

"I just think the nerves started to smooth out a little bit," said Frontier coach Sean MacDonald when asked to explain his team's ability to bunch points together. "It's just a numbers game and a chance game at some point. You're going to get some of those runs and you're not going to get some of those runs. The first time you serve you might, and the next time you serve might not. Sometimes its just the luck of the draw, especially when you have a good team over there making it hard for you every time."

A 'CLASS" CLASS OF SENIORS
While Frontier advanced to the state championship game for the fifth time in seven seasons, Lynnfield was making its second straight appearance in the semis. Perrone took over four years ago for previous coach Robert Clearly, who left the job to become the school's principal.

This current group of seniors represents her first full class of graduates, a group that includes Cape Ann League/Northeast Conference MVP Julia Goldstein (team high nine kills) and fellow All-State performer Liz Vo.

"They've come so far not only as players but as young women," said Perrone in praise of her seniors. "The things they do on the court are amazing but the things they do off the court are even more amazing. We raise money for ovarian cancer and breast cancer every season, thousands of dollars. These seniors are leaders and they bring their team with them and their team responds. I'm so proud of them. I'm going to miss them."
February, 11, 2011
2/11/11
11:16
AM ET
Our friends in the New England Revolution communications office passed along a note of several local players who have signed their national letter of intent or declared their college commitments recently.

Two Massachusetts high school players who were a part of the Revolution U-18 teams signed their national letters of intent as Cole Denormandie (Lincoln-Sudbury) signed to the University of Cincinnati while Cameron Bielski (Dover-Sherborn) signed to the University of New Hampshire.

Yannick Kabala of New Hampshire's Manchester Central High School signed to Southern New Hampshire.

Also announcing their college commitments were Matthew Keys of King Philip (UMass-Amherst) and Sean MacDonald (Manchester Central) who will join Kabala at Souther New Hampshire.

U-16 teamer Mitchell Taintor, a junior at Connecticut's E.O. Smith High also announced his commitment to play at Rutgers.

Denormandie and Keys earned high school All-American accolades by the National Soccer Coaches Association of America (NSCAA) following last fall's high school soccer season. In addition, Denormandie, Keys, Bielski and Taintor also earned NSCAA High School All-Region I (New England) honors.
November, 20, 2010
11/20/10
5:47
PM ET


NORTHBOROUGH, Mass. – Did the state's most dominant volleyball team reside in Division III this season? It very well might have at Frontier Regional.

The Red Hawks capped off an undefeated 26-0 season with a convincing 3-0 victory over defending Division III champion Joseph Case while rolling to their third state title.

En route to the its undefeated season, Frontier another of Saturday's other final participants -- Division I champion Barnstable -- in addition to impressive wins over last year's Division I champion New Bedford.

"To play the schedule that we played, and to come out undefeated, and to win the two tournaments that we were in was pretty special," Frontier head coach Sean MacDonald said. "I don't know how the rest of the day is going to go, but we just beat the Division Three state champs, if Medfield wins, we beat them in their tournament and if Barnstable wins, we beat them in Barnstable."

The Red Hawks rolled by scores of 25-15, 25-12 and 25-11 to beat the Cardinals (23-2), who had beaten Frontier in last year's state semifinal.

"They're much, much better than they even were last year," Case head coach Denise Levesque said. "I would say they're probably one of the best teams in the state."

Frontier thrived with its dynamic outside hitter Cassidy Stankowski. The sophomore put down 17 kills with the aide of steady play from setters Katy and Tori Daniels, who combined for 35 assists. Katy Daniels led the Red Hawks with 18 kills.

"We're really good friends off the court," Katy Daniels said of her chemistry with Stankowski. "It's terrific."

The Daniels sisters transferred into Frontier from South Hadley last year, adding a dynamic duo to the Red Hawks' mix.

As to whether Frontier was truly the state's best team, MacDonald was noncommittal, but also wasn't about to look past his team's accomplishment.

"This season was pretty special, it's probably never going to happen again."