Boston High School:

Sean Mayo
June, 18, 2011
6/18/11
12:39
AM ET
FOXBOROUGH, Mass. -- With about five minutes remaining in Friday's Shriners All-Star football game at Gillette Stadium, Tyllor MacDonald knew his team need a big play. The North squad was trailing the South, 14-10, and driving into North territory.

That's when the Lynn English standout laid a wicked hit on North Attleborough's Dan Johnson, prying the ball free. MacDonald capped the play by falling on the loose ball and gaining possession for the North.

North quarterback Cal Carroll of Methuen took care of the rest, leading the team on a 13-play drive to victory that he capped with a 1-yard touchdown run to the North a 17-14 victory.

"As saw [Johnson] coming across the middle and I hit him as hard as I could," MacDonald said of his game-changing play. "I just knew that I had to. I had to pick my team up."

With the ball back in his hands, Carroll led North downfield, completing two key pass attempts for 37 yards on the drive. The Rangers' signal-caller found Everett's Matt Costello, ESPN Boston's inaugural Mr. Football Award winner, for a 22-yard connection on third and 16. Two plays later, Carroll hit BB&N's Peter Savarese with a 15-yard pass to give North a first down and goal at the South 5-yard line.

Carroll then punched in the game-winning score with 1:33 remaining.

"I think once we connected on that third and long, I think we really felt like we were going to pull through in the red zone," Carroll said.

Trae Weathers provided the counterpunch to North's aerial attack, which was quarterbacked by both Carroll and Dracut's Matt Silva. The bruising Revere running back was named the North's Offensive MVP following his 12-carry, 70-yard performance, forming part of a talented backfield alongside Gloucester's Jordan Shairs.

"We saw the ISO was working," Weathers said. "We were just trying to pound it in. It'd been working all game, so we just stuck with it."

Not to be overlooked was North's defense, which racked up five sacks including three consecutive sacks of Holliston's Sean Mayo to negate South's final drive of the game, sealing the win.

The Dexter School's Jake Giovanucci capped the performance with two sacks in the final minute. Billerica's Justin Hood, Lynn Classical's Daniel Omorgie and Gloucester's Chris Unis collected sacks for North.

"We really came together as a unit the last two weeks in practice," Giovanucci said. "We had a lot of really skilled guys. It's tough to block four skilled pass rushers. Someone might get the sack, but the other guys were taking up blockers."

South opened scoring with Mayo connecting on a 10-yard touchdown pass to Attleboro's Nate Robitaille with 6:49 remaining in the first quarter.

Carroll came back to tie the game with a 5-yard touchdown pass to Tewksbury's Anthony Acari with 9:25 to play in the second. Costello added the extra point to tie the game, 7-7.

North would take the lead into the locker room at halftime following James Brao's 24-yard field goal with 5:01 remaining.

South reclaimed the lead four minutes into the third quarter with Scituate's Tyler Park connecting with Cohasset's Jack Carrier on a 15-yard touchdown pass.
May, 5, 2011
5/05/11
10:32
AM ET
The North-South game of the 33rd Annual Shriners Football Classic kicks off this June 17 at 7 p.m., and for the second year in a row the contest will be held at Gillette Stadium. Below are the rosters for both squads participating in the game:
NORTH
Ryan Adams, Northeast, DE
James Aloisio, Masconoment, OT
Eric Apgar, Acton-Boxborough, RB
Anthony Arcari, Tewksbury, RB
Manny Asprilla, Everett, WR
Derek Bent, Shawsheen, TE
Brian Bourque, Reading, DB
James Brao, Hamilton-Wenham, LB
Cal Carroll, Methuen, QB
Brendan Casey, Boston Latin, DT
Thomas Chub, Masconomet, OL
Mitchell Colley, Arlington, LB
Sean Connolly, Tewksbury, FS
Tyler Coppola, St. John's Prep, RB
Matt Costello, Everett, WR
Anthony Courtouis, Lowell, WR
Jeff Covitz, Reading, OL
Nate Cyr, St. John's Prep, OL
Ned Deane, Andover, LB
Ryan Delisle, St. John's Prep, TE
Jake Giovanucci, Dexter, DE
Mike Grassa, BB&N, DB
Will Guinee, Malden Catholic, OL
Mike Harper, Methuen, LB
Zach Hayes, Chelmsford, S
Justin Hood, Billerica, DE
Brian Hurley, Wilmington
Zach Ingalls, Westford, DB
George Kallas, Beverly, OT
Ben Koopman, Marblehead, C
Chris Malonis, Dracut, WR
Tyllor MacDonald, Lynn English, DB
Tom Meade, Malden Catholic, LB
Trae Musumarra, Central Catholic, LB
Zach Nardone, Bishop Fenwick, DT
Paul Nwokeji, Thayer Academy, OL
John O'Connell, Northeast, DL
Daniel Omorgie, Lynn Classical, DE
Xavier Peralta, Central Catholic, DB
Ony Ramos, Lawrence, DB
Peter Savarese, BB&N, RB
Jordan Shairs, Gloucester, RB
Matt Silva, Dracut, QB
Bradley Skeffington, Salem, DB
Zach Smerlas, Lincoln-Sudbury, DL
Brian Strachan, St. Sebastian's, WR
Dave Summiel, Shawsheen, DT
Chris Unis, Gloucester, DE
Trae Weathers, Revere, RB
Sean Whittaker, Methuen, OL
Peter Yasi, Swampscott, DE

SOUTH
Matt Allen, Pembroke, SE
Ryan Barrett, Holliston, TE
Rob Barrus, Weymouth, LB
Adam Boari, King Philip, OL
Blaise Branch, Cardinal Spellman, RB
Lance Burlingame, New Bedford, OL
Jack Carrier, Cohasset, SE
Dylan Colarusso, Weymouth, RB
Joe Colton, Xaverian, DB
Tom Condon, Whitman-Hanson, OL
David Conroy, Walpole, SE
Nate Crary, Dennis-Yarmouth, DL
Seth DeMello, Somerset, RB
Mike Devin, Bridgewater-Raynham, OL
Mike Driscoll, Rockland, FB
Connor Fraser, Abington, DL
Jake Golden, Hingham, OL
Mitchell Graziano, Silver Lake, DB
William Greene, Oliver Ames, DE
Ernest Guy, Foxborough, OL
Joseph Hak, East Bridgewater, OL
Matt Hallisey, Duxbury, SE
Brian Harrington, Rockland, DE
Jordan Henderson, Barnstable, WR
D.J. Jamieson, West Bridgewater, RB
Randall Jette, Martha's Vineyard, DB
Dan Johnson, North Attleboro, SE
Andrew Kestenbaum, Dartmouth, OL
Matt Lockwood, Seekonk, RB
Albert Louis-Jean, Brockton, SE
Denis Maguire, Duxbury, LB
Jamel Marshall, Mansfield, RB
Zach Martin, Mashpee, RB
Alec May, King Philip, TE
Sean Mayo, Holliston, QB
Paul McCarthy, North Attleboro, DB
Kyle McGuire, Mansfield, OL
Dave McSweeney, Medway, OL
Obum Obukwelu, BC High, OL
Trevon Offley, Brockton, RB
Jon Page, Bourne, RB
Tyler Park, Scituate, QB
Liam Porter, Natick, OL
Ethan Rayner, Holliston, OL
Nate Robitaille, Attleboro, DB
Andrew Siden, Natick, TE
Kevin Stanton, Cardinal Spellman, LB
Jeff Synan, Plymouth North, OL
Chris Tamasi, Xaverian, LB
Ryan Vaughn, Norwell, OL
December, 4, 2010
12/04/10
1:39
PM ET
By
Phil Perry
| ESPNBoston.com
FOXBOROUGH, Mass. -- Holliston finished its perfect run to the Division 3A Super Bowl championship on the back of a beast.
One year after falling in the 3A title game, Panthers running back Kevin Curry rushed 36 times for 182 yards to lead Holliston over Cardinal Spellman at Gillette Stadium, 21-7.
"He is 'the beast,' " said Panthers coach Todd Kiley. "That was our theme, 'Feed the beast.' It's not only him, it's the guys up front. We put some different backs in there and they're doing some nice things too so it was just a team effort."
[+] Enlarge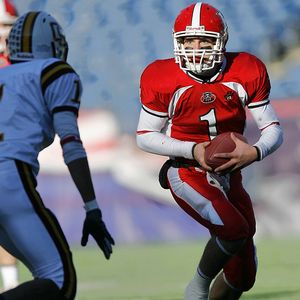 Courtesy of John MahoneyHolliston QB Sean Mayo tries to shake a Cardinal Spellman defender out of his shoes during the Panthers' 21-14 Division 3A Super Bowl win at Gillette Stadium.
Curry spearheaded a prolific rushing attack that totaled 279 total yards on the ground for a Panthers team that is usually known for its passing game. Quarterback Sean Mayo entered the game with 1723 yards passing and 21 touchdowns, but Holliston (13-0) broke a 7-7 halftime tie and pulled away in the second half, attempting just three passes in the third and fourth quarters.
"We've gotten a lot of press, a lot of ink for our pass game," said Kiley. "We knew all along we've got great guys up front, we've got a great running back, and our quarterback can run too, so we're a tough team to defend."
Mayo (7-20, 40 yards; 13 carries, 69 yards) provided some change of pace for the Panthers, converting two long third downs on quarterback draw plays, and punching in two scores when Holliston got deep in Cardinals territory.
His first score came as the last play in the third quarter and broke the 7-7 tie. From the Cardinal Spellman (11-2) one yard line, he spun, faked a hand off and dove across a pile for the score. His play was the exclamation point to a 10-play 55-yard drive where Curry carried the ball six times.
On Holliston's subsequent possession, they went 60 yards in just under five minutes. This time, Curry got to put on the finishing touch with a ten yard run where he was sprung loose with a lead block from an unlikely source: his quarterback.
"On that [touchdown to end the third quarter], he drove it down the field and I got the one yard carry in the end zone," said Mayo. "I had to repay him somehow."
That made the score 21-7 and proved to put the game out of reach.
"The whole town was here today," said Kiley, whose team fell 38-15 to Austin Prep in last year's 3A Super Bowl. "You don't know how it feels until it happens. It's the greatest feeling. It's up there with having a child. It really is. Don't tell my wife that."
Holliston opened the scoring with 5:57 remaining in the first half when Mayo plunged across the goal line from two yards out. For a team that averaged just under 40 points per game during the season, it was a light-scoring half. But with the way the Panthers defense played, the lead seemed safe.
Cardinals running back Blaise Branch (6 carries, 5 yards), who had scored 36 rushing touchdowns coming into Saturday, was held to just five yards in the first half. On the first play of the second half, he suffered a concussion and did not return.
"Their defense dominated so we couldn't do anything, when we lost our one weapon for the first half, that got our kids down a little bit," said Cardinal Spellman coach Ron St. George. "We all hate not to be success but I am proud of how hard we played."
The Cardinals scored when quarterback Zac Cooney found Joe Glynn wide open for a 25-yard touchdown strike with 23 seconds left in the first half. The play capitalized on a Patrick Hinkley interception that put Cardinal Spellman on the Holliston 45-yard line.
"We turn it over, we get right back on the ball and it's time to play," said Curry of his team's attitude going into halftime. "Going into half they got one, but we're coming back to play."
That they did.
Holliston forced its first turnover with just over a minute left in the game. Brody Ciarcello intercepted Cardinal Spellman backup quarterback Kevin Crane to effectively end the game.
"The emotion, I can't even explain right now," said Curry. "It hasn't even gone through my head yet. It's great. The season's over with a 'W.' It's perfect."
And so are the Panthers.
Holliston – 0 7 7 7 – 21
Cardinal Spellman – 0 7 0 0 – 7

First quarter
H – Mayo 2 run (Christian Baker kick)
Second quarter
CS – Cooney 25 pass to Glynn (Jordan Williams kick)
Third quarter
H – Mayo 1 run (Baker kick)
Fourth quarter
H – Cooney 10 run (Baker kick)
December, 4, 2010
12/04/10
12:55
PM ET
By
Matt Stout
| ESPNBoston.com


FOXBOROUGH, Mass. -- The black painted beneath his eyes had turned into a muddled mess of smears, smiles, lines and tears by the time Ethan Rayner got his hands on the MIAA Division 3A Super Bowl championship trophy Saturday.

Cradling the hardware like a newborn -- fitting, considering Holliston coach Todd Kiley likened the feeling to having a child -- Rayner started to speak of what made the Panthers' 21-7 victory over Cardinal Spellman so emotional when he peered off to what could have only been a far-flung friend.

"Absolutely, 100 percent, this is for Joey," the senior lineman/linebacker said following the 3A Super Bowl at Gillette Stadium. "He was definitely present here today. We did it his way."

A junior at Holliston in September 2008, Joey Larracey died after sustaining a hit during a scrimmage in Lakeville, a tragedy an autopsy later revealed stemmed from an undetectable heart abnormality. Coupled that month with the loss of 10-year-old Timothy O'Connell, a student of Kiley's and honorary member of the team who succumbed to a lengthy battle of leukemia, the Panthers have since played with their memories on their minds and Larracey's No. 73 stitched on their chests.

Last season -- one dedicated to Larracey -- ended here with a 38-15 loss to Austin Prep in the 3A title game.

Saturday, the Panthers (12-1) lined up for the national anthem by spelling out '73' on the field. They carried the familiar red flag with Larracey's number on it on the sidelines. And they finished the day by dominating Cardinal Spellman on both sides of the ball, including 323-56 in total yards and 283-6 on the ground.

"We got it done Joe's way all season," senior quarterback Sean Mayo said, his team huddled around him following the trophy ceremony. "That's how we're gonna end it!"

Somewhere, Larracey had to be smiling.

"He's what we want all our players to be modeled after," senior Kevin Lamarque said. "He was a great kid, a nice kid, worked hard in the classroom, worked his (butt) off in practice. He was everyone's brother. When that (his death) happened, we turned from a team into a family."

It's a family with lots of older brothers. The Panthers boasted 22 seniors this year, the majority of whom spent the day after last year's Super Bowl loss in the school's weight room.

It's a moment Kiley and several of his players pointed to Saturday. Yearning to return to Foxborough for a calendar year, there was no "star-gazing," Mayo said, when the team walked into Gillette Stadium this time. Just business and hard work, all of which translated onto the field.

Though Cardinal Spellman's tall offensive line limited Mayo to 6-of-19 passing for 40 yards -- several times batting down passes at the line -- the speedy Panthers chewed up yardage by the chain-full. Kevin Curry rushed 36 times for 182 yards and a touchdown, and Mayo added 69 yards and two scores. Defensively, they were even more dominant, holding the Cardinals to a total of one yard in the third quarter.

All the while, hundreds of Holliston fans packed the stands behind the Panthers' sideline -- "almost the whole town" Mayo estimated.

"It's not just for us," Kiley said of the title. "It's for all our brothers that have played before us, Joey Larracey, Timmy O'Connell, kids who have passed away the last couple years, their families. They've been a huge part of what we do, and they've been an inspiration to us."

You only had to talk to one of the seniors to know how much.

"I was thinking about what we all went through two years ago, how hard we worked and how much we all wanted it," Lamarque said. "This is the way it had to end for us. There was no other way."

It was Joe's way.
December, 3, 2010
12/03/10
5:51
PM ET


Yesterday, coaches and captains from each of the teams participating in the six Eastern Mass Super Bowls played at Gillette Stadium toured the field in anticipation of Saturday's games. We caught up with Bridgewater-Raynham quarterback Billy Zolga and Everett wide receiver and defensive back Matt Costello yesterday.

Both players were at Gillette last year when their respective teams lost their Super Bowl bids. Now, the seniors are looking to leave a lasting imprint in their final high school football games.

This is for all the marbles, so let's get straight into the action:

DIVISION 1
Everett (11-0) vs. St. John's Prep (8-4), 6 p.m., Gillette Stadium
Everett players to watch: ATH Manny Asprilla, WR Matt Costello, QB Jonathan DiBiaso, RB/LB Vondell Langston, LB Buck McCarthy, WR/DB Kenny Calaj, OL/DL Nick Chiarello, DL Shaquille Taylor.
St. John's Prep players to watch: RB Tyler Coppola, OL/DL Nathan Cyr, TE Ryan Delisle, TE/ROV Lucas Bavaro, OL/DL Dan Culkeen.
The skinny: In his third year under center, DiBiaso has exploded to lead one of the state's most prolific offenses (37.5 points per game), and re-write the record book (he threw his state-record 40th touchdown pass of the season in Tuesday's 21-0 win over Andover). But you best believe he is thanking his lucky stars for the exploits of Costello (20 touchdowns) and Asprilla. The Boston College-bound Asprilla, who lines up at both tailback and wide receiver, is one of the state's most dangerous threats in the short passing game, and known to rip off huge gains out of underneath routes. Prep, meanwhile, has rode a powerful ground game (what's new?) to victory, led by Coppola, who has nearly 450 yards on the ground in the last two games. The Eagles are anchored by a powerful line led by Cyr and Culkeen, while Bavaro has emerged as an intimidating presence over the middle on defense.
X-factor: The matchup of the Trinity-boud Cyr, one of the state's best o-linemen, versus Taylor, one of the state's best d-linemen, will be one of the most intriguing battles of the day. Both are built low to the ground, with an explosive first step, and you've got to wonder if one key block will spring either team to victory.

Barboza: A Prep win would be the fitting culmination to an emotional ride, but this has been the Crimson Tide's year. Everett, 27-21

Hall: This has been a remarkable run for the Prep, after all the program has been through these last two seasons, and they're winners in my book either way. I'm going with one of the unsung guys, Gilly DeSouza, to win it late with his feet for the Crimson Tide. Everett, 24-21.

DIVISION 1A
Bridgewater-Raynham (10-2) vs. Gloucester (12-0), 8 p.m. at Gillette Stadium
B-R players to watch: QB/QB Billy Zolga, RB/LB Nick Schlatz, OL/DL Mike Devin, RB/LB Mike Chicoine, RB Brandon Morin.
Gloucester players to watch: TE/DE Chris Unis; RB/LB Gilbert Brown; FB/LB Jordan Shairs; OT/DE Andrew Mizzoni; C/NT Anthony Latassa.
The skinny: Do you like running the football? This game is for you. The Trojans and Fishermen do it better than just about anybody and certainly have the book on each other after facing off in last year's Super Bowl. You'd be hard pressed to find a more consistent pair of backs than Gilbert Brown and Jordan Shairs of Gloucester. The Trojans ran behind Brandon Morin to a win over Weymouth in the semifinals after starting in place of injured tailback Nick Schlatz. It would give B-R a lift if Schlatz can recover from a shoulder injury sustained in a Thanksgiving Day win over Brockton
X-factor: Really it just comes down to which team blocks its assignments better. It's simple as that.

Barboza: This might be the most difficult game to forecast, but I'm giving the edge to Gloucester's experience. Gloucester, 16-14.

Hall: This might be the best matchup of the day. Power versus power, strength versus strength. Gloucester has more playmakers on the defensive side of the ball, but I like the way this B-R team has been running the ball this last month. Against Dan Buron's wishes, of course, I'm picking the Trojans to avenge 2009 and put an end to the Fish's 25-game win streak. B-R, 17-14.

DIVISION 2
Mansfield (11-1) vs. Reading (12-0), 3:30 p.m., Gillette Stadium
Mansfield players to watch: RB Jamel Marshall, QB George Busharis, WR Blayne Taylor, OL/DL Sean Otto, OL/DL Kyle McGuire, OL/DL Anthony Todesco, WR Jeff Hill.
Reading players to watch: QB/DB Brian Bourque, OL/DL Jeff Covitz, OL/DL Anthony Fodera, RB Larry Gilligan, RB Zack Bates, WR Sean Gildea, WR Connor Sheehan.
The skinny: The defending Division 2 Super Bowl champ Rockets come into Saturday on a 25-game win streak, albeit by a thread after some late heroics from Bourque and Covitz allowed them to escape their home turf with a 15-14 thriller over Dracut. With Bourque spearheading a shotgun-oriented rushing attack, the Rockets have amassed 42 rushing touchdowns going into Saturday. The Hornets, meanwhile, are back at Gillette for the second time in three years thanks to a stalwart defense led by McGuire at defensive tackle, and the workhorse carrying load of Marshall. This Mansfield squad, known for its Wing-T, isn't afraid to pass the ball more than in years past, with the arm of Busharis. Taylor and Hill, the latter of whom caught three touchdowns in Tuesday's 28-0 shutout of Walpole, have emerged as downfield threats the last few weeks.
X-factor: Covitz, with his above-average leg strength and low center of gravity, has been the most irreplaceable guy on the offensive line, and is generally been a nuisance for opposing offensive linemen coming off the edge. With that in mind, picking up the blitz will be crucial for the Hornets.

Barboza: When it's on the line, Marshall is just too explosive. Mansfield, 17-14.

Hall: Stan Andre, the one who kicked off this whole win streak, was in the house Tuesday night to take in the Reading game. I'm sure he said something to them in the ecstatic locker room after the game, and I'm sure it's going to count late in the fourth quarter. Reading, 28-27.

DIVISION IIA
Duxbury (12-0) vs. Concord-Carlisle (10-2), 1:30 p.m. at Gillette Stadium
Duxbury players to watch: QB Matt O'Keefe, DB/QB Kane Haffey, OL/DL Brett Harasimowicz, TE/DE Don Webber, RB/DB Reilly Naton.
Concord-Carlisle players to watch: RB George Craan; QB Peter George; RB/LB Jabrail Coy; LB Evan Boynton.
The skinny: These are two very stingy defenses with the Green Dragons allowing just 10.8 points per game and the Patriots have surrendered a shade under 13 points per game. Make no mistake, these teams can also move the ball. Duxbury thrives with its complement of Kane Haffey and Matt O'Keefe at quarterback. Concord-Carlisle can always depend on George Craan and his 1,600-plus yards out of the backfield.
X-factor: The Patriots and their fans know what to expect out of Craan, but if sophomore Tim Badgley can repeat his five-carry, 109-yard performance from their semifinal against North Andover, C-C's chances for victory would greatly improve.

Barboza: One last time, I'll pull this one out. The "Double Dragons" of O'Keefe and Haffey will lead them to victory. Duxbury, 21-20

Hall: Yes, that's right, I called Duxbury's defense "Duxbury Swag District" yesterday on our podcast. I am tragically lame, and slightly out of control. Duxbury, 24-10

DIVISION 3
Beverly (6-6) vs. Somerset (12-0), 11 a.m. at Gillette Stadium
Somerset players to watch: RB/LB Seth DeMello; RB/DB Jaron Spear; OT/DT Ian Levesque; RB/LB Alex Estrella; QB Adam Ledoux.
Beverly players to watch: RB/DB Brendan Flaherty, QB/DB Joe Wioncek, OL/DL George Kallas, RB/DB Nick Theriault, LB Mark Giles, OL/DL Andrew Cannata.
The skinny: Somerset's 28-0 win over Dighton-Rehoboth in the semifinals was a prototypical Blue Raiders game. Both Seth DeMello and Jaron Spear finished with over 100 yards rushing as Somerset bled the clock dry in the second half. Meanwhile, Beverly – the official Cinderella squad of the 2010 playoffs — showed that they truly belonged with a 41-14 thrashing of Scituate. Will the Blue Raiders prevail and finish a perfect season? Or can the Panthers keep the magic alive? It's the quintessential favorite vs. underdog.
X-factor: The teams' lines. For Division 3 schools, both of these squads have good sized linemen. Six-foot-five, 315-pound lineman Ian Levesque is a mountain on the Blue Raider line, but is agile as well. George Kallas is an immovable object on the Panther line.

Barboza: Not only is the double wing difficult for any team to run, but the Blue Raiders have all the right elements to run it to its best. Somerset, 28-14

Hall: Clock strikes midnight on Beverly, as two wings are better than one. Somerset, 21-10

DIVISION 3A
Holliston (11-1) vs. Cardinal Spellman (12-0), 9 a.m., Gillette Stadium
Holliston players to watch: RB/LB Kevin Curry, QB Sean Mayo, TE/DE Ryan Barrett, RB/DB Jake Frechette, WR/DB Christian Baker, OL/LB Ethan Rayner, OL/DL Kevin Lamarcque.
Spellman players to watch: RB/DB Blaise Branch, FB/LB Jared Lordi, RB/DB Jordan Williams, QB Zac Cooney.
The skinny: The 11-1 Panthers come into Saturday averaging just a hair under 40 points a game, with Mayo as the triggerman. Even in limited playing time -- the Panthers often pulled their starters in the third or fourth quarter -- the dual-threat quarterback put up 1,723 yards through the air, with 21 touchdown passes to only five interceptions, and also added 456 yards and nine scores on the ground. Spellman, in its third year under Ron St. George, had a remarkable turnaround, going from 2-9 to undefeated and in its first Super Bowl since 1992. At the forefront of St. George's vaunted Wing-T scheme is the senior Branch, who leads Eastern Mass with 36 rushing touchdowns. But over the last few games, defenses have had to worry more and more about Lordi and Williams.
X-factor: The Bryant-bound Barrett, at 6-foot-5 and 233 pounds, was a matchup problem all year long in the Tri-Valley League. And while he's not putting up the most gaudy numbers at tight end and was used more as a blocking back, his combination of size, speed and athleticism demands airtight coverage from the linebackers and helps open up the Panthers' offense.

Barboza: Panthers' rallying cry: 'We Don't Get Fooled Again". Holliston, 31-24

Hall: The Panthers came to Gillette last December and got manhandled. Guarantee you that's been fresh on their minds this week, and for that I think they avoid the same early mistakes that doomed them in 2009. Holliston, 25-20

DIVISION 4
Shawsheen (10-1) vs. Blue Hills (10-1), 10 a.m., Curry College
Shawsheen players to watch: OL/DL David Summiel, QB Ryan Woolaver, RB Andrew Dascoli, WR Rob Greenwood.
Blue Hills players to watch: RB Vincent Burton, RB Isaiah Teixeira, OL/DL Jamarr Goff, QB John Curran
The skinny: Shawsheen, on the heels of a 21-0 shutout of Madison Park in Tuesday night's playoffs, is on a roll defensively. The Rams haven't allowed a point in 19 quarters, dating back to a 41-6 win over Lynn Tech on October 15. Dascoli is the Rams' workhorse back, while Greeenwood is their top threat at receiver. The Warriors, rested from a bye on Tuesday night, are led by Vincent Burton and his Division 4-best 30 touchdowns.
X-factor: The 6-foot-5, 310-pound Summiel might be the biggest catalyst for this incredible Shawsheen run. Playing right offensive tackle and left defensive end, Summiel paved the way for 118 rushing yards from leading rusher Dascoli, and also preserved a fourth straight shutout.

Barboza: The week off will certainly benefit Blue Hills, but the Rams defense is stout. Shawsheen, 14-7

Hall: Logic says to go with Blue Hills, as they'll be well-rested thanks to their bye. But this Shawsheen defense is an absolute wagon by Division 4 standards, and for that I'm giving them another shutout to finish off what's been a remarkable run over the last six weeks. Shawsheen, 21-0

DIVISION 4-A
Brighton (9-2) vs. Northeast (10-2), 1 p.m. at Curry College
Brighton players to watch: RB/LB Andrew Maestre, RB Dwight Kennedy, QB Jonathan Marrero, OL/DL Patrick Jean, WR Olumide Olukoga.
Northeast players to watch: RB/DB Bobby Novello; RB/DB Mike Cross; OL/DE Ryan Adams; FB/DE Ian Bagby; TE/LB A.J. Ortiz.
The skinny: You'd be hard pressed to find a hotter defense in the state than the Golden Knights, who have now pitched six shutouts after a 42-0 blanking of Pope John Tuesday. Their next challenge lies in the Bengals. A Division 4-A Super Bowl participant last year, Brighton's offense is led by running back Andrew Maestre and quarterback Jonathan Marrerro, each of whom ran for two touchdowns in their 36-13 win over West Bridgewater on Tuesday.
X-factor: Brighton wide receiver Olumide Olukoga is the favorite target of Marrerro, but he's also dangerous in the return game. Olukoga had a 41-yard kickoff return to set up Maestre's first touchdown of the game. At this stage, with two talented teams, special teams play always comes to bear.

Barboza: Can't pick against the Northeast defense, but the Bengals will put some points on the board. Northeast, 23-17

Hall: I used to live in Brighton Centre, and my neighbors were awesome. Go grab a bite at Smoken' Joe's when you get a chance, and make sure you get the Kansas City Sticky. Brighton, 21-17.
December, 2, 2010
12/02/10
6:57
PM ET
By
Neil Carroll
| ESPNBoston.com
FOXBOROUGH, Mass. -- It is every teenager's dream to one day put on the shoulder pads and helmet and play in a Super Bowl at Gillette Stadium with everyone watching. On Saturday, that dream will be realized for players on twelve high school football teams, as the Division 1-3A MIAA Eastern Mass Super Bowls return to Foxborough.
"It is amazing,"
Concord-Carlisle
running back Jibrail Coy said, standing in the shadows of the stadium of the New England Patriots. "It feels good that we get to be on this field and we have an opportunity to play at Gillette."
The MIAA invited the Super Bowl teams' coaches and captains to Gillette Stadium for a breakfast on Thursday, and for some players it broke the ice of being on an NFL stadium's turf for the first time.
"It's breath-taking," Beverly quarterback Joe Wioncek remarked. "Being here today helps take away the feeling a little bit, but it's amazing."
The Eastern Mass Super Bowls have been played at Gillette Stadium since 2007, and every year has provided a notable experience. In 2009, a snow storm clobbered Foxborough –- creating obstacles for the players, particularly in the night cap between Gloucester and Bridgewater-Raynham –- but the weather also gave the athletes a chance to get as close as they would ever come to feeling what it is like to be Tom Brady and company in December.
"It's obviously the way you want to go out,"
Duxbury
quarterback Kane Haffey said about the opportunity. "I mean, I'm standing on the 50-yard line, where Tom Brady plays every Sunday."
While some players gawked and took pictures or videos of the surroundings, others tried to remain stone-faced and stoic in front of their peers.
"The venue doesn't matter,"
St. John's Prep
senior Ryan Delisle said about Saturday. "It's the game that counts."
That somber attitude in the face of the excitement of the Super Bowl may come from the path that each team took to get to the Super Bowl.
Some teams have taken the hard road to get to this point, while others have skated in, coasting past playoff opponents. For instance, St. John's Prep overcame an up-and-down year and snuck into the playoffs by virtue of a Thanksgiving Day win against defending Division 1 Eastern Mass Champion Xaverian. St. John's then advanced after a 35-7 win over
New Bedford
, and will face Division 1 powerhouse
Everett
on Saturday.
"We have to give the credit to our young defense," Delisle said about St. John's season. "They started off the year as rookies with no experience. As the year has progressed they've gotten so much better, it is just incredible."
On a similar note,
Beverly
lost its first five games of the season and was considered done by most teams in Division 3. Yet the Panthers rallied together, won all of their Northeastern Small Conference opponents, and dominated
Scituate
in the Division 3 semifinals to advance. Beverly's opponent on Saturday is
Somerset
, who is coming off an equally impressive win, after
shutting out Dighton-Rehoboth 28-0
.
But it seems that there is no defined path to Gillette Stadium.
It is true that each team had to earn every victory, but teams like Everett and
Gloucester
(playing in the Division 1 and 1A Super Bowls, respectively) have a long tradition of playing on Super Bowl Saturday.
Longtime Everett head coach John Dibiaso has gathered seven Super Bowl rings in his tenure at the helm of the Crimson Tide, and this year has a talented group of seniors led by wide receivers Matt Costello and Manny Asprilla. Although the Crimson Tide lost to Xaverian in the Super Bowl last year, this year's class is trying to redeem themselves against St. John's on Saturday.
In the Division 1A semifinals, undefeated Gloucester traveled to Lincoln-Sudbury and
shut out the Warriors 21-0
. On Saturday, the Fishermen will face
Bridgewater-Raynham
for the second year in a row – last year winning the matchup 33-13. Bridgewater-Raynham serves as the underdog in that game, but could play spoiler after a
34-22 win over Weymouth
on Tuesday.
And the theme of teams returning to Gillette doesn't stop in Division 1. In Division 3A,
Holliston
, led by senior quarterback Sean Mayo – advanced out of the Tri-Valley League after a
35-20 victory over Rockland
and is hoping to win its second-straight 3A Super Bowl. However standing in their way is undefeated
Cardinal-Spellman
powered by running back Blaise Branch.
In Division 2, Mansfield's offensive weapons Jamel Marshall and George Busharis look to take down Reading. Mansfield is coming off of a
28-0 win over Walpole
(http://espn.go.com/blog/boston/high-school/post/_/id/3288/mansfield-exacts-08-revenge-heads-to-gillette), while Reading boasts linemen Jeff Covitz and a stout defense. In the
Division 2 semis
, Covitz had two sacks on elusive Dracut quarterback Matt Silva to secure a Super Bowl berth.
Although these games are the climax of most of these players' athletic careers, it also makes for a bittersweet end. Yes, they will be playing in Gillette Stadium on the state's biggest high school stage, but it marks the end of their playing career.
For the seniors there will be no more Friday night lights. Instead, in their place will be the fond memories of the glory days, that pinnacled at Gillette Stadium.
"We're going to be a little bit nervous," Concord-Carlisle's Ryan Ruiz said. "But we're going to take everything under control and do what we've been doing all year."
"There will be a lot of emotions out there on the field," Beverly's Wioncek said about playing his last game. "We're going to just go out there and try to make them the most positive as possible."
December, 1, 2010
12/01/10
12:57
AM ET
By
Matt Stout
| ESPNBoston.com
HOLLISTON, Mass. -- Its lead slipping and Rockland charging behind 235-pound senior Mike Driscoll, the Holliston High School football team needed not a stop, but a game-changing blow in its Eastern Mass Division 3A semifinal game on its home turf.

"We like to call it 'punching adversity in the face,' " senior Sean Mayo said.

David Kriegsman did his teammate one better: He knocked it stone cold.

Clinging to a one-score lead, Kriegsman's fourth-down tackle for a loss early in the fourth quarter Tuesday re-energized Holliston, which rode Mayo's arm to a score on the ensuing drive and a 35-20 victory over South Shore League champion Rockland.

The victory catapulted the two-time Tri-Valley League champs into their second straight Super Bowl on Saturday at Gillette Stadium, where they'll meet Cardinal Spellman, a 28-16 winner over Hamilton-Wenham in the other 3A semifinal. The Panthers (11-1) hope to atone for last year's 38-15 blowout loss to Austin Prep in Foxborough.

"We want to finish it with a win this time," said Mayo, who threw for a pair of touchdowns and rushed for two more Tuesday.

Kriegsman helped give them that chance. After Devyn Flipp hauled in a touchdown pass between two defenders to slice Holliston's 20-7 halftime lead to six points in the third quarter, Rockland (10-2) forced the Panthers into a three-and-out before moving the ball back downfield.

That mainly came on the back of Driscoll, a 5-foot-10 rhinoceros posing as a high school senior in shoulder pads, who epitomizes Rockland's bruising run-control offense. But after Driscoll (176 yards and a touchdown on 29 carries) carried the ball on three of four straight possessions to put Rockland into a fourth-and-one situation just over midfield, Bulldogs coach Ken Owen opted for the unexpected, running a counter to Tim Fitzgerald.

While most of the defense bit on Driscoll charging into the line, Kriegsman did not, wrapping Fitzgerald up for a two-yard loss, a turnover on downs and all the momentum this side of Framingham.

"We knew they were going to run it from the get-go, and I saw an open window and I just filled the hole," Kriegsman said.

The impact of the play was magnified by the stark contrast between the teams' styles. Rockland, riding a defense that entered allowing just over eight points per game, has built it season upon tough-nosed victories in the trenches. Holliston, toting around its 40-plus-points-per-game scoring average, has largely won with style.

But Kriegsman drew just as many "ooohs" as any touchdown catch with his punishing hit.

"Huge," Holliston coach Todd Kiley said of the tackle. "That was huge. They're going down, I think we were up a score at that point, and they ran a counter play. Kriegsman read it beautifully … and our offense just fed off of that. You could see it. Our team fed off that play."

A 13-yard catch by Adam Camilli coupled with a late-hit penalty put the Panthers within 21 yards from the end zone, where Mayo hit Brody Ciarcello with an absolute strike on third down across the middle for a 28-14 lead.

Rockland fumbled on its very next offensive play -- an attempted lateral after a catch that Ciarcello recovered -- and Kevin Curry ran for 49 of his 115 yards on the following drive, capping it with a spinning, tackle-breaking 19-yard touchdown run with 5:52 to play.

Fitzgerald scored on a one-yard run after Driscoll left due to injury, and Rockland recovered an onside kick. But the Bulldogs committed their fourth turnover of the second half thereafter, ending any comeback.

"This team battles," Mayo said.

So does its quarterback. Mayo fought off cramps in the first half and an apparent arm injury in the second to rush for 73 yards, throw for 119 more and score his team's first two touchdowns.

The second -- which came directly after Driscoll's five-yard scoring plunge to tie at a 7-7 in the second quarter -- was sheer will. The senior darted to the left sideline on a quarterback keeper and dove headfirst while being pushed out of bounds to catch the pylon.

Later in the quarter, with the Panthers on their own 41-yard line with 1:31 until the intermission, Mayo orchestrated a 68-second scoring drive, either throwing or running it himself on every play. He finished it with a 10-yard slant pass to Camilli, but Mayo needed several moments to pull himself from the turf after cramping up.

"He was outstanding, with his legs, with his arm," Kiley said of his quarterback. "He's the guy who's led this team all season. And he's a tough kid, mentally, physically. As he goes, we go. … Gusty, gusty performance."

HOLLISTON 35, ROCKLAND 20

ROC 0 7 7 6 --- 20
HOL 7 13 0 15 --- 35

First Quarter
H - Sean Mayo 13 run (Christian Baker kick).

Second Quarter
R - Mike Driscoll 5-yard run (Ricky Witt kick).
H - Mayo 10 run (Baker kick).
H - Adam Camilli 10 pass from Mayo (kick no good).

Third Quarter
R - Devyn Flipp 15 pass from D.J. Austin (Witt kick).

Fourth Quarter
H - Brody Ciarcello 21 pass from Mayo (Curry run).
H - Curry 19 run (Baker kick).
R - Tim Fitzgerald 1 run (pass failed).
November, 14, 2010
11/14/10
12:44
AM ET
By
Neil Carroll
| ESPNBoston.com
HOLLISTON, Mass. -- With the Tri-Valley League title on the line, No. 24 Holliston defeated Medway 33-14 on Saturday night at home, using motivation from a matchup earlier in the season when
Medway came out the victor
.
The two familiar foes battled it out again in the inaugural Tri-Valley League championship game, but Holliston willed its way to victory and used the results of the teams' previous meeting to keep its focus.
"Revenge is sweet, like they say," Holliston's Kevin Curry said after the win. "It's perfect."
"The coaches didn't want to say revenge, but it was definitely building up inside of us," Holliston quarterback Sean Mayo said. "We wanted another crack at Medway and we got it and took advantage."
In the teams' first game, Holliston fought hard to stay even with Medway, but the Mustangs took over in the second half and ended up winning 28-16. However Holliston seized the opportunity of the rematch in the TVL playoffs.
"You play that team ten times and it's a dogfight all ten times and it can go either way," Holliston head coach Todd Kiley said. "We just got them this time around, but they outplayed us last time."
Medway's offense staggered throughout the game because the team never broke out the big play. The Mustangs' running attack managed to heat up, but the team did not connect on play-action passes, and couldn't convert in key situations.
Tailback Michael Ozzella ran the ball 25 times for 158 yards -- including a 28-yard touchdown scamper in the third quarter -- but Medway couldn't catch up because the run game used up too much time.
Kiley said that the Panthers looked at the film from the teams' Oct. 1 matchup, and took a different approach coming into Saturday night's game. Holliston did not change its scheme completely, but just altered what they were doing in certain formations.
"They are a sound defensive football team…" Kiley said about Medway. "We thought with different formations we could out-leverage them with some things and the kids did a great job executing it."
Those changes helped get Holliston's offense in gear. Curry racked up 143 yards on 20 carries and also had two touchdowns in the game.
"The keys in the run game were getting up to the linebackers," Curry said. "They have some of the best 'backers in the league -- the same with their [defensive line], they're so strong -- so all we had to do was get up to them, and make our blocks."
The senior running back was elated after the game, as fans came onto the field as Holliston was handed the TVL trophy.
"It's an unbelievable feeling…it's absolutely amazing," Curry added about the setting.
The Panthers set the tone with a good first drive, but more importantly scored on their first three offensive possessions and only gave up seven points in the first half.
The inaugural TVL playoff system got mixed reviews among coaches and players, but Medway has now repeated as league champions.
"I don't like it." Medway head coach Dave McSweeney said about the new playoff system. "To not have those non-league games -- I don't like that -- you have to jump into a tough Tri-Valley schedule right from the beginning -- I like the old system. I'm a traditional guy, I just like the old system."
"I know there were a lot of coaches who were not in favor of it, but [we said] 'Let's embrace this thing, have fun with it, and go out and win it'," Kiley said about his impressions of the playoffs. "Our kids took that approach and it obviously worked out for us."
M 0 7 7 0 -- 14
H 6 6 7 7 6 -- 33
First
H - Mayo 1 run (kick blocked)
Second
H - Curry 10 run (conversion failed)
M - Kevin Moreau 8 run (Joe Davenport kick)
H - Christian Baker 57 catch from Adam Camilli (Camilli kick)
Third
H - Mayo 4 run (conversion good)
M - Ozzella 28 run (Davenport kick)
Fourth
H - Curry 18 run (conversion failed)
November, 7, 2010
11/07/10
12:11
AM ET
By
Brendan Hall
| ESPNBoston.com


WESTWOOD, Mass. -- Sean Mayo arrived at Holliston High School at approximately 3:45 p.m., warmed up with his Panther teammates, hopped on the team bus and arrived at Westwood High just in time to see Norton's Brendan Curtin haul in a 40-yard touchdown pass to go up 12-0 on Medway in the first half of this Tri-Valley League first-round playoff -- "Saw a couple plays here and there, but nothing big," the senior quarterback shrugged.

But with the Mustangs mounting a comeback, and Mayo (11 of 16 passing, 156 yards, two total touchdowns) making yet another up-tempo Panthers blitzkrieg look effortless, he now gets his dream matchup in next week's TVL Finals against the lone team to take down Holliston this season.

"Everything we asked for we got," Mayo smiled. "We've got to take advantage of this, though. We can't take anything for granted, and we've got to have the best week of practice we've had all season, and just get back on track and get the win."

The Panthers (7-1) found themselves repeatedly marching downfield in the same surgical, no-huddle spread fashion that had them coming into this game averaging nearly 42 points per game. With Mayo directing the offense, and speedsters Kevin Curry (130 all-purpose yards) and junior Jake Frechette (89, four total touchdowns) threatening through the air and ground, they racked up 340 yards of offense on their archrivals.

Perhaps most impressive, though, was the execution of Holliston's defense. The Wolverines were held to 83 yards of offense in the first half, and leading rusher Sean Amaru mustered just 76 yards on 23 carries, well below what he's accustomed to rushing for. The back seven, led by Curry at linebacker and Dan Barone and Dan Miller in the secondary, swarmed on angle pursuit and sealed off the outside edge quickly for most of the night.

"Defensively, I'll tell you what, we are gelling at the right time," head coach Todd Kiley said. "And it's not just one or two guys. It's all 11. We feel very good about where our defense is at this point."

The Panthers' night was kick-started by a fortunate bounce in their favor, midway through the first quarter. Bryant-bound senior tight end Ryan Barrett fell on a muffed Westwood punt return at the Wolverines' 25 yard line, and after hauling in a 15-yard pass from Mayo a play later, Mayo would punch it in three plays later on a seven-yard scramble up the left hash marks.

Westwood drove all the way to the Panthers' 35 on the ensuing drive. But on fourth down, and the 12th play of the drive, a fumbled snap was landed on by Holliston's Alex Greenberg to give the Panthers possession again. They wasted little time scoring again, following up a 19-yard Mayo shovel pass to Frechette with a 33-yard Curry run that gave them first and 10 at the Westwood 11. That's when the Panthers went to their "war" package, a tight-split double-wing formation run exclusively in the red zone. Two plays later, Frechette plowed in from three yards out for his first of four scores on the night.

The Panthers followed this pattern on their next two scores, both Frechette runs out of the "war" package, before closing out the scoring with a 35-yard pass from Mayo to Frechette midway through the third to essentially seal it.

"When you have Kevin and Jake in the backfield, it's really tough for defenses to key on one guy," Mayo said. "But if you key on Kevin, like when we go to our 'war' set, we've got Jake over there too. And those two are great athletes, some of the best athletes on our team, and we're just happy to have them both in full stride."

And, barring injury this week in practice, the Mustangs will get their first glimpse of Frechette next Saturday -- the running back was out with injury in the Mustangs' 28-16 win over Holliston back on Oct. 1. That's just one of the many things both teams are looking forward to these next seven days.

"We're going to need to play our A-game," Kiley said. "The kids know that, we'll have a great week of practice. There's going to be some adjustments made; the beauty of this from a coaching standpoint, we love it. It's a little bit more of a chess match, we're going to make our adjustments, they're going to make their adjustments, and that's what makes it exciting."

HOLLISTON 35, WESTWOOD 0

WES 0 0 0 0 --- 0
HOL 7 14 14 0 --- 35

First Quarter
H - Sean Mayo 7 run (Christian Baker kick) 4:57

Second Quarter
H - Jake Frechette 3 run (Baker kick) 6:55
H - Frechette 9 run (Baker kick) 3:16

Third Quarter
H - Frechette 5 run (Baker kick) 9:32
H - Frechette 35 pass from Mayo (Baker kick) 5:49
October, 25, 2010
10/25/10
1:41
PM ET
It was a weekend of wild finishes and even wilder individual performances, and now we're trying to make sense of it all. Here's to the week that was...
TROJANS SHOW GRIT
Dan Buron's Bridgewater-Raynham team might have been the only concerned parties who truly believed they had a chance to knock off Xaverian on Friday.
It had been a mixed bag so far for the Trojans (5-2) who prior to their 21-19 overtime win over the Hawks had yet to win a game over an opponent that had a winning record. B-R had also incurred losses to D-IIA powers Duxbury and Plymouth North.
But let Friday's performance be a warning to all as to how dangerous the Trojans can be.
"I told them all week long, only the guys in this room, on this football field, think we have a shot and I said if you don't think we have a shot don't come out with me," Buron told
The Enterprise
of Brockton. "I go out to win every game.
"I told them when we came out, if you play as a team, we've got a shot tonight. If you play as individuals, and run around, we won't have a shot against this team.
However, like any good football coach, Buron also warded off any question as to what the win over Xaverian meant; it was just that, a win.
"It was just a great victory for the program, but it doesn't mean anything because we start league play next week and win or lose it doesn't mean a thing," Buron went on to say in
The Enterprise
recap. "All it does is give us confidence. Hopefully, we can use this as a catalyst to get ready for the regular season (league play)."
The Trojans host Dartmouth on Friday in their first Old Colony League contest. B-R then welcomes Barnstable — which has already pocketed two league wins after slipping by Taunton over the weekend — in what should be a make-or-break game for the OCL's playoff berth.
PANTHERS HAVE BITE
It's not as though Holliston isn't accustomed to putting large results on the board, but the Panthers simply looked a little more focused entering Friday night's game at Norton.
"We had really good week of practice and it showed," Holliston head coach Todd Kiley said after Friday's 42-0 win.
That sentiment has particularly rung true with the Panthers since their Week 4 loss to Medway. Since then, Holliston has picked itself up by the boot straps. Following the 28-16 loss to the Mustangs, the Panther's attack, which has averaged 42 points per game, has put results of 42, 50 and 42 points, respectively, on the board in the last three weeks.
So it's clear the upset at the hands of Medway has been a motivating factor.
"If anything, it made us hungrier to want to get back to the top," Panthers quarterback Sean Mayo told ESPN Boston's Scott Barboza. "After being the TVL champs last year, we wanted to act like that tonight. We wanted to play well and we did.
"We just want to keep getting better, get back to the playoffs and go for another TVL championship."
And with their win over the Lancers, Holliston has put itself back in position to do so as the top four Tri-Valley League teams now stand at 6-1 with the league playoffs set to kick off in two weeks.
Certainly, Norton would like another chance to prove they're the TVL's top team when it really counts.
A FEW GOOD BREAKS
The animosity between bordering rivals Abington and Rockland goes deep -- decades deep -- and so Rockland running back and captain Mike Driscoll recalled the back and forth with a half-dozen friends from a town over with delight, all week.
"This rivalry is unbelievable," Driscoll said. "We were all shooting texts back and forth all week, having fun with each other. To come out and see these guys, I feel...God goes out to them. They still have a shot, though."
The Bulldogs were more than happy to escape with a win, and take sole possession of first place in the South Shore League, with a 21-12 comeback win over their archrivals. Abington held the Bulldogs to minus-12 yards of offense on six plays in the first half, but could not solve them over the game's final 15 minutes, as Rockland exploded for 235 yards and 21 unanswered points.
With time winding down in the fourth quarter, Rockland's D.J. Austin threw a flare pass into the left flat that took a backwards skip, and Abington's Dylan Pietresak pounced on the loose ball and marched 50 yards to paydirt. However, the play had been
blown dead at the spot of the incompletion
. Local announcers Shawn Reilly and Kevin Whalen screamed in disagreeance with the call, and it didn't help that two plays later, backup quarterback Ricky Witt came in and promptly tossed the
52-yard game-winning bomb
, a wide-open strike to Tim Fitzgerald.
Asked about the call, Rockland head coach Ken Owen channeled his inner Gregg Popovich.
"The referee blew it dead, OK?" Owen deadpanned. "Next question."
But let's not totally put this on the officiating. Holding a lead late in the fourth quarter, the Green Wave had some breakdowns in the secondary. And with time winding down and half of the field to go, they should have done a better job anticipating a deep strike.
MIDDIES IN FIFTH GEAR
Any questions about Dracut's capability to put points on the board have to be shunned at this point. Last Friday, the Middies traveled to Chelmsford to take on one of the area's best defenses and promptly hung 42 on them in a dominating win. Since starting the season 0-2, they've won five straight and averaged 41.9 points per game, including 60 over Billerica. The triggerman? Who else but Matt Silva, a scrawny 170-pounder whose violent running style often leaves him limping and bracing after games. But he wouldn't have it any other way.
"I want the ball in my hands at all times," Silva told ESPNBoston's Neil Carroll. "I'm the quarterback. If I make a mistake it's my fault, if I throw an interception it's my fault, if I get sacked it's my fault."
The Middies' defense, which is allowing nearly 27 points, remains a quandary. Only Tewksbury failed to score at least three touchdowns, in a 35-14 loss two weeks ago. A trip to Andover this week before meetings with Lawrence and Haverhill should give us a better idea of Dracut's ability in that area, before they head into their Thanksgiving matchup with Methuen, a team that has eaten run defenses alive at several points this season.
EAGLES ON PERCH FOR NOW
After dealing Falmouth its first loss of the season, 28-7, Plymouth North seized the moment, climbing to the top of the Atlantic Coast League.
However, things are still wide open.
"We have three league games left and every week you play for controlling your own destiny," Eagles head coach Dwayne Follette told correspondent Brian Fabry on Friday. "We talked [last season's loss] up, but this was a big enough game that we didn't need the extra motivation.
While Plymouth North assumes the perch for now, the road to the ACL title will likely run through Dennis-Yarmouth, as both the Eagles and Clippers still have yet to play the Dolphins. Looking beyond the aforementioned, Marshfield (although they stand at 3-4 overall) also could still get in the fray, if they take care of business against Falmouth this weekend.
Additionally, Friday's loss could prove a bit more costly for Falmouth if the injury to Clippers running back Nelson Baptiste, sustained during the upset against Plymouth North, has any long-term implications. That is a situation that also bears watching.
HEAD OF THE CLASS
VALVOLINE PEAK PERFORMER OF THE WEEK: BEN PATRICK, SR. RB, RIVERS
The Roxbury resident torched Milton Academy for 325 yards on 26 carries and six touchdowns, both school records, in a 69-40 shootout win Saturday night at Milton High School. Through five games, the 5-foot-9 senior has rushed for at least 200 yards in every game, and piled up 1,162 yards on 112 carries for an average of 10.3 yards a carry. With the performance, Patrick has now clinched 5-0 Rivers its first winning season since 1982. But with these kinds of performances each week from Patrick and his cousin Taariq Allen (718 yards of offense), the Red Wings are thinking NEPSAC Bowls.
THE CLASSMATES
Chris Coady, Jr. RB/LB, BB&N
- The 6-foot-2, 220-pound junior carried 31 times for 284 yards in a 21-14 win over Groton School.
Brett Kidik, Sr. QB, Bishop Fenwick
- In a record-setting day, Kidik threw for 389 yards and six touchdowns in the Crusaders' 44-40 win over Archbishop Williams.
Connor Reardon, Jr. RB, Littleton
- Reardon carried the day for the Tigers, carrying the ball 23 times for 232 yards and four touchdowns in a 39-26 shootout win over Bay Path.
Oshane McCreath, Jr. RB, Malden
- McCreath ran for 260 yards and four touchdowns in a 36-7 win over Cambridge that improved the Golden Tornadoes to 3-4.
Kyle Murray, Jr. RB, Mashpee
- In a 41-12 win over Carver, Murray carved up the defense to the tune of 239 yards on 17 carries and two touchdowns.
Quinton Perkins, Jr. ATH, Fitchburg
- The speedy junior showed off his wheels in a variety of ways in the Red Raiders' 38-19 win over Shrewsbury. Perkins accumulated 239 all-purpose yards and scored in four different ways -- running, receiving, passing and a fumble recovery.
Melquan Pinkney, Sr. RB, Springfield Putnam
- Pinkney dominated Ludlow in a 46-6 win last Friday, totaling 270 yards and four touchdowns. Even more impressive, he racked up 192 yards on five carries in the first quarter.
Mike Ozella, Sr. RB, Medway
- Ozella turned in another strong performance for the Mustangs, rushing for 207 yards and four touchdowns in a 35-6 win over Hopkinton.
Matt Silva, Sr. QB, Dracut
- The tough-minded senior would not be stopped in Friday's 42-21 win over Chelmsford, completig 12 of 19 passes for 206 yards and three touchdowns, and carrying 13 times for 100 yards and two more scores.
Ben Ticknor, Sr. RB, Milton Academy
- Ticknor was strong in his own right in the Mustangs' 69-40 loss to Rivers, carrying 21 times for 341 yards and five touchdowns, including a run of 94 yards.
October, 23, 2010
10/23/10
3:15
AM ET


NORTON, Mass. – Which four teams will reach the Tri-Valley League playoff has been a foregone conclusion for quite some time with Holliston, Medway, Norton and Westwood ensconced at the top of the standings.

Entering into Friday night's action, as to how those entrants would rank in the tournament (which kicks off in T-minus two weeks) was anyone's guess beyond Norton having first dibs on the top spot. After Holliston's 42-0 drubbing of the Lancers in Norton, that process has only gotten muddled.

Following the Panthers' impressive showing, all four squads are now square at 6-1.

One thing is clear, however.

If the top spot were to be judged on style points alone, Holliston's flexing of their offensive muscle against the Lancers would be case enough.

"We wanted to go high tempo, we wanted to gas them," said Panthers quarterback Sean Mayo, who completed 11 of 21 pass attempts for 185 yards and a touchdown. "We mixed it up with the run and we ran a little bit more than we usually do, but we got it done tonight."

Holliston controlled the game from its onset. After fielding the opening kickoff, the Panthers maneuvered downfield on a six-play, 64-yard drive capped by Kevin Curry's first of three rushing touchdowns.

Things got out of hand in the second quarter after Mayo found Dan Barone (5 catches, 110 yards) on a 26-yard touchdown pass as time expired in the first. On the ensuing kickoff, Atticus Grinder scooped up a Norton fumble and reached the end zone on a 14-yard score.

Harper Lee couldn't have drawn it up any better.

"What a great football name, isn't it?" Holliston head coach Todd Kiley said while reflecting on his special teams ace. "[Grinder] is a kid that honestly could be starting a lot of other teams but he brings it every [play], special teams wise. It was no different tonight."

On the second play from scrimmage following Grinder's score, Barone picked off a Brendan Curtin pass and returned it 35 yards to the Lancers' 4-yard line. Two plays later, Curry punched in his second touchdown from two yards out.

"We had a great week of practice," Curry said, breaking down Holliston's defensive keys. "We knew what they were going to show, we knew their tendencies."

The Panthers bore down on Norton's defense for two more scores in the second half. Curry, who finished with 12 carries for 85 yards, knocked in his second two-yard score of the game in the third quarter and Barone added an exclamation point with a 47-yard run to paydirt with 1:08 remaining in the contest.

Holliston 14 14 7 7 -- 42
Norton 0 0 0 0 -- 0

First quarter
Holliston Kevin Curry 5-yard run (Christian Baker kick)
Holliston Dan Barone 26-yard pass from Sean Mayo (Baker kick)

Second quarter
Holliston Atticus Grinder 14-yard fumble return (Baker kick)
Holliston Curry 2-yard run (Christian Baker kick)

Third quarter
Holliston Curry 2-yard run (Baker kick)

Fourth quarter
Holliston Barone 47-yard run (Baker kick)
October, 2, 2010
10/02/10
2:14
AM ET
By
Neil Carroll
| ESPNBoston.com



HOLLISTON, Mass. -- With 2.2 seconds left in the first half, Medway quarterback Joe Henry pump-faked and lofted a pass into the hands of receiver Matt Ford for a 19-yard touchdown pass as time expired. Although the Mustangs trailed the Holliston Panthers 10-7 at halftime, the touchdown rallied Medway on its way to hard-fought 28-16 win in Holliston.

The drive started with under a minute to go in the second quarter, and Medway was on its own 23-yard line. Tailback Mike Ozella's 41-yard run to Holliston's 19 keyed the possession, but the touchdown pass capped it off as time expired.

"I think that was the key to the game," quarterback Joe Henry said of the touchdown. "No one expected that we would come down and make that play. That changed the whole game right there."

"I think it showed a lot of character that we were down 10 to nothing," said Medway coach Dave McSweeney. "We didn't panic and we made plays when we had to. Michael [Ozella] broke a nice run off that set up the last second pass so we kind of lucked out there, but I'll take it anyway we can get it."

Henry had a slow start to the game, but finished strong. On the night, he completed 5 of 16 passes for 154 yards and two touchdowns.

On a fourth and 19 with under two minutes to play, Medway led 21-16 and Holliston needed a defensive stop. It was then that Henry hit Ford with another touchdown pass, to take away any chance Holliston had at a comeback.

Heavy rain plagued the early goings of the game, and both teams struggled to find their rhythm offensively.

"It affected us," Holliston head coach Todd Kiley about the rain. "But both teams have to play under it. It benefited them more tonight, but they just played better than us."

However, Holliston quarterback Sean Mayo had a solid first half. He went into the locker room at the break completing 8 of 12 passes for 82 yards, and also had four rushes for 24 yards and a touchdown. But he began the second half on a bad stint, completing one of five passes with two interceptions.

A raucous crowd at Kamitian field created an intense atmosphere. Mustang fans attempted to get retribution for last season's matchup, when the red-clad Holliston fans came out in droves and filled up a good chunk of Medway's home stands.

That resulted in large contingents from both schools coming to Holliston early to secure their seats. Fans from both sides were painted with their school colors and offered chants back and forth throughout the night.

Medway's double-headed running attack of Ozella and junior Greg Amato took the clock down significantly in the second half. Amato had a stellar game, carrying the ball 12 times for 108 yards and a touchdown, and also intercepted Mayo on defense.

"It was a couple big plays that killed us obviously," Kiley said. "Then they chewed the clock up and did a nice job there in the late third early fourth."

And in the end, it was the Medway's Ozella that quieted the home crowd. He ran for 123 yards on 23 carries, but was especially dependable to kill the clock in the fourth quarter.

MEDWAY 28, NO. 16 HOLLISTON 16

MED (3-1) 0 7 7 14 --- 28
HOL (3-1) 7 3 0 7 --- 16

H - Sean Mayo 11 run (Dan Barone kick)
H - Barone 26 field goal
M - Matt Ford 19 catch from Joe Henry (Joe Davenport kick)
M - Greg Amato 70 run (Davenport kick)
M - Henry 12 run (Davenport kick)
H - Mayo 1 run (Conversion failed)
M - Ford 34 catch from Henry (Davenport kick)
August, 30, 2010
8/30/10
11:08
PM ET
By
Brendan Hall
| ESPNBoston.com
HOLLISTON, Mass. -- Todd Kiley says he's had to do "a lot less barking" with his Holliston Panthers this year.

The eight-year head coach says this year's team is farther along than any of his teams have been at this point in camp, and there are several reasons why. The most prominent one coming out of preseason camp seems to be the evolution of senior quarterback Sean Mayo from go-getting gunslinger to the team's spiritual and emotional leader. "From the first day without pads (August 23), he took this team by the horns," Kiley said.

Of course, the writing's on the wall. The Panthers wore many teams down with their speedy, huddle-free spread offense and blitz-heavy defensive schemes. But in the Division 3A Super Bowl at Gillette Stadium, they struggled to establish a running game and never got in a rhythm. And so a squad that had averaged 35 points a game to that point faltered big, 38-15.

"As soon as we put on the pads, we think about the last time we took them off last season," noted senior running back Kevin Curry.

But the motivation goes even deeper.

On Sept. 5, 2008, the Panthers' final scrimmage of the preseason against Apponequet Regional, 16-year-old Joey Larracey collapsed suddenly after getting hit in the chest, and was pronounced dead later that night. A few nights later, 10-year-old honorary captain Tim O'Connell succumbed to leukemia after more than a year-long battle.

The Panthers canceled their first game of the year, against Oliver Ames. The whole ordeal was, in the words of Ryan Barrett, "a nightmare"; to this day, the death of the popular student and teammate resonates deep under the team's skin.

"No one was talking, we were all speechless," said running back Kevin Curry of the 48 hours that followed Larracey's death.

"You don't want any team to go through that, it's the worst possible thing that could happen," said linebacker Ethan Rayner.

But that tragedy has never been lost on anyone in this town for a second. If anything, it's brought incredible closure to a community that already considered itself fairly tight-knight. As Mayo put it, "That brought us from a team to a family. Ever since the passing of Joey, we love each other. He's all of our brothers."

Said Raymer, "People in this town said we kind of carried this community, helped them get through a tough time. I'm really proud of myself, proud of us, for doing that."

Larracey's legacy, and his uniform number 73, was the pulse and the throttle of the Panthers' Super Bowl run last year. His mother, Charlene, often spoke to the team after games. In week six, wide receiver Christian Baker booted a 37-yard last-second field goal to beat previously undefeated Medway, took off his helmet to reveal the numbers "7" and "3" written on his cheeks, and simply told reporters, "That was for Joey."

The modus operandi hasn't changed. Larracey's number remains stenciled into the black paw print on the 25-yard lines of the team's home stadium. The energized fans, known for their inspired antics last year -- uniformly showing up in red shirts bearing "73", storming the field after wins, chanting Wu-Tang Clan lyrics, filling up the parking lot 2 1/2 hours before games and sometimes outdrawing home crowds at away games -- are expected to return.

Friday night, the second annual Joey Larracey Bowl commences, with the Panthers facing Framingham in a scrimmage (i.e. no kickoffs). And they will once again utilize their "7-3-7" warmup formation, which is exactly how it sounds -- seven in one row, three in the next, in honor of Larracey's "73" and O'Connell's "7".

"You just get the chills," Mayo said of the formation.

"It's nothing like any other team does," Curry said. "It really does bring us from a team to a family. We're out there doing it for a purpose."

"We talk about doing it Joe's way," Rayner said. "Doing everything 110 percent, just like Joey did it every play."

"On and off the field," added Curry. "Great kid, great student, great leader."

So it goes without saying that, with the Super Bowl loss, the plethora of speed returning (eight TVL first-teamers) and Larracey's memory hanging over it all, the Panthers are fired up. With Mayo in his third year calling the shots on offense, and targets like the 6-foot-5, 225-pound Barrett (Kiley calls Barrett, who currently holds an offer from Bryant, "a versatile kid that allows our offense to stay versatile,"), there's a whole lot to like.

Offensively, they're often at their best when running at a no-huddle pace, a tempo they've coined "blood" around here.

And very often these days, the phrase is all-encompassing.

HOLLISTON AT A GLANCE
2009: 12-1 (9-0 Tri-Valley), lost in Division 3A Super Bowl
Coach: Todd Kiley (8th year, 55-23 overall)
Players to watch: Kevin Curry, Sr., RB/OLB, 5-10, 175 lbs (303 rushing yards, 10 touchdowns); Sean Mayo, Sr., QB, 6-0, 170 lbs (2,010 passing yards, 26 total touchdowns); Ryan Barrett, Sr., TE/DE, 6-5, 225 lbs; Ethan Rayner, Sr., OG/LB, 5-11, 215 lbs; Christian Baker, Sr., WR/DB/K, Sr., 5-11, 170 lbs (308 receiving yards, four touchdowns); Jake Frechette, Jr., RB/DB, 5-9, 165 lbs (1,201 rushing yards, 10.3 yards per carry; 300 receiving yards, 15 total touchdowns); Kevin Lamarque, Sr., OL/DL, 6-2, 275 lbs; Dan Barone, Jr., WR/S, 5-9, 160 lbs (362 receiving yards, five touchdowns); Dan Miller, Sr., WR/LB, 5-10, 165 lbs; Jonathan Rossini, Sr., OT/LB, 6-1, 190 lbs.
Strengths: Speed, experience at skill positions.
Weaknesses: Replacing starters on offensive line and linebackers.
Outlook: Kiley's high-powered spread offense is back and should be sharp as ever, what with eight first-team league all-stars returning. Offensively, the Panthers will utilize the no-huddle again, and will return key speedsters like Frechette and Curry. They'll be lining up Barrett in a variety of positions -- out wide, in tight -- to get him in space. But look out for Barrett's downfield blocks, too -- "he's second to none," Kiley said of his blocking skills. The key, as last year's Super Bowl loss showed, will be to establish a consistent run game. Defensively, the Panthers will be moving pieces around to fill the void at linebacker, but Rayner will be rock-solid in the middle of the field, while Lamarque and Barrett lead the front four. Overall, there is alot of speed to be accounted for this season, which makes the Panthers a favorite to repeat as TVL champs.