Boston High School:

Sean McGrail
May, 10, 2012
5/10/12
7:59
PM ET
By
John McGuirk
| ESPNBoston.com
SHREWSBURY, Mass. -- Jimmy Smith has done a lot of good things during his time as a St. John's baseball player. But the one thing the senior had never done was homer in a game. You can now add that to his resume.

In a scoreless deadlock against mighty Burncoat yesterday, it was Smith who struck the decisive blow. With two out and a runner on, Smith turned on a letter-high fastball and sent it deep over the right field fence giving the Pioneers a 2-0 victory at Pioneer Field in a highly-anticipated matchup between two of the elite programs in Central Mass.

"That is the first one I've hit in the two years I've played here," said Smith, more noted for his speed on the base paths and defensive prowess. "I grew up around the Burncoat area and I know everyone on that team so it feels good to get a big hit like that. Everyone on this team has a huge heart and we look to come out an win every single game. That comes back to our practices. We practice as hard as we can all the time. Everyone is pushing each other to make everyone better and I think that has helped us to win a lot of these close games like today."

As expected, both St. John's ace Mike Badjo and Patriot counterpart Sean McGrail matched zeros on the scoreboard. The two seniors played things out as if it were a do-or-die chess match with neither hurler refusing to give an inch.

Prior to the fifth inning dramatics, the Pioneers had managed only a pair of singles against McGrail, a righty who started his career at St. John's before transferring a few miles down the road to Burncoat. Likewise, the Patriots were struggling to get anything going against Badjo (CG, 2 hits, 6 Ks). In the third they did load the bases with two out but the right hander got a ground out to end the threat. Burncoat did nothing with the bats thereafter.

"It was an outstanding baseball game," said Pioneers head coach Charlie Eppinger, his team improving to 13-2 and await a huge showdown Friday when they host BC High. "McGrail and Badjo both pitched great. We know McGrail really well after he spent his first two years here at St. John's and is a great pitcher. I thought Badjo was just a horse for us out there today.'

McGrail, like Badjo, went the distance, allowing 3 hits and striking out 8. Burncoat (12-2) came into this tilt averaging just under six runs-per-game. In spite of the many victories the Patriots have attained this season, they knew St. John's would be a measuring stick game for them.

"It was a matchup between two of the better teams around and two of the better pitchers around," Burncoat head coach Brian Sargent said. "One hit by them was it today. Playing a team like that you have a small window to score runs and in the third we had our shot but couldn't get the big hit. We have nothing to hang our heads over. We knew St. John's is the best team around. Today we played a quality team and now we know that we can hang with anyone. Today was the highest level of competition yet for us and I think we rose to the challenge."

In the fifth, No. 9 hitter Micah Cummins drew a one-out walk (one of five issued by McGrail on the afternoon). After retiring leadoff batter Tom Petry on a comebacker, McGrail had a 2-1 count on Smith. Sticking with his bread-and-butter fastball that was moving well all over the strike zone, McGrail delievered his next pitch. Only this time the ball never moved and stayed up which allowed Smith to take full advantage as it was gone the moment it struck the bat.

"It was good to see Jimmy come up with that big hit," Eppinger added. "I don't know where that came from because he's more of a speed and singles guy. Two out hits like that one win ball games and it showed today."
April, 6, 2012
4/06/12
4:28
PM ET
By
Shawn Myrick
| ESPNBoston.com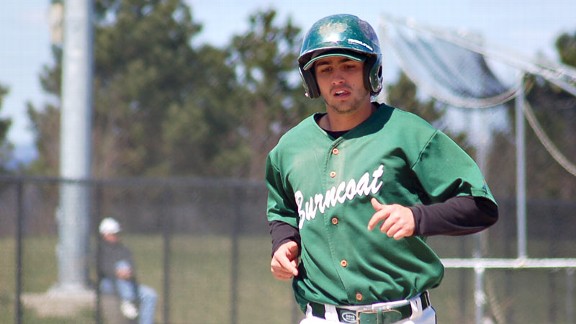 Brendan Hall/ESPNBoston.com Rhode Island commit Regan Aghdam (three hits, two runs) was part of a 15-hit parade for Burncoat in a Friday morning win over Worcester Tech.
WORCESTER, Mass. -- One inning meant all the difference for a seasoned Burncoat boys' baseball team on Friday afternoon.
After battling with Worcester Tech for five innings, the senior-laden Patriots (4-0) burst out for eight runs in the sixth to help put away their crosstown host, 13-4.
"Their pitcher did an awesome job of (pitching) different speeds," said Burncoat coach Brian Sargent. "We went through the order (that inning). We made them make plays or not make plays."
Returning 11 seniors from a team that had reached the Division I central semi-finals last year, the Patriot upperclassmen stormed through the sixth inning with ten knocks. Planting a pair of long drives a few yards out of reach for their opponents and capitalizing on six total errors, Burncoat began the run with nine straight hits.
A frozen rope left-field single by Ryan O'Connor started the scoring for the Patriots, while a dropped pop fly hit from Regan Aghdam and a low slicing drive by Sean McGrail put the Inter-High League sluggers up 10-0.
"Seeing first pitch strikes," said Sargent. "They were kind of waiting for the curveball and different stuff. Just get up in the box and swing."
Worcester Tech (0-3) responded in their next at bat by putting the first seven batters on base, but were unable to topple such a large deficit. Short outfield singles by senior Jake Dacri, junior Brenden Matthews, and sophomore Brandon Hanlon loaded the bases early for the Eagles.
A thrown away pitch and a left outfield dribbler by junior Anthony Rovezzi helped clear the plates for a 10-3 deficit. A double RBI by senior John Lakaitis in two at bats proved the Inter-High clubs final run.
"Not catching a few fly ball, a couple mental mistakes here and there, and us not getting the key hits when we needed them," said first-year Worcester Tech coach Patrick McKeon. "I told them to 'Stay aggressive and go up to get your swings. We just could not get the runs across in the last inning."
O'Connor (RBI, one run), Aghdam (two runs), and senior Joe McCarthy (RBI) all had three hits for Burncoat. Fellow upperclassmen Charles Barbon, who lead the Patriots with a .532 average last year, was perfect at the plate with four singles and two runs.
"We were trying to go the other way so we did not get in front of the ball," said Aghdam. "Let the ball travel."
A botched throwout at first, an on-the-wall triple by senior Quinn Moynihan and a powerful single by Aghbam added three runs of insurance in the Patriots' final at bat.
Burncoat had edged ahead 2-0 earlier off a low-driving double from senior Ryan O'Connor in the fourth to bring home Aghdam and a ground-out to first with two runners on by senior Quinn Moynihand in the fifth.
"I got three straight curves and a fastball," said Aghdam. "I was trying to not do too much and let the ball travel. We had to wake up sometime."
Senior starting pitcher Sean McGrail went six innings with five strikeouts for the win for Burncoat, while giving up four runs, sevens walks and 11 hits. Eagles senior Andrew Montiverdi battled six innings for five strikeouts, while dropping 15 hits, 12 runs, and three walks.
"Mentally (McGrail) knows he has to get outs," said Sargent. "He walked a lot today, but he knew just to hold off and give our offense a chance."