Boston High School:

Sean Mulcahy
December, 10, 2013
12/10/13
3:40
PM ET
Once an also-ran in the Inter-High league, Doherty completed a Cinderlla season with a Division 4 state championship Saturday in a spellbinding 28-26 win over Dennis-Yarmouth.
Today, Highlanders head coach Sean Mulcahy was named New England Patriots High School Coach of the Year.
Here's more from the team's release:
Doherty High School's Sean Mulcahy has been named the New England Patriots High School Coach of the Year following his team's 28-26 MIAA Division IV Super Bowl victory over Dennis-Yarmouth on Saturday, Dec. 7, at Gillette Stadium. Taking a 28-14 lead late into the fourth quarter, the Highlanders were able to stave off a Dolphin comeback and earn their first state title in the program's history. Mulcahy's squad showed incredible heart and resolve all season, overcoming deficits in nine of their 12 victories en route to a state championship season. After three straight losing seasons from 2009-11, Mulcahy quickly turned the program around with a 9-3 season in 2012 before leading his team to a 12-1 campaign and the school's first-ever football state championship this season. The New England Patriots Charitable Foundation will donate $2,000 to Doherty's football program in Mulcahy's name in recognition of his Coach of the Year selection.

Patriots and Pro Football Hall of Fame linebacker Andre Tippett, the team's executive director of community affairs, visited Coach Mulcahy's team on Tuesday, Dec. 10, at Doherty High School. The visit and check presentation will be featured on the Patriots weekly television magazine show, "Patriots All Access," which airs at 7 p.m. on Friday, Dec. 13, on WBZ-TV in Boston and will be available immediately after on Patriots.com.

This was the 18th year in which the Patriots joined the National Football League in conducting the High School Coach of the Week program, which recognizes outstanding high school coaches and promotes youth football throughout New England. Tippett oversees the program as part of the New England Patriots Charitable Foundation's commitment to youth football initiatives.

"A special congratulations to Coach Mulcahy's team," Tippett said. "One of the hallmarks of a championship team is an unwillingness to quit, and Doherty embodied that attitude all season. Mulcahy's squad came from behind to win in nine of their 12 victories this season and overcame a 16-0 deficit against an undefeated Wahconah team in the Division IV semifinals to make it to the Super Bowl. In the state final, the Highlanders withstood a late comeback against a resilient Dennis-Yarmouth team to earn a 28-26 win and the first state championship in school history. The Patriots are pleased to award Coach Mulcahy and Doherty High School a donation to the football program and we congratulate them on their historic Super Bowl championship."
December, 7, 2013
12/07/13
5:42
PM ET
By
Phil Garceau
| ESPNBoston.com
FOXBOROUGH, Mass. – As the old saying goes, you live by the big play, you die by the big play. Both teams in the Division 4 final had gotten to this point with their homerun hitters so it was only fitting that the team that made the bigger plays would take home the hardware.
The dual threat of Doherty's Issac Yiadom and Alfred Adarkwah torched the Dolphins secondary for nearly 200 yards and a pair of long scores as the battle of two explosive offenses went in favor of the Highlanders, 28-26.
"It's crazy, it feels like it is unreal," said Yiadom. "At the beginning of the season, we were all talking about being state champs we finally got here and accomplished our dream."
A Highlander touchdown score midway through the fourth quarter gave the Central champs a 28-14 lead and seemingly the Div. 4 state championship game, but the never-give-up Dolphins made for an interesting final five minutes. L.K. Metz had his game of the season and Spencer Tyler orchestrated two scores setting up a 2-point conversion with 56 second remaining to tie the game.
[+] Enlarge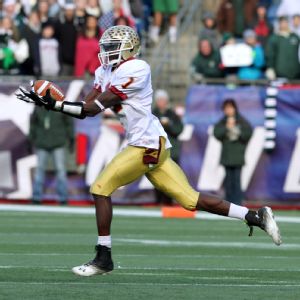 Brendan Hall/ESPNBoston.comBoston College signee Isaac Yiadom (7 catches, 138 yards, TD) was a terror for Doherty as the Highlanders captured their first state title in school history.
Tyler seemed to have Andrew Jamiel open in the end zone, but penetration from the Highlanders defense forced Tyler to his right and the pass intended for Mike Anderson fell harmlessly at his feet.
"When it was 21-7 and 28-20, we didn't expect to lose, we still though we were going to win and we played all the way to the end," said Paul Funk who coached his Dolphins to their second finals appearance in three years. "That's how those kids play, they play hard like that."
In the end it was the play of Yiadom and Adarkwah that separated the teams.
Adarkwah continued his torrid pace this postseason catching his seventh touchdown in his fifth postseason game, and it could not have come at a better time.
With 10 second remaining in the first half in a 7-7 ball game, the Highlanders were facing fourth and 10 from the Dolphin 41-yard line when they sent Adarkwah deep. He beat Michael Dunn, who was pressing off the line, and the safety help in Liam Matheson was a moment too late as Adarkwah hauled in the deep bomb from Luke Brennan to give the Highlanders a 14-7 lead heading into the half.
"As the game goes on with short quarters, you try to figure out what they are doing to you, they were doing a good job pressing our outside kids," Doherty coach Sean Mulcahy said after his team earned the second Superbowl title in the programs history. "Alfred finally beat the press coverage and got over the top on them and Luke made a great throw."
"It was a big play for us right before the half and big momentum for us."
On Doherty's first drive of the second half, Brennan dialed up the long ball again, finding Yiadom alone on a deep crossing route. Brennan hit him in stride and the Boston College commit went 64 yards untouched for to put the Doherty up 21-7 midway through the third quarter.
The Dolphins got life on the following drive when Spencer Tyler marched his troops downfield, setting up a Cory Desimone 2-yard scoring run to cut the deficit to 21-14.
But the Highlanders responded with an 8-play, 71 yard drive capped off by Jahkari Carpenter's 1-yard run to seemingly bury the Dolphins 28-14 with just under five minutes to play.
But L.K. Metz returned the ensuing kickoff 64 yards to the Highlanders 9-yard line and Tyler found sophomore Andrew Jamiel on the following play for a 9-yard score. On the PAT, Jahkari Carpenter broke through the protection and blocked Drew Tardiff's kick to keep the score at 28-20.
"Metz was outstanding. Metz is a gamer," said Funk. "I'd take him any day. He's a gamer, he was ready, he played great on both sides of the ball."
After the onside kick failed, the Dolphins needed to rely on their defense for a stop, which they had a difficult time with in the second half. Facing a third and third and four with just over two minutes remaining, Brennan couldn't handle the snap and lost 11 yards on the play.
The Dolphins took over on their own 21 with no timeouts. Tyler converted a fourth down to Dunn and a long screen pass to Metz set up D-Y at the Doherty 13. Two plays later, Tyler called his own number and scampered into the end zone from six yards out to set up a game-tying two-point attempt.
With the Dolphins season and championship hopes hinging on one final PAT, the Doherty defense rose to the occasion with penetration from their line and good coverage in the secondary to secure their first championship title since 1980.
"We're tough. We've been down before in games and come back," said Tyler. "We've had tough games long the way, tough games in Marshfield. We've had a lot of tough games so we were prepared for this one but bad play at the end."
After watching his team build for the last few years, Sean Mulcahy was proud to see his players finally brake through.
"It says that a Worcester city team with good players can play with anybody. Right now, we are very competitive team at the highest level of football in central mass and we're proud of that and this team caught fire at the end of the year and finished the job of what has been building for a few years."
DMHS 0 14 7 7 -- 28
DY 7 0 7 12 -- 26
First Quarter
DY-Spencer Tyler 11 run (Drew Tardiff kick), 0:16
Second Quarter
DMHS-Luke Brennan 8 run (rush fail), 1:38
DMHS-Alfred Adarkwah 41 pass from Brennan (Jahkari Carpenter run),, 0:00
Third Quarter
DMHS-Issac Yiadom 64 pass from Brennan (Brennan kick) 4:57
DY-Cory Desimone 2 run (Tardiff kick), 2:21
Fourth Quarter
DMHS-Carpenter 1 run (Brennan kick), 4:43
DY-Andrew Jamiel 9 pass form Tyler (kick blocked), 4:13
DY-Tyler 6 run (pass fail), 0:56
November, 26, 2013
11/26/13
7:36
PM ET
WESTWOOD, Mass. – On a cold and dreary Tuesday afternoon, Xaverian football went through its practice paces at the high school. It was like any other practice, except that it's St. John's Prep week. The Hawks kicked off the session with a chorus of "Beat Prep" after running through stretches.
Although Xaverian still has another game to play past its Thanksgiving Day duel against its Catholic Conference rival – the Division 1 state championship against Central Catholic to be played Dec. 7 at Gillette Stadium – they weren't looking any further than the task at hand.

The Hawks are one of 12 teams in Massachusetts presented with the same conundrum this week: With a state championship game looming, how do you approach a game that essentially has become exhibition?
Now, with that being said, in this scenario, the Catholic Conference is a bit of an outlier. With the MIAA's new playoff guidelines taking hold this year, the conference is an exception in the state, as league foes meet only once on Thanksgiving to count for its regular date, keeping with tradition. So while other Thanksgiving rivals who also happen to be league foes might be playing for the third time this season (Holliston vs. Westwood, Plymouth North vs. Plymouth South, etc.), Xaverian will be seeing the Eagles for the first time come Thursday.
It also sets up a duel for the Catholic Conference regular-season championship – no small pot.
And so Hawks head coach Charlie Stevenson is preparing as if there were no tomorrow.
"If one of my players didn't want to go out there and play Thursday and beat Prep, I would think there's something wrong with them," Stevenson said.
Stevenson stands in support of a handful of statewide coaches who are staring down state championship games beyond Thanksgiving who also answered the question of whether to play starters on Thursday with the retort, "Let them play."
So, during the weekend, we took the matter to those who will be charting the course with the question of whether to play, or not to play.
The responses were varied, from Dennis-Yarmouth head coach Paul Funk's Belichick-ian, noncommittal approach, to this pearl from Plymouth South's Scott Fry, on the status of star running back Dylan Oxsen: "You don't think we should give it to Oxsen 30 times on Thanksgiving Day?"
Here it is in their words:
-----
Peter Afanasiw, Cohasset
"We're going to try to roll out a team that stays healthy, competes and, hopefully, comes away with yet another win. No team in school history has ever registered 11 wins."
Brian Aylward, Tewsbury
"It is a rite of passage for any football player that plays football in Tewksbury. It's an 80-year tradition against Wilmington; it's the one chance you get to play them in front of all your family and represent your town and do battle. And that's exactly what we're going to do. We have to. We're not good enough not to play."
Scott Fry, Plymouth South
"We expected, if we won this game, that a lot of our kids weren't going to be playing on Thanksgiving. It's the third time we're going to play [Plymouth] North and we've already canceled the J.V. game because of that reason. The young kids are going to play on Thanksgiving. You're going to need a different roster for the Thanksgiving Day game."
Paul Funk, Dennis-Yarmouth
"We're going to do what's best for our football team."
Ken LaChapelle, Northbridge
"We're going out to win that game. I'm not going to have Uxbridge start chanting the score [if they win] during the basketball season. I'm playing to win that game. Do I maybe not run [quarterback Koby Schofer] 20 times? Maybe. But I'm playing to win the game and Uxbridge better be prepared because we're coming to win."
Michael Lynn, Littleton
"We can't even put some of our backup kids in there, it's not safe. We're 11-0, we want to protect our perfect season, so we're going to have to play our starters and our premier guys as much as we have to — we don't have much of a choice. To me this is the fatal flaw in the playoff system, Thanksgiving being sandwiched in between the state semifinals and state finals. For everybody but 12 schools it's not a problem, but for those 12 schools it's definitely a dilemma."
Sean Mulcahy, Doherty
"We have a big Thanksgiving game to get through first. Burncoat has ruined a lot of my Thanksgivings, so I'll make sure we have our kids ready for them come Thursday. We will be playing our starters. I'm not planning to go out and play for hopefully a state title and then walk around the streets of Worcester and have some Burncoat fan come up to me and say, 'but we beat you.' Hopefully, that's not happening."
Mike Redding, Mansfield
"We're going to play to win. Obviously, we'd like to get our guys out early. Two years ago, we won on the last play of the game and, last year, they won. We want to beat Foxborough. We don't want to be 11-1 as a state champion; we want to be 12-0. We want to beat our rival, but it would be in our best interest to score early and get some guys out and get some guys rested as soon as possible."
(Editor's note: Correspondents Chris Bradley, Phil Garceau, Paul Lazdowski, John McGuirk and Josh Perry contributed original reporting to this story.)
October, 12, 2013
10/12/13
1:47
AM ET


WORCESTER, Mass. – It only took 30 seconds for No. 17 Doherty to make a statement in Friday night's showdown with Leominster at Foley Stadium.

The Highlanders zipped 70 yards downfield on two passing plays to hang a quick six on the No. 6 Blue Devils' defense. Doherty scored on each of its first two possessions, underscoring the point about its dynamic group of athletes.

But, while the Highlanders continued to cling to a lead through halftime (19-10), Leominster showed the mettle of a cagy, playoff-proven crew during the second half. Then, the Blue Devils erased the mistakes of the early going and effectively stepped on the neck of the Highlanders, outscoring them 37-7 in the final two quarters for a 47-26 victory.

In a matchup of two of the Central district's top playoff contenders in their respective divisions, Leominster conducted a clinic as to what the Highlanders will need to adopt if they, too, hope to make a run at a section title – that is a killer instinct.

"We weren't putting ourselves down," Blue Devils running back/ corner back James Gurley said of the locker room scene at the half. "We'd been in this position before. We know how to come back – we're Leominster, we play four quarters."

Gurley and his teammates dropped the hammer in the second half, when the junior tallied both of his rushing scores, as well as an interception. From upping the defensive ante, to the flawless execution of sustained drives it was all there for the Blue Devils (5-0) – at least coming out of the intermission.

Doherty (4-1) landed the first blow just 38 seconds in. Luke Brennan moved the Highlanders up-field 70 yards for a touchdown on two plays from scrimmage, finishing with a 29-yard lob to Shawn Jackson on a jump ball.

After the Highlanders forced Leominster into a turnover on downs, Doherty utilized a short field to grab a near-instant 12-0 lead on Brennan's 6-yard pass to Alfred Adarkwah.

"I think they wanted to go to Adarwah there and he hurt us," Leominster head coach Dave Palazzi said of Doherty's fast start. "It was a great game plan on their part and it worked for them."

Doherty held a 19-10 lead at halftime, despite not having a single target at Boston College commit receiver Isaac Yiadom.

Yiadom would play a greater role for the Highlanders in the second half, but the Blue Devils simply ran away.

To start the second half, Doherty remained aggressive, with head coach Sean Mulcahy rolling the dice, calling for an onside kick. The play worked, with Brennan chasing the bounding ball and falling on it for a successful recovery.

However, the Highlanders' ensuing drive stalled after some penalty trouble. Then, the Blue Devils went to work, engineering a methodical 9-play, 76-yard drive capped on Gurley's first of two touchdown runs.

After a successful two-point conversion, Leominster trailed 19-18.

The Blue Devils soon had the ball in their possession again after inside linebacker Jason Valera picked off a Brennan pass. Following a 53-yard return by Valera and tacking on an unsportsmanlike penalty at the play's end, Leominster set up shot first and goal from the 6.

"They had a little bit of momentum going, and we needed a big play," Palazzi said of Valera's pick. "We finally got one."

Two plays later, the Blue Devils had their first lead of the game, 24-19, on Matt Banchs' 2-yard touchdown plunge.

The momentum snowballed from there. After forcing Doherty three-and-out, Neil O'Connor (16 of 23, 287 yards) connected with Shane Crayton for the pair's second touchdown play of the game. The 63-yard pass on the roll out from O'Connor, hitting junior wideout on the backside post, and the following 2-point conversion provided Leominster with a 32-19 lead at 9:17 of the fourth.

Doherty would respond with Yiadom getting untracked on a 40-yard touchdown reception from Brennan (12 of 26, 217 yards), but the Blue Devils kept piling it on.

Gurley helped shut the door, knocking in his second rushing touchdown of the game before picking off a pass on Doherty's next possession.

Blue Devils backup quarterback Nick Xarras capped scoring with a 1-yard touchdown run out of their goal-line double wing set.

"It was a team win in every aspect of the game," Palazzi said. "We did a great job coming back from the onslaught at the beginning."

Two-way player: O'Connor continued his campaign for this year's Mr. Football award with another impressive showing.

On offense, in addition to his 287 passing yards, O'Connor ran for 72 yards on six carries. Twenty-nine of those yards came on one awe-inspiring fourth-quarter carry on which O'Connor broke four tackles before being wrestled down by a pair of Highlanders defenders at the Doherty 13. The run helped set up Leominster's second to last score, providing the Blue Devils with a two-possession lead.

Palazzi also lauded O'Connor's play at safety, helping to neutralize Doherty's passing attack in the second half.

"He's playing against a lot of these great athletes and he's a competitor out there," Palazzi said of O'Connor. "He threw the ball well, he ran the ball well and he played tremendous defense. [He was] going a hundred miles per hour on every play."
August, 30, 2013
8/30/13
11:46
PM ET
By
Joe Parello
| ESPNBoston.com
Some of the best talent in Central Mass was on the field at Foley Stadium in Worcester Thursday, as No. 22 Doherty hosted No. 11 St. John's (Shrewsbury) for a scrimmage.

Each team's varsity starters scored a pair of touchdowns, and the both defenses showed flashes that they may be forces in 2013.

Some notes and observations from Thursday's scrimmage:

Doherty's Dynamic Duo: The Highlanders will have to replace star tight end/linebacker Noah Robinson and, at least on the offensive end, they seem to have found their answer. Alfred Adarkwah is listed as a wide receiver, but the 6-foot-4 senior lined up at tight end frequently, creating mismatches against the St. John's linebackers. On Doherty's first drive of the game, Adarkwah got just behind the linebackers and split the safeties on an out-up-and in, then broke a tackle on his way to a 30 yard score.

Isaac Yiadom, a do-it-all athlete and ESPN Boston Preseason All-State selection, lived up to his star billing. The versatile senior made a fantastic catch on a wheel route up the left sideline for 30 yards, displaying great body control and concentration on a ball that was slightly underthrown. Yiadom also scored Doherty's other varsity touchdown, breaking contain on a receiver sweep, then cutting back against the grain for a 35-yard touchdown run.

Defenses clearly fear Yiadom, and the emergence of Adarkwah at both receiver and tight end should help ease the loss of Robinson. The two were particularly effective when lined up on the same side of the formation, with quarterback Luke Brennan rolling their way.

"They both have strengths," Doherty coach Sean Mulcahy said. "Isaac is obviously a dual-threat as a runner and receiver, and Alfred is a really tough matchup for anyone that's not really tall. We have a quarterback that can get them both the ball, and as we go we'll figure out, team-to-team, how we can use them best."

Pioneer Defense Continues to Improve: They're not there yet. At least, not according to St. John's coach John Andreoli, but the Pioneer defense does look significantly better than last year's group that surrendered nearly 30 points a game. After giving up a quick score to the Highlanders, St. John's tightened things up on the defensive line, thanks largely to sophomore nose tackle Josh Angel. The young tackle is still a work in progress according to his coach, but he sure is hard to move at the point of attack.

A week after facing Brockton's power running game, the Pioneers were given the challenge of adjusting to Doherty's spread formations. Andreoli gave his defense passing marks on that adjustment.

"Early in the game we had three third down situations where we just lost contain," Andreoli said. "That's just about us being disciplined, and we did a better job of that after the first drive. On the other hand, we did a real good job against the run, especially against the inside run game.

But I was encouraged about the first two weeks here, after facing two totally different offenses and the way our defense has adjusted to what we've seen."

Smiley Shaking the Rust Off: Preseason All State quarterback Drew Smiley looked a little rusty in the Pioneers' scrimmage against Brockton last week, but he was back to running the St. John's "Blur Offense" efficiently Thursday. Smiley led the Pioneers on a quick 75-yard touchdown drive on his first series, connecting on three of three passes for 30 yards, and rushing for another five yards. The drive was capped by junior running back Shane Combs taking a read handoff for a 45-yard score off left tackle.

On the next St. John's drive, Smiley threw a perfect fade route for a 22-yard touchdown just over the outstretched arms of Adarkwah who was back playing safety. Smiley did fumble when he was sacked by three different Highlanders on his team's next drive, but it looked like he was trying to do too much when he just should've eaten the ball. Other than that one play, it was a pretty perfect day for Smiley.

"Overall we got enough snaps for Drew and he looked good," Andreoli said. "Next week we'll get him a little more, and we're hoping to get some guys back on that side of the ball next week, so we want to be at full strength and getting to game speed by the time we scrimmage New Bedford next Saturday."

Doherty's Young Talent: The star of the scrimmage after the starters left the field was easily Doherty's Ricky Webster. The younger brother of Doherty's 2012 leading rusher Abdulla Webster, the speedy sophomore scored two touchdowns in the second half of the scrimmage. The first was an uneventful five-yard dive, but the second was a 75-yard highlight reel run where Webster got the corner, broke a tackle, then outran everybody down the left sideline. He also looked good in coverage as a corner on defense. No matter what he was doing, Webster just looked fast.

Mulcahy knows that Webster is a great athlete, but he wants him to become a great football player.

"He's gonna be a very good player, but he needs to get to practice," Mulcahy said. "He's very talented. He's good enough, talent-wise, to probably get in the mix for some carries this year. But we've got to get him here every day getting better."

Jones and Brennan Leave With Minor Injuries: On the injury front, both teams played without key players in the second quarter, but both should be back after the long weekend. St. John's junior receiver/safety Davon Jones didn't reenter the game after the first quarter ended, and Doherty quarterback Luke Brennan sat out the second quarter as well. Both injuries are considered minor and both coaches feel they will have their stars back after Labor Day in preparation for the start of the season.

Before Brennan went out, he delivered several memorable plays, including a Ben Roethlisberger-like scramble were he stepped up into the pocket, pounced back off a would-be tackler, turned around and scrambled to his right before flinging it 30 yards for a first down. He also delivered a big hit while running down the sideline on a busted play during the scrimmage's first drive, lowering the boom on a St. John's linebacker that was probably expecting him to step out of bounds.

Jones was his usual versatile self, splitting time between receiver and running back on offense. He got around five touches and broke two runs for first downs. On defense, he nearly recorded the scrimmages only interception as he sat deep in coverage, and baited Brennan into throwing the post to Yiadom. Jones broke hard on the ball, undercutting the route perfectly, but just couldn't hold onto it.
August, 22, 2013
8/22/13
8:35
PM ET
By
Brendan Hall
| ESPNBoston.com
Sean Mulcahy still clearly remembers the first time he knew he had something special with Isaac Yiadom.

Back then, in 2011, he was a wiry 6-foot, 147 pounds, freshly transplanted from Alexandria, Va., where he quickly moved into the starting secondary as a freshman at Robert E. Lee High. Raw, skinny, but blessed with a solitary blend of speed and leaping ability, Yiadom was placed at free safety for the Highlanders' first preseason scrimmage, Westborough.

On one of the first plays from scrimmage, the Rangers called a toss play to the alley, and Yiadom -- lined up 10 yards off the ball in a "man free" look, in the middle of the field -- came sprinting across the field, wrapping up the wingback cleanly in the space between the hash mark and numbers, before he could turn the corner.

"I was like 'Holy Cow'," Mulcahy recalled. "Those kinds of things you can't coach. What would have taken a normal kid, maybe he gives up three yards [on the play], Isaac made the play and they lost three yards. He's a great open-field tackler. Literally, if we needed him to play at linebacker, he'd be more suited for us to be successful at middle linebacker. But we've gotta protect him too."

Two years, two inches and 30 pounds later, Yiadom is one of the fastest-rising commodities in Massachusetts, becoming the first of seven Bay State prospects to pledge to Boston College's 2014 recruiting class, in late March, and building buzz ever since. Last season, he had 48 touches for 972 yards of offense, which included 22 carries; with his signature running play, an end-around, he averaged nearly 13 yards a carry.

Blessed with 4.5 speed and a 37-inch vertical leap, Yiadom also made six interceptions and 60 tackles as a strong safety. He will likely fit into a cornerback role at BC, with hopes that his long arms can provide some stiff coverage. During outdoor track and field season, Yiadom is among the state's best in the 400-meter dash (49.99 seconds) and triple jump (46-foot-6). Scouts Inc. ranks Yiadom as the No. 4 overall prospect in Massachusetts, higher than highly-touted Division 1 prospects such as Everett defensive back Lubern Figaro (12 offers), Natick quarterback Troy Flutie (BC) and Tabor Academy athlete Miles Wright (undecided).

Of course, he benefited from the impact last year of two-way star Noah Robinson, who became a matchup problem at tight end, as well as a strong stable of running backs and the terrific arm of returning quarterback Luke Brennan, who committed to Franklin Pierce University for baseball earlier this month. Yiadom began to see more physical, bracketed coverage towards the end of last season, but now he'll expect full-on scheming against him as the Highlanders' top option.

That suits him just fine. After all, the Highlanders are expecting big things this year out of receivers Alfred Adarkwah and Shawn Jackson.

"Towards the end of the season they were beating me up a little harder," Yiadom said. "But [physical play] kind of excites me at the same time. I like it, too, because it opens new ways for Luke to find Alfred or Shawn."

Which brings us to one of the more intriguing developments of the offseason. In passing leagues this summer, in an effort to stress defenses, the Highlanders toyed with Yiadom and the 6-foot-4, 170-pound Adarkwah on the same side of formations. With his big hands and long arms (6-foot-7 wingspan), Adarkwah can stretch a defense vertically and seal a defender off deep downfield. That could blend well with Yiadom's speed; running the two of "smash" and "snag" combo routes, along with bubble screens, the strategy had some success this summer.

"I definitely think it's gonna be his best season this year," Yiadom said. "Last year he did great, but we had Noah Robinson and great receivers [around him]. This is gonna be his best year because he can draw a lot of attention. He stretches for the ball. He just doesn't drop the ball -- even in passing league, he just doesn't drop it. He's hungry this year, it's gonna be a good year."

DOHERTY AT A GLANCE
Coach: Sean Mulcahy (23rd season, 100-143)
Last season: 9-3, lost in Div. 2 CMass Playoffs
Returning Starters: 10 (seven offense, three defense)
Key Returnees: Sr. WR/DB Isaac Yiadom, Sr. QB Luke Brennan, Sr. WR Alfred Adarkwah, Sr. RB/LB Pete Franco, Sr. OL/DL Jack Halloran, Sr. E/DB Shawn Jackson, Sr. E/DB Mitch Celaj, OL/DL Matt Smalls
Strengths: Skill players, passing game, secondary, athleticism.
Weaknesses: Experience at offensive and defensive lines, linebackers.
Overview: Defensively there might be growing pains at first for the Highlanders, who are looking to replace eight starters, mostly in the front seven and none more significant than linebacker Noah Robinson (125 tackles, five sacks). But with the BC-bound Yiadom at free safety leading the defensive backs, one has to wonder how much time that can buy his teammates in front of him on pass rushes -- his closing speed is without peer in the Central Mass. region, and he takes terrific angles on passes. Offensively, the questions are in the trenches, where there is experience to be replaced. But the Highlanders run a perimeter-oriented offensive scheme, which suits their deep stable of talented skill players. Expect Yiadom, who racked up nearly 1,000 yards of offense on just 48 carries last season, to be the focal point of defensive game plans, and see his fair share of bracket coverage. But one of the more interesting developments over the summer has been their usage of the 6-foot-4 Adarkwah, who could be in for a breakout season. With long arms that give him a wide catching radius and help him lock up defenders when blocking downfield, the Highlanders may experiment with him and Yiadom on the same side of formations, which could stretch the limits of pass defenses they face. Overall, the Highlanders have plenty of firepower on offense, directed by Brennan under center, but the defense will have to grow up quick if they are to replicate last year's success and fulfill some heady preseason expectations.
August, 21, 2013
8/21/13
6:03
PM ET
Brendan Hall
ESPN Boston High Schools editor
Best QB:
Cody Williams, Springfield Central
Best RB:
Johnathan Thomas, St. John's Prep
Best WR:
Brian Dunlap, Natick
Best TE:
Brendan Hill, Mansfield
Best OL:
Jon Baker, Millis/Hopedale
Best DL:
Jon Baker, Millis/Hopedale
Best LB:
C.J. Parvelus, Everett
Best DB:
Lubern Figaro, Everett
Best passing offense:
Natick
Best rushing offense:
St. John's Prep
Best offensive line:
St. John's Prep
Best defensive line:
Reading
Best linebackers:
Reading
Best secondary:
Everett
THREE TEAMS THAT WILL SURPRISE
Medway
Coach Dave McSweeney's affinity for power football isn't a secret, and this season he'll have two road-graders to run behind in Kevin Sheehan (6-4, 285) and Cam Smith (6-5, 290, Lafayette commit). If there's any exhibit for why we needed to change the postseason format, the most glaring sample might be the Mustangs, who went 19-3 from 2009-10 with no playoff berth. In this new playoff system, a gameplan like the Mustangs' is built for the long haul.
Lynn English
Perhaps this isn't a surprise pick so much as an affirmation. In a Division 2 North that is perceived to be wide open after heavy favorite Reading, the Bulldogs have enough talent to make a deep run. There has always been elite talent at the skill positions, but Preseason All-State selection Chris Tinkham gives them a presence in the trenches they've lacked the last few years, a rare "war daddy" type who overpowers the interior gaps. The biggest question will be where the Bulldogs put junior Jordan Javier, a 6-foot-4 transfer from Haverhill who is a matchup problem at his natural split end position but also throws one of the prettiest balls you'll see on the North Shore.
Quabbin
The Panthers struggled to a 4-7 tune last season in a weak league, but there is some promise. Quarterback Dylan Kierman is an underappreciated talent, who should get a boost from the return of slippery receiver Nick Thyden. The Panthers run a unique "Air Raid" scheme, and another year of experience with it could surprised teams in Division 4 Central.
THREE BREAKOUT ATHLETES TO WATCH
Lukas Denis, Jr. ATH, Everett
After an injury-shortened 2012 season in which he was the assumed successor to record-setting quarterback Jonathan DiBiaso, but barely saw the field, Denis is moving to the perimeter, where he will take a role similar to the hybrid slot-back role that Manny Asprilla made legendary in 2010. Defensively, he should serve as a terrific compliment in the secondary to highly-touted safety/cornerback Lubern Figaro, and has already begun to pick up some Division 1 FBS interest.
Alfred Adarkwah, Sr. WR, Doherty
Standing a long 6-foot-4 with a 6-foot-7 wingspan, Adarkwah has an unusually large catching radius for a high school receiver. This summer in passing leagues, the Highlanders toyed with Adarkwah and Boston College-bound receiver Isaac Yiadom on the same side of 2x2 formations. Head coach Sean Mulcahy has to be excited with the possibilities that opens up -- just imagine sending those two on a post-wheel combo route. Or better yet, imagine running them on a bubble screen, taking advantage of both Yiadom's elite speed and Adarkwah's great downfield blocking skills.
Taj-Amir Torres, Jr. ATH, Amherst
Already a household name in track and field, where he was named the state's Gatorade Player of the Year last spring as a sophomore after winning New Englands in the 100-meter dash, he's about to get a whole lot more attention. Boston College, UConn and UMass have already offered Torres, who made just 24 catches last season
but made some incredible feats of athleticism
. Hurricanes head coach David Thompson told us earlier this month
"[We're] trying to get the ball in his hands every opportunity we get"
, so expect bigger numbers in 2013.
WAY TOO EARLY STATE CHAMPION PICKS
Div. 1
- Everett
Div. 2
- Springfield Central
Div. 3
- Walpole
Div. 4
- Doherty
Div. 5
- Auburn
Div. 6
- Millis/Hopedale
***
Scott Barboza
ESPN Boston High Schools Editor
Best QB
- Drew Belcher - Sr. Reading
Best RB
- Johnny Thomas - Sr. St. John's Prep
Best WR
- Brian Dunlap - Jr. Natick
Best TE
- Rory Donovan - Sr. Cardinal Spellman
Best OL
- Jon Baker – Sr., Millis/Hopedale
Best DL
– Joe Gaziano – Jr., Xaverian
Best LB
– Eddie Motavu – Sr., Tewksbury
Best DB
- Lubern Figaro - Sr. Everett
Best passing offense
- Natick
Best rushing offense
- St. John's Prep
Best offensive line
– Bridgewater-Raynham
Best defensive line
- Reading
Best linebackers
- Leominster
Best secondary
- Everett
THREE SURPRISE TEAMS
St. Mary's (Lynn)
OK, so a team coming off an 11-2 season and a Super Bowl appearance might not exactly be a surprise, but with a couple of other Catholic Central teams garnering the buzz in the preseason, let's not forget the Spartans have another season with Jordan Collier (1,495 yards, 18 TD).
Hingham
We've heard them knocking, but can they come in? The Harbormen have whittled the gap in recent years, particularly against Patriot League nemesis Duxbury, but they're still waiting to break through. They could have an in-road in Division 3 Southwest. An early non-leaguer against Oliver Ames should be a bellweather for things to come, but the real proof will come Oct. 5, against those aforementioned Dragons.
Wakefield
The Warriors fell short of their goal of winning the Middlesex League's Freedom division last year, but should be in the mix in a wide open Division 3 Northwest race. We'll have a better impression after a visit from Lynn English in Week 2.
THREE BREAKTHROUGH ATHLETES
Joe Johnston, Sr. RB/S, King Philip
Anybody who saw Johnston's hard-nosed 157-yard, 2-touchdown performance against North Attleborough last year knows Johnston's style. He's a burden for would-be tacklers inside the box, and once he kicks it outside, he's also very hard to catch.
Grant Kramer, Sr. OT, Duxbury
The younger brother of Boston College tackle Aaron Kramer, Grant is now ready to assume the role as the next great lineman on the Dragons' line (and there have been some very good ones in recent memory). He currently holds offers from Coastal Carolina and Villanova but has also expressed interest in attending West Point.
Connor Moriarty, Sr. RB, Walpole
When Rebels starter Mike Rando went out with an ankle injury near the midway point of the regular season last year, it was Moriarty who carried the load down the stretch. Expect even bigger numbers this year.
WAY TOO EARLY CHAMPIONSHIP PREDICTIONS:
D1
– St. John's Prep
D2
– Springfield Central
D3
– Walpole
D4
– Doherty
D5
– Auburn
D6
– Millis/Hopedale
***
Josh Perry
ESPN Boston correspondent
Best QB
- Drew Belcher, Reading
Best RB
- Jonathan Thomas, St. John's Prep
Best WR
– Brian Dunlap, Natick
Best TE
– Brendan Hill, Mansfield
Best OL
– Jon Baker, Millis-Hopedale
Best DL
– Andrew Bourque, Reading
Best LB
– Kevin Bletzer, Catholic Memorial
Best DB
– Lubern Figaro, Everett
Best passing offense
- Natick
Best rushing offense
– St. John's Prep
Best offensive line
– St. John's Prep
Best defensive line
- Reading
Best linebackers
– Catholic Memorial
Best secondary
- Everett
THREE TEAMS THAT WILL SURPRISE:
Attleboro
A new coaching staff, the energy of a new field complex, and a strong crop of returning seniors could make the Bombardiers the surprise team of the Hockomock League. Attleboro has always been a sleeping giant and the program continues to find solid athletes, it's now up to the new staff to build a system that fits the talent on the roster. With a couple of league rivals dealing with injuries and suspensions, Attleboro could sneak up on people.
Barnstable
Everyone assumes that there will be a significant drop off for the Red Raiders due to a big graduating class, but there is still potential to be a solid team in D2 and in the OCL. This may not be a another season with Barnstable holding the top spot in the poll, but it shouldn't be written off either.
Stoughton
The Knights are expected to finish behind Oliver Ames in the Davenport, but don't be surprised if they pull an upset or two and give the Tigers a run at the title. Watch out for running back Malachi Baugh, who will be getting the majority of the carries this season and is a beast to try and bring down.
THREE BREAKTHROUGH ATHLETES TO WATCH
Luke Morrison, Sr. TE/DE, Attleboro
Attleboro's giant tight end/defensive end is a monster match-up on both sides of the ball and could be a real threat as Tim Walsh's favorite target in the Bombardiers passing attack.
Ryan Charter, Sr. QB, Needham
Mike Panepinto has deservedly drawn praise as the star man on the Needham offense, but the senior quarterback, who has been under center for 1-1/2 seasons already, will have high expectations as the Rockets try to get back on top in the Bay State.
Kyle Wisnieski, Sr. QB, Mansfield
With the graduation of running backs Robbie Rapoza and Kevin Makie and the continued injury problems for wide receiver Michael Hershman the key cog for the Hornets offense will be its senior quarterback. Wisnieski's ability to spread the ball around and pick the right options out of a still talented receiving corps that includes Brendan Hill is going to be the key for Mansfield's run at a Hockomock title.
WAY TOO EARLY STATE CHAMPION PICKS:
Div. 1
– St. John's Prep
Div. 2
- Nashoba
Div. 3
– Bishop Feehan
Div. 4
- Doherty
Div. 5
- Auburn
Div. 6
– Millis-Hopedale
***
Ryan Kilian
Founder and Editor-in-Chief, Massachusetts Prep Stars
Best QB
- Drew Belcher, Reading
Best RB
- Johnathan Thomas, St. John's Prep
Best WR
- Brian Dunlap, Natick
Best TE
- Rory Donovan, Cardinal Spellman
Best OL
- Jon Baker, Millis/Hopedale
Best DL
- Alex Quintero, Lowell
Best LB
- C.J. Parvelus, Defense
Best DB
- Lubern Figaro, Everett
Best passing offense
- St. John's (Shrewsbury)
Best rushing offense
- St. John's Prep
Best offensive line
- St. John's Prep
Best defensive line
- Reading
Best linebackers
- Duxbury
Best secondary
- Everett
THREE TEAMS THAT WILL SURPRISE
Bedford
While Wayland and Concord-Casrlisle have earned the DCL Small Championship the past few years do not sleep on Bedford in 2013. The Bucs play one of the toughest schedules in Division 4 and the return All-DCL running back Olan Abner.
Chelmsford
While Lowell, Central and Andover are getting most of the early press in the MVC Large, the Chelmsford Lions return one of the State's top running backs in Jeff D'Auria, a seasoned young quarterback in Jack Campsmith and a nice nucleus of tough experienced defenders.
Archbishop Williams
If Archies can find early offensive balance to take some of the work load off the shoulders of star senior back Kylan Philbert-Richardson, they could make some noise in the D5 playoff hunt.
THREE BREAKOUT ATHLETES TO WATCH
Ian Kessel, Soph. RB, Haverhill
The St. John's Prep transfer saw late game carries last season as a freshman for Prep's Super Bowl Champion squad. The speedy halfback is now back home in the MVC Small, and with the graduation of work horse, All-State RB Chance Brady (Tufts), there should be plenty carries to go around.
Devin Lekan, Sr. DE/TE, Chelmsford
D'Auria and Campsmith return to lead the offense for Chelmsford's but it is the Lion defense could be the story if they stay healthy. The Lions feature the 2nd team all-MVC performer was the most impressive player in the games I saw last season.
Nick Orekoya, Jr. DB/RB Billerica
Orekoya saw a lot of playing time as a two-way starter for Billerica last season. With another year under his belt Orekoya should thrive in coach Rich McKenna's high octane offense.
WAY TOO EARLY STATE CHAMPION PICKS
Div. 1
- Everett
Div. 2
- Reading
Div. 3
- Tewksbury
Div. 4
- Dennis-Yarmouth
Div. 5
- Auburn
Div. 6
- Boston Cathedral
***
John Botelho
Editor-in-Chief, South Shore Sports Journal
Best QB
- Troy Flutie, Natick
Best RB
- Dylan Oxsen, Plymouth South
Best WR
- Brian Dunlap, Natick
Best TE
- Rory Donovan, Cardinal Spellman
Best OL
- Jon Baker, Millis/Hopedale
Best DL
- Steve Manning, Abington
Best LB
- Kervin Jean-Claude, Brockton
Best DB
- Lubern Figaro, Everett
Best passing offense
- Natick
Best rushing offense
- St. John's Prep
Best offensive line
- St. John's Prep
Best defensive line
- Auburn
Best linebackers
- Brockton
Best secondary
- Everett
THREE TEAMS THAT WILL SURPRISE
Brockton
They're ranked pretty high in any poll you look at because people have just come to accept the fact that Brockton generally reloads. They graduated 18 starters from last season's Super Bowl team, including quarterback Austin Roberts, who was one of the best in school history. Roberts, Micah Morel and Joe Previte are all playing ball at prep schools this year, and Anthony Davis has moved on to Div. 1 Central Connecticut. Still, the Boxers will very solid again. They have a number of athletes and playmakers, including returning do-it-all Aaron Leclair. Transfer Jamal Williams is going to compliment him well, and sophomore Kerry Raymond is physically imposing at 6-foot-1 and 205. Aaron Monteiro's 6-foot-5, 295-pound frame gives Brockton an anchor on the offensive line. They have plenty of guys ready to step forward on the other side of the ball as well, led by Kervin Jean-Claude, Justin Ahanon and Leclair.
Abington
The Green Wave went unbeaten in their march toward a Super Bowl crown last year, but saw a slew of stars graduate. QB Brandon Cawley, TE/DE Pat Dwyer, FB Jack Malafronte, RB Babila Fonkem, DB Mike Walsh, OL Tyler Perakslis and OL Matt Diver are just some of the elite players Abington graduated. These guys won't miss a beat though, as they have a ton of talent back. Matt Kilmain broke out for more than 400 yards on 27 carries in two postseason wins last year, and he might not even be the best player back this season. Abington returns its top three tacklers from a year ago and has most of their front seven back on defense. Jim Kelliher has one of the best coaching staffs going at this point, and these guys look like they're headed back to the playoffs. (For bold prediction purposes, I'm also going to go ahead and say I think they beat Duxbury on opening night, because that's how good I think this team can be).
Stoughton
The Black Knights missed the playoffs last year because of the wrong day for a let down game, taking a tough defeat to eventual Super Bowl champ Sharon. The Knights lost some very good players, but leading running back Malachi Baugh is back in the fold and they return four starting offensive lineman, so there's no reason to think the offense won't be up to par again. The Hockomock League has proven in recent years to be one of the toughest to win, but a second guaranteed playoff berth can only help a team like Stoughton.
THREE BREAKTHROUGH ATHLETES TO WATCH
Aaron Monteiro, Jr. OL, Brockton
Monteiro has something that can't be learned, or even worked toward. His 6-foot-5, 295-pound frame is one that will draw the interest of coaches at the next level. Coach Peter Colombo is very excited about plugging the junior into his offensive line, and it's not just because of the size. Monteiro worked during the off-season to get himself stronger and is primed to be one of the best lineman in the state. He plays basketball in the winter, something that has helped him develop quick and agile feet for a guy his size.
Sam Malafronte, Jr. LB, Abington
Started at linebacker a year ago as a sophomore for the Div. 4 Super Bowl champs, and finished second on the team in tackles. A very good athlete who is a work-out warrior, Malafronte will team with Matt Whelan to lead a solid corps in the middle of the field for the Green Wave.
James Shea, Sr. WR, East Bridgewater
The Vikings have benefited from having tremendous athletes in the backfield the last few years (think Casey DeAndrade, Tim O'Brien, Andrew Benson and Kevin Lynch), but in 2013 their most dangerous player will be splitting out wide. Shea can run with just about anyone -- he finished sixth in the 100-meter dash in the South Shore League last spring -- and is going to wreak havoc pulling in passes all year.
WAY TOO EARLY STATE CHAMPION PICKS
Div. 1
- Everett
Div. 2
- Natick
Div. 3
- Plymouth South
Div. 4
- Doherty
Div. 5
- Abington
Div. 6
- Millis/Hopedale