Boston High School:

Sean Murphy
March, 25, 2013
3/25/13
10:59
AM ET
Flanked by a swarm of reporters, Sean Murphy's eyes darted about as he searched for the words to say. The Burlington senior forward was never the center of attention during his high school career, so he didn't have much experience in such a setting. He scored two goals at the TD Garden last week as the Red Devils' repeated as Division 1 state champions. It was his first time playing at the Garden, having watched last year's final unfold from the perspective of a fan. This was the first year Murphy made Burlington's varsity hockey squad.
As Murphy responded to questions, teammates and members of the Red Devils' coaching staff ribbed him. Their good-natured jabs caused Murphy periodically to break down and smile while he tried to maintain focus on the interview. They all knew the circumstances surrounding Murphy's accomplishment. He'd done from off the team outright to hero.
During freshman year, Burlington didn't host a freshman team. Murphy failed to make the junior varsity squad, so he went a year without playing for his high school. In sophomore year, Murphy earned a spot on the J.V. team, but it was the Red Devils' lower team (the J.V. had been split into two teams). The next year, he moved up to the higher J.V. team, as many of his classmates won their first state crown. Finally, as a senior, Murphy made the varsity team.
He only scored one goal during the regular season, but Murphy broke out in the tournament, scoring five goals in the postseason, including two in the championship game.
When Murphy attracted the attention in the postgame following the Red Devils' 4-2 victory over Marshfield on Sunday, Burlington head coach Bob Conceison watched a few paces away. He beamed and was eager to tell of Murphy's story of stick-to-itiveness.
"That's the kind of story that makes high school hockey great," Conceison said.
A SORT OF CHANGING OF THE GUARD
As Malden Catholic won its third straight Super 8 championship, it would seem as though the Lancers simply picked up where they left off. But anybody who watched the defending champions' season unfold would tell you this most recent run was anything but a sure thing.
In many years, this year's MC model was uncharacteristic from the previous. Yes, the Lancers still had more top-end talent than anyone, with three Division 1 college recruits (and counting). But this was in broad strokes a young team and, more so, one that lacked experience in a Super 8 environment. Building on the contributions of talented senior leaders (Mike Vecchione in 2011 and Brendan Collier in '12) in the last two years, the Lancers had to learn to do it on their own this year.
Helping to bridge the gap was senior captain Mike Iovanna, one of a handful of seniors on MC's roster this year. Iovanna is self-described as someone who leads by example. The soft-spoken UMass commit has been a key cog in the Lancers' run all along, but took on a greater role this year, inheriting the "C" on his sweater.
"You know what the expectations are," Iovanna said of taking on the role of captain. "Knowing what Mike [Vecchione] and Brendan [Collier] meant in the room, I was able to learn from them.
"But I also know that I'm a different person from them. I'm a pretty quiet guy, but I knew I could set an example for the younger players as they had done for me."
Iovanna combined with junior left wing Tyler Sifferlen and sophomore center Ara Nazarian to tally nearly half (113) of MC's points on the season (245) on its top line. Aside from creating the Lancers' scoring punch, Iovanna also contributed intangibles on MC's top penalty killing forward unit beside Nazarian — who changed the face of the tournament with his four short-handed goals.
But aside from the first line, the Lancers relied on a new wave for contributions.
"They have their own identity, but it's a new core," Lancers head coach John McLean said. "It's young, very talented players, with [Austin] Goldstein, [Matt] Filipe, [Jake] Witkowski and [Will] Lawrence on D, I thought John [McLean III] played well."
Nothing was handed to this MC group; it was earned. Sitting a 5-6-3 as the calendar was about to flip to February, the Lancers had to learn on the fly.
"Right around Central Catholic, that was a big win for us and the kid's became a team," McLean said. "We went out to Springfield and, for whatever reason, Springfield always worked for us. We went on a roll.
Of course, none of that reflects the emotional component that followed MC hockey this year. Former head coach and athletic director Chris Serino succumbed after a long fight with cancer shortly before the season began.
His imprint remained in MC's three-peat.
"It's still Chris's team a little bit," McLean said.
COMINGS AND GOINGS
Here's a look at some recent updates in where some of the state's top players are headed next year:
One of our favorite players to watch during the last couple of years was Burlington forward C.J. Grinnell. Grinnell led the Red Devils again in scoring (13-19-32) and is considering prep and junior options for next year, with Connecticut's Canterbury School as a leading candidate. Just a thought that some college coach out there is going to get one heck of a player in a couple years.
Springfield Cathedral wasn't able to get over the MC hump in the Super 8, but will more than likely have several of its graduating players skating on past this year. First-line winger Dominic Blad is heading to South Kent while defenseman Matt Foley is weighing options between Phillips Exeter, Choate Rosemary Hall and Berkshire School, along with college choices for the following year. All-State-caliber defenseman Jack Williams and center Artie Potter are also exploring options for next year.
The Woburn girls' hockey program had perhaps the greatest collection of talent in the state this year. Case and point were made last week as two of the Tanners' top skaters announced their college plans. Forward Kayla Smith gave her commitment to Salve Regina while defenseman Cassandra Connolly will be headed to the University of New England.
MR. AND MISS HOCKEY AWARD FINALISTS
We'll be handing out our awards Monday when we name our Mr. and Miss Hockey Award winners, as the best players in MIAA hockey this year. Here's a look at our four finalists for the honors, in alphabetical order:
Mr. Hockey:
Liam Coughlin, Sr. C, Catholic Memorial: The rangy pivot helped lift the Knights to the Super 8 semifinals, leading the team with 28 goals and 20 assists for 48 points.
Peter Cronin, Sr., G BC High: Undoubtedly, the state's best goaltender for two years running. The three-year starter posted a 94.6 save percentage along with seven shutouts this year.
Ara Nazarian, Soph. C, Malden Catholic: Led the Lancers in scoring (26-20-46) during the regular season in addition to leading all players in Super 8 scoring, while tallying an unheard of four short-handed goals for the three-time defending champions.
Brian Pinho, Sr. C, St. John's Prep: A natural playmaker with vision, the Providence College commit led the Catholic Conference champions with 12-24-36 totals.
Miss Hockey:
Alison Butler, Sr. F, St. Mary's (Lynn): Among the leading scorers in the state (37-25-62), Butler saved her best for last, netting the game-winning goal in the state championship game.
Hannah Murphy, Sr. F, Duxbury: The Dragons captain capped her prolific career with the program's third straight state championship win, scoring 29 goals and adding 24 assists.
Shannon O'Neil, Sr. G, Austin Prep: Led all Division 1 starting goaltenders with a 1.08 GAA and eye-popping 96.8 save percentage to go along with 10 shutouts.
Kayla Smith, Sr. F, Woburn: Perhaps the most feared scorer in the state, Smith finished with 34-29-64 totals for the Tanners.
March, 18, 2013
3/18/13
2:08
AM ET
By
Roger Brown
| ESPNBoston.com


BOSTON – The biggest difference between Burlington High School and Marshfield in Sunday's Division I state championship game? A second-period stretch of hockey that lasted three minutes and 19 seconds.

Burlington scored three goals in that span, which turned a tie game into a three-goal advantage. It was too much for Marshfield to overcome, as the Red Devils went on to post a 4-2 victory and win the Division I title for the second consecutive season.

"That was definitely the difference," Marshfield coach Dan Connolly said. "We got away from the way we wanted to play. We were too aggressive on the forecheck. We made a couple bad pinches that led to odd-man rushes and they capitalized. Give credit to them. They forced us into that."

Senior forward Sean Murphy gave Burlington a 2-1 lead at 6:11 of the second, and then made it a 3-1 contest at 8:44. Senior J.P. Scola added a goal a 9:40 of the second that put the Red Devils up 4-1. Murphy's second goal came during a Burlington power play – one of two power-play goals the Red Devils scored in the game.

"I thought we were lucky to be 1-1 because I thought we were back on our heels and playing a little passive in the first period," Burlington coach Bob Conceison said. "We changed our tactics a little bit. We played a little bit more aggressively and started taking the body more. Then once we got that goal to make it 2-1, the other two seemed to come fast. That was the key to the game."

Burlington's Joe Berardi opened the scoring with a power-play goal in the first period and also collected two assists in the victory, which came in Burlington's fourth appearance in the Division I state final. The Red Devils completed their season with a 14-6-5 record.

Burlington, which had to replace seven seniors from last year's team, received a 27-save performance from senior goaltender Derek DeCastro.

"He's a great goaltender," Connolly said. "He didn't give us a lot of net to shoot at. He knows how to win big games. He proved that last year."

Marshfield hadn't allowed a power-play goal in the postseason until the championship game.

Senior forward Michael Carbone and junior defenseman Matt Burchill collected the Marshfield goals. Carbone's goal made it a 1-1 game in the first period, and Burchill made it 4-2 with 42 seconds left in the second.

The momentum created by Burchill's goal didn't seem to carry over to the final period, however.

"We played a gutsy third period," Conceison said. "We got in the passing lanes, blocked some shots. We did the little things you have to do to win a game like this."

Marshfield goaltender Connor Lemieux stopped 13 shots.

The Rams, who won the Division I title in 2011, finished with a 20-7-0 record. Severn players on this year's Marshfield team also skated for the Rams in 2011.

"It was a good hockey game," Connolly said. "They played a little bit smarter system-wise. Someone has to lose in a championship game, and tonight it was us. It's sad for the seniors."


March, 8, 2013
3/08/13
1:29
AM ET
By
Mike Abelson
| ESPNBoston.com


NORTH BILLERICA, Mass. – It wasn't easy; it was Middlesex League hockey.

After an early Melrose flurry, Burlington buckled down and defeated the Red Raiders, 3-0, Thursday night in a physical Division 1 North semifinal at Chelmsford Forum.

"Without question [Melrose] has always played us tough," Burlington coach Bob Conceison said. "We had a little trouble getting going, but once we were able to break the trap we did pretty well getting the puck in their zone. It was a character win."

Melrose (12-8-4) set the tempo early by peppering Derek DeCastro, but the senior turned aside everything that came his way and allowed the Red Devil attack to gain momentum. The Red Devils broke through late in the first period when J.P Scola put them on the board.

Scola, and his line mate C.J. Grinnell, seemed to be everywhere for Burlington (12-6-5) once the Red Devils started gaining momentum.

"It was really good playing out there," Scola said. "I knew somebody had to step it so I just stepped it up and played my game."

The second period mirrored the first in both pace and puck possession. Scola fed Grinnell with a phenomenal pass from behind the goal line that allowed Grinnell to easily slide the puck into the open goal.

Sean Murphy added an empty-net goal in the final minute to seal the deal.

"He got hurt last year here in the semis, and I think he was really determined tonight," Conceison said of Grinnell. "I think that really motivated him. He had an unbelievable game. He was the best fore-checker, back-checker. He was everywhere."

Melrose was able to press the action in short bursts, but DeCastro constantly found ways to keep the puck out of the net. The senior made 10 of his 21 saves in the third period.

"He's a rock back there,' Conceison said of Decastro. "I told him tonight was his game, and it certainly was his game. Good focus tonight, great concentration; he did a great job for us."

The defending Division 1 state champion Red Devils will face Winchester in the sectional title game Monday at the Tsongas Center.

RED RAIDERS PRIMED FOR FUTURE
With only four players graduating, the future looks bright for Melrose. After finishing the season on a 6-2-2 run, the Red Raiders made the playoffs for the first time in three seasons.

Melrose coach Vin Mirasolo said that his team has nothing to be ashamed of.

"These kids can hold their heads high because what they gave to Melrose high hockey is nothing short of historical," Mirasolo said. "It's fantastic. I thought we gave every bit of energy that we had. I think this will be a learning experience for the boys in the locker room and the program going forward."

PENALTY KILLIN' IT
From the beginning there was contact aplenty, and it was musical chairs in the penalty box.

Burlington's penalty kill stepped in a big way to keep the clean sheet, going 5-for-5 with the man-down. The kill of Adam Crowley's penalty late in the third period took the wind out of Melrose's sails.

"Our PK's been good all year but particularly in the tournament and we needed it tonight," Conceison said. "They score a lot of goals on the PP and it was a big part of a game that we were able to kill those penalties."
January, 13, 2013
1/13/13
12:00
AM ET
By
Shawn Myrick
| ESPNBoston.com


WILMINGTON, Mass. -- Wilmington boys' hockey coach Steve Scanlon has seen his team on the watch list for the Super 8 the last few years.

The coach has gained an appreciation of what it takes and has scheduled accordingly. If the Wildcats are to keep their tournament hopes alive its starts not just against out of conference squads, but with their battle for top position in the Middlesex Freedom division.

Host Wilmington proved an early season point as it bested Burlington, 3-1, in a clash of reigning Eastern Mass champs at Ristuccia Arena yesterday afternoon.

"We knew we had a good crew coming back so we wanted to challenge ourselves," Scanlon said. "You have to play those teams to get in. We know (Burlington) is well coach, they work hard and they have some skilled players."

Junior Austin O'Neal scored the game-winner for the Wildcats (8-1, 5-0) on a behind-the-net pass with 1:02 left in the second period. Looking to hit teammate freshman William Falter along the boards, O'Neal ricocheted the puck off a defender's skate and past the keeper for the 2-1 advantage.

"I was coming around the net and I went to throw it out to Billy and it went off the defensemen's skate (and) short side on the goalie," O'Neal said. "The goalie had no idea. You work hard and throw it to the front of the net anything can happen."

FAST STARTERS
Wilmington's starting line of left wing Cam Owens, right wing Jacob Rogers (both seniors), and junior center Brendan McDonough were a constant threat on the counter attack.

Owens and Rogers each assisted each other on a goal with both scores coming on a breakaway.

Rogers caught a 3-on-1 with McDonough and Owens at 4:06 remaining in the first period for the opening tally. The right winger worked the puck through their triangle formation toward McDonough and onto Owens, who slipped it in along the left post.

"Quick hand skills and all three are good skaters," Scanlon said. "When they grab a puck they just accelerate out of their zone (and) we do a lot of full ice stuff to work on that. Good things happen when you put the puck on net."

A near one-timer from Red Devils winger J.P. Scola to Liam Cronin (both seniors) opened a two-on-one open net opportunity for Owens and Rogers in the final seconds. Owens slipped the rubber in front of a Burlington defender and too Rogers who finished the 3-1 score with 41 seconds left.

GET HUNGRY RED DEVILS
Burlington scored its only tally on a deflected shot at the side face off circle from senior Sean Costa that went off teammate Sean Murphy to equalize at 1-1 with 2:46 left in the first period.

"We have got to do a better job getting into the 'hungry areas'," Burlington head coach Bob Conceison said, "getting those type of shots. We work on it all the time."

The Red Devils gained momentum earlier in the second period as they won the shots on target battle 10 to one. A slap shot by senior Shane Morgan slipped past the keeper and into crease for an open score by Scola at 4:53 into the period, but officials whistled the puck as frozen.

"We got our forecheck going," Conceison said. "We are a good skating team, but we have to find a way to get goals. We are a very young [and] inexperienced team so hopefully we are going to get better."

TOUGH BETWEEN THE POSTS
Wildcats' keeper Drew Foley has averaged one goal allowed per game this season. The junior goalie kept his pattern alive by knocking 29 shots away and allowing only one to slip in. Red Devils' senior goaltender Derek DeCastro also made 28 saves.

Wilmington will face defending Super 8 champ No. 5 Malden Catholic (3-2-3) on Monday night.
October, 12, 2012
10/12/12
2:49
AM ET
NO. 9 SPRINGFIELD CENTRAL (4-1) AT NO. 16 LONGMEADOW (4-1)

The Skinny: This battle between the two top teams in Western Mass. should be must-see material. Central snapped Longmeadow's 52-game league win streak last October in thrilling fashion, 21-20, but took one on the chin to the Lancers in the rematch, the Division 1 West Super Bowl at Gillette Stadium. Central will be without quarterback Cody Williams in this one, while 'Meadow has looked sharp with Frankie Elder moving back to his natural position of tailback.

Scott Barboza: Picking with tradition here. Longmeadow, 26-21.

Brendan Hall: Speed is the name of the game in this one, and the Eagles tout too much for Longmeadow to harness. But expect the Lancers to play ball control in this one. Central, 28-25.

NO. 1 BARNSTABLE (5-0) AT DARTMOUTH (2-3)

The Skinny: After an emotionally-charged upset of Everett on September 28, Barnstable suffered a hiccup last weekend, nearly falling upset to New Bedford before Tedaro France pulled them through. In a three-team Old Colony League, there can be no hiccups, and if the Red Raiders come out sloppy again, something tells us Dartmouth could throw a haymaker.

Barboza: I look for the Red Raider to get the vertical passing game going early and often. Barnstable, 31-17.

Hall: I'll never count out Dartmouth as long as Rick White is running the show over there. How does that sound? Barnstable, 21-14.

PINKERTON ACADEMY (N.H.) (5-1) AT NO. 8 BROCKTON (3-2)

The Skinny: We don't know what to think going into this one. Last season, the Boxers traveled north of the border and delivered a 21-14 win over heavily-favored Pinkerton, en route to a 5-6 season. This year, though, the Astros have a breakout campaign on their hands with junior running back Manny Latimore. It will also be interesting to see how the Boxers respond without Augie Roberts under center in this one, but Micah Morel has done an adequate job so far. Brockton has won seven of the last eight meetings headed into this one.

Barboza: Astros get thrown for a loop like George Jetson on the space treadmill. Brockton, 28-17.

Hall: I just can't get 2011's result out of my head, and that's not to be taken as a shot against the Astros' 2012 squad. It's just Brockton has had their number for some time, and always finds a way to win. Brockton, 17-10.

NO. 2 EVERETT (4-1) AT XAVERIAN (1-4)

The Skinny: One team (Everett) looked sloppy in a 51-30 win. The other (Xaverian) showed encouraging signs in a 20-16 loss. Something's got to give, and while picking Everett in this one sounds like a sure thing, one has to wonder if the Hawks are starting to turn the corner and figure this out at just the right time.

Barboza: BHall, duck and hide time? Xaverian, 34-31.

Hall: No, you may not have my mailing address. Xaverian, 13-10.

NO. 15 ST. JOHN'S OF SHREWSBURY (4-1) AT NO. 3 ST. JOHN'S PREP (4-1)

The Skinny: Few teams have been as strong on the ground so far as St. John's Prep, with its dynamic duo of senior Alex Moore and junior Jonathan Thomas, and the Eagles have begun to open the playbook the last few weeks. St. John's of Shrewsbury, on the other hand, is coming off a disappointing loss to its rival just a half-mile down Route 140, Shrewsbury High. But not just any loss -- a 51-45 shootout loss. Can the Pioneers rebound for an upset of Prep, or will they fall victim to a strong run game again?

Barboza: There will be running holes to be had. Prep, 45-41.

Hall: If you can run on this Shrewsbury squad, you can do a lot of things, and Prep can certainly move the ball on the ground. But the Pioneers will make this interesting with its hyper uptempo pace. Prep, 38-35.

SHARON (5-0) AT NO. 11 KING PHILIP (5-0)

The Skinny: What's more surprising: the fact that the Eagles are off to their first 5-0 start since 1998 or that they're 9-4 in their last 13 games dating back to last season? Either way you slice it, Sharon isn't to be trifled with anymore. On the other hand, KP's fast start isn't a surprise, but we haven't really seen what the Warriors are capable of as they're just getting started against their Hockomock League schedule. This should be a good measuring stick for both squads.

Barboza: Either way, somebody loses. How about that for a hot sports take? KP, 20-7.

Hall: Warriors will win out in this one, but how does the old Pink Floyd axiom go? Can't have any pudding if you don't eat your meat. KP, 28-10.

NO. 17 BRIDGEWATER-RAYNHAM (3-2) AT LA SALLE ACADEMY, R.I. (4-1)

The Skinny: The Rams' lone loss of the season came against an MIAA foe (North Attleborough) in Week 1 and have been terrorizing the Ocean State ever since. An underrated Trojans' secondary will have to endure against the big arm of La Salle quarterback Anthony Francis. After getting run over to the tune of 228 yards by St. John's Prep's Alex Moore, B-R's defense will look to bounce back against another of New England's top backs (Josh Morris) with a big day up front from defensive ends Kevin Johnston and Dan Noviello.

Barboza: I look for a closer game in this year's meeting between the club, but the same result. B-R, 28-20.

Hall: After seeing the way North dominated La Salle, I'm confident in saying the Trojans can win the battle at the line of scrimmage. That will be the difference here. B-R, 20-7.

NORTH ATTLEBOROUGH (3-2) AT NO. 23 STOUGHTON (5-0)

The Skinny: The Red Rocketeers enter this week desperate to avoid falling to .500 and in need of some offensive spark. North has scrounged up just 13 points in back-to-back losses to Foxborough and Franklin and were shut out against the Warriors. Meanwhile, the Black Knights received a highlight offensive performance from Marcus Middleton in last week's emotional 20-0 blanking of Foxborough, a game dedicated to fallen teammate David Wade.

Barboza: I truly think there's something special brewing in Stoughton this year. Stoughton, 13-7.

Hall: Red Rocketeers really need a healthy Alex Jette, more than ever, to right this ship. Stoughton, 25-13.

NO. 12 NATICK (5-0) AT NO. 10 WEYMOUTH (5-0)

The Skinny: Our Game of the Week for Week 6 features two unbeaten squads vying for playoff spots in their respective divisions in the Bay State Conference. Weymouth's offense has evolved through the weeks, with multi-dimensional athlete David Harrison getting snaps under center. The Red Hawks enter Friday's action allowing an average of six points per game on defense, led by Mike Abbruzzese and Mike Dunlap. The Wildcat defense, led by senior captain Sean Murphy will hope to slow down a potent Natick passing attack, but running back Nick Lee is also a force.

Barboza: I think this game will mirror Weymouth's earlier battle with Needham, in terms of complexion. It'll be a different result. Natick, 34-28.

Hall: Wondering if we'll see a combined 700 yards of offense or more in this one. Weymouth, 40-34.
October, 11, 2012
10/11/12
7:25
PM ET
WEYMOUTH, Mass. -- ESPN Boston High School Editors Scott Barboza and Brendan Hall stopped by practice at Weymouth High yesterday afternoon to take the pulse of the No. 10 Wildcats (5-0) as they prepare for tomorrow night's crucial Bay State Conference crossover battle with No. 12 Natick (5-0).

Something's got to give in this one, but could we see some offensive fireworks?

(Video produced by Greg Story)


August, 25, 2012
8/25/12
1:24
AM ET
By
Tom Layman
| ESPNBoston.com
WEYMOUTH, Mass. -- Kevin Mackin was in a very similar position a year ago.

Weymouth had questions at the quarterback position last year and Cam McLevedge helped answer those very, very quickly. McLevedge, who was in his first year as the varsity starting quarterback, turned in an unforgettable senior season with 41 passing touchdowns and eight more on the ground as Weymouth scored 38.1 points per game and just missed out on a playoff spot due to an early season loss to Needham.

This year, Mackin has similar questions with first-year starting varsity quarterback Jack Lehan. Lehan has spent the last two years as the starter on the junior varsity team, and now he gets his chance to show that the job is his and his alone as a first-time varsity player in his senior year.

"That's a big piece of the offense," Mackin said. "We've got a couple of guys there that I think can do the job. Obviously it comes with experience. Cam needed to get there and he did. These guys are going to need to get there this year."

Lehan showed good command of the huddle in getting his weapons into the right places in the Wildcats' spread offense during practice, and he was even impressive throwing accurately on the run. Lehan has been in the Wildcats system for the past three years and has learned by observing.

"They've been behind me my last three years," Lehan said of the coaching staff and his teammates." Cam helped me out last year in every practice. Now I have my chance this year.

"I learned what to look with all of the routes and all the fakes and all that. Watching Cam, he was a great example."

The Wildcats are just one of the teams in Eastern Mass. looking to replace an impressive starting quarterback and skill position players. McLevedge, Khary Bailey-Smith and Sean Whouley helped spark one of the best offenses in Div. 1 and now Mackin is in need of a new crop of players to pick up the slack.

That's the biggest quandary for most coaches, as they try to keep a watchful eye on younger players in the pipeline while coaching a talented team on the field.

"We are always working on the depth charts and maneuvering guys to make sure we are set should something happen or obviously planning for the next season and seasons beyond that," said Mackin. "The younger guys get their shot on JV and certainly get their shot in a lot of (lopsided) fourth quarters of games that we are playing. I think it's a pride thing. They are willing to do the work, so we have a nice foundation and we are trying to build on that."

Ozzy Colarusso is going to be key again for the Wildcats all over the field. It seems like the senior has been around for more than his four years, and now he will be asked to be the leader of the team and help transition the offense at the same time.

"I think he will," Mackin said of Colarusso's call to leadership. "When teams focus too much on him some of those younger guys are going to have an easier go of it. He's a very unselfish player. He's super-intense and he wants the ball. But he gets it."

"I've been around here for a while and I really do think I've got to have a big leadership role," added "Mr. Everything" Colarusso. "I mean it's my senior year and it's what I want. I want to have that leadership and that responsibility. I look at it at my team, so I hope it's going to be a good year."

WEYMOUTH AT A GLANCE
2011: 9-2 (9-2 Bay State Carey - Lost tiebreaker to Needham)
Head Coach: Kevin Mackin
Stengths: Speed, athleticism out of the backfield. Linebackers.
Weaknesses: Inexperience at some skill positions.
Key Returnees: Ozzy Colarusso, Sr., RB/DB, 6-0, 180lbs; Jack Lehan, Sr., QB, 5-10, 190lbs; Sean Murphy, Sr., G/OLB, 6-2, 190lbs; Tim Dennehey, Sr., C/DE, 5-10, 210lbs; Derrell Fernandez, Jr., RB/CB, 6-0, 200lbs; David Harrison WR/CB, Jr., 6-1, 190lbs; Jared Stokes, Sr., OT/DT, 6-3, 260lbs.

Outlook: The Wildcats had a stellar season, but were on the outside looking in when the playoff selections were made due to being on the wrong end of the tiebreaker with Needham. Mackin thinks that the defense, spearheaded by Sean Murphy, will be a little bit ahead of the offense, but there are enough weapons to get rolling quickly. Mackin's first test is to find a replacement for McLevedge and Bailey-Smith on offense. The duo was one of the most potent in the state last year, and first year quarterback Jack Lehan will have to pick up the offense quick. Ozzie Colarusso is back and expect him to pick up even more of the slack all over the field. The Bay State Conference Carey looks to be another two-horse race between Needham and Weymouth, and one might think that matchup could be for the playoffs.
December, 15, 2011
12/15/11
12:31
AM ET
WEYMOUTH, Mass. -- It was typical of an early season game: missed opportunities, room for improvement, et al.
As No. 18 Weymouth and Natick got the Bay State Conference season underway with a 4-4 tie at Connell Rink, like most ties, there were plenty of things to make either side see the glass half full or empty.
For the Wildcats, coming off a Super 8 season, there's the matter of giving up the game-tying goal inside of a minute remaining in play. Red & Blue senior captain Andrew Newis buried a one-timer off of Mike Pennett's feed to knot the score with 48 seconds to play.
[+] Enlarge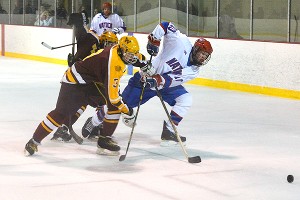 Scott Barboza/ESPNBoston.comWeymouth's Joe Flanagan battles Natick's Andrew Watkins for the puck during the first period Wednesday night at Connell Rink. The teams skated to a 4-4 tie.
In Natick's perspective, there are the three power-play goals scored that would make any coach happy. But there were also three goals surrendered on turnovers committed either in the neutral zone or in the defensive end, including Sean Murphy's short-handed goal that gave the Wildcats a 3-2 lead in the second.
It all went to show that there was a long road ahead for both sides.
"We learn from it because you saw that you make a couple of bad decisions and the puck ends up in the back of the net," Weymouth head coach Matt Cataldo said.
GETTING BACK TO BUSINESS
For a young Weymouth squad, which lost (and not limited to) its top offensive line, top defensive pairing and starting goaltender, the early season will be a particular test.
The Wildcats received solid contributions from some of their key returnees, including Joe Nardone (1 A) and Murphy (1 G, 1 A), along with a player in Shawn Jennette, who they are looking to fill a bigger role this season. Jennette scored two goals within six seconds of the second period to give Weymouth a 2-1 lead.
"It's great having people back from last year's team, but it's more important for those guys to realize that we're a different team," Cataldo said. "They can't be thinking that just because they were a part of that team last year that we're going to get those same results.
"Those guys know what it takes to get to that level, they know the level of competition that we're going to be playing, but they've got to be the leaders on the ice. They have to step it up, everybody does."
MAKING STRIDES
Natick head coach Karl Infanger talked postgame about how he's seen his team steadily improve during the last couple of seasons and now holds higher expectations for his group.
"I think we can surprise some people," Infanger said. "I like to think that we can challenge for the Herget title. We've been building for a couple years now and I think when we play a program like Weymouth, and what with Matt Cataldo's done, and show we can skate with them stride for stride, that's something to build on."
Infanger was pleased with the work of his top line of Tim Dunn (1 G, 2 A) Matt Kustra (2 A) and Newis (1 G).
He was also encouraged with the work of backup goaltender Jeff Rausch, who made 32 saves while making the start in place of starter Derek Kwok, who was sidelined with a high ankle injury.
Perhaps the most impressive player on the ice for either side was Natick defenseman Denis Nagle, who set up two of the Red & Blue tallies. The senior blue-liner is a smooth skater, who likes to jump up into the play and isn't afraid to push the pace of play.
May, 19, 2011
5/19/11
3:31
PM ET
By
Gary Hawkins
| ESPNBoston.com
A Westbrook High School team that has won baseball games at every level appears primed to cap it off this spring with its first Class A state championship in 60 years.

Many of this year's group of seniors reached the Little League World Series six years ago followed by two appearances in the Babe Ruth World Series, first for 13-year-olds and three years ago reaching the championship game for 15-year-olds.
"They're definitely used to winning," coach Mike Rutherford said.
The Blue Blazes are 9-0 so far this season with seven shutouts. Senior pitchers Scott Heath and Sean Murphy are a combined 7-09 and have yet to allow a run while Matt Weimer, another senior, is 2-0.
Heath, a left-hander, who will play for the University of Maine next year, has pitched a pair of one-hitters so far this season. His fastball is in the high 80's and he features a good slider.
"He may be the toughest kid I've ever coached," said Rutherford, who coached at Portland High for 12 years and won a state title. "If things don't go his way it doesn't bother him."
Heath inherited some of that toughness from his father Mike, a high school football player and wrestler, as did his freshman brother Kyle who is the team's catcher.
Scott is also an accomplished hitter and he chose Maine because coaches assured him he would be able to hit as well as pitch "I believe he's a bettor pitcher/outfielder than he is a pitcher in Division I," Rutherford said.
Murphy, who has verbally committed to attend St. John's University, missed all but a few innings of last season with a shoulder injury "Not having him last year hurt us," said Rutherford, who team lost in the Western Maine semifinals.
Before he was hurt, the 6-foot-5 right-hander was throwing in the high 80's with a good slider, but is now in the mid 80's as he tries to regain his arm strength. St. John's coaches plan to take a second look at him later this season.
April, 6, 2011
4/06/11
10:17
PM ET
By
Gary Hawkins
| ESPNBoston.com
A snowstorm that dumped up to 12 inches of snow on many areas of the state last Friday set baseball teams back a week or 10 days, but indoor practices continue and many teams in southern Maine should be outside this weekend.

The season gets under way at the end of next week.
Here's a look at some of the top teams in all four classes:
CLASS A
Westbrook: The Blue Blazes return several players from the team that was upset by Biddeford in the Western Maine final last season. Many of the players on this year's team also played on a Little league World Series team five years ago. Among them is left-handed pitcher Scott Heath who will play at the University of Maine next season.
Sean Murphy, a 6-foot-5 right-hander, is also back and apparently over shoulder problems that limited his innings last season. He has verbally committed to play at St. John's next season.
Deering: The Rams return seven seniors from last year's playoff team, including center fielder Sam Balzano and pitcher Jamie Ross who was also the school's quarterback. The Rams, who last won a title in 2009, have won eight out of the last 12 state championships. Former University of Maine standout and minor leaguer Mark Sutton takes over as coach.
Bangor: The Rams went undefeated during the regular season last spring before being upset by Brewer in the East A semifinals. Despite key graduation losses they return a lot of pitching, led by lefties Joe Stanevicz (8-0, 2.21 ERA) and Curtis Worcester. Catcher Dylan Morris, who hit .475 last season, also returns. Bangor also features a number of players who played for the team that reached the Senior League World Series championship game last summer.