Boston High School:

Sean Nally
August, 14, 2011
8/14/11
9:28
PM ET
Here are the final pool play results and playoffs scores from the second and final day of the RBC High School Summer Challenge, at Coolidge Middle School in Reading.
[+] Enlarge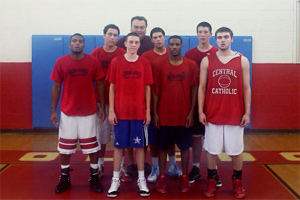 Brendan Hall/ESPNBoston.comCentral Catholic took home the RBC High School Summer Challenge championship.
Pool Play
Ashland 59, Austin Prep 42
Central Catholic 58, Acton-Boxborough 36
Quarterfinals
Byes: Central Catholic, North Andover
Manchester-Essex 73, Acton-Boxborough 70
St. John's Prep 60, Belmont 55
Semifinals
Central Catholic 100, Manchester-Essex 77
North Andover 70, St. John's Prep 63
Championship
Central Catholic 72, North Andover 49
TOURNAMENT MVP - LUIS PUELLO, CENTRAL CATHOLIC
ALL-TOURNAMENT TEAM
Doug Gemmell, Central Catholic
Tyler Nelson, Central Catholic
Nick Cambio, Central Catholic
Zack Karalis, North Andover
Isaiah Nelson, North Andover
Colby Smith, North Andover
Steve Haladyna, St. John's Prep
Freddy Shove, St. John's Prep
Owen Marchetti, St. John's Prep
Joe Flannery, Acton-Boxborough
Kevin LaFrancis, Acton-Boxborough
Taylor Ketchum, Manchester-Essex
Sean Nally, Manchester-Essex
Chris Bishop, Manchester-Essex
John Dillon, Belmont
Sam Musler, Belmont
Tim Juih, Ashland
Rodney Morton, Malden
February, 4, 2011
2/04/11
11:33
PM ET
By
Andy Smith
| ESPNBoston.com
WILMINGTON, Mass. -- Joe Mussachia had the ball at the top of the key and drove left towards the basket. What happened next? Manchester-Essex's 6-foot-6 offensive force either made a tough layup over the nearest defender, or he drew a foul and got to the free throw line. Sometimes, he did both.

That scene repeated itself almost every M-E possession in the second half of its 92-85 victory over No. 23 Wilmington (11-2). The Hornets improved 10-4 with the win.

When he wasn't taking the ball to the basket, his mere presence caused the Wilmington defense to collapse on him, creating open jump shots for teammates Sean Nally (22 points, 5-of-8 from three-point range) and Alex Porter (13 points).

"They were going to him every possession," Wilmington head coach Joseph Maiella said. "They put Nally and (Chris) Bishop in the corners, and said he's going to create. Our help guys were helping defend him and that creates opportunities in the corners for the shooters."

Mussachia was a pedestrian 4-of-10 from the field in the first half, but came back with a vengeance in the second, and ended with 31 points, including 9-of-12 from the free throw line.

Hornets head coach Duane Sigsbury deployed Mussachia in the paint in the first half, hoping to take advantage of the size mismatch he created against the smaller Wilmington defenders, but after only bringing down five total rebounds, he decided to put the ball in his hands in the second half and let him play away from the basket.

"Joe plays all five spots, so whatever our best is we'll do," he said. "We thought him bringing it up against their center was the best matchup. That let our shooters get on the perimeter. We were able to create with Joe with kick-outs and things like that."

John Parsons gave Mussachia the most trouble defensively, while giving up size. But when he fouled out with 2:23 left in the fourth, that yielded even more second-chance opportunities for Mussachia and others, and they turned most of them into points.

The whole game was a seesaw battle, until the Wildcats' shooters went cold in the final minute. Vinny Scifo (33 points), its hottest shooter for most of the night, could not find the bottom of the net when it was still a two-possession game, 90-85. However, having no timeouts with over a minute left and a shooter who had lost his touch, it would be tough for any team to win a close game like that.

"They defended him better in the fourth quarter," Maiella said. "Mussachia wasn't covering anybody, he was in the paint helping on our guys. He's long in the paint, so it got tough attacking the basket."

The largest lead M-E had was 13 points (66-53) with 2:45 left in the third quarter, and that was after it went on a 12-0 run in a minute and a half. Even still, Wilmington was able to call a timeout, rally back, and cut the score to 70-64 by the end of the quarter.

In the first half, Scifo put on quite the show for the Wildcats. He ended the first half 6-of-7 from the field and 2-of-4 on 3-pointers for an impressive 18 points.

"They have some great players, we knew it wasn't going to be easy, but I've got the best player in the Cape Ann League in Joe and I'm happy he's on my team," Sigsbury said.