Boston High School:

Sean Ragan
October, 11, 2014
Oct 11
8:14
PM ET
SHREWSBURY, Mass. –- Hard to believe it's been nearly three years since St. John's last won a football contest over neighboring rival Shrewsbury, and so this one had been circled on the Pioneers' calendar from the first day of training camp this summer.
And for senior running back Shane Combs, there was an extra jump in his step -– literally.
[+] Enlarge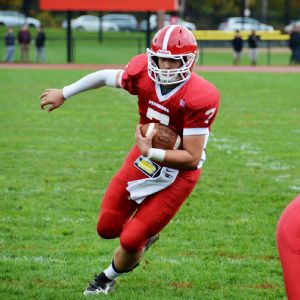 Brendan Hall/ESPNSt. John's QB Tim Cassidy (3 total TDs) turned in an admirable performance just hours after the burial of his great-grandfather.
The Notre Dame baseball commit didn't just juke, jive and plow his way to a 19-carry, 201-yard, three-touchdown performance in the Pioneers' 52-20 drubbing of the Colonials. He also discovered just what kind of leaping ability he has in his arsenal, too.
Combs had never hurdled anybody before in a game, and teammates say there wasn't anything the 6-foot-2, 205-pounder has done in practice to suggest he was capable of hurdling straight over defenders. Yet there he was on the first carry of the game, taking a pitch-out eight yards and taking even himself by surprise when he jumped straight over a Shrewsbury linebacker.
"They were ankle-biting a little bit," Combs said. "If you're gonna go low. . .The first time, I don't even know why I did it at all -– I was like, 'Oh God, that just happened'. And then after a while, they kept going low, so I just kept going over them I guess. I don't know how to explain it, just reaction I guess."
Combs did this five more times in the first half, including what ought to be one of the top highlight-reel plays of the season, taking a 22-yard screen pass from Tim Cassidy (7 of 15, 155 yards, 3 total TD) and hurdling one defender after another down the sideline before being pushed out at the Colonials seven. That would set up Cassidy's seven-yard plunge on the very next play that made it 21-7 Pioneers midway through the second quarter.
After that run, Combs recalled, "I came off the field and said, 'I've got to stop doing this, because someone's going to come in high and stick me in mid-air'."
"He's a pretty athletic kid," St. John's head coach John Andreoli said. "If you see him at the tailback spot, that's why when he gets the ball in the open field he's dangerous. He can run you over, he can jump over you, he can cut and go the other way. He's a guy you need to get the ball in his hands."
That they did, early and often. On the Pioneers' second offensive drive of the game, Combs took the first three carries, including a 32-yard toss capped with a hurdling of a defender to set up first and 10 at the Colonials' 18. The drive ended with a three-yard Cassidy keeper, following junior right guard Sean Ragan over the goal line for the 7-0 advantage.
"It's real easy when you can follow a 285-pound kid who's getting looked at by D1 schools," Cassidy laughed.
The Pioneers put another score on the ground, this one a 15-yard Combs dive, before the Colonials cut the lead in half just before the end of the first quarter. Quarterback Jack Campanale tossed up a fade to sophomore Brian Moura, who hauled it in and juked across a defensive back's face for a 61-yard completion that set up Anthony Laramee's two-yard scoring plunge two plays later.
Combs' final hurdle of the day made it 28-7 with under two minutes to go in the first half, taking a direct snap and leaping his way to a 51-yard scamper, before Jack Campanale threaded a jump ball to his brother Casey with time expired, getting his feet just inbounds near the back pylon for a 24-yard score.
St. John's dominated the second half, starting with an 80-yard strike from Combs to Davon Jones (5 catches, 194 yards, 2 TD), the Boston College commit wriggling himself free of several arm tackles to break downfield and set up first and goal at the Colonials' 7. Combs rumbled in one play later for the 35-14 advantage.
That was followed by two dazzling scores from Jones, a 30-yard inside zone and a 40-yard catch-and-run.
"Sometimes you can over-adjust, but we didn't want to do that," Andreoli said. "I thought we had a solid game plan. We knew they were gonna come out and try to throw a little on us in the second half, so we got a little less aggressive in some of our blitzes and played a little more man coverage to try to take away the quick throws. But overall, I thought it was a good defensive effort."
The 52 points scored by St. John's is the most since last November, when they snapped a losing skid to Leominster by winning a 52-42 track meet on the Blue Devils' home turf for the inaugural MIAA Division 2 Central Championship. After a slow start out of the gates -- highlighted by a 10-3 loss to Catholic Memorial back in Week 3 -- the Pioneers feel like they are coming into a groove, having now outscored the opposition 87-20 in the last eight quarters.
"[This was] hugely gratifying. We worked really hard this week," Combs said. "I think we had a completely new level of intensity in our preparation. We prepared for this one like we haven't prepared for a game all season."
Heavy hearts for Cassidy:
This week was an especially difficult one for Cassidy, whose great-grandfather, Frank Nosek, passed away on Tuesday at the age of 95 to natural causes. The funeral for Nosek was held this morning in his hometown of Clinton, and Cassidy came straight from there to Pioneer Field.
"It was a really nice funeral, my uncle did a really nice eulogy. It really motivated me today," Cassidy said.
Choking up ever so slightly as he recounted his week to a group of reporters, Cassidy fondly recalled his final visit with Novak, last Sunday, and the honor he felt on the field this afternoon.
"We walked in and he smiled. He couldn't say anything, but just the expression on his face meant so much to me," Cassidy said of the Sunday visit. "It was a pretty emotional week, between practice and having to come home and help my mom, who was pretty close with him, and my grandmother was having a really hard time. To be able to play today for him was the best thing possible."
Noting that this game had already been circled long ago, he added, "I did the best I could to make him proud."
July, 21, 2014
Jul 21
5:10
PM ET
St. John's of Shrewsbury rising junior lineman Sean Ragan received his first Division 1 FBS offer today, from the University of Miami (Fla.), offensive coordinator Chris Moriarty told ESPNBoston.com this afternoon.
The 6-foot-4, 270-pound Ragan started at offensive guard this season for the Pioneers, who went 9-4 with a No. 4 finish in ESPNBoston.com's final statewide poll after reaching the inaugural MIAA Division 2 State Championship. Behind Ragan, the Pioneers averaged 379 yards of offense and 34.2 points per game. He will also play some defensive line this fall.
Local FCS program Holy Cross was the first Division 1 college to extend an offer to Ragan,
back in April
. Ragan's father, John, played tight end at Boston College from 1987-90.
Renowned offensive line coach Art Kehoe extended the offer to Ragan, impressed with his film and his projectable frame, though it is unclear whether Ragan would fit at either guard or tackle.
The Hurricanes rarely come to the Bay State for prospects, but they have slowly begun to dabble more over the last few years.
Back in the summer of 2009, when Wakefield native Paul Gonnella was the program's director of player personnel, the Canes plucked burly tight end Andrew Tallman out of Boston College High, with plans to convert him to offensive tackle. The 6-foot-5, 275-pound Tallman, who ran sprint hurdles for BC High's track and field squad, had made just two varsity starts at the time of his commitment. He lasted one redshirt season at Miami before transferring to Richmond.
In March 2010, the Canes received a commitment from four-star defensive back Albert Louis-Jean of Brockton High, but he switched his pledge to Boston College nine months later, after the Canes fired then-head coach Randy Shannon. Miami also offered two-time All-State offensive tackle John Montelus in 2012. Montelus, one of the Northeast's top 2013 line prospects, signed with Notre Dame and redshirted last fall.
Ragan demonstrates some great punch, as seen in his highlight tape below:
April, 17, 2014
Apr 17
9:17
AM ET
St. John's of Shrewsbury sophomore offensive lineman Sean Ragan received his first Division 1 offer, from nearby Holy Cross, the Pioneers coaching staff told ESPNBoston.com this morning.

The 6-foot-4, 270-pound Ragan started at offensive guard this season for the Pioneers, who went 9-4 with a No. 4 finish in ESPNBoston.com's final statewide poll after reaching the inaugural MIAA Division 2 State Championship. He generally projects at either guard or tackle for the next level, and will also dabble in some defensive line this fall for the Pioneers.

Ragan's father, John, played tight end at Boston College from 1987-90.