Boston High School:

Sean Verrier
March, 6, 2014
Mar 6
1:39
AM ET
By
Mike Abelson
| ESPNBoston.com
BILLERICA, Mass. – For more than an hour, it was a staring contest between Reading and St. Mary's in the second Division 1 North semifinal at the Chelmsford Forum.

St. Mary's blinked first.

After 32:48 of scoreless hockey, Reading's Sean Verrier wriggled free in the slot and roof a point-blank shot into the top corner of the goal to put the Rockets ahead. Jake Barbera would add another goal with just over a minute left to ice Reading's 2-0 win.

"It feels great [with] a lot talk about them being the best," Verrier said. "Everyone saying we should have been knocked out in the first round. If we keep playing the way we do I say we'll keep going the way we're going."

After an even first period the Rockets took over. Reading outshot the Spartans 27-9 over the final 30 minutes. The Rocket defense forced St. Mary's to the outside and minimized chances. Ian Lapham anchored the Reading defense posting a 15-save shutout.

"[The defense] did for the most part keep things out side," Reading coach Mark Doherty said. "Ian was rock solid. I'm glad for him. He responded nicely tonight.

"I didn't think they had a ton of outstanding chances tonight, but he made it a lot more comforting. You could tell he was in a pretty good zone tonight."

The Spartans offense, which features five players with seven or more goals, was unable to sync up. As the game progressed, and especially after Reading took the lead, St. Mary's pressed hard and stressed themselves into making mistakes.

St. Mary's coach Mark Lee chalked the performance up to a young team not knowing how to step into the moment.

"I think the grips on the sticks got a little tighter and everyone was pressing too hard," Lee said. "That's not our normal flow. We go out and try to outwork the opponent. We just got away from our gameplan a bit. A lot of it was Reading; they're a well-coached team. We didn't have our A-game, but some of that had to do with Reading and some had to do with our inexperience. Doesn't take away from the great season we've had."

BAILEY'S LAST RIDE: With 2.4 seconds remaining, and the game's result secure, everyone on the St. Mary's looked down the ice towards the final faceoff of the season. Senior goaltender Bailey MacBurnie looked up at the clock. His gaze hung there until the horn's blare had faded and the handshake lines had formed. It was the end to a sterling career.

MacBurnie, who keyed St. Mary's run to an undefeated season and the two-seed in the 2012 Super 8 tournament returned from a year at Brewster Academy to anchor another deep tournament run for the Spartans.

"He came back this year and anchored our team," Lee said. "He kept us in every game. He's a vocal kid on and off the ice. He's meant the world to this team and the program this year."

MacBurnie finished the season with a 1.74 goals against average and a .925 save percentage.

Against the Rockets, he turned aside 31 shots.

"I definitely owe it to all these coaches," MacBurnie said. "They really made me into the player I am today, and I'll take that wherever I go.

"I'm definitely happy I came back. It's been just an amazing experience. I'm just happy that all these young guys got a taste of it; it makes them hungry."

The MacBurnie family though still has work to do for the Spartans. Bailey's younger brother Shawn, a junior, led St Mary's with 29 points this season.

"He's really transformed into a really great player," Bailey said. "He's a golfer, but I think hockey's his new number one. I can't wait to see him next year."

REBUILT AND REVIVED: Before the start of the season many wrote Reading off as facing a rebuilding year. After racking up a pedestrian 7-7-2 record through the end of January the Rockets flipped the proverbial switch and are 8-1-0 since.

Doherty said his team found the metaphorical "it" and have rolled since.

"We're a group of guys that can bring a lot to the table, and we didn't realize that in the beginning," Barbera said. "As the year progressed we said we got a shot at this. We wanted to work at it, put in the time and effort at practice, and it's amazing how far we've come."

Reading has outscored its opponents 39-12 since finding its mojo in its last nine game and have a date with league rival Wilmington on Monday night for the right to play for a state championship.

Reading beat Wilmington, 6-3, in the first game of the season back on Dec. 14.

Since the turn of the century the D1 North final has featured at least one team from the Middlesex League. This year's will be the fourth time, and third year in a row, that it will be an all-Middlesex League final.

"The league continues to have success, success, success, and we still have a ton of detractors out there," Doherty said. "That's sort of a burr that's always in my side, and thank god we get to prove it again. I'm grateful to be in the finals against Wilmington. It's going to a tough game."
March, 1, 2014
Mar 1
10:48
PM ET
By
John McGuirk
| ESPNBoston.com
WOBURN, Mass. -- On more than one occasion Reading head coach Mark Doherty was breathing a sigh of relief. Even after several minutes had passed following his team's 5-3 comeback victory over Melrose in Saturday afternoon's Division 1 North quarterfinal at Ned O'Brien Rink, Doherty was still mopping his brow.

Down a goal after two periods, the Rockets were still in search of that elusive tying marker midway through the third. Then lightning struck quickly and often, and as a result, changed the entire complexion of this contest for good.

Senior forward Mike Thomson picked off an errant inside the Red Raiders zone and snapped a shot from the left circle past goaltender Tyler Brown at 7:25 to tie matters at 2 apiece. Roughly four minutes later, the comeback trail continued. James Donaghey, a senior, and junior Sean Verrier scored just nine seconds apart to put Reading ahead to stay.

"Melrose is a scary opponent," said Doherty. "They are big, physical and have a lot of athletes. It started to get a little tense on our bench after they went up 2-0 on us in the first period. I just told our kids to settle down because I knew we were just going to keep fighting. We knew we had enough talent but we just needed to keep fighting."

The fourth-seeded Rockets (14-8-2) advance to Wednesday's semifinal versus No. 1 St. Mary's of Lynn beginning at 7:10 p.m. from the Chelmsford Forum. No. 4 Melrose closes its season at 13-5-5.

After starting the game a bit on the flat side, the Red Raiders began to pick up the tempo midway through the opening period. By that time, Reading had already peppered Brown (15 saves) with five shots to Melrose's none. However, Brown was able to turn aside all and keep the game scoreless.

It didn't stay that way for long though. The Red Raiders started to generate some scoring opportunities once inside Reading's zone. Junior Brian McGlaughlin, on the power play, capitalized on his chance, lighting the lamp at 7:28 with a rebound goal. Then, only 30 seconds later, Melrose added to its margin with McGlaughlin again doing the honors. Standing in front of Rockets goalie Ian Lapham, the forward hurled a hard wrist shot between the senior's leg pads to send the Red Raiders into the first intermission on top 2-0.

In a contest filled with physicality up and down the ice, Reading finally sliced into the deficit at 1:49 of the middle frame. Thomson picked off a John Morreale pass just in front of the blue line and fired a point-blank laser past an unsuspecting Brown to make it 2-1.

"(Thomson) is one of the more-talented kids we've had here," Doherty said. "He's always had the ability but was sort of a late bloomer. He has tremendous talent. He is one of the best forwards in the state. Clearly his first goal in the second period got us back in this game."

That would be all the scoring in the period as Lapham (15 saves) came up with several key stops to deny Melrose a chance to pad its total.

Despite trailing by a goal, the Rockets knew they had the firepower to overtake the Red Raiders. But early in the third, they couldn't buy a goal as Brown continued to hold his ground. But Reading never backed down. Once Thomson converted his steal into a tying score, the opening of the flood gates soon followed.

Donaghey's goal, at 11:42, came off a rebound as the forward went low glove side. On the play, Melrose never picked up Donaghey, who was left unattended as he made the shot just in front of the crease. Looking stunned after watching their lead evaporate, Verrier grabbed a loose puck and was allowed to skate in alone on Brown before lining wrist shot under the catching glove at 11:51, putting the Rockets in front 4-2.

"Those two goals were huge obviously," Doherty said. "It changed the whole game."

The Red Raiders needed to regroup in a hurry to keep their playoff aspirations alive. They did just that as senior Eric Mercer, standing just inside his own blue line, blasted a shot through traffic past Lapham 5-hole bringing Melrose to within one at 12:53. But with time ticking down to under a minute and Brown pulled for the extra attacker, the Red Raiders could draw no further. Verrier added insult to injury by striking for an empty net goal with two seconds left.

"We just stuck together because we knew we could win this game," said Thomson. "We got that first goal and they just kept coming after that. We felt we were the better team and just went out there and played hard. With each goal we were getting more and more momentum and it kept going from there."
January, 12, 2014
Jan 12
1:22
AM ET
By
John McGuirk
| ESPNBoston.com
WOBURN, Mass. -- With time ticking down, Reading was in desperation mode.

The Rockets trailed Middlesex League (Liberty Division) rival Winchester by a goal and were doing everything humanly possible inside the offensive zone to deadlock this tilt. In the game of hockey, never underestimate the unexpected.

With less than two minutes remaining, Reading defenseman Mike Seibold gained control of the puck just inside the Sachems' blue line. The junior flung, what he anticipated as a pass, towards the trapezoid behind the Winchester net. Seibold's aim, however, turned out to be a little better than he first thought. The puck wound up knuckling towards Sachem goaltender James Offner, bouncing in front of the senior and deflecting off the shaft of his stick and into the back of the net at 13:03 of the third period giving Reading a 3-3 tie, Saturday night at Ned O'Brien Ice Rink.

"I was aiming to dump the puck around the boards and it sort of caught the blade of my stick and it bounced in front of their goalie and went in," said Seibold. "We had a flat second period so we wanted to redeem ourselves in the third. We wanted to hang in with them because we know they are a good team. We have a bunch of new kids on the team this year so we need to rely on each other than individuality here. We are starting to play more as a team this year."

The Rockets (6-2-1, 5-1), jumped out to a quick two goal lead before watching in vein as Sachems senior forward Brendan Greene notched a natural hat trick, with a goal in the first period and two more in the second, staking his team out to a 3-2 advantage. Two of his three markers came off the power play.

For most of the final frame, Winchester was playing a game of dump and chase in an effort of making Reading work the full-length of the ice in its attempts to nab the equalizer. For all but the final two minutes of the period, the strategy worked. However the Rockets are much to talented a bunch to hold off for an entire 15 minutes and it showed.

"We got a break," Reading head coach Mark Doherty said. "I did think we played a good first and third period. The second period we had some penalties and got a little lethargic. But Winchester has some very good offensive talent. When you give them power plays they are going to score goals."

The Rockets appeared as though they would run the Sachems (3-2-4, 2-1-4) right out of the rink early on. Junior Sean Verrier got Reading off on the right foot after taking a nice cross-ice feed from Mike Thomson and burying a shot past Offner (22 saves) just 2:17 into the contest.

Two minutes later, it was Thomsan's turn to light the lamp. The forward blew past the Winchester defense down the right half boards and slipped a shot by Offner, putting the Rockets ahead by a pair.

But the tide of this game began to shift shortly thereafter. Reading was called for consecutive penalties midway through the frame giving the Sachems a 5-on-3 advantage. Just several seconds into the power play, Greene capitalized, going top shelf over Ian Lapham (16 saves) to cut the deficit in half.

During the middle period, it was all Winchester. For whatever reason, the Rockets left their opening period intensity in the locker room and looked like they were skating on egg shells in fear of sending another player in the penalty box.

That proved to be more than enough for the Sachems to take advantage. Greene bagged his second score at 2:05, skating behind the Reading net and firing a laser past Lapham from the right point to knot things at 2-2.

The Greene show would continue a few minutes later. Catching the Rockets defense back on their heels, Winchester parlayed an odd-man rush into a go-ahead score at 6:18 as Greene converted a quick wrist shot 15 feet in front giving the Sachems a one goal lead.

"We had a tough time getting the puck out in the third and we need to do a better job at finishing," Sachems head coach Matt Sprang said. "We dug a whole for ourselves in that first period and against a club like that you need to play a whole 45 minutes. In the second period we played well but just couldn't finish. Brendan played well for us. He's a senior and a captain so we expect him to play well for us."

While Reading continued a lack of execution for the remainder of the period, the defense did just enough in keeping it a one-goal margin heading into the final frame. During the early stages of the third, the Rockets had difficulty getting the puck beyond the red line as Winchester's forwards and defensemen worked in unison, applying pressure to any Rocket with the puck on his stick.

But in the final minutes, the Sachems left Seibold unattended at the blue line and he made them pay dearly with his tying tally. A few seconds later, the Rockets spoiled a golden opportunity to seize victory when Jake Barbera's open shot rang off the post before the two teams skated out the closing seconds.

"Obviously whenever you come into this rink whether it be playing Woburn or (Winchester) it has sort of been a nemesis of ours," Doherty said. "We had a good start in that first period. But we knew Winchester is good offensively. We were down 3-2 late so I'm just happy to escape with a tie at this point. It's high school hockey and funny things can happen sometimes."
December, 31, 2013
12/31/13
1:58
AM ET
BILLERICA, Mass. – The Catholic Central Large race should again prove among the most competitive boys' hockey contests in the state this season, and No. 10 Arlington Catholic will be a big reason why.
The Cougars captured the championship at the inaugural Winter Classic Showcase, hosted at Billerica's Hallenborg Memorial Pavillion, with a 4-0 shutout victory over Andover. In it, AC improved its record to 4-0-0 (following a 4-1 win over Reading in the tournament's first round last week), heading into a key league showdown with Austin Prep on Saturday.
"It was a great win for us, both games," said junior forward said Cougars junior forward Ryan Smith, who was named the Showcase's MVP. "We came in here with a lot of confidence after beating St. Mary's of Lynn in the first game and I knew we had some intensity going. We came out strong with Reading, and we took that into this game."
[+] Enlarge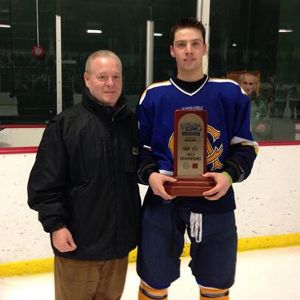 Scott Barboza/ESPNBostonArlington Catholic junior forward Ryan Smith was named the MVP of the Winter Classic Showcase, while scoring the Cougars' first goal in a 4-0 win over Andover on Monday.
Smith provided the first goal for AC on Monday night, tipping home a point shot from linemate Bernie McGovern at 12:41 of the first period.
While Smith took home the hardware after setting up a couple of AC's goals in the previous win over Reading, he emphasized his linemates' commitment to sharing in the goal-scoring responsibilities as a source of strength.
"Bernie [McGovern] and Andy [Somerville] are great," Smith added. "They know where to be when we cycle the puck. Once one person has it, we know the other one is going to be at the net and we just work really well together.
Providing a foil to AC's top line of Ryan Tierney, Ryan Spagnoli and Jason Smith, the Cougars' second unit provided the spark on Monday, combining for six points, with McGovern leading the way with three assists. Somerville chipped in a pretty third-period goal on a 2-on-1 down low, in addition to an assist.
The Cougars controlled time of possession throughout, while outshooting the Golden Warriors (2-3-0) 25-11.
While it largely was a quiet night in AC's defensive zone, Cougars senior goaltender John Richard was called upon to make a few timely and important saves. None was more vital than in the final minute of the second, when Richard stopped Andover captain Mark Campbell on a breakaway, flashing the left toe to take away the bottom portion of the net.
AC went to the room at the second intermission with a 3-0 lead and never looked back.
"Sometimes that's more difficult for a goaltender, when you're not getting as many shots," Cougars head coach Dan Shine said. "He played really strong for us down the stretch last year. We have three, four pretty good goaltenders in the program, but we felt like he was going to be the one going in."
No. 14 Reading 4, Billerica 0
In the tournament consolation game, played before Monday's championship, the Rockets blanked the host Indians behind the second shutout of the season from senior netminder Ian Lapham and a two-goal game from senior forward Mike Thomson.
Reading (4-2-0) halted a two-game losing skid (Arlington Catholic, No. 7 Xaverian) behind a three-point game from junior Sean Verrier (1 G, 2A), who set up both of Thomson's tallies.
Freshman Danny Sorabella kicked off scoring for the Rockets at 2:06 of the first, before back-to-back goals from Thomson, bridging the first and second periods.