Boston High School:

Seth Bird
August, 15, 2011
8/15/11
2:54
PM ET
It's been a busy summer of local lacrosse recruits headed to NESCAC schools and there's news of two more commitments to pass along.
On Friday, Medfield rising senior
Connor Roddy
announced his commitment to join Williams' class of 2012 via the Laxachusetts Minutemen club. He joins Wellesley's Peter Crane and Middlesex School's Bryson Gilbert-Bono as recent additions to the Ephs.
Also, ESPN Boston correspondant Ryan Kilian reports via his New England Prep Stars website that former Concord-Carlisle standout
Seth Bird
will spend a postgraduate year at Northfield Mount Hermon before joining Trinity College in 2012.
June, 29, 2011
6/29/11
2:21
PM ET
STARTING 10

Attack - Kane Haffey, Duxbury
The Duxbury captain helped lead his team back to the top of Massachusetts' Division 1 ranks, scoring six goals in the title game against St. John's Prep. The All-American scored 43 goals with 18 assists this season and also helped Duxbury football to another Division 2A Super Championship in the fall. Haffey is headed to Phillips Exeter for a post-graduate year.

Attack – Connor Hall, Lincoln-Sudbury
The Warriors' senior captain was named Dual County League Player of the Year after tallying 56 goals and 55 assists. The Eastern Mass. All-American was also named the Dual County League's Player of the year and will attend Union College next year.

Attack – Will Stenberg, Needham
The two-time All-American finished his career with 432 points for the Rockets after posting 67 goals and 54 assists this season. Stenberg was also a three-time Eastern Mass. All-Star. The Rockets' captain received Needham's Leadership and Community Service award and will play lacrosse at SUNY-Albany.

Attack – Grant Whiteway, Billerica
The prolific Indians captain became one of just six high school players to ever crack the 500-point plateau, finishing with 539 points. Whiteway, a UMass-Amherst commit, also broke his single-season state scoring record (which he'd previously broken last year) with 182 points, including 116 goals, this year.

Midfield – Bryan Barry, Duxbury
The All-American wrapped up his senior season with 32 goals and 18 assists while helping the Dragons to their eighth state title in the last decade. Barry was also captain of Duxbury's hockey team and will continue his lacrosse career at Fairfield next year.

Midfield – Thomas Flibotte, Cohasset
The two-time All-American finished his Skippers career with 285 points, including a 75-point season as a senior. Flibotte, who was also a standout on Cohasset's football and wrestling teams, will play a prep lacrosse season with Deerfield Academy next year.

Midfield – Jimmy O'Connell, St. John's Prep
The senior led the Eagles to their second straight D1 finals appearance, scoring 54 goals for 60 points. The National Honor student will attend Trinity College in the fall.

Defense – Michael Anastos, Concord-Carlisle
The All-American and three-year starter led the Patriots to a 20-2 season and an Eastern Mass. D2 finals appearance. The Patriots' captain also served in the same role on C-C's hockey team and was a DCL/MVC All-Star defenseman. The two-time Dual County League lacrosse all-star will attend Dennison University in the fall.

Defense – Peter Willauer, Duxbury
The senior captain and All-American built the foundation of the Dragons defense, leading Duxbury to its eighth state title in the last decade. The National Honor Society member will attend Colby College in the fall.

Goaltender – Connor Darcey, Wellesley
The junior All-American netminder led the Raiders to a 71.0 save percentage while being named the Bay State League's MVP. The Penn State commit was also aggressive from the crease, scoring a goal and tallying and assist while scooping up 30 ground balls.
SECOND TEAM
Attack – Kevin Blair, Hingham
Attack – Klye Guilbert, Walpole
Attack – Paul Hellar, Duxbury
Midfield – Sam Lawrence, Wellesley
Midfield – Billy Polk, Dover-Sherborn
Midfield – Kurt Hunziker, Masconomet
Midfield – Mark Riley, Needham
Defense – Mike Curley, Billerica
Defense - Eric Marcantonio, Lexington
Goaltender – Jeff Williams, Dover-Sherborn
BEST OF THE REST
Sam Aronson, G, Medfield
Seth Bird, A, Concord-Carlisle
Peter Crane, A, Wellesley
Ben Cook, D, Andover
P.J. Copponi, A, Dover-Sherborn
Dan Delaney, M, Lincoln-Sudbury
Jared Fong, G, Weston
Todd Galvin, A, BC High
Ty Martina, M, Marshfield
Nick Morello, A, Billerica
Connor Nugent, A, Framingham
Joey Pasquale, A, Weston
John Powers, A, Marshfield
Max Randall, D, Duxbury
Garrett Read, D, Medfield
Connor Roddy, A, Medfield
Jack Rodgers, G, Acton-Boxborough
Will Siefert, M, Duxbury
Cam Slatton, A, Billerica
Greg Stamatov, G, Foxborough
Paul Tocci, D, Lincoln-Sudbury
Tim Towler, M, Masconomet
BEST LONGSTICK MIDFIELDER
Reilly Naton, Duxbury
BEST FOGO (Face-off, get-off)
Clay Richard, Medfield
COACH OF THE YEAR
Jim Wilcon, Weston
June, 14, 2011
6/14/11
8:43
PM ET
By
Ryan Kilian
| ESPNBoston.com


ALLSTON, Mass. -- The Medfield Warriors defended their Eastern Massachusetts Division 2 championship on Tuesday night as they defeated the Concord-Carlisle Patriots (20-2) 11-5 at Harvard Stadium.

The Warriors returned to Harvard Stadium this year under different circumstances from years past. They drew a No. 9 seed in the Eastern Massachusetts D2 bracket with a 13-7 regular season record. After losing four of five games at the end of May, including an 11-10 double-overtime heartbreaker to Hopkinton, the Warriors have now won five straight. During their five game run they now boast wins over the two top ranked teams in Division 2 in No. 1 seed Wellesley and No. 2 seed Concord-Carlisle.

"If you were to tell me after the Hopkinton game, our first TVL [Tri-Valley League] loss, that we would be here right now I don't know would I would have said," said Medfield senior goalie Sam Aronson. "I would have definitely said no, but I am proud of how everyone stepped up, everyone on our team."

Aronson and the Medfield defense dominated the ground balls and loose ball opportunities throughout the game forcing turnovers that lead to transition opportunities for the offense.

The Medfield offense was sparked out of the gate by the play of junior attack Connor Roddy (2G, 4A). Following the game's first goal by Concord-Carlisle's Matt Carroll (2G) with 4:13 remaining in the first quarter, Roddy would figure in four of Medfield's next five consecutive goals giving the Warriors a 5-1 lead midway through the second quarter.

"It started off 1-0 but we bounced back with five quick goals," said Roddy. "We thought we had it in the bag but they came back."

Concord-Carlisle would answer with a run of their own in the second, netting three goals before the break and cutting the Medfield lead to 5-4 at the half. Carroll scored his second to lead the Patriots run followed by tallies from juniors Mike O'Brien and Jackson Finigan (1G,1A).

"Concord-Carlisle is a great team and is well coached," Medfield head coach Bob Aronson said. "They had only one loss this season to a great Wellesley team."

Medfield came out in the second half, locked down on defense and rode strong offensive halves from freshman Matthew Crowell (2G,1A) and junior Chris Diana (2G,1A) to score six goals and extend the lead.

Concord-Carlisle's lone second half goal came from senior Seth Bird, who was playing in his first game since breaking his collarbone, an injury which had kept him out for the majority of the second half of the season.

"We have just started to come alive the past couple of weeks," Bob Aronson said. "We have had some tough losses along the way but we learned from them and the kids have built confidence and improved over the season."

Medfield will face Algonquin (20-4) on Friday in Worcester for the Division 2 state championship. Central Massachusetts champion Alongonquin defeated Western Massachusetts champion Longmeadow 9-8 in overtime on Tuesday.

Notes: Concord-Carlisle was also honored at halftime with the 2011 MIAA Division 2 sportsmanship award. Senior defenseman Michael Anastos (Denison University) was also honored as a 2011 US Lacrosse All-American.


June, 1, 2011
6/01/11
1:09
AM ET
With the boys' lacrosse MIAA tournaments underway, we took a minute to break down the brackets and gaze into the crystal ball for some predictions.
As always, tell us what
you
think.
EASTERN MASS
Division 1
Favorites:
Duxbury (15-2), Billerica (18-2)
Sleepers:
Marshfield (20-0), St. John's Prep (10-7), BC High (14-4), Masconomet (17-1).
Barboza's take:
Many felt St. John's Prep's victory over Duxbury in last year's state championship game was still an upset, even after the Eagles had beaten the Dragons during the regular season. This year, Duxbury looks to reclaim its crown and, unlike last year, nobody has touched them in Massachusetts with all the third-seeded Dragons' losses coming out of state. Perhaps their closest opponent, No. 2 seed Billerica didn't take precedent from Prep's run last year, but the Indians may have laid the blueprint to upsetting Duxbury while leading the Dragons through three quarters before losing a 12-9 decision in an early April meeting. Unfortunately, the teams can only meet again in the D1 semifinal, so there's no chance for a rematch at Harvard Stadium. That also means the opportunity is ripe for another challenger to arise from the other side of the bracket with Marshfield (No. 1 seed), Prep (No. 9), Masconomet (No. 4) and Needham (No. 5) joining in the fray. It would be a rather unlikely path for the Eagles, who as recently as two weeks ago looked as though they might not qualify for the tournament, to return to Harvard. But fans might just get treated to another Duxbury-Prep classic, like last year's overtime thriller.
Prediction:
Prep over Needham, Duxbury over Billerica in semifinals; Duxbury over Prep (and redemption is found) in the final.
Division 2
Favorites:
Wellesley (16-0), Concord-Carlisle (16-1), Hingham (16-4).
Sleepers:
Walpole (13-4), Reading (13-5), Winchester (12-5).
Barboza's take:
Many felt that Division 2 helded the deeper pool of talented teams in Massachusetts this year. No. 1 seed Wellesley, No. 2 C-C and No. 3 Hingham were all fixtures in the top 10 of the ESPN Boston Top 25 poll throughout the season. The Bay State champion Raiders have been perhaps the state's most consistent team wire-to-wire and are led by conference MVP and Penn State commit goaltender Conor Darcey. The key to this tournament could be who isn't there with talented C-C attack Seth Bird lost to a broken collarbone, so the question will be if Tom Dalicandro's team has enough offensive firepower left to make a long run. You can never count out perennial power Hingham, which was a Eastern Mass. finalist last year. The darkhorses include Walpole behind a healthy Kyle Guilbert and Charlie Hardy's young but pesky Reading squad.
Prediction:
Wellesley over Reading, Concord-Carlisle over Hingham in semifinals; Wellesley over C-C in final.
Division 3
Favorites:
Dover-Sherborn (16-2), Weston (16-2), Cohasset (13-5).
Sleepers:
North Reading (18-2), Hamilton-Wenham (11-5), Arlington Catholic (15-4).
Barboza's take:
Does Dover-Sherborn have the monkey off its back now that the Raiders put down Medfield and claimed the TVL title for the first time? The top-seeded Raiders enter the tournament as the favorites but face an explosive Weston team behind Joey Pasquale and you can't forget about the defending champion Skippers of Cohoasset with the uber-talented Thomas Flibotte. Cape Ann League entrants North Reading and Hamilton-Wenham should also prove to be tough outs as the fourth and fifth seeds, respectively.
Prediction:
Dover-Sherborn over Hamilton-Wenham and Cohasset over Weston in semifinals; Cohasset over Dover-Sherborn in final.
CENTRAL MASS
Division 2
Favorites:
Algonquin (16-4) and St. John's of Shrewsbury (13-5)
Sleepers:
Oakmont (15-1) and Grafton (18-2)
Barboza's take:
Even though Algonquin takes top seed in Central, the team that could end up on top is St. John's. The Pioneers took both contests against Algonquin this season and also claimed a victory over fourth seed Grafton in addition to a key win over Western power Longmeadow.
Prediction:
Algonquin over Grafton and St. John's over Oakmont in semifinals; St. John's over Algonquin in final.
WESTERN MASS
Division 2
Favorite:
South Hadley (14-4)
Sleeper:
Longmeadow (12-6)
Barboza's take:
This has traditionally been Longmeadow's tournament to lose, but if we learned anything from the regular season it's that Western Mass was a whole new frontier this season. South Hadley has been perhaps the most consistent of the bunch, but West Springfield's early win over Longmeadow set a whole row of dominoes in motion. So you have to think the Terriers are very much in this. But, in the end, the sectional still goes through the Lancers.
Prediction:
South Hadley over Longmeadow.
April, 24, 2011
4/24/11
10:19
AM ET
By
Ryan Kilian
| ESPNBoston.com
WINCHESTER, Mass. -- If you appreciate a lacrosse game with great defense and goaltending, then the finals of the 2011 Coaches Challenge Cup met and exceeded all expectations.

Wellesley, behind a stellar 15-save performance from junior goalie Connor Darcey, defeated Concord-Carlisle, 5-2, on a rainy Saturday afternoon in Winchester.

The Raiders remain undefeated at 7-0, while C-C suffered its first loss of the season and dropped to 7-1.

"Our defense was phenomenal today," said Wellesley Head Coach Rocky Batty.

Darcey, a Penn State commit, and his defense stood tall all day turning away countless C-C strikes and holding the Patriots to one goal in each half.

"We really stayed tight as a defense and were in synch as a team all day," said Darcey

C-C would strike first in the opening quarter as senior attack Matt Carroll beat Darcey to find the back of the net. Wellesley would get the equalizer before the end of the first as junior midfielder Oliver Saffrey scored on a nice individual effort going to the cage.
Saffrey would add two more in the second quarter along with one from senior midfielder Paul Vasko to give Wellesley a 4-1 lead at the half.

The key moment in the first half came in the second quarter when Wellesley held C-C scoreless on a two man down situation midway through the quarter.

"That was a huge moment for us," said Batty. "It got our bench into the game and settled down the defense.

After a scoreless third quarter C-C would cut the lead to two, converting a man up situation, as senior attack Ben Lesser scored on a pass from fellow senior attack Seth Bird.

Wellesley would hold strong defensively in the fourth as they denied multiple C-C man up situations and fast break scoring bids. Vasko would put the game away with his second goal of the game, at the 2:42 mark, to seal the 5-2 win for the Raiders.

"We have played a tough schedule so far and everyone has come out and played hard," said Darcey. "Today was a very good team win for us,"

Earlier Games

Dover-Sherborn (7-1) continues to impress, as the Division 3 school won their second game in the cup defeating Division 1 Andover (6-2), 14-3. Junior midfielder Billy Polk (5 goals, assist) was dominating on the day for the Raiders. Junior attack Ben Newbert (four goals) and senior attack PJ Copponi (goal, four assists) also had strong performances in the win.

Hingham (7-1) defeated Winchester (3-4), 14-6, to drop the Sachems to 3-4. Meanwhile, Lincoln-Sudbury (4-4) began the day with an 8-1 victory over North Andover (3-4).
April, 20, 2011
4/20/11
12:05
AM ET
SUDBURY, Mass. -- It was a flurry at the beginning and a breathless save at the end that delivered a riveting 12-11 victory for 20th-ranked Andover over No. 15 Lincoln-Sudbury in the first game of the first day of the Coaches Challenge Cup on Monday.

The Golden Warriors defeated the host Warriors by running out to a blazing start. However, L-S didn't go quietly and kept spectators in suspense right up till the final horn.

After cashing in on their first four shot opportunities of the game, Andover (6-0) threatened to rout the Warriors. But L-S recovered to draw within a goal, 8-7, at halftime.

There were four lead changes in the second half, but the Golden Warriors stayed ahead for good on David Belluche's goal with 6:12 to play, thanks to the defensive effort led by senior goalkeeper Crosby Nicholson and senior long-stick Ben Cook.

"That's Crosby Nicholson," Andover head coach Wayne Puglisi said. "He makes those types of saves. I don't know how many one-on-one chances there were today."

Nicholson saved the game from heading into overtime by stoning L-S midfielder Reed Spencer at point-blank range with 15 seconds to play.

"Lincoln-Sudbury made us play smarter and stronger today," Puglisi said. "They're a team that did things that we hadn't seen all year long."

Meanwhile, for L-S, which fell to 3-3 on the heels of a three-game losing streak, it's all about getting a young group of players on the same page in light of some notable absences on the field. Top attack Marc Pace is out for the season with an Achilles injury and top D-man Paul Tocci has also been on the shelf, not to mention a freak accident to midfielder Dan Delaney that occurred last week.

"We're young, but we've just got to get it done," L-S head coach Brian Vona said. "That's our issue, we don't understand how to compete at a high level yet."

C-C's on a roll


The thumping sixth-ranked Hingham administered on Concord-Carlisle during last year's Coaches Cup was not lost on the Patriots. And they used that unpleasant memory as cause to start this year's first-round matchup with the Harbormen.

"We were pretty ready to play today," Patriots senior attack Seth Bird said. "Hingham crushed us in the second round of the Coaches Cup last year in the second round, so we were pretty ready to go."

Bird and his teammates took flight in the second quarter when they scored five goals to run out to a 7-1 halftime lead. Despite a second-half run from the Harbormen, No. 2 C-C held on to return the favor, beating Hingham 11-6.

"I think Seth Bird just really had a good game," C-C head coach Tom Dalicandro said. "He was able to get by his man and I think they're a little young on defense, so that allowed us to get some opportunities and Ben Lesser was able to cash in."

Bird tallied a four-point game while notching a hat trick for the Patriots (6-0) while Lesser chipped in a three-point game (2G, 1A). Chris Walker-Jacks also added a goal and an assist.

Reed McLeod and David Freitas tallied two goals each in the second half to lead the comeback attempt for Hingham (5-1)

"We've got a lot of chemistry going this year," Bird said of C-C's offense. "We've got an attitude that this is our last chance this year to make a real run in the tournament."

Wellesley doubles up Winchester
No. 3 Wellesley (5-0) remained undefeated on the early season as they defeated Winchester 8-4 in their first game of the 2011 Coaches Challenge Cup.

Wellesley led 2-1 after the first quarter but extended the lead to 6-2 at the half behind three goals from senior midfielder Sam Lawrence.

"Sam is always one of the best athletes on the field and when he gets in the open field he can really do some nice things," said Wellesley head coach Rocky Batty. "The last five minutes of the second quarter we really pushed transition like we like to as a team."

Winchester junior goalie Alex Sharp was exceptional in net all day for the Sachems, turning away 18 shots and making countless highlight film saves, to keep Winchester in the game.

"Winchester really played well," said Batty. "A good goalie makes those saves and I think he (Sharp) was the player of the game out there today."

Wellesley junior attack Peter Crane (3 goals, assist) scored the lone goal in the third quarter on a dish from junior midfielder Paul Vasko (1G, 1A) eight minutes in to the second half.

Winchester (2-3) kept fighting the entire way as junior midfielder Brendan Kelley and junior attack Jesse Samek (2G) would score the first two goals in the fourth to cut the lead to 7-4 midway through the final quarter.

Crane would put the game away in the final minutes for Wellesley as he scored his third goal on a pass from senior midfielder Charlie Jennings (2A).

Junior midfielder Oliver Saffrey (1G, 2A) and junior goalie Connor Darcey (10 saves) also played well for Wellesley in the win.

D-S dominant
No. 11 Dover-Sherborn (6-0) got out to a 3-1 lead after the first quarter and never looked back as they controlled North Andover (3-2) to win the final game on the opening day of the 2011 Coaches Challenge Cup, 11-2.

After a slow start by both teams D-S really turned it on and were sparked by the electric play of junior midfielder Billy Polk (3 goals, assist) and senior attack P.J. Copponi (3 goals).

"I thought we played well after we started being patient against their zone," D-S head coach Brian McLaughlin said.

The third quarter proved to be the deciding quarter for D-S as they outscored North Andover 4-1 to extend the lead to 8-2 at the end of the third.

"We moved the ball well and got a couple goals in transition that proved to be the difference in the third." said McLaughlin.

D-S also received strong performances from senior goalie Jeff Williams, who did a great job clearing the ball all day, and senior midfielder Robbie Simms (1G, 2A). D-S will now play Wellesley on Thursday at 4 p.m. at Hingham in the next round of the Coaches Challenge Cup.

"We know each other well," said McLaughlin. "We played here last year (Wellesley won 6-5). Coach and I are good friends and the kids know each other from playing summer ball. It will be a match-up of the Raiders, red versus blue."
November, 18, 2010
11/18/10
12:31
AM ET


QUINCY, Mass. – Championships are typically won by teams that are coming together at the right time.

Although defending state Division II boys' soccer title-holder Concord-Carlisle is no stranger to the postseason stage, the Patriots only have begun to put together a consistent lineup in their last five matches. C-C has suffered through injuries to core players at times, particularly in the midfield, so the Patriots endured most of the season mixing and matching lineups while relying on their depth.

Lucky for C-C, things have really come together at the right time and the Patriots earned a chance to play for yet another state title by winning the Eastern Mass championship with a 2-0 win over South sectional champion Canton at Veterans Stadium on Wednesday.

"I think it all goes back to practicing," Patriots forward Mikey O'Brien said. "Every day in practice, we come out really hard. I think at one point during our season, I think of the 23 players on our team 10 or so were injured.

"But we kept working and our roster in that situation because we had a lot of good players who can step in in those situations."

The teams played to a scoreless first half, but the Patriots (20-1-1) were quick to start in the second stanza. In the 43rd minute, Seth Bird clanged a header off the post on a corner kick directed by Alex Puchrik. However, O'Brien was on the spot to collect the ricochet in the box and put C-C up, 1-0.

"Sometimes it comes down to a loose ball in the box, a scramble and can you get to it first?" Patriots head coach Ray Pavlik said. "Mike's work ethic is tremendous and he's scored a couple of huge goals for us in the tournament run here."

C-C added an insurance marker in the 66th minute with Puchnik getting credit for the goal that was last touched by a Bulldog defender.

The Patriots backline kept the clamps on Canton's forwards throughout.

"They were very difficult to break down," Bulldogs head coach Danny Erickson said. "I thought we played as well as we were going to play in that first half. I thought that we did a lot of very nice stuff, but we just had difficulty breaking them down and getting behind them."

C-C's defenders led by junior Chris Walker-Jacks helped to keep Canton's shifty forwards, like Igor Perun and Ramon Ambrosio, off the score sheet and limited Canton's chances in front of keeper Cam McGrory.

"The back line played fantastic," Pavlik said. "They have a couple of really good forwards. They play with three frontrunners up top and we were under a lot of pressure all night, but the kids really just marked individually, one [versus] one."

The Patriots will face Nipmuc on Saturday at Worcester State College in search of their third state title in the last five years. First kick is at 5:30 p.m.
September, 25, 2010
9/25/10
11:31
PM ET
By
James Walsh
| ESPNBoston.com
CONCORD, Mass. -- The fourth annual "Kicks For Cancer" took place Saturday with the promise of two great matches, but raising money for Dana Farber was the main goal. The two games are played in memory of Lois Wells, mother of Concord-Carlisle assistant coach Steve Wells, who lost her battle with cancer in the spring of 2007.
The following soccer season, members of the C-C's boys soccer team wanted to show their support for Coach Wells and played a game in honor of Lois. "Everybody wanted to do something to reach out and do something to help him," Patriots head coach Ray Pavlik said. "After talking about we came up with this idea to say thank you to him and to help him and his family remember his mom, and to give back."
[+] Enlarge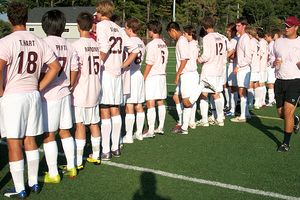 James Walsh for ESPN.com Kicks for Cancer participants paid tribute to the late Lois Wells in a variety of ways, including pink uniform tops bearing the last names of loved ones who have suffered from cancer.
Four seasons later, the event has raised around $28,000, with all proceeds going to the Dana Farber Cancer Institute to support woman's cancer research.
"It really is a great night," senior captain Aaron Nickelsberg said. "Just to share with Coach Wells and his Family and everyone who suffered from cancers is fun."
The night featured two Dual County league matchups, with C-C opposing Lincoln-Sudbury and Acton-Boxborough facing Wayland. All teams wore either a pink or light blue jersey to honor the event. Each player and coach also wore the name of a loved one on their jersey who has suffered from cancer, which Senior midfielder Seth Bird thought was the most significant part of the night.
"Having that name on the back of your jersey and that new factor it adds to the game," Bird said. "And to see the event grow has been unbelievable."
"It's truly amazing," said Steve Wells, a 1999 graduate of C-C. "It means so much to me, my family, my friends and all my mom's friends who knew her. It keeps her memory alive."
And his players couldn't be happier to give back to Wells.
"He's been absolutely amazing," said senior goalkeeper Cam McGory. "He would do anything to be out there with us, he even runs every fitness with us."
With all the night's happenings, it was almost an oversight that four of the top five teams in the Dual County League were playing important matches.
A-B moved to 3-0-2 on the year with its draw against Wayland (4-0-1), which dropped points for the first time this season. The Colonials got the scoring started with 20:53 remaining in the first half, when senior midfielder Max Kashin knocked in the opener off of a long throw in. But Wayland equalized a little over three minutes later, when Dan Lesser headed one past Alex Green.
Less than eight minutes after the re-start, Wayland went in front thanks to an Ian Satck strike, after a nice feed from Griffan McGrain, the senior forward feeding the senior defender for a change. With 24:26 remaining in regulation, Alex Goldman tied things for the second time, but it was short-lived as Nico Pascual-Leone banged one in after another long throw in.
Then it was time for some controversy, as the referee awarded A-B a penalty with just 2:52 remaining, and sophomore Ryan Rose coolly placed the penalty in the top right corner.
"I'm pretty confident when I take PK's", Rose said after the match. "I knew where I wanted to put it the whole time, and I got it in. Wayland's a Good team, it was a scrappy game, a tie is a good result."
The other game also had a dramatic finish. L-S (2-2-0) scored the first goal in the 14th minute, when Malcolm Joseph banged home the goal after a Eric Gandrup shot deflected out. It was the first goal scored against the Patriots all season. In the 68th minute, Will Toczylowski scored to get the Patriots (4-0-1) on level terms, but L-S almost went in front 2-1 three minutes later when Connor Jacobson beat Cam McGory. However, the goal was called back on offsides.
So instead, it was Mikey O'Brien who scored the winner in stoppage time to give the home side the 2-1 victory in dramatic fashion.
"It was pretty amazing," O'Brien explained after the match, "I thought we played well all game, even though we started off a little slow. But then, even when you're tired the adrenaline kicks in and you just go for every ball that kicked, you just go right at it. It came to my feet, and I got a little lucky."
Lucky or not, the win puts Concord-Carlisle in a tie for first place with Wayland in the Dual County Small.