Boston High School:

Shadrach Abrokwah
May, 1, 2013
May 1
8:49
PM ET
A source told ESPNBoston.com this afternoon that two more Class of 2013 recruits will be joining the UMass football program as walk-ons: Running back Shadrach Abrokwah of St. John's of Shrewsbury, and athlete Mike Rapoza of New Bedford High.

The 5-foot-8, 205-pound Abrokwah was one of the state's most productive backs last fall for the Pioneers, as they advanced to the MIAA Division 1 Central Super Bowl. In 2012, his first season as the Pioneers' full-time starter, he carried the ball 213 times for 1,540 yards and 22 touchdowns, with just one fumble; he also caught 21 passes for 437 yards and two more scores. Abrokwah has reportedly run a hand-timed 40-yard dash in the 4.5 range.

Rapoza was one of the more decorated quarterbacks from the South Coast region in 2012, most notably winning the Otto Graham Award as the best overall player in Southeastern Massachusetts. He threw for 15 touchdown passes, ran for two more, kicked 20 extra points, and was among the Whalers' leading tacklers at linebacker.
October, 21, 2012
10/21/12
1:01
AM ET


SHREWSBURY, Mass. -- With the game on the line and seven seconds remaining on the clock, Leominster football head coach Dave Palazzi threw out the playbook and did the unconventional. He asked his quarterback Garrett DelleChiaie and wide receiver Neil O'Connor what they wanted to do.

Like a sandlot game, drawing up patterns with a stick in the dirt, it was O'Connor who dialed up the perfect connection.

"O'Connor looked at me and said, 'I think I can get him on a hitch,'" Palazzi said.

With Palazzi's blessing, the No. 18 Blue Devils broke the huddle and executed the play to perfection. When O'Connor fell into the end zone with four seconds remaining Saturday at No. 20 St. John's of Shrewsbury, Leominster came away with the winning score, capping a frenetic fourth quarter and a 37-34 comeback win.

The brain trust behind the game-winning play deflected praise for its execution, however.

"That was all Garrett," O'Connor said after his two-touchdown performance. "He threw a great ball, he put it right on my chest, I turned and then I just fell in the end zone."

O'Connor's hitch route worked. It also marked the third lead change of the game in its final five minutes. After Shane O'Donnell's 1-yard touchdown run with 4:49 to play, the Pioneers (4-3) went back into their blitzkrieg offense and reclaimed the lead, 34-29, with 1:59 remaining.

From there, DelleChiaie marched the Blue Devils (5-2) on a 9-play, 75-yard drive.

"Our defense has been carrying us for a year and a half, and they played a great game," Palazzi said. "St. John's offense is tough as we all know. It was time for our offense, for once, to get it done when it counted. We're down, in a two-minute drives, it's just about guys blocking and making plays."

BREAK DOWN
So about that game-winning touchdown catch.

The play itself and the trusting nature of Palazzi to put the game – literally – into the hands of his offensive playmakers was something to admire.

The 6-yard pass from DelleChiaie (17 of 29, 212 yards) to O'Connor came on a second-and goal play. The Blue Devils tried a similar play on their first-down try, but saw DelleChiaie throw the ball out the back of the end zone.

"[Palazzi] said to be smart and take care of the ball really," DelleChiaie said of his coach's advice embarking on the two-minute drill, "if nobody's there, throw it away."

With O'Connor bracketed on the play, DelleChiaie made the right decision, giving himself another crack at it. The second time around, it fired on all cylinders. The pass blocking was there, DelleChiaie made the throw, O'Connor ran the route.

Just as they drew it up.

"We lined up Neil by himself and ran him a quick 90-hitch route," DelleChiaie said. "We knew [the cornerback] was off and Neil was going to make the play."

STRIVING FOR IMPROVEMENT
After surrendering more than 100 points in their last two outings, the Pioneers defense had an opportunity to acquit themselves by making a making a fourth-quarter stand. While St. John's was improved on the bulk, it went down as another missed opportunity to make a statement.

Pioneers head coach John Andreoli preached to his group this week about getting off the field quickly, limiting opponents' ability to get chunks of yardage on first and second down.

For the most part, St. John's was effective on the early downs, but instead struggled to get off the field consistently on third down. The Blue Devils converted 7 of 13 third-down situations, including two touchdown plays.

"We want to make it second-and-nine and we can then dictate the call," Andreoli said. "We did that a couple times today, but then we'd let them out and give them a big play when they had their backs against the wall. We can't do that. That's an opportunity for us to win a football game when you're able to make a defensive stop in a certain situation.

"We're not doing that. We're not making the plays we have to at the times when you need to make them."

Again, the Pioneers offense was on-point. Quarterback Andrew Smiley completed 16 of 22 pass attempts for 167 yards and one touchdown. Senior running back Shadrach Abrokwah ran for 103 yards on 21 carries and three touchdowns.

"We just need to get back to having that defensive personality of getting off the field after third down."

That would mean a world of improvement for the Pioneers.
October, 13, 2012
10/13/12
8:58
PM ET
DANVERS, Mass. -– Through the first five weeks of the 2012 season, this much was known about St. John's Prep and its vaunted rushing attack: the Eagles can play powerful.
And after this afternoon's 49-8 shellacking of St. John's of Shrewsbury, before a Homecoming crowd at Cronin Memorial Stadium, we now know this too: the Eagles (5-1) can play fast.
[+] Enlarge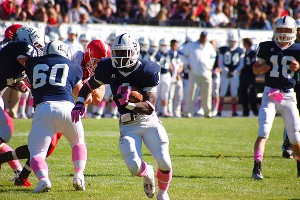 Brendan Hall/ESPNBoston.comSt. John's Prep running back Jonathan Thomas (19 carries, 238 yards, 3 TDs) went over 200 yards for the second time in three weeks as the Eagles rolled, 49-8.
Prep had a field day against the Pioneers' front seven, piling up over 330 yards in the first 22 minutes with the help of a hurry-up tempo, en route to a 35-0 halftime lead. On the ground, they ran for a total of 355 yards, with almost all of it coming from the two-headed monster of junior Jonathan Thomas (19 carries, 238 yards, 3 TD) and senior Alex Moore (8 carries, 82 yards, 2 TD). Moore also had a 54-yard touchdown catch to put him over the century mark in all-purpose yards yet again.
If you've ever watched the Eagles under head coach Jim O'Leary, you know their affinity for the power and the counter trap. But it was the way they did it today that was uniquely appealing, matching the Pioneers' Oregon-like "Blur" tempo by going equally as fast with no huddle.
"We match up against spread teams. We built our team against spread teams, because we see so many of them now," O'Leary said. "And the last couple of games, we've been going against power teams – and not that we matched up badly, we just didn't have a whole lot of points. But we're built this way. We have good athletes."
The game started off a bit wild, with a Prep three-and-out punt on the game-opening drive getting blocked by the Pioneers' Kyle Roy. Two plays later, however, Moore came up with a pick, jumping a route in the left flat and leaping at a pass from Pioneers quarterback Andrew Smiley (32-of-47, 280 yards, TD, 3 INT) for running back Shadrach Abrokwah (11 carries, 129 yards).
On the ensuing drive, Gerald Kahari set up the first of three Moore scores with a 57-yard scamper off a short screen to the left flat. Kahari accelerated then cut twice – first northeast, then at a right angle with a short step-back –- to completely reverse direction before getting hauled down out of bounds just short of the right pylon, at the Pioneers two. Moore punched it in on a dive the next play, for a 7-0 score less than four minutes into the game.
From there, seemingly the heavens opened up on the Pioneers' front seven. Moore made it 14-0 with a 54-yard touchdown reception off a simple pop pass from the left slot, and that was followed by three more scores for the 35-0 score. Thomas reeled off touchdown runs of five and 68, then Moore capped off the explosive first half with a 44-yard counter trey, shrugging off a would-be tackler amidst a scrum to break free down the left sideline.
[+] Enlarge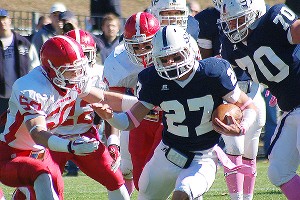 Brendan Hall/ESPN.com"It was intense" trying to replicate St. John's of Shrewsbury's speed in practice this week, said Prep's Alex Moore (8 carries, 82 yards, 2 TDs).
"I followed my pulling tackle up the hole," Moore explained. "He made a great block and I made a cut, and someone hit me, but I was able to shed it and get to the outside and get a touchdown."
(The play, we kid you not, is called "Brockton Left". Why? Moore didn't have an answer, saying simply "I don't know why, but it's a great play.")
On the first play of the second half, Lucas Bavaro picked off Smiley for a 33-yard interception return. Thomas finished off the Prep scoring on the next drive with a 75-yard scamper, followed by a six-yard dive into the end zone.
"The offensive line did a great job," said Thomas, who went over 200 yards rushing for the second time in three weeks. "That's all I can say. They opened up the holes, and I just went right through them. Alex [Moore] and I had a great day, and we give all the credit to the offensive line."
Tempo recognize tempo:
Shrewsbury is operating at a frenetic pace this season, running a "Blur" offense that is similar to the style Chip Kelly deploys at the University of Oregon, looking to snap the ball within 15 to 20 seconds after the previous play is whistled dead.
With that pace, a sharp inside zone read game with Smiley and Abrokwah, and a number of perimeter receivers sitting in zone holes, it's not uncommon to see the Pioneers score in bunches – coming into this game, they had surpassed 40 points twice and were averaging 39 points per game.
The Eagles deployed a unique method of preparation this week to get used to the frantic pace of the game, lining up two scout offenses on opposite 40-yard lines during the team defense portion of practice, and having the defensive players sprint back and forth from one scout team to the other each play.
"I really didn't expect it [the Pioneers' tempo] that much, we were pretty gassed at some times," admitted Prep defensive end Anthony Bongiorno, who registered two sacks and a few tackles for loss. "I mean, that was a fast-paced team. We kinda kept it together long enough to make some big plays."
Said Moore, "It was pretty intense...St. John's Shrewsbury gets their offense off fast, 15 seconds, it's like a blur and you don't really have time to mistakes. You gotta be ready for everything."
ST. JOHN'S PREP 49, ST. JOHN'S (SHREWSBURY) 8

SJS (4-2) 0 0 0 8 --- 8
SJP (5-1) 14 21 14 0 --- 49
First Quarter
SJP - Alex Moore 2 run (Stephen Camaro kick) 7:07
SJP - Moore 54 pass from Jack Sharrio (Camaro kick) 4:23
Second Quarter
SJP - Jonathan Thomas 5 run (Camaro kick) 10:56
SJP - Thomas 68 run (Camaro kick) 7:05
SJP - Moore 44 run (Camaro kick) 1:57
Third Quarter
SJP - Lucas Bavaro 33 interception return (Camaro kick) 10:45
SJP - Thomas 6 run (Camaro kick) 6:25
Fourth Quarter
SJS - John Giacoppe 19 pass from Andrew Smiley (Shadrach Abrokwah run) 6:25
October, 1, 2012
10/01/12
2:20
PM ET
THE CONTENDERS
Drew Belcher, Jr. QB, Reading
Threw for two touchdowns, and ran in a third, in a 26-0 shutout of Melrose.

Brian Dunlap, Soph. WR, Natick
Caught eight passes for 95 yards and two touchdowns in the Red Hawks' 29-0 shutout of Newton North.

Troy Flutie, Jr. QB, Natick
Completed 16 of 24 passes for 196 yards and three touchdowns in the Red Hawks' 29-0 shutout of Newton North, and added 34 rushing yards on seven carries.

Jon Hurvitz, Sr. RB, Duxbury
Ran for a touchdown in the Dragons' 28-0 shutout of Middleborough.

Dylan Morris, Sr. WR, Barnstable
In a performance that will go down deep into Hyannis folklore, Morris caught two second-half touchdown passes -- the second clinching it in the second overtime -- in the Red Raiders' historic 13-7 upset of Everett.

Nick Peabody, Sr. QB, Barnstable
After going 0 for 10 with an interception in the first half against Everett, recovered to throw two touchdown passes and 96 yards, to deliver the upset.

Andrew Smiley, Jr. QB, St. John's (Shrewsbury)
In the Pioneers' 46-14 thumping of Wachusett, completed 13 of 24 passes for two touchdowns and added 93 rushing yards on seven carries. It's the first time in four starts he didn't eclipse at least 330 yards from scrimmage.

Jonathan Thomas, Jr. RB, St. John's Prep
Carried 23 times for 224 yards and three touchdowns in the Eagles' 27-12 win over Brockton.

Cody Williams, Jr. QB, Springfield Central
Completed 8 of 12 passes for 172 yards and three scores in the Golden Eagles' 41-21 win over Chicopee.

Quron Wright, Sr. RB, Holy Name
In a 33-8 loss to Nashoba, the scatback ran for 251 yards and a score on 32 carries, bringing him within 420 yards of the school's all-time rushing mark.

ON THE RISE
Shadrach Abrokwah, Sr. RB, St. John's (Shrewsbury)
Ran for 146 yards and five touchdowns on 15 carries in the Pioneers' 46-14 win over Wachusett.

Garrett Carlos, Sr. RB, Somerset-Berkley
Kept up his torrid pace with 180 yards and two scores on 15 carries, in the Blue Raiders' 35-14 win over Wareham.

Jeff D'Auria, Sr. RB, Chelmsford
Ran for 290 yards and four touchdowns in a 35-27 win over Dracut.

David Harrison, Sr. ATH, Weymouth
In his first start at quarterback, moving over from his usual wideout position, he was 15 of 25 passing for 259 yards and four scores, including the game-winner with 23 seconds left, to beat Needham 32-27.

Kiivone Howard, Jr. RB, Foxborough
Carried 29 times for 130 yards and three touchdowns in the Warriors' 21-0 upset of North Attleborough.

Alex Medeiros, Jr. QB, Bishop Connolly
The running back, who's been filling in at quarterback for the Cougars, ran for 175 yards and two touchdowns on 12 carries in a 36-0 win over Marian.

Jon Ojukwu, Sr. RB, Nashoba
Exploded for a ridiculous 270 yards and five touchdowns on just 11 carries as the Chieftains rolled over Holy Name, 33-8.

Mikey Panepinto, Jr. RB, Needham
Ran for 224 yards and three scores in the Rockets' 32-27 loss to Weymouth.

Matt Phelan, Sr. QB, Northbridge
Completed 6 of 9 passes for 93 yards and a score, and added 154 rushing yards and three scores on just five carries, as the Rams rolled Southbridge 42-12 to earn coach Ken LaChapelle his 300th career victory.

C.J. Scarpa, Sr. QB, Andover
Completed 12 of 25 passes for 203 yards and two scores, in the Golden Warriors' 15-13 upset of Xaverian.

Jimmy Sullivan, Jr. QB, Nauset
In the Warriors' 20-14 win over Cardinal Spellman, carried 16 times for 147 yards and a score.

Brandon Watkins, Sr. RB, Martha's Vineyard
Did it all for the Vineyarders in a 41-8 rout of Randolph: 7 carries for 171 yards and 3 TD; 1 reception for 41 yards; and an interception.
September, 15, 2012
9/15/12
8:11
PM ET
SHREWSBURY, Mass. -– St. John's quarterback Andrew Smiley noticed receiver Micah Cummins putting on a red basketball-like compression sleeve on his left arm before this afternoon's visit from Longmeadow, and kept things real –- "You drop a pass, I'm gonna be all over you about it," Smiley cracked to him.
Done and done.
[+] Enlarge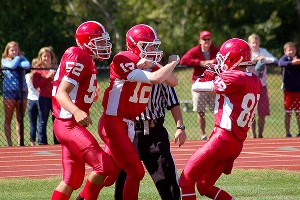 Brendan Hall/ESPNBoston.comQuarterback Andrew Smiley (12) and receiver Micah Cummins (88) connected for two touchdowns to lead St. John's to a 35-14 win over Longmeadow.
Not only did Cummins refrain from a drop, but the 5-foot-11 wideout came up with two pivotal touchdown catches in the first half that put the No. 18 Pioneers ahead for good. The defense did the rest in the second half, forcing the No. 6 Lancers into three straight turnovers on downs en route to a 35-14 win at Pioneer Field.
After a dazzling debut in his first varsity start last week against Holy Name (353 yards, 4 TD), Smiley once again went over the 300-yard mark in total offense. He was 16-of-18 passing for 246 yards, and carried the ball 15 times for 96 yards, with four touchdowns total.
Meanwhile Cummins finished with four catches for 74 yards for St. John's (2-0), but earned most of his yardage after the catch with some slippery moves. At 160 pounds, Cummins is not the biggest or most intimidating target for the Pioneers – but he may have the best body control.
That was perhaps best explicated on Cummins' second touchdown catch, a 30-yard snag at the two-minute warning of the first half that put the Pioneers ahead 21-14. The play called for Cummins to run a "jerk" route to the left sideline, in which the receiver fakes like he will sit in a zone hole before continuing his shallow crossing route. He hauled in Smiley's short dart with a few feet of real estate left, then planted upfield, spun through one defender, juked to the right of another, and marched the final 25 yards untouched.
That was preceded by a 47-yard strike to Cummins towards the end of the first quarter that put the Pioneers up 14-7. Cummins ran a post route up the left sideline, facing man coverage with a safety shaded to his side, and was sprung free by a pick from John Giacoppe (5 catches, 62 yards) to make the grab behind the safety and glide into the end zone.
"He's so shifty, hard to tackle," Smiley said. "He's not the strongest kid out there, but he's quick. He's just hard to tackle."
Smiley came up with two more scores in the third quarter to put this one away, first calling his number for a seven-yard scamper, then finding Davon Jones on a seam deep downfield for a 30-yard pass.
Improved defense:
The Pioneers came away with the win last week against Holy Name, but were not satisfied with the run defense, giving up 463 yards and five scores on the ground to the Naps' vaunted Double Wing scheme (282 coming from Quron Wright). This week, they split that number in half, allowing 233 yards and two scores against the Lancers' modified Wing-T scheme (which today also showed elements of the "Flexbone" formation, with heavy personnel groupings).
Give credit to the front four for that marked improvement. Against a Longmeadow's senior-laden offensive line that is considered one of the state's best -- averaging over 260 pounds across, and led by road graders Rob McClure and Lou Calabrese -- the Pioneers held their own. Led by juniors Jeff DeMango and Connor Gatto, and sophomore Sam Norton, they were able to stuff the interior gaps ably.
The hallmark of today's defensive effort was the aforementioned second-half effort, in which the Lancers ended three straight drives with a turnover on downs in Pioneer territory.
"They've gotten some confidence every week, and they're getting better," St. John's head coach John Andreoli said. "We've played some tough teams all along – Brockton, New Bedford, Shepherd Hill [all three were scrimmages], Holy Name, I mean those are great teams. And our kids stepped up and played disciplined.
"We stayed in a lot of base fronts today, they trusted their reads, and ran to the football. That's what they did, and that's what they've been doing all year."
Longmeadow quarterback Frankie Elder led the Lancers with 86 yards and a score on 16 carries, but a had a forgettable day through the air with 74 yards on 5-of-17 passing, with two picks. Fullback Austin Sierra also had 14 carries for 68 yards.
Dejection, but praise:
Some Lancers felt their hearts sink to their knees in the moments following the game. Elder, for one, sat on the grass, helmet still buckled and lay motionless with a thousand-yard stare.
With legendary former head coach Alex Rotsko leaving behind arguably one of the Lancers' most talented senior classes in a while, there have been high hopes for this year's squad, with a No. 6 preseason ranking in ESPNBoston.com's statewide MIAA poll. A win today would have satisfied Longmeadow's wishes to be taken seriously as one of the state's elite programs.
But in the eyes of many, they already are, and have been for some time.
"It's a respectable win [today], because Longmeadow is a very good program," Cummins said. "I think in a couple articles, they said they wanted to get themselves into the elite of Massachusetts football, and I think they already are elite. I look back at the stats, and they're one of the top programs in the state year in and year out.
"They're well-coached, and I have all the respect in the world for them."
One aspect of the Lancers' gameplan that worked particularly well today was their defense of St. John's running back Shadrach Abrokwah. Coming off a 205-yard, three-touchdown performance last week over Holy Name, the Worcester resident was held to 36 yards on seven carries, but did have a nice 40-yard reception off a swing pass.
But as the stats indicate from today's game. Keying Abrokwah on the zone read opened the field once again for Smiley and the air attack.
"They're just athletic," Longmeadow head coach Nick St. George said. "They're good athletes, they have good receivers, they get the ball out to their guys in space and they force you to make tackles. We missed a lot of tackles today."
Flash cards?
One of the most interesting nuggets from today's post-game interviews was the suggestion from Smiley that the Pioneers may begin to utilize flash cards from the sideline to speed up what has already been a turbo-charged playcalling system.
But not just any ol' flash cards. One of the main storylines with the Pioneers' early season is how they have adopted the "Blur offense" tempo popularized by the University of Oregon under coach Chip Kelly. In recent years, Kelly's assistants have used posterboard-sized placards consisting of four panels with seemingly any sort of picture on it –- a number, a color, a school logo, a mascot, characters from
Caddyshack
, hosts from
ESPN College Gameday
, and so forth.
Even among the increasingly-innovative college coaching ranks, Oregon's method of calling in plays is considered radical. The only thing that's come close so far in the MIAA in recent years might be Duxbury, which dresses five JV players in bright orange hats (
nicknamed "The Amigos"
) and gives them color-coded cards to hold up.
"Oh, we might be bringing those out," Smiley said when a reporter asked about replicating the "Blur" tempo and referenced the Ducks' flash cards.
Have they been working on it?
"Yeah, a little bit," Smiley said.
It could be an innocent comment, and ultimately nothing could come of this. But given the progression of this offense, it could also be the next natural step.
ST. JOHN'S 35, LONGMEADOW 14
LHS 7 7 0 0 --- 14
SJS 14 7 14 0 --- 35
First Quarter
L – Frankie Elder 3 run (Eric Barsalou kick) 6:36
S – Andrew Smiley 8 run (Pat Lehane kick) 6:16
S – Micah Cummins 47 pass from Smiley (Lehane kick) 1:50
Second Quarter
L - Joe Lee 1 run (Barsalou kick) 6:51
S – Cummins 30 pass from Smiley (Lehane kick) 2:00
Third Quarter
S – Smiley 7 run (Lehane kick) 8:02
S – Davon Jones 30 pass from Smiley (Lehane kick) 1:52
September, 14, 2012
9/14/12
2:41
AM ET
NO. 19 AUBURN (1-0) AT HOLLISTON (0-1)
The Skinny: Retribution is on Holliston's mind after last year's tough 14-13 loss in Auburn, and they'll face an uphill battle in trying to return the favor on their own turf. The Panthers fell to a talented Stoughton squad last week, while Auburn looked sharp in an easy victory over Shrewsbury. Holliston's Max Athy is a playmaker on defense, but the Panthers will have their hands full against an Auburn offensive line that averages nearly 280 pounds across and has been playing together for the last two seasons.

Co-editor Scott Barboza: The Panthers have some nice athletes on defense, the Rockets line simply takes over. Auburn, 28-14.

Co-editor Brendan Hall: Rockets will win again, and this time there will be no dispute about it. Auburn, 21-6.

DENNIS-YARMOUTH (0-0) AT NO. 4 BARNSTABLE (1-0)
The Skinny: The last three results of this early-season rivalry have been decided by a total of five points, with D-Y holding a two-game win streak in the series, making this the fiercest non-Thanksgiving rivalry on Cape Cod. Barnstable figures to have the advantage offensively, with Nick Peabody leading a potent and speedy attack that is coming off a 55-3 blowout of Durfee, but the Dolphins have always devised a great defensive game plan to slow things down. The key matchup might be in the trenches, where Barnstable center Tom Grimmer is expected to square off with D-Y tackle Joe Tyo.

Barboza: I think the rivalry factor keeps this game closer than it might look otherwise. Barnstable, 25-21.

Hall: On paper, the Red Raiders have an advantage in many facets of this game. But they don't call it a "Backyard Brawl" for the seafood chowder. I'm hoping to get out of Hyannis in one piece after this one.

Barnstable, 21-20. NO. 6 LONGMEADOW (1-0) AT NO. 18 ST. JOHN'S OF SHREWSBURY (1-0)
The Skinny: St. John's may have answered any offensive questions with its 47-point outburst over Holy Name last week, but may have raised defensive ones by allowing 40 points and over 460 yards rushing. The road doesn't get any easier this week, with some calling this Longmeadow's best shot at getting an elusive win over the Pioneers. As usual, they'll do it behind a surgical Wing-T scheme, with an all-senior line led by Rob McClure and Lou Calabrese. Pioneers quarterback Andrew Smiley looked impressive in his varsity debut, and he'll be hoping for another big day from Shadrach Abrokwah to open up the middle of the field again.

Barboza: I think Longmeadow is able to play ball control and keep St. John's offense off the field. And it doesn't matter where Frankie Elder is lined up, he makes it happen. Longmeadow, 20-13.

Hall: Much like Holy Name last week, this is the year Longmeadow has to beat St. John's. But if this turns into a track meet again, I don't like the Lancers' chances. St. John's, 30-20.

NO. 1 EVERETT (1-0) AT NO. 15 SPRINGFIELD CENTRAL (1-0)
The Skinny: A season ago, Central rolled into Everett Memorial Stadium and was swiftly handed a 42-13 loss. The Golden Eagles have grown up a lot since that fateful night in Everett, reeling off 10 straight wins en route to the 2011 D1 West Super Bowl, and return many key components, including quarterback Cody Williams and defensive tackle Shawn Lockett. Everett remains unsettled, with running back Kenny Calaj's status up in the air and the quarterback situation a mystery. Last week, the Tide resorted to Gilly De Souza under center, even though he'd never played the position before, but he got the job done in a 29-7 win over Leominster. The biggest question might be whether the Eagles' secondary can contain Everett's talented perimeter players, specifically Jakarrie Washington and Jalen Felix.

Barboza: Similar to Everett's matchup with Leominster last week, Central is a strong team in its own right, but just not enough to dethrone King Crimson. Everett, 34-21.

Hall: Central might have its own "Honey Badger" (the good kind, of course), but the Tide have "Felix The Cat". Everett, 35-14.

No. 21 NEEDHAM (1-0) at No. 20 MANSFIELD (1-0)
The Skinny: Both teams rolled in the season openers last week, but this one could go down to the final seconds. The Rockets had a tremendous performance last week from Mike Panepinto (8 carries, 181 yards) running behind a line anchored by tackle Mitch Hildreth. Meanwhile, Mansfield claimed a 49-15 romp over Westfield. Alex Ruddy led the Hornets on defense, racking up 10 tackles (8 solo) in last week's win and will be a key to slowing down the Rockets' rushing attack.

Barboza: The scoreboard at Mansfield might malfunction trying to keep up with the scoring in this one. Needham, 35-34.

Hall: We could honestly see 800 yards of offense in this one. Mansfield, 38-34.

No. 9 BROCKTON (1-0) at No. 22 READING (1-0)
The Skinny: The question is what the Boxers will do with the momentum they gained while shutting out BC High last week. Will they ride the wave and roll over the Rockets? Or does this game have let down written all over it? The matchup to watch will be watching Rocket-armed Reading quarterback Drew Belcher operating against the Brockton secondary led by Micah Morel. Boxers QB Auggie Roberts had a huge week against BC High, running to the tune of 139 yards and two touchdowns, so the Rockets will need to slow down the triple-option threat if they're to defend their home turf.

Barboza: Made this pick in the preseason when we projected out Brockton's record through the first month of the season. Boxers are moving to 2-0. Brockton, 25-21.

Hall: Since Reading head coach John Fiore is a big pro wrestling fan (just like Scott and I), my gut tells me the Rockets will deliver a Stone Cold Stunner under the bright lights. Reading, 21-20.

NO. 17 NORTH ATTLEBOROUGH (1-0) at NO. 13 BC HIGH (0-1)
The Skinny: BC High will assuredly enter this one ticked off as a bull after failing to get on the board against Brockton in Week 1. But what the Eagles will look like on offense is a whole other deal. Brendan Craven joined BC High's growing MASH unit against Brockton and should be out a month. On the other hand, North enters with a modicum of momentum after dispatching Rhode Island's No. 1 squad, La Salle Academy. Alex Jette went off for 346 all-purpose yards while scoring three touchdowns as our Player of the Week for Week 1.

Barboza: I think the X-factor is the Red Rocketeers' offensive line, which is athletics as ever, but also one of the biggest lines Don Johnson's ever seen in his tenure. North, 14-13.

Hall: I'm getting antsy here. If BC High can't pull this one out, I'm 0-2 with the Eagles and I might have to default on my mortgage. I'm still in debt to Galvo for my anti-Brockton picks. BC High, 13-6.

CENTRAL CATHOLIC (1-0) at NO. 3 ST. JOHN'S PREP (1-0)
The Skinny: The question of this matchup might be how many passes are attempted. These teams love them some ground game and, why not? With running backs like Central's Santino Brancato and Prep's Alex Moore and Jonathan Thomas, there's not a lot of incentive for airing out the ball. This one is going to be settled with three yards and a cloud of dust.

Barboza: Even though these teams could end up in a ball-control kind of game, I think there will be a couple of big running plays to be had for either side. Prep, 31-20.

Hall: As they have done in recent years, the Raiders will find a way to make this game interesting. But if they don't, then you know Prep is for real. Prep, 24-10.
September, 8, 2012
9/08/12
10:04
PM ET
SHREWSBURY, Mass. -- Mike Pucko sat on the bench next to one of his linebackers, who was sobbing softly with his left knee heavily wrapped in ice, and watched as the paramedics lifted him onto a stretcher.
By this point, Pioneer Field had cleared out, and the Holy Name coach was once again left with nothing but a long, deflated sigh that shouted,
Just what do I have to do to beat these guys?
[+] Enlarge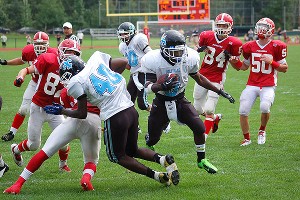 Brendan Hall/ESPNBoston.comHoly Name's Quron Wright gave the St. John's defense fits, rushing for four touchdowns and a career-best 282 yards.
Under Pucko, the Naps have become something of folklore with their less-is-more modus operandi, playing a Division 1 schedule with essentially a Division 4 student body. They've rolled into this annual season-opener with rival St. John's of Shrewsbury carrying a little over two dozen of the toughest kids in Worcester, and have come at them with pretty much everything but the kitchen sink.
For all of the Super Bowl championship success under Pucko, the Naps haven't been able to get an elusive victory over St. John's under John Andreoli. In recent years, the Naps have lost 9-8 and 22-21 to the Pioneers. Today, it was a recovered fumble by St. John's Sam Norton with under four minutes left that did the Naps in, as the Pioneers eked out a 47-40 shootout victory in which neither defense was able to contain the other's running back.
Of his own Lilliputian scatback, Quron Wright, Pucko was asked about the career day of the waterbug generously listed at 5-foot-7, and without initiation fired one of his trademark shots from the hip.
"Anybody that thinks he's too short to play college football can kiss my a--," Pucko said of Wright, who finished the day with a career-best 282 yards on 28 carries for four touchdowns. "He showed what he can do against any competition, any time."
When he was done talking, for good measure, Pucko brisked by Wright and slammed his open palm on the senior's right shoulder pad.
Between Wright and St. John's senior tailback Shadrach Abrokwah (24 carries, 205 yards, 3 TD), this was a must-see clinic for rushing, albeit in styles at opposite ends of the spectrum -- Wright the patient breaks behind sweeping convoys in the Double Wing, Abrokwah the darting cutbacks in an uptempo Inside Zone Read scheme.
The best story of the day, however, might have on the other side of the ball, where Andrew Smiley stepped in for the injured Connor Kurtz in his first varsity start and promptly accumulated 353 yards of offense (226 passing, 127 rushing) and four touchdowns (three passing). The 6-foot-3 junior connected with wideout Micah Cummins for two of his passing touchdowns, the second a soft goal line fade to the back pylon early in the fourth quarter that rounded out the wild scoring.
[+] Enlarge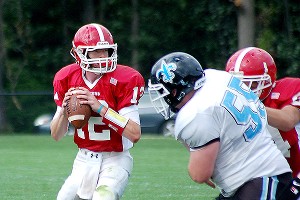 Brendan Hall/ESPNBoston.comMaking his first varsity start, St. John's QB Andrew Smiley accounted for 353 yards of offense and 4 TDs.
"I was rolling out, and I saw the corner jump the under route," Smiley said of his second scoring strike to Cummins. "I saw a little window, tried to fit it in, and Micah made a nice play."
After pounding the ball in between the tackles all afternoon, routinely drawing nine Pioneer defenders into the box, Naps quarterback Shamus Malley caught the secondary sleeping for a wide-open 41-yard scoring strike to tight end Robert Baker. The pass, a play-action post with Baker slipping behind the safeties, was his only completion of the day, and cut the Pioneers' lead to 41-40 with 8:06 to go.
St. John's fired right back with a seven-play, 62-yard scoring drive marching through the middle of the Naps' defense with a series of zone read plays. Smiley finished the drive with his rollout floater to Cummins.
Five plays into the ensuing Holy Name drive, the ball was fumbled near the line of scrimmage, and sophomore defensive tackle Sam Norton was there to fall on it and give the Pioneers the ball back with under four minutes to go. St. John's effectively ran out the clock with steady inside zone plays to Abrokwah.
"We thought we could have won 48-47," Pucko said. "We were starting to drive again, the kids were sucking it up even though they all had cramps, they were giving everything to stay out there…But hey, what are you going to do?"
The Pioneers totaled 558 yards of offense, while Holy Name amassed 504 yards –- 463 of it coming on the ground –- giving the teams over 1,050 yards for the day.
Read to Achieve:
Pucko plays scout team quarterback each week in practice – "I can look into kids' eyes and know where our problems are," he explained – and this week he felt they were able to defend it sufficiently.
Clearly, that was easier said than done. The Pioneers are going with an Oregon-like "blur" tempo this year, a spread-based option look aimed at snapping the ball in less than 20 seconds, and the most effective staple of Andreoli's game plan today was the inside zone read.
Abrokwah chose his cutbacks wisely and used his superior lower-body strength to brush through the second level. But they were at their most effective when a Holy Name defensive end crashed, forcing Smiley to call his own number. That's because the middle of the field was usually wide open.
Not bad for his first varsity start under center. It was evident this afternoon how much time Smiley and Abrokwah have put into selling the fake.
"We stay on them all the time about it," Andreoli said. "Every drill we do about carrying out the fakes, because what happens is it's like a block, really. Even if you don't pull the ball as a quarterback, but you carry out the fake, you might freeze a high safety, and that's the difference between a guy making the play on the backside and not.
"If you can get them to carry out their fakes, and then they pull it, they [the defense] have to respect that. And he [Smiley] has the kind of speed that when he pulls it, he's got a one-on-one, and he runs pretty good. So, that helped us today."
The Wright Stuff:
At this point, Pucko is clearly ticked at the lack of attention from college coaches towards Wright, who is now roughly 1,000 yards from breaking the school's all-time rushing yardage record held by former UMass tight end Emil Igwenagu (who himself was one of the Philadelphia Eagles' final cuts this preseason).
Generously listed at 5-foot-7 and 170 pounds, there are obvious questions about whether his frame would be able to take on the level of physicality demonstrated in Division 1.
To put his frustration in perspective, Pucko brought up one of the greatest running backs to ever come through Massachusetts. He coached Joe Morris as an assistant at Ayer High in the late 70's, and recalls how tough it was to get the 5-foot-7 fire hydrant his due diligence, even from Pucko's alma mater UConn. Morris went on to endure an All-American career at Syracuse, before winning a Super Bowl with the New York Giants and appearing in two Pro Bowls.
"He gives 100 percent all the time, and if they think height is an issue, watch our game films and watch him tear people up all the time," Pucko said of Wright. "[He's been doing this] all his career, and I can't get anybody to chase me down.
"We'll get it, we'll get it. Somebody's finally gonna realize they're an idiot and make a move on him, like with Joe Morris. I lost that fight with UConn, my alma mater wouldn't take him, he ends up doing all that and his whole career. I guarantee that's going to happen with Quron."
ST. JOHN'S (SHREWSBURY) 47, HOLY NAME 40
HN (0-1) 6 14 12 8 --- 40
SJ (1-0) 14 6 14 13 --- 47
First Quarter
S – Shadrach Abrokwah 57 run (Micah Cummins pass from Andrew Smiley) 10:39
H – Quron Wright 10 run (rush failed) 4:39
S – Abrokwah 16 run (rush failed) 2:51
Second Quarter
H – Wright 5 run (rush failed) 7:07
S – Cummins 75 pass from Smiley (rush failed) 6:07
H – Jeff Holland 4 run (Holland rush) 1:25
Third Quarter
S – Smiley 23 run (Abrokwah rush) 7:38
H – Wright 65 run (pass failed) 7:21
S – T.J. Kelley 7 pass from Smiley (kick failed)
H – Wright 9 run (rush failed) :30
Fourth Quarter
S – Abrokwah 6 run (Pat Lehane kick) 10:48
H – Robert Baker 41 pass from Shamus Malley (Wright rush) 8:06
S – Cummins 11 pass from Smiley (kick failed) 6:17
September, 6, 2012
9/06/12
11:06
PM ET
FRIDAY
NO. 1 EVERETT AT NO. 7 LEOMINSTER
The Skinny: Leominster has never beaten the Crimson Tide since this series began in 2002, but the Blue Devils have usually been a tough out. In 2009, the teams played to a 14-6 Tide win. The last two meetings, the Blue Devils got under the Tide's skin early before Everett's talent took over. But Leominster is brimming with excitement, its proud football culture awakened again following their first Super Bowl championship in a decade last fall. Everett, meanwhile, seems to be settled at every position but quarterback – and with a line averaging over 315 pounds, that will suffice. If Leominster is to pull off the upset, they'll have to a find a way to contain electric wideouts Jakarrie Washington and Jalen Felix.

Scott Barboza: Leominster turns it into a game, but still too many horses in the stable for Everett despite the questions. Everett, 27-20.

Brendan Hall: It's going to be a majestic crowd at Doyle, and some readers will undoubtedly conclude I'm biased towards Leominster because their defensive coordinator coached me 10 years ago at Oakmont. But I'm not. Even I'm not foolish enough to pick against the Tide in this one. Everett, 24-13.

NO. 2 BC HIGH AT NO. 22 BROCKTON
The Skinny: Injuries were an overarching theme of the preseason and both of these teams were affected. Bad news for BC High is Luke Catarius is out with a hairline ankle fracture, but Brockton should have Micah Morel in the lineup for their Week 1 challenge. We'll get a look at the reigning Div. 1 Super Bowl champions new-look offense with Brendan Craven under center and Brandon Owens in the backfield while the Boxers will be sporting a Georgia Tech-inspired scheme with Auggie Roberts back at quarterback.

Barboza: A Jackson Bockhurst field goal will be the difference. BC High, 17-14.

Hall: Things unraveled for Brockton pretty quickly in last year's meeting in Dorchester. The Boxers are fighting an uphill battle again this year, but at least it will be respectable. BC High, 28-14.

NO. 23 SPRINGFIELD PUTNAM AT NO. 14 SPRINGFIELD CENTRAL
The Skinny: With the schools sitting less than a mile from each other along Roosevelt Ave., the season-opening battle between these rival schools has become must-see as of late. Putnam won this contest last season, kick-starting an historic 2011 season that ended with their fifth Super Bowl title in eight seasons. Central will be looking for revenge, but it's not easy replacing 2,000-yard rusher in Sacoy Malone. Putnam, meanwhile, turns to a plethora of new faces to replace record-setting running back Melquawn Pinkney, including quarterback Kayjuan Bynum and running back Wayne Lowery.

Barboza: I came away very impressed from talking to Central QB Cody Williams last year at Gillette. He blossoms into the real deal this year. Central, 21-16.

Hall: I like the direction Central is headed in over the long run, but Putnam is still Roosevelt Ave (See what I did there?). Putnam, 7-6.

LA SALLE ACADEMY (R.I.) AT NO. 16 NORTH ATTLEBOROUGH
The Skinny: Big Red will have its hands full opening night with their challenger from just across the state line. The Rams feature a high-octane attack led by reigning Gatorade Player of the Year running back Josh Morris and senior quarterback Anthony Francis. The key to this one will be in the trenches where North's offensive line led by Eric Beckwith and Sean Peters could have the advantage.

Barboza: This Rams team is very talented, but North holds on – just barely. North, 28-26.

Hall: Josh Morris and Co. have been dying for that elusive win over a Massachusetts squad, and I think they finally get it here. La Salle, 17-13.

NO. 12 KING PHILIP AT DOVER (N.H.)
The Skinny: Self-admittedly, we don't know as much about Dover as we do KP, but we can be some what certain what the Warriors will be showing them on defense. And, of course, that's a variety of different looks and blitz and coverage schemes. Dover, which sits just outside of ESPN Boston correspondent Marc Thaler's Granite State Top 10 poll, will also have to contend with KP quarterback John Dillon, who will enjoy a greater role directing the offense in his second year as starter.

Barboza: KP's "Psycho" package gives Hockomock League teams fits, nevermind an offense that hasn't seen it. KP, 28-8.

Hall: Knowing little about Dover outside of what our loyal New Hampshire correspondents tell us, I'm going to trust their convictions on this one and say it will be close. But I'm still going with the team closer to Boston. KP, 20-10.

NO. 4 ST. JOHN'S PREP AT DRACUT
The Skinny: The Middies have been a bit of a bugaboo for St. John's Prep in recent years and some around Danvers feel Dracut has simply posed a matchup problem for the Eagles with its spread attack. Good news for Prep is that their secondary, with Lucas Bavaro, Gerry Kahari, Alex Moore and Johnny Thomas, has matured into a strength of the team. Dracut senior linebacker Zach Bassett could be the key to the game, trying to slow down Prep's running attack.

Barboza: Looking for a defensive struggle here. Prep, 14-7.

Hall: Classic trap game for The Prep, against a classic trap opponent that's had their number in recent years. Dracut, 10-6.

NORTH ANDOVER AT ANDOVER
The Skinny: North Andover's season starts with a Walsh at quarterback, but of another name. Brendan Walsh's younger brother Casey takes the helm of the Scarlet Knights' offense. It also marks North Andover's first Merrimack Valley Conference game. The Golden Warriors will counter with a high-flying attack that impressed during this summer's Northeast 7v7 passing tournament. Quarterback C.J. Scarpa has plenty of targets including Cam Farnham and Will Heikkinen.

Hall: I know it's a familiar rival that's been on the schedule for years, but North Andover is still in for a whole new ball game. And since it's now officially an MVC game, there will be no less than 172 points scored and 1,000 yards of offense. Andover, 35-30.

Barboza: Ditto. Andover, 31-20.

MARSHFIELD AT CATHOLIC MEMORIAL
The Skinny: Last year at this time, Catholic Memorial entered Marshfield's stadium with plenty of hype, behind three Division 1 FBS commits and a No. 4 preseason ranking in ESPNBoston.com's poll. They promptly got shut out by the Rams, 24-0, fueling their ensuing seven-game win streak. The Knights will no doubt be looking to exact revenge, and they'll look to Preseason All-State defensive end Peter Ngobidi to stifle the Rams' vaunted run game.

Barboza: Ngobidi is a dominant force and asserts his will here. CM, 7-0.

Hall: The Knights got embarrassed last year in Marsh Vegas, and I expect them to exact revenge here. CM, 16-13.

SATURDAY
NO. 24 HOLY NAME AT NO. 17 ST. JOHN'S (SHREWSBURY)
The Skinny: For all of Holy Name's success under Mike Pucko, the Naps have never beaten St. John's during his tenure. Could that change on Saturday? Holy Name turns to one of the state's most elusive scatbacks in Quron Wright, and will hope for a big day. St. John's has already hit the injury bug, with incumbent QB Connor Kurtz (knee) out for the season, but RB Shadrach Abrokwah is a nice fit for their hurry-up scheme, and is poised for a breakout senior season.

Hall: If the Naps are ever to beat St. John's, this has to be the year. Holy Name, 9-8.

Barboza: Hate to do this to the Naps, sorry. St. John's, 22-21.

NO. 9 DUXBURY AT NO. 8 BRIDGEWATER-RAYNHAM
The Skinny: B-R is itching to get over the hump after dropping its season-opener to the Dragons the past two seasons. The Trojans have some terrific talent between the tackles, led by Joey MacInnis, to pave for a big afternoon for junior tailback Arcel Armstead. Duxbury graduated one of its most talented classes ever from the 2011 Super Bowl champion squad, but still has plenty of talent left over to keep the state's longest active win streak (26) going. Look for guard Rob Kosharek, linebacker Marshall McCarthy and running back Jon Hurvitz to have big days.

Barboza: Now that Dan Buron's nephew Andrew (former Duxbury standout) has graduated, expect the Trojans to get back to their winning ways. B-R, 14-10.

Hall: After graduating one of the program's most talented classes ever, Marshall the Missile gets the full spotlight. And he usually gives the fans their money's worth. Duxbury, 14-10.

CONCORD-CARLISLE AT BEVERLY
The Skinny: C-C heads into its non-league tilt with the heavy NEC/CAL Tier 2 favorite already limping, losing its star running back Tim Badgley (ACL tear) for the season. If the Patriots are to repeat last year's Super Bowl championship success, sophomore quarterback Will Blumenberg will have to grow up quickly. Meanwhile, Beverly features one of the North Shore's most feared rushing attacks with the three-pronged approach of Kenny Pierce, Brendan Flaherty and Dom Abate.

Barboza: ETA on when the Kenny Pierce hashtag gets rolling again? We're looking at you James Coffey. Beverly, 27-14.

Hall: I'm excited to see what Will Blumenberg can do for the Patriots, but the Panthers just have too much in the tank to be stopped in this one. Beverly, 28-7.
September, 5, 2012
9/05/12
3:48
PM ET
This season, we're trotting a new feature for football season that we started back in the spring. Each Wednesday, we'll pool the minds of our ESPN Boston staff and contributors to debate several hot button topics across the state in our Roundtable.

Without further ado, let's kick off the new season with these takes:

1. BC HIGH RECEIVED SOME BAD NEWS LAST WEEK WHEN RETURNING ESPN BOSTON ALL-STATE LINEBACKER LUKE CATARIUS SUFFERED A HAIRLINE FRACTURE ON HIS ANKLE. HOW WILL THE EAGLES COPE?

Brendan Hall, ESPN Boston High Schools Editor: Over the last decade, BC High has proven to be a program with enough sufficient depth to compensate when star players miss a significant time with injury. However, it's different when you lose the quarterback of your defense, especially when it's a player as special a talent as the Eagles' Luke Catarius.

In the scrimmage against Mansfield, after Catarius went out with the ankle injury, the Hornets went to the underneath game and exploited the flats for big gains. There was also one big miscommunication in the secondary that allowed Kevin Maki to wheel right through the middle of the deep field for a 45-yard completion. Not that this won't be shored up before Friday's big tilt with Brockton, but it is worth pointing out.

The good news, obviously, is that the Eagles' Catholic Conference season doesn't start until late October – but with Xaverian and St. John's Prep looking sharp, it will be obvious if this team isn't in proper shape. With that in mind, I expect Brandon Owens' role at outside linebacker to have an even bigger significance than before. The pressure will also be on the front four, led by Jaleel Johnson, to buy the back seven time.

Scott Barboza, ESPN Boston High Schools editor: In terms of talent, I think the Eagles can get along. My greatest concern for BC High's defense without Catarius relates to communication. The linebacker has been the leader of the defensive huddle, with messages from the sideline passed along to the inside linebacker. On field, Catarius was the quarterback of the defense as well, not only knowing his own responsibilities, but that of his teammates. That comes from knowledge of the system and cannot be replicated; it only comes through game-condition experience. The Eagles have a bevy of returning starters on the defensive line and secondary to shoulder the load but this one hurts. Will they rely on Brandon Owens to not only be the feature back, but take on more Catarius' two-way role? We saw what happened last year when Preston Cooper went down at running back and how Deontae Ramey-Doe filled those shoes. So perhaps this will be more of the same for a deep Eagles' squad. But a player of Catarius' ilk cannot simply be replaced.

Adam Kurkjian, ESPN Boston correspondent: Without question, losing one of the top two-way players in the state will have a negative impact on BC High. The Eagles will not be able to replace his production easily and there may be an extra loss or two that comes down their way early on because of it. That said, if he is back by the time Catholic Conference play rolls around, BC High will still be one of the favorites to make it back to the playoffs. But still his loss cannot be understated.

Bruce Lerch, ESPN Boston correspondent: Believe it or not, I think the Eagles will be fine defensively. Obviously, Catarius is a one-of-a-kind talent with the ability to singlehandedly change opposing offensive gameplans. BC High will simply lean more on the unit as a whole rather than an individual to bail them out, as Catarius often did with his read and react style of play. Linebackers Danny Collins and Brandon Owens are leaders, defensive linemen like Billy Breen and Jaleel Johnson will take up blockers and make a few plays on their own, and the secondary will have to be more active in supporting.

Oddly enough, I think it's on offense where the Eagles may miss Catarius the most. A bruising fullback, Catarius helped pave the way for Preston Cooper and Deontay Ramey-Doe to pile up yardage last season. New backs Owens and Skyler Evans, along with a mostly inexperienced line, would have benefitted greatly from having Catarius leading the charge.

John Botelho, Editor-in-Chief, South Shore Sports Journal: I'm not even sure this Luke Catarius injury will have any real impact on BC. And I don't mean that as a slight to Catarius - in fact, I think he's the best linebacker in the state. My point of view though is this is a non-issue for the Eagles for two reasons.

First of all, replacing Catarius obviously wouldn't be easy, but aren't teams in the Catholic Conference best suited to replace someone they lose to an injury? Those teams are so loaded and so deep that it seems they have significant depth at every position. Or at least it seemed that way when Preston Cooper - who was arguably the best running back in the state in the first half of last year - went down with a broken ankle. All BC did was go on to win the Super Bowl as Deontae Ramey-Doe stepped in and the Eagles never missed a beat.

Secondly, and most important, is that BC doesn't open up league play until October 26 when they host Malden Catholic. I think even without Catarius, it'd be considered an upset if the Eagles lost that match-up. If it really comes to it, they don't need Catarius back until November 4th, week eight of the season, when they travel to Xaverian. It's reasonable to think that a hairline fracture would be healed up and they'd have him back by then.

2. WHICH REGION OF THE STATE HAS THE BEST UP-AND-COMING TALENT?

Hall: The emergence of Springfield-area talent over the last few years is one of the best stories developing this fall. But in terms of pure talent, for me it's got to be the Cape & Islands region.

Every year, there seems to be a Cape player that seemingly washes ashore to earn a Division 1 scholarship. Two years ago, it was Randall Jette from Martha's Vineyard going to UMass. Last year, Nauset's Brendan Battles-Santos surprising everyone at UConn's prospect camp to earn a scholarship practically on the spot. This past summer, UMass dug back into the region to pluck 6-foot-7 tight end Terrel Correia out of Nantucket, with intentions of making him an offensive tackle.

We'll obviously be watching Correia closely this fall, but he isn't even the best player from the region. Barnstable quarterback Nick Peabody is among the state's best, with Ivy League interest. Mashpee has three athletes with Division 1 potential in tackle Nate Chrzanowski, running back Jared Taylor (he of the 300-yard epic last year at Gillette Stadium) and his new backfield mate Malik Lee, a Cape Cod Tech transfer with plenty of upside at 6-foot-2 and 235 pounds.

Also keep an eye on Dennis-Yarmouth's Joe Tyo, who still has to fill out but is projectable with a long 6-foot-5 frame and some active footwork. Falmouth sophomore Craig Green will be an intriguing prospect to monitor, after running a 10.6-second 100-meter dash last spring at the New England Track and Field Championships. And as good as Darien Fernandez was on the basketball court for Wareham last winter, some believe he's an even better running back.

Barboza: I'm looking no further than our statewide preseason Top 25 poll to find two Springfield squads (Central at No. 14 and Putnum at No. 23) and another (Springfield Commerce) knocking on the door. Central is retooled for another run at Longmeadow in Div. 1 West with some key returnees from last year's squad that made it to Gillette Stadium. Quarterback Cody Williams could be a breakout performer this year and Shawn Lockett is a legitimate force to deal with on the lines. Melquawn Pinkney might be gone, but the cupboard's not bare for Putnam with Wayne Lowery, shouldering more of the running load while playing lock-down corner. Sha'ki Holines (UConn) and Hassan Graham (not to be confused with the Patriots receiver of yesteryear) grade out at their positions against anybody across the state.

Kurkjian: This is a tough question because the season has not started yet, so it is hard to assess which region has the top players. As it stands now, though, the North Shore looks to have an overflow of top players if you consider Everett part of that region. Also, don't forget BC High's Brandon Owens hails from Salem.

Botelho: Last fall made it hard to argue with any region being more up-and-coming than the Cape. Four of the nine Eastern Mass. Super Bowl champs were from the Cape and Islands (Dennis-Yarmouth Div. 2A, Bourne Div. 3A, Mashpee Div. 4 and Nantucket Div. 5). Not only did those teams each win Super Bowls last season, but the Cape teams outscored opponents 120-29 in those games. Only Bourne had a competitive game, beating defending Super Bowl champ Hamilton-Wenham, 16-14.

3. WHICH RUNNING BACK WILL HAVE THE BIGGEST BREAKOUT?

Hall: There's a lot of directions you can go with this one. The addition of Malik Lee, and his soft hands, to Mashpee's already-dangerous backfield has to feel like a high school offensive coordinator's dream. Out west, Springfield folks are excited about two potential breakout candidates in Putnam's Wayne Lowery and Central's Aaron Owens. St. John's of Shrewsbury's Shadrach Abrokwah is bound for a breakout in John Andreoli's new Oregon-style "blur" offense.

However, I'm going with BC High's Brandon Owens. That he is already committed to a Division 1 FCS school (Bryant) despite only seeing part-time duty one way last season speaks to his upside. As a runner, there is no wangle to his makeup – he's a north-south, one-cut guy with a powerful frame that accelerates quickly to hit the hole at full speed.

Losing fullback Luke Catarius for the first six weeks of the season means the Eagles may have to get more creative with their offensive sets. But after seeing him take the corner on toss plays out of "Ace" formations, in the Mansfield scrimmage, I think he's up for any task the coaching staff throws at him.

Barboza: I think we're all hedging that Malik Lee of Mashpee will have a monster season in his first year with the Falcons, but I'm going to buck the trend here and go with another runner inside the South Shore League. Abington's Babila Fonkem tallied seven touchdowns (five of those came in one game against backyard rival Archbishop Williams) and ran for over 1,000 yards last season. I think the 5-foot-10, 180-pounder has the potential to more than double last year's tally as a feature back during Jim Kelleher's swan song as head coach.

Kurkjian: From the looks of it, Brandon Owens has had a spectacular preseason and he will be the feature back in what expects to be another punishing ground attack for BC High. It appears as if the Eagles have just reloaded there.

Lerch: Everett's Kenny Calaj is already something of a household name, having been an impact weapon in Everett's offense the past two seasons. The majority of that. however, came as a pass catcher. With a pair of untested quarterbacks still battling to replace record-setting Jonathan DiBiaso, not to mention a mammoth group of offensive linemen, it would only make sense for the Tide to return to the ground game and Calaj should benefit as the main ball-carrier. I'm not sure what the record for all-purpose yardage in Massachusetts history, but Calaj is in a position to do some historic things as a senior.

Botelho: Arcel Armstead is primed to have an elite year at running back for Bridgewater-Raynham this season. It's no secret that Dan Buron-coached teams run the ball as well as anyone, and with both Nick Schlatz and Brandon Morin gone, Armstead will be the featured back for the Trojans. His athleticism alone would be enough for him to have a big year in that system, but B-R returns their entire offensive line from a season ago, led by 6-foot-4, 260-pound Joey MacInnis, meaning the sky is the limit for Armstead.

Don't sleep on guys like Jon Hurvitz at Duxbury, who is the best athlete returning to the Dragons who will need to remake their identity a bit without Matt O'Keefe under center. Hurvitz runs hard and has a chance to be the first running back Duxbury has built their offense around in recent memory.

Also, the South Shore League seems littered with potential breakout candidates. Jared Taylor is probably the best well-known running back who was a back-up last season. He flashed his electric running ability in the Super Bowl to the tune of more than 300 yards. But he won't be the only guy terrorizing defense in the league.

Babila Fonkem returns to Abington for a senior year with added size from his 1,000-yard campaign a year ago. Brian Kilmain, a junior for the Green Wave, could give them the most dangerous two-headed backfield in the league.

Andrew Benson, who looks like he'll officially be a quarterback, is ready to break out at East Bridgewater. He could end up running for more yards than ESPN All-Stater Casey DeAndrade a year ago, for more than one reason. Last year, DeAndrade split carries with Tim O'Brien. While Benson will share the backfield duties with Kevin Lynch, he'll see a higher percentage of touches than DeAndrade last year. Also, E-B's offense was so explosive last year that DeAndrade (and O'Brien) had their numbers cut down because the Vikings had big enough leads that the starters weren't on the field a lot in the fourth quarter. Only when they played Abington and Mashpee did starters stay in the entire game. This year's team will rank among the best in the SSL, but I don't think they'll put teams away so quickly this time around.

4. TAKE A LOOK AT THE FIRST MONTH OF BROCKTON'S SCHEDULE, AND PREDICT A RECORD.

Hall: This is going to upset some of our readers in the City of Champions, but there's a realistic possibility of the Boxers coming out of the gate 0-4. Of those first four opponents – BC High, Reading, St. John's Prep, Xaverian – nobody's gotten worse from 2011, while I feel Brockton is still sitting in second gear after last year's disappointing end.

That said, it sounds like Bryant-bound running back/defensive back Micah Morel will be ready for Friday's opener against BC High after injuring his shoulder in the preseason, so that's a positive sign. As for record, I think the Boxers will steal a game, either against Prep or Reading, to start off 1-3.

Barboza: Well, let's go the tape … And hold me to this. I'm going:

Week 1, vs. BC High – Loss

Week 2, at Reading – Win

Week 3, vs. Xaverian – Loss

Week 4, vs. St. John's Prep – Loss

That would make the Boxers 1-3 rolling into October. Then I think they rebound with three straight wins and finish out the season at 6-5 and represent the Big Three in the Division 1 playoffs as a very dangerous team after enduring a trying first month.

Kurkjian: With so many question marks surrounding this offense, it is hard to project exactly how the Boxers will fare. That said, this is a brutal start to the season. The feeling here is that Brockton manages to steal one and get off to a 1-3 start.

Lerch: It's a very real possibility that Brockton goes 0-4, and I think best case scenario is that they salvage a 2-2 mark. Any better than that and I wonder if the Catholic Conference would have an issue with adding a "league game" between Brockton and Everett to play for its championship.

Botelho: Brockton has the best program in state history. Literally. Their 751 all-time wins ranks first in the state by a wide margin (no one else even has 600 wins). They've also captured 11 Super Bowl titles in 40 years. That said, the last few years haven't been what Boxer fans are used to. They missed the playoffs two years in a row, and last season slumped to a disappointing 5-6.

All those struggles did was ignite something in the Boxers, who look primed to return to the postseason this season. I'm going to say Brockton gets through that portion of the schedule (one Peter Colombo said might rank as the toughest in New England) with a winning record. I'm a believer in Brockton this year, and they'll knock off at least one Catholic Conference opponent, as well as take care of business with Reading and Fitchburg. My guess is the Boxers end up 3-2 in this stretch (including a loss to BC High week one, which they'll avenge in the Super Bowl in December).

5. WHAT GAME WILL BE THE MOST THRILLING OF WEEK 1?

Hall: On a state-wide level, Everett's trip to Leominster is certainly garnering the most interest, and deservedly so. The atmosphere there is going to be electric, with projections of anywhere up to 7-8,000 for expected attendance at Doyle Field. But, at the risk of being the wet blanket here, find me a pundit that doesn't expect Everett to win.

Putnam-Central will be an intriguing battle out west, but I'm going with an underrated Saturday afternoon showdown in Shrewsbury, where St. John's will host Holy Name in their customary season-opener. For all of Holy Name's success under Mike Pucko, the Naps have never beaten St. John's under John Andreoli. Last year's contest, a 22-21 St. John's thriller, was just epic on all fronts. And if there's any year for Holy Name to get that elusive win over the Pioneers, it's this one.

Barboza: This might not be the most high profile game on the docket, but I'm looking at the good ole fashioned brawl in the backyard between Dighton-Rehoboth and Somerset. The Falcons, coached by Somerset alum Dave Driscoll, are looking to rebound a bit in the South Coast Conference this season behind physical tackle Chuddy Nwachukwu and the Raiders could bounce back from a rebuilding year last year to finish atop the Eastern Athletic Conference this year. This has always been an underrated rivalry game in Southeastern Mass. and it's a great way to kick off the season for both squads.

Kurkjian: When in doubt, go with the No. 1 team opening up on the road against a program and community brimming with optimism over a Super Bowl win. No matter what happens, the atmosphere for Friday night's Everett at Leominster game will be electric.

Lerch: With apologies to several other high profile (BC High/Brockton) and not-so-high-profile (East Boston/Blue Hills will be a barnburner) matchups certainly deserving attention, the game at the top of my marquee is Duxbury at Bridgewater-Raynham (Saturday, 4 p.m.). Two programs very similar in the foundations programmed by a pair of tremendous head coaches, and both with an eye on getting a jump start on the "reload" process should be ready to go toe-to-toe for 44 minutes (or more).

Botelho: My favorite week one match-up is always Bridgewater-Raynham and Duxbury (especially this year, where these two teams grabbed the top two spots in our pre-season poll over at SportsJournal.co). Both perennial Super Bowl contenders, if either team doesn't bring their 'A' game from the get-go, they start the season with a loss. Dave Maimaron and Dan Buron always have their kids supremely prepared, so this one has a playoff atmosphere in September.
August, 25, 2012
8/25/12
4:36
PM ET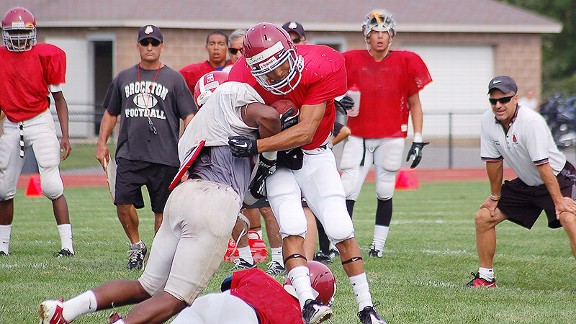 Brendan Hall/ESPNBoston.com St. John's defense showed plenty of pop this morning in its annual preseason scrimmage with Brockton.
SHREWSBURY –- Thoughts and observations from this morning's annual preseason scrimmage between Brockton and St. John's of Shrewsbury, on the grass at Pioneer Field:
Blurring the lines:
In three series of starters against starters, each team scored once. But overall, I would say St. John's was the aggressor for most of the morning, given the efficiency of their "Blur" offense, a very uptempo no-huddle look with spread principles, and the way they exploited the perimeters for multiple first downs.
One particular sequence that stands out is in the Pioneers' first offensive series. Tailback Shadrach Abrokwah took an inside dive handoff and just before he hit the hole, cut back to his left and followed a big seam 15 yards down the left side. The Pioneers, with the ball now at the 10, went straight into the hurry-up. Before Brockton's defense could get settled, Andrew Smiley hit Davon Jones in the right flat on a flare route, and the sophomore did the rest, diving over the pylon for the Pioneers' only score.
"It really comes down to conditioning, staying focused, and making sure that we can execute our assignments," head coach John Andreoli said. "It's ball security and it's playing penalty-free, because you really cannot stop that offense for reasons that you cause yourself. You've gotta make the defense make a mistake.
"You can't make a mistake to stop that offense, you have to make sure it's moving and you're executing. That's why I thought it was a good day for us today."
Key injuries:
Scary moment for the Pioneers on their second play from scrimmage, when incumbent starting quarterback Connor Kurtz went down with an injury to his left knee after getting his leg tangled in the pile while getting dropped for a loss. A diagnosis on the severity of the injury, or to what extent, was unknown after the scrimmage ended. Kurtz had to be helped off the field, and was seen on crutches on the sideline.
Kurtz's backup, Smiley, took over duties for the rest of the afternoon. The 6-foot-4 junior looked sharp at times, tossing a 40-yard fade to Jones in the third offensive series, and making a few plays with his feet after getting flushed out of the pocket.
Meanwhile Brockton lost defensive back Micah Morel, a preseason ESPN Boston All-State selection, in the third series with an injury to his left shoulder. Morel will be re-evaluated on Monday, but having him out for an extended period of time could be a bad blow to the Boxers' defense.
Shadrach reads and reacts:
When you hear the term "blur offense", it's usually in reference to the no-huddle spread scheme run by Chip Kelly's Oregon Ducks, who often try to snap the ball in 15 to 20 seconds. After evaluating his skill personnel, Andreoli felt his offense was up to the task, and as previously mentioned they looked crisp at times.
One of the foundations of this offense is the "Inside Zone Read", a dive play out of shotgun that typically involves zone blocking principles up front, and a sharp cutback from the tailback. The play made a Heisman candidate out of LaMichael James last year; here in Shrewsbury, the play could lead to a breakout senior season for Abrokwah.
At 5-foot-7 and 205 pounds, and blessed with both speed and a powerful lower body, Abrokwah is essentially a sprinter in a hockey player's body. His low center of gravity makes it difficult to get a clean shot, and today he used that to his advantage, repeatedly cutting back to the weak side on these zone plays to run off multiple gains of 10 yards or more.
"It's all in the zone play," Abrokwah said. "Once the offense flows one way, most likely the cutback is going to be on the other side, so I read my blockers, was patient, and just hit the hole."
How quickly does he decide where he's going to go on a zone play?
"It's all instinct," he smiled. "You have to feel the offense, and that's what I did."
New-look backfield:
Devoid of a pure fullback, Brockton didn't run its trademark Pro formation today, instead opting for a modified spread triple option popularized by college programs such as Georgia Tech and Navy.
The change was made to better utilize senior quarterback Augie Roberts' dual-threat capabilities, and things started well in the first series. Roberts is a runner first, and on the second play from scrimmage he demonstrated his running ability, slipping outside a crack back block from Jeff Celeste for a 25-yard gain. But he also has a quality arm, connecting with Lorenzo Lovesy on a fly route for a 50-yard touchdown pass that was negated by a block in the back (an excessive celebration penalty was tacked on for good measure, too).
The Boxers rotated Morel and Aaron LeClair at one wingback position, Louis Jimenez and Moise Edouard at the other, and senior Ricardo Calixte at the fullback spot. Pat Healy is also in the mix at wingback, a baseball outfielder who is back in football after taking the year off.
"I just think it takes advantage of Austin's skills," head coach Peter Colombo said. "You didn't see the whole package obviously today, and he's not limited to that, but I just think it gives us a good opportunity for him to take advantage of his skills. We'll see, we'll adjust as it needs."
The Boxers were good at times, but some of the problems that plagued them in last year's disappointing 5-6 campaign –- namely, red zone struggles –- reared their heads. Jimenez did score from 10 yards out on the Boxers' second drive, but on the first drive they were halted at the Pioneers' five yard line. First, Matt Murphy made a stuff of the ballcarrier at the line of scrimmage. Then on the next play, fourth and goal from the five, Roberts was sacked by Andrew Sullivan.
It was a cycle that flashed in and out all afternoon, with the Pioneers bringing the heat in the front seven behind Connor Gatto, Sam Norton and Barron Dandridge.
Jones brings the wood, and the flash:
I'm going to try my best to avoid the hyperbole highway this season with Davon Jones –- he is just a sophomore, after all, and he did fumble a ball away -– but it's hard not to be impressed every time he comes to play.
Roaming around at free safety, Jones covers a lot of ground in the secondary, and played the bump well in the slot when the Pioneers went to a man press in the red zone. He showed off his live hips on offense, plugging himself into the slot and making defenders miss with multiple jukes.
But the trait that probably sticks out most at this point is his physicality. As the last line of defense against the run, Jones brings considerable pop for someone that's 6-foot and 180 pounds, and it is certainly loud.
Earlier in the week, Andreoli told ESPNBoston.com of Jones, "If he continues to develop the way he develops, the way he's playing now, he's got the ability to play at the highest level" of college football.
"He's a football player," Andreoli said. "He doesn't want to come off the field, he doesn't care how tired he is, he'll take a sip and get back on the field. He loves to play the game. And he plays hard, and he plays it the right way. He's just got to continue to feel comfortable in our scheme, get good at reading receivers."
Referring to Jones' success so far as a guard for the Pioneers' state semifinalist basketball team, Andreoli continued, "The thing too about him is, he's played in a lot of big games –- basketball-wise, and in football. So he's used to competing on the big stage here at the varsity level, so he can just basically play the game and get in the flow of the game."
Jones says he's learned a lot in the last 12 months, and has become more vocal in the secondary, calling out checks. Asked about those progressions he's made in the mental side, Jones chalked it up to "muscle memory".
"The coaches just pound it into my head – pass first, run second," he said. "So I see it, and I just come up running fast."
August, 24, 2012
8/24/12
2:00
PM ET
SHREWSBURY -– The Leominster Blue Devils' Super Bowl championship over rival St. John's of Shrewsbury last December at Gillette Stadium has kicked off a sort of football revival in the Pioneer Plastics City.

Long considered one of the state's richest traditions, the Blue Devils had gone a decade without a Super Bowl title before first-year coach Dave Palazzi breathed some new life into the program last fall. Once again, Blue Devil football is all the rage.

Just ask St. John's wide receiver John Giacoppe, a Leominster resident who has to listen to it every day.

"Leominster is a football town, no doubt about it," said Giacoppe, a senior co-captain. "But it just makes me want to work harder. I haven't beaten them yet, freshman, JV, varsity, so I just want to beat them."

Or ask his buddy, quarterback Connor Kurtz, a resident of neighboring Lunenburg. In addition to passing leagues and various camps this summer, often the two would call each other up and go throw on the FieldTurf at Lunenburg High.

"We just sneak on, I guess," Kurtz chuckled.

The difference in last year's fateful ending at Gillette was speed, with the Blue Devils exploiting the perimeters and stretching the field. This year, the Pioneers seem to have a good amount of speed returning, conditioned enough that head coach John Andreoli is opting for a no-huddle "blur" offense, similar to the style you see in college programs such as Oregon.

In evaluating the fitness level of his skill players, Andreoli was pleased with the 40-yard dash times of some of this most integral returning varsity -– including running back Shadrach Abrokwah, who reportedly has run a 4.5 hand-timed 40 -– prompting his decision.

"I think it's familiarity with the offense, the ability to use multiple personnel groups, and just being able to run this offense on the fly," Andreoli said. "It's keeping it simple, but being able to execute it, hoping you catch the defense tired, one or two guys that miss a play. If we can take advantage of that, hopefully we can score."

We'll have a better idea of the offense after tomorrow morning's annual scrimmage with Brockton, but the possibilities of this offense are intriguing, In the 5-foot-8, 200-pound Abrokwah –- who is expected to take the lead role after spelling Sean Wilson a year ago –- the Pioneers have a unique blend of speed, above-average leg strength, body lean and a low center of gravity that could be difficult to wrap up cleanly.

"He turns the corner and he's just got powerful legs," Andreoli said. "He is a kid who's just going to be very exciting this year in the running game, because he's just a powerful runner that has a great instinct for where the holes are going to be. In our zone scheme, we give him leeway to run the ball where he gets an opening, and when he hits the opening and gets those shoulders upfield, he just has an explosive step that just kinda of puts him into another gear.

"If he has contact, it's going to have to be a pretty good shot, because he's got that low center of gravity and powerful legs that just keep going."

At quarterback, the 5-foot-11 Kurtz is the assumed incumbent, but could get a challenge this preseason from Andrew Smiley, a 6-foot-4, 195-pound junior with some quick feet. The two are splitting snaps under center, a competition not unlike the one in 2009 when Griffin Murphy and future Fordham quarterback Dan Light were dueling it out.

One of the most intriguing developments, at least in the long-term will be that of sophomore Davon Jones. He got a load of time at free safety last season as a freshman; both he and fellow 2015 Taquar Stewart (who has since moved to Georgia) are the only freshmen to ever get time with the varsity under Andreoli.

"I can't wait to see how he turns out as a senior," Kurtz said.

Jones, also one of the MIAA's top young combo guards in basketball, will see additional duty as a slot receiver this year. The ceiling is set high for him, with Andreoli going so far as to say "If he continues to develop the way he develops, the way he's playing now, he's got the ability to play at the highest level" of college football.

"If you look at where he was a year ago, when we plugged him into the Brockton scrimmage as a 14-year-old freshman…you could tell he was a 14-year-old kid playing against some pretty strong kids," Andreoli said. "But now, when you look at where he's come in the last 12 months, he's as mature a player and as physical a guy as anyone that's been playing for four years.

"He's made tremendous strides, he's a special kid, he's a great athlete, he's physical, he's got a good nose for the ball and he's a competitor. He's going to be an impact player this year."

ST. JOHN'S AT A GLANCE
2011: 8-5, Lost in Division 1 Central Super Bowl
Coach: John Andreoli (9th year, 74-23)
Key Returnees: Shadrach Abrokwah, Sr. RB/LB, 5-8, 205 lbs.; Connor Kurtz, Sr. QB, 5-11, 180 lbs.; John Giacoppe, Sr. WR, 6-2, 190 lbs.; Barron Dandridge, Sr. LB, 6-1, 195 lbs.; Davon Jones, Soph. WR/S, 6-0, 180 lbs.; Jim Andreoli, Sr. WR/LB, 6-1, 196 lbs.; Kyle Roy, Sr. OLB, 5-11, 185 lbs.; Andrew Sullivan Sr. DT/DE, 6-2, 235 lbs.; Micah Cummins, Sr. WR, 5-11, 170 lbs.; Mike Griffin, Sr. C, 6-2, 200 lbs.; Andrew Smiley, Jr. QB, 6-4, 195 lbs.
Strengths: Conditioning, team speed, skill positions, depth at quarterback.
Weaknesses: Inexperience.
Outlook: In evaluating his personnel at the skill positions, Andreoli determined the best way to utilize his talent is with a no-huddle "Blur" offense, most famously used by Chip Kelly's Oregon Ducks. The Pioneers went with some no-huddle in their 2010 Super Bowl championship year, but nothing like this. "As a defensive coach, I know it presents problems for you," Andreoli said. "We want to take advantage of that, with the kids that we have and the shape that we think we need to be in to play the schedule we play." Taking over for Sean Wilson as the feature back will be Abrokwah, a unique blend of speed and lower-body strength who could be difficult to square up on. There is an interesting battle at quarterback right now, with the incumbent Kurtz getting competition from Smiley, and the guess here is one of them could move to the slot. Buzz is beginning to build around Jones, who started at free safety as a freshman and will be another able slot receiver, with Andreoli saying he has potential to play "at the highest level" of college ball. Defensively, the 4-3 mentality remains unchanged, but they must replace key pieces in the front seven. The secondary, as usual, should be among the best out west of I-495.
May, 29, 2012
5/29/12
12:14
PM ET
In between baseball and girls lacrosse games, I had the chance to check out a few football combines this past month. Emptying out the notepad, here are some leftover nuggets:
Massachusetts High School Football Coaches Association Combine
Gillette Stadium
Foxborough, Mass.
May 6
Earlier this month,
we checked in with several of the state's top prospects who were at the combine
, including Xaverian's Maurice Hurst Jr., Mills/Hopedale's Jon Baker, and Dighton-Rehoboth's Chuddy Nwachukwu. Today, with new information, I'm bringing to light some new information about some players with hidden potential.
Athletic Standard CEO Thomas Newman passed along some information regarding the tests his company ran during the combine, pasted below. I've added each player's school in parentheses:
The following Athletes all tested in the 95th percentile in the nation for vertical jump (Horsepower and the first indicator of genetic potential):

Sean Antonuccio (Masconomet)
Junior Oyaronbi (St. Clement)
Frank Ansah (Worcester South)
Terrance Gibson (Taunton)
Berny Platel (Fitchburg)
Shaun Callahan (Norwood)
Nick Patten (Medford)
Sean Eldridge (Bristol-Plymouth)
Isaiah Douglas (Bishop Feehan)
Dominque Leite (Brockton)
Alex Jette (North Attleborough)
Babila Fonkem (Abington)
Elias Camacho (Canton)
Jamal Williams (Taunton)
Justin Mount (Westford)
Shadrach Abrokwah (St. John's of Shrewsbury)
Quron Wright (Holy Name)
Kevin Makie (Mansfield)
Kaylan Philbert-Richardson (Archbishop Williams)
Thomas Johnson (Pembroke)
Daniel Kegbeh (Holy Name)


Lateral Speed (huge component for separation or locking down on defense)

Jhalen Bien-Aime (Boston Latin)
4.218 - Laser pro agility
4.01 - Stop Watch Conversion time


Additionally, it should be noted this kid was so raw any speed coach will bring this down to a sub 4.0 pro or a 3.8 stopwatch time. Great kid by the way, real gentleman

Watch List (these kids have one standout feature):

Andrew Benson (East Bridgewater)
6-foot-1, 175 lbs.
Vertical - 27.75
Pro Agility - 4.421

It doesn't appear that he will grow much more but depending on his football skills this would be a solid pick.

Ricardo Calixte (Brockton)
5-foot-10-3/4, 198 lbs.
6-foot-4 wingspan nearly (this kid will grow over the summer)

Vertical - 28 inches - Normalized Index 406
Pro-Agility - 4.43 - Normalized Index 330

I would keep a close eye on him because if he gets any taller or heavier he will easily tip into the strong D1 prospect.
Calixte's story is an interesting one. He has the athletic frame and raw tools to be an impact on defense (he also ran a 4.75 second 40-yard dash), but has played sparingly to this point -- allegedly, he didn't suit up for Friday night games last season due to religious obligations. The only points to his name in last year's box scores is a two-point conversion run. Micah Morel is probably the Brockton prospect with the highest ceiling right now, but keep an eye on Calixte.
Impact Performance Football Combine
Massachusetts Maritime Academy
Buzzards Bay, Mass.
May 26
Impact Performance Training owner Ross Jatkola put on his first combine on the turf at Mass. Maritime's Clean Harbors Stadium, attended primarily by athletes from the Cape Cod area.
Pound for pound, Dennis-Yarmouth was arguably the toughest team in the state last fall. The Dolphins' run to the Division 2A Super Bowl title this year, blowing out many of their opponents despite being routinely undersized (sometimes comically so), and everyone playing both ways, is testament to this. A lot of credit goes to Paul Funk and the remarkable building job he's done over the last decade to a program that won just six games in the 1990's. But credit also has to go to Jatkola, a D-Y grad and former University of Albany tight end who also works as the Dolphins' strength coach.
Cape Cod football is on the rise in Massachusetts -- a record five Cape teams made playoffs last year, with four of them winning Super Bowls -- and this was a good chance to see some of the rising stars in action. About three dozen competed, with Barnstable's Bryan Hardy winning the pro agility and Bourne's Josh Curry winning the 40-yard dash.
For the complete results
CLICK HERE
.
A few observations:
Peabody pleases
If I'm picking four quarterbacks for our preseason All-State team, Barnstable's Nick Peabody is probably on the list -- I would have said this in January. He has ideal quarterback size (6-foot-3, 225 pounds) puts a lot of zip on the ball, and has big-game experience (leading the Red Raiders to their first playoff appearance in 10 years). I know we have to take these things for what they're worth, but the way he threw the ball around in 7-on-7 drills reaffirmed my disposition. Saturday morning, he was putting the ball in tight spots all over the field, hitting teammates on 15-yard out patterns seemingly on a dime.
Linemen to watch
Two Class of 2013 linemen to keep an eye on are Barnstable's Tom Grimmer and D-Y's Joe Tyo. Grimmer is built low to the ground, going about 5-foot-11 and 250 pounds, but has good balance and posture. He won the bench press event, doing 26 repetitions at 185 pounds.
Tyo could be a late-bloomer. He's a raw prospect at 6-foot-4 and 250 pounds, didn't start on the interior defensive line until Week 3 of the 2011 season, and needs to build more upper-body strength. His frame has yet to fill out. But he also ran a 4.9 second 40-yard dash, and demonstrated terrific footwork in pass-blocking drills.
Next In Line?
It's too early to predict the next Matt Montalto, D-Y's 2011 ESPN Boston All-Stater at quarterback who will be suiting up for Bentley University this fall. But when the time comes, his cousin, Michael Dunn, could fit the bill. The freshman won the vertical jump at 9 feet 3 inches, and I'm told he'll be used in an "athlete" slasher role going forward for the Dolphins.
October, 29, 2011
10/29/11
5:17
PM ET
By
Adam Kurkjian
| ESPNBoston.com



WESTWOOD, Mass. -– After three straight losses and a subpar first half against St. John's of Shrewsbury, Xaverian needed a spark in what was turning into a dreary, windy and rainy Saturday.

But the Hawks figured out pretty quickly that maybe the poor weather conditions were the perfect remedy for their offense, as they turned loose a punishing ground attack to rally for a 27-9 win.

The Hawks (5-3) did not pass once in the second half, grinding out 264 yards on 23 attempts in the final 22 minutes and 376 on 40 for the afternoon. Super-sized running backs Hunter Taute (6-2, 240) and Mo Hurst (6-2, 265) finished with 266 of those yards and senior athlete Chris Calvanese added another 83 while picking off a pass on defense.

"It was huge to build our confidence up a little bit today and it was a big game from that standpoint," Xaverian head coach Charlie Stevenson said. "I think coming out in the first half, maybe that was why we were stumbling a little bit because we had lost our confidence. It took a little bit of time for us to regain our confidence.

"We talked about it at halftime. We wanted to really establish the run game in the second half and of course the weather sort of added to the necessity to do that kind of a thing. I thought our offensive line and our big running backs kind of picked it up in the second half. We really ran the ball very nicely against them."

St. John's (4-4) probably wouldn't agree that Xaverian's run game was very nice. Quite the opposite, the Hawks pushed around the Pioneers and scored on pure, straight-forward isolations, traps and tosses and St. John's just couldn't stop it.

Hurst and Calvanese added two short scoring runs in the third quarter before Hurst made an early "Run of the Year" nomination with a 75-yarder down the home sideline that effectively put the game away in the fourth quarter.

With that, Xaverian's outlook felt a lot sunnier, and just in time, too. Xaverian defensive coordinator Al Fornaro said outside the postgame huddle, "Playoffs start this week," as the Hawks resume Catholic Conference play with a trip to BC High.

Big Mo in the form of Big Mo: When the Hawks put the ball in Hurst's hands, there's a palpable rush of adrenaline that runs through the Xaverian sidelines. Also one of the top defensive tackles in the area, Hurst has nimble feet as a ballcarrier and brings a forearm shiver to opposing tacklers. Once he got into the secondary on his 75-yard score, those behind him weren't catching him and those in front of him weren't capable of bringing him down. With him and Taute, Xaverian can set the tone on the ground in a way that few teams in the area can hold up to.

Touting Taute: As good as Taute was running the ball Saturday, he's probably an even better linebacker and certainly one of the most important players on the field for the Hawks. With the graduation of linebackers like Chris Tamasi and Zack Bartlett, Xaverian needed Taute to step in and immediately fill a huge void in that unit. He has done so this year admirably. Possessing a quick first step, a good nose for the ball and good tackling form, he is the centerpiece to an improving defense in Westwood.

Marvelous Montalvo: While the Xaverian offense found its rhythm in the second half, the Pioneers had a consistent threat all game in senior Efrain Montalvo, who caught five passes for 136 yards. The 5-foot-9, 160-pounder also had a 50-yard kickoff return wiped out by a penalty. Despite his small stature, the speedy Montalvo battles for the ball when it's thrown to him, possesses excellent hands and an ability to make defenders miss in open space. There aren't a lot of corners in the area capable of shutting him down.

XAVERIAN 27, ST. JOHN'S (S) 9

SJS (4-4) 2 7 0 0 --– 9
XAV (5-3) 0 6 14 7 --- 27

First quarter
S – Safety (Patrick Ryan tackle)

Second quarter
X – Chris Calvanese 14 run (pass failed)
S – Shadrach Abrokwah 5 run (Patrick Merrill kick)

Third quarter
X – Mo Hurst 2 run (Jules Murphy kick)
X – Calvanese 1 run (Murphy kick)

Fourth quarter
X – Hurst 75 run (Murphy kick)