Boston High School:

Shane Combs
August, 26, 2014
Aug 26
8:26
PM ET
Last Monday, we unveiled our fifth annual
statewide preseason Top 25 pol
l. Today, we continue our annual countdown of the poll with our final installment, featuring our top five teams.
In case you missed our earlier installments:
25-21
|
20-16
|
15-11
|
10-6
NO. 5 ST. JOHN'S (SHREWSBURY)
Coach:
John Andreoli (11th year, 92-31)
Last season:
Division 2 state finalists, lost 28-14 to Mansfield
Returning starters:
11 (4 offense, 7 defense)
Key returners:
Davon Jones, Sr., RB/DB, 5-10, 185 lbs; Sam Norton, Sr., DT, 5-9, 210 lbs, Nick Calvano, Sr., WR/DB, 5-7, 175 lbs; Shane Combs, Sr., QB/RB/DB, 6-1, 210 lbs.
Strengths:
Defense, physical strength
Weaknesses:
Experience
Outlook:
Another year, another deep and talented starting lineup boasted by the Pioneers, last year's Central Mass. Division 2 champion. The Pioneers lost some major contributors off of last year's team, including all-state quarterback Andrew Smiley, but coach John Andreoli is confident especially in the ability Combs, Jones, and Calvano to make big plays on the offensive side of the ball. Currently, Combs is splitting equal reps at quarterback with Tim Cassidy. "
The jury is still out," Andreoli said on the quarterback decision, "Both he and Tim Cassidy are taking equal snaps. They both have very different skillsets...it's a different look when each one of them is in there." Jones, a hard-hitting Boston College-committed safety, has proven to be one of the state's top players over the past couple of years, but it's his on the field leadership that is standing out so far this fall. Jones is the only four-year starter in the history of the program. "The thing that impresses me most about him is that he's really assumed a leadership position, with the way he conducts himself on the field, and the way he takes control of the defense," Andreoli said, "And offensively the level of maturity that he has brought takes him to the next level." Several players have found a way to make a name for themselves early on in camp, partly too because of the work they put in over the offseason. Andreoli said that this year's team has the most physical strength collectively of any squad that he's coached at St. John's: "The amount of guys that we had were able to bench 185 for multiple reps was the most we ever had here. That's kind of been the foundation as the first thing. On the defensive side of the ball, our secondary has really shown a tremendous amount of speed, athleticism, and physicality in our first week." Keep a close eye on Marc-Eddy Paul, Michael Corinna, Mitch Earley, and Sam Kloczkowski – all of whom have made a big early impact early on in practice.
-CHRISTIAN BRADLEY
NO. 4 MANSFIELD
Coach:
Michael Redding (27th, 217-66-4)
2013 Record:
13-0, Division 2 State Champions
Returning Starters:
11 (5 offensive, 6 defensive)
Key Players:
Brendan Hill, Sr. TE/SE 6-5, 228 lbs; Mike Carpino, Sr. OL/DL 5-9, 210 lbs; Tyler Smith, Sr. OL 6-1, 205 lbs; Andrew Horstmann, Sr. OL 6-2, 225 lbs; Curtis Boisvert, Sr. RB/DB 5-8, 180 lbs; Joe Moreshead, Sr. LB 5-10, 180 lbs; Q'ra Guichard, Sr. LB 5-8, 195 lbs; Connor Finerty, Jr. LB 5-11, 195 lbs; Nick Borsari, Sr. DL 6-2, 270 lbs; C.J. Daniel, Sr. LB 5-11, 170 lbs.
Strengths:
Offensive line, linebackers, defensive line, running backs/receivers
Weaknesses:
Inexperience in the secondary, adapting offense to personnel
Outlook:
The Hornets completed their own version of a revenge tour last year, turning a loss in the 2012 D2 EMass Finals into an undefeated 2013 season and winning the first ever Division 2 State Championship. The biggest concern for the Hornets will come on offense and finding the pieces to replace quarterback Kyle Wisnieski, receivers Michael Hershman and Kyle Hurley and the elusive Miguel Villar-Perez. But to counter that, Mansfield possesses one of the most talented tight ends in the entire state in Brendan Hill, a member of the ESPNBoston Preseason All-State Team. Hill, who has received interest from multiple D1 programs, will likely garner the majority of attention from defenses so Mansfield will need to develop other options. Matt Carafa will likely step in and be QB1 for the Hornets while Curtis Boisvert will see a good amount of carries out of the backfield. Last year, Michael Redding talked about having some inexperience on the offensive line but this year they return three starters – Carpino, Smith, and Horstmann – and will rely on their line to help carry the offense. Defensively, the front seven is very strong led by linebackers Q'Ra Guichard and Joe Moreshead, arguably two of the more underrated players in the Hockomock League. They also return linebackers Connor Finerty and CJ Daniel as well as Brendan Hill and Nick Borsari, who will both be on the defensive line. The question on defense will be about replacing the strong defensive backs they had a season ago, led by Mike Barresi and Aurien Dawkins. Boisvert will likely be called on to be the anchor of that group. It won't be an easy start either for Mansfield as they begin the season on the road in New York against powerhouse Archbishop Stepinac.
-RYAN LANIGAN
NO. 3 EVERETT
Head Coach
: John DiBiaso (23rd season at Everett, 271-66-1 overall)
2013
: 8-2, lost Division 1 North final to Central Catholic
Returning starters:
13 (6 offense, 7 defense)
Key Players
: Lukas Denis, Sr. Ath./DB, 6-0, 175 lbs.; Nick Orekoya, Sr. RB, 5-10, 200 lbs.; J.J. Colimon, Jr. TE/DL, 6-4, 250 lbs.; Erick Browne, Sr. OT/DT, 6-3, 270 lbs.; Mark Cardwell, Sr. 6-0, 225 lbs.; Jordan McAfee, Soph. QB.
Strengths
: Athleticism in offensive and defensive backfield; size and physicality on offensive line.
Weaknesses
: Lack of game experience at key positions.
Outlook:
Perhaps more than any Everett team in recent memory, this year's edition of the Tide is full of X-factors. The hype is abundant, but there are lingering questions. The athletic potential is apparent, but there's a lack of on-field experience together. The one surefire thing the Crimson Tide do have returning is Lukas Denis, who joined the long lineage of Everett defensive backs to give their commitment to Boston College. Denis, who's on-ball coverage skills are unparalleled in the region, will again be relied upon heavily as a hybrid back/wide receiver. Of course, that too depends on which form Everett's offense will take. There are big things predicted for sophomore signal-caller Jordan McAfee whose yet to make a start. Meanwhile, Billerica transfer Nick Orekoya provides a stout presence at running back – one that can both break tackles and out-run hits. On defense, the Crimson Tide are short on game experience at linebacker, but should be able to generate on the pass rush with senior Mark Cardwell.
-SCOTT BARBOZA
NO. 2 CENTRAL CATHOLIC
Head Coach
: Chuck Adamopoulos (18th season, 123-62)
2013
: 11-1, won Division 1 State championship
Returning starters:
11 (5 offense, 6 defense)
Key Players
: Michael Milano, Sr. QB, 6-1, 170 lbs.; Michael Balsamo, Sr. RB/S, 6-1, 202 lbs.; Markus Edmunds, Sr. RB/ILB, 5-11, 210 lbs.; Jorge Elias, Sr. G/DT, 6-0, 215 lbs.; Pat Dziedzic, Sr. OT/DT, 6-1, 220 lbs.; Dan MacDonald, Sr. OT/DT, 6-3, 260 lbs.; Justin Landry, Sr. C/ NG, 5-11, 270 lbs.
Strengths
: Experience at quarterback, inside linebacker and safety; defensive front seven; big game experience.
Weaknesses
: Lack of game experience at wide receiver and outside linebacker; kicking game.
Outlook:
The Raiders rolled through Everett and Xaverian on the Road to Gillette and snuck up on some observers – we're included – en route to the state's first true state championship in Division 1. This year, they'll be the targeted team, with a good mix of returning key contributors from last year's title team. The added good news for Central is that many of its returning starters are back at its most important positions. That includes senior four-year starting quarterback Michael Milano, who was among the statistical statewide leaders in just about every category during last year's playoffs. "He led our team in rushing last year and, I think for the people that followed us every week, that while [Cody] Demers made a lot of the big plays, Michael [Milano] did a lot of the things that made us successful, making such a big jump from his sophomore to his junior season." The Raiders also return a few key members of its vaunted 3-4 defense, including free safety Michael Balsamo and inside linebacker Markus Edmunds. Edmunds, who led the team in tackles last year while eclipsing the century mark, will be working beside a new-look linebacking corps, but "I don't know if he's going to have a better year statistically this year because he was so good last year, but he's going to have a lot more on his shoulders. We had two seniors at outside linebacker last year, who were both pretty smart kids as football players and they helped him make calls. So he's got a little bit more on him in a leadership role."
-SCOTT BARBOZA
NO. 1 XAVERIAN
Coach:
Charlie Stevenson (21st season, 172-62-1)
2013:
10-2, lost in Division 1 State Championship
Returning Starters:
15 (6 offense, 9 defense)
Key Returnees:
Joe Gaziano, Sr. TE/DE, 6-4, 242 lbs.; Damion Wood, Sr. WR/FS, 5-11, 200 lbs.; Joe Parsons, Sr. OT/DT, 6-5, 285 lbs.; Jake Farrell, Sr. QB, 6-3, 185 lbs.; Noah Sorrento, Sr. RB/OLB, 5-9, 185 lbs.; Kenny Kern, Sr. FB/MLB, 6-0, 227 lbs.; Elijah Pierre, Jr. OL/NG, 6-0, 260 lbs.; Mekhi Henderson, Soph. CB, 5-9, 175 lbs.; D'Aundre Holmes, Jr. RB/FB/OLB, 5-11, 205 lbs.; Coby Tippett, Jr. WR/CB, 5-9, 165 lbs.; Ernest Simon, Sr. WR/CB, 5-9, 180 lbs.; Nick Allsop, Jr. C/DT, 6-3, 248 lbs.
Strengths:
Defense, experience at quarterback, skill position depth
Weaknesses:
Experience at offensive line.
Outlook:
There's no hiding it, and there's no way the coaching staff can sandbag it: This defense is going to be pretty good. Led by the Northwestern-bound Gaziano, the reigning ESPN Boston Defensive Player of the Year, the Hawks return virtually everyone defensively, and are solid at just about every position in the front seven. The strength of the defense may lay in the secondary, where the Coastal Carolina-bound Wood has been playing with a violent chip so far this preseason, and the quick-twitched Henderson figures to be the top draw at corner after a promising freshman campaign. "He's a fierce competitor," Stevenson said of Wood. "He likes to make plays against the opponent, and I think he's serious about that. He's playing hard when he's out there, that's a good thing to have." Offensively, the Hawks have a few holes to fill, but on the right side they should be fine with the UMass-bound Parsons returning at right tackle. Gaziano was mostly used in-line for run support last season, but the Hawks have so far experimented with him in a "flex" role, lining him up in the slot or splitting him out wide. He made a few dazzling grabs in Saturday's scrimmage with B-R, and it's hard to imagine a scenario where the traditionally conservative Hawks don't get him more involved in the passing game this fall. "When he gets inside a cornerback, that's a big body for the cornerback to come through," Stevenson said. "He's a big guy who can run and catch, and once he catches the ball –- I'm not gonna say he's quick –- but he brings a pretty good load with him. Clearly, we're going to get him more involved in our pass attack." Farrell, a baseball star during the spring, is entering his second year under center and demonstrates above-average arm strength. He won't be depended upon to run the ball, with the entire backfield back, but his improvisational skills are noteworthy.
-BRENDAN C. HALL
July, 8, 2014
Jul 8
11:52
AM ET
Don't look now, but the first day of MIAA football practices is just 40 days away. Per our tradition every summer, ESPN Boston High Schools editors Brendan C. Hall and Scott Barboza whet your appetite for the gridiron with some players on the rise, surprise teams to watch, top teams and some food for thought.
Brendan Hall
ESPN Boston High Schools Editor
FIVE PLAYERS ON THE RISE
Drew Jean-Guillaume, Sr. QB/DB, Shepherd Hill
With a powerful frame and impressive speed honed during track and field season, Jean-Guillaume is a throwback-type option quarterback, a converted running back who's as adept at powering through defenders as he is at evading or blowing by them. The Rams will be heavy favorites in Division 4, and Jean-Guillaume will have plenty of room to work behind a reportedly heavy line led by Boston College commit Chris Lindstrom.
Mekhi Henderson, Soph. DB, Xaverian
In a defense full of household names, Henderson is one of the Hawks' brightest young stars. Often last season, he was left on an island against an opponent's top target, and often he held his own. With his coverage skills and raw ability, the coaching staff has a luxury to get creative in the secondary.
Shane Combs, Sr. ATH, St. John's (Shrewsbury)
It's assumed that Combs, a Notre Dame baseball commit and ESPN Boston All-State selection during the spring, will take the reins at quarterback from last year's Mr. Football finalist Drew Smiley. The Missouri transplant was one of the state's most productive rushers during the playoffs, going over the century mark in all five postseason contests as the Pioneers reached the Division 2 state final.
Mike Maggipinto, Jr. RB, East Longmeadow
Somewhat quietly, the 5-foot-5 scatback eclipsed the 2,000-yard mark last year for the Spartans, running behind a great blocking scheme that continued to find unique ways to get him in space. Between Maggipinto and Plymouth North's Christian Carr, this could be the year of the pint-sized running back.
Jahkari Carpenter, Sr. RB, Doherty
Among the area's most elusive, Carpenter was a weekly highlight reel during the Highlanders' run to the Division 4 state title, with runs like
THIS
, or
THIS
, or
THIS
. Junior Tavian Vassar is expected to have a bigger role in the backfield this year, which could make for an imposing thunder-and-lightning combination.
FIVE TEAMS THAT WILL SURPRISE
Billerica
The Indians hit a home run this offseason with the hiring of Duane Sigsbury as their new head coach, though they are considered a year or two away. Still, Sigsbury is one of the area's brightest offensive minds, with a track record of making programs relevant in a hurry (see: Boston Cathedral). Similar to his other stops, there are already some terrific talents coming up the pipe.
Boston English
The Blue and Blue made history last fall to end Brian Vaughn's first season at the helm, beating Boston Latin for the first time since 1997. Now, with dynamic dual threat Emmanuel Almonte leading the offense, they'll look to continue last year's momentum.
Cambridge
Long considered a powder keg for skill talent, head coach Ryan Saulnier has tapped into it, and found a lot of success running his brand of spread offense in his first season last fall. With Marcus Collins returning under center, and a new home in the Dual County League, the Falcons ought to be one of the most entertaining teams to watch in Division 2 North.
Leominster
Blue Devils graduated one of their most talented classes ever, but this is a program built to reload, not rebuild, under a great offensive mind in Dave Palazzi. Defensive coordinator Charlie Raff left to take over at Oakmont, but in his place comes former North Middlesex coach John Margarita. It's too early – not to mention, lofty – to make any Neil O'Connor comparisons yet, but keep an eye on sophomore Noah Gray this fall.
Springfield Central
Similar to Leominster, the Golden Eagles have many holes to fill on the heels of its most successful season in school history. But they should have a solid defense again, led by lineman Kaleb Hunter-Sams, and the coaching staff should get a boost from the addition of former Putnam head coach Bill Watson.
Hall's Preseason Top 10:
[+] Enlarge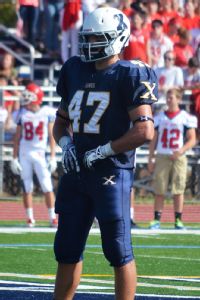 Brendan Hall/ESPNESPN Boston's reigning Defensive Player of the Year, Northwestern commit Joe Gaziano, leads a stacked Xaverian defense.
1. Xaverian
Little drama here as to who's the top dog. With a star-studded defense that includes the likes of Northwestern commit Joe Gaziano, ESPN Boston's Defensive Player of the Year in 2013; linebackers Noah Sorrento, Kenny Kern and D'Aundre Holmes; and defensive backs Damion Wood and Mekhi Henderson; as well as a potent running game behind UMass-bound tackle Joe Parsons, and an innovative playmaker in quarterback Jake Farrell; the Hawks figure to start the year No. 1 in many polls.
2. Everett
Crimson Tide are licking their chops after a disappointing end to 2013 season, and as usual they reload with some of the most gifted skill players in the area. The interesting question is how they'll fit Boston College-bound cornerback Lukas Denis into the offense; originally slotted as the successor to Jonathan DiBiaso at quarterback before injuries derailed his sophomore season in 2012, Denis showed flashes of brilliance in a multitude of positions last year.
3. Central Catholic
The Raiders' featured one of the state's best defenses a year ago in their D1 state title run, and they'll be held in high regard again thanks to linebacker Markus Edmunds and safety Mike Balsamo, who is fielding multiple Division 1 FCS offers at the moment. Also keep an eye on Matt Milano, who was statistically one of the state's most productive quarterbacks in the playoffs last year.
4. Mansfield
The Hornets dramatically altered their offense on the fly late in the season following a season-ending injury to wideout Brendan Hill, and it worked out as they took the D2 state title. A fully healthy Hill and another year of running back Miguel Villar-Perez, one of last fall's most pleasant revelations, should make the Hornets the favorite in a tough D2 South.
5. Bridgewater-Raynham
Trojans always get the benefit of the doubt for their powerful running game and their "anyone, anywhere, anytime" approach to scheduling, and they'll be a force again with Brandon Gallagher returning at tailback. But the question is whether the Trojans can sustain momentum and avoid last year's fate, when they reached No. 1 in our statewide poll early, only to sputter in the second half.
6. Shepherd Hill
In short, Boston College-bound offensive lineman Chris Lindstrom Jr. is a force. But the fact that he is the Rams' most dominant, yet possibly their lightest, should tell you something about what to expect in 2014. They're arguably Central Mass.'s most talented team this fall, and while there's a couple other heavy hitters contending in D4 – Holliston, Dennis-Yarmouth and Wahconah, for starters – these guys are my odds-on favorite. Look for them to put up a ton of rushing yards in head coach Chris Lindstrom Sr.'s double wing scheme.
7. Lowell
The Red Raiders made one of the biggest statements of the playoffs last fall in blanking St. John's Prep 41-0 in the first round of the D1 North tournament. Syracuse commit Shyheim Cullen was exceptional at interior gap blitzes, baiting and confusing potential blockers to create chaos up the middle, and he'll lead a talented defense that includes linebacker Nicolau Coury and defensive back Theo Bryant.
8. St. John's (Shrewsbury)
Boston College-bound free safety Davon Jones is one of several early candidates for Defensive Player of the Year after recording 125 tackles and eight picks a year ago. Offensive coordinator Chris Moriarty is as creative as they come, and how he utilizes Jones and athlete Shane Combs in the offense will be one of the more interesting storylines of the season's earlygoings.
9. Brockton
We're still in wait-and-see mode after another season of unrealized expectations in Brockton, but it's hard to deny the talent the Boxers have coming back. Keep an eye on Boston College-bound lineman Aaron Monteiro, who has some raw potential and a powerful frame at 6-foot-6 and nearly 300 pounds.
10. Dennis-Yarmouth
Division 1 recruit Michael Dunn lined up at nearly every offensive position last year for the Dolphins in their run to the D4 state final, and he may very well do it again. Defensively, this kid is a treat, regarded as one of the state's premier shutdown corners. As usual, Paul Funk's frenetic read option scheme will be a tall task to keep up with.
Others to Watch:
Attleboro, Barnstable, BC High, Doherty, Holliston, Marblehead, Oliver Ames, Plymouth North, Pope John Paul II, St. John's Prep, St. Peter-Marian, Tewksbury, Wahconah, Walpole
FOOD FOR THOUGHT:
1.
Spread offense has been the growing trend in Massachusetts over the last decade, and we're now seeing its influence at all levels of the game. But at the other end of the spectrum, we're seeing more and more teams dip into playbooks from decades and decades ago for some wild success in the running game. We've romanticized Nauset's Single Wing offense for years. At Holy Name, Mike Pucko dug into Dutch Meyer's World War II-era playbook and installed a fullback-less "Triple Wing" offense for the Naps' Thanksgiving contest with Milford, a game they won 35-14. Last year's D5 West Final featured a Pistol Flex Bone (Hoosac Valley) versus a Wishbone (Easthampton). Tewksbury, last year's D3 state champ, calls running plays out of an encyclopedia of formations from every family of offense. Factor in all of the traditional Double Wing success stories like Shepherd Hill, Holy Name and Somerset-Berkley, too. Running offense continues to diversify in this corner of the country, and if you're an X's and O's junkie like me, you are having a blast watching it.
2.
LSU took some negative backlash last fall when they received a verbal commitment from a freshman early in his season after an apparently intense summer of recruitment from a number of SEC schools, but this doesn't appear to be a trend going away any time soon. Early offers are still fairly uncommon for football prospects in this part of the country, though it's worth noting St. Sebastian's incoming sophomore Blake Gallagher received an offer from Nebraska last month. Beyond the concerns about pressure and bloated expectations, the biggest question I have is this: What if the recruit stops growing, or has just peaked earlier than his peers? I'm interested to see if Maryland head coach Randy Edsall's proposals for recruiting reform gain any traction. Among other things, his plan stipulates schools can't make a written offer until a player's senior year, and that the offer must come with permission from the school's admissions department.
3.
I'm on record as saying I hope the true state championship format the MIAA rolled out last year is here to stay, but I'm also in favor of giving it some tweaks. First and foremost, get rid of the second automatic qualifier for leagues. Weak leagues were rewarded at the expense of teams like Medway and Pope John Paul II, teams who finished with winning records in qualification period but were pushed all the way out of the eight-team field in their respective divisions to satisfy undeserved automatic berths. Leagues should be restricted to one automatic qualifier, or two if it is a two-tier league. I also question whether a seven-game regular season is enough of a window to properly gauge a team's strength. Expanding to an eight-game season and starting it on Labor Day Weekend could satisfy that, and could be a good gate opportunity for many schools as well.
***
Scott Barboza
ESPN Boston High Schools Editor
FIVE PLAYERS ON THE RISE
Michael Balsalmo, Sr. RB/FS, Central Catholic
A standout on the Raiders' Division 1 championship season a year ago, the 6-foot-2, 200-pounder holds a couple of offers (Bryant, Wofford) entering the season. Here's better there will be more to follow.
Christian Carr, Sr. RB, Plymouth North
For what Carr might lack in stature, he makes up for in elusiveness. A consistent 100-yard-per-game rusher in his junior season, he broke out with a 351-yard performance in the Eagles' playoff win against Dighton-Rehoboth.
Jake Gibb, Jr. QB, Stoughton
In his first season under center, Gibb led the Knights to the Division 3 South final before falling to Plymouth South. Gibb will have them contending for the Davenport division title again.
Kyle Murphy, Jr. OL/DL, Attleboro
The two-way lineman was a driving force behind the Blue Bombardiers' breakout season last year. It's only a matter of time before the 6-foot-4, 240-pounder starts getting colleges' attention.
James Sullivan, Sr. RB/S, Tewksbury
Sullivan announced himself to a statewide audience on the biggest stage last year, racking up 125 yards and three touchdowns in the Redmen's win over Plymouth South in the Division 3 state title game. With graduations, Sullivan will take on an even bigger role this year.
FIVE TEAMS THAT WILL SURPRISE
Braintree
The Bay State Carey should again be one of the more interesting races to watch across the state this year, and the Wamps might be primed to take a big step forward after last year's 4-7 mark. One to watch is inside linebacker Derek Anson, who's only added to his 6-foot-2, 225-pound frame.
Doherty
The Highlanders were historically good in 2013, capturing their first state title while beating Dennis-Yarmouth for the Division 4 championship. Although several key contributors have graduated, they can still make a run
Natick
It might not be the aerial display we've seen in recent years with Troy Flutie at quarterback, but the Redhawks will be one worth watching as Brian Dunlap returns from a season missed due to injury (Lisfranc fracture) last year.
Quincy
After a 7-4 campaign last season, are the Presidents ready to challenge for the Patriot Keenan title? With promising running back Jhave Handsom-Fields (8 TD as a sophomore) and quarterback James Lam returning, the time could be now.
Somerset-Berkley
The Raiders return a big class of juniors, including feature back Chip Wood back in the fold and Jacob Cabana rushing off the edge. Another EAC title could be in the cards.
Barboza's Preseason Top 10:
1. Xaverian
The Hawks will have some questions to answer on offense, but deserve the top spot on defense alone, with Defensive Player of the Year Joe Gaziano returning along with the state's best secondary group.
2. Central Catholic
The Raiders peaked at precisely the right time last year, capturing the first true statewide Division 1 title. Some of their biggest playmakers have graduated, but Michael Balsamo's primed for a breakout year.
3. Everett
The Crimson Tide are undoubtedly still smarting over last year's home playoff loss to Central Catholic. We all know what that means.
4. Bridgewater-Raynham
Here's betting tight end/defensive end Connor Reagan is one of next year's breakout performers.
5. St. John's (S)
You never know what you're getting from the Pioneers' offense game to game, and it'll be intriguing to see how the group develops this season. But you have to like any group with athletes of ilk of Shane Combs and Davon Jones.
6. Lowell
I'll take my chances with the linebacking corps the Red Raiders have returning, anchored by Shyheim Cullen and Nicolau Coury.
7. Brockton
The Boxers will not be pushed around inside the tackle box, with perhaps the biggest returning offensive line in the state, including Aaron Monteiro (6-6, 300) and Uzziah Hilliard (6-0, 280)
8. Mansfield
Mike Redding will come up with creative schemes to avoid Brendan Hill being double-teamed on both sides of the ball. Connor Finerty will also look to expand on a promising sophomore season.
9. Dennis-Yarmouth
The Dolphins fell just shy of the Div. 4 state title in a riveting matchup with Doherty. They might not be denied this year.
10. Tewksbury
The Redmen might not match the size and physicality of last year's state championship squad, but having James Sullivan in the backfield is still enough to win.
Others to watch:
Arlington, Attleboro, Billerica, BC High, Holliston, Leominster, Oliver Ames, Shepherd Hill, Stoughton, Wahconah, Walpole.
FOOD FOR THOUGHT:
1.
The football playoff system is here to stay – well, at the very least for two more years. While there are still pockets of dissent, the sentiment across the state is that the first year determining true state champions across six divisions was a success. It even drew over some who'd been opposed to the playoff proposal originally and voted against the measure. The build up and drama of the first seven weeks leading up the start of the tournament brought a different dimension of intrigue to the season. Still, detractors remain and, as Brendan ruminated earlier in this feature, there's still room for improvement regarding the means of automatic qualifiers and the discrepancies that exist between the respective athletic conferences' rubrics – including, most importantly, the weight of league games. But with one year in the books, I declare the system to be a success. Now, let's start tweaking the framework.
2.
Which brings me to my next point: get rid of Thanksgiving. This is going to be a highly unpopular opinion in some neck of the woods, but it's simply a reality of what's put in front of us. At the end of last season, I talked to many athletic directors who complained about a diminished gate return from their Thanksgiving Day games. That's a natural feedback of the playoff system – which in some place requires teams to "double up" with their Thankgiving rivals. In change, that has deemphasized the pomp and circumstance surrounding Turkey Day. As a result, that left some Thanksgiving Day matchups to resemble more of an exhibition game in tone – althought don't tell that to St. John's Prep and Xaverian, or Foxborough and Mansfield. The result is a hodgepodge of situations that follow teams into what used to be the biggest day of the regular-season football calendar: ie a non-playoff team vs. a team that's bound for a championship game, or two teams who are playing out the string on a season that's already ended. I counter those scenario's are really no different than what existed in the year B.P. (Before Playoffs), but the current arrangement has only emphasized was already apparent – Thanksgiving is an exhibition. Minus the Catholic Conference or Merrimack Valley Conference duels which resulted in playoff berths in previous years, Thanksgiving largely was such. Only now have the detractors used the playoff system to highlight the faults in Thanksgiving Day that already existed. What Thanksgiving Day has always been about is the rivalry. I ventured to North Attleborough last year when the Red Rocketeers (already eliminated from the playoffs) hosted Attleboro (who were just eliminated the previous week in the sectional final). The scene was what you'd become accustomed to – with an overflow crowd at Community Field. They were all there to watch an exhibition game. Why not make that game mean something more again? Why not play the game before the first frost?
May, 14, 2014
May 14
12:36
AM ET
By
Chris Bradley
| ESPNBoston.com
SHREWSBURY, Mass. –- After watching his lefty workhorse dominate in one of St. John's Prep's biggest game of the year, Eagles coach Dan Letarte only had one response.

"Snyder's back!" Letarte exclaimed in the dugout.

The senior lefthander very nearly went perfect against the loaded St. John's lineup, throwing a complete game shutout with one walk and only a single hit: a base knock by P.J. Browne in the second inning.

The Pioneers boast one of the state's best offenses, which includes North Carolina State commit Scott Manea, Virgina Tech commit Jake Rosen, juniors Tyler Mckeon and Charlie McDonald, as well as Browne, a Merrimack commit. Yet Snyder -- who will do a postgraduate year next year at Salisbury School (Conn.) -- mowed down the talented Pioneers lineup, finishing off the shutout on just 67 pitches.

"For him I think it's his mental state," Letarte said. "He's ready, and to be quite honest he was a little banged up – he's fought through it the past few weeks. He's finally healthy, sometimes pitchers when little things are wrong, when you get them back healthy it's huge. It was a minor injury, nothing really big. It's good having him healthy and happy, it looked like he had fun today."

Being fully healthy allowed Snyder to show off his full repertoire, painting the corners with his fastball, getting ahead in counts, and placing his breaking ball accordingly to force a groundout or flyout. That's where Snyder credits Prep's stellar defensive play.

"I got ahead early so that I was able to mix in more off speed. I have a great infield, so I was able to let them hit the ball. I don't always have to strike kids out, that seemed to work today," Snyder said.

Snyder's fastball -- which comes in anywhere from low to mid-80's -- has a slight, but natural, late bite on it – making it a deadly pitch when he can place it on the corners. By getting ahead of hitters early with his fastball, he then puts the hitter in a situation where they're likely guessing about what pitch is coming in -– and a defensive swing is exactly what Snyder wants.

"I can usually dominate outside because I throw a little harder than most people so they can't get around as easy," he said. "But some days I have better feel going [inside] than I do going [outside]. I usually try to drop an offspeed pitch middle or in because it's harder to turn on and it usually makes them ground out. So if I can get ahead early and get groundouts, that's usually when I'll have success."

Snyder finished with a no decision when he pitched against St. John's a couple of weeks ago, but his command wasn't quite as precise, often getting behind in counts and totaling over 100 pitches over five innings -- a performance he admits wasn't his best. St. John's coach Charlie Eppinger had high praise for Snyder after the game, who outdueled Pioneers' star junior and Notre Dame commit Shane Combs.

"I was impressed with him, he came out here wanting to prove he could shut us down," Combs said. "He painted the corners well. He was getting ahead of our guys and he commanded that curveball back door, which helped him get ahead and stay ahead of a lot of hitters. It was a very fast game because both pitchers were just dealing."

The Eagles have the best case of any team in the state to make the highly anticipated Super 8 tournament, which will consist of the top eight teams in the state. With Snyder's emergence and senior lefty Evan Roberts' downright dominant performance on the mound this season, Prep possesses one of the best one-two punches in the state.

"Snyder's been a workhorse for two years ... That was definitely his best effort of the year," Letarte said, "That's a good hitting lineup up and down, all of them hit the ball extremely hard. Last time we played them, they hammered the ball at our place. That's quite a reversal for Justin from the outing at the Prep to the outing here."

Combs bringing it late for St. John's: The Pioneers knew they had something special on their hands when Shane Combs rushed for over 1200 yards and 16 touchdowns during football season, helping lead the Pioneers to the Division 2 state championship game.

Then they saw him on the mound.

Combs has made a legitimate case as the state's best pitcher in the second half of the year, throwing a no-hitter against No. 11 Leominster, shutting out No. 23 St. Peter-Marian, as well as a victory over Nashoba, last years' Division 1 state runner-up.

"Certainly he came with an advanced reputation, but he struggled a little in March and April with his command and has really gotten better every single start," Pioneers coach Charlie Eppinger said. "He works tirelessly in between starts with our catcher, Scott Manea. Scott has helped him improve his command."

Snyder said the dominant command was what made Snyder stand out: "He has great velocity, that's just the first thing that jumps out. He's got a great curve ball too, it comes from a down angle and it's real hard to see. And he's a competitor. Most of all, he's a competitor."

The bullpen sessions with Manea have significantly helped Combs. The big right-hander owns one of the state's hardest fastballs -- with the majority of his fastballs, even late in the game, coming over in the high-80's. Combs has a hard, sweeping curveball that is often good for a swinging strike even when it ends up in the dirt.

"He's throwing the fastball and the curveball for a strike now. I thought he pitched exceptionally well today. I was very, very impressed by what Shane gave us, we just didn't give him any offensive support," Eppinger said.


Letarted called Combs' curveball "Probably the best curve ball I've faced the past two to three years."

"The way it dropped, the location. It's tougher to hit, you're always thinking about what's coming next," he said. "You always tell guys to sit fastball and adjust for the curve, but when the curve is that devastating coming in it's tough to get a good piece of that. The approaches with kids like [Combs] is 'jump on that first fastball'."

Combs (7 IP, 11K, 3 BB, 3 hits) put in one of his best pitching performance of the year against Prep, the state's top-ranked team, which he credits completely as a result of all the time spent working with his ACC-bound catcher.

"I've spent a lot of time inbetween starts working in the bullpen with Scott," said Combs, "My focus has just been [inside] and [outside], hitting the corners with both pitches. Now I have much better command, especially late in games. My mentality is that I just have to come out and pitch my best every time. For me it's not about who's in the box, it's about me executing."
December, 7, 2013
12/07/13
6:15
PM ET
By
Mike Scandura
| ESPNBoston.com


FOXBOROUGH, Mass. -- Not only did Mansfield enter Saturday's Division 2 state championship against St. John's (Shrewsbury) minus its injured leading receiver, Brendan Hill, but the Hornets also turned the ball over five times – in the first half alone.

Even though the Hornets only trailed 14-7 at halftime, a repeat of that performance quite likely would have resulted in a Pioneers victory.

Not quite.

"We were in a big, big hole," Mansfield coach Mike Redding said after his team rallied for an improbable 28-14 victory. "We did everything we could to give it away.

"I thought the big difference was twice when we turned it over in our own end, we came up with stops or this thing would have gotten away from us in a hurry."

The plays that Redding cited each occurred in the second quarter.

St. John's Derek Houde recovered a Miguel Villar-Perez fumble at the Pioneers 20. But Mansfield's Connor Finerty planted Shane Combs for no gain on fourth-and-one from Mansfield's 23.

Then, after the Pioneers' Pat Ryan recovered a "pooch kick" that deflected off a Hornet at the Mansfield 17, Aurian Dawkins intercepted an Andrew Smiley pass in the end zone.

Cool, calm and collected: Those plays had much to do with the Hornets' mindset during intermission.

"We felt pretty good at halftime because we had moved the ball and we hadn't punted," Redding said. "We were only down seven. To turn it over five times against a team like this and be down seven, we felt like we still had a good shot at winning it.

"This group has a lot of character. Nobody was rattled at halftime. We felt pretty good and we came to play in the second half on defense."

Granted, Mansfield (13-0) held St. John's (9-4) to a modest 161 yards of total offense in the second half. But if there was one sequence that reflected the Hornets' character it was the one that began at the tail end of the third quarter with Mansfield leading, 21-14.

Commencing on the last play of that period, Mansfield chewed up 68 yards of Gillette Stadium real estate on 13 plays and took a whopping 7:49 off the clock.

The drive culminated with Villar-Perez (18 carries for 120 yards) busting through the right side from the 3 for the game-clinching touchdown.

"I think that was the most crucial drive we've had," Mike Hershman said. "It took up a good portion of the fourth quarter so we kept our defense off the field.

"It was big for us. We just wanted to execute and try not to give their offense another chance to score. To melt so much of the clock and punch it in at the end was perfect."

Hershman was one of several Hornets who "executed."

Besides running for 66 yards and one touchdown on eight carries, he also caught six passes for 77 yards.

"We executed very well on offense (Mansfield amassed 384 yards of total offense) and on defense I was trying to give everything I had," Hershman said. "This was the last game and I wanted to leave it all on the field."

Fast start: Mansfield began the game with a 66-yard-, 10-play drive that ended with Alex Ruddy diving over from the 2. But St. John's countered with a 66-yard drive that culminated with Smiley sneaking over from the 1.

The Pioneers took what proved to be their last lead, 14-7, after Jacob Byczko recovered a Mansfield fumble. Shane Combs (14 carries for 100 yards) sped 19 yards to the end zone.

Mansfield's Mike Barresi intercepted a Smiley pass three plays into the third quarter and that set up an 11-yard touchdown run by Alex Ruddy. But Alex Thompson was wide right on the ensuing PAT so St. John's still led 14-13.

No problem.

After St. John's went three-and-out, Mansfield marched 59 yards with Chris Buchanan blasting over from the 8 and Villar-Perez bulling his way for a two-point conversion.

"It was a very professional-like halftime without a lot of hollering," Redding said. "We just wanted to keep it going, hold onto the ball and get some stops," Redding said. "The goal was to have a tie or a lead going into the fourth and we managed to do it.

"To win a championship you have to play defense, which we did in the second half, and you've got to be able to run the ball (Mansfield gained 299 yards on the ground) and we did that as well. We're known for our passing. But today was about defense and running the football."

MANSFIELD 28, ST. JOHN'S 14

MANSFIELD (13-0) 7-0-14-7 - 28

ST. JOHN'S (9-4 ) 7-7-0-0 - 14

First quarter

M – Alex Ruddy 2 run (Alex Thompson kick)

S – Andrew Smiley 2 run (John Coveney kick)

Second quarter

S – Shane Combs 19 run (Coveney kick)

Third quarter

M – Ruddy 11 run (kick failed)

M – Chris Buchanan 8 run (Miguel Villar-Perez run)

Fourth quarter

M – Villar-Perez 3 run (Thompson kick)
December, 5, 2013
12/05/13
2:09
AM ET
Ahead of Saturday's six MIAA Football State Championships at Gillette Stadium, today we are bringing back our "Tale of the Tape" series to break down each participating team's matchups headed into the game.

In the Division 2 Final, ESPN Boston High Schools editors Brendan Hall and Scott Barboza take a closer look at Central champ St. John's and South champ Mansfield, respectively.

MIAA Division 2 State Championship
ST. JOHN'S (9-3) vs. MANSFIELD (12-0)
at Gillette Stadium, 1:30 p.m.

When St. John's has the ball: Be prepared for a blitzkrieg. In these playoffs, the Pioneers are averaging 49.7 points per game -– including 51 or more points in all three of their Division 2 Central contests –- and an unheard-of 482.5 yards of offense, both bests among teams playing on Saturday. Much has been made over the past two years of the Oregon-like offense they've installed, looking to push a hyperactive tempo that is nearly unmatched across Massachusetts, and at the forefront of this offensive renaissance has been quarterback and Navy lacrosse commit Andrew Smiley (170-for-245, 2,368 yards, 28 TD, 4 INT; 97 carries, 866 yards, 12 TD). A true dual-threat quarterback, he has perfected the zone read, and demonstrated the ability to make difficult throws in tight windows throughout the state tournament. Smiley left the Thanksgiving matchup with St. Peter-Marian with a shoulder injury, but he is expected to play on Saturday.

A critical part of the Pioneers' passing game is predicated on finding weak spots in the defense and sitting in the holes, creating a short but fluid rhythm that allows them to keep the chains moving and therefore play fast. In accomplishing this, they may package any number of screens and route combinations on the backside of zone read plays. It's hard to ascertain who is truly the key receiver in the passing game: Mike McGillicuddy (46 catches, 817 yards, 10 TD), master of the underneath routes; senior T.J. Kelly (30 catches, 502 yards, 6 TD), a prominent basketball forward who can take the safeties deep off the ball; or junior Davon Jones (46 catches, 634 yards, 7 TD), a freakish athlete with a 40-inch vertical, who high-points balls like few others in the state.

Arguably the most crucial element, however, has been their ability to run the ball effectively in these playoffs – and not just with Smiley, who can pull the ball and slip through the first line of defense with his lacrosse-bred running skills. Junior tailback Shane Combs (149 carries, 1,143 yards, 15 TD), a Notre Dame baseball commit, has been incremental in these playoffs, going over the century mark in all four playoff games for a total of 524 yards and 10 touchdowns. As the season has progressed, Combs has transformed from fleet-footed to bullish, a tough downhill runner who can keep his legs churning after first contact.

When Mansfield has the ball: Wednesday's state championship breakfast at Gillette Stadium was dominated by the news that Hornets tight end Brendan Hill, their leading receiver on the season, will miss the game after an ACL injury suffered on Thanksgiving Day against Foxborough. While the loss of an All-State caliber receiver is never a positive, Mansfield still has dangerous targets on the outside to choose from. However, instead of spreading out the ball distribution, an increased number of targets (and the Pioneers' defensive scheming) will shift to Mike Hershman (37 catches, 645 yards, 6 TD) and Kyle Hurley (21 catches, 311 yards, 4 TD).

Leading us to the real X-factor of Saturday's game, which is what does Miguel Villar-Perez have left in the tank? The Hornets' leading rusher (890 yards, 11 TD) has been hobbled in recent weeks and was again banged up during their Thanksgiving game. Also, a dependable pass-catcher out of the backfield and in the slot, Villar-Perez has given Mansfield its dynamism on offense and, with Hill already out of the picture, its imperative that Mansfield maximize his snaps despite perhaps playing at less than 100 percent. If not ready to go, expect a greater dose of senior running back Chris Buchanan out of Mansfield's heavy sets.

Yet, for all the seeming uncertainty now surrounding the Hornets leading in, the constant has been senior quarterback Kyle Wisnieski. Throughout the season, Wisnieski has completed passes at clip of greater than 65 percent, including a very strong postseason run. The supremely efficient passer has also held on to the ball, with a touchdowns-to-interceptions ratio of greater than 5:1 (27 TD, 5 INT).

When St. John's is on defense: Judging from the scores this fall, one may get the impression this is a suspect defense. All but one opponent has put up double-digits on the Pioneers; nine have reached the 20's, and three have eclipsed 30. But some of that may be due in part to the type of offense the Pioneers run. With such quick offensive drives, that leads to more possessions for the opposition, which has often led to shootouts this season.

But that isn't to take away from what has been an athletic unit. At the forefront is the junior Jones, a three-year starter who has gone over 100 tackles for the second straight season (108 tackles, 7 INT, 5 TFL, 3 forced fumbles). Often playing as a high free safety, Jones covers a lot of ground in the deep field, and has developed a reputation as a violent hitter. Occasionally, the Pioneers will split the deep field with Jones and Smiley (3 INT), who made one of the playoffs' most acrobatic feats with a one-handed interception to ice the Central/West semifinal win over favored Springfield Central.

In the front seven, the Pioneers aren't overbearing, but they are definitely quick, led by linebackers Patch Ryan (105 tackles, 2 INT, 2 forced fumbles) and Alex Pappas (108 tackles, 8 TFL, 2 sacks). Keep a special eye on defensive end Jeff DeMango (68 tackles, 12 TFL, 8 sacks, 6 passes deflected), who demonstrates exceptional hand skills that are usually good for a batted pass or two.

When Mansfield is on defense: The Hornets' success on defense stems from its interior line, with a couple of underrated pluggers in Andrew Horstmann and Dhruv Patel. Their inside gap responsibilities will be put to the test with Combs and Smiley working the option game. But recent history sides with the Hornets, who held Barnstable's Hayden Murphy to just 21 rushing yards in the teams' Div. 2 South playoff game. Also, on the line, Steve Zieselman has enjoyed a strong senior season, earning Hockomock League All-Star honorers as a dependable two-way contributor, as well as John Keefe (56 tackles).

Junior linebacker Q'Ra Guichard has quietly led the Hornets in tackles (58 solo) to date, but last year's returning top tackler Alex Ruddy has caught up with 56 tackles, despite missing several games to start the season.

Not only will the loss of Hill set back Mansfield's passing game, the Hornets also lost their top pass rusher. Hill leads the team with 7.5 sacks.

Hornets senior Mike Barresi could draw the coverage assignment on Davon Jones, as Barresi leads the team with six passes defended.
November, 20, 2013
11/20/13
2:21
AM ET
By
Brendan Hall
| ESPNBoston.com
Here is our latest "Mr. Football Watch", following the third weekend of MIAA State Championship Playoffs. As always, coaches and/or statisticians are encouraged to send statistics to editors Brendan Hall (bhall@espnboston.com) and/or Scott Barboza (sbarboza@espnboston.com)

EDITOR'S NOTE: This will be the final "Mr. Football Watch" of the 2013 season. The five finalists for our Mr. Football Award will be announced on Monday, Nov. 25, with the winner announced on Dec. 9.

***

THE CONTENDERS

Luke Brennan, Sr. QB, Doherty
Threw for 191 yards and three touchdowns, but most importantly delivered the game-winning touchdown pass to Isaac Yiadom with five seconds left, as the Highlanders captured their first Central Mass. title since 1980 with a thrilling win over Shepherd Hill.

Davon Jones, Jr. FS, St. John's (Shrewsbury)
Totaled 10 tackles and an interception, in the Pioneers' 51-42 thriller over Leominster for the D2 Central title. He leads the team in tackles (91) and interceptions (5).

Neil O'Connor, Sr. QB, Leominster
Totaled 289 passing yards and two touchdowns, in a 51-42 loss to St. John's in the D2 Central Final.

Dylan Oxsen, Sr. RB, Plymouth South
Carried a career-high 39 times for 160 yards and a touchdown in the Panthers' 7-6 win over rival Plymouth North for the D3 Southeast title. He is the state's leader in playoff rushing yardage, with 737.

Andrew Smiley, Sr. QB, St. John's (Shrewsbury)
Completed 14 of 22 passes for 250 yards and three scores, and added 201 yards rushing and three more scores on 20 carries, in the win over Leominster. That puts him over the 2,000-yard passing mark for the second straight season; he currently has 2,787 yards of offense with 38 touchdowns.

Cody Williams, Sr. QB, Springfield Central
Completed 15 of 22 passes for 344 yards and four touchdowns in the Golden Eagles' win over Westfield in the D2 West Final.

Ju'an Williams, Sr. WR, Springfield Central
Made five catches for 119 yards in the Golden Eagles' 48-22 dismantling of Westfield in the D2 West Final.

Kyle Wisnieski, Sr. QB, Mansfield
Completed 20 of 27 passes for 284 yards and four touchdowns in the Hornets' 41-16 win over Barnstable in the D2 South Final. He is completing 70 percent of his passes in the playoffs.

FIVE ON THE RISE

Olan Abner, Sr. RB, Bedford
Ran for 139 yards and a touchdown in the Buccaneers' overtime win over Pentucket for the D4 North title, his third straight week going over 100 yards rushing.

Jahkari Carpenter, Jr. RB, Doherty
Ran for 119 yards and two touchdowns to help lead the Highlanders past Shepherd Hill for the D4 Central title. He has 230 yards rushing and four touchdowns in the last two weeks.

Michael Dunn, Jr. CB, Dennis-Yarmouth
Held Holliston's top target Zach Elkinson without a catch, and made an interception for his own cause -- his sixth of the season -- as the Dolphins captured the D4 South title.

Michael Hershman, Sr. WR, Mansfield
Exploded for seven catches for 132 yards in the Hornets' 41-16 win over Barnstable, for the D2 South title.

Shayne Kaminski, Sr. RB, Xaverian
Ran for 200 yards and two scores to help rally the Hawks past Attleboro for the D1 South title, his second 200-yard rushing game in three playoff games.

PLAYOFF STATISTICAL LEADERS

Passing
Kyle Wisnieski, Sr., Mansfield – 689 yards, 9 TD
Matthew Jeye, Sr., Holliston – 647 yards, 5 TD
Luke Brennan, Sr., Doherty - 607 yards, 11 TD
Drew Smiley, Sr., St. John's (Shrewsbury) – 588 yards, 10 TD
Neil O'Connor, Sr., Leominster – 575 yards, 5 TD
Mike Milano, Sr., Central Catholic – 516 yards, 4 TD
Troy Flutie, Sr., Natick – 504 yards, 6 TD
Dana Parello, Sr., Waltham – 494 yards, 6 TD
Tim Walsh, Sr., Attleboro - 469 yards, 8 TD
Cody Williams, Sr., Springfield Central – 417 yards, 5 TD

Rushing
Dylan Oxsen, Sr., Plymouth South – 737 yards, 8 TD
Alex Givins-Perry, Sr., Bartlett – 710 yards, 5 TD
Christian Carr, Jr., Plymouth North – 618 yards, 8 TD
Brooks Tyrrell, Jr., Marblehead – 512 yards, 6 TD
Koby Schofer, Soph., Northbridge – 466 yards, 8 TD
Malik Garrett, Sr., Melrose – 466 yards, 7 TD
Shayne Kaminski, Sr., Xaverian – 447 yards, 5 TD
Mike Panepinto, Sr., Needham – 418 yards, 6 TD
Olan Abner, Sr., Bedford – 395 yards, 3 TD
Shane Combs, Jr., St. John's (Shrewsbury) – 386 yards, 5 TD
November, 9, 2013
11/09/13
6:12
PM ET
By
Joe Parello
| ESPNBoston.com
SHREWSBURY, Mass. -- St. John's senior quarterback Drew Smiley threw for three touchdowns and added a pair on the ground as the Pioneers (7-2) routed visiting Marlborough (7-2) 56-20 in Saturday's Division 2 Central semifinal.

The Pioneers started things quickly, forcing the Panthers into a three-and-out on their opening drive, before explosive athlete Davon Jones (4 catches, 92 yards; 5 kick returns, 155 yards, TD) returned a punt 45 yards for the game's first score. The Pioneer defense forced another Panther punt moments later, but this time it would be Smiley (12-of-14 passing, 205 yards, 3 TD; 4 carries, 70 yards 2 TD) scoring for St. John's, keeping it himself for a 58-yard touchdown run on the Pioneers' first play from scrimmage.

Less than two minutes in, St. John's led 14-0. It was a stark contrast to the first time these teams met.

"We've been talking all week about winning the moment," Pioneers coach John Andreoli said. "We came out last time (against Marlboro) and did not have a good first half, and I think we were relaxed today. We were well prepared, and we had confidence in our reads and in our mechanics. Our kids played to their ability, and it was a complete game for us."

The Panthers answered with a Will Cowdrey one-yard touchdown run, but Smiley responded with an 11-play, 90-yard drive that took up just over two minutes of game time before he found junior running back Shane Combs (15 carries, 100 yards, 2 TD; 2 catches, 3 yards, TD) for a 15-yard passing score.

Smiley would punch in a one-yard score on the next St. John's drive before Pioneer linebacker Patrick Ryan intercepted Panther quarterback John Rumney, setting up another Smiley touchdown pass, this one a 44-yard strike to leading receiver Michael McGillicuddy (2 catches, 50 yards). Three plays later, linebacker Anthony Moroski picked off another Rumney pass, running it back inside the Marlborough 20, and setting up Smiley's final touchdown of the day to senior T.J. Kelly.

St. John's led 42-7 at that point.

"Last time we played Marlborough it was pretty windy, so we couldn't really throw it," Smiley said. "So this time we tried to open it up and throw it around a little bit. Then, (on the zone read) it opened up room for Shane, and when they committed to him I just kept it and had space."

Marlborough scored on the following drive, after senior receiver Matt Thall drew back-to-back pass interference calls, and the Panthers threatened to pull within 21. But, with a first and goal at the Pioneer one-yard line, Rumney was stopped for a four-yard loss by senior defensive end Jeff DeMango, then forced into two incompletions by the stingy Pioneer secondary. The half ended with St. John's leading 42-14.

The second half started with a bang for St. John's, as Combs took the first play from scrimmage for a 55-yard rushing touchdown. Rumney answered with a 23-yard passing touchdown to Jose Caquias, but Combs' 15-yard touchdown to start the fourth quarter pushed the score to 56-20 in favor of St. John's, and brought the Pioneer backups into the game.

"I think our offensive line really set the tone," Combs, a recent Notre Dame baseball commit, said. "From the get-go they were coming off the line and pounding (Marlborough) back, and by the end of the game they didn't want to line up against us. All the credit to the O-line for pushing them back all day."

Next up for St. John's is a highly anticipated rematch of their season opener against rival Leominster. The Blue Devils defeated the Pioneers 33-22 at home the first time around, and the Division 2 Central final will also be played at Leominster's Doyle Field.

Coach Andreoli and his team know it won't be easy. After all, the Pioneers have yet to defeat Leominster with head coach Dave Palazzi at the helm, but St. John's is still relishing the second chance it's getting.

"They're the defending champions, they're undefeated," Andreoli said. "We know it's going to be a challenge, but we're just going to try to line up and win every snap. I think it's a great opportunity for us to have a great week and go up there and play our best game.

"This season was my first indoctrination into the Leominster-St. John's rivalry," Combs, a transfer from St. Louis, said. "The first game I was amazed by the energy of this rivalry. Right now it comes down to preparation, and I know we have a chip on our shoulder, and we're going to out-prepare them."

St. John's will face Leominster in the D2 Central final Friday at 7 p.m., at Doyle Field.
October, 26, 2013
10/26/13
11:22
PM ET
By
John McGuirk
| ESPNBoston.com
SHREWSBURY, Mass. -- Marlborough did everything right in the first half. The Panthers dominated time of possession, and outside of a 73-yard Drew Smiley to Mike McGillicuddy touchdown pass, they were in total control against St. John's (Shrewsbury), holding a 13-point edge.

But, as we know, it takes two halves to win and Marlborough learned that lesson the hard way. The No. 21 Pioneers reversed roles over the final 22 minutes, scoring 28 unanswered points to post a 35-20 victory this afternoon at windy Pioneer Field.

"The first half we were like 'Dawn of the Dead' out there," St. John's coach John Andreoli said. "But in the second half we played our butts off. The kids never quit and we ran the ball with some authority in the second half. Defensively we dug in and gave our offense a chance to go back to work. Marlborough is a good football team but at times we shot ourselves in the foot in that first half by turning the ball over or having penalties on first down. We had to flush the first half and needed to come out and play hard in the second which we did."

What went so well for the previously undefeated Panthers (6-1) in the opening half turned into a house of horrors following intermission. After managing a paltry 106 yards of offense in the first half, St. John's (5-2) started to find its groove offensively and finished the game with 343 yards.

Unable to successfully move the ball early on, the Pioneers began to gain traction midway through the third quarter. Holes in Marlborough's defense began to widen and Smiley, a senior, was starting to find receivers getting open in the secondary.

The start of St. John's turnaround came midway through the third. On their second possession, the Pioneers drove 81 yards behind hard-charging junior running back Shane Combs (8 carries for 79 yards). That would lead to a 1-yard Smiley dive over the goal line, narrowing the deficit to 20-14 with 1:52 remaining in the quarter.

Marlborough's offense, which conjured up 205 first half yards but only 64 the rest of the way, failed in its attempts to move the ball against a rejuvenated St. John's defense. The Panthers' continuing efforts of keeping the Pioneers offense off the field eventually would backfire.

Early in the fourth quarter, Marlborough managed to reach the Pioneers 37. Facing a fourth-and-5 Marlborough opted to go for it. Quarterback John Rumney was stopped in his tracks for no gain, thus turning the ball back over to St. John's. Rumney, a senior, threw for 106 yards on 12-of-28 passing. He also led his team in rushing, gaining 72 yards on 14 carries.

"We thought we had a play there," Panthers coach Sean Mahoney said. "We didn't want to give their offense the ball back. Offensively, their offense was starting to click at that point.

"Defensively, I felt our kids got worn down a little bit. We threw the ball fairly well in tough, windy conditions but so did they. We weren't able to run the ball and that was a big difference. When we needed to run it we weren't able to. We battled them but we needed to convert on a couple of third and fourth downs in the second half and we didn't."

With the ball back in the hands of the St. John's offense, a 23-yard completion by Smiley to T.J. Kelley set up Smiley's 37-yard scamper down the left side line into the end zone. Jack Coveney's PAT put St. John's ahead to stay 21-20 with 3:38 to go.

"Our coaches told us we needed to come out with more intensity in the second half," said Smiley, who completed 9-of-16 passes for 147 yards, a touchdown, and rushed for 106 yards on 21 attempts, finding the end zone three times. "That first half was the worst half of football this team has played. We came out of halftime and played with a lot more intensity. We knew we could pound the ball and finally got it going in the second half. The way we played in the second half is the way we need to play throughout the entire upcoming playoffs."

While the Panthers, suddenly anemic, offense continuing to struggle, the Pioneers got the ball back on Marlborough's 28. Needing just one play, Smiley darted around left end for the score to put his team up 28-20 with 2:32 left. On the Panthers' next possession, Rumney was blindsided by defensive end Jeff DeMango, which resulted in a fumble that was recovered by Mike Duquette on the Marlborough 1-yard line. Running back Brad Sylvester closed this contest out with an easy plunge over the middle to make it a 15-point contest.

"When our offensive line started to get off the ball we and started to gain some confidence," Andreoli said. "Shane [Combs] was getting some tremendous yards after contact and that really got us going. Then we were able to use the wind in the fourth quarter and started to throw the ball and move the ball down field. I think the field position game really came into play for us in that fourth quarter."

McGillicuddy's early touchdown catch staked St. John's out to a 7-0 lead.

The Panthers answered two series later after Rumney hit receiver Matt Thall for a 9-yard scoring reception. Marlborough had to settle for just the six points after the following PAT sailed wide. With Thall, who also plays linebacker, given the assignment to shadow Smiley, the senior did an outstanding job containing a serious running threat. After its first score, St. John's offense did little the remainder of the half.

Marlborough took advantage of that by grabbing a 13-7 lead at 6:44 of the second quarter on Jose Caquias' 6-yard sprint around left end. Following another Pioneer four-and-out, the Panthers set up shot at their 48. A Caquias option pass to Alec Deveau netting 50 yards set the stage for Rumney's 2-yard run at 4:57, pushing the margin to 20-7. St. John's would have the ball three more times before the half was completed but could do nothing with it.
September, 26, 2013
9/26/13
1:59
PM ET
1. SPECIAL TEAMS PLAYED A MAJOR FACTOR IN XAVERIAN'S 49-13 DRUBBING OF BRIDGEWATER-RAYNHAM, RETURNING TWO BLOCKED PUNTS FOR TOUCHDOWNSW, BUT A.J. KING (2 TDs) DIDN'T HAVE A BAD DAY EITHER. IS THIS XAVERIAN SQUAD CAPABLE OF ROUTINELY PUTTING UP BIG NUMBERS?

Brendan Hall, ESPN Boston High Schools Editor: If this were 2012, or any other recent year for that matter, I would lean towards labeling that game an anomaly. Xaverian squads typically aren't known for blowing up the scoreboard, instead moving the chains rather steadily behind a conservative multiple offense and relying on change-of-pace backs to grind out the tough yardage. I've been in this for 10 years, and this year's Xaverian team feels like one of the more unpredictable squads that I can recall. And when I say that, I mean you just don't know that they're going to throw at you. Certainly, Jake Farrell brings about an escapeability intangible they typically haven't had with quarterbacks, and there is some promising sophomore talent.

By the way, whoever the special teams coach is at Xaverian, give that man a raise. If you think the B-R game was an aberration, ask the BB&N coaches how their scrimmage with the Hawks went.

Scott Barboza, ESPN Boston High Schools editor: I know we all thought the Hawks' defense would be ahead of the offense entering the season, but this looks like a much-improved group thus far. I like the one-two punch Shayne Kaminski and Noah Sorrento provide in the backfield. They have some legit targets in the passing game with King and D.J. Sperzel and Jake Farrell has looked great at quarterback. If the offensive line keeps creating holes and pass protecting the way they have in the first two weeks, I don't foresee a slowdown.

John McGuirk, ESPN Boston correspondent: With the talent Xaverian has they should continue to put up decent numbers. They have four 'big' games left on the schedule in Barnstable, Brockton, BC High and St. John's Prep. All four of those programs are outstanding but all have issues on defense as well which should work in the Hawks' favor.

2. NASHOBA OWNS THE STATE'S LONGEST ACTIVE WIN STREAK (28 GAMES), BUT TWO TOUGH OPPONENTS LAY AHEAD IN WACHUSETT AND ST. JOHN'S OF SHREWSBURY. DO YOU SEE THE CHIEFTAINS MAKING IT TO 30 STRAIGHT?

Hall: Wachusett matches up evenly on paper with Nashoba, but watch out for St. John's. Andrew Smiley is heating up (380 passing yards the last six quarters), and the running game seems to be hitting a groove with St. Louis transplant Shane Combs taking over the feature role. The "blur" offense is a whirlwind to handle when all is going right, and you always have to watch where Davon Jones lines up. I see the Pioneers stopping Nashoba's streak at 29.

Barboza: I think it'll end at No. 29. The Chieftains will get by Wachusett, but I think the Pioneers' athletes, particularly on the perimeter, will prove too much to handle.

McGuirk: I see Nashoba reaching 30 straight wins. Wachusett is going through a down year, having already lost to St. Peter-Marian and Fitchburg. And what has been noted many times, St. John's biggest weakness the last couple of seasons has been its porous defense and inability to make tackles consistently. If you look past those next two games, the Chieftains will face a pair of unbeatens (Marlborough and Leominster). That is where the streak could possibly come to a close.

3. BETWEEN THE SUPERB STARTS FROM BROCKTON, TAUNTON, TEWKSBURY AND WESTFIELD, THE TRIPLE OPTION IS MAKING A COMEBACK. WHICH TEAM RUNS IT BEST?

Hall: It's tough to argue against Westfield's ridiculous numbers -- there are running backs that will go a whole season not putting up as many rushing yards as the Bombers have their first two games of the season. But it's hard to argue against Brockton's talent. Aaron LeClair and Jamal Williams get to the perimeter quick, and the Boxers can steamroll you inside with counters and dives. All four of these teams have a dynamic playmaker in the backfield -- LeClair, Tewksbury's Eddie Matovu, Westfield's Ben Geschwind and Taunton's Domingo Jenkins -- but I will give Brockton the edge here because of what they have in the trenches. Aaron Monteiro, the Boxers' prized prospect at 6-foot-5 and 290 pounds, is a road grader at left guard with a pretty high ceiling.

Barboza: As of right now, I don't see how you can argue with Westfield. The Bombers are running roughshod over opponents behind senior fullback Ben Geschwind. After running for 348 yards and six touchdowns as a team during last week's 49-20 win over West Springfield, Westfield has scored 109 points in two games, with Geschwind averaging more than 150 yards per game.

Josh Perry, HockomockSports.com: I can't say whether or not Taunton runs it better than other teams in the state, but I can say that the Tigers do make it look fun. With Gerald Cortijo and Steven Harrison giving star back Domingo Jenkins some help in the backfield, the Tigers have speedy and shifty runners. It's almost enough to make you forget just how good the ground game would have been without Jamal Williams' move to Brockton. Taunton's ability to run the triple option will of course get a much tougher test this week against King Philip and its strong defense, but the Tigers are unique among the other Hockomock teams and it can be fun to watch.

McGuirk: The way Westfield is dominating the competition (109 points in two games), I would say the the triple option is working best for them. They have the right personnel to execute it and coach Bill Moore is very good at putting the right players in place to keep it rolling effectively, especially his tandem of Ben Geschwind and Jake Toomey, who are both averaging over 10 yards-per-carry.

4. TWO OF THE MERRIMACK VALLEY CONFERENCE'S BEST SQUADS, CENTRAL CATHOLIC AND LOWELL, SURRENDERED A COMBINED 73 POINTS AGAINST NON-LEAGUE TOP 10 OPPONENTS LAST WEEKEND. ARE WE HEADED FOR ANOTHER SEASON OF HIGH SCORES IN THE MVC?

Hall: Tough to tell, because Tewksbury has more than pulled its weight in the defensive end so far. If there's one team that can avoid track meets, it's the Redmen. Everyone else, good luck. We anointed the MVC "Death By 1,000 Shallow Crosses" a year ago, and with the amount of spread offense and no-huddle tempo deployed in this league, we could very well be in for another season of Wild West scores.

Barboza: I'd take my chances with the defensive units of Andover, Central Catholic, Lowell and Tewksbury against just about any offense in the state, but what comes into play in the MVC is the teams' offensive style of play. With so many teams in its ranks adopting the spread offense, the big numbers put up seemingly on a weekly basis are more a function of the pace of the game, with shortened drives as opposed to rushing-oriented, ball-control styles of play. But as long as MVC teams continue to live and die by the sword (or the spread), I think we'll continue to see some lopsided numbers.

Mike Abelson, ESPN Boston correspondent: Yes and no. Central and Lowell, when the blur is working as advertised, can drop basketball scores on lesser teams because of the athletic talent. That being said, through three weeks there are only two MVC teams averaging 30 or more points. Central is one, and the other, North Andover, hasn't won a game. The only two remaining undefeated teams, Tewksbury and Methuen, are averaging 27 and 18 points a game, respectively, and winning games without all the flash and dash of putting up buckets of points. Yes, the MVC will have it's share of high-scoring contests (I'll put the over/under for Central-Chelmsford at 90.5), but it won't consistently translate to W's.

5. AFTER A ROUGH FIRST WEEK, HAS BARNSTABLE FIGURED IT OUT? CAN THEY KNOCK OFF NO. 1 XAVERIAN?

Hall: I feel like this is a sneaky good matchup. Let's not forget Barnstable was our preseason No. 12 before getting shell-shocked by Dennis-Yarmouth in the opening weekend. There is talent, between versatile athlete Hayden Murphy, shutdown corner Derek Estes and elusive scatback Justus Chafee.

Defensively, Barnstable typically likes to stretch vertically and keep everything in front of them, which can be a bad matchup against spread teams like Dennis-Yarmouth. Last week against BC High, they looked like they cleaned up a lot of their mistakes. Xaverian's offense, while a bit more creative, has some similarities to BC High's. Going the other way, the Red Raiders use some funky misdirection in the run game to prevent linebackers from filling gaps. On their first touchdown against BC, for instance, a receiver backpedaled off the line of scrimmage, feigning a bubble screen, putting several defenders on their heels as Chafee came up the gut on a zone read.

That kind of stuff can keep even the best defenses on their toes. Expect some fireworks, and some dynamic playcalling, in this one.

Barboza: This is a yes-and-no proposition to me. I think the Raiders righted ship after an embarrassing loss to Cape rival Dennis-Yarmouth in Week 1, going on the road to beat another Catholic Conference foe in BC High. But I think Barnstable would need to play a near perfect game, while forcing the Hawks into some turnovers in order to make it four straight defeats of an ESPN Boston No. 1 squad. I'm not saying it will not be a close game, I just like Xaverian a little bit more.

Perry: In a preseason roundtable, I said that Barnstable was a team that was getting overlooked because of the players that it lost from last year. I'll stick by that and say that the Raiders give Xaverian a run for their money. The No. 1 ranking has been more of an albatross than an honor this year, so I'll say that Barnstable has a good chance of causing the Hawks problems.

McGuirk: Barnstable is good but Xaverian is playing with a lot of confidence, especially following the huge win over B-R last week. The Hawks should take care of the Red Raiders who gave up 37 points to D-Y in Week One but did bounce back nicely last week against BC High.

Abelson: In Hayden Murphy I trust. In the ESPN Boston poll curse I believe. Barnstable, 27-21.

6. THE HOCKOMOCK LEAGUE'S KELLY-REX DIVISION MIGHT BE THE STATE'S MOST UNPREDICTABLE RACE THIS FALL. AS LEAGUE PLAY OPENS UP THIS WEEK, PROJECT YOUR CHAMPION AND DARK HORSE.

Hall: Mansfield was the prohibitive favorite in most minds heading into the season, and so far they've done little to suggest otherwise. Consider that nearly three weeks out from their shocking upset of Dunbar (Md.), the Hornets are still without five starters. They're already a dynamic offense, between quarterback Kyle Wisnieski, 6-foot-5 flex tight end Brendan Hill, and space-carving tailback Miguel Villar-Perez. Hard to go against that.

For dark horses, I like Attleboro. I think it's understated how big their line is, particularly at defensive tackle, and there are plenty of weapons on offense between quarterback Tim Walsh, tight end Luke Morrison and receiver Brendan Massey. This program has long been a sleeping giant, and new coach Mike Strachan has re-awakened those sentiments.

Barboza: All along, I've penciled in Mansfield as the team to beat in the Kelley-Rex. I believe they had the most complete group of talent on either side of the ball, and also had the most upside. The scary part is that, due to injury, the Hornets might not have yet hit their apogee and will continue to strengthen as the season progresses.

Now, for the sleeper, I know we've talked up Attleboro up a lot in the early going -- to the point that I really think they're a threat in Division 1 South. Seeing that the Blue Bombardiers are for real in the first two weeks of the season, I'm going to go with Taunton. I don't think Chris Greding has gotten enough credit for the job he's done turning around the Tigers program in short order. Of course, an infusion of talent led by Domingo Jenkins helps, but I wouldn't be at all surprised if Taunton knocks off one of the Hock's "Big Three" -- King Philip, Mansfield, North Attleborough -- at some point this season.

Perry: The favorite heading into the Hockomock League season is defending champions Mansfield and its new spread attack that takes advantage of its great weapons like senior quarterback Kyle Wisnieski and junior tight end Brendan Hill. Attleboro has gotten a lot of hype from media, me included, in the preseason as a sleeper in the Hock. A new coaching staff, a new field, and new schemes on both sides of the ball have made the Bombardiers a much more confident crew and better utilize the weapons that it has. The Bombardiers were only a few mental mistakes from beating Mansfield last season and Tim Walsh is on fire running the spread formation – watch out for Attleboro. Of course, watch out for KP, Franklin, and North Attleborough, too. It really is up for grabs

McGuirk: The Kelly-Rex Division is solid with four teams still unbeaten (Mansfield, Attleboro, North Attleboro and Taunton). When it is all said and done. I believe it will come down to Mansfield and North Attleborough for the title because of their high-octane offenses. Attleboro has to be considered the darkhorse here because of its stingy defense which could carry them through. It will be interesting to watch all four of these team beat up one another during the season and see who survives.
September, 14, 2013
9/14/13
12:15
AM ET
By
John McGuirk
| ESPNBoston.com
LEOMINSTER, Mass. -- Over the past two seasons, the St. John's defense has provided no answers in how to stop, or even slow down, Leominster's vaunted dual-threat offense. The Pioneer coaching staff have been often left scratching their heads in trying to develop new concepts to keep the Blue Devils out of the end zone.

After Friday night's 33-22 season-opening defeat at Doyle Field, it appears as though St. John's still hasn't gotten it right and another trip back to the drawing board seems imminent.

Leominster's offensive unit punched the Pioneers square in the mouth, accumulating 397 yards while managing to sustain several drives after converting key first downs. The victory marks the Blue Devils' fifth straight over St. John's dating back to 2011. Included among those triumphs are a pair of Super Bowl titles. The Pioneers, as was the case in the previous meetings, had trouble tackling and in their coverage schemes. Neither worked.

Senior quarterback Neil O'Connor, having not played the position since his freshman season, looked truly at ease. The former wide receiver completed 18 of 24 passes for 195 yards and a touchdown. He proved just as effective on ground, scoring three times, finishing with 71 yards on 12 attempts.

"This is a great win because it is always a battle with them," said O'Connor, who like many others was battling cramps in the muggy conditions. "This is the funnest team to play other than (Thanksgiving rival) Fitchburg. We always come out for every game and try to play Leominster-type football. Tonight was a great atmosphere under the lights before a packed house at our own field. This win certainly gets us rolling now. I had never played quarterback in an atmosphere like this so I just tried to block it all out and focus on what we needed to do."

Having lost a couple of key personnel to graduation, nonetheless, the Blue Devils still returned a solid nucleus on both sides of the football. Likewise, St. John's had strong weaponry at key positions, primarily on the offensive side.

The Pioneer defense had issues trying to shut down Leominster's pistol formation. At times, they looked dazed and confused on whether or not to key on the run or the pass. In several cases their decision in choosing what to defend wound up costing them on the scoreboard.

"Overall defensively we had a couple of third down situations where we didn't stop them," Pioneers coach John Andreoli said. "(O'Connor) made a couple of tremendous athletic plays and we missed quite a few tackles and Leominster made us pay for it. In a game like this against a team like that you cannot make mistakes and we did."

After coming up short on their first series, the Blue Devils were given a short field on their next one. St. John's punter Shane Combs mis-handled the snap and was dropped for a 16 yard loss giving Leominster the ball on the Pioneer 21. Four runs by O'Connor set up running back James Gurley's four-yard toss into the end zone giving the Blue Devils a 6-0 lead. St. John's senior quarterback Drew Smiley (18 of 35, 194 yards) answered the score with one of his own, darting into the end zone on a seven-yard carry. Following the PAT, the Pioneers led 7-6 early in the second quarter.

The remainder of the half, however, belonged to Leominster. O'Connor danced his away out of an apparent sack, turning it into a 15 yard scoring run. Jarell Addo's follow-up conversion catch had the Blue Devils back in front 14-7. After getting the ball back, the Pioneers quickly gave it away after Combs fumbled it over to the Blue Devils, putting them in great shape on the Pioneer 48. With just 30 seconds left in the quarter, O'Connor threw an 18 yard strike to receiver Jake Allain (six catches, 78 yards) over the middle to increase the Blue Devils lead to 20-7 going into the half.

Realizing the offense they were using over the first 22 minutes wasn't working, St. John's opted to go with much safer pass patterns for its heralded signal-caller. The Pioneers discovered the screen pass could be an effective weapon to get them back in this tilt. Senior receiver Mike McGillicuddy, who did not catch a pass the entire first half, was St. John's primary receiver of choice throughout the second.

McGillicuddy finished with eight receptions totalling 90 yards. He inched St. John's closer after hauling in a seven-yard pass from Smiley on the team's first drive to begin the third quarter, making it 20-14. But Leominster always had an answer. Marching 80 yards on the ensuing possession, O'Connor finished it off with a 1 yard dive with 3 minutes remaining in the quarter to hoist the Blue Devils lead out to 26-14.

St. John's got the ball back and were starting to find holes in the Leominster defense. Moving the ball to the Blue Devil 13 and facing fourth down, Smiley, who was continuously forced outside the pocket by a hard-charging Leominster front line, lofted a ball into the end zone that was picked off by Allain. Moments later, to start the fourth, the Pioneers again drove deep into Leominster territory but this time they capitalized as Smiley found junior Devon Jones on a 26 yard scoring reception. Smiley then added the conversion run to suddenly bring the Pioneers to within four at 26-22 with 7:44 to go.

But once again the Blue Devils found a way to storm back. Methodically moving the ball down field, and showing great poise, the objective to chew time off the clock and tack on more points to put this out of reach appeared destined. Leominster did just that. Aided by a critical pass interference penalty, the Blue Devils took advantage as O'Connor, upon seeing the Pioneer defense taking away the inside gaps, ran an option-keeper outside the right tackle and rumbled 24 yards untouched into the end zone to seal the deal for Leominster.

"We knew St. John's likes to run spread on offense," said Blue Devils coach Dave Palazzi, his club holding the Pioneers to 246 yards, only 42 in the first half. "We just felt we needed to play our game and focus on the whole field. Our 11 guys did a great job out there on defense. It was a great performance on both sides of the ball. We had a great game plan on both sides. I cannot say enough of the effort they put forth tonight."

Johnson honored: Longtime Leominster baseball coach was honored before Friday night's game. Johnson who accumulated 725 victories, recently stepped down from the position. Johnson was three Division 1 state championships with the Blue Devils in 1986, 1988 and 1996. He is a member of the Massachusetts Baseball Coaches Hall of Fame, Fitchburg State University Hall of Fame and will be inducted into Leominster's inaugural Hall of Fame class this weekend.

Light remembered: St. John's players wore stickers on its helmets with the initials "DJL" in honor of Daniel Jonathan Light who passed away this past summer from ALS. Light is the father of former Pioneer standout quarterback Dan Light, who is now playing defensive back at Fordham University.
August, 30, 2013
8/30/13
11:46
PM ET
By
Joe Parello
| ESPNBoston.com
Some of the best talent in Central Mass was on the field at Foley Stadium in Worcester Thursday, as No. 22 Doherty hosted No. 11 St. John's (Shrewsbury) for a scrimmage.

Each team's varsity starters scored a pair of touchdowns, and the both defenses showed flashes that they may be forces in 2013.

Some notes and observations from Thursday's scrimmage:

Doherty's Dynamic Duo: The Highlanders will have to replace star tight end/linebacker Noah Robinson and, at least on the offensive end, they seem to have found their answer. Alfred Adarkwah is listed as a wide receiver, but the 6-foot-4 senior lined up at tight end frequently, creating mismatches against the St. John's linebackers. On Doherty's first drive of the game, Adarkwah got just behind the linebackers and split the safeties on an out-up-and in, then broke a tackle on his way to a 30 yard score.

Isaac Yiadom, a do-it-all athlete and ESPN Boston Preseason All-State selection, lived up to his star billing. The versatile senior made a fantastic catch on a wheel route up the left sideline for 30 yards, displaying great body control and concentration on a ball that was slightly underthrown. Yiadom also scored Doherty's other varsity touchdown, breaking contain on a receiver sweep, then cutting back against the grain for a 35-yard touchdown run.

Defenses clearly fear Yiadom, and the emergence of Adarkwah at both receiver and tight end should help ease the loss of Robinson. The two were particularly effective when lined up on the same side of the formation, with quarterback Luke Brennan rolling their way.

"They both have strengths," Doherty coach Sean Mulcahy said. "Isaac is obviously a dual-threat as a runner and receiver, and Alfred is a really tough matchup for anyone that's not really tall. We have a quarterback that can get them both the ball, and as we go we'll figure out, team-to-team, how we can use them best."

Pioneer Defense Continues to Improve: They're not there yet. At least, not according to St. John's coach John Andreoli, but the Pioneer defense does look significantly better than last year's group that surrendered nearly 30 points a game. After giving up a quick score to the Highlanders, St. John's tightened things up on the defensive line, thanks largely to sophomore nose tackle Josh Angel. The young tackle is still a work in progress according to his coach, but he sure is hard to move at the point of attack.

A week after facing Brockton's power running game, the Pioneers were given the challenge of adjusting to Doherty's spread formations. Andreoli gave his defense passing marks on that adjustment.

"Early in the game we had three third down situations where we just lost contain," Andreoli said. "That's just about us being disciplined, and we did a better job of that after the first drive. On the other hand, we did a real good job against the run, especially against the inside run game.

But I was encouraged about the first two weeks here, after facing two totally different offenses and the way our defense has adjusted to what we've seen."

Smiley Shaking the Rust Off: Preseason All State quarterback Drew Smiley looked a little rusty in the Pioneers' scrimmage against Brockton last week, but he was back to running the St. John's "Blur Offense" efficiently Thursday. Smiley led the Pioneers on a quick 75-yard touchdown drive on his first series, connecting on three of three passes for 30 yards, and rushing for another five yards. The drive was capped by junior running back Shane Combs taking a read handoff for a 45-yard score off left tackle.

On the next St. John's drive, Smiley threw a perfect fade route for a 22-yard touchdown just over the outstretched arms of Adarkwah who was back playing safety. Smiley did fumble when he was sacked by three different Highlanders on his team's next drive, but it looked like he was trying to do too much when he just should've eaten the ball. Other than that one play, it was a pretty perfect day for Smiley.

"Overall we got enough snaps for Drew and he looked good," Andreoli said. "Next week we'll get him a little more, and we're hoping to get some guys back on that side of the ball next week, so we want to be at full strength and getting to game speed by the time we scrimmage New Bedford next Saturday."

Doherty's Young Talent: The star of the scrimmage after the starters left the field was easily Doherty's Ricky Webster. The younger brother of Doherty's 2012 leading rusher Abdulla Webster, the speedy sophomore scored two touchdowns in the second half of the scrimmage. The first was an uneventful five-yard dive, but the second was a 75-yard highlight reel run where Webster got the corner, broke a tackle, then outran everybody down the left sideline. He also looked good in coverage as a corner on defense. No matter what he was doing, Webster just looked fast.

Mulcahy knows that Webster is a great athlete, but he wants him to become a great football player.

"He's gonna be a very good player, but he needs to get to practice," Mulcahy said. "He's very talented. He's good enough, talent-wise, to probably get in the mix for some carries this year. But we've got to get him here every day getting better."

Jones and Brennan Leave With Minor Injuries: On the injury front, both teams played without key players in the second quarter, but both should be back after the long weekend. St. John's junior receiver/safety Davon Jones didn't reenter the game after the first quarter ended, and Doherty quarterback Luke Brennan sat out the second quarter as well. Both injuries are considered minor and both coaches feel they will have their stars back after Labor Day in preparation for the start of the season.

Before Brennan went out, he delivered several memorable plays, including a Ben Roethlisberger-like scramble were he stepped up into the pocket, pounced back off a would-be tackler, turned around and scrambled to his right before flinging it 30 yards for a first down. He also delivered a big hit while running down the sideline on a busted play during the scrimmage's first drive, lowering the boom on a St. John's linebacker that was probably expecting him to step out of bounds.

Jones was his usual versatile self, splitting time between receiver and running back on offense. He got around five touches and broke two runs for first downs. On defense, he nearly recorded the scrimmages only interception as he sat deep in coverage, and baited Brennan into throwing the post to Yiadom. Jones broke hard on the ball, undercutting the route perfectly, but just couldn't hold onto it.
August, 27, 2013
8/27/13
2:02
AM ET
By
Brendan Hall
| ESPNBoston.com
BROCKTON, Mass. -- The No. 8 Brockton Boxers hosted No. 11 St. John's of Shrewsbury in their annual preseason scrimmage late Monday afternoon, at Marciano Stadium.

Since Brockton coach Peter Colombo and St. John's coach John Andreoli -- former teammates at Holy Cross -- began scheduling this yearly, it has become one of the most anticipated scrimmages of the preseason. In three 10-play series each of varsity on varsity, the Boxers scored twice while the Pioneers scored once.

A few notes and observations from Monday's scrimmage:

Ground and Pound: In last year's installment of this annual scrimmage, Brockton debuted a Georgia Tech-style "Flex Bone" scheme, a radical departure from the multiple offense the Boxers had been running for decades. But the look suited the exploits of tough-as-nails quarterback Augie Roberts very comfortably, and they put together one of the state's most fluid rushing attacks en route to the MIAA Division 1 Eastern Mass. Super Bowl.

There had been some light speculation during the offseason as to how much longer they would stick in the scheme, with Roberts graduating, but it looks like the Boxers are staying with it. Good thing, because it looks like they will be sharp once again, with Pat Burke assuming the reigns under center, fleet-footed seniors Aaron LeClair and Jamal Williams at the wingback spots, and promising sophomore Kerry Raymond at fullback.

"People thought we might have to abandon this when Augie left, but Pat's done a pretty good job with it," head coach Peter Colombo said. "He doesn't have to do everything Augie did, but spread it around."

By far, the most effective play was the "rocket toss", sending either LeClair and Williams circling in motion from the backside and pitching to them on the perimeter at full speed. The Boxers called the play three times on the first series, out of two-receiver sets, and gained a total of 52 yards.

Eventually, more ripples will be added as the new backfield pieces get accustomed -- Williams, for one, is already pretty familiar, having run a similar scheme at Taunton High last year.

"We've gotta be able to throw off of it, and do other things off of that," Colombo said. "We're just working on base stuff right now, but we'll add in some [more] throws, and some misdirection, and just keep getting better at it, because no matter how much ... it's hard to defend. It puts stress on them side to side, widen things out, and then we hit you in between. We'll see where it goes, but it's a good start with that."

The Boxers are hoping Raymond can provide a good counterpunch to the shifty LeClair and Williams. Already measuring 6-foot and close to 220 pounds, there are high hopes that he can be tough in between the tackles, and today's returns were encouraging. It's not every day you have a back this size in Brockton, which had Colombo recalling back to some of the most successful Brockton teams of the last few decades.

"He's a throwback to the Junior Penn, Darnell Campbell, Rudy Harris type of back," Colombo said. "Again, just a sophomore, so he's still just learning his plays. We've got him playing some fullback and some tailback, and I think at times he's confused about exactly what the concepts are. But with the ball in his hands, going north and south, he's a load, definitely.

Colombo added with a laugh, "He's not a fun guy to tackle -- not that I've ever tried, I'm just glad I don't have to. He's a big strong kid that we have to take advantage of."

Davon dazzles: One of the most interesting camp questions this preseason was where star athlete Davon Jones would line up on the offense. Jones, a starter at free safety since his freshman season of 2011, is already being hailed as one of the state's best defensive backs, named a Preseason All-State selection last week by ESPN Boston. Offensively, Jones is expected to have a bigger role this fall following the graduation of Shadrach Abrokwah at running back.

Today, Jones played wide receiver exclusively, mostly lining up opposite the strength of the formation in isolation, and he made several highlight-reel plays. On the fifth play of the first series, with his defender playing five yards off the line of scrimmage, Jones took one step forward and turned back to the line of scrimmage, where quarterback Andrew Smiley threw him a ball on the numbers. Jones turned back to his defender, shook his hips, and then juked another defender for good measure.

In the second series, Jones went deep down the left sideline on a go route, and Smiley delivered a deep ball towards his back shoulder. With a safety coming over the top, Jones looked back to the ball, turned mid-air, and acrobatically came down with the ball, his arms outstretched behind his head.

"He's always around the ball," Pioneers head coach John Andreoli said. "On both sides of the ball, he's an impact player that we need to have on the field. Offense, it's good to have him in the slot, open area, and we can get pretty good matchups against him."

Asked if Jones will stick at wide receiver, Andreoli said, "We like him there, because it gives us a matchup in space."

Monteiro shows promise: Right now, this is a young offensive line that is green with talent, breaking in a slew of new blood. But this is also a big line, consisting of tackles Dan Estrella (6-2, 235) and Sebastian Porter (6-2, 240), guards Aaron Monteiro (6-5, 290) and Junior Silva (6-0, 230), and center Terrence Thorpe (6-3, 240).

"The line is a work in progress, and they're working hard. I see definite hope there," Colombo said.

The Brockton coaching staff is especially excited about the potential of Monteiro, who showed flashes of potential in the run game, getting out into the second level, but also in the passing game. On the Boxers' second touchdown, a 40-yard strike from Burke to Watna Cunha, Monteiro initially chipped the nose guard in the gap to his right, then recovered and sealed off the defensive tackle attacking his outside gap.

Monteiro is an aggressive run blocker, but his technique is still raw. Right now, he plays a bit stiff, and has a tendency to over-extend himself. His intangibles, though, have plenty of folks in Brockton excited about what he could become.

"He's athletic for a big, big kid," Colombo said. "He plays basketball, so he's used to moving his feet. When he puts a year of experience under his belt, with another year in the weight room, I think he's a Division 1 prospect. We'll see what the other guys think, but certainly he's got the part you can't coach -- the frame, athleticism and the size to play at the next level."

Big hits: Of all the years St. John's and Brockton have been scrimmaging each other, this was one of the more intense meetings. There were plenty of loud, popping hits delivered on both sides; a brief scuffle also broke out in the end zone following a St. John's score, though no punches were thrown.

In the second series, Williams took a quick pitch on the perimeter and shuffled his feet, attempting to juke Jones. But Jones simply squared his shoulders and lunged at Williams' thighs, undercutting him with a loud pop. The next play, Brockton's Justin Ahanon took a swing pass in the flat, turned upfield and ran over Jones on his way to the sideline, one of the day's biggest hits, which fired up the Brockton sideline.

Then early in the third series, Brockton safety Devin Duarte read Smiley's eyes and picked off his pass over the deep middle. Duarte broke to the left sideline, picked up about 20 yards then lowered his shoulder to flatten a would-be Pioneers tackler.

Early rust, but passing marks for Smiley: First scrimmages never go smoothly, and Smiley -- a 2012 ESPN Boston All-State selection -- threw a bad pick early, his intended target having his back turned. But once he got going, he was accurate, hitting receivers in the flats and deep downfield for a number of positive gains. Smiley -- a Navy lacrosse commit -- is one of the state's most dangerous dual threats, and leads an offense that runs parallel to Oregon's "Blur" attack and last year led the state in offensive yards (442 yards per game). But today's gameplan did not call for him to run much.

"We had five sophomores on the offensive side of the ball today due to a couple guys being dinged up, but overall I thought he made some good decisions, threw some good balls," Andreoli said. "He got the ball to guys in space, and that's our offense. We didn't run it a lot today, but he's progressing right along nicely. Where he was now compared to a year ago at this time, he's a completely different player."

Combs comes through: Andreoli feels comfortable sticking Jones at wide receiver, and that's because the Pioneers have picked up a nice running back in junior transfer Shane Combs, who has moved into the area from St. Louis.

Combs took a vicious hit from Jonathan Deroulas on the second play of the day, stuffed on a dive up the middle after a minimal gain and his back looking like it got the worst of the collision. Looking dazed, Combs struggled to get to his feet, but he returned to the field two plays later and was serviceable the rest of the day.

He also scored the first St. John's touchdown, cutting back on an outside zone to the left and scampering 25 yards to paydirt.

"He sees the field pretty well, is able to run off blocks and change direction without really losing a step," Andreoli said of Combs. "And he can catch out of the backfield too, which is a really nice dimension for us."

Leg Up: Keep an eye on sophomore placekicker Ryan Clifford, who played for Brockton's soccer team last year and has an impressive boot. In the first series, Clifford attempted a 35-yard field goal that sailed wide left, but had plenty of distance.

Clifford is among a small minority of kickers in the MIAA that kick directly off the ground. High school rules allow for the ball to be elevated up to two inches off the ground on field goal attempts, and most kickers use some sort of platform.

"Eventually, I think he's a big strong kid who might play some tight end or some other position for us," Colombo said. "And he kicks off the grass. He's not used to using a tee, and as you saw that was plenty of distance. It's a nice weapon to have."