Boston High School:

Shane Morgan
January, 13, 2013
1/13/13
12:00
AM ET
By
Shawn Myrick
| ESPNBoston.com


WILMINGTON, Mass. -- Wilmington boys' hockey coach Steve Scanlon has seen his team on the watch list for the Super 8 the last few years.

The coach has gained an appreciation of what it takes and has scheduled accordingly. If the Wildcats are to keep their tournament hopes alive its starts not just against out of conference squads, but with their battle for top position in the Middlesex Freedom division.

Host Wilmington proved an early season point as it bested Burlington, 3-1, in a clash of reigning Eastern Mass champs at Ristuccia Arena yesterday afternoon.

"We knew we had a good crew coming back so we wanted to challenge ourselves," Scanlon said. "You have to play those teams to get in. We know (Burlington) is well coach, they work hard and they have some skilled players."

Junior Austin O'Neal scored the game-winner for the Wildcats (8-1, 5-0) on a behind-the-net pass with 1:02 left in the second period. Looking to hit teammate freshman William Falter along the boards, O'Neal ricocheted the puck off a defender's skate and past the keeper for the 2-1 advantage.

"I was coming around the net and I went to throw it out to Billy and it went off the defensemen's skate (and) short side on the goalie," O'Neal said. "The goalie had no idea. You work hard and throw it to the front of the net anything can happen."

FAST STARTERS
Wilmington's starting line of left wing Cam Owens, right wing Jacob Rogers (both seniors), and junior center Brendan McDonough were a constant threat on the counter attack.

Owens and Rogers each assisted each other on a goal with both scores coming on a breakaway.

Rogers caught a 3-on-1 with McDonough and Owens at 4:06 remaining in the first period for the opening tally. The right winger worked the puck through their triangle formation toward McDonough and onto Owens, who slipped it in along the left post.

"Quick hand skills and all three are good skaters," Scanlon said. "When they grab a puck they just accelerate out of their zone (and) we do a lot of full ice stuff to work on that. Good things happen when you put the puck on net."

A near one-timer from Red Devils winger J.P. Scola to Liam Cronin (both seniors) opened a two-on-one open net opportunity for Owens and Rogers in the final seconds. Owens slipped the rubber in front of a Burlington defender and too Rogers who finished the 3-1 score with 41 seconds left.

GET HUNGRY RED DEVILS
Burlington scored its only tally on a deflected shot at the side face off circle from senior Sean Costa that went off teammate Sean Murphy to equalize at 1-1 with 2:46 left in the first period.

"We have got to do a better job getting into the 'hungry areas'," Burlington head coach Bob Conceison said, "getting those type of shots. We work on it all the time."

The Red Devils gained momentum earlier in the second period as they won the shots on target battle 10 to one. A slap shot by senior Shane Morgan slipped past the keeper and into crease for an open score by Scola at 4:53 into the period, but officials whistled the puck as frozen.

"We got our forecheck going," Conceison said. "We are a good skating team, but we have to find a way to get goals. We are a very young [and] inexperienced team so hopefully we are going to get better."

TOUGH BETWEEN THE POSTS
Wildcats' keeper Drew Foley has averaged one goal allowed per game this season. The junior goalie kept his pattern alive by knocking 29 shots away and allowing only one to slip in. Red Devils' senior goaltender Derek DeCastro also made 28 saves.

Wilmington will face defending Super 8 champ No. 5 Malden Catholic (3-2-3) on Monday night.
July, 18, 2012
7/18/12
1:30
PM ET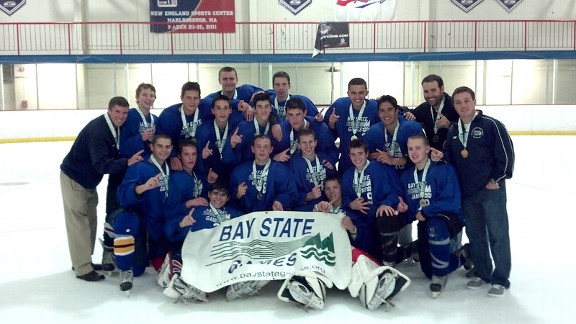 Courtesy Bob Conceison Jr.Team Northeast claimed the gold medal of the scholastic boys' hockey competition at the Bay State Games last weekend in Marlborough, Mass.
MARLBOROUGH, Mass. -- When Bob Conceison Jr. stepped into his team's locker room on Thursday morning at the New England Sports Complex, he saw a group of bleary-eyed hockey players. After 20 minutes of play, the Burlington High assistant coach saw his Bay State Games Northeast team come to life and, perhaps, come together.
His team went on to win the gold medal in the scholastic boys' hockey competition, outlasting a Metro team in a shootout after skating to a 4-4 tie in regulation. The accomplishment was familiar territory for eight of Conceison's players who earned MIAA state championship medals with their respective Burlington and Wilmington High School squads.
"They're obviously an experienced and a talented group," Conceison said after his team's 8-7 first-round win over the Southeast team on Thursday.
On a team rife with talent from a host of the Middlesex League's top hockey programs, the gold medal squad had a distinct Red Devil and Wildcat tinge. Burlington's Mike Bibbey, Derek DeCastro and Shane Morgan were joined by Wilmington's Anthony and Joe Castellano, Cam Collins, Cam Owens and Jake Rogers.
All were champions with their high school teams, Burlington in Division 1 and Wilmington in Division 2, respectively. All claimed gold in their Bay State Games' experience.
"It's a good time, good friends and good hockey," said Owens, who scored a hat trick, including the game-winning goal in the Wildcats' triumph over Franklin at the TD Garden in March. "This has been a great experience."
Owens played alongside Wildcats linemate Jake Rogers, forming a fearsome scoring duo for the Northeast team. One that DeCastro, who backstopped the Red Devils to their state title, was happy to watch operate in the opposing zone.
"Usually, I'm seeing those guys takes shots on me," the Burlington rising senior said. "At least this time, I don't have to worry about stopping their shots."
DeCastro split the Northeast's netminding duties with Reading standout Evan Morelli, creating depth in goal and presenting Conceison with a good problem to have.
"I think we had nine goaltenders come out for tryouts," said Conceison, who was in his third year of Bay State Games coaching experience, his first as a head coach. "It was a tough competition; it was tough making those cuts because it shows you how much talent there is in the area."
While in the midst of a summer heat wave, local rinks remain busy with a host of offseason tournaments filling up the schedule in the coming weeks.
Both DeCastro and Owens have taken part in other summertime tournaments during their high school careers, but chose to play in the Bay State Games for the first time this year. Both cited the ability to play with a group of their high school teammates as an enticing possibility.
"A lot of tournaments that you play in, you're playing with people from all over the place," Owens said. "Here, I get to play with all of my teammates, you're playing for your region and that's kind of cool.
"Even the guys from other teams, you know a lot of them from playing against them during the [high school] season. Now, you get to play with them and get to know them."