Boston High School:

Shaquor Sandiford
January, 13, 2012
1/13/12
6:00
AM ET
Boston Amateur Basketball Club (BABC) Director of Operations Jay Demings forwards along some information regarding this weekend's BABC Prep School Classic, this Saturday and Sunday at the Kroc Center in Dorchester.
BOSTON -- This weekend's Boston Amateur Basketball Club (BABC) Prep Classic at the Kroc Center in Boston will not only feature some great games, but will give fans an up-close look at the elite-level basketball talent that permeates the New England region.

In the event's first matchup on Saturday, two talent-laden teams in Notre Dame Prep and the Tilton School (NH) feature two potential NBA lottery picks in Notre Dame's Steven Adams and Tilton's Nerlens Noel.

Adams is a seven-foot center from New Zealand who just arrived at Notre Dame Prep as a post-graduate and will make his debut on Saturday. He is signed to play at the University of Pittsburgh for the Fall of 2012. Only a junior, Noel is a 6'11'' center from Everett, MA who is ranked second in the class of 2013 by ESPN. Both players have drawn serious attention from NBA scouts.

"I have yet to see Steven Adams play live but, based on all accounts and video I've seen, this is a can't-miss matchup between him and Nerlens," said BABC's Director of Operations, Jay Demings. "Many of us are familiar with Nerlens' skill set, but fans will get to see how Adam's size, strength and skills translate to the American game. Experts believe that both players are certain future NBA lottery picks."

The two-day event will also feature many signed Division 1 collegiate players and those that are expected to make their college choices soon. The field of teams include the following committed players:

Myles Davis - ND Prep - Xavier
Adonis Filer - ND Prep - Clemson
Mandell Thomas - ND Prep - Fordham

Georges Niang - Tilton - Iowa State
Dominique Bull - Tilton - Missouri
Kevin Crescenzi - Tilton - Dartmouth

Evan Cummins - NMH - Harvard
Tommy Carpenter - NMH - Dartmouth
Ethan O'Day - NMH - Vermont

Nick Lund - Rivers School - Claremont McKenna

Akosa Maduegbunam - Winchendon - Penn State
Tevin Falzon - Winchendon - Sacred Heart

Jake Fay - Brimmer & May - Fordham

Others to watch:

Tilton - Goodluck Okonoboh, Wayne Selden, Jr., John Witkowski, Cameron Durley
Wilbraham & Monson - Kamali Bey, Jaylen Brantley, Marcel Pettway, Djery Baptiste
Worcester Academy - Matt Cimino, Rene Castro
Marianapolis Prep - Kristian Medina, Nigel Sydnor, Bobby Ahearn
Brimmer & May - John Powell, Adrian Oliveira
Rivers School - Shaquor Sandiford, Kyle Reardon, Andrew Kaufman, Carlin Haymon
Boston Trinity - Elijah Okagbare, Zach Petion
Winchendon - Tre Tipton, Tom Bajda, Malique McLaren, Malcolm Smith
Putnam Science - Oscar Assie, Tyree Robinson, Jonathan Joseph, Dayshon Smith
Notre Dame Prep - Sam Cassell, Jr., Nehemias Morillo
Northfield Mount Hermon - Ryan Oliver, Lucas Van Nes, DeKeeba Battee
December, 8, 2010
12/08/10
6:07
PM ET
Offense
QB – Eric Bertino, Sr., BB&N
QB – Charlie Storey, Sr., Milton Academy
QB – Shaquor Sandiford, Jr., Rivers
RB – Ben Patrick, Sr., Rivers
RB – Chris Coady, Jr., BB&N
RB – Anthony Knight, Sr., Lawrence Academy
FB – Tommy Kelly, Sr., Nobles
TE – Josh Rivers, Sr., Roxbury Latin
OL – Jeff Winthrop, Sr., St. Paul's
OL – Max Ricci, Sr., Lawrence Academy
OL – Eric Olson, Jr., BB&N
OL – Paul Nwokeji, Sr., Thayer
OL – A.J. Walsh, Sr., Rivers
WR – Taariq Allen, Sr., Rivers
WR – Marcus Grant, Sr., Lawrence Academy

Defense
DL – Tyler Cardoze, Sr., Lawrence Academy
DL – John Bergantino, Sr., Belmont Hill
DL – Dan Connaughton, Jr., BB&N
DL – Ryan Welch, Sr., Lawrence Academy
LB – Dan Giovacchini, Sr., Lawrence Academy
LB – Peter Savarese, Sr., BB&N
LB – Brian Bowser, Jr., Belmont Hill
LB – Nick DiChiara, Jr., BB&N
DB – Mike Orloff, Sr., Lawrence Academy
DB – Brian Strachan, Sr., St. Sebastian's
DB – Joe Giandomenico, Sr., Roxbury Latin
DB – Ben Ticknor, Sr., Milton Academy

November, 20, 2010
11/20/10
8:56
PM ET
By
Phil Perry
| ESPNBoston.com
FOXBOROUGH, Mass. -- For a moment, Nick Antenucci felt as though he had let his team down. With his only carry of the game, the Pingree sophomore fullback gained three yards and lost a fumble, setting up Rivers for a scoring drive late in the second quarter that increased their lead to 21-6.

"When I fumbled, it was awful," said Antenucci. "I felt horrible about it. We just had to battle back."

Antenucci didn't get another carry for the remainder of the game, but he redeemed himself. He returned a blocked Rivers field goal 82 yards for a touchdown with 11 seconds left in the fourth quarter to give Pingree a victory in the NEPSAC Norm Walker Bowl at Gillette Stadium, 36-28.

Pingree (9-0) senior Kyle Jamerson blocked the 28-yard field goal attempt and then escorted Antenucci down the sideline. Antenucci broke a tackle at the Rivers six yard line before hitting pay dirt to complete the Highlanders' second-half comeback.

"It's unbelievable," said Pingree coach Chris Powers. "You think all we're trying to do is block the kick. You never know how the ball's going to bounce."

Pingree's offense, which averaged just over 40 points per game coming into its matchup with Rivers, found its rhythm in the second thanks to its passing attack.

On the Highlanders' first drive of the third quarter, senior quarterback Brendan Oliver (9-15, 176 yards; 9 carries, 58 yards) caught the Rivers (8-1) defense off guard when he found Jamerson for a quick eight-yard touchdown pass to cap a 60-yard drive and cut the lead to 21-12.

After a touchdown run by the Red Wings' Taariq Allen, Oliver went to the air again and answered with a 42-yard touchdown strike to William Walfield (three catches, 75 yards; six carries, 63 yards). A two-point conversion brought the Highlanders within one score of the Red Wings.

On what turned out to be Pingree's last offensive drive of the game, Oliver found Jamerson (three catches, 87 yards) for 47 yards down the sideline to set up a one-yard Kenny Adinkra (three carries, 37 yards) touchdown run. Oliver's two-point conversion toss to Antenucci tied the game at 28 with 6:08 remaining.

"We knew that we score points in bunches," said Powers. "We've done it all year. There's been several times we've scored 30 points in a quarter. We felt like we needed to tell [the players] to be confident we could get the points because they come in bunches for us."

Rivers jumped on Pingree in the first half by forcing three turnovers. Before the Red Wings scored after recovering Antenucci's fumble, they scored twice off of Oliver interceptions. On Oliver's first pass of the game he was picked off by Red Wings defensive end Nicholas Lund, who returned the pick 39 yards for a touchdown.

On Pingree's next series, and Oliver's next pass attempt, he was intercepted by Rivers' Carlin Haymon. Just over three minutes later, Rivers running back Ben Patrick scored from one yard out to make the score, 13-0.

Patrick (nine carries, 40 yards), who rushed for 1,817 yards this season, left the game at the end of the third quarter with a left hip injury and did not return. It was a big blow to the two-headed offensive attack that featured cousins Patrick and Allen. Allen was also not at 100 percent, as he played through a high ankle sprain suffered the week before.

"I'm so proud of the kids," said Rivers coach Rich Fisher. "To do what they did, and for guys to play positions they haven't even played and battle back — we still had a chance to win in the end."

Despite his ankle injury, the Nebraska-bound Allen rushed for 142 yards on 28 carries. He rushed 21 times in the second half, and got Rivers down to the Pingree 10 yard line with time running out, but Benjamin Marcus's field goal was blocked and Antenucci became the hero.

"We worked so hard," said Antenucci. "To win, especially here (at Gillette Stadium), it's just the best feeling."

Other notes:

* Bill Belichick emerged from the depths of Gillette Stadium to catch the final moments of the fourth quarter. Belichick's son, Stephen, attended Rivers and captained both the football and lacrosse teams his senior year. He is now a senior on the Rutgers lacrosse team.

* Rivers came up short in their bid for an undefeated season, but 2010 marked a significant turnaround for the Red Wings whose last winning season came in 1979 when they went 4-3.

PINGREE 36, RIVERS 28
PIN 6 0 6 24 --- 36
RIV 13 8 7 0 --- 28

First quarter
R – Lund 39 interception return (Marcus kick)
R – Patrick 1 run (kick fail)
P – Jamerson 32 pass from Oliver (kick failed)

Second quarter
R – Robert Costa 6 run (Shaquor Sandiford run)

Third quarter
P – Jamerson 8 pass from Oliver (pass fail)
R – Allen 6 run (Marcus kick)

Fourth quarter
P – Walfield 42 pass from Oliver (Colin Rossano pass from Oliver)
P – Adinkra 1 run (Antenucci pass from Oliver)
P – Antenucci 82 blocked kick return (Walfield run)
November, 5, 2010
11/05/10
6:38
PM ET
By
Brendan Hall
| ESPNBoston.com
Nobody would have blamed Rivers quarterback Shaquor Sandiford if he decided not to come out for this afternoon's contest with visiting St. George's, what with his father passing away yesterday from cancer.

But instead the sophomore Chelsea resident strapped on the pads and delivered an inspiring performance. Sandiford was 10 of 15 passing for 147 yards and three touchdowns, and rushed in a fourth score, to lead the Red Wings to a 49-16 victory in Weston.

The Red Wings amassed 586 yards from scrimmage in the game, including 439 on the ground behind senior Ben Patrick 25 carries, 261 yards, two touchdowns) and Nebraska-bound senior Taariq Allen (seven carries, 116 yards, touchdown; five catches, 108 yards, two touchdowns).

Rivers has now accumulated over 2300 rushing yards in seven games, led by Patrick (over 1500 in seven games).
October, 28, 2010
10/28/10
10:54
PM ET
By
Adam Kurkjian
| ESPNBoston.com
At the end of the first half of last weekend's game with Milton Academy, the senior dynamic duo of cousins Ben Patrick and Taariq Allen of the Rivers School pulled off the type of play that is usually reserved for sandlot football.
Junior quarterback Shaquor Sandiford hit Allen with a short pass in the flat, and Allen, a recent University of Nebraska verbal commit, flipped the ball to Patrick, who raced 56 yards to the end zone for a Red Wings touchdown on a perfectly-executed hook-and-lateral.
[+] Enlarge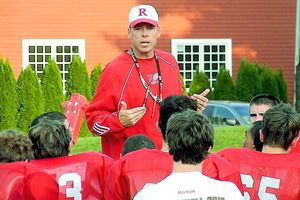 Brendan Hall/ESPNBoston.comRich Fisher has orchestrated a rapid turnaround at Rivers since arriving as head coach in 2009.
Patrick and Allen, who grew up just down Humboldt Avenue from each other in Roxbury, insist they never ran the play despite playing Pop Warner together with the Boston Raiders at White Stadium.
"During practice, coach wanted to put a trick play in," Allen said of Rivers second-year coach Rich Fisher. "He thought it would work, so he put it in that week. We never ran it before. That was the first time, kind of on the fly."
It had to come as no surprise that the cousin-to-cousin connection resulted in something positive. It always has. After Patrick rushed for 325 yards and a school-record six touchdowns, he and Allen have combined for 24 touchdowns on the season, with Patrick leading the way at 15 heading into this weekend's game with St. Mark's.
"We feed off of each other. If I make a big play, he's going to want to make a big play. It's kind of a competition," said Allen, a 6-foot-3, 190-pound wide receiver/safety. "We had a competition, but it's kind of blown out of proportion now since he had that six-touchdown game. We had a touchdown competition. We were both averaging two touchdowns game until Milton. I've got to catch up.
"Just the energy level, we feed off each other," he added. "He's my cousin, so I'll protect him when he's running the ball and he's going to protect the quarterback when I get the ball."
Patrick concurs.
"We both feed off each other's energy," said the 5-foot-9, 180-pound running back/cornerback. "That's one thing we're big on. If he gets a big play, I'm going to get hyped. If I get a big play, he's going to get hyped. Whether he gets the ball or I get the ball, we both like to block for each other. So we both just help each other out."
At first, it didn't look like the two would be able to play together at the high school level. Patrick has been at Rivers his whole high school career, but Allen started off at Marblehead through the Metco program.
"I applied here going into my freshman year and I didn't get in, so I went to Marblehead," Allen said. "When I got that second opportunity, I was like, 'I definitely have to capitalize on it.' I felt when I was at Marblehead I wasn't getting a lot of looks (from colleges). So I came here to repeat my junior year and have an extra year of football and started getting recruited. So it was a big thing for me."
Patrick was the one who grabbed Fisher's attention and had him take a look at his cousin.
"I told coach Fisher about him," Patrick said. "I told him I had a cousin that was pretty athletic and he's tall and everything. He saw him when he came for this open gym, playing basketball, and coach Fisher was there and he saw him. And ever since then, he wanted him."
"Ben had brought Taariq to my attention and I saw him play basketball," Fisher said. "Without having seen him play football, you could just tell he's athletically very gifted. He's one of the kids we targeted, and fortunately he had a good interview process and was able to get in the school."
For Patrick, reuniting with his cousin on the gridiron was almost too good to be true.
"It was really exciting," he said. "I just saw it as another opportunity to play with each other again."
Once Allen got to Rivers, the college coaches saw the same size and athleticism that Fisher did, and it wasn't long before schools like Nebraska, Wisconsin, UConn and Tulane offered him a full ride. Allen originally committed to UConn before making his choice to play the next four years in Lincoln this past week.
"He's a tremendous competitor," said Fisher, who played at Colorado and won a national championship there before coaching in the college ranks at places like Oklahoma State, Colorado and Idaho. "When you play against Taariq you get four quarters of football. When I was recruiting, you wanted kids who can compete on both sides of the football."
"It's almost like it's not real," Allen said of getting the chance to play for one of the top programs in the country. "Coming from Marblehead and coming here, I didn't even really know I was going to get D-I looks. I put in the effort, got my name out there in the combines. Like I said, Nebraska, that's big-time football, and I never thought it would happen in a million years coming from Marblehead."
Holy Cross is the only school to offer Patrick at this point, although interest has been picking up so far this season "from every I-AA program on this side of the Mississippi, it seems like," according to Fisher.
"When I was younger, I always knew I was going to be a college athlete," Patrick said. "That was always my thing. I just always knew I was going to play sports somewhere. That's all I knew, really, was sports. So me playing college football was one of my dreams."
"If Ben was two inches taller, he'd be getting the same notoriety as Taariq," Fisher said. "The eye test doesn't measure the size of their heart."
Already, the tandem has helped put a stamp on the Rivers football history books. Since the school opened in 1915, Rivers has had just three winning seasons, the last one coming in 1979 at 4-3. This year, the Red Wings at 5-0 have already clinched at least that, and have their sights set on an unbeaten season and NEPSAC bowl berth.
"Those guys get a lot of the credit," Fisher said of the two cousins. "They've worked hard to get to where they're at."
The two know, however, that the clock is ticking on their football careers together, that there won't be many more hook-and-laterals in their future.
"We knew it was going to happen," Allen said. "Coming to Rivers to play another two years with each other, get those good years, solid years in. It's time to be a grown man and move on. We're never going to lose contact. But that lifestyle is about to start kicking in, both of us are 18, we'll be graduating, moving to college, starting to mature, become a man. It was bound to happen."