Boston High School:

Shaun Carroll
November, 10, 2011
11/10/11
5:40
PM ET
By
Gary Hawkins
| ESPNBoston.com
Madison Memorial High School senior Matt McClintock recently won his third Class C cross country title while posting the fastest time in the state in any class. McClintock also won the mid-season Festival of Champions which featured over 600 runners from 60 schools in and out of state. Last spring, he won the 1,600 and 3,200 meter runs at the state track and field meet. He's competing this weekend in the New England meet in North Scituate, R.I. He recently answered questions about his season and running career.
Q: How did you get started running?

A: "I started running in 5th grade on the Madison Junior High XC team. I went to Athens Elementary so what would happen is Athens would practice on it's own and then we would just join the Madison team at meets. Fifth grade was the first year that I could compete in any "real" school sports, and I don't really know what drew me to it, but I decided to try it, and I guess my first race went well. I finished 13th. All my coaches were really happy with it and I guess I've been running ever since."
Q: Who have been your greatest influences?
A: "First and foremost would definitely be my coaches. Mrs. Moulton and Mr. Harper in junior high and Bob and Brandon Hagopian in high school. The person that really inspired me and drove me to get better was definitely coach Bob Hagopian. He's been with me since freshman year, through my wins and losses, and has always found a way to make me better."
Q: At what point did you feel you made a breakthrough in your high school career?
[+] Enlarge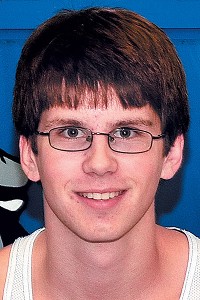 Gary Matt McClintock
A: "Without a doubt it was after I lost the conference championship last year. I got to cocky and that race showed me that I wasn't invincible, that I wasn't going to win just because my name was Matt McClintock, but because I wanted it more than the guy in front, beside, or behind me. That race made me
love
running, because I then had something to prove and something to work for. It re-instilled that love for competition in me. I will remember that race for the rest of my life, and I'm definitely a better runner because of it."
Q: What do you consider your greatest achievements in track and cross country?
A: "Wow, I guess in cross country it would be my three state championships. Since fifth grade my dream was to win a state championship in high school. To have three cross country titles and two titles on the track is just unbelievable to me. In track, my greatest achievement was definitely breaking the Madison High School records for 1,600 and 3,200 meters, probably more so the 3,200 because I was the first Madison kid in history to go under 10 minutes in that event."
Q: Which sport do you prefer?
A: "It really depends on the season. During cross country my favorite sport is cross country. During track it's track. I just love to run and race whether it's on the road, a track, or a trail."
Q: What goals did you set this season and did you reach them?
A: "My first goal for the season was to go undefeated in Maine and three-peat the Class C State Championship. I'm proud to say I met this goal. My next goal was to go under 15 minutes for the 5k I haven't met this goal yet as we've never really had a good day for a championship race, but Saturday at the New England Championships looks to be a good day, and it's a very fast course so we'll see what I can do there.
Q: What is your goal for this week's New England meet?
A: "My goal here is to win the title, and to go under 15 minutes for the 5K. As I said, before, it's a fast course, and there will be some incredibly strong competition to push me there."
Q: You won several races handily this season. Is it tough competing when you're not pushed?
A: "I guess that would depend on your definition of competing. A lot of people look at competing as winning. I prefer to look at it in the manner of Steve Prefontaine. If I'm going to win, I want to know that I've done my best. So yes, it's difficult to push myself to fast times, but I always just try to stay focused and not worry about the pain or where my competition is and just get to the finish line as fast as possible."
Q: What do you enjoy most about running?
A: "I love the people that we meet. The type of people you meet at cross country or track events is totally different then you will see in any other sport. At the state meet, I was getting encouraged to reach my sub 16 goal by the coaches and family and teammates of people that I was directly competing against. I'm confident to say that you will not find nicer and more supportive fans at any other high school sports competition."
Q: Do you have any running role models?
A: "I have several running idols, the most prominent would be Steve Prefontaine. I try to live up to the guts and determination that he always showed as a runner. His quote "To give anything less than your best is to sacrifice the gift" are the words I live by. Another two are Haile Gebrselassie, and Kenenisa Bekele. Both are Ethiopian runners. Gebrselassie is a two-time gold medalist and world record holder. Bekele is the two-time defending Olympic 10,000 meter champion and holds World Records now."
Q: Where will you attend college and why did you choose that particular school?
A: "I will be running for Lock Haven University of Pennsylvania next year. I felt very comfortable around the campus and really connected well with Coach Aaron Russell and the entire team at Lock Haven."
Q: What other sports or activities do you enjoy
?
A: "I enjoy all sports, but running is my one and only true passion."
Q: What is your training regimen in and out of the season?
A: "Sorry, but I don't like to discuss what my training is, at least not until after the outdoor track season."
Q: Where do you need to improve?
A: "I definitely need to improve on my kicking speed. In order to really be competitive in college I need to be able to win a race in the last 200 Meters if necessary. I feel that as my speed continues to develop in conjunction with my continued endurance training all of my events will improve drastically."
October, 5, 2011
10/05/11
10:54
PM ET
By
Gary Hawkins
| ESPNBoston.com
Dave Halligan has coached soccer for 33 years, the last 25 at Falmouth High School where he has won nine state championships. This winter he'll begin his 25th season as head basketball coach with the Yachtsmen, having won four state titles.

Dozens of his former players have gone on to succeed in college soccer, including Roger Levesque, who was named Pac-10 Player of the Year at Stanford and currently plays for the Major League Soccer Seattle Sounders.
Halligan recently answered questions about his soccer program for a Q-and-A:
Q: What makes Falmouth soccer so successful?
A: "We have a good program and we have a lot of good people running it, right from Saturday morning soccer to travel teams to guys that work in premier programs."
Q: How involved are you outside the high school team?
A: "When my kids went through I was involved in everything. I started youth, travel, premier and instructional programs. The first year we had 38 kids in the program. Now we have over 600. I think the key is numbers playing. (At the high school) we have 62 boys and 42-plus girls playing."
Q: How did you get into coaching?
A: "I played soccer in college but I went to school to be a basketball coach. I coached JV soccer at Greely for a couple of years then I went
to Cape Elizabeth and worked with Leroy Rand. After that I came to Falmouth. Back then there were no state championships, just a few teams
playing in (the) Triple C (Conference).
Q: How does Maine high school soccer stack up against other states?
A: "We have some excellent programs and players. The state is so spread out, but we have some kids playing pretty well. We have a lot of kids playing at the NESCAC schools. That's pretty good soccer. Just because you're from Maine it doesn't mean you can't aspire to the highest levels. If they want to play hard and work hard they can accomplish a lot."
Q: What do you do in the offseason?
A: "What's an offseason? The offseason is the two weekends I spend with my wife."
Q: What's the biggest difference between coaching soccer and basketball?
A: "Basketball is more like chess where you can adjust every time down the floor. Soccer is more like checkers. Once the game starts there's not a lot you can do."
Q: How have premier teams changed the game?
A: "I think it's broken down some of the (high school) rivalries. They're friendly rivalries now but I think they play harder. They don't want to
lose to their buddies."
Q: Why do players need high school soccer?
A: "Because of some of the other values we try to teach. The goals in high school are a lot different than in premier. In high school, 90 percent of the players aren't going to go on. Last year when we didn't win (the state title) the kids said what they liked most was going to practice."
Q: How is this season playing out?
A: "We lost 2-1 to Yarmouth and beat Cape, 2-1. Cape beat Yarmouth 2-1 so it's pretty even. We lost a lot of kids from last year's team. We're
basically a young team but we have high expectations. We're probably doing better than we hoped for. .I've been real pleased with my kids."
Q: Do you employ a specific style at Falmouth?
A: "Obviously we like to control the ball. We like to play with speed and skill. We don't want to slug it out with you. We want to be more skilled
if we can. Sometimes it works, sometimes it doesn't."
Q: How long do you anticipate coaching?
A: "As long as I'm having fun, as long as I enjoy practice and enjoy the kids. I still do."
September, 14, 2011
9/14/11
2:55
PM ET
By
Gary Hawkins
| ESPNBoston.com
The first two weeks of the Maine high school football season produced a number of surprises.

Here's a rundown of some of the highlights in each of the three classes:
Class A
Cheverus keeps rolling along despite the loss of several players from last year's state championship team. Senior Cam Olson stepped in at quarterback after playing behind Fitzpatrick Trophy winner Peter Gwilym for two years and last week threw three touchdown passes. Spencer Cooke, who scored four TDs in the state game last fall, has emerged as one of the state's top running backs. The Stags are 2-0 and have outscored opponents 94-21.
Lawrence keeps rolling along in Class A's Pine Tree Conference. The Bulldogs traveled to Bangor and knocked off the Rams 32-25 last Saturday night to go to 2-0. Shaun Carroll led the way with 224 rushing yards and four touchdowns, Lawrence has won its last 11 regular season games, dating back to a 2009 loss to Bangor. Prior to that, the Bulldogs had won 36 regular season games in a row. They are 8-1 against Bangor since 2005.
Many high school handicappers picked Bonny Eagle and Windham among the teams to beat in North Division of the Southern Maine Activities Association (SMAA), but both teams are winless after two weeks. Windham fell 28-20 to a strong Deering team last week while Bonny Eagle fell, 31-28, to upstart Massabesic. Lewiston, one of the PTC favorites, dropped to 1-1, losing 48-27 to Messalonskee, another team that has emerged as a contender. Along with Massabesic, Sanford is the surprise of the SMAA South. Last week, the Redskins knocked off a good Scarborough team 23-12 for one of its biggest wins in years.
Class B
This class is the most competitive in the state at least at the top where four teams in each of the two divisions are unbeaten. Included in those ranks are the two teams who met in the state final last fall, Mountain Valley and Leavitt. Mountain Valley has outscored opponents 81-23 so far while Leavitt, led by quarterback and linebacker Jordan Hersom, holds an 83-12 advantage over opponents.
Mt. Blue may be the most dangerous contender in the class. The Cougars dropped down from several years in Class A this season and in two games have outscored the opposition 87-6. Falmouth, Wells and Fryeburg are also 2-0 as are Waterville and Gardiner. The latter two teams meet Friday night in Gardiner. Waterville must find a way to stop running back Alonzo Connor who is looking to eclipse his total of 31 touchdowns form last year. In two games so far, Connor has scored 10 touchdowns.
Falmouth, which has outscored opponents 98-7 plays this week against Marshwood.
Class C
Foxcroft Academy and Yarmouth are the talk of Class C so far. They play in different divisions and don't meet in the regular season, but could well square off for a state championship in November. Yarmouth is the defending state champ and so far the Clippers have scored 92 points and allowed seven. Foxcroft has been equally impressive outscoring opponents 108-8. There are contenders in each division. Bucksport, Orono and John Bapst are all 2-0 in the Little Ten Conference headed by Foxcroft while Freeport and Lisbon are unbeaten the Campbell Conference South along with Yarmouth.
Maranacook and Winslow are 2-0 in the Campbell's North division and play this week in Winslow. The Black Raiders dropped down to Class C this season and are cruising so far, but they'll face a big test in Maranacook and 6-foot-4, 210-pound running back Luke Emery.
August, 31, 2011
8/31/11
2:23
PM ET
By
Gary Hawkins
| ESPNBoston.com
Although the Maine Principals' Association voted down adding a fourth class to Maine high school football earlier this year, there are still
plenty of changes awaiting teams and their fans this season.

The classification committee of the MPA decided not to include a fourth class, perhaps waiting for a few more schools to adopt the sport to push the number to 80. There are currently 76 football playing schools in the state, with some schools combining teams this year and others playing for the first time.
Class A saw the fewest changes with four schools — Brewer, Mt. Blue, Marshwood and Westbrook — dropping to Class B. Marshwood is the only Maine high school to have won a state football championship in each of four classes, including the now-defunct Class D. Marshwood and Westbrook will play in Western Maine Class B where they'll be joined by Spruce Mountain, a new school combining former Class C rivals Jay and Livermore Falls.
Brewer and Mt. Blue will play in Eastern Maine Class B that now includes Oceanside, a new school combining Rockland and Georges Valley. Rockland previously played in Class C while Georges Valley did not have football. Also joining Class B East this season are Old Town and Madison/Carrabec, both of whom played in Class C last season.
Eastern Maine Class C is adding two new programs in Hermon and Washington Academy while Telstar is also playing varsity football after
fielding a club team the past few seasons and will compete in Western C. The West also includes two teams that have dropped from the B ranks in Winslow and Poland.
Here's a look at some of the top teams in each class who get under way Friday night:
CLASS A EAST
Lewiston: The Blue Devils return eight starters on offense and defense from a team that lost 28-25 to Bangor in the conference final. Quarterback Chris Madden highlights a returning backfield that includes tailbacks Jeff Turcotte and Matt Therrien. Rudy Pandora, a 6-foot-5 two way tackle, returns to the line.
Lawrence: The last East team to win a state title (2006), the Bulldogs have been upset in the playoffs the past two seasons after going
unbeaten in the regular season. Junior Spencer Carey returns at quarterback while senior Shaun Carroll and junior Anthony Sementelli are
the top returning rushers. The defensive line is new but the secondary is experienced.
Brunswick: The Dragons upset Lawrence in the playoffs and nearly knocked off Bangor. They return one of the top backs in the conference in senior Dylan Walton who was injured midway through last season. Also returning to the backfield is Keith Kitchens.