Boston High School:

Shawn McCoy
March, 8, 2012
3/08/12
11:13
PM ET
By
Andy Smith
| ESPNBoston.com
READING, Mass. -- With less than one minute to go in Charlestown's Division 1 North tournament quarterfinal game against Central Catholic Thursday, Tyrese Hoxter stepped to the free throw line.
Charlestown was ahead by four points, so if he made both, Hoxter (12 points) could have forced Central to shoot desperation three's as their only way to get back in the game.
He made the first. If he missed the second, Central could still race down and get a quick basket and make it a one-possession game. His second shot hit the rim and bounced away, keeping Central's hope temporarily alive.
However, Charlestown's Tyrik Jackson (10 points, 11 rebounds) came away with the offensive board and passed it out to teammate Rony Fernandez on the perimeter. Central was forced to foul Fernandez, allowing Charlestown (19-4) to hold on for a 54-47 victory.
"I feel like we're playing great basketball right now," said Charlestown coach Edson Cardoso. "After the Comcast Tournament (win in February), we just went on a personal vendetta and said, 'You know what? Every team we play, we're going to leave it on the court, and that's what they did tonight."
[+] Enlarge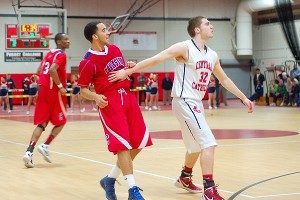 Brendan Hall/ESPNBoston.comCharlestown's Rony Fernandez (12 points) helped lead a fourth-quarter outburst that punched the Townies' ticket to Saturday's Division 1 North final.
Central (22-2) would not go away quietly though. On its next possession, Tyler Nelson (12 points) got a look at a three-pointer, but it missed. His teammate Shawn McCoy got the rebound and tried for the put-back, but that too was off the mark. Finally, it was up to Nick Cambio (10 points, 10 rebounds, 3 blocks) to grab the offensive rebound, but his shot from the baseline missed too.
Taris Wilson came down with the rebound, and he was quickly fouled. As Wilson got to the free throw line, the Central fans began to file out of the gymnasium in mass.
They knew, as the seconds ticked away, that it was not their team's night. Charlestown will be the team fighting for the Division 1 North title Saturday at the Tsongas Center, not Central Catholic.
"It feels like this team beats us every year, so it feels good to get one on them," said Fernandez (12 points).
Open And Shut:
Over a three-minute span in the middle of the fourth quarter, Charlestown went on a 12-0 run to take back the momentum that seemed to be building in Central's favor up to that point.
After being down as much as seven in the third quarter, Central came back to take the lead late in the quarter, and maintained it by a slim margin early in the fourth. Charlestown showed its resiliency, taking the lead and then some.
In one sequence during that stretch, Central had to call a timeout because Charlestown scored a basket, then got a steal on the next Central possession, allowing Hoxter to throw down an uncontested dunk. The Townies' faithful erupted in excitement, and Central coach Rick Nault called a timeout before things could get out of hand.
"I wanted to excite the crowd and just give my team a boost because the game was just a seesaw battle, going up and going down," said Hoxter.
Cardoso will take any momentum in the state tournament, no matter how his team can get it.
"I thought once Hoxter got on that breakaway, throws it down, we get more energy," he said. "Whatever it takes to motivate these guys. These guys are teenagers, so whatever it takes to motivate them, we've got to do it."
Nullifying Nelson:
A large part of the Charlestown defensive gameplan focused on Tyler Nelson. The team was very aware of what the sophomore guard could do when he is given open space to drive or shoot the basketball.
"We wanted to take out (Nelson)," said Fernandez. "We know he's their shooter, so we had eyes on him and followed him everywhere. We knew he could shoot so we wanted to stop him."
"I thought with Nelson, every time he caught the ball, get a hand up," said Cardoso. "When he comes off screens, stay on his hip. We scouted Central and had so many notes on them and saw how many plays they run for him, so I thought we needed to have eyes on him, and I thought Tyrese did a good job on him."
Few And Proud:
As teams get deeper and deeper in the playoffs, it is often the teams with the most depth that advance on. When relying on any one player to carry a team, it can become easy to defend.
That is not the case with Charlestown. It does not rely on any one player to shoulder the load, but instead can depend on multiple players to contribute effectively.
Thursday, six players scored, with four reaching double-digits. That balance will be trouble for the remaining teams in the Division 1 tournament.
"We knew this was going to be a low-scoring game, we didn't expect to score 85 points against a team like Central," said Cardoso. "No way are you going to score 85 against a great defensive team like that. We thought that maybe if we moved the ball and some guys got eight, some guys got nine, and we started chipping away, that maybe we'd have a chance to win this game. We didn't think anybody was going to have a standout, 25 to 30 point game."
January, 12, 2012
1/12/12
10:16
PM ET
By
Justin Felisko
| ESPNBoston.com



SPRINGFIELD, Mass. — It seemed like it was a matter of time before Tyler Nelson's hand regained its magic touch Friday night at the Spalding Hoophall Classic at Springfield College.

After continuously being the thorn in the side of the Springfield Cathedral's zone defense for three quarters it appeared the Panthers finally had found a way to slow down Nelson. Yet after being held scoreless for most of the fourth quarter, Nelson drilled a three-pointer when it mattered most.

The sophomore extended his arms from the left side of the key with just under 1:30 remaining to give Central Catholic (8-0) a 66-62 lead over the Panthers (5-2), and delivered the Raiders their first win at the historic high school showcase in school history, 72-66.

"They were playing a 2-3 zone and mostly they kicked it from the corner, I squared my feet, shot it and luckily made it," Nelson said.

"I just wanted to go out there and get a win," he added. "Central has been here four years and probably had better teams in the past and still hadn't won."

Nelson finished with a team-high 19 points and was 5-of-9 from behind the arc. Overall, the sophomore guard was 6-of-12 from the field while also grabbing seven rebounds.

"As a young player, he does so many good things for us," said Central head coach Rick Nault. "We run a lot of things for him. He's a very confident kid and we definitely feel comfortable with the ball in his hands. He is willing and ready to take the big shot and he did that for us tonight."

Nault preached to his team all week the opportunity they had to become the first in school history to win at the Hoophall Classic, and he couldn't be happier.

"It's a long ride for us to come up here," Nault said. "But to get a win against a real good team is a great feeling."

An Expected Play: After Cathedral's Lou Garcia stole a poor Central Catholic inbound pass and made a lay up to cut the Raider lead to 66-64 with 55.4 seconds remaining, Central Catholic senior captain Shawn McCoy grabbed a tough offensive rebound underneath the basket at the other half of the court, and went up strong to give the Raiders a two-possession lead.

"For us to have such a young group, and for him being the only senior captain, to come up with a big play [like] that is expected of him," Nault said. "The tip in was huge."

McCoy expected to have to fight for a rebound.

"Joel [Berroa] made a nice pass to Doug [Gemmell] underneath the hoop and I knew there was going to be some kind of rebound with a lot of people down there, fouling and hacking and stuff," McCoy said. "I was hoping I could get the rebound and I got it."

McCoy (14 points, 5 rebounds) started the game on a tear, scoring the Raiders' first eight points in a fast-paced first quarter.

A Bigger Advantage: One of the biggest difference-makers in the game was Central Catholic's interior presence on both ends of the court. The Raiders outrebounded Cathedral 48-23, and the Raiders used 18 offensive rebounds to register 21 second-chance points.

"We always pride ourselves on rebounding and we do that in practice all the time," McCoy said. "We pride ourselves on a physical defensive presence and that comes hand in hand with that."

Joining McCoy on the glass was Gemmell's game-high nine rebounds and Berroa's seven.

Slow Starting Trends: For the fourth time in the last five games the Raiders have struggled in the first half.
Friday, Cathedral used a tough, gritty defense to open up a 18-17 first quarter lead and battle neck-and-neck against the best in the state. The Panthers scored 18 of their 23 points off turnovers in the first half and trailed 32-31 at halftime.

It was the most points allowed by the Raiders in a first half this season according to Nault and he believes the Raiders are still struggling to adjust to playing without star guard Luis Puello, who has been out with a high ankle sprain.

"I think guys have to realize Louis isn't here and they have to realize they can't rely on him and have to be ready to step in right away and make plays," he said.

Puello 'day to day': Puello was on the bench in dress clothes after missing another game due to an ankle injury suffered in the Raider's 56-39 victory over Pinkerton Academy (N.H.).

Nault said he hopes to have the 2011 ESPNBoston All-Defensive Team selection back within seven to 10 days, but is also calling Puello "day-to-day."

A Valiant Effort: Cathedral's Lou Garcia went shot-for-shot with Nelson and finished with a game-high 23 points and five steals. The junior made some big three's to help the Panthers come back from a 10-point third quarter deficit.

"This year we moved him into the point guard spot and he's kind of taken on that role and he found his shot earlier and made some huge shots for us," said Cathedral coach Justin Dalessio. "He kept us in the game which is great to see. He played great."

Garcia said he and his teammates were not intimidated by the top-ranked team in the state but said the game was a good reminder.

"It's a wake-up call because we were on a winning streak and we were getting too high on ourselves," Garcia said. "This brings us down to reality and we have to work even harder every single game."
December, 31, 2011
12/31/11
12:58
AM ET
By
Ryan Kilian
| ESPNBoston.com




LAWRENCE, Mass. --- It was only fitting that the championship game of the Greater Lawrence Boys Christmas Tournament involved Merrimack Valley Conference cross city rival high schools Central Catholic and Lawrence.

In a back and forth, defensively charged game it was Central Catholic guard Tyler Nelson who settled the contest for the Raiders and took charge in the fourth quarter. The poised sophomore stepped up when it mattered most to lead Central Catholic (5-0) to the 75-65 victory over Lawrence (4-1).

Nelson took home tournament MVP honors as he scored 24 points and dished out five assists, with none prettier than two precise backdoor conversions in the fourth quarter to help seal the win for Central.

"He is the smartest player I have ever had with the ball in hands," said Central Catholic Head Coach Rick Nault of Nelson. "He makes such good decisions."

Central Catholic was playing without senior starting point guard Luis Puello, who suffered a sprained left ankle in Wednesday's semifinal victory over Pinkerton Academy (N.H.). Despite the loss of one of the state's premier perimeter defenders Central matched Lawrence's defensive intensity in the first half as both teams applied perimeter pressure that forced numerous rushed shots, turnovers and a myriad of free throw attempts.

With Central Catholic leading 30-26 at the half Lawrence came out of the break and applied intense full court pressure that resulted in a momentum shift that saw the Lancers go on a 9-0 run to earn a four point lead with 2:39 remaining in the quarter.

Each time Lawrence gained momentum, however, it was the steadying play of Nelson that squelched any run. The sophomore hit two big 3-pointers in the third quarter and also had a key steal on the defensive end to give the Raiders a 47-45 lead heading into the final quarter.

In the fourth quarter it was the heady play and perfect free throw shooting of Nelson, the post offense from Doug Gemmell and the three critical steals by Mike Barry that keyed Central Catholic's 10-point victory.

"This was our first goal of the season to win this tournament and that is what we did," said Nelson. "It was a team effort and everyone stepped up without our best player."

Second Half Surge: Nelson scored 20 of his game-high 24 points in the second half and went 14-for- 14 from the free throw line in the fourth quarter alone.

Nelson was perfect on the night from the free throw stripe shooting 16-for-16.

Gemmell also had a large presence in the second half as he established the post for the first time in the game and scored 14 of his 16 points after the break.

Lawrence senior guard Yadoris Arias scored all 15 of his points in the second half and provided lock down defensive pressure throughout the game.

X-Factors: Lawrence seniors Tre'von Farley and Franklin Martinez were all over the court for the Lancers on the night. The seniors impressed with their numerous hustle plays, aggressive defense and timely rebounding.

The 6-foot-3 Farley scored 15 points on the evening to go along with seven rebounds, two steals and two blocks. The 5-foot-11 Martinez chipped in with 12 points including two third quarter 3-pointers that helped propel Lawrence's run.

All-Tournament: Nelson was named tournament MVP with Gemmell, Farley, Martinez and North Andover's Zach Karalis rounding out the starting five. Arias was named the tournament's 6th man award winner and Lawrence's Roberto Speing and Central Catholic's Shawn McCoy were named the Coaches Award's recipients.