Boston High School:

Shawn Whitaker
August, 29, 2013
8/29/13
2:07
PM ET
By
John Botelho
| ESPNBoston.com
BRIDGEWATER, Mass. -- A difficult 2012 schedule made for a tough season for the No. 10 Bridgewater-Raynham football team a year ago.

The Trojans not only missed the playoffs for the second straight campaign -- after reaching the Div. 1A Super Bowl each of the two years before that -- but they endured their first losing season since 2008.

B-R took losses against Div. 1 Super Bowl champ St. John's Prep, as well as MIAA playoff teams Duxbury and Brockton. They also lost to an impressive Stoughton team that just missed the postseason, annual Catholic Conference power Xaverian, and La Salle Academy -- a team ranked No. 1 in Rhode Island at the time.

It was a season that certainly didn't go as planned for the perennial power, a program that won Super Bowls in 1998 and 2000 and is regularly a favorite in the Old Colony League. The results of last year, though, will not be forgotten by this year's squad.

"These guys all remember how that felt last year," said coach Dan Buron. "Guys here were frustrated by that. We know the schedule doesn't get any easier this time around, so guys have worked really hard to make sure they don't go through that again."

In 2013, they open with No. 1 St. John's Prep, No. 11 Duxbury and No. 15 Xaverian, so how do they avoid a repeat of a season ago?

It starts with a formula in the backfield that combines two impressive running backs, junior Brandon Gallagher and senior Arcel Armstead.

Gallagher, a 5-foot-10, 185-pound back who emerged as the top runner last season, will be paired with the speedy Armstead, who missed the second half of last year.

"Brandon had a fantastic year last year and he's worked really hard in the offseason," Buron said. "He looks great so far. Arcel had a very good offseason to, and he looks great as well."

The two-headed monster has already been proven succesful by the Trojans' week one opponents.

"Everyone saw how effective St. John's Prep was with Alex Moore and Jon Thomas in a two-back system last year," Buron said. "It made them very difficult to stop, because if you keyed on stopping one guy, the other could be used as a huge offensive weapon. It will be my job to find ways to get both of these guys the ball so they can make plays for us."

Helping Buron's two star running backs to make plays will be an experienced, and sizeable offensive line.

"It's always nice to have at least one guy back who knows all calls to anchor our offensive line," Buron said. "We have three of those guys this year."

Shawn Whitaker, a 6-foot-5, 270-pound left tackle, returns to the Trojans trenches again this season. He's joined by fellow returning-starters right tackle Nick Falconeri (6-2, 280) and center Evan Shockley (6-1, 230).

On the other side of the ball, the Trojans return a lot of guys who saw significant action a year ago.

Anthony Sullivan and Connor Regan with hold down the defensive end spots, while Will Fuller and Nick Whittemore will bolster the defensive line at the tackle positions. Devin Morris is back to lead the charge at linebacker, where he'll be joined by Armstead for B-R.

"We have a lot of talent and a lot of depth up front, and we should be pretty strong there," Buron said. "We do have some holes to fill in the secondary, but we have a lot of good players ready to fill those voids."

2012 may have been a tough year that was tougher to forget, but with so many guys back in the fold for B-R, the Trojans are hoping to create a much more memorable 2013.

BRIDGEWATER-RAYNHAM AT A GLANCE
2012: 5-6
Coach: Dan Buron (21st season, 154-65-2)
Strengths: Offensive line, running back, defensive line
Weaknesses: Quarterback experience, secondary
Key Returnees: Brandon Gallagher, Jr. RB, 5-10, 185 lbs; Arcel Armstead, Sr. RB, 5-10, 175 lbs; Shawn Whitaker, Sr. LT, 6-5, 270 lbs; Nick Falconeri, Sr. RT, 6-3, 280 lbs.
Outlook: The Trojans are probably the preseason favorite to win the OCL, and should be among the favorites in Div. 1 South. Their schedule will be unkind again this year, but with a two-headed backfield as talented as theirs they should compete with anyone. Brandon Gallagher and Arcel Armstead will have to emerge as one of the best running back tandems in the state if this team is to compete for a Super Bowl. With that duo, plus an impressive offensive line lead by Shawn Whitaker, junior QB Matt Clement has all the tools around him to have a solid first year at starter.
August, 24, 2013
8/24/13
3:43
PM ET
BRIDGWATER, Mass. – For nearly two hours Saturday morning, Bridgewater-Raynham and Xaverian renewed a rivalry that has become among the state's best non-league annual tilts.
Again, both the Trojans (No. 10) and the Hawks (No. 15) make strong showings in our statewide preseason MIAA football Top 25 poll. Not to mention, it won't be long before the teams go at it for real, when Xaverian welcomes B-R to the new-look Hawk Bowl for a regular-season game on Saturday, Sept. 21.
[+] Enlarge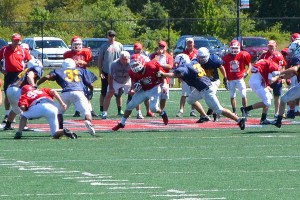 Scott Barboza/ESPNBridgewater-Raynham and Xaverian kicked off their first of - at least - two meetings this season to start their preseason.
But before we reach the regular season, here's a look at today's passing scrimmage and some takeaways:
Sorting through the QB battles:
Both squads enter 2013 looking for a new signal caller and both teams rolled through their crop of contending quarterbacks.
Xaverian senior Peter White, juniors Jake Farrell and Tom Fitzgibbons, along with sophomore Mike Pina all had reps under center, with White and Farrell seeing the majority of the snaps. Meanwhile, the Trojans cycled through junior Matt Clement and sophomore candidates Steve D'Emila and Cade McNaughten.
When asked to evaluate Saturday's performances, both Hawks head coach Charlie Stevenson and B-R's Dan Buron found positives, along with some improvements to be made.
"I thought our first two quarterbacks [White and Farrell] did some nice things," Stevenson said. "They made good plays. But a couple of plays that they were impatient on and if they would've been able to make plays if they'd scanned the field, we might have had some more scoring plays. But that's inexperience. That'll come."
At times, both offenses were slightly out of sync, with timing passes arriving a moment late and an overthrow here and there.
But for a scrimmage primarily concerned with the passing game, and with both defenses perhaps playing a little ahead of the opposing offenses, both teams were able to move the ball – although scoring was hard to come by.
"I think that right now, Matt [Clement] just because of his age is a little bit of those other two," Buron said of his quarterbacks, who saw a nearly equal number of snaps. "But I think I've got three good ones. I think it's just a lack of game experience and that's why I've added more scrimmages than normal to try to get them acclimated to the game situations."
Speaking volumes:
As far as Xaverian's passing game is concerned, while quarterback battle continues, there will be no doubt to the pass catchers working on the field. The struggle that Stevenson feels is how to get all of them on the field at once.
While the Hawks' return a couple of last year's top targets, including D.J. Sperzel and A.J. King, Stevenson believes he has depth at receiver. During Saturday's scrimmage, the Hawks worked in eight different receivers with its first-unit offense.
"I think we're about as deep at receiver as we have been in recent years," Stevenson added.
Layin' the lumber:
For a preseason scrimmage, Saturday's tone was about as spirited as you'll find. And, for the most part, it was carried by the respective defenses.
Working against the Hawks' offense presented a high quality challenge to B-R's new linebacking corps. The Trojans worked primarily with a group including seniors Kevin Newton and Arcel Armstead as outside linebackers and Devin Morris in the middle.
Buron is looking for big things from Newton, a starting-caliber player last year who was set back by injuries in 2012. Pat Whooley and Cam Goodrich also saw significant time with the Trojans' top unit.
However, the biggest play of the day came from junior linebacker Justin Finlayson. The 5-foot-10 outside linebacker popped a Xaverian player making a reception in the flat, drawing the raucous approval of his teammates on the sideline.
It might have been the most thunderous exchange of the day, but it also underscored the Trojans' ability to maintain positioning on Xaverian's swing and screen passes.
"I was pleased with that because honestly we haven't worked on anything that they typically do," Buron said. "We just wanted to stay in our base defense and run to the ball. Sometimes we didn't make the tackle, but I thought we were usually in good position. A lot of those things, this early in the year, they're correctable."
The Hawks also brought their defensive game with starting junior defensive ends Joe Gaziano and Nick Colantuoni establishing a strong pass rush off the edges.
Shaken, but OK:
There was tense moment or two about midway through the scrimmage when B-R's ESPN Boston preseason All-State offensive tackle Shawn Whitaker tumbled to the ground following a Hawks interception.
While backtracking and following the return up-field, Whitaker received a serious blow on a crack-back block. The 6-foot-5, 260-pounder didn't return.
Buron, adding that Whitaker has also been troubled by a back ailment in practice, said he was removed as a precaution.
August, 19, 2013
8/19/13
8:17
AM ET
The MIAA football season officially kicks off today with the first sanctioned team practices. Below is our fourth annual ESPN Boston Preseason MIAA All-State Football Team, as well as our expansive "Watch List".

*Indicates returning All-State

OFFENSE

QB – Drew Belcher, Sr., Reading*
QB – Troy Flutie, Sr., Natick*
QB – Andrew Smiley, Sr., St. John's (Shrewsbury)*
QB – Cody Williams, Sr., Springfield Central
RB – Johnathan Thomas, Sr., St. John's Prep*
RB – Dylan Oxsen, Sr., Plymouth South*
RB – Mike Panepinto, Sr., Needham
RB – Brandon Gallagher, Jr., Bridgewater-Raynham
WR – Brian Dunlap, Jr., Natick*
WR – Isaac Yiadom, Sr., Doherty
WR – Jack Galvin, Sr., Lowell
WR – Ju'uan Williams, Sr., Springfield Central
TE – Rory Donovan, Sr., Cardinal Spellman
TE – Brendan Hill, Jr., Mansfield
OL – Jon Baker, Sr., Millis/Hopedale*
OL – Kent Blaeser, Sr., St. John's Prep
OL – Shawn Whitaker, Sr., Bridgewater-Raynham
OL – Cam Smith, Sr., Medway
OL – Sean Lee, Sr., Springfield Central
ATH – Dave Harrison, Sr., Weymouth
ATH – Neil O'Connor, Sr., Leominster

DEFENSE

DL – Andrew Bourque, Sr., Reading
DL – Will Greelish, Sr., Auburn
DL – Alex Quintero, Sr., Lowell
DL – Chris Tinkham, Sr., Lynn English
LB – C.J. Parvelus, Sr., Everett
LB – Sean Smerczynski, Sr., St. John's Prep*
LB – Brett McEvoy, Sr., King Philip
LB – Liam Kenneally, Sr., Reading
LB – Shayne Kaminski, Sr., Xaverian
LB – Tom Rodrick, Sr., Leicester
DB – Lubern Figaro, Sr., Everett
DB – Davon Jones, Jr., St. John's (Shrewsbury)
DB – D'Andre Drummond-Mayrie, Sr., Central Catholic
DB – Jarell Addo, Sr., Leominster
D-ATH – Kevin Bletzer, Sr., Catholic Memorial

***

WATCH LIST

Olan Abner, Sr. RB, Bedford
Mike Abruzzese, Sr. DB, Natick
Justin Ahanon, Sr. ATH, Brockton
Shaquille Anderson, Sr. RB, Cambridge
Nick Andreas, Jr. QB, Danvers
Charlie Aylward, Sr. LB, Catholic Memorial
Jordan Balarinho, Sr. QB, Billerica
Michael Balsamo, Jr. DB, Central Catholic
Malachi Baugh, Sr. RB, Stoughton
Joe Bellomo, Jr. RB, Holliston
Aidan Beresford, Sr. OL, Marshfield
Will Blumenberg, Jr. QB, Concord-Carlisle
Will Bolster, Sr. QB, Walpole
Ommel Bonilla, Jr. DL, Andover
Ryan Boucher, Sr. OL, North Reading
Andrew Boynton, Sr. WR, Natick
Luke Brennan, Sr. QB, Doherty
Joe Brown, Sr. OL, Central Catholic
Jake Burt, Jr. TE, St. John's Prep
Ryan Charter, Sr. QB, Needham
Max Chipouras, Sr. RB, Longmeadow
Jordan Collier, Sr. RB, St. Mary's (Lynn)
Nick Cordopatri, Sr. OL, Walpole
Nicolau Coury, Jr. LB, Lowell
Shyheim Cullen, Jr. LB, Lowell
Jeff D'Auria, Sr. RB, Chelmsford
Kyle Dance, Sr. QB, Latin Academy
Lukas Denis, Jr. DB, Everett
Joe DeNucci, Sr. ATH, Newton North
Kevin DiBona, Sr. LB, Duxbury
Steve DiCienzo, Sr. LB, BC High
Rob DiLoreto, Sr. WR, Reading
Brian Dolan, Sr. QB, Lowell
John Donnellan, Sr. DL, Reading
Isaiah Douglas, Sr. DB, Bishop Feehan
Angel Duarte, Sr. LB, Everett
Michael Dunn, Jr. ATH, Dennis-Yarmouth
Markus Edmonds, Jr. LB, Central Catholic
Derek Estes, Sr. DB, Barnstable
Michael Fawhemini, Sr. DB, St. John's Prep
Joey Fitton, Sr. OL/DL, Holy Name
Connor Gatto, Sr. OL, Northbridge
Joe Gaziano, Jr. DL, Xaverian
Micah Gregory, Sr. DB, Barnstable
T.J. Hairston, Jr. WR, Watertown
Jack Herlihy, Sr. OL, Duxbury
Michael Hershman, Sr. WR, Mansfield
Kejonte Hickman, Jr. QB, Boston Cathedral
Alex Hilger, Sr. WR, Natick
Sean Hoey, Sr. OL, St. John's Prep
Jon Holdgate, Sr. LB, Nantucket
Jeff Holland, Sr. ATH, Holy Name
Dom Hooven, Sr. OL, St. John's Prep
Jack Hubley, Sr. LB, Lincoln-Sudbury
Phoenix Huerta, Sr. QB, Somerville
Jordan Javier, Jr. ATH, Lynn English
Kervin Jean-Claude, Sr. LB, Brockton
Domingo Jenkins, Sr. RB, Taunton
Austin Jones, Sr. OL, Shepherd Hill
Anderson Jupiter, Sr. RB, Somerville
Brandon Kahari, Soph. DB, St. John's Prep
Devon Kellner, Sr. LB, Taunton
Rory Keohane, Sr. DL, BC High
Chris Kennedy, Sr. LB, Barnstable
Dylan Kierman, Sr. QB, Quabbin
A.J. King, Sr. ATH, Xaverian
Jimmy King, Sr. DL, Reading
Grant Kramer, Sr. OL, Duxbury
Fodee Kromah, Sr. DB, Holy Name
Noah Kung, Sr. OL, Walpole
Michael Kwegyir-Attah, Sr. LB, Haverhill
Jaleel Kyles, Sr. DB, Springfield Putnam
Mitch Laferriere, Sr. LB, BC High
Keagan Latta, Sr. WR, Lowell
Aaron LeClair, Sr. RB, Brockton
Matt Long, Soph. RB, Weymouth
Wayne Lowery, Sr. DB, Springfield Putnam
Steve Manning, Sr. DL, Abington
Kenneth Marshall, Sr. LB, Springfield Central
Ryan Martin, Sr. WR, Bridgewater-Raynham
Ngaiiva Mason, Sr. RB, Lowell
Liam Matheson, Sr. RB, Dennis-Yarmouth
Eddie Matovu, Sr. LB, Tewksbury
Sean McCarthy, Sr. QB, Duxbury
Eric Mercer, Sr. LB, Melrose
Kens Morantus, Sr. LB, Waltham
Connor Moriarty, Sr. ATH, Walpole
Luke Morrison, Sr. TE, Attleboro
Hayden Murphy, Sr. ATH, Barnstable
Kevin Nunes, Sr. WR, New Bedford
Nick Orekoya, Jr. DB, Billerica
Luis Ortiz, Sr. TE/LB, Springfield Central
Derek Pacheco, Sr. DL, Barnstable
Connor Peck, Sr. OL, Catholic Memorial
Khai Perry, Sr. RB, Duxbury
Kylan Philbert-Richardson, Sr. RB, Archbishop Williams
Wes Quinzani, Sr. DB, Duxbury
Aaron Rabb, Sr. DL, Whitman-Hanson
Deion Raper, Sr. DB, Brockton
Kerry Raymond, Soph. RB, Brockton
Eddie Rivera, Jr. RB, Leominster
Justin Robinson, Sr. WR, Natick
Owen Rocket, Jr. WR, St. John's Prep
Sergio Rodriguez, Sr. OL, Somerville
Rufus Rushins, Jr. RB/LB, Bishop Fenwick
D'Vante Sewell, Sr. DB, Springfield Commerce
Ben Sheehan, Jr. RB, Minnechaug
Tim Smith, Sr. RB, Dartmouth
Joel Sodeinde, Sr. OL, Dartmouth
Jimmy Sullivan, Sr. QB, Nauset
Jack Sylvester, Sr. RB, Andover
Thomas Tabur, Sr. OL, Northbridge
Tyrone Thornton, Sr. DB, Newton South
Nick Thyden, Sr. WR, Quabbin
Griffin Tighe, Sr. DL, Franklin
Coby Tippett, Soph. ATH, Xaverian
Taj-Amir Torres, Jr. WR/DB, Amherst
Spencer Tyler, Sr. QB, Dennis-Yarmouth
Luc Valenza, Sr. LB, Foxborough
Jason Valera, Sr. LB, Leominster
Alex Valles, Sr. DB, Danvers
Kahlil Walker, Sr. DL, Springfield Central
Casey Walsh, Sr. QB, North Andover
Isaiah White, Sr. RB, Beverly
Jamal Williams, Sr. RB, Brockton
Mayson Williams, Sr. ATH, Leominster
Raheem Wingard, Sr. QB, Everett
Kyle Wisnieski, Sr. QB, Mansfield