Boston High School:

Shyheim Cullen
October, 31, 2013
Oct 31
4:21
PM ET
EDITOR'S NOTE: Picks for Western Mass. are omitted, as the district concludes its final week of regular season this weekend)

Brendan Hall
ESPN Boston High Schools Editor

Division 1 North: Everett
Plain and simple, I just don't see John DiBiaso getting outcoached in this field.

Division 1 South: Attleboro
One of several surprise picks I'm going to lay down here. The Blue Bombardiers' program has long been a sleeping giant, and they've finally awoken this fall with a slew of skilled athletes, including quarterback Tim Walsh, tight end Luke Morrison, receiver Brenden Massey and promising young two-way lineman Kyle Murphy. The key may be junior Damon Belin, a speedy pass-catching running back who is elusive in space.

Division 2 North: Haverhill
Hard to think just two years after an 0-11 campaign, the Hillies are the No. 1 seed in a playoff tournament. Sophomore running back Ian Kessel, one of the area's leaders in yards from scrimmage, has been at the forefront of the renaissance, and I expect him to have a breakout campaign this next month.

Division 2 South: Natick
If there is one player capable of carrying his team on his back, it is quarterback Troy Flutie, who has put up video game numbers yet again (2,500-plus yards, 35 TD) with an assortment of supporting cast members.

Division 2 Central: Leominster
This is the most talented team of Dave Palazzi's tenure, and it may be his best coaching job yet. They are not the most physically intimidating team, but they are one of the most disciplined, and they squeeze every inch out of their talents, led by dual threat QB Neil O'Connor. The Blue Devils brought the biggest crowd ever to Gillette Stadium two years ago. I can only imagine what kind of caravan from this football-mad city would show up this year.

Division 3 Northeast: Tewksbury
There may be some bumps in the road in this field, but at the end of the day there isn't a team as deep as the Redmen in this field. They were the most dominant team in the MVC this season, and with a stable of running backs led by James Sullivan and Eddie Matovu, along with a scheme that draws formations from seemingly every family of offense throughout history, I just don't see how anyone knocks these guys off.

Division 3 Northwest: Arlington
Two Dubzinskis are better than one, and the father-son duo of head coach John Jr. and his father John Sr. as defensive coordinator has taken the Middlesex by storm this fall after showing promise a year ago. I don't know what direction this bracket is headed in, but the Spy Ponders are a safe pick.

Division 3 Southeast: Plymouth South
As long as Dylan Oxsen is carrying the rock, I don't see anyone but the Panthers taking this bracket. It's a different story after that, though.

Division 3 Southwest: Walpole
The Rebels' ground game has come along well, after hitting a few bumps. As long as the defense can hold up, their multi-dimensional stable of backs can do the rest.

Division 4 North: Bedford
Another field that can go in an assortment of directions, the ground game dictated by Olan Abner could be the difference.

Division 4 South: Dennis-Yarmouth
The Dolphins typically hit their stride in the second half of the season, and the way this offense is clicking, it's going to take a flawless defensive performance to shut down Spencer Tyler, Michael Dunn and company.

Division 4 Central: Doherty
Twitter follower and familiar 98.5 The Sports Hub caller "Aidan From Worcester" guarantees Shepherd Hill beats Doherty in this bracket. The Rams are a dangerous bunch, but the Highlanders have arguably the best grouping of pure athletes statewide across Division 4, so I'm sticking to my gut.

Division 5 North: Bishop Fenwick
Rufus Rushins gets much of the glory in this dominant run for the Crusaders, and deservedly so, but quarterback Nick Bona is the catalyst of this offense, and will be the difference in a close game somewhere down the line.

Division 5 South: Abington
The Green Wave lost some key bodies to start the year, but have been rolling ever since, capped with a convincing 36-7 rout of East Bridgewater. The versatile backfield of Al Freeman, Jason Halpin, quarterback Bryan Dwyer and promising sophomore Shawn Donovan will wear front sevens down.

Division 5 Central: Leicester
Tom Rodrick has been the driving force on both sides of the ball, but quarterback Drew Mazzeo puts the Wolverines over the top.

Division 6 North: Latin Academy
There are trendier picks in this field, such as Boston Cathedral, but the Dragons have one of the better overall athletes in this field in quarterback/safety Kyle Dance. He will be the difference.

Division 6 South: Upper Cape
Mike Hernon has done a fantastic job with this program, and while the Rams are a low seed headed into this wide-open field, Jon Dumont is a dangerous asset to this triple-option scheme who can take them deep.

Division 6 Central: Blackstone Valley Tech
Nic Wojnar is as elusive with his feet as he is throwing the ball in the Beavers' read option scheme. Expect big numbers from the senior this postseason.

***

Scott Barboza
ESPN Boston High Schools Editor

DIVISION 1 NORTH: Lowell
I've gone on record since the summertime months saying the Red Raiders are making an appearance at Gillette Stadium this year. Lowell has a tough road there, staring with a first-round road game at St. John's Prep in the No. 4 vs. No. 5 swing matchup, but I've like the strides this defense has made behind Alex Quintero and Shyheim Cullen.

DIVISION 2 NORTH: Haverhill
One of the tougher races to project in Eastern Mass., the Hillies enter as the No. 1 seed. Preseason favorite Reading, a buzz worthy Waltham team and old stalwarts Lincoln-Sudbury could all claim the prize, but I'm going with the upstart Hillies, vindication for the terrific job Tim O'Connor has done since taking over the program.

DIVISION 3 NORTHEAST: Tewksbury
Marblehead might have the best athlete in the field with two-sport standout Brooks Tyrrell, but Tewksbury proves too much to handle, with a three-headed rushing attack and a stout defense.

DIVISION 3 NORTHWEST: Melrose
The Red Raiders lone loss of the regular season came against Middlesex Freedom division rival Wakefield, coming on a late field goal, but I like Melrose the second time around. The teams couldn't meet until the sectional final and who wouldn't love ensuring a third meeting of the season by Thanksgiving rivals.

DIVISION 4 NORTH: Watertown
Perhaps a surprise pick coming out of the division, the Red Raiders have some athletes on the boundaries with T.J. Hairston. I think Bedford might be the team to watch here, but just playing a hunch.

DIVISION 5 NORTH: Bishop Fenwick
Pick the Crusaders to go all the way, on a tear through Gillette. They haven't just beaten teams, they've annihilated the CCL's best, including St. Mary's (first-round opponent) and Austin Prep, which they both will/can see down the road.

DIVISION 6 NORTH: Cathedral
Another North-based team I have running the field. As I mentioned earlier in the state championship Roundtable, I think the Panthers are just hitting their stride now. This could be the second championship of more to come.

DIVISION 1 SOUTH: Xaverian
Almost wanted to pull the trigger and go with Bridgewater-Raynham here, but I think the Hawks' defense, which has carried them through the regular season, continues to be the story in the postseason, leading them to Gillette.

DIVISION 2 SOUTH: Mansfield
If this were the World Cup, this would be referred to as the "Group of Death." Seriously, whichever team survives this gauntlet will be battle-tested. Ever since Week 1, it seems as though Mansfield's been a team of destiny; they follow through.

DIVISION 3 SOUTHEAST: Plymouth South
An intriguing bracket, littered with some of the Atlantic Coast League's finest, so look no further than the Panthers, the league's playoff representative from last season. Nauset and Plymouth North are lurking, but also don't look past an underrated rivalry game between Somerset-Berkley and Dighton-Rehoboth as a first-round appetizer.

DIVISION 3 SOUTHWEST: Oliver Ames
Another division strongly influenced by the presence of one particular league, in this case the Hockomock. OA and Stoughton drew the top two seeds, but let's not sleep on No. 4 seed North Attleborough, which plays up in the Kelley-Rex division. Whichever team emerges from the Red Rocketeers' first-round duel with Walpole could be a dark horse for the sectional title.

DIVISION 4 SOUTH: Westwood
Tons of Tri-Valley League talent to go around here, but I'm sticking with the regular-season champion. It wouldn't shock me in the slightest if Dennis-Yarmouth wears the sectional crown, but the Wolverines are a team that simply seems to get it done when the chips are on the table, led by dynamic senior quarterback Bo Berluti.

DIVISION 5 SOUTH: Cardinal Spellman
Old Rochester Regional enters the tournament with the No. 1 seeding, having posted some gaudy offensive numbers throughout the year behind running back Richie Phillips. I picked the Cardinals to win the state title from the start of the season, and while I like Fenwick a little more in terms of the state championship, I still envision Spellman returning to Gillette.

DIVISION 6 SOUTH: Millis/Hopedale
Perhaps no injury will have a greater impact on the outlook of the division than that of the Mohawks and lineman Jon Baker. Granted, I still like M/H's chances emerging from a wide-open field, thanks to running back Chris Ahl. That being said, the Mohawks' first-round date with Mashpee could determine the sectional champion.

DIVISION 2 CENTRAL: Leominster
I like the Blue Devils to advance to Gillette, but the sectional field is fraught with peril, too. Marlborough and St. John's (Shrewsbury) can score with the best of them, but I don't think anything short of an act of god slows down the Leominster caravan.

DIVISION 4 CENTRAL: Doherty
From season's start, I've tabbed the Highlanders as my statewide Division 4 championship favorite. However, the toughest matchup in the path might very well in their first-round test against No. 6 seed Quabbin.

DIVISION 5 CENTRAL: Leicester
Coming into the season, it would have been easy to project Auburn running away with another championship of sorts, but I'm going with the No. 1-seeded Wolverines, led by linebacker Tom Rodrick – a strong Defensive Player of the Year candidate.

DIVISION 6 CENTRAL: West Boylston
This is a case of what have you done for me lately? While No. 1 seed Littleton rolled through its Mid-Wach schedule undefeated, scoring at a clip of nearly 43 points per game, West Boylston notched a thorough win over previously mentioned Leicester two weeks ago. Granted, the Lions' lone loss of the season came at the hands of Littleton, but after a one-possession loss in Week 1, I'm banking on the second meeting having a different outcome.
October, 26, 2013
Oct 26
1:00
AM ET
By
Chris Bradley
| ESPNBoston.com
LOWELL, Mass. -– Following up one of his best performances of the season, Brian Dolan couldn't contain his excitement following Lowell's 28-7 victory over Andover (3-4) Friday night.

"We just made history!" Dolan exclaimed while running to partake in the celebration with his teammates.

This Red Raiders (6-1) team, the first playoff squad to come from Lowell, was elevated in the offseason when Dolan decided to transfer from Lawrence Academy. Though it took the dual threat signal-caller some time to fit into Lowell's offense, and get to know his teammates, he's playing his best football of the season at the right time.

Dolan finished 13-19 for 104 yards and three touchdowns, giving the Red Raiders a quick lead in the first half that they were able to keep throughout the game.

"It's reps, experience, him feeling comfortable with things, understanding what a defense is doing. Just progression and reps, he's done a good job [this year]," Lowell coach John Florence said.

Two-way star Shyheim Cullen (73 yards rushing, one sack, one fumble forced) and Ngaiiva Mason (58 yards rushing, TD) also helped led the charge, as Mason's consistent running in the first half and Cullen's ability to make plays all over the field ultimately made a big contribution to the playoff clinching victory.

"We did great, we did awesome," Cullen said. "We almost had the shutout, but that doesn't mean anything. We worked all week on [defense], our defense is probably the best in the league...We work hard on it every day. Coach just tells us never give up, never quit, 100% effort all the time."

Florence agreed, praising Cullen for his on-field leadership on both sides of the ball.

"He's a great kid, a great teammate -- he prepares hard during the week," Florence said. "He's very intense, he practices hit technique, his reads, he watches film, and him and Ngaiiva running the ball they kind of have a little one-two punch right there. They're good friends, good teammates—they don't care who gets the ball. They're always kind of rooting for each other."

Dolan got the Lowell offense started quickly, leading an 11-play, 62-yard attack on the Red Raiders' first drive in the first quarter. He found Keagan Latta (2 TD) from 14 yards out to give Lowell the first lead of the game in the opening minutes. Dolan threw a 17-yard strike to Jack Galvin late in the second quarter to extend the lead to 14-0 at halftime.

"It was definitely one of our most complete games of the year," Florence said. "We've gotten better slowly but surely, progressively better with that -- we were sloppy at that last year. Last week we played about three and a half quarters of football, we didn't finish the way we wanted to. We did a better job this week."

Dolan found Latta once again in the third quarter to make it 21-0, then Mason ran it in from just over the goal line late in the fourth quarter to render the lead insurmountable. Oliver Eberth scored Andover's only touchdown of the game with 10 seconds left in regulation, breaking through for an 86-yard run.

"We're just gonna enjoy this for a couple minutes, and then we'll put it behind us and we'll find out tonight or tomorrow morning," Florence said. "We talk about it every week…we can't worry about what happened in the past, we're gonna focus on who we have next."

Cullen said he was ecstatic to make school history, especially going into the playoffs in grand fashion following one of their best team efforts of the season.

"It means a lot to us," Cullen said. "It means something to take our program to the next level, hopefully we take it further than the playoffs and go to the super bowl. It's the first time we've ever been to the playoffs ever, and to be on the first team that goes to the playoffs—it's incredible, it's surreal."

October, 12, 2013
Oct 12
12:38
AM ET
By
Ryan Kilian
| ESPNBoston.com


LAWRENCE, Mass. –- Defense was the story on Friday night as Central Catholic and Lowell locked horns in a battle of Merrimack Valley Conference Division 1 powers.

Both teams proved that the MVC is more than just high-powered offenses as Central Catholic outlasted Lowell 14-12 to remain in first place in the MVC D1 and also maintain favorable position in the Division 1 playoff picture.

"Both defenses played awesome tonight," Central Catholic coach Chuck Adamopoulos said after the game. "It was a hard-hitting game and the kids came up with the plays when we needed them."

With both squads coming off bye weeks the preparation on both sidelines was evident. Early in the game the battle for field position was crucial, as three-and-outs and defensive stands were becoming increasingly popular.

"It was a weird game," Adamopoulos said. "The atmosphere was strange at times. Both teams were just treading water back and forth."

After a scoreless first quarter both teams would find the end zone in the second as Central Catholic quarterback Mike Milano, who was 12-of-23 for 175 yards passing, and two touchdowns (one passing, one rushing), would cap off the only scoring drive for Central in the first half, when he took it in from 10 yards out to give Central a 7-0 lead.

Milano's touchdown with 5:43 remaining in the first half was answered by Lowell as quarterback Brian Dolan would hit wide receiver Jack Galvin on a deep slant, over the middle, for a 27-yard touchdown strike on third-and-20 with 3:08 remaining in the half. A failed extra point attempt would preserve Central's 7-6 lead.

"We made some big defensive stands," Adamopoulos said. "I thought in the first quarter that they had the field position the whole time and our defense came up really huge at the beginning of the game and set the tone."

Central Catholic wide receiver and return man Cody Demers would provide the necessary lift in the first half as he hauled in 97 of his game-high 127 receiving yards in the opening half, to go with some big returns and an important touchdown-drive-preserving fumble recovery.

The second half of play was eerily similar to the first as both teams played to a scoreless third quarter, with many of the same penalties and field position dilemmas repeating themselves again for both teams.

The scoreless second half would end when Milano found running back D'Andre Drummond-Mayrie on a big touchdown pass early in the fourth quarter.

The University of New Hampshire commit made one of the plays of the game as he leaped to haul in Milano's pass, spun away from a would-be tackler, and split two more to find the end zone on a 32-yard touchdown reception to give Central a 14-6 lead with 8:29 remaining in the game.

Lowell would answer back again on the following possession as running back Ngaiiva Mason (80 yards rushing) would take it in from 20 yards out to cut the lead to 14-12. A failed conversion attempt would leave the score at 14-12.

The Punt: One of the biggest plays of the game occurred in the final minutes of the game as Central Catholic punter Dan Wilson blasted a punt that netted 66 yards and was downed on the Lowell 4-yard line. The punt helped Central Catholic flip the field with time running out in the game.

"Danny is an awesome kid and that is his biggest punt of the season," Adamopoulos said. "It could not have come at a better time. We were punting from our end and they have a great player at kick returner. The punt was big and the coverage got down to down it. It made defense a lot easier for that last minute.

Sealing the Win: After Wilson's punt Central Catholic came up with their final defensive stand as defensive back Mike Balsamo made the game-sealing interception to preserve the victory.

"Mike Balsamo came up with a huge interception and Gavin Anderson, on that same play I thought, gave us some great coverage," Adamopoulos said. "Mike came over from his safety spot in good position and made the pick."

Balsmo's play capped off a nice night for the junior as he continued to produce on both sides of the ball all game long.

"I saw him rolling out and just read the quarterback and played the ball," Balsamo said. "It all comes down to practice and we worked real hard these two weeks to prepare."

Lowell received strong games from linebacker Shy Cullen (2 Sacks) and Galvin (Seven catches, 141 yards).

"They are tough," Adamopoulos said of Lowell. "There is a real good chance we will play each other again in a few weeks."

Central was led defensively by the strong inebacker play of Markus Edmunds and Cam Manning.
September, 7, 2013
Sep 7
12:40
AM ET
By
Chris Bradley
| ESPNBoston.com
WESTFORD, Mass. –- With overwhelming speed and a knack for getting to the ball, Lowell's defense was all over the field on Friday night. As a result, the Red Raiders (1-0) pitched a shutout on opening night, picking up the road victory over Westford Academy, 21-0.

The Lowell offense got a quick start in the first quarter, putting up two touchdowns in the opening minutes.

The Red Raiders went right to running back Ngaiiva Mason on their first drive; he had 39 yards in the series, 28 of which on a second down run to put Lowell on the seven yard line. Moments later, senior quarterback Brian Dolan (10-of-15, 105 yards, 2 total TD) kept it himself and put his team on the scoreboard first.

A few minutes later, following a Westford (0-1) fumble forced by defensive end Malik Settles, Lowell came up with great field position on the Grey Ghosts' 31 yard line. On third down, Dolan hooked up with highly-touted receiver Jack Galvin (5 catches, 68 yards) for a 29-yard touchdown, bringing the lead to 14-0.

"Those guys work well together," Lowell coach John Florence said about the friendship between Galvin and Dolan. "They've grown up together, they've played since junior high together and they've been friends, so they already had that kind of bond."

Westford had an opportunity to put points on the board at the end of the first half, but a dropped would-be touchdown in the endzone resulted in a turnover on downs.

The Grey Ghosts ended the first half with just 35 total yards. The defensive theme stood true early in the second half as well, as Lowell was able to pick up two stops in the red zone to keep the shutout alive.

Following a long punt return by Mason that brought Lowell to Westford's 13 yard line, the Red Raiders scored on a run via Mason two plays later to extend the lead to 21-0. However, Westford wasn't quite done yet.

Grey Ghosts quarterback Luke Moran helped manufacture a 68-yard drive thanks in part to two receptions for 41 yards from Will Puduski, and a 28-yard reception from tight end Matt Cardeiro. Two plays later though, Lowell defensive back Musa Mansary picked a Moran pass off in the endzone to, at least at the time, take the win out of Westford's sails.

"Coach called man coverage. He thought I was nice, so I just covered the kid up pretty well," Mansary said after the game.

The excitement on the Red Raiders' sideline was anticlimactic, however, as Mason fumbled the ball on the very next play—putting Lowell's defense back on the field and giving Westford position at the Red Raiders' six yard line.

"Offensive line and run blocking…we need to clean it up," Florence said regarding the fumble.

The Grey Ghosts' would get the ball all the down the one yard line, but couldn't finish off the opportunity, as running back Ben Rodman simply couldn't get through Lowell's linebackers. It was a sense of relief from Mansary and the rest of the defense, and he had high praise for his teammates:

"Give a lot of credit to the linebackers: Shyheim [Cullen], Nicolau Coury, and John Healy. Those guys are the best," he said.

The defensive emphasis was a long time coming for Florence's team, as the coach has worked hard at improving his defense over the past couple of years.

"We've been stressing ball security at practice, but obviously it's something we need to work on a little bit more," Florence said. "It was great to see the defense make those stops, defensive backs made some plays there, the linebackers, the d-line, it was really a team effort on defense there."

He continued, "It's something we've been building for three years. We've been stressing tackling, we do a tackling circuit almost every day in practice. With these guys who have been playing for a few years, they're kind of feeling more comfortable with things."

Mansary, a senior who has learned a lot from Florence over the past couple of years, said the coach and his staff constantly put an emphasis on getting eleven men to the ball and playing fast on defense. He was quick to give credit to his coaches for the team's success on Friday night:

"Give the credit to all the coaches: Coach Florence, Coach Casey, Coach Harris. It's all them, it's not us. They prepare us every week to play like we're champions, every week."
August, 29, 2013
Aug 29
6:09
PM ET
LOWELL, Mass. – It's in Jack Galvin's blood, but he doesn't let on.
When asked about his family's athletic exploits, he shyly mentions that his dad once played in the NFL. The Lowell senior wide receiver and outside linebacker, like his father, Blake, before him, has already carved out a niche in Red Raiders' history. It's difficult to live in the shadow of a program great, who went on to star at Boston College and, later, was drafted.
[+] Enlarge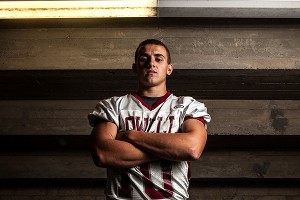 Michael Thorpe for ESPNBostonLowell wide receiver Jack Galvin has 1,862 receiving yards and 20 touchdown catches since the start of his sophomore season.
But the Galvin clan seems to have it all in perspective.
"My dad has always wanted me to do my own thing, whatever that is," Jack said before a recent practice at Cawley Stadium. "There's no pressure. If I want help, I can ask him, but otherwise, he just wants me to do what makes me happy."
With that guidance, the younger Galvin is well on his way to cementing his own legacy at Lowell. Having tallied at least 60 receptions and 800 receiving yards in the last two seasons, including a career high 72 catches for 916 yards in 2012. He also caught 10 touchdown passes in both his sophomore and junior years.
That production has garnered Galvin interest from Division 1 FBS and FCS schools. Galvin's keen to watch his college options play out, but says the Ivy League would be an ideal destination.
Yet, for a third straight season, Galvin and the Red Raiders' receivers will have a new quarterback distributing the ball: enter Lawrence Academy senior transfer Brian Dolan.
Whether it was R.J. Noel (now starting at Sacred Heart) or Cam Latta in the previous years, Galvin and the Red Raiders offense has operated at a prodigious clip, averaging more than 30 points per game for the greater part of the last two seasons.
To ensure the trend continues, Galvin has spent just about every day of the summer months huddled up with his fellow receivers running the spread on Cawley's turf.
"I think every time I passed by here, they were out on the field," Red Raiders head coach John Florence said.
Whether it was 7-on-7 passing leagues or work on their own, Galvin says football is the currency to a tight senior group's friendship.
"Yeah, that's pretty much what we do," Galvin chuckled. "We really love football, and we like hanging out together, so that's what we do."
LOWELL AT A GLANCE
Coach:
John Florence (Third season, 15-7 overall)
Last Season:
9-2
Key Returnees:
Jack Galvin, Sr. WR/LB; Alex Quintero, Sr. OL/DE; Ndeiiva Mason, Sr. RB; Keagan Latta, Sr. WR/DB; Shyheim Cullen, Jr. LB; Nicolau Coury, Jr. LB; Tom Smith, Sr. WR; Michael Holder, Sr. WR/DB; Musa Mansaray, Sr. LB; Angel Brito, Jr. OL/DL.
Strengths:
Skill positions, athleticism.
Weaknesses:
Lack of experience at quarterback.
Outlook:
While the Red Raiders' high-flying aerial attack gets its fair shake of attention, let's not overlook half back Ndeiiva Mason. Operating in an offense that is inclined to the passing game, Mason still rushed for more than 800 yards. Florence feels the stat doesn't tell the whole truth. "He's a pretty good back, and if he worked in some other offenses, I think he'd put up some really big numbers," Florence said.
On defense, the Red Raiders are big, physical and fast. With Alex Quintero rushing off the edge and juniors Shyheim Cullen and Nicolau Coury filling the holes at linebacker, Lowell might finally have the defensive corps it needs to make a postseason run in a loaded Division 1 North.
August, 8, 2013
Aug 8
1:35
PM ET
This is the third installment in our "Summer Snapshot" series, checking in with some of Massachusetts' top teams leading into the MIAA football preseason. To see all of our Summer Snapshots, CLICK HERE.
One could argue Lowell was one of the better teams sitting at home after Thanksgiving with no playoff berth last fall, winning six of its final seven games with a potent offense that really hit its groove from October on. This fall, the Red Raiders should be one of the more fascinating, high-powered offenses to watch -- up there with Natick, St. John's (Shrewsbury) and the like -- returning a deep receiving corps led by All-State candidate Jack Galvin.
In the newly-aligned MIAA State Championship format, some are projecting Lowell as a dark horse in the elite Division 1. Can they continue last season's momentum for an historic 2013? We checked in with the Raiders yesterday afternoon at Cawley Stadium, as part of a photo shoot for our annual preseason gallery, which will be available later this month on ESPNBoston.com.
LOWELL AT A GLANCE
Coach:
John Florence (Third season, 15-7 overall)
Last Season:
9-2
Final ESPN Boston Rank:
NR ("Last 10 out")
Returning Starters:
12 (five offense, seven defense)
Key Losses:
QB Cam Latta, WR/DB Alex Kasirye, WR Anthony Consolo, OL Callen Vail, OL Andres Bolivar, DB Ricky Rosado
Key Returnees:
Sr. WR/LB Jack Galvin, Sr. OL/DE Alex Quintero, Sr. RB Ndeiiva Mason, Sr. WR/DB Keagan Latta, Jr. LB Shyheim Cullen, Jr. LB Nicolau Coury, Sr. WR Tom Smith, Sr. WR/DB Michael Holder, Sr. LB Musa Mansaray, Jr. OL/DL Angel Brito
Overview:
Behind a high-powered offense returning some of the state's finest skill players, many are pegging the Red Raiders as a favorite in the Merrimack Valley Conference, and potentially a dark horse in the newly-aligned Division 1 North. After a 21-0 shutout loss to Tewksbury in Week 4 last season, Lowell won six of its final seven games -- including an upset of MVC champ Andover -- and lit up the scoreboard along the way, averaging 387 yards of offense and nearly 39 points per game. The biggest hole to fill will be at quarterback, but Lawrence Academy transfer Brian Dolan appears capable of taking the reigns. The Raiders ran one of the more unique offenses in 2012, utilizing pistol sets with layered routes and packaging screens on the backside of zone read plays. That gave way to a breakout season for Galvin (72 catches, 916 yards, 10 TD), who should lead one of the region's deepest receiving corps along with Latta, Bryant, Smith, Cullen, and scatback Mason. Defensively, there is athleticism abound. The 5-foot-11, 205-pound Quintero (15 sacks) is a difficult matchup with his speed rush moves and low center of gravity, while Coury and Cullen are bound for breakout campaigns at linebacker after combining for 122 tackles (16 for loss) and 8.5 sacks in 2012. Overall, this is a team that can score points in a hurry, and could play spoiler in a D1 North where St. John's Prep and Everett are the presumed favorites.
Here @ Cawley Stadium with @Thorpe_Says for photo shoot w/ Lowell Red Raiders. Full gallery later this month pic.twitter.com/umUqo6bVys

— Brendan Hall (@BHallESPN) August 7, 2013
August 7, 2013
Lowell QB @Brian_Dolan12 shows us his "Uncle Rico" pose pic.twitter.com/rW4BIT29iq

— Brendan Hall (@BHallESPN) August 7, 2013