Boston High School:

Sophie Bikofsky
March, 25, 2011
3/25/11
9:10
PM ET
STARTING FIVE

Guard – Nicole Boudreau, Jr., Andover
The state's Gatorade Player of the Year and Merrimack Valley Conference Player of the Year led the Golden Warriors to their second straight Division 1 state title, and put up impressive numbers in her junior season: 23.1 points, 7.7 rebounds, 4.9 steals, 4.5 assists and two blocks, as the Warriors went 27-1. Boudreau is verbally committed to Boston College.

Guard – Natalie Gomez-Martinez, Sr., Andover
Together with Boudreau, the 5-foot-6 Gomez-Martinez formed the state's most formidable backcourt, and backed it up with some impressive numbers of her own. She averaged 13.5 points, 5.6 assists, 5.3 rebounds and 4.3 steals as the Golden Warriors won their second straight Division 1 state championship. Gomez-Martinez will continue her career next fall at Division 1 Marist College.

Guard – Blake Dietrick, Sr., Wellesley
The Raiders made a surprise early exit from the Division 1 South tournament, but the 5-foot-11 Dietrick leaves Wellesley as one of the school's all-time greatest athletes. This season she averaged 20.1 points, 8.3 rebounds, 5.3 assists, 3.9 steals and was named the Bay State Conference's MVP. She also hit 52 three-pointers this season. She leaves Wellesley with 1,440 career points, and is the school's all-time leading scorer for either gender in both basketball and lacrosse. Dietrick will continue her basketball career next fall at Princeton University.

Forward – Elizabeth Belanger, Jr., Acton-Boxborough
The 5-foot-11 junior continued the momentum from sophomore season, in which she won the Dual County League's MVP, to held the Colonials break through to the TD Garden floor in 2011. After outlasting archrival Lincoln-Sudbury in overtime, the Colonials made it to the Division 1 North final at the Garden, where they lost to eventual state champ Andover. For the season, Belanger averaged 20.5 points, 11.4 rebounds and 2.7 steals, and registered her 1,000th point in a D1 North first round win over Billerica.

Center – Tori Faieta, Sr., St. Mary's
At 6-foot-2, the senior imposed her will around the rim for four years, culminating this season with a Division 3 state championship, the school's first state title since 2003. She was named the Catholic Central League's MVP, and is a four-time league all-star. This season, she averaged 13 points and 11.2 rebounds, and finishes as the all-time leading scorer (1,471 points) and rebounder (1,416 boards) in school history. She will continue her basketball career next fall at Stonehill College.
BEST OF THE REST
Cassi Amenta, Sr., St. Mary's
Together with Faieta, the 5-foot-11 Amenta formed one of the state's most vicious frontcourts, culminating with a Division 3 state title. The two-time Catholic Central League All-Star leaves St. Mary's as the third all-time leading scorer (907 points), including averages of 10.5 points and 7.6 rebounds this season.
Nicole Beresford, Sr., Marshfield
The 5-foot-11 Beresford has been a rock for the Lady Rams since her freshman year, earning Atlantic Coast League All-Star nods in all four of her years on the varsity and earning a McDonald's All-American nod this season. She averaged 22.4 points and 11.2 rebounds in her senior season, and leaves Marshfield as the school's all-time leading scorer for either gender (1,804 points). Beresford will continue her career next fall at Dartmouth.
Sophie Bikofsky, Sr., Newton South
As co-MVP of the Dual County League for the Large division champs, the 5-foot-11 Bikofsky honed her reputation as one of the area's best shooters. This season she averaged 18.5 points, seven rebounds and 2.7 steals, and memorably got her 1,000th point within 30 seconds of teammate and fellow All-Stater Kendall Burton. Bikofsky will continue her career next fall at Brown.
Kendall Burton, Sr., Newton South
The DCL's other co-MVP was just as versatile on the court as her counterpart Bikofsky. She averaged 15.5 points, six rebounds and 1.7 assists for the Lions as they advanced to the Division 1 South semifinals. Burton, along with Bikofsky, was also a McDonald's All-American nominee this season. She will continue her career next fall at Villanova University.
Amber Dillon, Sr., Brookline
The 5-foot-4 Dillon led the Warriors to a 14-7 campaign in her senior season, while finishing second to Wellesley's Blake Dietrick in scoring in the Bay State Conference. She averaged 15.3 points, four rebounds, four assists and earned a McDonald's All-American nomination this season.
Khadijah Ellison, Sr., Burke
With freakish athletic talents, the 5-foot-8 senior established herself as one of the state's craftiest ballhandlers, if not the best in the city of Boston. The Bulldogs made an early exit in the Division 3 South tournament, but her brightest days are ahead of her. Ellison, the No. 44 overall player nationally in the Class of 2011 by ESPNU, will continue her career next fall in the SEC at Mississippi State.
Julie Frankian, Sr., Millbury
The 5-foot-11 Frankian established herself as one of the most dynamic scorers outside of I-495, leading the Woolies to a fifth straight Central Mass. Division 2 title and fourth straight appearance in the Division 2 state championship. Frankian leaves Millbury as the school's all-time leading scorer, and for her senior season averaged 19.3 points, 8.9 rebounds and three assists. She will continue her career next fall at Division 2 Assumption College.
Arielle Gomes, Sr., New Bedford
The 5-foot-11 power forward was a force in the middle for the Whalers, who went 20-0 during the regular season to earn the No. 1 overall seed in the South and advance to the Division 1 Eastern Mass finals, where they lost to eventual state champion Andover. Before losing to Andover, the Whalers allowed just 40 points per game in the playoffs. For the season she averaged 17.7 points and five assists, and finishes her career at New Bedford as the second all-time leading scorer (1,284 points).
Brenna Gonsalves, Sr., Coyle-Cassidy
The 5-foot-10 Gonsalves leaves Coyle as the school's all-time leading scorer for both boys and girls, with 1,615 points. She was also a three-time Eastern Athletic Conference scoring champion. With Gonsalves leading the way, the Warriors won three straight EAC titles, and took the Division 3 South crown earlier this month. She finishes with a career scoring average of 17.9 points, and amassed 672 rebounds, 254 steals, 202 assists and 140 blocks. She will continue her career next fall at Division 2 Adelphi University.
Monique Heard, Jr., Holyoke
Holyoke's spark plug of a 5-foot-5 point put in a dazzling junior season for the Purple Knights, averaging 22.5 points and six assists per game as they went 19-3 and advanced to the Western Mass. Division 1 semifinals. Heard was also the inaugural recipient of the Basketball Hall of Fame/MassLive Western Mass Player of the Year.
Morgan Jenkins, Sr., Revere
The 6-foot Jenkins was a dominant force in the paint for the Patriots, who won the Northeastern Conference and went 20-0 in the regular season to earn a No. 1 seed in the Division 1 North tournament. Jenkins, who led the NEC in scoring average (18.8 points), will continue her career next fall at St. Michael's College.
Carlene Kluge, Sr., Reading
The 6-foot Kluge lead a young Rockets squad to Middlesex League dominance, as they went 21-2 and won the league outright in the last year before splitting into two divisions. She averaged 13.2 points on the season, as the Rockets advanced to the Division 2 North semifinals. Kluge will continue her career next fall at Bentley College.
Melissa Miller, Sr., Central Catholic
A four-year member of the varsity, Miller co-captained the Raiders to a 20-3 campaign this season and was one of the region's premier forwards, averaging 11.1 points and 7.2 rebounds. For her career, the Merrimack Valley Conference All-Star amassed over 850 points and 500 rebounds. She will continue her career next fall at Merrimack College on a full scholarship.
Gabie Polce, Sr., Central Catholic
A four-year varsity player who has run the point for the Raiders the past 3 years, the 5-foot-9 Polce captained the Raiders to a 20-3 campaign, averaging 10.6 points, 3.7 assists and 2.8 steals. For her career, the Merrimack Valley Conference All-Star scored 838 points, over 210 steals and more than 300 assists. She will continue her career next fall at Division 2 College of St. Rose.
Alyssa Roach, Sr., New Bedford
Along with Arielle Gomes, Roach was a force offensively for the Whalers, who averaged nearly 70 points per game in the regular season and finished the year 24-1, bowing out to eventual state champ Andover in the Division 1 Eastern Mass finals. She averaged 12.6 points and 8.1 rebounds on the season. Roach will continue her career next fall at American International College.
Emma Roberson, Jr., Arlington Catholic
The 5-foot-9 Roberson was the catalyst for a young Cougars squad that captured their first Division 2 state championship in school history in dominating fashion, a 49-28 drubbing of Millbury. After a competitive Catholic Central slate, Roberson led a Cougars defense that allowed just 39 points per game in six playoff games.
Bri Schnare, Jr., Wachusett
The 6-foot-2 forward turned in a stellar junior season for the 15-6 Mountaineers, averaging 12.2 points, eight rebounds and four blocks per game and earning a Mid-Wach A All-Star nod. When play resumes at the end of the year, Schnare will be a captain for head coach Jim Oxford.
Dana Theobald, Jr., West Springfield
One of several lightning-quick point guards to rule Western Mass, the 5-foot-6 Theobald led the district in scoring with 23.5 points per game. Behind Theobald, the Terriers earned a No. 1 overall seed in the Division 1 West sectional, and lost in the semifinals to Longmeadow in an overtime thriller.
March, 2, 2011
3/02/11
11:53
PM ET
By
Tom Layman
| ESPNBoston.com



NEWTON, Mass. -- Newton South had 10 days to sit and stew on its heartbreaking overtime loss to Central Catholic in the last game of the regular season, which wiped away the Lions' perfect record.

But the host No. 3 Lions (20-1) channeled those emotions into a blistering first half from the perimeter to drop No. 19 Brockton, 67-53, in the first round of the Division 1 South tournament on Wednesday night.

Sophie Bikofsky scored 20 of her game-high 23 points in the first half, while the Lions shot an efficient 57 percent (12-of-21) from behind the three-point line in the first 16 minutes of the game. They sizzled in the second half, going 2 for 13 from deep, but still finished 41 percent on three's.

"We had a pretty good shooting performance behind the 3 in the first half," said Bikofsky, who finished 5-of-11 from deep. "I think everybody did. We were taught to look for the shooter that is hot, and today it happened to be me in the first half."

Bikofsky helped the Lions build a 16-7 lead in the first four minutes of the game with 11 points in the run. The Lions were able to get shooters in the correct spots and seemed to never have a hand in their face when launching from deep.

As a team, the Lions shot 8-of-11 from beyond the arc and built a 30-14 lead at the end of the first quarter. Bikofsky was perfect from the left corner, a spot she said hasn't really been her sweet spot.

"She ran to the right spots," Lions head coach Sam Doner said. "She actually moved without the ball really well."

Kayla Burton, Kendall Burton and Semira Haghayeghi all added three's in the second quarter, and Bifosky's traditional three-point play capped off the half and an 18-point lead.

But halftime could have been the worse thing that happened to the Lions. The home team came out of the break ice cold in the third quarter, only scoring five points, while the Boxers (11-11) slowly started clawing back into the game.

The Boxers held the Lions scoreless over for the last four minutes of the quarter and went on a 7-0 run in the process. Brockton was able to hold the Lions without a 3-pointer in the quarter by closing out on shooters, and snatching offensive rebounds against a frontcourt that is missing starting center Julia Sloan-Cullen.

"We were playing for pride at that point," Boxers head coach Eric DiBiase said.

Christina McDuffy's offensive rebound and put back got the Boxers to within nine at the end of the third quarter, but Kayla Burton scored nine straight points for the Lions to push the lead back to 16 with 5:04 left in the game.

Doner spent a little extra time in the locker room trying to grab the attention of a talented Lions squad that is still learning to play without size in the middle. The head noted that sometime overconfidence can plague his team at times.

"(Brockton) started making their shots and we started walking," said Doner. "I didn't do a good job of getting them back and making them feel better about themselves and getting their confidence back."

Brockton was led by Nephie Marsh's 15 points, while Alicia Rosario canned four 3-pointers as part of a 14-point effort off the bench.
February, 21, 2011
2/21/11
12:31
AM ET
By
Brendan Hall
| ESPNBoston.com



DORCHESTER, Mass. -- Down 11 with six minutes to go in the girls' final of the Comcast IAABO Board 27 Tournament, all the usual cliches starting coming out of the Central Catholic huddle -- all that talk of digging deep, all that sermonizing about gut checks.

But to pull off the comeback over previously-unbeaten No. 2 Newton South, it took a little D.I.Y. from the No. 5 Raiders' rock in the backcourt. St. Rose-bound forward Gabie Polce pulled up for a game-tying three-pointer, only to watch it take a high bounce off the front side of the rim. But the 5-foot-9 combo guard came up with her own rebound, flicked it up again, and watched as her bench went into a frenzy with a minute to go and a tie score.

She then put the Raiders ahead for good with a breakaway layup with 80 seconds left in the extra period, as Central completed the comeback with a 73-70 win over the high-octane Lions in overtime.

"I think consciously, all of us were like, 'We don't want to lose to this team'," said Polce, who finished with 20 points (six in overtime) and seven rebounds, and was named to the All-Tournament team. "We heard they were so good, they hadn't lost, and we kinda wanted to prove to everyone we could beat them, and prove it to ourselves. We pulled each other together at one point and said, 'We've still got plenty of time'."

On the possession following Polce's shot, Central forward Melissa Miller got fouled as she came down with a rebound, giving the ball back to the Raiders (17-2). Polce's go-ahead three came up short, and Newton South sophomore point guard Kayle Burton came down with the rebound, prompting Lions head coach Sam Doner to immediately call for a timeout.

The Lions (19-1) had two chances in the last 32 seconds, the last one a three-ball from Brown-bound guard Sophie Bikofsky that clanked as the seconds counted off. Quite a change from the first half, when the 5-foot-11 senior hit 5 of 7 three-pointers, including 4 of 5 in the first quarter.

That early success prompted a more diligent attention to the hot-handed Bikofsky, and to an extent it worked. Bikofsky didn't hit another three until the Lions' first possession of overtime, a walk-up trey that gave Newton South its final lead of the game at 65-64.

"I think we learned that we needed to face-guard (Bikofsky)," said sophomore forward Casey McLaughlin, who took Tournament MVP honors with 19 points this afternoon. "And no helping on anyone else. Just always have a hand up in her face when she shot a three, they won't make it every time."

Said Polce, "She can shoot it, she's got a quick release, and that was killing us. Coach (Sue Downer) said, 'She's going to make them no matter what, you've just got to play her as hard as you can. And she (McLaughlin) did that."

Meanwhile, the Merrimack-bound Miller made up for some mighty struggles in regulation (a pedestrian 4 for 14 from the field) with arguably the biggest play of overtime. Battling her way to the rebound of an errant perimeter shot, the 6-foot senior heaved a 50-foot outlet pass to Polce, who glided in all alone to an easy layup and 69-65 lead with 1:20 left.

"Oh my...if we did not have that, we would not have won," Polce said. "She pushed the ball, that's exactly what coach told her to do. We needed her to rebound, and we needed a long throw. That was a big play. I think that's what determined it."

In all, Newton South made 12 of 26 three-pointers.

ALL-TOURNAMENT TEAM
Briana Hunt, Sr., Newton North
Emma Robinson, Jr., Arlington Catholic
Sophie Bikofsky, Sr., Newton South
Kendall Burton, Sr., Newton South
Gabie Polce, Sr., Central Catholic
MVP: Casey McLaughlin, Soph., Central Catholic
January, 28, 2011
1/28/11
10:29
PM ET
By
Brendan Hall
| ESPNBoston.com
Want a fitting, storybook way to reach the 1,000-point plateau?

Newton South senior guards Sophie Bikofsky and Kendall Burton, best friends since age 11, both needed 11 points to reach the mark headed into the No. 3 Lions' matchup tonight with Concord-Carlisle, a game they won easily (84-33) to improve to 13-0.

At 7:19 of the second quarter, the sharp-shooting Bikofsky reached her milestone with a three-pointer from the top of the key, off a kick-out, prompting a stop in play and delivery of a signed game ball and flowers. Twenty-seven seconds later, the Villanova-bound Burton got hers on a shot she's known for, a running jumper off an inbounds pass, and the game stopped again for the same ball and flowers.

The assist on both those shots? Senior point guard Chloe Rothman, the unsung hero, who finished up with 15 points, nine assists and six rebounds.

OK then...

"We couldn't have done this without Chloe," Burton said. "We needed a great point guard to accomplish this goal, and it just goes to show how amazing she is at seeing the floor, distributing and getting an open shot for us. Most of props have to go to Chloe Rothman."

Said Bikofsky, who will play at Brown next year, "That's pretty amazing. It just speaks really highly of her. To have two 1,000-point scorers on a team, you couldn't do it without her. This represents what an amazing point guard she really is."

It would be tough to script this one any better. Towards the end of the first quarter, up 22-3 and with both players in striking distance of 1,000 (Burton needed two, Bikofsky needed three), the two passed the ball back and forth to each other twice, before Bikofsky skipped it to Rothman, who promptly nailed a three-pointer for a 25-3 lead.

"That was very nice to see, I just hope they don't do something like this when it matters," Lions head coach Sam Doner cracked. But seriously, "At the same time, the love these two kids have, it's rare, very rare. I couldn't be any happier than just being part of it. It's not me, it's the kids. Guess what, you surround yourself good kids, you're a good coach."

Bikofsky finished the night with 16 points and six rebounds, putting her at 1,006 points for her career while Burton finished with 12 and five, and is now at 1,002 points.
January, 25, 2011
1/25/11
3:20
PM ET
Thirty-eight athletes playing at Massachusetts high schools have been nominated for this year's McDonald's All-American basketball games, and it is quite the interesting list. On the boys side, Notre Dame Prep has a whopping six players nominated; also of note, Newton North's Tevin Falzon gets a nomination despite not playing a minute all season due to a wrist injury.

Below is the complete list of nominees for the boys and girls games:

BOYS

Pat Ackerman, Worcester Academy
Khem Birch, Notre Dame Prep
Joe Bramanti, Andover
Ryan Canty, Brimmer & May
Sam Cassell Jr., Notre Dame Prep
Dennis Clifford, Milton Academy
Pat Connaughton, St. John's Prep
Aaron Cosby, Northfield-Mt. Hermon
Myles Davis, Notre Dame Prep
Tevin Falzon, Newton North
Grandy Glaze, Notre Dame Prep
Jon Henault, St. Bernard's
Kyle Kager, Deerfield Academy
James Kennedy, Cushing Academy
Samir McDaniels, New Mission
Joe Mussachia, Manchester-Essex
Angel Nunez, Notre Dame Prep
Kachi Nzerem, New Mission
Andrej Pajovic, Wilbraham & Monson
Joe Sharkey, Northfield-Mt. Hermon
Chris Sherwood, Brimmer & May
Tyler Strange, Notre Dame Prep
Vincent Van Nes, Northfield-Mt. Hermon
Jimmy Zenevitch, Central Catholic

GIRLS

Nicole Beresford, Marshfield
Sophie Bikofsky, Newton South
Kendall Burton, Newton South
Blake Dietrick, Wellesley
Amber Dillon, Brookline
Tori Faieta, St. Mary's
Julie Frankian, Millbury
Natalie Gomez-Martinez, Andover
Brenna Goncalves, Coyle-Cassidy
Briana Hunt, Newton North
Mariah Lesure, Tabor Academy
Samantha Mangano, Winchester
Gabie Polce, Central Catholic
Clare Sullivan, Rivers
January, 24, 2011
1/24/11
10:55
PM ET
By
Matt Stout
| ESPNBoston.com
NEWTON, Mass. -- For more than 20 minutes, the door to Newton South's locker room stay closed. Sticking to his promise to reporters, Sam Doner didn't scream following Monday's game, he didn't yell.
The coach certainly enjoyed the result -- a 55-41 victory over Acton-Boxborough in a showdown of top-five teams in ESPN Boston's MIAA girls basketball poll. But he'll happily poke and prod the process.
"They started having too much fun," Doner said of his players.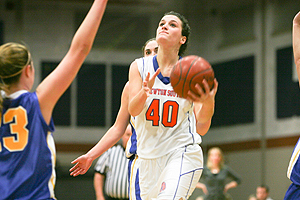 Buddy Leipzig for ESPNBoston.comSophie Bikofsky (13 points, eight rebounds) nailed three 3-pointers to give Newton South a comfortable lead over A-B.
No, Doner isn't a stick in the mud. Toward the end of the fourth quarter Monday, he even joked while Kendall Burton was at the foul line, tossing a set of keys in the air in a light moment with his star guard. But he drove into his players the importance of playing not 27 minutes, not 28, not even "31:59," he said.
"It's a 32-minute game," Doner said.
They got it. And it's a telling reason why the No. 3 Lions are unbeaten and enjoying an early advantage in Dual County League play.
"We have to be more serious on the court," senior Chloe Rothman said. "We had an 18-point lead at one time, and we should have turned it into a …"
Rothman paused slightly, before -- unprompted -- saying in unison with Sophie Bikofsky "a 25-point lead."
"Jinx," Bikofsky quipped.
"But it went down to 11," Rothman said. "Play all 32 minutes."
Mind you, Newton South (11-0) never trailed and was largely never threatened thanks to birthday girl Julia Sloan-Cullen (15 points, nine rebounds) and Bikofsky (13 points, eight rebounds). But as much fun as winning is, Doner is demanding more with so much promise awaiting his Lions.
They lived up to a great deal of it against the Colonials (9-1). When their shots weren't falling from the outside, they looked inside to Sloan-Cullen. When Bikofsky (three 3-pointers) found her stroke, Newton South was off and running, pushing its lead to 10 by halftime, 12 by the end of the third quarter and a game-high 49-31 with 4:28 to play.
With the Colonials playing primarily a zone defense, Newton South found the holes when it needed to, mostly behind Sloan-Cullen. But Doner lamented not giving her the ball more in the second half, which he put on himself.
"I think when it doesn't work for everybody else on the team, it's time for somebody else to step up," Sloan-Cullen said. "It just so happened tonight my offense was there."
Meanwhile, the Colonials struggled to find any rhythm on their end. Star junior Elizabeth Belanger scored 11 points, but six of those came in garbage time, and A-B went long stretches without any offense.
It went the final two minutes of the second, 3:12 of the third and 2:09 of the fourth without a field goal, killing any chance of carrying momentum through stoppages.
"We knew to be successful you have to go at them, and we spent a lot of time where they got us back on our heels offensively," A-B coach Kim Landry said. "They're going to make shots. They're good players and they shoot the ball well, but I thought we could have been more aggressively offensively."
The reality is Newton South didn't give it much of a chance. Any time A-B came close, the Lions responded, putting together a 13-2 run after A-B tied it in the first quarter, and an 11-2 spurt when it sliced the deficit to single digits in the third. Playing physical interior defense, Newton South forced the Colonials into 20 turnovers, including nine in the first-quarter alone.
Defense certainly isn't a problem, and balance -- Rothman and Burton each added 10 points -- isn't either.
"I think we can do something," Doner said, "but it's up to their mindset, if they're really matured and understanding that every game is a big game."
And if they don't have too much fun.
"Not too much," Doner said.
Then, he laughed.
December, 8, 2010
12/08/10
6:50
PM ET
High school basketball season is finally upon us, and to kick things off, we're unveiling our All-State teams for both boys and girls basketball. Without further ado...

BOYS

ALL-MIAA

First Team
G – Joe Bramanti, Sr., Andover
F – Pat Connaughton, Sr., St. John's Prep
F – Richard Rodgers, Sr., St. John's (Shrewsbury)
F – Jake Layman, Jr., King Philip
C – Jimmy Zenevitch, Sr., Central Catholic

Second Team
G – Victor Aytche, Sr., West Springfield
G – Steve Wynn, Jr., New Bedford
F – Samir McDaniels, Sr., New Mission
F – Akosa Maduegbanum, Jr., Charlestown
F – Noah Vonleh, Soph., Haverhill

Third Team
G – Zach Hurynowicz, Sr., Burlington
G – Jules Tavares, Sr., New Bedford
G – Jon Henault, Sr., St. Bernard's
F – Shane Sims, Sr. Brockton
C – John Swords, Sr., Lincoln-Sudbury

Mass. All-NEPSAC (post-grads excluded)

First Team
G – Rene Castro, Soph., Beaver Country Day
G – Marcus Grant, Sr., Lawrence Academy
F – Alex Murphy, Jr., St. Mark's
C – Kaleb Tarczewski, Jr., St. Mark's
C – Dennis Clifford, Sr., Milton Academy

Second Team
G – Jaylen Brantley, Soph., Wilbraham & Monson
G – Canaan Severin, Jr., Worcester Academy
F – Nik Stauskas, Jr., St. Mark's
F – Andrew Chrabascz, Soph., Cushing Academy
F – Evan Cummins, Jr., Northfield-Mt. Hermon

GIRLS

First Team
G – Blake Dietrick, Sr., Wellesley
G – Kendall Burton, Sr., Newton South
G – Nicole Boudreau, Jr., Andover
G – Khadijah Ellison, Sr., Burke
F – Mariah Lesure, Sr., Amherst

Second Team
G – Natalie Gomez-Martinez, Sr., Andover
G – Briana Hunt, Sr., Newton North
F – Elizabeth Belanger, Jr., Acton-Boxborough
F – Leigha Tacey, Sr., Foxborough
F – Melissa Miller, Sr., Central Catholic

Third Team
G – Blake Underhill, Jr., Ashland
G – Gabie Polce, Sr., Central Catholic
G – Sophie Bikofsky, Sr., Newton South
F – Shannon Holt, Jr., Wachusett
F – Amanda Harrington, Sr., Sutton