Boston High School:

South Boston
February, 22, 2013
2/22/13
1:29
PM ET
ESPN Boston High Schools editor Brendan Hall and Cristo Rey head coach Malcolm Smith break down last night's Boston City Championship action, won by Brighton for the first time in the program's history. Hall and Smith also give quick thoughts on the forthcoming MIAA State Tournament, on the eve of Friday's seedings.

(Video by Derek Malloy)


February, 20, 2013
2/20/13
2:38
AM ET
By
Brendan Hall
| ESPNBoston.com
Notes and observations from around the world of MIAA hoops:
SPLIT DECISION
This has always been a pretty spirited debate in the basketball world, and it's had some resurgence this season in the college game. With a three-point lead, late in the game, do you foul? Or do you defend?
Perhaps the most dramatic case came on Feb. 9, when Wisconsin's Ben Brust sank a miracle 40-footer against Michigan to send the game into overtime, and then proceed to beat the Wolverines in the extra frame.
Last night, Indiana came out of a timeout with seven seconds left and let Michigan State try to be a hero. It almost backfired when Gary Harris was unintentionally fouled going for a three-pointer with 3.8 seconds left, but he front-rimmed the first of three free throws.
And so on, and so forth.
Safe to say, the nightcap of Sunday's slate of IAABO Board 130 Classic action has provided more fodder for this argument at the high school level. Before a packed house at Central Catholic's hallowed Memorial Gymnasium, the host Raiders nearly completed a 17-point second half comeback over St. John's Prep before falling 64-62. The game will most be remembered for Drex Costello's unnerving three-pointer with five seconds left, but the ensuing play going the other way almost cancelled the senior's efforts out.
Central's Tyler Nelson brought the ball up, and though Prep coach Sean Connolly was looking to foul in the backcourt, he couldn't get his wish thanks to a well-executed back-screen from Central. Nelson sprung free to the right corner, where the marksman was fouled as he attempted a three. The foul was called on the floor, though, giving Nelson two shots. He made the first, deliberately missed the second, but the Raiders were unable to put up another shot.
After the game,
I posed this question on Twitter
: Up three late in the game, foul or no foul? The response pretty much evenly divided into two schools of thought.
ESPN analyst Paul Biancardi
believes it depends on how much time is left
, and says to foul if there are less than six seconds left. This is consistent with most people who believe in fouling in this situation. Over a certain amount of time (usually six or seven seconds), let the kid try to be a hero.
Others, such as Mansfield coach Mike Vaughan,
say to play the odds
, and believe the percentages work in the favor of those who foul.
This was the line of thinking for Connolly, who wanted to foul Nelson in the backcourt coming up the floor.
"Percentage wise, I think I'd rather let them try to make one, miss another one, get the rebound and score," he said following the win over Central. "I'd rather play the percentages and foul. If it's under five, six seconds, we'll probably do that."
Then there are others, such as Central coach Rick Nault, who simply put faith in their defense and let the reigns go.
"I think you play defense straight out," he said following the game. "I believe in our defense, and I think let's just get the stop, as opposed to putting them on the line. Like we did, we got the offensive rebound and a chance to tie, I'd rather force a tough shot from 17 feet away. Some coaches take different approaches to it, mine is just different from them.
"I think [defense] is something we take a lot of pride in. Maybe it's the wrong move, I don't know, maybe it's the wrong strategy to have, but in that situation I guess it would depend on the coach. Personally, I would try to get the stop."
And then there is the unique third school of thought, shared by coaches such as New Mission coach Cory McCarthy,
who believes it depends on the dimensions of the gym
.
Allow the MIAA's mad scientist to explain...
"If I'm in a small gym, I'm up three, and the other team is bringing the ball down court, I put them on the line for free throws," he said. "If I'm at Brighton, Arlington Catholic, South Boston, small gyms like that, I [virtually] don't have a baseline. The chances of turning the ball over after I foul go up twice as much as before, as opposed to playing honest defense.
"I would foul if I'm at Emmanuel [College, an often-used neutral site], because I'm more than sure we can get the ball inbounds at Emmanuel's gym. Getting the ball inbounds is a hard thing to do, because sometimes the refs fall in love with the game and allow more contact. They're humans. I'd foul in our gym, but I wouldn't foul if we were in these smaller gyms."
He added with a laugh, "Take it from the guy that blew a 20-point fourth quarter lead," referring to the Titans' loss to Brighton last month.
There is no right or wrong answer, which is why this tends to become such a spirited debate. Two good reads for further thought:
*** Ken Pomeroy, the one-time Utah meteorologist whose advanced statistics on his popular
KenPom blog
have revolutionized college basketball,
had this interesting post last week
. Basically, those "statistics" Connolly talked about actually favor teams who choose to defend, by nearly two percentage points.
*** Rhode Island College head coach Bob Walsh
had this post late last month on his popular blog
, breaking down piece by piece how he fouls up three. Walsh believes in fouling with under 10 seconds, rather than six or seven. The Anchormen, for the unfamiliar, are one of the New England's most successful Division 3 programs, having made the last six NCAA Tournaments, wrapped up another Little East Conference title over this weekend, and leading Providence College at the half earlier this season in an exhibition game.
RUNNIN' DAWGS
After a surprise storming of the IAABO 130 Classic field, starting with a blitzkrieg of Springfield Central and culminating in a buzzer-beater over St. John's Prep for the tournament title, Lynn English is affirmatively on everyone's radar.
The Bulldogs made their season debut in ESPNBoston.com's statewide Top 25 poll at No. 12 this week, locked up the No. 6 seed in Division 1 North (good enough for a first-round home game), and are sitting pretty at 15-5, winners of 11 of their last 12 since a Jan. 8 loss to Danvers put them at 4-4.
"We've kinda flown under the radar for the most part this season," head coach Mike Carr said. "We came in with low expectations, we were picked low even in our own league. Everyone thought this would be a rebuilding year."
If there's a familiar feel to it, you're not paranoid. Whether this is the Bulldogs' best chance at a deep state tournament run since 2009 –- when they reached their first D1 state final in program history -– isn't totally out of left field, if only because there are some parallels.
The state final year of 2009 was Carr's first on the English bench, brought over to Buzzy Barton's staff after two decades at Stoneham. He installed a fast-paced, full-court man-to-man pressure defense that they rode to a 20-2 regular season record, a No. 3 seed in D1 North, and surprise upsets over heavy favorites Central Catholic and Brockton to make the state final in Worcester.
This season, Carr's second as head coach, the Bulldogs are often scoring in the high 70's and low 80's, just like four years ago, and apply similar pressure, often heaving the ball upcourt immediately after a basket.
Same as it ever was, the M.O. in Lynn is "Go, go, go."
The biggest difference, though, is the lack of a true superstar. Ryan Woumn exploded onto the scene that fateful year, eventually earning a scholarship to East Tennessee State before transferring to Division 2 Merrimack College for this season. This year's Bulldogs are incredibly young and devoid of size, relying on their backcourt of Freddy Hogan, Erick Rosario and Stevie Collins to set the tone early, and for senior center Ben Bowden to clean up underneath.
When you think of the great running teams of the 21st Century, you think of Newton North's back-to-back state championship squads, led by one of the nation's best backcourts in Anthony Gurley and Corey Lowe; you think of Jack O'Brien's Charlestown juggernaut, winners of five D2 titles in six seasons with virtuosos like Rashid El-Kaleem, Tony Chatman, Alan Taylor, Ridley Johnson and Tony Lee.
It's generally perceived that in today's climate, teams across Massachusetts are less inclined to press. There are some terrific pressing teams out there, from New Bedford's 2-2-1 zone to Everett's diamond trap, but you won't find many teams playing Carr's style.
Carr prefers the man-to-man method for its unpredictability. Unlike zone looks, where there are clearly-defined trap spots and zone holes, the traps in Carr's look are always coming from different angles. For that, it's hard to teach – Carr estimates it usually takes about half a season – but when it clicks, it's hard to break.
Exhibit A –- or perhaps, the piece de resistance –- was Sunday's 81-73 upset of defending D1 state champ Springfield Central, in which the Bulldogs forced 37 turnovers by the Golden Eagles, or an average of 1.15 per minute. Central's highly-touted sophomore big man Chris Baldwin attempted just five field goals on the afternoon, mainly because the Eagles' guards struggled to get the ball over halfcourt.
"The reason we do it with our kids, they're so athletic," Carr said. "They're city kids, and you find it's a more fun way to play. For us, every kid has a place they're supposed to end up, but it's more about allowing kids to be creative, more aggressive and play to our strengths, making kids constantly come down the floor.
"A lot of times, I'm sure people sit in the stands and think it's street ball. But there's much more to it."
For all the talk about English's sudden surge behind the run, and their dedication to conditioning during practice, due credit also goes to the Bulldogs' renewed dedication to offseason weightlifting. Assistant coach Steve Stranahan, known for leading the team's post-practice stair drills, installed a basketball-specific lifting program that transformed the guards' upper bodies.
"Erick Rosario is a skinny little kid, but he lived in the weight room during the offseason, from the end of last year to this year, in there every day," Carr said. "I think it's given him confidence. He's a shy kid, but the weight room has given him a different strength. It's given them a little bit of swagger.
"Stevie Collins is one of the best competitors I've ever coached in my career. Freddy Hogan didn't have the greatest of tournaments [at IAABO], but he lived in the weight room, with a weighted vest. I truly feel the weight room has helped us."
Looking up and down the roster, the young depth, and the young promise –- from the backcourt, to forwards Danny Lukanda and Johnny Hilaire –- it's hard not to like the Bulldogs' chances in 2013-14. But the future may have arrived ahead of schedule.
CITY PREDICTIONS
With the help of correspondents Chris Bradley, Rob Sarmiento and Ryan Kilian, here are our picks for Boston City Championships, which begin this afternoon at Madison Park High School and conclude Thursday night.
Brighton (13-6) vs. South Boston (11-7)
Brendan Hall:
The last time Southie was relevant, Monty Mack and Jonathan DePina were leading the Knights to coach Bill Loughnane's third state title in five years. That was almost 20 years ago. Nice story for Southie here, but too much offensive virtuosity to handle here.
Brighton by 10.
Rob Sarmiento, Beantown Hoops:
Southie is a great story, but there's way too much talent on Brighton's side, and they are battle tested after their showing at the Comcast Tournament.
Brighton by 12.
Ryan Kilian, Mass. Prep Stars:
It is exciting to see Southie basketball back on track and in the hunt for the city title again. That being said, Brighton is too talented and battle tested and should get back to the Boston City league title game. Brighton plays one of the state's toughest schedules and is coming off a recent second place finish in the Comcast IAABO Board 27 Classic title at Babson College. After defeating a balanced and heady Danvers team, Brighton dropped the championship game to BC High.
Brighton over Southie
Chris Bradley, ESPN Boston correspondent:
Brighton has been playing good basketball in the second half of the season, but even after beating Danvers at the Comcast Tournament and coming within four points of a very good BC High team, I'm still not sure they've fully shaken off the inconsistency that we saw from them for the majority of the first half of the season. Because of their major size advantage on Southie, I'll take the
Bengals by double digits.
New Mission (13-5) vs. Dorchester (13-7)
Hall:
Upset special. Dorchester is riding high after upsetting Brighton on Friday, and the Bears have as good a group of talent as any in the city. Plus with the return of junior D'Bryant Coraperez, that's now two 6-foot-7 big men to account for, freeing up the talented guards. New Mission needs its young backcourt to grow up quickly if the Titans are going to make a run.
Dorchester by 5.
Sarmiento:
What New Mission team will show up this week is the big question. The one that beat Mansfield or the one that blew a big lead to Brighton? That being said I think Coach McCarthy is due for a city championship and although talented, Dorchester hasnt been on this stage before and New Mission has.
Titans by 6.
Kilian:
The other semi-final between Dorchester and New Mission should be a battle. Dorchester is one of the better stories of the 2012-2013 basketball season and showed that they belong after a recent win over Brighton. New Mission should be very hungry to get that City championship and I think they get there as they have nice balance and when clicking on all cylinders are one of the best teams in the State.
New Mission over Dorchester
Bradley:
New Mission simply isn't the same team after losing Fred Rivers and Isshiah Coleman (who could still potentially be back for the D2 North tournament). Dorchester has a lot of shooters around talented big man Dakari Wornum, but those shooters are also very aggressive guards who have the ability to attack the rim on every possession. Given all the attention that will go to Wornum, I think New Mission will have too many lapses defensively to win. It will be a close one, but I'll take
Dorchester 50-49.
City Championship
Hall:
This one's going to be about who can bang on the boards the hardest, and you can't get much better than Brighton senior Prince Unaegbu. Bengals coach Hugh Coleman, one of the truest class acts you'll ever come across, gets his first Boston City League championship.
Brighton, 65-55.
Sarmiento:
New Mission won't blow a big lead this time as the game will be back and forth. But they are one of the few teams in the state can match up with Brighton' s athleticism.
New Mission, 55-52
Kilian:
There will be no letdown for New Mission in the Thursday's night's title game as the challenge of beating a team three times in one-season plays a large factor here.
New Mission, 65-60
Bradley:
Brighton vs Dorchester in the finals will be an interesting matchup--both have talented forwards, guards who can hit big shots from outside, yet both teams have also been pretty inconsistent in their play this season. Dorchester beat Brighton this past Friday by double digits, however, given the fact that the stakes have been raised since then, expect a rockfight in this game. I'll take Dorchester as this year's city champion.
Dorchester, 56-51
November, 23, 2011
11/23/11
9:00
PM ET
By
Brendan Hall
| ESPNBoston.com
SOUTH BOSTON, Mass. -- Former Boston College star and NFL veteran Sean Guthrie has slowly turned the South Boston Knights into one of the Boston City League's most formidable opponents. Now in his fifth year at the helm, he has his kids staring down a potential playoff berth in tomorrow's Thanksgiving showdown with archrival East Boston. Both teams sit at 4-0 in the Boston North.
[+] Enlarge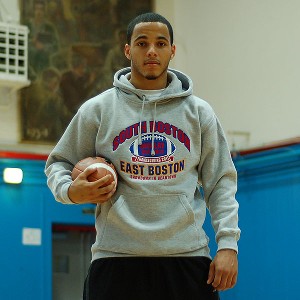 Brendan Hall/ESPNBoston.comSouth Boston's James Toles (14 TDs) has established himself as one of the city's premier running backs and hopes to lead the Knights past East Boston and into the playoffs.
If they are to reach the Super Bowl for the first time since 1998, it will be by way of senior running back James Toles, a bruising runner at 5-foot-10 and 193 pounds who has learned to harness his speed under Guthrie's Wing-T scheme. Considered by some to be one of the city's best backs, he has thrived for the Knights since transferring from Newton North and leaving the METCO program following his sophomore year. He has 14 rushing touchdowns in 10 games, averaging over 100 yards per game.
Toles spoke with ESPNBoston.com following a Wednesday afternoon walkthrough at Southie's gymnasium, to talk about his running style, Guthrie's life lessons, and the importance of the Eastie-Southie rivalry.
Q: Traditionally, the football culture at city schools hasn't been as strong as it has in the past.
A:
"No, not at all. It's a big change. Newton North wasn't as big either, but I played at a top level with all these Division 1 athletes in Pop Warner, and going to a Boston public school I just want to make it as best as I could."
Q: What has coach Sean Guthrie built here?
A:
"I'd say that, every year he tries to build for the next year going on. It's not always about that year right there. He loves the kids, so it's not like he's just gonna pick favorites, make a team that's gonna win a championship. He always wants to build. He works with the freshmen all the time, the sophomores all the time, he's just an amazing guy. He's one of my big role models."
Q: What are some of the biggest lessons you've learned from him?
A:
"I have a lot of energy. Like when I'm in practice...when I make a big play, you'll see me screaming. The one big lesson he told me was to use my excitement in a positive way. Sometimes I'm kind of a dirty player with my talking, not physically, but he's like 'You know what, don't boost up the other team with that excitement and energy you have; use that to push up your team, keep your team up'. I think that's the biggest lesson I've gotten from Guthrie."
Q: You guys have found a lot of success with the Wing-T. How much fun is it?
A:
"I believe at my position, it has to be the best formation ever that you can run. Every running back doesn't want to be touched. If they can go clean into the end zone, they want to go clean into the end zone. The Wing-T gives you a head start with the motion. That motion, I believe that's cheating (laughs). I've played football for a long time, and motion just seems like the most cheap way to get around that corner. It's like, once you're out there, you're free, do whatever you want. It's not up the middle -- I'm usually a smash mouth football kind of guy -- but I easily adjusted to the Wing-T."
Q: How many times do you guys call 'Jet Sweep' in a game?
A:
"Alright, each week we try to do something new, use a new package that we learned in practice. If it comes down to lack of discipline with our team, not remembering our assignments, anything like that, we just always go back to the jet. We're a running team, so we just go back to what we know, and do what Southie does with their Wing-T."
Q: When the call comes in to the huddle, what is your reaction? Based on your film, that play is obviously in your wheelhouse.
A:
"Actually, I'm a quiet guy in the huddle. The funny thing is, it's actually my linemen [that get fired up]. Something doesn't go right, they're always like '27 Jet, next play we're gonna get back into this game'. That's how we get our motivation, we get a 27 Jet and we're gonna get some yardage, and then that's how we get the ball rolling. Twenty-seven Jet, 28 Jet, that Wing-T, I love that play. That's one of my favorites."
Q: For those that haven't seen you play, describe your running style.
A:
"When I came to South Boston, I changed up my running style. I've always been a power back, I love contact, I play for guys helmets. Just, the whole running people over. But the Wing-T, it took me out of that, the smash mouth football ethic I've used. I believe that with the speed I also have, it helps me out with the Wing-T. But Guthrie has seen that, if we run up the ball, it is a dangerous sight. So we have gone to the I-formation, a little power back, 70 up the middle, or hit me with a lead around the end and cutting in. We've been going back to my ethic, and that's smash mouth football. That's what I've grown up on. That's what I love to play."
Q: So your favorite move?
A:
"I love the shoulder. There's a thing that's going around Southie, everybody yells it, it's called "Everybody gets the shoulder". Say, a big play, if we have a one-on-one, we're abusing that one-on-one, and we're gonna expose the kid in front of us. That's how we play."
Q: The talent overall in the city, do you think it's underrated?
A:
"I believe it is. A lot of the kids don't get to showcase their skills as much, because the lack of dedication that the other kids have in this league. It's about discipline, and a lot of kids aren't disciplined in the city. You come to one practice and there's 27 kids there, next practice there might be 15. So it's like, some people are here to wear the jersey. It's a big thing, because all of the Boston Public Schools are such small schools, that it's very hard to pick out athletes. A lot of the top-ranked schools, they have kids to pick out of that are big, or they have tryouts, stuff like that. It's really hard in the city to get these kids in practice, and to keep their grades up.
"Playing football with these kids...I adjusted to it, I used some of the Newton North, Division 1A ethic. Everybody's coming to practice, everyone's a big football fan in the city, I mean I try to get our school to do the best we can with the kids we have."
Q: Southie-Eastie -- I don't think we need to explain too much. What's the climate been like this week?
A:
"All week, I've been out and about, shopping, on the train going home, and everybody is just, they see you and they're like 'Southie? You guys gonna beat Eastie, right?' I've heard it about 100 times in the past week. I've talked to the alumni, and they're so psyched about the players that we have this year, and the chance we have to go really far. I'm gonna take this seriously, because nobody's promised to the next level. I'm not a cocky player, I'm not gonna say I'm going on to the next level, I'm not one of those kids that are like 'I'm going D1'. I'm playing every game like it's my last, and I definitely don't want this to be my last one."
Q: You look at the banners here, and you see all the Division 1 state championship basketball banners. When you think South Boston athletics, the first two names that come to mind are Monty Mack and Jonathan Depina. What would it mean to put a football banner up there?
A:
"(exhaling deep) That would mean everything to me. I swear, ever since I came to South Boston, I've always wanted to be about this school. Since I didn't really get to build a connection with the kids at Newton North, and I ended up leaving, it's like, alright two years left, I've got to make the best of this. I came to South Boston, one of the things I used to do is sit in those bleachers (points to benches behind the baseline) to do my homework, and I'd look up at those banners, like 'Wow, there's no football banners up there'. (He's reminded there's just one) Alright, there's one, but you know what I mean? Just to graduate with a jacket, or a banner, do something for my school. I've got to do something for my school, because this wall needs some life."
Q: How much sleep do you think you'll get tonight, thinking about this game?
A:
"I don't know. I'm gonna try my hardest to sleep, I promised my coach I'd get some sleep tonight with the game ball, and hope that this weather is not going to do anything to this ball. That's what we're gonna work on tomorrow, and that's why I'm going to sleep with it tonight. It's going to be slippery out there. We want to play hard, smash mouth football, with no fumbles. A lot of people joke about one of the wet games I had, where I racked up a lot of yards but also had four fumbles. That's something I don't want to do again, so I'm going to sleep tonight, sleep with my game ball, play some ball, beat Eastie."
March, 31, 2011
3/31/11
1:31
PM ET
The Boston Scholar Athlete Program and the Boston Centers for Youth and Families have announced the teams and award winners for the 2011 Boston City League Basketball All-Star Classic.

The game will take place this Saturday at Northeastern University's Cabot Center, with the doors opening at 1:30 p.m., the girls' game starting at 2 p.m. and the boys' game following at 4 p.m.

Below are the rosters and award winners for the North and South divisions:

BOYS

North
Jose Alfonseca, Sr. G, Snowden
Jeff Amazon, Sr. G, East Boston
Jonathon Deane, Jr. G, Latin Academy
CJ Dowdell, Sr. F, Charlestown
Rony Fernandez, Jr. G, Charlestown
Tyrese Hoxter, Soph. F, Charlestown
Khayree Hudson, Sr. C, Madison Park
James Jones, Sr. F, Fenway
Kwamaine Lane, Sr. F, Latin Academy
Walter Lewis, Sr. G, East Boston
Akosa Maduegbunam, Jr. G, Charlestown
Paul Maurice, Jr. G, Snowden
Tyrell Pugh, Sr. F, South Boston
Johan Vizcaino, Sr. G, South Boston
Stan Winn, Sr. G, East Boston

Coach of the Year: Edson Cardoso, Charlestown
Sportsmanship Award: Troy Bowens, Snowden

South
Dominique Boyd, Sr. F, Dorchester
Jared Butler, Soph. C, O'Bryant
Jakari Christopher, Jr. G, Burke
Darius Davis, Sr. G, New Mission
Jason Hall-Sergenton, Sr. F, West Roxbury
Dwayne James, Sr. G, Burke
Samir McDaniels, Sr. G, New Mission
Jesse Noel, Sr. G, Hyde Park
Kachi Nzerem, Sr. F, New Mission
Roger Paul, Sr. G, West Roxbury
Chris Shelton, Sr. F, Burke
Bernadin St. Vil, Sr. C, Brighton
Andrew Toney, Sr. F/C, Brighton
Alex Villanueva, Sr. G, Boston English
Kevon Young, Sr. G, Brighton

Coach of the Year: Hugh Coleman, Brighton
Sportsmanship Award: Jakari Christopher, Burke

GIRLS

North
Sara Centeio, Fr. G, Charlestown
Kayla Cox, Jr. G, Fenway
Maria Delvecchio, Jr. C, East Boston
Kaila Duarte, Soph. C, Fenway
Amber Edwards, Soph. G, Madison Park
Krystal Edwards, Soph. G, Madison Park
Makeeba Farguarson, Sr. C, Charlestown
Brittani Hardy, Sr. F/C, Snowden
Davetta Kinner, Sr. G, Latin Academy
Jovanna Sandifer, Jr. G, Snowden
Maya Scott, Sr. F, Latin Academy
Cleusa Sequeria, Sr. G, Fenway
Daitannah Smith, Fr. F, South Boston
Tajanay Veiga-Lee, Soph. G, Fenway
Elaina Wright-McCarthy, Fr. G, South Boston

Coach of the Year: Carla Hands, Madison Park
Sportsmanship Award: Maya Scott, Latin Academy

South
Araion Bradshaw, 8th G, O'Bryant
Robbie Cardoso, Sr. G, New Mission
Kiana Dailey, Soph. F, O'Bryant
Pierline Durand, Sr. G, O'Bryant
Khadijah Ellison, Sr. G, Burke
Ashley Jean-Louis, Soph. G, Boston English
Tianna Johnson, Jr. G, New Mission
Raven Kelsey, Fr. F, O'Bryant
Jazala Laracuente, Fr. G, New Mission
Fredericka Lawson, Sr. F, Burke
Trayana Mair, Soph. G, Boston English
Rachelle Pierre, Jr. F, Hyde Park
Marissa Serrette, Soph. G, West Roxbury
Shantal Solomon, Sr. G, Brighton
Aaliyah Williams, Jr. F/C, Dorchester

Coach of the Year: Gertrude Fisher, O'Bryant
Sportsmanship Award: Pierline Durand, O'Bryant