Boston High School:

South Coast Conference
June, 2, 2013
6/02/13
3:15
PM ET


BRIDGEWATER, Mass. – Trailing by a run in the home half of the seventh inning in their Division 1 South tournament game Saturday, Bridgewater-Raynham softball head coach Mike Carrozza needed the bottom of his lineup to save the day.

No problem.

"As a team this year, we're batting over .400," Carrozza said, "so everyone, one to nine, can hit the ball."

The Trojans had the Nos. 6, 7 and 8 hitters at-bat in the seventh. They set the rally in motion and No. 9 hitter, second baseman Sophie Perez took care of the rest, slapping a two-run single through the hole for a 5-4 walk-off win against No. 16 seed Dighton-Rehoboth.

It might not have been the type of game B-R (21-0) was looking for, after committing a season-high three errors, resulting in a pair of unearned runs, but it was good enough.

"A couple times we had the bases loaded, or second and third, and they made nice plays to get us out of those innings," Carrozza said. "I told the girls to never say never. We came back in I don't know how many of those games at the end of last year."

The late-innings comeback was old hat for the reigning South sectional champions, who endured more than a couple extra-innings affairs on their run to the crown.

On Saturday, Jordan Rodrigue and Julia Milardo got the rally going with back-to-back singles to start the seventh. After a perfectly placed sacrifice bunt from Jenny Heller moved the runners along, Perez dug in.

"I knew we didn't need much," said Perez, a sophomore. "I knew I just need to get a single, score a run get it tied. That was my job. I saw a nice outside pitch and went with it."

She pulled a 2-2 offering into left field, allowing Rodrigue and Milardo to score easily. Perez's teammates mobbed her near second base.

It wasn't the first big hit Perez (2-for-4, 3 RBI) delivered on the day. She drove in the Trojans' first run of the game, during a two-out rally in the fourth, on with an RBI single.

"She stayed short on the ball and drove it through the hole," Carrozza said of Perez's game-winning hit. "That's what it's all about, getting the ball in play and trying to move your runners."

SHORT-LIVED CELEBRATION
Coming off a season in which the Trojans fell just short of a state championship appearance, the group has greater goals set for this playoff run.

"That's the plan," Perez said, "working hard at practice [Sunday] and then beating Taunton on Monday."

B-R capped an Old Colony League championship season with a perfect record, but knew they'd have their hands full with Saturday's opponent. The Falcons (15-9) were a 16th seed only by number, coming out of an uber-competitive South Coast Conference.

The Trojans, who committed just eight errors on the regular season, had three errors, putting undo pressure on sophomore starter Sarah Dawson, who was making her first postseason appearance. Dawson averted further damage as D-R threatened in the fourth with the bases loaded, the result of another B-R error. In total, three of the four Falcons' runs were unearned against Dawson, who struck out eight to earn the complete-game win.

Assuredly, B-R will hope to bring its A-game when it meets former OCL rival Taunton in Monday's quarterfinal game (3:30 p.m., at B-R).

"I feel like we can do anything," Perez said.

TOUGH EXIT
While D-R certainly played well enough to win, head coach Dave Driscoll, the veteran of multiple state championship teams in his tenure, took nothing but positives from his team's season-ending loss.

"This year hasn't always been a textbook year for us, but we overcame some adversity today," he said. "We gave up a lead, but they came back. Our pitchers struggled some this year, but they battled today. I told all of them to be proud of wearing a Falcon uniform today."

However, Saturday marked the end of a remarkable career for the Falcons' four-year catcher, Nicole Lundstrom. The already two-time ESPN Boston All-State selection and Syracuse signee closed out her career with a 3-for-3 performance with two RBI and a walk.
May, 31, 2013
5/31/13
12:23
PM ET
By
Brendan Hall
| ESPNBoston.com
Per Dighton-Rehoboth head coach Bill Cuthbertson, below are the baseball All-Stars for the South Coast Conference.

League all-stars can be sent to either Brendan Hall (bhall@espnboston.com) or Scott Barboza (sbarboza@espnboston.com)

Matt Michael, Soph., Apponequet
Josh Ficker, Jr., Apponequet
Zack Correll, Jr., Case
Trevor Brown, Sr., Dighton Rehoboth
Brandon Shileikis, Sr., Dighton Rehoboth
Justin Jacobsen, Soph., Fairhaven
Ryan Baldwin, Jr., Fairhaven - League MVP
Jake Carvalho, Sr., Fairhaven
Peter Perry, Jr., Greater New Bedford
Eric Genereux, Sr., Greater New Bedford
Kurtis Dreher, Sr., Greater New Bedford
Cody Hinchcliff, Jr., Greater New Bedford
Luke Matar, Sr., Old Rochester
Zack Perry, Sr., Old Rochester
Jared Archambeault, Sr., Seekonk
May, 31, 2013
5/31/13
12:32
AM ET
Bridgewater-Raynham kept its hold on the No. 1 spot in our final regular season
MIAA softball Top 25 poll
.
The Trojans also claimed the top spot in the Division 1 South tournament after an undefeated regular season. The Top 5 remained in tact this week with Milford, Hudson, Concord-Carlisle and Holy Name following in order.
(Editor's note: This will be the last poll update until the final postseason poll.)
IN THE NICK OF TIME
Four teams entered the Top 25 this week, including two teams making their first appearance of the season.
Bay State Carey champion Framingham made its debut at No. 18, followed by Tewksbury, which reentered the rankings after notching a couple of wins against Top 25 foes in the final week of the season.
A copule of South Coast Conference teams round out the poll, with Case hopping back in at No. 23, while Dighton-Rehoboth makes its first showing of the season at No. 25.
May, 19, 2013
5/19/13
2:49
PM ET
With many teams suffering losses in the last week, there was plenty of shakeups in this week's
MIAA softball Top 25 poll
.
This week's changes are marked by plenty of up-and-down movement, in addition to four teams entering the poll this week, including a couple of newcomers.
Both No. 24 Arlington Catholic and No. 25 Apponequet make their first-ever Top 25 showings, after some critical league wins. The Cougars claimed their first Catholic Central Large crown after beating Archbishop Williams last week. Meanwhile, the Lakers now stand atop the South Coast Conference standings, thanks to an extra-innings, walk-off win over Fairhaven.
Also moving back into the poll this week was No. 15 Bellingham and No. 20 Taunton on the heels of significant divisional victories. The Blackhawks split their season series with defending Tri-Valley League champion Hopkington while the Tigers nipped former No. 2 North Attleborough in an extra-innings Hockomock League battle.
(Editor's note: Records are as of Friday.)
September, 29, 2012
9/29/12
7:58
PM ET
SOMERSET, Mass. – With two run-oriented attacks in Somerset-Berkley and Wareham squaring off on Saturday, you would've thought going in you count the number of combined passing attempts easily on one hand.

Neither the Blue Raiders nor the Vikings deviated from their game plans, but after being mired in a close game, it was in fact a passing play that helped S-B along to a 35-14 win over Wareham.

On the final scrimmage play of the first half, Raiders quarterback Jack Amarantes hit running back Mike Garrant on a wheel route out of the backfield for a 35-yard touchdown play.

"I don't know what the pass play was itself, but I knew they were playing with just the one high safety so we tried to take advantage of that," S-B head coach Nick Freitas said.

Even though S-B (4-0) went to the locker room down 7-6, the tone carried over into the second half.

The Raiders started the third with the ball and promptly dialed up another big scoring play with Garrett Carlos running 63 yards to paydirt. On the ensuing Wareham (3-1) possession, Garrant grabbed a fumble recovery -- his second takeaway of the game after a first-quarter interception – and had the Raiders rolling again. Six plays later, Amarantes plunged into the end zone over right guard for an instant two-score lead.

S-B didn't relent. It's a tone that Freitas hoped to establish during practice last week leading up to the date with the explosive Vikings and Darien Fernandez (16 carries, 91 yards) calling.

"We probably had our best Thursday practice that we've had all season," Freitas said. "The kids were flying around and having fun."

DYNAMIC DUO
In the early going, the Raiders have gone where their backfield tandem of Carlos and Garrant led them.

Carlos, who entered the game averaging over 10 yards per carry, kept up his torrid pace with 15 carries for 180 yards and two touchdowns. In addition to his momentum-shifting touchdown reception, Garrant also added 91 rushing yards on 12 carries.

Carlos and Garrant seem to pick up where the other leaves off in all ways, even during their postgame interviews. They alternated finishing each other's thoughts, adding in a plug for the offensive line here and a shoutout to the coach staff there.



There are parallels to 2010, when S-B last claimed the Eastern Athletic Conference crown. That year, the Raiders ran behind Seth Demello and Jaron Spear to a Super Bowl appearance at Gillette Stadium.

While Carlos and Garrant both bring different elements to the Raiders offense than did their predecessors, the result might just be the same this year.

"I'm just worried about Dartmouth next week," Freitas said, dousing any hype between another potential meeting between his team and Wareham at a later date.

He paused and then added, "They're good. I think they're a contender for the SCC."

His players were aware of the circumstances, however.

"This is a team [Wareham] that a lot of people are saying is going to come out of the [South Coast Conference] as a winner, we're trying to get out of the EAC, and that's who we could possibly face," Carlos said. "This game is huge and hopefully we'll get to see them again this year."
October, 19, 2011
10/19/11
1:17
PM ET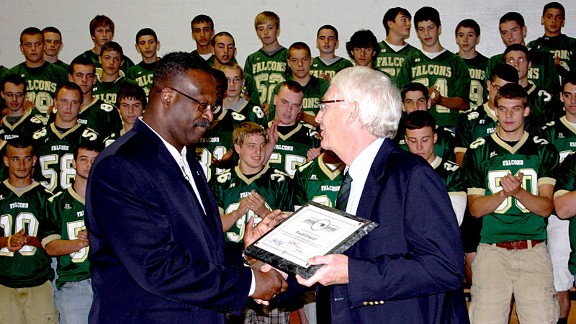 New England PatriotsDighton-Rehoboth's Dave Driscoll was named this week's Patriots Coach of the Week following his 200th career victory over Wareham on Saturday.
Dighton-Rehoboth Regional football head coach Dave Driscoll has been named this week's New England Patriots High School Football Coach of the Week in recognition of his team's 7-0 victory over Wareham High School on Saturday.
The game went down to the final seconds and resulted in Driscoll's 200th win. The victory breaks the conference tie between Wareham and Dighton-Rehoboth, as the Falcons moved to 3-0 in the South Coast Conference.
The New England Patriots Charitable Foundation will donate $1,000 to Dighton-Rehoboth Regional High School's football program in Driscoll's name in recognition of his Coach of the Week selection.
Patriots and Pro Football Hall of Fame linebacker Andre Tippett, the team's executive director of community affairs, visited Coach Driscoll and his team on Tuesday at D-R. The visit and check presentation will be featured on the team's weekly television magazine show, Patriots All Access, which airs at 7 p.m. on Friday, Oct. 21 on WBZ-TV in Boston and later on Patriots.com.
"I was thrilled to have the opportunity to visit with Coach Driscoll and his players after his 200th win," said Tippett on Tuesday. "Reaching this milestone takes a commitment to preparation, hard work and teamwork. These qualities were on display on Friday night as the Falcons came through with a strong defensive effort to edge their conference rival. The Patriots are proud to present this week's Coach of the Week Award to Coach Driscoll and the Dighton-Rehoboth football program. "
At the conclusion of the season, one high school coach will be named the New England Patriots High School Coach of the Year and will receive an additional $2,000 contribution toward the school's football program.
October, 18, 2011
10/18/11
12:15
AM ET
LET'S HEAR IT FOR THE BAY STATE
It isn't the be-all, end-all of the debate, but two Massachusetts teams came away with big victories over two out-of-state No. 1's.

No, we're not here to trumpet that Massachusetts is better than any other New England state because the top teams of New Hampshire and Rhode Island fell to Bay State foes, however, both games were telling.

The Granite State's top team, Pinkerton Academy, a juggernaut of a football team by all intents, was knocked off by a down, but feisty Brockton team. In one feel swoop, the Boxers showed that they shouldn't be written off so easily, while the Astros failed to dispatch what was considered a lesser opponent.

Similarly, the reigning No. 1 Ocean State team, La Salle Academy, took on a Top 10 Massachusetts-based opponent in Bridgewater-Raynham. The Trojans also knocked off their out-of-state guests.

Again, this isn't to take anything away from the Astros or the Rams; they're both fine football teams. However, we've heard a lot of buzz about Pinkerton in particular as being deserving of the top spot in our New England Top 10 poll.

While both the Astros and Rams have more than held their own against in-state competition, in matters of stacking up the states again each other, the Bay State takes this round.

A NOT-SO BALLYHOOED ACHIEVEMENT
Winning 200 games is much a credit to consistency as it is simply being good. So it came as no surprise when we heard that Dighton-Rehoboth head coach Dave Driscoll recorded his 200th career football in a rather ugly 7-0 win over South Coast Conference foe Wareham, that the Falcons' boss wasn't exactly overjoyed.

"I don't know if I can get any more white hair,"Driscoll told David Carty of The Sun Chronicle. "We're 3-0 in the league and that's what I remember."

It's a typical reaction from a coach who expects a lot out of his teams and rightfully so, as the Falcons are coming off a playoff appearance last year.

Again, the benchmark is a testament to the type of program Driscoll has built, not only in football in his 31 years, but also with D-R softball (a perennial D-1 state powerhouse). And, while Driscoll might not have been thrilled with his team's latest performance, that's something worth celebrating.

WELCOME TO THE 400 CLUB
St. Bernard's running back Cody Titus is the latest Massachusetts back to join the elusive 400-Yard Club, after rushing for a state-record 436 yards and five touchdowns on 34 carries, as the Bernardians pulled back to .500 in a 33-14 win over Littleton.

That breaks the mark of 425 set back in 2001 by Lynn English's Brandon Guy, and also does one better of the other running back to break 400 this season; Springfield Putnam's Melquawn Pinkney ran for a Western Mass-record 421 yards in a 66-0 rout of Agawam back in Week 3.

Unlike the sleek Pinkney, who beats you with shifty jukes and deceptive breakaway speed, Titus embraces contact, and is at his best pounding it between the hashes in spite of his skinny frame.

"Honestly, Cody loves to run, he's a North-South guy," said head coach Tom Bingham (who by the way, as a former lineman at UMaine, can tell you a thing or two about toughness). "Very rarely do you see him stop and move. Everything he does is going forward. For not a big back, he really…he would prefer to run between the tackles than to toss the ball outside."

Even more staggering are his midseason totals: 180 carries, 1,465 yards, 16 rushing touchdowns. That's an average of 8.1 yards per carry; but even moreso, the senior is on track to carry the ball well over 300 times. A few weeks ago, Titus recorded 51 carries. To compensate, they've relieved him of his "Rover" duties on defense, only inserting him into Prevent packages.

Worries about wear and tear? In the words of the legendary Bum Philips, "Why? He ain't that heavy."

"We truly went in with the game plan to spread it around a little more," Bingham laughed of last weekend's gameplan. "But it's very hard not to give him the ball when you feel like he can break one at any time."

As for the defense, Bingham continued, "His carries have made us make a decision there. You know honestly he's the type of kid – I know you hear this sometimes – but the more he gets the ball…you look at his runs early versus later in the game, the more he gets the ball, the more he finds a groove."

CENTRAL BACK ON THE MAP
Springfield Central's Valdamar Brower has to be on any short list for Coach of the Year.

Based largely on the near-Super Bowl champion success of last season with a young team, and the return of preseason All-State tailback Sacoy Malone, the Golden Eagles came into the preseason ranked No. 20 in our statewide MIAA poll. But they stumbled early out of the gates, dropping a 20-13 decision to Putnam and Mr. Football contender Melquawn Pinkney in Week 1, followed by a 42-13 drubbing by No. 1 Everett the next week.

Several seniors, including incumbent quarterback Tyler Dowd, had quit after the Putnam loss. This was once again a young team looking for direction. But before long, the Eagles were revved up again, capped last Saturday night with a thrilling 21-20 upset of Longmeadow, snapping the Lancers' 52-game conference winning streak.

Leading the way was Malone, with 194 yards on the ground and two scores, and planting the winning points was sophomore quarterback Cody Williams, who struck a nine-yard touchdown pass to Richard Williams in the third quarter. For their efforts, the Eagles come in this week at No. 18, back in the poll for the first time since the preseason.

Never one to get too high on emotion, the former UMass All-Conference defensive end played it close to the chest in his post-game comments.

"There's a lot of emotions around here," Brower told ESPNBoston correspondent Michael Wood. "It's very great for our school and our program to have a win against the great program Longmeadow has been building over the years. Last season was tough. So there's a lot of emotions, but we're very lucky and we beat a really great program tonight."

Let's hope these two teams meet again in the Division 1 Western Mass playoffs.

ROLL TIDE
Maybe Rene Rancourt's national anthem had something to do with it.

"Did you see me doing the double-pump with him?" Everett head coach John DiBiaso gleamed of hearing the long-time Bruins anthem singer showed up for the Crimson Tide's homecoming game, a 42-21 decision over Xaverian.

After preening and prodding for six weeks, this is the breakout the Tide were looking for: 565 total yards of offense, including 308 from his quarterback and son Jonathan, and a career-high 203 yards from running back Vondell Langston.

Even more importantly, the Tide have found another go-to receiver to take pressure off of hard-hitting junior Kenny Calaj. Junior Jalen Felix caught 10 passes for 145 yards and a score, making defenders miss left and right with an arsenal of hip shakes and cut-backs.

Even the elder DiBiaso had to concede this was a good day.

"We had a couple of bumps in the road, but I thought we did a good job," he said. "They're a good team. The way I said it, we were maybe two holding penalties and an interception away from scoring 60 points.

"That -- how can you complain? How can you, like, say 'Jeez, you know, we're not playing'...We're like three plays away from 60 points against a real good team. We're hitting all cylinders, getting better and better at it. The one thing we were able to do was balance out the plays now."

Linebacker Buck McCarthy is lost for the season, after having surgery last week to place three screws and a plate in his broken left fibula. And while he's irreplaceable as the mike and the defensive captain, you have to like the way the Tide are rolling headed into Saturday's monster matchup with BC High.

(Spoiler Alert: This may or may not be our game of the week. Tune in later in the week for a special treat)
September, 19, 2011
9/19/11
5:57
PM ET
D-Y, JOHNSON ARE FOR REAL
In the moments following Dennis-Yarmouth's thrilling 28-27 win over Cape rival Barnstable, neither team could do enough evangelizing about the talent on display before them just minutes earlier.

Of D-Y wideout Damion Johnson, first-year Barnstable head coach Chris Whidden said, "If I'm a college coach and I'm anywhere near Cape Cod recruiting, I'm all over Damion Johnson. He's a hell of a football player."

Of the duel between D-Y quarterback Matt Montalto and Barnstable quarterback D.J. Crook (who is inching closer to the state all-time touchdown pass record), Dolphins head coach Paul Funk sung high praises.

"You just saw three of the best players in the state, I don't care where they're from," he told a group of reporters. "Montalto, Crook and Johnson. Those guys can play anywhere in the country, I'll tell you that right now. They're as good as anyone around."

Minutes later outside the D-Y locker room, Montatlo was asked about Johnson's jump-ball ability, and the senior put it bluntly: "Best one I've ever seen in high school. I'll put it down, I think he's the best wide receiver in high school football right now. That's what I'll say about him, yeah."

All the talk is justified, though. The 6-foot-2 Johnson, with his seven catches for 125 yards and two touchdowns, showed what makes him one of the region's more difficult players to defend with his adjustments in the game. Early on, the Red Raiders pressed Johnson heavily and brought safeties over the top; Johnson merely muscled his way to jump balls on deep fades. When they backed off the line of scrimmage, Johnson beat them with crisp comeback routes on the sideline.

"That's what's so difficult about Damion," Montalto said. "When you press him, right away I saw him getting off the press – he's so good with his hands, his feet, everything – he got off the press and got over the top of them, when we're giving him fades. And then they finally loosened up, so we came back to our crossing routes, same thing, he's just as good at that as he is with the deep ball."

Said Johnson, "They kinda loosened up on me a bit, but me and Matt have had our timing down since the summer. We worked on it all summer, preseason, everything."

LINE KEEPS ROLLING ALONG
Coming into this season, questions surrounded New Bedford and how the Whalers would get along without Lance Burlingame anchoring their offensive and defensive lines. While you can never hope to replace a player like that, the Whalers have shown they'll be just fine this season. Without bookends Burlingame and Janny DosReis, guard Darian Sousa-Bizarro has moved over to tackle and provides senior leadership on the offensive side of the ball.

On defense, New Bedford showed they have multiple players ready to step up and make up for the pass rush Burlingame accounted for. In Saturday's 41-20 win over Silver Lake, the Whalers' big men put on a show with Carl Santos picking up three sacks, while Ricky Moraes had two of his own. Junior Tyler Arena is also a player worth keeping tabs on and was disruptive force against both the running and the passing rhythym of the Lakers' offense.

"They're doing well," Whalers head coach Dennis Golden said of the group. "Coach [Nick] Salmon and Coach [Marc] Hayes are doing a great job with them every day. They're giving a good effort in practice. The kids are coming and playing hard consistently. It's a good thing, it's a good situation."

TANNERS SHUT DOWN BILLERICA
While the number of true upsets in Week 2 paled in comparison to the wild Week 1 slate, among the more suprising results of the young season was Woburn's 12-7 triumph over Billerica.

After suffering a 25-point loss to Acton-Boxborough in Week 1, the Tanners bounced back, particuarly on defense to shut down the Indians.

While Billerica quarterback Nick LaSpada got his share of yards through the air and the ground, hovering near 200 all-purpose yards, here's betting Woburn head coach Rocky Nelson would take that result all day, every day. In addition, the Tanners got the big play on offense they need early on with Chucky Ortiz, a legitimate Mr. Football Award candidate, flashing his speed on a 71-yard run that set up his 2-yard touchdown run in the first.

From there, all the Tanners had to do was dig in.

"We tried to change up our fronts and our coverages and send people to try to confuse [LaSpada]," Nelson said of Woburn's defensive game plan. "We were in his face and he didn't take a broken play and take it to the house. We contained him. We were sending our outside linebackers sometimes right from the line, sometimes inside. We had some line stunts that we put in that kept pressure on and we didn't let him scramble and beat us like he did a year ago."

ONE AMAZING CATCH
Skip to the 30-second mark of this highlight package from Friday night's Mansfield-Needham game, and tell us Mark Riley isn't one of the most underrated tight ends around.



"That's one of the nicest catches I've ever seen, that I can remember," Needham head coach David Duffy said. "That was tremendous. He's very fast and instinctive, he's more of an Aaron Hernandez type of tight end, we'll split him out wide sometimes. He's a matchup nightmare for teams, but he can also block."

Needham has sent just one player to a Division 1 school in three decades – Eric Johnson, former Yale tight end and seven-year NFL veteran (and also new beau of Jessica Simpson). For sake of technical terms, we're not counting current Seahawks kicker Steven Hauschka, who played soccer at Needham then Middlebury before walking on to North Carolina State as a grad student.

But in this year's Needham squad – an underrated one based on the run it gave Mansfield on Friday – they might have two. Quarterback Drew Burnett already claims an offer from Bryant, while Riley (brother of WEEI announcer Mike Riley, a good friend of ours here at ESPNBoston) has been seeing interest anywhere from the Ivy and Patriot Leagues down to the NESCAC. He's also a returning All-American in lacrosse, and may head down that route for college.

A few more catches like that, and maybe this story changes.

And by the way, Duffy isn't afraid to make the comparison to the future Mr. Jessica Simpson.

"He reminds me of Eric Johnson -- he could do anything," Duffy said of Riley. "The kid can catch, receive, run, catch a block, anything you ask of him to do he can do it."

FROM THE BIZARRE FILE...
Maybe there's just a proverbial rain cloud hanging over Baker Street, or maybe Catholic Memorial is just encountering bad luck. Either way, this was hardly the start they expected after coming in as the preseason No. 4 in our statewide MIAA poll.

One week after suffering a surprise shutout upset at the hands of unranked Marshfield, the Knights took a 14-0 second-quarter lead over Connecticut Class LL runner-up Trumbull, only to have two of the four lights go out at the stadium. The two teams hit the locker room early for halftime, on the suggestion from officials that they shut all four lights off and try to reboot from there.

And as luck would have it, the lights never came back on, and Trumbull made the three-hour trek back to Connecticut. Reached Monday morning, CM head coach and athletic director said a decision hasn't been made on how this game will go down in the books.

Three weeks, one game. Here's the good news: the Knights will be playing a Saturday afternoon game in Shrewsbury against St. John's. And like every other week, they stand a good chance of probably coming away victorious.

Then again, nothing has gone as planned so far.

WEEK 2 CHAMPIONSHIP
It's hard to tab a second-week game as having playoff implications, but Saturday's South Coast Conference battle between Dighton-Rehoboth and Apponequet is about as close as you'll get. The Falcons and Lakers were the co-champions of the SCC last season, but Apponequet is looking to return to the postseason for the first time since 2008.

The teams were very much evenly matched and resemble each other in many ways with both teams featuring a dual threat at running back with D-R's Adam Benvie and Bryan Rocha and Apponequet's Nate Michael and Zach Nanfelt.

So did D-R take a step closer to their third straight postseason appearance with a 21-7 win?

"I guess this is what they'd say is the first big game in the league," D-R head coach Dave Driscoll told correspondent Adam Kurkjian. "The way the schedule's been it's happened early the last three years. As a result, you get a little bit of a leg up if you win the game. It certainly doesn't mean anything other than you have a win because you have to play the whole season, but it's nice to win.
September, 17, 2011
9/17/11
5:13
PM ET
By
Adam Kurkjian
| ESPNBoston.com
LAKEVILLE, Mass. -- Once Dighton-Rehoboth figured out it could get Adam Benvie free over the left side of its offensive line, there wasn't much host Apponequet could do in yesterday's critical early-season South Coast Conference showdown.

Benvie's three touchdowns powered D-R to a 21-7 comeback win Saturday in a game that gives the Falcons some good momentum toward a possible third consecutive trip to the postseason.

"I'm so proud of the way they played," said D-R coach Dave Driscoll. "It's a team game. Offense is definitely a work-in-progress. We got too many mistakes. We need to work a little bit on our offense, but to hold them to seven points and to score 21, it's basically about the best as I could have ever thought of."

Down 7-6 late in the third quarter, the Falcons (2-0, 1-0 SCC) gave it to Benvie on fourth-and-3 from the Apponequet 41 and he was barely touched on his way to the end zone. His ensuing two-point conversion rush made it 14-7 with 23 seconds to go in the quarter.

After Apponequet failed to convert a fourth-and-3 on the other end, Benvie took off on the same play 49 yards on the very next snap to help seal it with just over eight minutes left. The senior finished with 164 yards on nine carries.

Apponequet struck first on a 28-yard scamper by Zach Nanfelt, but a Mason Hinken interception and 39-yard return put the Falcons in a position to answer at the end of the first half. Benvie barreled in from seven yards out but Hinken's PAT was wide right to keep it 7-6 Lakers (1-1, 0-1) at the break.

"I guess this is what they'd say is the first big game in the league," Driscoll said. "The way the schedule's been it's happened early the last three years. As a result, you get a little bit of a leg up if you win the game. It certainly doesn't mean anything other than you have a win because you have to play the whole season, but it's nice to win. And what I'm most pleased about is our team rose to the occasion today. They played noticeably better than they did last week. And we played as a team, especially on defense."

ABOUT THAT 'D'
The game's biggest sequence came on the fourth-down stop by D-R to start the fourth quarter. The Lakers had third-and-3 and went to the right side with running back Sam Bullock, and he was stopped in his tracks by Falcons junior defensive end Tyler Lehane. On fourth down, Apponequet tried his side again, and Lehane was among the first to bring down Nate Michael (100 yards on 24 carries) a yard short. With the Lakers driving on their last possession, Justen Galego made a key sack followed by a deflected pass from defensive back Bryan Rocha to help erase any hopes of a comeback. As well as Benvie played on offense, he was also a heavy hitter from his linebacker spot. It was an overall impressive performance by the Falcons to shut the Lakers out in the second half, although it was marred by what looks to be a serious knee injury to captain Ethan Berry, a two-way starter at running back and linebacker.

PULLING THE STRING
Benvie said afterward that the Falcons ran the same play seven straight times to open those massive holes along the left side of the line. He credited senior guards Dan Carroll (6-3, 210) and Galego (6-0, 230), one of five D-R captains, for pulling out in front and making the key blocks out of the Wing-T formation. Massive tackle Chuddy Nwachukwu (6-6, 325) also deserves credit for coming down and collapsing the edge. The Falcons should have success with that play all year long because the 6-foot-3, 210-pound Benvie is like an offensive lineman with better wheels. Not many players will want to come up and try and tackle the bruising runner.

THE KNUCKLEBALLER
Apponequet has an excellent downhill runner in Michael, who is hard-nosed, keeps a low center of gravity and shrugs off tacklers well. But maybe the most fun player to watch is Nanfelt, who is listed at 5-foot-6, 150 pounds. He could be smaller than that, but he plays huge. A few years ago a local coach described one of his running backs as "a knuckleballer," because he doesn't move at a lightning pace but is so hard to get a piece of with his quick feet. That's Nanfelt. His touchdown run was a thing of beauty. The play originally was designed to go to the left, but he dipped around the D-R defense and made a nice cutback to score along the right sideline. Some kids have great vision, others don't. Nanfelt has it and is a pleasure to watch.

Dighton-Rehoboth (2-0) 0 6 8 7 - 21
Apponequet (1-1) 0 7 0 0 - 7

A - Zach Nanfelt 28 run (Nanfelt kick)
D - Adam Benvie 7 run (kick failed)
D - Benvie 41 run (Benvie rush)
D - Benvie 49 run (Mason Hinken kick)
May, 16, 2011
5/16/11
10:06
PM ET


NORTH DIGHTON, Mass. -- The South Coast Conference softball race is far from over, but the landscape became a little clearer through Monday's raindrops at Dighton-Rehoboth Regional.

As is customary, the path to the SCC title goes through the Falcons.

But Case, the reigning Division 3 South champions, has shown it is again among the area's top programs, joining the logjam that includes D-R, Greater New Bedford Voke and Fairhaven atop the standings. And the Cardinals made yet another point to affirm their place among the elite with a 5-2 win—their second of the season over D-R.

"They're three-time reigning SCC champions," Case head coach Norm Beauchemin exclaimed. "So yeah, this is big."

Case (11-4, 10-2 SCC) pitcher Shannon Orton threw a complete-game four-hitter to take the win while striking out six. However, the victory didn't come without complications as the Falcons (11-4, 10-3) loaded the bases in both the sixth and seventh innings, but were shut out.

"My catcher [Hailey Thibault] did a really great job calling the game today," Orton said. "She did a really good job mixing the pitches, which makes a big difference."

The Cardinals flew out to a 4-0 lead in the third. Ally Santerre put Case on the board with an RBI double to left. Danielle Medeiros followed with a sacrifice fly and Kadie Sullivan drove the Cardinals' third run on a fielder's choice. Orton capped the frame with a run-scoring two-out double.

Case struck again in the fifth with an unearned run against D-R starter Jill Rocha.

"We just didn't play well enough to win today," Falcons head coach Dave Driscoll said. "By my count, we gave them six extra outs during the game. You can't do that against a team like Case."

Catcher Nicole Lundstrom accounted for D-R's offensive output with a two-run single in the fourth.

After earning their second win over the Falcons, the Cardinals hold a half-game lead on D-R in the SCC standings. Still, the league title is a long way from being decided as Case has two games to play against Fairhaven in the final two weeks of the regular season.

The Cardinals last won the SCC title in 2007, the year before D-R made its most recent run.

"These wins against D-R are huge," Orton said. "They're a good team, they're always a challenge for us. To win two over them, it boosts us a lot. We've already made the tournament, so we know that, but the wins against them takes us into the next couple games."