Boston High School:

Spencer Cooke
January, 31, 2012
1/31/12
3:58
PM ET
Leavitt senior Jordan Hersom was recently named recipient of the 41st Fitzpatrick Trophy, given annually to the state's top high school football player. The other finalists were Louis DiTomasso of Wells and Spencer Cooke of Cheverus.

Hersom played quarterback and defense for the Hornets, leading them to three straight Class B state championship appearances, winning in 2009. The Hornets were 42-4 over four seasons with Hersom in the lineup.
This year, he passed for 1,630 yards and 16 touchdowns and rushed for 10 scores, averaging 8.7 yards a carry. On defense, he recorded 56 tackles and two interceptions. In the classroom he carries a 96 average which is also a factor in selecting the Fitzy winner.
He recently answered questions about his career and his future:
Q: When did you begin playing football and who were your early influences?
A: "I've been surrounded by football my whole life. The minute I was born my parents had me in a cradle holding a football, and the first time I walked was on a football field. I started playing flag football in kindergarten, and started playing tackle football in third grade. My biggest influence on me was my father who has been coaching high school football for over thirty years and also played throughout high school and college."
Q: What do you enjoy about the sport?
A: "I enjoy being around my teammates and forming bonds with them that will last a lifetime. In a team sport, it's amazing how much a group can accomplish if nobody cares who gets the credit. This is what the Leavitt football team was all about. I enjoy the team aspect, it takes eleven players to win a game, not one."
Q: When did you first play quarterback and why?
A: "In third grade I remember my first time playing quarterback. Part of the reason I was put at this position was because the fourth grade starter was hurt, and my coach thought I could do a good job running the QB boot play we had around the end because I was pretty fast. I've been a quarterback ever since."
Q: What has contributed to the success of football at Leavitt?
A: "The whole community has played a part in the success Leavitt football has had. Starting with the parents of the players, all the way through to the teachers at the school. So many people do work behind the scenes for the program to succeed. Having coaches who care about the players and the game of football, along with the players having a desire to get better everyday has all contributed to the success the team has had."
Q: What does winning the Fitzpatrick Trophy mean to you?
A: "Winning this award to me, is a way of saying thank you to everyone who has been a part of my life. I couldn't have received any of this recognition without the help, and support from many people. This trophy is something the community deserves for all of the dedication, and loyalty the people in Turner, Greene, and Leeds have shown to the game of football."
Q: Your cousin Jack won the award a few years ago. Did this help inspire you?
A: "I remember being a part of Jack's experience at the banquet in January of 2008. Jack has served as a role model to me, and still does, not just for the athlete he is, but for the type of person he is. I honestly never would have thought that I would be in the same position he was in. I just wanted to be the best teammate, leader, and player I could be by working hard everyday and looking up to people like my cousin Jack as a role model."
Q: Have you narrowed you choices of colleges? What is your criteria?
A: "Springfield College, and the University of Maine are two of my top choices. They are very different schools in a size and athletic wise.
Springfield would provide good private education for me, along with the possibility of being a two-sport athlete. At UMaine I would be able to
challenge myself in the classroom and at a high level of football. Academics comes first, and I want to be somewhere where I fit in, and have a sense of belonging."
Q: You play offense and defense. How would describe the mentality on playing on different sides of the ball?
A: "Football is a contact sport, and on both sides of the ball, I try to be aggressive and physical because that is how the game is supposed to be played. Offensively, as a quarterback I try to be the leader on the field, always staying positive and being confident. As a defensive
player, I turn on a mean streak. To play defense you must be tough and not afraid to hit somebody."
Q: What position would you prefer to play in college?
A: "I'm all about the team. Wherever a coach tells me to play is where I will be happy to play. I just want to be out on the field. So the position doesn't really matter to me because it's not about me, it's about the team."
Q: What other sports do you play?
A: "I play basketball in the winter and participate in outdoor track and field during the spring."
Q: What influence have athletics had on your life?
A: "Sports have taught me a lot of life lessons. In life, not everything goes your way, and I've been able to deal with the joys and disappointments of playing high school sports. I play for the love of the game, not for winning and losing."
Q: How do you maintain the balance between athletics and academics?
A: "Academics always comes first and by being busy I think it helps me. This way I always have a structured time to do homework whether it is before or after practice. At this point I've realized that sports and school are important and they are what I want to succeed in."
Q: What do you enjoy doing when you're not playing sports?
A: "Spending time with my family and friends is what I like to do outside of sports. I have a great family that loves and supports me, and my friends are always there for me as well."
January, 2, 2012
1/02/12
1:23
PM ET
By
Gary Hawkins
| ESPNBoston.com
Three players who have won state championships were recently selected as finalists for the Fitzpatrick Trophy, awarded annually to the top high school football player in the state.

Spencer Cooke of Cheverus, Louis DiTomasso of Wells and Jordan Hersom of Leavitt were the leading vote-getters among the 12 semifinalists who were nominated last month. The winners will be awarded the trophy Jan. 15 at a banquet at the Holiday Inn by the Bay in Portland.
Cooke is the second straight Cheverus player to be a finalist. Last year, quarterback Peter Gwilym won the Fitzpatrick Trophy after leading
the Stags to their first Class A state championship in 25 years. Cooke played a big part in the state final, scoring four touchdowns.
A running back/defensive back, Cooke rushed for 1,117 yards and scored 19 touchdowns this year. In the eighth game of the regular season
against Deering he broke a bone in his lower leg that kept him from the regional playoffs.
He made a brief appearance in this year's state title game, which the Stags won going away, 49-7.
DiTomasso, a fullback/linebacker, led Wells to the Class B state championship in which the Warriors stopped Leavitt and Hersom, 21-13. He rushed for 116 yards in that game, finishing with 1,350 yards and 19 touchdowns for the season. He also recorded 133 tackles on defense.
Hersom was a four-year starter for the Hornets, moving to quarterback his junior year. He started both ways when the Hornets won the Class B state title his sophomore year and led them to state title appearances the last two seasons. Over that span, he's 22-2. The quarterback/safety rushed for 10 touchdowns and competed 72 percent of his passes for an additional 16 touchdowns. Also had 56 tackles and two interceptions. Hersom's cousin Jack Hersom won the Fitzpatrick Trophy as a quarterback for Lawrence High School in 2007.
November, 27, 2011
11/27/11
10:12
PM ET
By
Gary Hawkins
| ESPNBoston.com
State football championships in three classes were decided at Fitzpatrick Stadium on Saturday with two teams repeating titles.

Cheverus extended its win streak to 24 games with its win against Lawrence in the Class A game while Yarmouth also ran its win streak to 24 straight with a win against Bucksport for its second Class C title in a row. Wells went to the wire against Leavitt before capturing its first
Class B championship since 1997.
The victories complete a sweep for Western Maine teams for the second year in a row. Here's rundown of the games with video provided by DVM Sports, MBR.org and the Maine Sports Network.
Class A - Cheverus 49, Lawrence 7
With injured senior running back Spencer Cooke playing all but a few token minutes for Cheverus, it appeared the Stags might be challenged by a tough Lawrence defense. They weren't as Don Goodrich scored five touchdowns, including a 92-yard kickoff return, and the Stags rolled up 509 yards of offense.
Goodrich rushed for 143 yards on 17 carries while fellow running back Brent Green picked up 179 yards on 20 carries. Wide receiver Louie DiStasio caught four passes for 130 yards.
The Bulldogs, who finished at 11-1, were hurt by five turnovers, four of which the Stags turned into scores. A fumble and an interception led to a pair of first quarter touchdowns by Green and Goodrich. Goodrich added a score early in the first quarter to make it 21-0. The Bulldogs got on the scoreboard when Anthony Sementelli scored on a 52-yard run midway through the second quarter, but Goodrich returned the ensuing kickoff 92 yards to make it 28-7 at the half.
Cheverus put the game away with 21 points in the third quarter, highlighted by a 52-yard scoring run from Goodrich. The Stags' defense, which held opponents to 71 points in 12 games this season, limited Lawrence to 167 yards of total offense. The score was the most lopsided in a Class A title game since Cheverus beat Lewiston 65-13 in 1985.
Cooke, who sustained an injury late in the regular season and missed all of the Western Maine playoffs, carried the ball nine times for 18 yards, all in the second half. Cooke scored four touchdowns in last year's state championship game.
November, 10, 2011
11/10/11
5:40
PM ET
By
Gary Hawkins
| ESPNBoston.com
Madison Memorial High School senior Matt McClintock recently won his third Class C cross country title while posting the fastest time in the state in any class. McClintock also won the mid-season Festival of Champions which featured over 600 runners from 60 schools in and out of state. Last spring, he won the 1,600 and 3,200 meter runs at the state track and field meet. He's competing this weekend in the New England meet in North Scituate, R.I. He recently answered questions about his season and running career.
Q: How did you get started running?

A: "I started running in 5th grade on the Madison Junior High XC team. I went to Athens Elementary so what would happen is Athens would practice on it's own and then we would just join the Madison team at meets. Fifth grade was the first year that I could compete in any "real" school sports, and I don't really know what drew me to it, but I decided to try it, and I guess my first race went well. I finished 13th. All my coaches were really happy with it and I guess I've been running ever since."
Q: Who have been your greatest influences?
A: "First and foremost would definitely be my coaches. Mrs. Moulton and Mr. Harper in junior high and Bob and Brandon Hagopian in high school. The person that really inspired me and drove me to get better was definitely coach Bob Hagopian. He's been with me since freshman year, through my wins and losses, and has always found a way to make me better."
Q: At what point did you feel you made a breakthrough in your high school career?
[+] Enlarge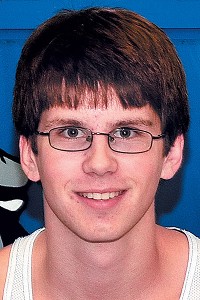 Gary Matt McClintock
A: "Without a doubt it was after I lost the conference championship last year. I got to cocky and that race showed me that I wasn't invincible, that I wasn't going to win just because my name was Matt McClintock, but because I wanted it more than the guy in front, beside, or behind me. That race made me
love
running, because I then had something to prove and something to work for. It re-instilled that love for competition in me. I will remember that race for the rest of my life, and I'm definitely a better runner because of it."
Q: What do you consider your greatest achievements in track and cross country?
A: "Wow, I guess in cross country it would be my three state championships. Since fifth grade my dream was to win a state championship in high school. To have three cross country titles and two titles on the track is just unbelievable to me. In track, my greatest achievement was definitely breaking the Madison High School records for 1,600 and 3,200 meters, probably more so the 3,200 because I was the first Madison kid in history to go under 10 minutes in that event."
Q: Which sport do you prefer?
A: "It really depends on the season. During cross country my favorite sport is cross country. During track it's track. I just love to run and race whether it's on the road, a track, or a trail."
Q: What goals did you set this season and did you reach them?
A: "My first goal for the season was to go undefeated in Maine and three-peat the Class C State Championship. I'm proud to say I met this goal. My next goal was to go under 15 minutes for the 5k I haven't met this goal yet as we've never really had a good day for a championship race, but Saturday at the New England Championships looks to be a good day, and it's a very fast course so we'll see what I can do there.
Q: What is your goal for this week's New England meet?
A: "My goal here is to win the title, and to go under 15 minutes for the 5K. As I said, before, it's a fast course, and there will be some incredibly strong competition to push me there."
Q: You won several races handily this season. Is it tough competing when you're not pushed?
A: "I guess that would depend on your definition of competing. A lot of people look at competing as winning. I prefer to look at it in the manner of Steve Prefontaine. If I'm going to win, I want to know that I've done my best. So yes, it's difficult to push myself to fast times, but I always just try to stay focused and not worry about the pain or where my competition is and just get to the finish line as fast as possible."
Q: What do you enjoy most about running?
A: "I love the people that we meet. The type of people you meet at cross country or track events is totally different then you will see in any other sport. At the state meet, I was getting encouraged to reach my sub 16 goal by the coaches and family and teammates of people that I was directly competing against. I'm confident to say that you will not find nicer and more supportive fans at any other high school sports competition."
Q: Do you have any running role models?
A: "I have several running idols, the most prominent would be Steve Prefontaine. I try to live up to the guts and determination that he always showed as a runner. His quote "To give anything less than your best is to sacrifice the gift" are the words I live by. Another two are Haile Gebrselassie, and Kenenisa Bekele. Both are Ethiopian runners. Gebrselassie is a two-time gold medalist and world record holder. Bekele is the two-time defending Olympic 10,000 meter champion and holds World Records now."
Q: Where will you attend college and why did you choose that particular school?
A: "I will be running for Lock Haven University of Pennsylvania next year. I felt very comfortable around the campus and really connected well with Coach Aaron Russell and the entire team at Lock Haven."
Q: What other sports or activities do you enjoy
?
A: "I enjoy all sports, but running is my one and only true passion."
Q: What is your training regimen in and out of the season?
A: "Sorry, but I don't like to discuss what my training is, at least not until after the outdoor track season."
Q: Where do you need to improve?
A: "I definitely need to improve on my kicking speed. In order to really be competitive in college I need to be able to win a race in the last 200 Meters if necessary. I feel that as my speed continues to develop in conjunction with my continued endurance training all of my events will improve drastically."
October, 11, 2011
10/11/11
2:04
PM ET
By
Gary Hawkins
| ESPNBoston.com
Paula Doughty is in her 31st year as field hockey coach at Skowhegan Area High School. She's posted a career record of 414 wins, 80 losses and 17 ties and her teams have captured 12 Class A state championships, including last year's. Prior to losing in the state final in 2009, the Indians had reeled off eight state titles in a row.

Doughty was named National Field Hockey High School Coach of the Year in 2004 and 2008 and more than 80 of her players have gone on to play in college. One of her players has been a first-team national All-American while two have made second team All-American and 22 have been regional All Americans.
Q: How did you get into coaching?
A: "I was in college from '70-74 and I officiated. I graduated from the University of Maine at Farmington and student taught in Skowhegan. In August they called me and said there was a job opening and they also needed a field hockey coach. I played in high school and I officiated so I had quite a lot of experience and I knew the game."
Q: What attracts you to the sport?
A: "It's evolved into a really fast, fabulous sport. It's just become better and better. First we lost the offsides, advancing became incidental and the obstruction rule is lenient today. In field hockey it takes years to develop the stickwork to be able to play. I also like it, and this sounds sexist, because it's a women's sport in the United States."
Q: When did Skowhegan turn the corner?
A: "Probably in the late '80's. We were really good in the '70s, then soccer came in. I was really hurting for athletes. All the athletes went to soccer but then it balanced out."
Q: How has the program stayed so strong?
A: "I work very hard. I have three of our four coaches who have worked with me forever. I would say a shared coaching philosophy and consistency. We do the same thing K through 12 and I work with everybody K to 12."
Q: How big is the youth program?
A: "It's growing, but it's growing statewide, it's not just us. Today we had a tournament for fourth, fifth and sixth graders and there were 12 teams here and every town brought 30 kids. One thing about field hockey in Maine, there's a lot of opportunities and we can compete. It's hard for Maine kids to compete in a lot of things but in field hockey we're doing really well. A lot of kids feel entitled but Maine kids aren't like that. They work really hard."
Q: How many of your players have played in college?
A: "We've had about 80 kids play in college. My first player was Kim Jewell Bodwell in '78 and she played at the University of Maine. Our first Division I player was Wendy Obert in 1989 and she played at Northeastern. Right now, we have nine (playing in college) and we have three seniors who are going D-1 next year."
Q: How has the game changed?
A: "It's changed in every way. It's faster, it's more skilled. The amount of penalties are nothing what they used to be. You've got to be very, very skilled. It's fun to watch. Today the game is a turf game. We play on turf as much as we can. It's no longer a grass game. We practice in the gym a lot. Our field is as close to turf as you can get, but it's still grass."
Q: How is this year's team?
A: "It's a great team. The last 14 years have been great teams. The kids I have now are much more versatile. Even five or 10 years ago, they were one-dimensional ... Most of my kids I can put in any position. Messalonskee is very good. They're going to be our biggest competition in the state. It's too bad we're both in Eastern Maine. But in sports you can't take anybody for granted."
Q: How long do you want to coach?
A: "I'll coach as long as I think I can. I'll retire from teaching in a while but I'll keep coaching. I'm smart enough to know if I'm not as good as I was."
September, 14, 2011
9/14/11
2:55
PM ET
By
Gary Hawkins
| ESPNBoston.com
The first two weeks of the Maine high school football season produced a number of surprises.

Here's a rundown of some of the highlights in each of the three classes:
Class A
Cheverus keeps rolling along despite the loss of several players from last year's state championship team. Senior Cam Olson stepped in at quarterback after playing behind Fitzpatrick Trophy winner Peter Gwilym for two years and last week threw three touchdown passes. Spencer Cooke, who scored four TDs in the state game last fall, has emerged as one of the state's top running backs. The Stags are 2-0 and have outscored opponents 94-21.
Lawrence keeps rolling along in Class A's Pine Tree Conference. The Bulldogs traveled to Bangor and knocked off the Rams 32-25 last Saturday night to go to 2-0. Shaun Carroll led the way with 224 rushing yards and four touchdowns, Lawrence has won its last 11 regular season games, dating back to a 2009 loss to Bangor. Prior to that, the Bulldogs had won 36 regular season games in a row. They are 8-1 against Bangor since 2005.
Many high school handicappers picked Bonny Eagle and Windham among the teams to beat in North Division of the Southern Maine Activities Association (SMAA), but both teams are winless after two weeks. Windham fell 28-20 to a strong Deering team last week while Bonny Eagle fell, 31-28, to upstart Massabesic. Lewiston, one of the PTC favorites, dropped to 1-1, losing 48-27 to Messalonskee, another team that has emerged as a contender. Along with Massabesic, Sanford is the surprise of the SMAA South. Last week, the Redskins knocked off a good Scarborough team 23-12 for one of its biggest wins in years.
Class B
This class is the most competitive in the state at least at the top where four teams in each of the two divisions are unbeaten. Included in those ranks are the two teams who met in the state final last fall, Mountain Valley and Leavitt. Mountain Valley has outscored opponents 81-23 so far while Leavitt, led by quarterback and linebacker Jordan Hersom, holds an 83-12 advantage over opponents.
Mt. Blue may be the most dangerous contender in the class. The Cougars dropped down from several years in Class A this season and in two games have outscored the opposition 87-6. Falmouth, Wells and Fryeburg are also 2-0 as are Waterville and Gardiner. The latter two teams meet Friday night in Gardiner. Waterville must find a way to stop running back Alonzo Connor who is looking to eclipse his total of 31 touchdowns form last year. In two games so far, Connor has scored 10 touchdowns.
Falmouth, which has outscored opponents 98-7 plays this week against Marshwood.
Class C
Foxcroft Academy and Yarmouth are the talk of Class C so far. They play in different divisions and don't meet in the regular season, but could well square off for a state championship in November. Yarmouth is the defending state champ and so far the Clippers have scored 92 points and allowed seven. Foxcroft has been equally impressive outscoring opponents 108-8. There are contenders in each division. Bucksport, Orono and John Bapst are all 2-0 in the Little Ten Conference headed by Foxcroft while Freeport and Lisbon are unbeaten the Campbell Conference South along with Yarmouth.
Maranacook and Winslow are 2-0 in the Campbell's North division and play this week in Winslow. The Black Raiders dropped down to Class C this season and are cruising so far, but they'll face a big test in Maranacook and 6-foot-4, 210-pound running back Luke Emery.
August, 31, 2011
8/31/11
2:23
PM ET
By
Gary Hawkins
| ESPNBoston.com
Although the Maine Principals' Association voted down adding a fourth class to Maine high school football earlier this year, there are still
plenty of changes awaiting teams and their fans this season.

The classification committee of the MPA decided not to include a fourth class, perhaps waiting for a few more schools to adopt the sport to push the number to 80. There are currently 76 football playing schools in the state, with some schools combining teams this year and others playing for the first time.
Class A saw the fewest changes with four schools — Brewer, Mt. Blue, Marshwood and Westbrook — dropping to Class B. Marshwood is the only Maine high school to have won a state football championship in each of four classes, including the now-defunct Class D. Marshwood and Westbrook will play in Western Maine Class B where they'll be joined by Spruce Mountain, a new school combining former Class C rivals Jay and Livermore Falls.
Brewer and Mt. Blue will play in Eastern Maine Class B that now includes Oceanside, a new school combining Rockland and Georges Valley. Rockland previously played in Class C while Georges Valley did not have football. Also joining Class B East this season are Old Town and Madison/Carrabec, both of whom played in Class C last season.
Eastern Maine Class C is adding two new programs in Hermon and Washington Academy while Telstar is also playing varsity football after
fielding a club team the past few seasons and will compete in Western C. The West also includes two teams that have dropped from the B ranks in Winslow and Poland.
Here's a look at some of the top teams in each class who get under way Friday night:
CLASS A EAST
Lewiston: The Blue Devils return eight starters on offense and defense from a team that lost 28-25 to Bangor in the conference final. Quarterback Chris Madden highlights a returning backfield that includes tailbacks Jeff Turcotte and Matt Therrien. Rudy Pandora, a 6-foot-5 two way tackle, returns to the line.
Lawrence: The last East team to win a state title (2006), the Bulldogs have been upset in the playoffs the past two seasons after going
unbeaten in the regular season. Junior Spencer Carey returns at quarterback while senior Shaun Carroll and junior Anthony Sementelli are
the top returning rushers. The defensive line is new but the secondary is experienced.
Brunswick: The Dragons upset Lawrence in the playoffs and nearly knocked off Bangor. They return one of the top backs in the conference in senior Dylan Walton who was injured midway through last season. Also returning to the backfield is Keith Kitchens.
December, 16, 2010
12/16/10
2:02
PM ET
By
Gary Hawkins
| ESPNBoston.com
Thirteen semifinalists have been selected for the James J. Fitzpatrick Trophy, symbolic of the state's top high school senior football player.

Ballots were mailed to media and members of the football community and will narrowed to three finalists which will be announced Dec. 19. In addition to football accomplishments, grades, character and extracurricular activities are also factors in the award.
The winner will be announced at the Fiztpatrick Trophy Banquet on Jan. 16 in Portland.
The finalists are:
Kyle Bishop, Waterville — The QB.safety averaged 6.8 yards per carry and passed for 902 yards. He also kicked 19 of 21 PATs and was in on 73 tackles. He carries a GPA of 3.47.
Max Cloutier, Leavitt — The center/defensive tackle made 95 tackles and was credited with 12 1/2 sacks. He added 49 PATs and kicked a field goal. He carries an 85 grade average.
Michael Cyr, Scarborough — The two way end caught 17 passes for 336 yards and eight TDs. On defense, he made 73 tackles and recovered three fumbles. He carries an 89.9 GPA.
Ethan Drigotas, Kennebunk — The receiver/defensive back caught 36 passes for 659 yards and averaged 5.5 yards a carry as a halfback and scored seven TDs. He carries a 92 GPA.
Luke Duncklee, Cony — The quarterback passed for 1,442 yards and rushed for another 1,147, accounting for 25 touchdowns in all. He is a top 10 member of his class.
Nicholas Gagne, Biddeford – The fullback/linebacker rushed for 973 yards and scored 15 TDs. On defense he made 40 tackles, 13 for sacks. He carries a 3.5 GPA.
Peter Gwilym, Cheverus — The QB/safety led the Stags to their first Class A title since 1986. He averaged 5.3 yards per carry and scored 13 TDs. He also passed for seven TDs. On defense he made 64 tackles and made four interceptions. H carries a 3.89 GPA.
Jonathan Haws, Hampden — The QB/safety is one of the most prolific players in school history. He carries a GPA of 94.
Cam Kaurbis, Mountain Valley — The QB/defensive back led the Falcons to the Class B state title, passing for 873 yards and seven touchdowns. On defense, he had 21 tackles and eight interceptions. He carries a 98.8 GPA.
Caleb Kenney, Portland — The FB/TE/LB made 44 tackles. He rushed for 328 yards and four TDs and caught 10 passes for 165 yards. He carries a 95 GPA.
Nicholas Proscia, Yarmouth — The FB.LB totaled 707 yards and nine touchdowns and played on all the special teams. He carries an 89.5 GPA and helped the Clippers to the Class B state title.
Jamie Ross, Deering — The quarterback threw for 1,511 yards and 17 touchdowns and rushed for an additional 912 yards and 19 TDs. He also punted and kicked 36 PATs and a field goal. He carries a 90 GPA.
Josh Woodward, Thornton — The WB/DB averaged 8.6 yards per carry and scored nine touchdowns. He also completed 52 percent of his passes for nine TDs. He carries a 3.3 GPA.