Boston High School:

Spruce Mountain
September, 4, 2013
9/04/13
5:15
PM ET
By
Matt DiFilippo
| ESPNBoston.com
The football landscape has changed with the addition of a fourth class and reorganization everywhere. Here's a look at the top contenders in each class in 2013:
Class A East

Ask anyone outside of Lawrence Bulldog territory, and that person would probably tell you the two best teams in Maine high school football last year were Thornton and Cheverus. This year, under the new alignment, they have the chance to meet in the Class A state final.
Cheverus was undefeated last fall until losing to Thornton, 20-13, in the regional final. The Stags graduated Fitzpatrick Trophy-winning running back Donald Goodrich and quarterback Liam Fitzpatrick, but should keep rolling. The top returning runner is Cody O'Brien (76 carries, 400 yards, 5 TD), and he's backed by Joe Fitzpatrick and Will Hilton, and new quarterback Ethan Jordan. Kicker Patrick Mourmouras booted 48 extra points as a sophomore a year ago.
Offense will be a key for Portland, which scored a total of 13 points in four losses last fall. The Bulldogs may be able to solve that problem themselves, as they bring back Justin Zukowski (180 carries, 991 yards, 11 TD), Jayvon Pitts-Young (79 carries, 472 yards, 3 TD) and quarterback Ryan Ruhlin. Another one to watch is Ronald Hargrove, a transfer from Concord-Carlisle Regional in Massachusetts.
Bangor will be an interesting case this season. The Rams had the burden of high expectations every year – partly because of their history, and partly because of a school size that theoretically gave Bangor a much deeper pool of players than its opponents.
Those expectations were blasted away last year by a 30-point loss to Lawrence and a 34-point loss to Cony. Football is still a big deal in Bangor – the
Bangor Daily News
wrote a preview story on the Lawrence-Bangor preseason meeting, then covered the game (a 13-6 Lawrence win) as well – but how will the Rams fare against the bigger southern Maine schools?
In an interesting subplot, Xavier Lewis is back at Bangor. Lewis played for Bangor before helping Lawrence to the state final in football and the regional final in basketball during the past academic year.
Windham and Deering look to bounce back from graduation losses, while Edward Little, Lewiston, and Oxford Hills look to improve.
Class A West
Thornton went with a 1-2 punch last fall of Andrew Libby (151 carries, 1,008 yards) and Nick Kenney (164 carries, 940 yards). With Kenney graduated, Libby could easily get in the neighborhood of 25-30 carries per game, and none of Thornton's opponents are excited about that. On the down side, quarterback Eric Christense (973 yards passing, 402 rushing) has graduated, and the Golden Trojans didn't have shutdown defense even last year, when all but two of their opponents scored at least two touchdowns. Still, Libby and Cody Lynn are stalwarts on defense, and if Thornton averages 38.7 points per game again, a couple touchdowns the other way won't matter.
Scarborough didn't play Cheverus last year, but looked pretty good against every other team on its schedule save Thornton. The Red Storm lost 35-7 to Thornton in the regular season and 49-14 in the playoffs. Scarborough brings back Dan LeClair (69 carries, 353 yards, 5 TD) and running/receiving threat Charlie Raybine.
Bonny Eagle could make a leap from last year's 2-6 record. The Scots opponents had a combined record of 43-21, but they still never lost a game by more than 17 points. Now they've added running back Jon Woods as a transfer from Gorham, along with some experienced talent like Zach Dubiel and Joe Bissonette. You can make an argument that Bonny Eagle's season might have turned out much differently if the Scots hadn't been plagued by bad snaps and turnovers in an early-season loss to Thornton last year. This season might show what Bonny Eagle is capable of.
Sanford had one of the best backs in the state last season in Alex Shain (201 carries, 1,426 yards, 27 TD), but the Redskins still scored a total of 32 points in their four losses, including a 42-16 first-round playoff setback to Scarborough. If Josh Schroder (86 carries, 457 yards, 6 TD) and new quarterback Chase Eldredge can't find a way to score against the top teams, a defense led by linebacker Colby Perigo may spend too much time on the field.
December, 17, 2012
12/17/12
8:08
PM ET
By
Matt DiFilippo
| ESPNBoston.com
For most teams, the Maine high school basketball season began Dec. 7. Here's a look at how the classes shape up

Class A Boys:
The West looks like a three-team race between Portland, Deering, and Bonny Eagle, with South Portland ready should there be an opening. Junior Justin Zukowski is Portland's top all-around player, and he has help in Nick Volger and Jayvon Pitts-Young. Deering tries to beat you inside, with six-six Labson Abwoch, and six-four Thiwat Thiwat, both of whom are from the Sudan and moved to the United States at an early age.
Hampden was upset by Deering in the state final, and even though the Broncos return only two starters, they were still the pick for first place in Eastern A's preseason coaches poll. Edward Little, Lawrence, and Bangor, all programs with strong traditions, could each challenge Hampden. Lawrence relies on forward Spencer Carey and guard Xavier Lewis, a transfer from Bangor.
Class A Girls:
Western A has at least four strong teams in McAuley, Scarborough, Cheverus, and Deering. Oddly enough, none of them play each other until January. Point guard Allie Clement leads two-time defending state champion McAuley. Add in three six-footers and a talented guard in sophomore Olivia Dalphonse (a transfer from Bonny Eagle), and this team should go far in the tournament again.
In the East, Edward Little, Mt. Ararat, and Mt. Blue should fight it out for the top spot. Edward Little's top scorer is guard Ashlee Arnold, and the Red Eddies have some motivation after blowing an 11-point halftime lead and losing to Cony in last winter's regional final. Mt. Blue has balanced scoring, and guard Gabby Foy is a player who can run up a lot of points in a short time. Brewer was the big surprise in the early going, beating Mt. Blue on a three-pointer at the buzzer, then knocking off Lewiston the same way three nights later. Bangor has the height and athleticism to play with anyone, while Oxford Hills, Skowhegan, and Lawrence could be sleepers in a deep league.
Class B boys:
Falmouth and York are two of the tallest and best teams in the West. York has five players six-four or taller; Falmouth has three at least six-five. Falmouth didn't return any starters this season, but began the year with three lopsided wins. To go with York's height, the Wildcats have senior guard Adam Bailey, who hit 11 three-pointers in York's first four games this season.
Expectations are very high at Oceanside, which finished 12-8 last season but returns four starters and is loaded with height. The
Portland Press Herald
even said that, "Anything short of winning Eastern Class B would be a disappointment." Winslow is expected to be a playoff team, but Oceanside beat the Black Raiders, 80-53, on opening night. Medomak Valley, Camden Hills, and possibly Caribou and Presque Isle will also look to get hot at the right time.
Class B girls:
Defending regional champ Lake Region is probably the favorite again. Tiana-Jo Carter averaged 15 points and 17 rebounds per game last winter, and the
Portland Press Herald
reports she has already received full scholarship offers to Division I schools. The Lakers are so deep at guard that freshman CeCe Hancock stepped in and had 11 points and nine assists in an early-season win over Waynflete. York, Gorham, Spruce Mountain, and Wells could all make a run at Lake Region. Leavitt might not have all the pieces to go all the way, but the Hornets have one of the most entertaining players in the state in senior Kristen Anderson, who will play at the University of New Hampshire next season. Anderson can shoot from 30-35 feet out, and often does.
In Eastern B, Presque Isle is the decided favorite. The Wildcats finally got past Nokomis last winter and squeaked past Lake Region to win the state title. Presque Isle's first three games this season were wins by scores of 39, 63, and 38 points, and that's a good indication of how their regular season will go. The Wildcats are never very tall, but they throw lots of quick guards at you and can shoot from long range. Nokomis, which won't face Presque Isle during the regular season, may have the best chance to defeat the Wildcats in the playoffs. The Warriors have three fine guards in Lindsay Whitney and twins Kylie and Kelsie Richards, and a good low-post option in Anna MacKenzie.
Class C boys:
Dirigo has won four consecutive Western C titles, and until someone gets past the Cougars, they have to be considered the favorites again. Even after graduating seven seniors from last winter's state champions, Dirigo was still picked first in the Mountain Valley Conference coaches poll. Boothbay is probably Dirigo's toughest competition in the MVC, and Waynflete, which competes in the Western Maine Conference, could be a dark horse.
Houlton went 8-10 last winter, but may just be the No. 1 team in Eastern C. Kyle Bouchard, who can play pretty much any position, leads the Shiretowners. Among Houlton's early wins this season was a seven-point victory on the road against a good Class B Presque Isle team. Penquis Valley and Lee Academy — which is currently on probation from the Maine Principals' Association for recruiting violations — are also threats for the regional crown.
Class C girls:
The Mountain Valley Conference is deeper, but the Western Maine Conference has the best player (Margaret Veroneau) and maybe the best team (Waynflete). The Flyers have a top-notch coach in Brandon Salway, and bring back all five starters. They're good enough that they almost beat Class B Lake Region, losing by five on the road. Madison, Lisbon, and Monmouth are also contenders. Mt. Abram should have been in that mix, but the Roadrunners had some players decide not to return, and apparently don't have everything they need to play with the top teams.
Calais, led by guard Madison McVicar and center Paige Gillespie, is the favorite in the East. Orono, Dexter, and Narraguagas are also in the hunt.
Class D boys:
Forest Hills is known for a lot of things, like being closer to the Canadian border than any other high school in Maine, and having kindergarten through 12 all in one building. The Tigers also have a great basketball team. Senior Evan Worster already has over 1,000 points, and everyone returns from a team that went to the Class D state championship game this winter. The Tigers will get tested this season, as Valley, Greenville, and possibly Hyde all have the potential to cut down the nets after the Western D final in late February.
When Jonesport-Beals won the state title last season, it did so with a total high school enrollment of 58 students. It helped immeasurably that one of those was six-foot-five Garet Beal, the state's Gatorade Player of the year. Beal will play at the University of Maine next season, and already has back-to-back 40-point games this season. The second of those was in overtime against Deer Isle-Stonington, a team that could challenge the Royals again this winter. Woodland could also give Jonesport-Beals a scare.
Class D girls:
It looks like Rangeley and Richmond will battle once again for the Western D title. Rangeley, a school with about 80 students, has three six-footers in sophomore Taylor Esty, freshman Blayke Morin, and transfer student Emma Gunic. Richmond has its own six-footer in Jamie Plummer, the daughter of Colby College baseball coach Dale Plummer. Rangeley won the first meeting this season, 56-54 in overtime.
In the East, Washburn won the state title last winter with no seniors and three juniors. The Beavers did lose their coach when Mike Carlos was not rehired after winning two consecutive state titles. There were widespread rumors of parents being unhappy with Carlos, who is now coaching at East Grand. When Carlos was not rehired, superintendent Ed Buckley released a statement to the
Bangor Daily News
which included the line, "we do not measure the success of our athletic teams by the number of contests they win but whether it is a positive experience for all our students." Diana Belskis Trams is now coaching the Washburn girls. Van Buren could give Washburn a run in the East. The Crusaders' star is junior guard Parise Rossignol, who verbally committed to the University of Maine as a sophomore.
April, 6, 2012
4/06/12
2:18
PM ET
By
Gary Hawkins
| ESPNBoston.com
It's only been a few days since snow left the ground in Jackman and there's no guarantee it won't return before the end of April.

Nestled in the Moose River Valley just 16 miles from the Canadian border in northwestern Maine, Jackman is a winter haven for snowmobilers. In the warmer months, it attracts hunters and fishermen or tourists passing through on their way to Quebec province. Tourism is one of the leading industries in this town of 700 while the Jackman Lumber Mill and the Border Patrol Station are the two largest employers.
Athletes at Forest Hills High School in town are spread pretty thin. With an enrollment of 54 students, teams are allowed to include eighth graders on high school teams out of necessity. Basketball is the biggest game in town and this year the Tigers achieved unprecedented success, winning the Western Maine Class D championship after rallying from a 19-point deficit in the second half against top-seeded Hyde School. And last fall, the golf team won the conference championship.
Baseball is another matter. There is no middle school team and as Coach Mike LeBlanc says the youth program is "not anything to write home about."
"When I first started they used a pitching machine to pitch to batters," LeBlanc said.
A pitcher himself, LeBlanc changed that in a hurry. He arrived in Jackman 15 years ago after applying for a teaching job.
"I looked at the map and said 'what the heck am I thinking of,' " he said.
LeBlanc grew up in Skowhegan where he still lives and makes the 75-mile commute each weekday to the school. A star at Skowhegan, he moved on to the University of Maine where he became the team's closer. He was a member of the last UMaine team to reach the College World Series in 1986.
Jackman baseball is about as far removed from that experience as LeBlanc could get. Yet he's had success despite some obvious drawbacks. Many of his players have little or no experience when they show up for tryouts.
"They're first taste of it is when they're in the eighth grade," LeBlanc said. "They have no clue whatsoever but they play hard. I've never questioned their toughness."
This year LeBlanc has three eighth graders on his team. Numbers have varied from a high of 21 players to as few as 11.
"They just play to play it," LeBlanc said. "They have fun. I'm not too strict."
Still, in 13 years as coach — LeBlanc took a two-year hiatus three years ago — his teams have qualified for the playoffs 10 times. They rarely get outside before the season begins. This year was an exceptional as temperatures wandered into the 70's in mid-March. But they've since dipped to the freezing mark and there was snow on the ground earlier this week.
The gym provides little respite since it's undersized at 47x74 feet and can accommodate a batting cage but no portable mound. Often the first outdoor action the Tigers see is when they travel down river to face rival Valley which is about an hour away. Travel is another issue for the Tigers who routinely face long bus rides. When they play at Vinalhaven, it involves a three-and-and-half hour bus ride a 45-minute ferry ride to the island. Because of all the travel, the Tigers play seven doubleheaders in their 16-game schedule.
They've had a few pitchers over the years, though. Jeff Mulhall, who plays for Thomas College in Waterville, struck out 294 batters in four years. This season, junior Evan Worster is the team's ace. The star of the basketball tournament, Worster throws fairly hard but has plenty of finesse, according to LeBlanc.
"He has a pitcher's mentality," LeBlanc said. "He throws the ball inside. A lot of pitcher's are afraid to do that."
Junior Derek Ouellette and freshman Matt Turner have also shown promise on the mound which may make the Tigers a contender in Western Maine Class D. They open their season April 24 with a doubleheader at Valley.
"It's pretty amazing what those athletes do up there," LeBlanc said.
February, 10, 2012
2/10/12
2:15
PM ET
By
Gary Hawkins
| ESPNBoston.com
That Travis and Karen Magnusson would become high school basketball coaches, given their backgrounds as point guards and students of the game, seemed inevitable. So does the success that the husband and wife coaches are having this season at their respective schools.

Travis, who coaches the Dirigo High School boys team, came within a whisker of a perfect season before falling to Spruce Mountain, 39-34 Wednesday night. Still, his Cougars finished the regular season at 17-1 and enter the upcoming Western Maine Class C tournament as the top seed. Karen, who coaches the Cony High School girls team, finished at 18-0 Thursday and her Rams will enter the Eastern Maine Class A tournament as the top-seeded team.
There wasn't much talk between Karen and Travis about going unbeaten this season — both recognize winning a state title as a larger goal — but it's still hard to avoid.
"Honestly we try not to do it," Karen said. "But it's something that comes up with other people."
The couple rarely get to see one another's teams play since they usually play on the same night. Fans at both schools, however, recognize what's going on.
[+] Enlarge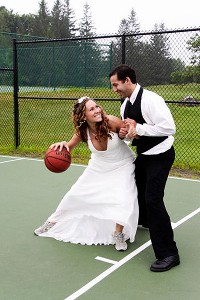 Courtesy of Karen Magnusson Travis and Karen Magnusson are having success coaching high school hoops in Maine.
"It's almost like we share our programs with each other," Karen said. "His fans ask how I'm doing and my fans ask how Trav's doing."
The Magnussons are both basketball junkies, a passion that began long before they met at the University of Maine at Farmington a few years ago. Karen Sirois starred at Cony in Augusta while Travis played for Georges Valley in Thomaston. Both played point guard at UMF and each of them totaled over 1,000 points and 500 assists in their careers.
Farmington women's coach Jamie Beaudoin and men's coach Dick Meader saw coaches in the two long before their playing careers ended.
"I knew from the first moment I watched her play that she was going to be a coach," Beaudoin said. "She was able to see things on the floor that many times an experienced coach wouldn't pick up on. She's just a student of the game."
Meader echoed those thoughts about Travis, who served as a varsity assistant at UMF the year after he graduated. Travis was hired as boys coach at Livermore Falls a year before Karen go the job at Cony so she helped him out and gave him an unbiased look at the players and the team.
"There was nobody I listened to more, especially with my team that first year," Travis said.
Travis turned the Livermore program around, reaching a tournament prelim game his first year in 2009 and the tournament itself the next two. He lost his job when Livermore and Jay high schools combined this year to form Spruce Mountain, but when the Dirigo job opened up he applied. The Cougars reached the state final last year and return many of those players.
The Magnussons talk basketball most of the time, often while breaking down film at home another or swapping drills.
"I get some of my plays and sets from him," Karen said. "I know his personnel, we definitely help each other out. Sometimes we sit up until 11:30 or 12 talking about it. We watch game film together. It's like having an assistant coach at home."
They also share a similar philosophy, borne from the way they played the game.
"We both like to run and gun, play pressure defense and give our players freedom to take shots." Travis said. "As I've gotten older I've realized the importance of quality shots."
The Magnussons are competitive by nature and haven't played a serious game of 1 on since Travis came away with a bloody nose when the got together on the court in college.
"He's competitive and I'm competitive so we never really have the fun 1-on-1," Karen said.
Well, they did have a little fun on the court on the day they were married, playing a friendly game, she in her wedding dress and he in his tuxedo.
They'll get a chance to watch the other's team play in about 10 days when their teams will be favored to win regional championships at the Augusta Civic Center.
October, 26, 2011
10/26/11
4:04
PM ET
By
Gary Hawkins
| ESPNBoston.com
Madison Memorial High School senior Seth Sweet has established himself as the top high school golfer in the state.

Sweet recently won his second straight Class C state individudal title, shooting a 2-under par 70, the lowest in any class. Last summer he was one of two Maine golfers to qualify for the U.S. Junior Amateur. He also finished fourth in the Maine Amateur last year and, when he was 12, he was the youngest qualifier ever for that tournament. He recently answered questions about himself and the game he loves.
Q: How did you get started in golf?
A: "My dad introduced me into the game when I was 2 years old. He brought me out to a little par three course with a plastic set of Little Tikes golf clubs. I didn't play that often but he brought me to the golf course just enough so I could really get a liking for this game. After a while I knew there was something about this game that was special and I knew it would be able to take me places."
Q: When did you first get hooked on the game?

SWEET
A: "I first became serious around the age of 10. I played my first tournament when I was 7 but did not realize what it took to really become an elite golfer. I started playing several tournaments when I turned 10, and began to practice a lot harder. I tried to take my game to the next level and set different levels of goals that I needed to achieve."
Q: Who have been your greatest influences in the game?
A: "My dad has definitely been the biggest influence in my game. He taught me everything I needed to know to become who I am today. He made it so I could play in every tournament I wanted to play in, and would do everything for me. My mother has also been there supporting me and always telling me that if I want it I can get it. She is always there to watch me play tournaments, and I couldn't do it without them. My brother Zack also has been there to push me as he is a good golfer and always taught me how to act, as well as made me the best I could ever be. My swing coach has also been able to bring me to the tip top in my game and has taught me how to play this game like the pros.
Q: What do you consider your greatest accomplishment to date?
A: "I believe my greatest accomplishment has been making the U.S. Junior Amateur in Bremerton, Washington where I played two great days to make a playoff to make the cut for match play. Unfortunately, I missed the playoff, but was the proudest to place 55th best junior in the nation. I may not have met my goal, but was very pleased with how I played."
Q: How often do you play and practice?
A: "I play every day and practice every day. In order to be the best you have to have the club in your hand acting like it is your lifeline."
Q: What do you work on?
A: "Lately I work on the short game because I am able to hit the ball on the green, but where I am going to save strokes is making the putts for birdies. I will also work on hitting the ball in different shapes, I usually hit a draw but I understand that I need to be able to hit the cut to be one of the best as well. I believe that short game is where the pros make it look easy and win the tournaments."
Q: Where will you attend school next year?
A: "I have recently just verbally committed to Old Dominion University in Norfolk, Virginia."
Q: How did this come about?
A: "I had a friend from Rhode Island who is a freshman there and had told the coach about me. He must have put in a good word for me because the next week I got a call from the coach and it eventually led to an official visit offer. I visited the campus and fell in love with it and
fell in love with the golf facilities this school has to offer."
Q: What are your short and long-term goals in the game?
A: "My short term goal for golf is to really become a better player and win my state amateur, and qualify for the U.S. Junior Amateur again. My long term goals are to become a golf professional and play on the PGA tour, I do realize this will be a tough task but I am ready to make a run for it. I also want to be in a scoring spot all four years in college and be a key asset in our successful team.
Q: What are your strengths and weaknesses?
A: "My strengths are definitely being able to drive the ball, chip the ball and putt the ball. I hit the ball about 290 yards down the middle and my short game has grown incredibly and improved greatly. I also am able to keep a great state of mind while playing golf which is to my advantage. I believe my weakness is paying too much attention to other people, I shouldn't watch my competitors, but I do and get caught up in their game a little too much."
Q: Who is your favorite pro golfer and why?
A: "My favorite player used to be Tiger Woods because I idolized his work ethic, he won his tournaments by out-working his competitors and there was no question that he did every week. I also loved watching how he worked on the golf course he made himself expect the best of the competitors so he would not be surprised when they hit a good shot. My new favorite player is Bubba Watson, I enjoy how he hits the ball so long and is changing the game with his stride in great length. I also like how he has fun while he is playing and is very personable while he is playing. It is truly an awesome thing for him to be able to enjoy the game the way he does."
Q: What other activities or sports do you enjoy?

A: "I enjoy playing basketball with a passion; it is a very fun game for me and keeps me in shape during my long winter up in Maine. I enjoy running, and weight lifting as it keeps me in shape and I enjoy doing that every day."
Q: What are your plans for the summer before college?
A: "I plan on playing in 5-10 golf tournaments and practice my short game and the little details golf demands you to do. I am going to play in the big tournaments in the state and going to qualify for some USGA events. I just want to keep my competitive edge and make my game in fine tune for the fall college season."
August, 31, 2011
8/31/11
2:23
PM ET
By
Gary Hawkins
| ESPNBoston.com
Although the Maine Principals' Association voted down adding a fourth class to Maine high school football earlier this year, there are still
plenty of changes awaiting teams and their fans this season.

The classification committee of the MPA decided not to include a fourth class, perhaps waiting for a few more schools to adopt the sport to push the number to 80. There are currently 76 football playing schools in the state, with some schools combining teams this year and others playing for the first time.
Class A saw the fewest changes with four schools — Brewer, Mt. Blue, Marshwood and Westbrook — dropping to Class B. Marshwood is the only Maine high school to have won a state football championship in each of four classes, including the now-defunct Class D. Marshwood and Westbrook will play in Western Maine Class B where they'll be joined by Spruce Mountain, a new school combining former Class C rivals Jay and Livermore Falls.
Brewer and Mt. Blue will play in Eastern Maine Class B that now includes Oceanside, a new school combining Rockland and Georges Valley. Rockland previously played in Class C while Georges Valley did not have football. Also joining Class B East this season are Old Town and Madison/Carrabec, both of whom played in Class C last season.
Eastern Maine Class C is adding two new programs in Hermon and Washington Academy while Telstar is also playing varsity football after
fielding a club team the past few seasons and will compete in Western C. The West also includes two teams that have dropped from the B ranks in Winslow and Poland.
Here's a look at some of the top teams in each class who get under way Friday night:
CLASS A EAST
Lewiston: The Blue Devils return eight starters on offense and defense from a team that lost 28-25 to Bangor in the conference final. Quarterback Chris Madden highlights a returning backfield that includes tailbacks Jeff Turcotte and Matt Therrien. Rudy Pandora, a 6-foot-5 two way tackle, returns to the line.
Lawrence: The last East team to win a state title (2006), the Bulldogs have been upset in the playoffs the past two seasons after going
unbeaten in the regular season. Junior Spencer Carey returns at quarterback while senior Shaun Carroll and junior Anthony Sementelli are
the top returning rushers. The defensive line is new but the secondary is experienced.
Brunswick: The Dragons upset Lawrence in the playoffs and nearly knocked off Bangor. They return one of the top backs in the conference in senior Dylan Walton who was injured midway through last season. Also returning to the backfield is Keith Kitchens.
April, 20, 2011
4/20/11
11:25
PM ET
By
Gary Hawkins
| ESPNBoston.com
High school players who have been rivals through the years will join one another next season as four schools consolidate into two.

The neighboring communities of Livermore Falls and Jay recently decided to consolidate into one school which will be known as Spruce Mountain High School.
The adjoining towns have played in a long-standing football rivalry that goes back 72 years. The Black and Orange of the Jay Tigers and the green and yellow of the Livermore Falls Andies will be replaced by the black and green of the Spruce Mountain Phoenix.
The schools, which competed for years in the Class C Mountain Valley Conference will move to Class B next season.
Georges Valley and Rockland high schools decided several months ago to merge into one school known as Oceanside. The Black and Orange of the Rockland Tigers and the green and white of the Georges Valley Buccaneers will soon become the dark blue, light blue and white of the Oceanside Mariners.
Students will attend their last three years of high school in Rockland while freshmen classes from both communities will combine at Georges Valley High in Thomaston. Although the schools are only five miles apart, their athletic rivalry generally ended in middle school. Georges Valley has competed in Class C in Western Maine while Rockland has largely competed in Class B in Eastern Maine. With the enrollment at Oceanside expected to be in the upper 600s, the schools will compete in Eastern Maine in the Class B division of the Kennebec Valley Athletic Conference.