Boston High School:

St. Anthony (N.J.)
December, 29, 2013
12/29/13
1:00
AM ET
By
Andy Smith
| ESPNBoston.com
MEDFORD, Mass. -- St. Anthony (N.J.) coach Bob Hurley is in the Basketball Hall of Fame for a reason.

He is notorious for finding the faults in his team, even when they win by as wide a margin as it did Saturday night, when the Friars left the Shooting Touch Shootout with a 66-38 victory over Charlestown.

His team started the game about as well as it could, running out to a 19-0 first quarter lead. The Townies did not score their first basket until two minutes left in the quarter. St. Anthony's ball pressure created turnovers and prevented Charlestown from getting into its set offense. It had a 39-16 lead going into halftime. To an outside observer, that is a dominant half of basketball.

To a Hall of Fame basketball coach? Anything but.

"To be quite honest, when we got to 19-0 we folded our jackets and thought we didn't have to do anything else for the rest of the day," said Hurley. "Unfortunately, it was 19-0 with still probably three minutes left in the first quarter. There was still 27 more minutes to play. With the exception of about three minutes in the fourth quarter, when we got some layups and looked a little bit like a basketball team, giving us a total of about 8 minutes, it was just miserable to coach them.

"It was miserable to think we have them in practice every day, and I can't begin to tell you how disappointed I am in my team's lack of leadership and how we truly don't compete. We just decided it was done very early."

Charlestown came out with a renewed energy in the third quarter, but it could only cut the St. Anthony's lead to 15.

"At halftime, I told my team that St. Anthony's is playing hard on defense, you can't get in your sets," said Charlestown coach Edson Cardoso. "You can't get open because you're not playing hard enough to get open and run your sets. I thought in the second half we tried harder to get open, we set harder screens, ran faster, and we played as a team."

Tarin Smith lead the way for St. Anthony (4-0) with 19 points. Freddy Oliveira and Oliver Benner each had 10 points for Charlestown.

Back to the drawing board? Not so fast When a team wins by 28 points and does not play its best game, it would seem like a coach's dream to be able to get back in practice and be able to show the team it has things to work on. For Bob Hurley, he disagrees with that notion completely.

"We worked hard, we were in the gym for an hour earlier today working on things to get ready," said the coach. "Our preparation is the same as its been for years, but we don't have the same type of players to take the work that they are given. We're not meeting in the middle. It's not a 50-50 split here by leadership, by staff and then with effort and purpose for the kids."

Running the gauntlet: The first four games of Charlestown's season have arguably been as tough as any team's in the state. While it is only 1-3, Cardoso thinks these games can be a good evaluator and learning experience for his team in preparation of its Boston City League schedule.

In the City League, Charlestown is sure to see a fast pace and defensive pressure like it saw Saturday against St. Anthony's.

"In our first four games, we played New Mission, Smithfield, the state champions of Rhode Island, St. John's Prep, and St. Anthony's, so I like to play these four or five tough games early," he said. "When we go into the City League and play even tougher teams and try to make a run. We know every chance we have an opportunity. I feel like going into the second half of the season, this game is going to wake us up a little more and get us ready to go. Hopefully a sense of urgency will kick in."
July, 17, 2013
7/17/13
12:56
AM ET
By
Brendan Hall
| ESPNBoston.com
WEST ROXBURY, Mass. -- Legendary St. Anthony (N.J.) High basketball coach Bob Hurley is in town this week, running his annual summer youth clinic with Shooting Touch, Inc., inside the gymnasium at Roxbury Latin School. As usual, the Naismith Basketball Hall of Fame member and three-time USA Today National Coach of the Year made everyone's visit worthwhile.
Hurley's Friars will be back in Boston this December,
where they are headlining the third annual Shooting Touch Shootout
. Once again they will face Masscahusetts power Central Catholic in the finale, a rematch of last year's instant classic in which the Friars escaped a sold-out Emmanuel College gymnaisum with a four-point win and their nation-best 70-game win streak still intact.
During a break in today's action, Hurley sat down with ESPNBoston.com to discuss the upcoming rematch with Central Catholic, the talent in Massachusetts, and some of his critiques of today's climate in youth basketball.
Q: What kind of a lesson was last year's close call to Central Catholic?
A:
"When you travel, these kids are out of their element, they're not experienced traveling, the officiating, the crowd, everything plays into it being harder for the kids. And that's why you do it, because it's going to help you grow. Those games really helped us when we came back up to Springfield [the following month, at the Hoophall Classic]. We played a really good team [Tift County, Ga.] with a kid going to Kansas [Brannen Greene], and the experience of playing with the shot clock up there during Christmas time helped us the second time around."
Q: What are your thoughts on Central Catholic's two returning stars, Tyler Nelson and Nick Cambio?
A:
"They both played very well against us last year, very well. The guard [Nelson] can really shoot it. Cambio got in foul trouble against us, which really helped us, but yeah he's a very good, very physical player. Offensively, they were very good. You could see that they were very comfortable they way they were playing. They were hard to play against."
Q: What's the dynamic now with your two sons, Danny and Bobby, recruiting your area now as head coaches in Division 1?
A:
"They're around my guys, which they did at Rhode Island, they did at Wagner. I haven't sat in on any of their home visits -- I just don't know if I could sit through it without, you know, laughing, daydreaming, remembering when, you know [laughs]. It's terrific, I'm really proud of both of them, and they will ultimately sign a kid from St. Anthony's. To this point, neither of them have been able to get a kid in the few years they've been coaching, two years at Wagner, one at Rhode Island. But I think that's coming soon."
Q: Some feel that during the summer, with AAU and all, kids can sometimes develop bad habits.
A:
"That's not sometimes -- they absolutely do. Fran Frischilla said it should be a ratio of 70 percent practice and 30 percent games. And it's the other way around -- it's 70 percent games, or more, or 20 percent practice. You improve to a certain extent up to a certain age just playing games, and then when you reach a certain age you've got to go out and practice stuff. A lot of this generation, kids are used to games being organized for them, they don't know how to go out, and that's the focal point of everything to do with the kids here.
"This is a very talented group of kids from Massachusetts we have. Of camps that I run, this is as good a group of grammar school kids as I've had. Really, they have a lot of potential. And they can't fall victim to this mindless game after game after game. They've got to try to, you know, play the games, but be out working on their game all the time, imitating, developing. You know, take moves, you see somebody on television and try to take that move. Go out and develop good work habits."
Q: What do you like about returning to Boston every year?
A:
"If I didn't live in New Jersey, this was a place I saw myself living. I love Boston. I love how friendly everyone is, I love the passion for sports here. I love the North End, all the food experiences, I'm totally plugged into eating when I'm here. When you play in the tournaments, you can't, you're nervous, you can't go out. But here [this week], it's all about the North End."
Q: What's your favorite place to eat in Boston?
A:
"The Barking Crab [in South Boston] is the closest place to us. I can walk there from the hotel, we stay at the Boston Harbor, which is absolutely an awesome hotel. We'll usually go into the North End a couple nights, I love walking there. We'll go over to Harvard to this place called Bartley's, which is a really good burger place. I make sure every night I have New England clam chowder, and then last night I had Boston cream pie. I eat things you wouldn't all be eating, but I'm up here on vacation [laughs]."
Q: Complying with your state association's rules, how involved are you able to be with your kids in the offseason?
A:
"New Jersey's not good during the school year. I have former players work them out right up to the season, and then after the season. But once they get out of school, we can work them out. So we've played now 20-25 games this summer, we've practiced an awful lot. I took all my younger kids away to camp already up in the mountains. I'll take the rest of the varsity in the middle of August away, almost like going to football camp. They stay in cabins together, socialization I think really helps set a tone for when they go back to school.
Q: The new NCAA eligibility rules starting with the 2016 class will obviously affect how players re-classify and what have you, but what are your thoughts on the increasing rate of transfers and re-classification at the high school level?
A:
"It's a mess. To give you an idea of what a mess this is in Jersey...last year, an AAU team F.A.C.E.S. is a very, very good 14-year-old team. They had four kids who came to my school, three of them played on my JV team as freshman and the other one played on the freshman team. They lost in the state 14-year-old championship to St. Michael's Union City. St. Michael's Union City's team won this game by 15 points.
"F.A.C.E.S. is so good, they beat St. Raymond's in the Bronx in an AAU tournament -- the intact varsity team lost to a 14-year-old AAU team. So this is a very good team. And then the entire St. Michael's team re-classified to stay in grammar school for another year. Now, they've just won everything you can win in grammar school and stay for another year.
"I just think you can't plan, by moving yourself backward, that that's going to help you to move forward. It just happens to you if you work hard and you're trying to do things to get better. And if you're doing that stuff, it works out. All the parents are planning now, all this stuff about re-classifying high school, or doing it in grammar school, or the post-grad year. I'm amazed by it. Unless the kid is just physically, you know, just needs another year of high school, I think most kids just go through a natural progression, and deal with the way you are in your career and be happy with who you are, [instead of] keep re-inventing yourself.
"That said, that's all that's going on here [New England], this is like the birthplace of re-classification."
Q: Do you think the talent up here is underrated?
A:
"It absolutely is. You look at all the kids coming out of the prep schools out of here the last period of time, Wayne Selden is going to Kansas, the big kid who's at Arizona [Kaleb Tarczewski], the Murphy kids, the kid who's at Georgetown [Nate Lubick], there are an awful lot of good players coming out of here. When I talk to people about basketball here, I try to tell them it's really not that different than other places in the country, you shouldn't be trying to explain yourself to anybody. I think it's very, very good. I coached Wayne Turner when he came out of high school, in the Summit Hoops game. There's a lot of good players that come out of Masscahusetts and Boston."
Q: Much has been made over the years about how your school manages to stay open despite financial struggles. How do you guys do it?
A:
"We work our butt off. We run countless fundraising events all year, we're always out looking for corporate money, we're trying to get new people to the board of trustees at school, we keep trying. For example, last year we ran our first roast, and it was very successful. We roasted P.J. Carlesimo, and it was a very good night. Phil Simms was there, he loved it and said 'You can roast me next year'. So now we've got him for next year, and I think Bill Parcells will come and be one of the roasters.
"He [Parcells] read a story about our plight about two years ago, and he gave us $100,000. He didn't want anyone to know about it. I said, we cannot allow that to happen. We're very happy to tell people that Bill, who had no connection to us, read a story and stepped forward. Last week Dick Bavetta, the NBA referee, read a story in the New York Post about our school and he sent two tuitions for kids in our high school. There are good people out there, you've just got to try and keep your name out there."
"At one point I thought I would retire and there would be a succession plan to replace me, and now I have a distinct feeling I will retire because the school closes. I never thought that would be the way to go, but it appears that way now."
Q: If the school were to close down, you wouldn't consider pursuing a job at another school?
A:
"No [laughs]. This is the only job I've ever had -- I was the freshman coach in 1968. I coached in the 60's, 70's, 80's, 90's, 2000, now I'm on my second decade in the new millennium. Has the world changed since 1968 when I was coaching the freshman team? Wow. Wow.
July, 2, 2013
7/02/13
3:45
PM ET
By
Brendan Hall
| ESPNBoston.com
Shooting Touch, Inc. President Justin Kittredge confirmed to ESPNBoston.com this morning that a rematch between Central Catholic and nationally-renowned juggernaut St. Anthony (N.J.) is set for this December, in the third annual Shooting Touch Shootout in Boston.
St. Anthony is an annual participant in the Shooting Touch Shootout, which matches up the MIAA's best squads against some of the nation's best high school basketball programs. Legendary St. Anthony head coach Bob Hurley, one of only three high school coaches inducted into the Naismith Basketball Hall of Fame, serves on the Board of Directors at Shooting Touch, a Boston-based nonprofit that uses the sport of basketball to positively impact the lives of children both on and off the court.
In the first installment of the Shooting Touch Shootout, in December 2011 at the Kroc Center in Dorchester, St. Anthony steamrolled through then-defending MIAA D2 state champion New Mission.
Last December, in the second installment at Emmanuel College, the Friars breezed by eventual D2 state champ Brighton on the first day of the tournament. But in the nightcap of the second and final day of the tournament, before a sellout crowd, Central Catholic gave the Friars a big scare,
nearly snapping their nation-best 70-game win streak before falling 52-48
.
Central went on to win the MIAA D1 North title before falling to Mansfield in the Eastern Mass Final, at TD Garden.
"I've always said let's play the best," Central head coach Rick Nault said. "To play a Bob Hurley-coached team...It was a challenge last year, a lot of fun, something the kids really looked forward to. Hopefully we can go out and play hard again, try to keep it close. We'll see what happens."
D.C. area power DeMatha Catholic (Hyattsville, Md.) is also confirmed to play two games in the two-day event. No opponents are set yet for the Stags, though a source told ESPNBoston.com that Boston City League stalwart New Mission is a possibility.
Other confirmed teams for the Shootout include Christian Brothers Academy (N.J.), Springfield Central and Charlestown.
On the girls side, New Mission and defending MIAA D2 state champ Medfield are confirmed so far.
No venue is set yet for the Shooting Touch Shootout.
December, 29, 2012
12/29/12
12:14
AM ET
BOSTON -- ESPN Boston High Schools editor Brendan Hall and former East Boston head coach Malcolm Smith break down tonight's finale of the Shooting Touch Shootout, at Emmanuel College's Yawkey Center:


December, 28, 2012
12/28/12
11:34
PM ET
By
Andy Smith
| ESPNBoston.com
BOSTON -- It wasn't supposed to happen like that.
Central Catholic was not supposed to be in a game until the final minute with national power St. Anthony (N.J.), a team going for its national record 70th straight win. But tonight, it was.
Central's Tyler Nelson (12 points, five assists, two rebounds) was fouled on a put-back with 1:04 left in the game to make it a three-point game. St. Anthony's got the ball over halfcourt and drained the shot clock and scored to add to its lead.
Nelson rushed down the court and hit a three-pointer with 2.5 seconds left to cut the lead back to two. Lucas Hammel committed a foul before the ensuing inbounds pass could occur, and St. Anthony's Hallice Cooke hit both free throws to put the game out of reach. Central lost 54-50, but made a statement to the rest of MIAA basketball in the process.
[+] Enlarge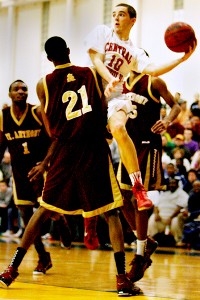 Jon Mahoney for ESPNSt. Anthony coach Bob Hurley praised Central Catholic guard Lucas Hammel, who provided some defensive spark for the Raiders.
"We said in the locker room that there were certain things we needed to do," said Central Catholic coach Rick Nault. "We felt like we needed to outwork them, and out toughen them. We definitely weren't going to be more athletic or have more ability. We definitely weren't going to out-coach them. So we needed to do those specific things, and our guys answered the bell right from the beginning. I thought we fought the entire 32 minutes and am incredibly proud of our group right now."
Central (5-1) matched the Friars' (7-0) intensity on both ends of the floor for the entire game. Its defensive pressure was difficult for St. Anthony's to handle at times, and allowed it to create 14 turnovers.
The Raiders' play drew high praise from St. Anthony's Hall of Fame coach.
"I think they could've won the game," said Bob Hurley. "I know they can play with anybody. As long as they don't get in foul trouble in and around the basket, where they have to go to the bench. The guards are terrific, Lucas Hammel [5 rebounds, 4 assists] does a real good job with the ball and doesn't get flustered, he's grown up in the gym. Tyler Nelson is a very effective player, he hit some big shots in the game. I think Nick Cambio (15 points, 5 rebounds), by the end of the season, is going to be a real good option for them. Then you still have those kids inside."
St. Anthony's Josh Brown, a Temple commit, was just 3-13 from the field. In his place, Hallice Cooke, an Oregon State commit, stepped up and scored 19 points, including 6-of-8 from the free throw line.
The team from Massachusetts wasn't afraid of the St. Anthony mystique, and it showed with the way it attacked the basket, getting 22 points in the paint and 11 second chances points against a team that was noticeably taller than them.
"We knew their coach is a great coach and they were going to get after it just like us," said Cambio. "So it was a battle, but it was really fun today."
Turning up the pressure:
Central was only down 25-23 at halftime ,when those in the gym started seriously wondering whether the upset could happen. The talk got louder when it came out and started the third on a 7-0 run to take a five-point lead. Then coming out of a timeout, St. Anthony switched to a full-court press, which flummoxed Central.
Hurley's squad went on a 16-4 run over the next five minutes. Still, Central hit a few big shots, including a Nelson three to end the quarter, and was only down three going into the final frame. It did not help that Central's starting forwards and energy players, Joel Berroa, picked up his fourth foul with 7:32 to go in the third quarter.
"The biggest plus for us in this game was that Berroa was in foul trouble," said Hurley. "If he had played, Berroa's got a motor. I don't know what we would've done with him out there, with the way Cambio played and with the kid inside (Doug Gemmell, 10 points, nine rebounds, three assists), he's a horse."
No rest for the wicked:
Friday marked the second hard fought game in a row for Central Catholic. After narrowly beating Andover 64-63 Thursday night in the semifinals of the Greater Lawrence Christmas Tournament, the Red Raiders turned around and played St. Anthony Friday in Boston. Saturday, they head back to Lawrence to play the finals of the Christmas Tournament against a foe they know all too well: Lawrence High.
When the cross-town rivals square off, it's always a special atmosphere. It is a game Lawrence always has circled on its calendar, and now it has the added dimension of being on its home court, with Central playing for the third time in three days.
"That's going to be the challenge now," said Nault. "Three games, three nights, three very emotional games for us. This is the mental challenge of it, trying to get it done tomorrow night. It will be a huge task against Lawrence."
The Central players know full well what to expect and are up for the challenge.
"We know what we have to do," said Cambio. "We have to get good rest, because tomorrow is a big game. We know they're going to come after us, because it's on their home court. We just need to be careful with what we do and we'll get after it tomorrow."
Hit the ground running:
Because his team was so occupied with preparing for Andover, Nault knew next to nothing about St. Anthony coming in to Friday. As a result, he and the coaching staff had to do a lot of adjusting on the fly to get the matchups they wanted.
"We came in with scratch, with nothing," he said. "As the game wore on, we felt that we could try to go up and down with them, despite their athletic ability, and try to expose some of their weaknesses in terms of post play and things like that. I thought we did a nice job with that tonight."
December, 27, 2012
12/27/12
10:58
PM ET
BOSTON —- Bob Hurley and his St. Anthony basketball team must really like making the trip North to Boston.
The Friars continued a dominating run through the Shooting Touch Shootout —- in its second year of existence —- with a smothering defensively fueled 78-42 victory over Brighton on Thursday night at the Jean Yawkey Center on the campus of Emmanuel College.
[+] Enlarge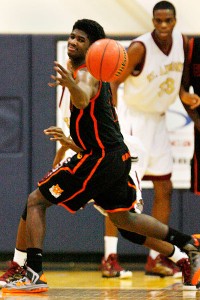 Jon Mahoney for ESPNBoston.comBrighton's Malik James drew praise from St. Anthony (N.J.) coach Bob Hurley, but overall the Bengals struggled.
St. Anthony dismantled New Mission last season in the inaugural Shooting Touch Shootout by 40 points and the score against the Bengals (2-3) felt larger than the 38-point margin. Kody Jenkins led the Friars with 20 points, while Tim Coleman added 14 off the bench.
"They missed a lot of 3s early and if those shots are going in then this could be a little different early," said Hurley. "They got that little run going. They hit a couple and all of a sudden they started to go, but then we banged a bunch in a row."
The small run that Hurley Sr. alluded to was in the beginning of the second quarter, but the game was just about well in hand for the Friars after a 20-0 start to begin the game by the powerhouse from New Jersey.
Brighton switched to a 3-2 zone and forced St. Anthony to bleed the shot clock down and try and penetrate the defense. The Friars couldn't get anything going towards the hoop and they settled for a couple of bad possessions as the Bengals tried to get things going with a 7-3 run.
The Friars waited to dissect the new defense and instead of pounding the ball around the perimeter with the dribble, they zipped passes in and out of the zone and ripped off 13 straight points to take a 36-9 lead and basically end the game.
"Coming in we didn't really know the opponent. This is our fourth game and we are a work in progress," said Hurley. "When people switch we had to recall what we are doing."
Simpson a bright spot:
There wont' be too many positives to come out of this one for the Bengals. One, however, will be the play of Nick Simpson in the second half. With Malik James doing the best that he could to break the ball pressure of Josh Brown, and seemingly every Friars' perimeter defender, blanketing the talented Bengals point guard.
Simpson scored 16 of his 21 points in the second half and showed off the deep ball with four 3s in the final 16 minutes of play.
But Simpson's offensive woes were overshadowed by the troubles of the rest of the team. The Bengals shot 28.3 percent from the field in the game and were held under 20 percent from the floor as they faced a 41-12 deficit at the break.
"It was a tough one, but we got to the drawing board," said Brighton head coach Hugh Coleman. "We take positives out of it and we build on it."
July, 18, 2012
7/18/12
1:31
PM ET
By
Brendan Hall
| ESPNBoston.com
WEST ROXBURY, Mass. -- Legendary St. Anthony (N.J.) boys basketball coach Bob Hurley is in Boston this week conducting a youth clinic at Roxbury Latin School. Hurley was here thanks to Shooting Touch, Inc., a Boston-based nonprofit of which he serves on the Board of Directors.
It was also announced yesterday that
Hurley's Friars will face local powerhouse Central Catholic
on Dec. 28 in the second annual Shooting Touch Shootout, at Emmanuel College.
[+] Enlarge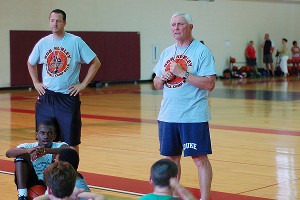 Brendan Hall/ESPN.comHall of Fame St. Anthony (N.J.) basketball coach Bob Hurley is in Boston this week for a youth clinic run by Shooting Touch, Inc.
With over 1,000 career wins under his belt, five mythical national championships and one of only three high school coaches in the Basketball Hall of Fame, a chat with Hurley is always one of the year's highlights for me personally as a basketball writer. I racked his brain on a few more subjects.
On the new NCAA regulations allowing unlimited contact between coaches and players:
"For us, I don't see it as much of a problem. We do mention to the families about, as soon as anything seems to be unreasonable in the recruiting, which is usually after 9 o'clock at night, call me and I'll have it stopped. We don't let people call after 9.The burden of these coaches thinking that they have to keep nonstop contact with the kids because they're going to lose some advantage, we try to blow that up so the kid can just go visit the schools, write some stuff down that's important, and not turn it into, you know, not going to school becomes a social ejection.
"I think being able to maintain contact with the person is important, but who's in contact with them – I guess now if we're going to make it the colleges, the players, and if we're cutting out some of the handlers. If the handlers don't have as much influence, that'd be good. It'd be nice if the families
On the new NCAA eligibility guidelines for the Class of 2016:
"I think the kids in big, urban schools that don't get identified as players early enough are going to have trouble, because they're trying to do catch-up. If you have a kid in school who's taking a normal load of classes, it's not an issue. It's certainly not an issue in my school. But I think it can bother a kid who's a late bloomer, or a kid that transfers from one school to another, and all of a sudden you study the transcript and…
"We were just talking in Jersey City the other day, talking about a charter school where a kid was going into senior year, and he began his senior year at this charter school which is now closed, Create Charter, and he went to Snyder High School, the public high school in the area where I'm from. When they got his transcript, he was a senior in high school and he hadn't taken a math class yet. He
hadn't taken a math class yet
. I have no idea how that could slip."
On Boston:
"We love coming up. My wife absolutely loves to come to Boston. They're wandering around as we speak. I am always in very good shape when I get home after this week, because they're bouncing around the whole week. When we come up, we get a chance to play two very good games. It's a short trip, so when you travel you don't have to leave some place and fly, you have to leave a lot earlier during the holiday and disrupt the family's holiday together. What Shooting Touch is trying to do, by us coming we help them a little bit, we benefit far more than they do by coming up here because it's a great opportunity to play a couple of games."
On the classic series with New Bedford in the early 90's, the program's first matchup against an MIAA school:
"1993 was the big one, because we beat New Bedford up there, and they beat Durfee in the [state] tournament that year. And that was kind of the 'Fall River Dreams' storyline, I think came from that. The shot clock was interesting, the halves were interesting. We came up overnight, played the next day. We like to play teams at a good pace, and they played a fast pace, so it made for a good game for us."
July, 17, 2012
7/17/12
5:48
PM ET
By
Brendan Hall
| ESPNBoston.com
Shooting Touch, Inc. president and founder Justin Kittredge confirmed to ESPNBoston.com this afternoon three games for December's second annual Shooting Touch Shootout, at Emmanual College's Jean Yawkey Center. The most significant of the matchups pits Central Catholic against Jersey City, N.J. national powerhouse St. Anthony, on December 28, in the finale of the two-day invitational.

St. Anthony finished last season a perfect 32-0 and No. 3 in ESPNHS' "FAB 50" poll. Central has won two of the last five MIAA Division 1 state titles, and is a favorite to start the 2012-13 season at No. 1 in ESPNBoston.com's statewide poll, what with the return of ESPN Boston All-State guard Tyler Nelson, alongside guard Lucas Hammel, forwards Joel Berroa and Nick Cambio, and center Doug Gemmell.

"It's a once in a lifetime opportunity as a coach and program for us to go against a team like St. Anthony," Central head coach Rick Nault said. "I know they've had some great success against Massachusetts teams in recent years. They played really well against New Mission last year [in the first Shootout].

"When Justin presented it to me four or five months back, we didn't really have any space because of the schedule change with North Andover coming into league. We didn't have room for it, but we made a last-minute adjustment to make it happen."

Over its storied program history, St. Anthony has never lost to an MIAA team, dating back to their series of much-hyped matchups with New Bedford in the early 1990's. The Friars beat New Mission in last year's Shootout, and in 2010 beat both Newton North and Catholic Memorial in the Garden City Classic.

St. Anthony is also an annual participant in the Hoophall Classic, held each Martin Luther King weekend at Springfield College's Blake Arena. Their 2010 loss to Los Angeles power Westchester High is the Friars' last loss in a Massachusetts venue.

"Games like this help sharpen us into who we are," said St. Anthony head coach Bob Hurley this afternoon from the gym at Roxbury Latin School, where he is conducting a youth clinic this week with Shooting Touch. "The more you play, the more you find out about your team. This will be a good test for us. The goal for us is to be playing our best basketball at the end of the season, so games like these will help us in that respect."

Two other games confirmed for the tournament will be New Mission against Queens, N.Y. power Christ the King, and the aforementioned Friars against Winter Park (Fla.), which features Doc Rivers' youngest son Spencer.

Other confirmed squads will be Mansfield, Amityville (N.Y.) and Iolani (Hawaii). One more local MIAA team, unconfirmed at this time, is expected to complete the eight-team field.

"When we had the opportunity to bring up coach [Hurley] and a team with not only his legacy, but one that hasn't lost in two years, a top-5 team in the nation, you couldn't have asked for [better] beginning pieces," Kittredge said. "And then it was really about trying to get some rivalries between in-state and out of state teams, kind of like the old 'Boston Shootout' but bringing that to the next level with some of the teams we're bringing in."
December, 29, 2011
12/29/11
1:23
AM ET
By
Brendan Hall
| ESPNBoston.com
DORCHESTER, Mass. -- Since the matchup was first announced last summer, basketball fans of all levels all around the greater Boston area had been eagerly awaiting the arrival of Jersey City powerhouse St. Anthony to the Kroc Center, to take on rising Boston power New Mission.
Tonight in front a packed house, and greeted pre-game by a performance from local hip-hop artist Moufy, the much-anticipated game -- the nightcap of the first day of the first annual Shooting Touch Shootout -- had arrived. And in short, the Friars played the part of an overwhelming Goliath, while the defending MIAA Division 2 state champion Titans played the part of David -- minus the rock.
The Friars (5-0) overwhelmed the Titans from start to finish, at one point going 15 minutes without allowing a field goal, cruising to an all-too-easy 68-25 win.
St. Anthony's 6-foot-9, UCLA-bound star Kyle Anderson got off to a sluggish start, but came around to lead the team with 12 points, seven rebounds and six steals in three quarters of action. 6-foot-6 senior center Jerome Frink led the way on the boards with 10 rebounds.
From the get-go, it was evident that the Friars' speed and length was going to be a significant problem for the Titans (3-2). Jonathan Deane gave the Titans their only lead of the game, albeit a brief one, with a gliding layup for a 4-3 score. That was four minutes into the game, and would be the last Titans field goal for the next 14:28; they hit just five free throws the remainder of the half to trail 30-9 at the break. Leroy Hamilton ended the drought with a euro-step in transition, to cut it to 35-11.
"We came out ready to compete, but the plan fell apart once guys stopped believing in what we wanted to do," Mission head coach Cory McCarthy said. "Young, inexperienced, looking at the crowd, they played into it. They were in awe of them. If you're from the city, you're not supposed to be in awe of anybody...we were ready to take pictures.
"We can't fall in love what they do. We looked like a JV basketball team today. That's not indicative of our talent, the character of our kids, it's not who we are. It's not New Mission basketball."
And when they stop playing New Mission basketball, McCarthy continued, "bad things happened", referring to last night's poor start in the BABC Holiday Classic against St. John's Prep -- Mission trailed 18-2 after the first quarter.
McCarthy did say "we played a better first quarter than last night", though how much better is up for inspired debate. Like the Prep game the night before, the Titans were overwhelmed to start; but the Friars posed a plethora of matchup nightmares that few teams in the talent-rich Garden State can tango with, let alone the Bay State.
Up top, 6-foot-3 junior guards Hallice Cooke and Josh Brown harassed the Titans' guards high around the perimeter, cutting off lanes to the basket, trapping at the sidelines, forcing sloppy handoffs and arguably sloppier shot selection at times. When the Friars went to a 2-2-1 press, deploying four defenders high in the backcourt and a deep trailer, players like Anderson, Brown and Tariq Carey were able to pick pockets from the middle of the floor.
The masterstroke came in the second quarter, where the Friars didn't allow a field goal -- even better, they yielded just seven field goal attempts for the quarter.
It doesn't get any prettier on the boards. The Titans were outrebounded by nearly a 4-to-1 ratio.
"At this point through five games, no one's been able to get any rhythm going against us," Friars head coach Bob Hurley said. "We mix it up a little bit, we play man, play a little press, and we don't expect to press against smaller teams. But we did manage to get a bunch of turnovers off of it today because we're long, and Kyle had a bunch of good plays in the press.
"We played a little zone in the back, and we're very long and we heard from last night that they had trouble shooting the ball well, so we thought the points we were going to lead them with were forcing them to make outside shots with big, long guys going after them."
Mission stars benched:
McCarthy sat two of his starters and star players, junior forward Nate Anderson and freshman point guard Greg Bridges, for the first quarter for arriving late to a shootaround this morning. Could their presence have stopped the early bleeding? That's up for debate, but perhaps McCarthy should get some credit here for sticking to his principles -- even with a monster opponent like St. Anthony on tap.
"It affects the team, but I gotta do what I gotta do," McCarthy said. "Right? That's number one...sorry, I'm not going to tolerate that at New Mission."
A Modest Proposal:
McCarthy was asked how the experience of playing against St. Anthony's length will help them out when they get back to playing the smaller squads on their MIAA schedule, and he used his answer to springboard into a topic that has become a growing hot-button issue among the public school coaching fraternity the last few seasons: out-of-season contact.
Rule 40.1 in the current MIAA Handbook states:
"Unless otherwise permitted in this rule, between seasons a coach may conduct a meeting(s) with team candidates only to elect captains, collect equipment, issue equipment, to provide for physical examinations, to conduct legitimate fund-raising events, or to offer wellness workshops or activities."
"This is what we produce, and you wonder why prep schools are stealing our kids," he said. "Because our kids can't practice and work with our kids year-round. You're telling me as a coach to be a role model for four months out of the year. That's the situation we're dealt with as coaches, and I feel handcuffed that way.
"They're telling me to take eight months off. I shouldn't be taking eight months off, I should be working with my kids year-round. We should be able to work with teams year round, and this is an indictment. We can't match up with a team like this when we've had three weeks of basketball working with them. That [St. Anthony's discipline] was instinctive. Right now, we're robotic."
McCarthy's comments will likely rub some the wrong way. But with an increasing number of students transferring high schools once or twice, usually to prep schools, more and more state-association schools are becoming frustrated with having less control, and the inability to take action. Sanctioning a limited number of days out of season, some feel, would at least give coaches the ability to check in with players, see where they're at, and offer instructions to make sure they're prepared when tryouts begin.
Either way, we're sure McCarthy's comments will be sparking up plenty of debate.
December, 21, 2011
12/21/11
5:05
PM ET
Shooting Touch, Inc., sends along its schedule and primer for the inaugural Shooting Touch Shootout, which will take place next Wednesday and Thursday at the Kroc Center in Dorchester. The tournament includes one of the most-anticipated matchups of the year locally, as two-time defending MIAA state champion New Mission takes on national powerhouse St. Anthony, out of Jersey City, N.J.
St. Anthony's Hall of Fame and four-time high school national champion coach Bob Hurley will also be running a Coach's Clinic, along with his strength and conditioning coach Omar Jones, on Thursday, December 29th from 10 a.m. to noon. Admission is $75, and includes lunch and admission to all of the day's games. Any coach or parent that signs up is allowed to bring their child for free.
Courtesy Shooting Touch President Justin Kittredge:
BOSTON — The inaugural "Shooting Touch Shootout" basketball tournament presented by PoweradeŽ will take place on December 28-29th at the Kroc Center (650 Dudley Street, Boston). Inspired by the legendary "Boston Shootout", the holiday tournament will feature eight high school teams from the four major northeast cities of Boston, New York, Philadelphia, and Jersey City.

Among the most intriguing matchups locally is defending MIAA Division 2 state champion New Mission going up against Jersey City, N.J. powerhouse and defending national champions, The St. Anthony Friars. With legendary Naismith Hall of Fame Coach Bob Hurley leading his team – a top 10 team in the country, the Friars set the competition bar very high. The other teams of Archbishop Carroll, Hudson Catholic, Bishop Loughlin, East Boston, Amityville and Roman Catholic High School will join the fight and compete to win the coveted championship for their hometown.

"We wanted to bring back a city pride type of tournament and display one of America's most prominent showcases for high school basketball," said Justin Kittredge, Tournament Director and President of Shooting Touch, Inc."The Shooting Touch Shootout will be a yearly tradition, it is here to stay."

All tournament proceeds go back towards The Shooting Touch Sabbatical Program - referred to as "The Basketball Peace Corps", this program grants graduating college seniors the opportunity to travel the world and partake in a 10-month international work program using the platform of basketball to help foster education and influence positive social change in third world communities.


Wednesday, December 28th
Archbishop Carroll (PA) vs. Hudson Catholic (N.J.), noon
Bishop Loughlin( NY) vs. East Boston, 2:00pm
Amityville (NY) vs. Roman Catholic (PA), 4:00pm
St.Anthony (NJ) vs. New Mission, 6:30pm

Thursday, December 29th
Loser of NY/MA vs. Loser of PA/NJ, 12:30pm
Winner of NY/MA vs. Winner of PA/NJ, 2:30pm
Loser of NJ/MA vs. Loser of NY/PA , 4:30pm
Winner of NJ/MA vs. Winner of NY/PA, 6:30pm

PLAYERS TO WATCH

Archbishop Carroll: Lou Dominique (6-4, Sr. C), Alec Stavetski (6-3, Sr. G), Yosef Yacob (6-0, Jr., G)
Hudson Catholic: Grant Ellis (6-5, Sr. F), Kavon Stewart (5-11, Jr. G), Reggie Cameron (6-7, Jr. F), Michael Young (6-9, Jr. C), Rakwan Kelly (6-4, Jr. G)
Bishop Loughlin: Khadeem Carrington (6-3, So. G), Elisha Boone (6-4, So., G)
East Boston: Kenny Ramos (6-3, Jr., F), Zach Gettereau (6-5, Sr., C)
Amityville: Dejuhan Gray (6-4, Sr., F), Kavione Green (6-3, So. G)
Roman Catholic: Shep Garner (6-2, So. G), Shafeek Taylor (6-4, Jr., G), Montana Mayfield (6-0, Sr. G)
St. Anthony's: Kyle Anderson (6-7, Sr. F), Tariq Carey (6-2, Sr. G), Jerome Frink (6-6, Sr. F), Jimmy Hall (6-7, Sr. F), Josh Brown (6-3, Jr. G), Hallice Cooke (6-3 Jr. G)
New Mission: Isshiah Coleman (6-4, Jr. F), Greg Bridges (5-5, Fr. G), Nate Anderson (6-6, Jr. F)
December, 12, 2011
12/12/11
7:44
PM ET
By
Brendan Hall
| ESPNBoston.com
Many boys basketball teams across New England begin their regular season this week, while others are already underway. Here are 10 matchups across New England I'll be looking most forward to this winter (and you should too).
Charlestown at BC High, Saturday
One of the best matchups of the early season just got a whole lot more interesting, with BC High center Dan Curtis out until at least late January due to injury. The Townies excel on the fast break behind Rony Fernandes and Tyrese Hoxter, while Omar Orriols and Tyrik Jackson can stretch the defense down low. We know about BC High's Jameilen Jones, but the Eagles have some promising underclassmen coming up.
Charlestown at East Boston, Dec. 20
Hands down the best basketball rivalry in Boston, these two Division 1 teams combined for nine D2 state titles from 1985 to 2005 (C'Town 5, Eastie 4). We know about the Townies' athletic prowess, but the Jets play some of the city's toughest man-to-man defense, led by junior forward Kenny Ramos. The two teams split the regular-season series last year, with the Jets delivering the Townies a 65-61 defeat on Feb. 16; nine days later, the Townies got their revenge by beating the Jets in the Boston City Championship game.
New Mission vs. St. Anthony (N.J.), Dec. 28, Kroc Center, Dorchester
Part of the first day of festivities of the two-day "Shooting Touch Shootout", the Jersey City, N.J. national powerhouse had its way with Newton North and Catholic Memorial over the last Christmas break, and followed up by spanking D.C. area power DeMatha Catholic (Md.) in Springfield on national television a month later. But some have mused that Mission could be the strongest MIAA team the Friars have faced since New Bedford in the early 90's.
New London (Conn.) at St. Raphael (R.I.), Jan. 7
This one pits two defending state champions in one of the most highly-anticipated public school matchups of the winter for New England. New London is the defending CIAC Class L champion, and features the No. 29 overall Class of 2012 player in Providence-bound point guard
Kris Dunn
. St. Ray's ended Bishop Hendricken's streak of seven straight RIIL state titles last year, led by championship MVP Charles Correa. The junior point guard is one of the Ocean State's elite prospects, and has a terrific running mate in senior Cesar Mejia.
Northwest Catholic (Conn.) vs. DeMatha Catholic (Md.), Jan. 14, Springfield College (Hoophall Classic)
6-foot-8
Kuran Iverson
, cousin of Allen Iverson and the nation's No. 30 overall junior, leads the Hartford power in what could be one of the strongest matchups of the five-day Hoophall slate. The last time DeMatha was up in Springfield, at last year's Hoophall, they lost 75-25 to St. Anthony on national television. Have to believe ESPNU 100 stars Jerami Grant and James Robinson won't let that happen again.
Tilton (N.H.) vs. Brewster Academy (N.H.), Jan. 15, Springfield College (Hoophall Classic)
No less than 10 Division 1 prospects will be on the floor at all times in this matchup between two of the nation's premier prep school powers. Lots of household names and ESPNU 100 talent in this one, between Tilton's Nerlens Noel, Georges Niang, Goodluck Okonoboh, Dominique Bull and Wayne Selden; and Brewster's Mitch McGary, JaKarr Sampson, T.J. Warren, Jalen Reynolds, Semaj Christon, Aaron Thomas and Joe Bramanti. Brewster won the first game in this series earlier this month, 84-78, to win its own Brewster Invitational.
Worcester Academy at St. Mark's, Jan. 20
After serving under Ed Reilly for more than a decade, Jamie Sullivan slides over to the head coach's chair as he looks to bring NEPSAC hardware back to Union Hill. He'll have plenty of speed at his disposal between Rene Castro and Olivier Paul Betu. St. Mark's boasts three Division 1 commits this year, including ESPNU 100 players Kaleb Tarczewski (Arizona) and Nik Stauskas (Michigan). How the Hilltoppers deal with the size advantage in the 7-foot Tarczewski will be intriguing.
St. John's Prep at Central Catholic, Jan. 22
Prep swept both games last season, both times in nail-biting fashion. In the first game, the regular-season finale, Pat Connaughton hit the go-ahead basket with 20 seconds left
and sealed it at the other end with a block
. Then in the D1 North semifinals, Freddy Shove
asserted the Eagles to victory
with two big offensive rebounds in the final two minutes. Both teams come into the season ranked in the top five of ESPN Boston's preseason poll (Central No. 1, Prep No. 4).
King Philip at Stoughton, Jan. 24
A matchup between the state's top overall senior prospect, 6-foot-8 Maryland commit Jake Layman; and one of the state's fastest-rising stars, junior point guard Aaron Calixte. When these two teams met last season, Layman nearly went off for a quadruple-double for the Warriors in a 65-52 win.
Whitinsville Christian at Charlestown, Feb. 11
When these two teams met last February in rural Whitinsville,
the Townies nearly ran WC off the floor
before staving off a second-half comeback. That proved to be all the fuel the Crusaders needed; they didn't lose again as they captured their second Division 3 state title in seven seasons. The Crusaders graduated a ton of size, but have looked sharp in the preseason. Can they turn the tables this year in Bunker Hill?
July, 15, 2011
7/15/11
11:54
AM ET
By
Brendan Hall
| ESPNBoston.com
SOUTH BOSTON, Mass. -- Somewhere around 8 this morning at the Boston Athletic Club, a gang of old-timers finished their pickup game, giving way to a familiar-looking old face and a group of Boston-area high school ballers.
And suddenly, heads turned, and they started to whisper precariously, "Is that Bobby Hurley's dad?", or "Was that the guy on 60 Minutes?"
Yes indeed, it was legendary St. Anthony's head coach and Naismith Hall of Famer Bob Hurley entertaining a dozen local high schoolers, as patrons looked on from their treadmills. Hurley has been here all week running a youth basketball camp at Roxbury Latin School in West Roxbury, and this morning at the BAC he worked out a select group of high schoolers involved with Shooting Touch, Inc., a Boston-based nonprofit of which he serves on the Board of Directors.
[+] Enlarge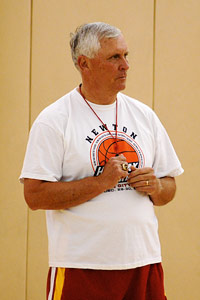 Brendan Hall/ESPNBoston.comBob Hurley was in town at the Boston Athletic Club.
Former Newton North forward and Winchendon post-graduate Tevin Falzon was among the notables in the crowd, which included players from Catholic Memorial, Stoughton and BC High.
Before stepping on the court for some 2-1/2 hours, Hurley spoke with ESPNBoston.com about the allure of visiting Massachusetts year after year, starting when the Friars first started playing New Bedford back in the early 90's. Last year, the Friars came to Newton North High School to take on the Tigers as well as Catholic Memorial, and then visited Springfield three weeks later to take on Maryland power DeMatha Catholic in the Hoophall Classic. Most memorably, St. Anthony point guard Myles Mack outscored the Stags by himself (28 points) in a 75-25 victory on national television.
For Hurley, the speed of the game is one of the attractions to playing up here -- New Jersey doesn't have a shot clock, while the MIAA's is 30 seconds. And year after the year, he finds the hospitality consistently good.
"It's a doable trip for us. It's four hours, so you can bus the kids up," he said. "The hospitality every time we've been up, whether it's Boston or Springfield, has been tremendous. And we've always been able to play competitive games, and the games are always helpful, but the team bonding thing of taking kids away for a few days at Christmas, is very helpful. You go back, you've made some progress as a group that you just can't get at home."
Late this December, over the holiday break, the Friars will be returning to Boston to take on defending MIAA Division 2 state champion New Mission as part of the
"Shooting Touch Shootout" at the Kroc Center in Dorchester
. Of the Titans, Hurley looks forward to what he feels will be a competitive foe.
Ironically enough, New Mission head coach Cory McCarthy was awarded the inaugural
Bob Hurley Sr. Excellence in Coaching Award, at Reebok headquarters in Canton
.
"Met coach last year, I know that they have become Boston's best the last couple of years now," he said. "And it'll be a good game for us during the holidays, to really challenge us."
June, 20, 2011
6/20/11
10:19
PM ET
By
Brendan Hall
| ESPNBoston.com
The matchups are set for December's "Shooting Touch Shootout", to be held at the Kroc Center in Dorchester, and among the most intriguing matchups locally is defending MIAA Division 2 state champion New Mission going up against Jersey City, N.J. powerhouse and defending mythical national champion St. Anthony. Last year, the Friars came up to Newton North and defeated the Tigers, as well as Catholic Memorial, handily.
All Proceeds of the tournament will go back towards the Shooting Touch Sabbatical, which grants $25,000 to college graduating seniors to travel the world giving back to the game of basketball.
Tickets will be pre-sold on Shootingtouch.com starting October 1st, 2011. Limited sponsorships are still available.
Below is the schedule for the two-day tournament, of which various clinics will be held in between. Details will be posted as they come in:
Wednesday, December 28

St. Anthony (N.J.) vs. New Mission
Amityville (N.Y.) vs. Roman Catholic (Penn.)
Bishop Loughlin (N.Y.) vs. East Boston
Archbishop Carroll (N.Y.) vs. Hudson Catholic (N.J.)

Thursday, December 29

Winner of St. Anthony/New Mission vs. Winner of Amityville/Roman Catholic
Loser of St. Anthony/New Mission vs. Loser of Amityville/Roman Catholic
Winner of Bishop Loughlin/East Boston vs. Winner of Archbishop Carroll/Hudson Catholic
Loser of Bishop Loughlin/East Boston vs. Winner of Archbishop Carroll/Hudson Catholic
St. Anthony head coach Bob Hurley -- who is on Shooting Touch's Board of Directors, and highly regarded as one of the most respected high school coaches of all time -- is conducting a kids camp July 11-14 at Roxbury Latin School for third through eighth graders. Limited spots remain, and sign ups are at www.shootingtouch.com