Boston High School:

St. Joseph
February, 23, 2012
2/23/12
12:07
PM ET
By
Roger Brown
| ESPNBoston.com
Providence College-bound guard Kris Dunn joined elite company last Friday, when he became the 18th high school player in Connecticut history to score at least 2,000 career points.

Dunn's 2,000th point came on a jump shot in the third quarter of New London's 89-54 triumph over Woodstock Academy.
Last month Dunn broke the New London career scoring record during a 71-56 victory over Norwich Free Academy. Tyson Wheeler held the previous record. Wheeler, who scored 1,807 points for New London, played professionally with the Denver Nuggets and in Europe.
"Kris broke the record of one of the all-time greats," New London coach Craig Parker told
The Day
. "Any record you break that was held by Tyson Wheeler is quite an accomplishment."
Dunn, who was recently named a McDonald's All-American, entered the Norwich Free Academy game 31 points shy of Wheeler's school record. He broke the record on a layup early in the fourth quarter and finished the game with 35 points.
FAST TRACK
Precious Holmes was at her best during Saturday's State Open track and field meet.
Holmes set two individual records and ran the anchor leg on the 4x400 relay team that set a meet record to help Hillhouse take first place with 74 points. Windsor was second with 40 points.
Holmes set meet and state records in the 300 (38.56 seconds) and the 600 (1:31.23). She held the previous record in both events.
Holmes also teamed with Johnesse Peterson, Jayvona McDaniel and Sydney Curtis on the 4x400 relay team, which prevailed in 3:57.92.
Staples took first place in the boys meet with 47 points. Hillhouse was second with 34.
June, 21, 2011
6/21/11
2:20
PM ET
By
Roger Brown
| ESPNBoston.com
Losses don't come much tougher than the one the Southington High School baseball team suffered against Newington in the Class LL championship game.

Southington thought it had won the title when Matt Spruill scored on Sal Romano's double in the eighth inning Monday, but the teams played on after home plate umpire Dave Bindas ruled that Spruill never touched home plate and Spruill was called out on an appeal play.
Newington went on to claim the championship by posting a 3-2 victory in 10 innings.
"I heard the crowd and it was their side cheering," Southington coach Charlie Lembo told WFSB Channel 3 in Hartford. "Then I found out the umpire ruled that he missed home plate. I didn't see it, but Dave's a good umpire so I'll have to go with that call."
Pat Meucci reached on a single in the 10th and scored the game-winning run from second base on an infield throwing error.
That gave 17th-seeded Newington (17-8) the program's first state championship.
Newington's Cole Bryant pitched all 10 innings to earn the win. He threw 176 pitches, struck out 16 and held Southington to six hits.
Romano also pitched a complete game (146 pitches). All three Newington runs were unearned.
May, 4, 2011
5/04/11
6:12
PM ET
By
Roger Brown
| ESPNBoston.com
It took Bob DeMayo 53 years to record 799 victories as North Haven High School's varsity baseball coach. The wait for victory No. 800 may have felt just as long.

After DeMayo collected his 799th victory when North Haven beat Wilbur Cross 14-0, DeMayo had to endure one-run losses to Branford (4-3) and Foran (4-3). Foran pulled out its victory by scoring three runs in the bottom of the seventh.
Then North Haven made DeMayo wait until the 12th inning of Monday's game against Xavier before it pulled out a 6-5 win and handed DeMayo victory No. 800.
"I know it's a milestone and I know I'm close to the end of my career probably, so it's certainly nice," DeMayo told the
Post-Chronicle
. "To see a lot of my former players this week and all the letters I've gotten, it's just been really nice. It does mean something. I'm just surprised it meant so much to other people. That's the nicest thing."
North Haven prevailed when Kevin Erbe walked with the bases loaded in the bottom of the 12th. Mike Acampora pitched five innings to collect his first varsity victory in the milestone win.
The game was played on North Haven's home field, which was named in DeMayo's honor in 2009.
DeMayo began coaching at North Haven in 1959. His teams have won four state championships.
According to the National High School Sports Record Book, Gene Schultz of Kee High School in Lansing, Iowa, has collected more wins than any other high school baseball coach. Schultz began the 2011 season with 1,636 victories.
TARPEY SELECTS WILLIAM & MARY

Fairfield Prep's Terry Tarpey, a 6-foot-5 guard/forward, gave a verbal commitment to play basketball at William & Mary on Tuesday.
Tarpey, a junior, averaged 17 points per game last season, when Fairfield Prep finished with a 21-7 record following a loss to St. Joseph in the Class LL championship game.
William & Mary competes in the Colonial Athletic Association.
STAPLES GETS SECOND CHANCE

The Westhill softball team defeated Staples 5-3 on April 18, but Staples protested the game and had the protest upheld by the Fairfield County Interscholastic Athletic Conference.
The game will be replayed from the point of contention May 15.
The controversy occurred with no outs in the first inning and Westhill's Allie Souza on third base. Staples pitcher Sam Saccomano dropped the ball during her windup and was called for making an illegal pitch.
Souza was allowed to score on the play, which caused Staples coach Mark Giordano to protest the game. He claimed the pitch should have been ruled a ball, and the runner should not have been allowed to advance.
The FCIAC ruled that Giordano's interpretation of the rule was correct.
PASQUALONI WILL SPEAK AT FOOTBALL DINNER

Connecticut's northern chapter of the National Football Foundation and College Football Hall of Fame will hold its scholar-athlete award dinner May 15 (1 p.m.) at the Aqua Turf in Southington.
University of Connecticut coach Paul Pasqualoni will be the event's featured speaker, and Kent's Todd Marble will be honored as the Coach of the Year. The following players will also be recognized: Jason Barnes (Kent), Marcus Biggins (Farmington), Kyle Decker (Simsbury), Joe Dellaquila (Berlin), Nicholas DeNardo (Rocky Hill), Seth DeValve (Manchester), Henry Downes (East Catholic), Jonathan Esposito (Conard), Reid Gustafson (Conard), Josh Helmkamp (Simsbury), Thomas Higgins (Rockville), Steven Hild (Kingswood-Oxford), Alex Kaczmarek (South Windsor), Zachary Lombard (Manchester), Colin Pavano (Avon), Greg Pendergast (South Windsor), Ryan Peloquin (St. Paul), Cody Pudzinski (Torrington), Nick Quattro (Canton), Franco Serrao (Wethersfield) and David Shainess (Glastonbury).
CROSS COUNTRY COACH ON THE MOVE

Xavier cross country coach Dave Kraszewski will leave his current coaching position at the end of the 2011 school year to coach the men's and women's cross country teams at Salve Regina, a Division III school in Newport, R.I.
Kraszewski left Portland and began coaching at Xavier in 2009. Xavier won the Class LL and State Open championships that year. Xavier finished fourth in the State Open meet last season.
The Portland girls won 52 consecutive dual meets and three consecutive Class S championships during Kraszewski's tenure there.
ST. JOSEPH STAYS PERFECT

The St. Joseph baseball team trailed by three runs entering the bottom of the seventh inning, but rallied for a 6-5 victory Tuesday.
Tyler Matakevich scored the game-winning run on an error with one out in the inning. The Cadets raised their record to 12-0 overall and 10-0 in the FCIAC.
DARIEN MAINTAINS POLL POSITION

The Darien boys' lacrosse team, which improved its record to 9-2 by beating Fairfield-Ludlowe 17-4 Tuesday, is ranked No. 14 in the latest LaxPower national rankings.
Roger Brown has covered high school sports in New England since 1992. He currently covers high school and college football in the Northeast for ESPN/Scouts Inc.
March, 25, 2011
3/25/11
5:00
PM ET
By
Roger Brown
| ESPNBoston.com
Masuk High School coach Dave Strong has won more games than any other girls high school coach in Connecticut, but he may not win any more.

Strong, 66, announced his resignation Monday after winning 704 games in 35 seasons as a head coach. Strong told the
New Haven Register
that the move was made for health reasons.
"I'm not in danger of dying, but there are some health things I've ignored over the years through coaching," Strong said.
Strong guided Masuk to the state tournament every season since the tournament was formed in 1974. The Panthers reached the state final seven times and won three state titles during that span. Masuk also won 19 league championships.
His daughter, Julia, was part of his first state championship team in 1990.
Strong was inducted into the National High School Coaches' Association Hall of Fame in 2009.
Strong was also an assistant coach with the Masuk boys basketball program for seven seasons. In addition, he served as the school's athletic director for 10 years before he retired in 2005.
"I've enjoyed every minute of coaching at Masuk," Strong told the
Courant
. "I'm certainly going to miss it."
October, 11, 2010
10/11/10
10:06
AM ET
By
Matt Stout
| ESPNBoston.com
Connecticut's best high school football teams cruised in Week 4, with the top four teams in the
New Haven Register
top 10 poll outscoring their opponents, 162-27, over the weekend.
Some of their counterparts could have used the extra points.
Five of the state's ranked teams fell over the weekend, likely making for a revamped look of the polls when they are released Monday.
Notre Dame-West Haven (28-27 to West Haven), Cheshire (14-13 to Hand-Madison) and Windsor (20-17) — three teams ranked in at least one statewide poll since the start of the season — are in danger of falling out, with Notre Dame and Cheshire each suffering their second loss.
The Green Knights — ranked No. 6 in the state and seventh in the ESPNBoston.com New England top 10 — have to endure losing city bragging rights to the Westies (4-0). Notre Dame hosts Hand this weekend, just another possible knockout blow in the uber-competitive Southern Connecticut Conference.
Cheshire, meanwhile, has a matchup with Wilbur Cross — ranked No. 10 but likely not after a 21-12 loss to Ridgefield — awaiting it on Friday.
Windsor threw three interceptions in a 20-17 CCC loss to Glastonbury, and No. 5 Bridgeport Central fell, 34-12, to Trumbull.
In other games:
Pat D'Amato got the passing games going for top-ranked Xavier — ranked No. 3 in the ESPNBoston.com New England poll — tossing two touchdown passes to Ryan Murphy in a 41-7 victory over Amity on Friday.
Masuk-Monroe's offense continued rolling in a 49-7 rout of Brookfield on Friday, with Casey Cochran throwing four touchdown passes. But its defense is starting to get noticed, too. The Panthers (4-0 and No. 7 in the ESPNBoston.com New England rankings) have outscored opponents, 187-14, and haven't allowed more than a single score in any game.
"In all honesty, I've seen a lot of good defenses and I've had a lot of good defenses," Brookfield coach Rich Angarano told the Connecticut Post. "That Masuk defense is one of the best defenses I've ever seen around here."
Joe Della Vecchia ignited the St. Joseph offense and the once-ranked team finally got another win in a 55-50 shootout victory over Trinity Catholic. Della Vecchia had a hand in six touchdowns, throwing four and running two in, to stop a two-game slide.
And he wasn't the only one. Ansonia's (4-0) Arkeel Newsome scored six times on his own and rushed for 268 yards in a 46-6 blowout of Wilby.
October, 4, 2010
10/04/10
6:19
PM ET
By
Matt Stout
| ESPNBoston.com
Xavier was sloppy and at times, even sloppier. But arguably the state's most fearsome defense combined with Mike Mastroianni's 240 yards rushing was enough to keep the state's top-ranked team and ESPNBoston.com's No. 3 team in New England unbeaten with a 9-6 win over Cheshire on Friday.
Mastroianni had two touchdown runs called back on holding penalties before scoring from six yards out in the fourth quarter. The teams were locked in a scoreless tie at the half, helped by Xavier's five turnovers in a matchup of two likely Class LL playoff teams.
Xavier (3-0) has allowed 21 points through three games.
In other games:
Aaron Berardino turned one of Windsor's two interceptions into a 32-yard return for a touchdown, and Windsor (3-0) stayed perfect with a 12-8 victory over CCC foe Southington. Southington starting quarterback Connor Butkiewicz (appendicitis) didn't play, according to The Hartford Courant.
Staples first big test proved to be anything but by the fourth quarter. Leading just 17-14 entering the final frame, Staples forced Ridgefield into three turnovers to blow open a 34-14 victory. The Wreckers, the No. 3 team in the state in the New Haven Register Top 10 poll, essentially kept the Tigers from the playoffs last year by handing them their only loss.
New London's defense made sure Wilton didn't take down another giant. A week after upsetting defending Class SS champ St. Joseph, Wilton held a fourth-quarter lead before the Whalers hit a last-minute field goal attempt, scored two plays into a shootout-style overtime and stopped the Warriors on fourth down to seal a 16-9 victory. New London (2-1), unbeaten a year ago during the regular season, held Wilton to two first downs in the first half and 225 yards of total offense. "It all just came from the heart," said New London linebacker Stephan Dance, who also scored the winning touchdown on a seven-yard run.The loss was part of Wilton's traditionally brutal schedule between FCIAC and non-conference play.

"We've made five trips up (Interstate) 95 in a month," Wilton coach Bruce Cunningham said. "Our preseason game was up 95. We had to go to Trumbull twice because we got up there and as we were going to kick the ball off, it rained out. We had to go back the next day. We went to St. Joe's last week. And we're here.

"We haven't been home yet. I think we'll be looking forward to putting the blue jerseys on."
In the state's biggest upset, Fitch rallied by Montville, No. 9 in the state media poll, in a 24-14 victory. Fitch quarterback Derrick Baldoz scored twice within a span of 4:02 in the third quarter to give the Falcons the lead. Just 2-9 two years ago in coach Mike Emery's first season back in Groton, Fitch finished 7-3 last season and at 3-0 this year, is one of three unbeaten teams left in the Eastern Connecticut Conference.
And in perhaps the state's wildest game, Bacon Academy scored 29 fourth-quarter points to stun Windham, 48-47, in Colchester on Saturday. ECC scoring leader Brennden Cullen threw for 301 yards, rushed for 93 more and had a hand in all seven of the Bobcats' (2-1) touchdowns, rushing for five and throwing two to Alex Couture (15 receptions, 167 yards).
Tirrell Young-Williams had two interceptions, returning one for a touchdown, to help Notre Dame-West Haven, No. 7 in ESPNBoston.com's New England poll, to a 31-10 victory over Shelton.
Meanwhile, Masuk-Monroe, ESPNBoston.com's No. 6 team, trounced New Fairfield, 47-0, and for once, quarterback Casey Cochran wasn't the only star. Colin Markus rushed for three touchdowns and caught a touchdown pass for Cochran, who finished with three of them.
August, 18, 2010
8/18/10
6:14
AM ET
By
Matthew Stout
| ESPNBoston.com
Kevin Callahan is entering his 11th year as head football coach at Ridgefield High School this fall. Since 2001, his Tigers have never endured a losing season. They've won nine games four times, and six or more every year but one.

And yet, they've been to the CIAC playoffs twice, playing for -- and winning -- their only state championship in 2002.
Callahan thought something was wrong with that.
"It's nice when kids understand how to win," he said, "but you have to reward winning."
Others thought so, too.
In a change met with sweeping applause from the Connecticut high school football community, the CIAC is implementing a new playoff system this fall that features fewer divisions, more teams and a venue that many feel finally fits the bill.
In recent years, the football playoffs featured four teams earning postseason berths in six divisions. This season, there are only four divisions (LL, L, M, S) but with eight teams qualifying in each, the number of playoff competitors jumps from 24 to 32. The hope is to reward the larger schools who play in more difficult divisions. Last season, three 9-1 teams (two in Class LL, one in L) didn't make the playoffs, and the seasons of four 8-2 teams ended on or around Thanksgiving. In 2008, 14 teams with eight or more wins didn't qualify.
"All other CIAC sports, you win 40 percent of your games, you're in the playoffs," said Berlin coach John Capodice, a member of the CIAC football committee. "I felt the football kids were shortchanged."
[+] Enlarge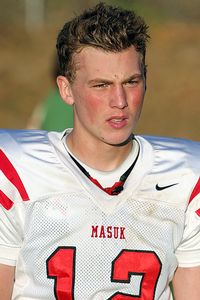 Courtesy of Dave ChoateMasuk-Monroe (Conn.) quarterback Casey Cochran is looking for a repeat performance of last year's state-best 2,968 passing yards in 2010.
It's difficult to find any detractors of the decision, aside from those who would have welcomed further expansion to include as many as 48 teams. Some, such as St. Joseph coach Joe Della Vecchia, believe the system will still keep some deserving schools out only because they're playing tougher schedules.