Boston High School:

St. Joseph's (Pittsfield)
February, 26, 2012
2/26/12
7:10
PM ET
By
Brendan Hall
| ESPNBoston.com
March Madness is finally here.

The MIAA boys and girls basketball tournaments start tomorrow night with a number of preliminary round and play-in games. Check back with us nightly through the state finals at Worcester's DCU Center for scores, updates and analysis on the day's happenings.

To whet your appetite, here is my breakdown and predictions on the 14 boys basketball brackets across the state:

NORTH

Division 1
Favorites: Central Catholic (20-1), Acton-Boxborough (19-1), Westford (17-4), Charlestown (16-4), East Boston (17-4), Lawrence (14-5)
Sleepers: Lowell (13-5), Boston Latin (17-5), St. John's Prep (13-7), Andover (12-8), Lexington (13-7)
The lowdown: While Central Catholic is the overwhelming favorite here in my opinion, this is a bracket full of traps. Assuming the Raiders top the winner of tonight's play-in between Medford and Peabody, they could face any of a number of troubling teams en route to the final –- Eastie, Charlestown, Andover and Lowell...Plenty of intriguing first-round matchups here, including Charlestown-Andover and Latin-Lexington, but the buzz kill has to be that St. John's Prep faces Lawrence in a first-round matchup. Both teams were expected to be dangerous in this bracket...A-B should make a deep run with its three-headed monster of Kevin LaFrancis, Jake Pilecki and Joey Flannery, but watch out for Lexington in the bottom half. It's tall lineup led by Chris Lee and Josh Sharma, and the Minutemen have surprised teams throughout the season (see: December's win over Catholic Memorial).
Upset special: Lexington over Boston Latin
Hall's pick: Central Catholic over East Boston, Acton-Boxborough over Westford in semifinals; Central over A-B in finals.

Division 2
Favorites: North Andover (19-1), Melrose (18-2), Brighton (16-3), New Mission (14-4)
Sleepers: Wakefield (14-6), Reading (14-6), Masconomet (14-6), Chelsea (14-6), Beverly (13-7), Salem (10-10)
The lowdown: Many experts feel like this is North Andover's bracket to lose, and it's a fair statement to make. With three legitimate –- and disciplined –- post players who are able to spread the floor, the Scarlet Knights excel at screens and are a tough matchup positions one through five. The return of Derek Collins should take some of the scoring load off Zach Karalis, who might be the best shooter in this field...Melrose is another prohibitive favorite, with super sophomore Jalen Adams leading the charges, but a potential quarterfinal matchup with Reading feels like quite the trap game...A potential quarterfinal between New Mission and Wakefield is also intriguing. Led by Keyon Armstong, Kendall Hamilton and freshman sensation Bruce Brown, Wakefield is among the most athletically gifted in the field.
Upset special: Beverly over Chelsea.
Hall's pick: North Andover over New Mission, Melrose over Masconomet in semifinals; North Andover over Melrose in finals.

Division 3
Favorites: Danvers (16-4)
Sleepers: Whittier (18-1), Wayland (15-5), Arlington Catholic (14-6), Pentucket (13-7), Hamilton-Wenham (12-6)
The lowdown: Another bracket where the conception is it's an overwhelming favorite's to lose. Danvers comes into the tournament with four losses, but has played some of the most dominant stretches of games this season by any Division 3 team. It all starts with George Merry, who has better-than-advertised mobility and accompanying length to pose a nightly matchup problem underneath...Long-time Watertown coach Steve Harrington is cousins with Danvers head coach John Walsh, and might be the best coach in this bracket, if not the state. Playing against mostly Division 1 and Division 2 teams in its league slate, the defending D3 Eastern Mass champs are always battle-tested, and always save their best basketball for March.
Upset special: Watertown over Newburyport
Hall's pick: Whittier over Watertown, Danvers over Wayland in semifinals; Danvers over Whittier in finals.

Division 4
Favorites: Manchester-Essex (18-2), Pope John XXIII (17-3), St. Mary's (Lynn) (16-4), Winthrop (16-6)
Sleepers: Snowden (9-9)
The lowdown: St. Mary's has been in the spotlight since coming within a shred of an overtime upset of St. John's Prep in the first week of the season, and the Spartans have lived up to the building hype for the most part. But defending D4 state champ Winthrop hasn't disappointed either. The Northeastern South champs are led once again by league MVP Quinton Dale at forward, who is a nightly double-double threat...We pinned Manchester-Essex as one of several D4 favorites last week, but the ultimate of ultimate trap games could be on tape in the quarterfinals. Snowden is one of the most dangerous sleeper teams statewide in Division 4, led by senior guard Paul Maurice. Six of the Cougars' nine losses were to Charlestown, East Boston and Madison Park.
Upset special: Winthrop over St. Mary's
Hall's pick: Manchester-Essex over Winthrop, Pope John XXIII over Lynnfield in semifinals; M-E over Pope John in finals.

SOUTH

Division 1
Favorites: Brockton (18-2), Catholic Memorial (16-4), BC High (15-5), Franklin (17-3), Weymouth (17-3), Newton North (17-3), Madison Park (16-2)
Sleepers: Needham (15-5), Marshfield (13-5), New Bedford (14-6), Mansfield (14-7)
The lowdown: This might be the most unpredictable field of the entire MIAA tournament. With many favorites, but none of them overwhelming, we could be in for a slew of upsets. Consider Brockton's quarterfinal opponent will be the winner of No. 9 seed Barnstable and No. 8 seed Catholic Memorial, the latter of which lost to the Boxers earlier this month by one at the buzzer...Needham has exploded over the last two weeks, with a 30-point blowout of Newton North followed by an impressive stonewalling of Stoughton, and they may have the easiest path to the semifinals. Taunton, Natick and the MP Machine are all beatable. That's just one reason of many why I feel Needham's late-blooming senior Shy Davis could be the breakout star of this tournament...The toughest section of this bracket is by far the grouping of BC High, Franklin, Weymouth and Mansfield. Whoever comes out of that logjam might have the best path to the finals.
Upset special: New Bedford over North Quincy
Hall's pick: Brockton over Newton North, BC High over Needham in semifinals; Brockton over BC High in finals.

Division 2
Favorites: King Philip (17-3), Stoughton (16-4), Falmouth (18-2), Randolph (18-2)
Sleepers: Oliver Ames (12-8), Medfield (14-6), Hopkinton (14-6), Wellesley (12-8), Duxbury (11-9), Whitman-Hanson (11-9)
The lowdown: Headed into the season, the consensus was that this would be King Philip's bracket to lose. Now it's either the Warriors' or Stoughton's, and it just so happens the Hockomock rivals are on opposite ends of the bracket...Falmouth's Paul Lundberg has certainly entered himself into Coach of the Year consideration, but the pressure could be on the Clippers' point guard Andrew McGill to keep the ship sailing, what with injury questions in the frontcourt...Many like OA as a sleeper, due to Nick Bruha's exceptional offensive game, but watch out for Tri-Valley League representatives Medfield and Hopkinton. Medfield has some talented underclassmen, while Hopkinton is the defending D2 South champ and have reigning league MVP Barrett Hanlon back in the fold...Quincy head coach Dave Perry predicted a Whitman-Hanson upset of KP Saturday morning on 1510 AM The Zone. That, coupled with getting their first-round home game moved 20 miles down the road to Taunton High, has got to get the Warriors fired up.
Upset special: Oliver Ames over Somerset
Hall's pick: Stoughton over Falmouth, King Philip over Hopkinton in semifinals; King Philip over Stoughton in finals.

Division 3
Favorites: Wareham (20-0), Cardinal Spellman (17-5), Martha's Vineyard (18-2), Rockland (18-2)
Sleepers: Norton (15-5), Norwell (18-2), Bishop Feehan (15-5), Bourne (14-6), Medway (10-10)
The lowdown: Spellman senior Joey Glynn is a household name by now, but the breakout star of this tournament might be Wareham's Darien Fernandez. The 5-foot-7 fire hydrant of a point guard is almost a microcosm of the Vikings on a whole, who are the state's last remaining unbeaten in spite of a lack of size. Fernandez has played his way into All-State consideration with his tenacious perimeter defense and non-stop motor, and is a perfect fit for coach Kevin Brogioli's uptempo style...We joke about the difficulties in scouting Martha's Vineyard, but it's true; the Vineyarders have the ultimate advantage in that department -– being on an island that is accessible only by ferry for many teams...That said, we look forward to a potential rematch between Vineyard and Bishop Feehan. Last month the Shamrocks ran out to a 17-2 lead over Vineyard before MV stormed back to win.
Upset special: Medway over Norwell
Hall's pick: Cardinal Spellman over Martha's Vineyard, Wareham over Norton in semifinals; Spellman over Wareham in finals.

Division 4
Favorites: Boston Cathedral (13-6), Holbrook (16-2), Westport (19-3), Carver (16-4)
Sleepers: Bishop Connolly (15-5), Cohasset (15-5), Avon (12-8), Blue Hills (10-9), Community Academy (CASH) (3-15)
The lowdown: Written off weeks ago, we have to put Boston Cathedral back among the favorites after getting Kyle Lawyer and Joe Green back in the fold. With both of them back, the Panthers are one of the most dangerous offenses across Division 4. Look out for pint-sized point guard Carlos Bermudez, who is nearly four inches shorter than Wareham's Darien Fernandez but has just as much heart and motor...Another star in the making might be Holbrook's Allijah Robinson. The 6-foot-6 sophomore doesn't get a whole lot of attention playing for a Division 4 school, but he is most definitely on the rise...Carver and Cohasset are two of the most seasoned teams in this bracket, fighting it out in the competitive South Shore League comprised mostly of Division 3 size teams.
Upset special: Boston Cathedral over West Bridgewater.
Hall's pick: Westport over Avon, Boston Cathedral over Carver in semifinals; Cathedral over Westport in finals.

CENTRAL

Division 1
Favorites: St. John's (Shrewsbury) (16-4), Holy Name (17-3), St. Peter-Marian (17-3), Wachusett (16-4)
Sleepers: Fitchburg (14-8), Milford (15-5), Marlborough (11-9), Doherty (10-10)
The lowdown: Plenty of contenders here, but St. John's is the four-time defending champ of this bracket and hasn't lost since Jan. 10. Bob Foley is the Dean of Massachusetts high school basketball, with well over 800 career wins, and his players are always at their sharpest in March. That said, the Pioneers will have gone over two weeks without game action when they face Milford on March 1...Holy Name won the rubber match with SPM to take the first annual Worcester City Championship last Friday, and are one of the best defensive teams you'll find outside I-495. We've talked a lot about Anthony Hodges' stifling perimeter defense, but 6-foot-1 Daniel Kegbeh is one of the most explosive rebounders you'll find around...Fitchburg has sputtered of late, going 5-6 since a 9-2 start, including a five-game losing streak. But like St. John's, the Red Raiders turn it up in March.
Upset special: Doherty over Shepherd Hill
Hall's pick: St. John's over Holy Name, St. Peter-Marian over Wachusett in semifinals; St. John's over SPM in finals.

Division 2
Favorites: Quabbin (18-3), Northbridge (17-4), Uxbridge (15-6), Groton-Dunstable (14-7)
Sleepers: Clinton (13-7), Auburn (12-8), St. Bernard's (11-9)
The lowdown: After starting the year with 15 straight wins, Quabbin sputtered, losing three of four, before turning around and winning the Large division of the Clark Tournament. The Panthers will go as far as Christian Horton takes them. The senior is one of Central Mass.'s leading scorers, and is as athletic as they come...Northbridge won this bracket surprisingly last year, not with star power but with defensive grit. It's a different story this year, with the Rams pegged as a favorite, but this is typically a well-coached squad...One must always be wary of St. Bernard's, which historically makes deep runs in this bracket. The Bernardians' record is filled with tough non-league decisions, including an overtime loss to New Bedford at the start of the season...Same for G-D, another historic power in this field which is led by Will Peregoy, Liam Baberich and Kyle Romich.
Upset special: St. Bernard's over Bartlett.
Hall's pick: Quabbin over Groton-Dunstable, St. Bernard's over Uxbridge in semifinals; Quabbin over St. Bernard's in final.

Division 3
Favorites: Whitinsville Christian (13-5)
Sleepers: Sutton (10-9), Quaboag (17-4), Worcester Tech (16-4), Keefe Tech (16-2), Littleton (15-6), Southbridge (10-9), Bromfield (14-6)
The lowdown: Let's not sugarcoat this thing. Make no mistake, this is Whitinsville Christian's bracket to lose. People point to the Crusaders' recent slide, losing four of five after a 12-1 start. But three of those four losses are to Charlestown, Holy Name and Franklin; and those losses are sandwiched around a very nice 71-54 win over D3 South favorite Cardinal Spellman. Plus, Crusaders point guard Colin Richey might be the best overall player in this bracket...The other team to watch out for here? Sutton, which beat WC 50-45 on Valentine's Day. We're still trying to figure out what happened there.
Upset special: Hopedale over South Lancaster.
Hall's pick: Whitinsville Christian over Bromfield, Worcester Tech over Quaboag in semifinals; Whitinsville over Tech in finals.

WEST

Division 1
Favorites: Springfield Central (19-1)
Sleepers: Springfield Putnam (16-4), Springfield Cathedral (11-9), Springfield Commerce (14-6), West Springfield (16-4), Chicopee (14-6), Westfield (12-8)
The lowdown: Quite frankly, this is Springfield Central's bracket to lose. With the amount of athleticism on both the starting lineup and the bench, the Golden Eagles are the Brockton of the West, able to go 10 deep with size, scoring and some of the state's most tenacious defense. The last team to come within single-digits of Central was Commerce, which then turned around and lost to Central by 40 in the rematch last week. Adding to the impressive Central resume is the fact that their lone loss is to Connecticut juggernaut Windsor, which is routinely beating teams by 35 points or more...The more we think about it, Central senior guard Tyrell Springer has earned his way into a spot on the Super Team...The best Springfield player not on Central might be Commerce's Alex Lopez, a 20-per-night scorere with range. The best non-Springfield player in this field? Could be Westfield's Joe Meade or Northampton's Jarrod Neumann.
Upset special: Amherst over Chicopee.
Hall's pick: Springfield Central over West Springfield, Commerce over Putnam in seminfinals; Central over Commerce in finals.

Division 2
Favorites: South Hadley (11-9), Mahar (17-3)
Sleepers: Belchertown (16-4), Drury (10-8), Taconic (7-13)
The lowdown: We would have penned Sabis as a favorite in this bracket. The Bulldogs are the two-time defending champions in this field, but were knocked out of playoff contention with a Feb. 20 loss to South Hadley. For that reason, we might pin the Tigers as a favorite...Overall, this isn't an incredibly deep field. Six of the eight qualifying teams in this bracket have seven losses or more. South Hadley is the No. 2 overall seed at nine losses.
Upset special: Greenfield over Belchertown.
Hall's pick: Mahar over Drury, South Hadley over Greenfield in semifinals; South Hadley over Mahar in finals.

Division 3
Favorites: St. Joseph Central (15-5), New Leadership (12-8)
Sleepers: Lee (15-5), Frontier (15-5), Lenox (13-7), Smith Academy (16-4), Renaissance (17-3)
The lowdown: Pittsfield area power St. Joe's has an impressive resume. The Crusaders had a strong start to the season, losing to Holy Name by five in the Catholic School Classic at Assumption College. The Crusaders press well, and junior guard Taverick Roberson might be the most talented player in this field...The thorn in St. Joe's side? New Leadership, which beat St. Joe's earlier this year by the hair, 79-78. The Wildcats are led by junior guard Joe Crapps, and explosive scorer who is averaging nearly 20 points per game. Not to be forgotten, New Leadership was dominated by Wareham in the D3 state final two years ago. How fitting is it that the two could potentially meet again for a state final rematch down the line?
Upset special: Lenox over Smith Voke.
Hall's pick: St. Joseph Central over Renaissance, New Leadership over Lee in semifinals; St. Joe's over New Leadership in finals.

STATE SEMIFINALS

Eastern Mass.
Div. 1 – Central Catholic over Brockton
Div. 2 – North Andover over King Philip
Div. 3 – Danvers over Cardinal Spellman

Central/Western Mass.
Div. 1 – Springfield Central over St. John's (Shrewsbury)
Div. 2 – Quabbin over South Hadley
Div. 3 – Whitinsville Christian over St. Joseph Central

STATE FINALS

Div. 1 – Springfield Central over Central Catholic
Div. 2 – North Andover over Quabbin
Div. 3 – Danvers over Whitinsville Christian
Div. 4 – Boston Cathedral over Manchester-Essex
January, 17, 2012
1/17/12
2:31
PM ET
We've updated our statewide
MIAA Boys Basketball Top 25 Poll
this morning, following the close of yesterday's Hoophall Classic in Springfield, and once again there is some significant movement up and down the list.
St. Peter-Marian delivered arguably the biggest shocker of the first half of the season on Saturday, when they pounded previous No. 3 Charlestown by 15 points on the Townies' home court. For their efforts, the Guardians jump nine spots to their highest ranking ever in the ESPN Boston poll, at No. 8.
Meanwhile the Guardians' chief archrival, Holy Name, jumps into the top five for the first time in poll history. We gave the Naps the edge over Stoughton, which fell four spots to No. 6 after losing to Mansfield last week, based on strength of schedule. The Naps have wins this season over No. 8 SPM, No. 17 East Boston, No. 22 Whitinsville Christian, St. Joseph's of Pittsfield, St. John's of Shrewsbury, and Rhode Island powers Barrington and North Kingstown.
Central Catholic remains No. 1 for the second straight week, while Catholic Memorial (2) and BC High (3) move to their highest positions on the year. Rounding out the top five (and making a return) is Mansfield, which knocked off previous No. 2 Stoughton after trailing by as much as 13 points in the fourth quarter.
Charlestown free-falls 15 spots to No. 18 following the loss to St. Peter-Marian, a fall reinforced with the absences of Rony Fernandez and Omar Orriols, and a wrist injury to star junior swingman Tyrese Hoxter. Brighton also makes its first-ever appearance in the Top 10, at No. 9, following the Bengals' first win over Boston City rival New Mission in Hugh Coleman's three years at the helm. With the loss to Brighton, New Mission falls out of the Top 10 for the first time in the two-year history of ESPN Boston's poll.
As always, let us know how we're doing in the comments section below, or by emailing Brendan Hall at bhall@espnboston.com.
December, 18, 2011
12/18/11
4:43
PM ET
By
Brendan Hall
| ESPNBoston.com
WORCESTER, Mass. -- Holy Name point guard Jacek Louisville characterized East Boston's pressing defense Friday night as "like playing 7 on 5 at times". This afternoon, in one of the matinees of the BasketBull Catholic School Showcase, he may well have found more of the same.
[+] Enlarge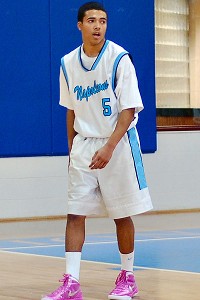 Brendan Hall/ESPNBoston.comHoly Name point guard Jacek Louisville (23 points, 10 rebounds, 7 assists) asserted himself in the most crucial moments.
But just like on Friday night, the Napoleons were able to claw their way to an ugly, hard-fought win. Holy Name fought off a late rally from St. Joseph's of Pittsfield to down the Crusaders, 63-59, and improve to 3-0.
"We faced East Boston on Friday night and they pressed the hell out of us," said Holy Name head coach Jason Chavoor. "I thought we would improve, because East Boston presses 12 deep, so they can bring lines in. But credit St. Joe's, they did a good job. We made some poor decisions, poor turnovers, we've got seniors out there that need to make better decisions. But it is our third game of the year, we're still working out the kinks."
The Naps went into the break trailing 33-31, but opened the third quarter on an 8-2 run, dominating the glass in those first three minutes with seven defensive rebounds. But the Crusaders quickly came back at the other end for its own 9-2 run, before Louisville snuck the Naps ahead in the final minute, drawing contact on his left-handed drive and converting the three-point play.
"Jacek made some plays that were huge, and when we needed them," Chavoor said of Louisville, who led all scorers with 23 points, 10 rebounds and seven assists. "He came to play, one of the few kids that came to play today."
Holy Name extended jutted out to its largest lead of the game, 55-49, with 4:45 to go, on a three-pointer from the left wing by Tyler Delorey (12 points, 11 rebounds), courtesy a dish from the top of the key by Anthony Hodges.
Louisville was called for a five-second violation with 30 ticks to and holding a 63-59 lead, but the Crusaders came up empty on the ensuing possession, missing an open layup. Mike Woll came down with the rebound with eight seconds left and was immediately fouled, but he missed the front end of a one-and-one. Still, the Naps were able to hold on.
Dan Kegbeh also had 10 points for the Naps. Senior center Mike McMahon and junior guard Taverick Roberson led St. Joe's with 16 points each.
Press gives Naps problems:
The Crusaders frustrated Holy Name all afternoon with full-court zone presses. Most efficient was a tight diamond-and-one package, sticking four defenders up inside the arc. Even as the Naps adjusted, St. Joe's was efficient in trapping the sidelines, able to force ballhandlers into repeated unforced errors and turnovers.
"Once we got the ball inbounds, we had to make quick passes," Louisville said. "Because if we waited too long, they were trapping us and we couldn't get rid of it."
Hodges playing hurt:
Hodges sprained his ankle in Friday's win over Eastie, and Chavoor said the senior was "maybe 50 percent" today, "if we were lucky".
Still, Chavoor praised the defensive effort of Hodges, also a star wide receiver this fall on the Naps' Super Bowl finalist football squad. Injury and all, he was able to keep St. Joe's dynamic scorer Roberson in check, holding him to six points in the second half.
"Anthony is our sole guy that presses, and he did a real good job maintaining [Robinson]," Chavoor said. "Kid's a pretty good ballplayer. Anthony's pressure, and his denial, kept the ball out of his hands."
Louisville Slugger:
One of the strengths of Louisville's game is his ability to initiate contact on his drives to the basket. This afternoon, he attempted 10 free throws, making seven of them, including several three-point plays.
In a game like today, Louisville asserted himself as a scorer as much as he was a distributor. Asked if he'd like to see Louisville as more of a distributor, Chavoor said "absolutely", but also added it's up to the senior to do what's best.
"Jacek, I kinda leave it up to him," Chavoor said. "So if he wants to pass, he can pass. If he wants to shoot, he's gonna shoot. When he passes it, you've got to make the layup. But Jacek's tough, he's shifty, had a great game. He's one of the few guys that came to play today, and the sole reason we won."
October, 21, 2011
10/21/11
1:49
PM ET
The Basketball Hall of Fame has unveiled the schedule for the 11th Annual Hoophall Classic, annually one of the nation's top high school invitationals, at Springfield College's Blake Arena, and once again it's a loaded list.
Traditionally held on Martin Luther King Jr. Day Weekend, the invitational has now expanded to five days, with a slate of local Western Mass. teams facing off on Thursday to kick things off.
St. Mark's, Oak Hill (Va.), Findlay Prep (Nev.), Bishop Gorman (Nev.), St. Anthony (N.J.), St. Patrick (N.J.) and DeMatha Catholic (Md.) all return for the second straight year, and all will be involved in key matchups. Some of the more enticing local matchups include Northwest Catholic (Conn.) and its prized 6-foot-8 junior
Kuran Iverson
takes on national power DeMatha, led by ESPNU 100 stars
Jerami Grant
(Syracuse) and
James Robinson
(Pitt).
A trio of New England prep school matchups also highlight the weekend, with Tilton (N.H.) and Brewster Academy (N.H.) squaring off early Sunday evening, followed by Notre Dame Prep and New Hampton (N.H.). Monday afternoon, Wilbraham & Monson will face St. Thomas More (Conn.).
Here is the
complete schedule for the weekend
:
THURSDAY, JAN. 12
4 p.m. - Springfield Commerce vs. Springfield Sci-Tech
5:30 p.m. - Springfield Cathedral vs. Central Catholic
7 p.m. - Springfield Central vs. Springfield Putnam
8:30 p.m. - Mahar vs. Hampshire
FRIDAY, JAN. 13
3 p.m. Sabis vs. Springfield Central
(Girls)
4:30 p.m. - Sabis vs. New Leadership
6 p.m. - West Springfield vs. Cicero North (N.Y.)
(Girls)
7:30 p.m. - East Longmeadow vs. Christ the King (N.Y.)
(Girls)
9 p.m. - East Longmeadow vs. Longmeadow
SATURDAY, JAN. 14
Noon - Springfield Central vs. Windsor (Conn.)
2 p.m. - St. Patrick (N.J.) vs. LaVerne Lutheran (Calif.)
4 p.m. - Gonzaga College (D.C.) vs. Riverside Academy (La.)
6 p.m. - Oak Hill (Va.) vs. Prestonwood Christian (Texas)
8 p.m. - Northwest Catholic (Conn.) vs. DeMatha Catholic (Md.)
SUNDAY, JAN. 15
10 a.m. - Our Savior New American (N.Y.) vs. Mount St. Joseph (Md.)
Noon - St. Thomas More (Conn.) vs. Wilbraham & Monson
2 p.m. - St. Mark's vs. Friends Central (Penn.)
4 p.m. - Tilton (N.H.) vs. Brewster Academy (N.H.)
6 p.m. - Notre Dame Prep vs. New Hampton (N.H.)
8:30 p.m. - Skills Challenge
MONDAY, JAN. 16
11 a.m. - St. Anthony (N.J.) vs. Miller Grove (Ga.)
1 p.m. - DeMatha Catholic (Md.) vs. Bishop Gorman (Nev.)
3 p.m. - Simeon (Ill.) vs. Findlay Prep (Nev.)
5 p.m. - Christ The King (N.Y.) vs. Mater Dei (Calif.)
7 p.m. - Granby vs. St. Joseph's (Pittsfield)