Boston High School:

St. Paul's
November, 20, 2013
Nov 20
4:33
PM ET
The Independent School League today announced its All-ISL football team for this season

Coaches or league representatives, across all fall sports, are encouraged send their league All-Star lists to editors Scott Barboza (sbarboza@espnboston.com) and Brendan Hall (bhall@espnboston.com):

Belmont Hill
Evan Chaletzky, Jr. WR/K
Eric Gustafson, Sr. DB
Harry Kraft, Jr. QB
Joe LaLiberte, Sr. OL
Greg Plumb, Sr. RB

Brooks
Chris Cervizzi, Jr. RB
Geoff Fulgione, Sr. LB
Andrew Konovalchik, Sr. DB

BB&N
Patrick Champagnie, Sr. DB
Frankie Williams, Sr. RB
Dante Papas, Sr. LB
Matt Bonazzolli, Sr. RB
Connor Coady, Sr. OG
Mike McCaffrey, Sr. WR

Governor's Academy
Jesse Gwozdz, Sr. RB
Bug Carper, Sr. LB
Mark Hoffman, Sr. OL
James Leary, Sr. OL
Tyler Harrington, Jr. OL
Brandon Lopez, Jr. RB
Tommy Vailas, Sr. QB

Groton
Austin Stern, Sr. LB
John Beatty, Soph. RB

Lawrence Academy
Andrew Crane, Sr. DL
Kyle Howes, Sr. FS
Chris Garrison, Jr. WR
Austin Luckey, Jr. FB
Rocco Daigneault, Sr. LB

Middlesex School
Hasani Figueroa, Sr. RB
Charlie Owen, Sr. LB
George Morris, Jr. LB
Sam Carlin, Jr. LB

Milton Academy
Drew Jacobs, Sr. RB
Anthony Scurto, Sr. QB
Matt Morin, Sr. LB
Bobby Gilmore, Jr. OL
Peter Graves, Sr. DL
Luke MacDonald, Sr. LB
Justin Yoon, Jr. K

Noble & Greenough
Alex Beach, Sr. DL
Ryan Vultaggio, Sr. QB
John McCarthy, Sr. DB
Martin Williams, Soph. DT
John Keally, Sr. LB
Teddy Strzetelski, Jr. DE

Roxbuty Latin
Mark Goldstein, Sr. OL
Duncan Finigan, Sr. OL
Sean Lowrie, Jr. WR
Kevin Cohee, Sr. TE

St. George's
Sage Hill, Sr. RB
Jonathan Lumley, Jr. WR

St. Paul's
David Smith, Sr. WR
John Bews, Jr. TE
Colin Sequiera, Sr. QB

St. Sebastian's
Connor Strachan, Sr. LB
Dan Fulham, Sr. DE
Will Kenny, Sr. OL
Joe Kearney, Sr. DB
John McNamara, Sr. DL

Thayer Academy
Quentin Hall, Sr. OL
Jack Becker, Sr. QB

September, 28, 2013
Sep 28
8:05
PM ET
By
John McGuirk
| ESPNBoston.com
WEST ROXBURY, Mass. -- Following last week's season-opening loss to Milton Academy, St. Sebastian's knew one slipped through its fingers — due, in part, to some costly turnovers which led to their demise.

On Saturday, the Arrows saw things from a different perspective — bearing witness to advantages one can have when they are on the receiving end of turnovers. Roxbury Latin was the gracious gift giver, coughing up the ball on its first three possessions. That led to three touchdowns for the Arrows as they went on to roll, 37-7, in an ISL contest held at Schoolhouse Field.

Still stinging from Milton Academy defeat, St. Sebastian's, who finished 9-0 a year ago and took home the Arthur Valicenti Bowl trophy, set a precedent all week that its season begins now.

Such attitude appeared to work. The Arrows (1-1) proved highly-effective on both sides of the ball against the Foxes. They limited Roxbury Latin's offense to 153 yards, just 49 in the opening half. Offensively, they finished with 290 yards — much of that coming from its strong ground attack consisting of Connor Strachan, Blake Gallagher and Edosa Onaiwu.

"Last week, we made three big mistakes and it costs us," Arrows longtime coach Bob Souza said. "This time, Roxbury Latin made the mistakes. We did a lot of good things against Milton and our kids knew it. I told the kids this league is still up for grabs and we still have our destiny under our control. I think we'll be in the hunt for a title throughout the year."

After shutting out St. Paul's last week, the Foxes (1-1) were feeling good about their chances entering this one. But confidence suddenly turned to panic after a pair of miscues in the opening minutes gave the Arrows a short field to work with.

The first mistake came after punter John Baron couldn't handle the snap, losing control of the ball that was recovered by Miles Hunter, allowing St. Sebastian's to set up shop on the Roxbury Latin 20. Four plays later, Strachan (52 yards on 8 carries) scored from a yard out giving the Arrows a 7-0 lead. On the ensuing kickoff, Foxes returner Parker Kent failed to field the ball cleanly, allowing an alert John McNamara to pounce on it.

Standing the at the Foxes' 15-yard line, St. Sebastian's needed only one play to go up by two scores as Strachan busted through for the score with 4:11 still left in the initial quarter.

"We knew coming off our loss last week that we needed to be firing for this game," said Strachan, a Boston College commit. "We have a bunch of kids on this team playing both ways so we need to go heavy in the first half like we did today and set the pace for ourselves."

The two turnovers left Roxbury Latin deflated, as it could never get anything going thereafter. The Foxes' run game was held in check throughout and quarterback Peter Cahill (8-of-16, 91 yards, 1 TD) was under constant pressure throughout by the Arrows' massive front line.

Things didn't get much better for Roxbury Latin to start the second quarter. Cahill was picked off by Strachan, which led to a 74-yard, 11-play drive culminated in Matt Daniel hauling in a 27-yard scoring pass from quarterback Geoff Wade and go up by 20.

"We told the kids all week leading up to this game that we needed to start fast," said Souza, who was inducted into the Massachusetts High School Coaches Hall of Fame in 2010. "We can't let up and not give Roxbury Latin any kind of an opportunity to gain momentum. Now we just need to build on this win and continue to get better."

With under two minutes remaining before the half, St. Sebastian's offense was back at it. Following a Foxes punt, the Arrows drove 65 yards behind Gallagher (9 carries, 86 yards) and Onaiwu (64 yards on 10 rushes) before Strachan was given the ball from the 1-yard line and dove across for his third touchdown to send St. Sebastian's into the break well in-command at 27-0.

"Anytime the defense can come out and do what they did and put the offense in good positions to score that's huge," said Wade. "We aren't looking to gain 500 yards a game, we just want to put the ball into the end zone."

With this contest in his control, Souza began substituting other players in. But the Arrows never lost a beat. Running back James Fiore scored on a 3-yard run to begin St. Sebastian's first drive of the second half, pushing the margin to 34 points.

The Arrows added three more early in the fourth on Kevin Ginns' 27 yard field goal.

Roxbury Latin avoided the shutout in the closing minutes as Cahill connected with receiver Sean Lowrie in the back corner of the end zone.

"That's a tough team to come back against," Foxes coach Pat Ross said. "I dreaded all week in hoping we wouldn't give up something quick to them but after our first one things began to snowball. But our guys never quit and fought the entire game. We know we aren't as big as St. Sebastian's and we knew we needed to play near-perfect football against them and unfortunately it didn't work out."
September, 26, 2013
Sep 26
4:32
PM ET
On Thursday, we found out which MIAA and ISL hockey teams will be playing during this winter's Frozen Fenway event.

The Fenway Sports Group unveiled a MIAA tripleheader for New Year's Eve that will kick off with Boston Latin boys' hockey playing DCL/MVC rival Lincoln-Sudbury at 10:15 a.m. South Shore girls' hockey rivals Duxbury and Hingham will square off at 12:15 p.m.

That all leads to the premiere matchup in which three-time defending Super 8 champion Malden Catholic will tangle with Catholic Conference rival St. John's Prep at 2:30 p.m.

On Jan. 8, the focus shifts to ISL hockey with a full slate of four games.

St. Paul's and Governor's Academy girls will skate at 1:30 p.m. followed by three boys' games.

Brooks School and BB&N face off at 3:15 p.m., followed by Groton School and St. Mark's at 5:30 before Belmont Hill and St. Sebastian's close out the night at 7:45.
June, 27, 2012
6/27/12
2:07
PM ET
By
Marc Thaler
| ESPNBoston.com
Fundraising totals between the teams competing in the inaugural New Hampshire East-West High School Football All-Star Game couldn't have been much closer.

The game itself? That's a different story.
West's all-stars – widely considered underdogs for the June 23 contest at the University of New Hampshire – proved too tough. The combination of overpowering offense and dominant defense led to a 33-point halftime lead and 44-12 final score.
Thaddeus "Junior" Brown was toughest to cover. Manchester Central High's 6-foot 3-inch, 180-pound receiver made all four of his catches for 87 yards in the first half. Three receptions went for touchdowns, including a 50-yard down-the-right-seam dagger that helped Team West build a 37-6 halftime lead.
"This means a lot. I worked hard for it," Brown, the game's first Bo Dickson MVP, said of the trophy he was handed for his efforts. "The coaches helped me out a lot. I just busted my butt for 10 days. The outcome was this MVP."
Off the field, the outcome of Brown's efforts, as well as the 73 other all-stars, was even more impressive.
Teams East and West combined to raise $51,301.21 for Children's Hospital at Dartmouth-Hitchcock (CHaD) in Lebanon.
Team East was designated the home team. It earned use of UNH football's locker room for winning the head-to-head fundraising contest. Coach Bill Raycraft's players raised $25,751.21 – a mere $201.21 more than West's standouts.
In total, $301,000 was raised for CHaD.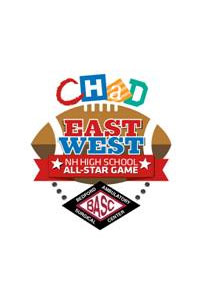 BASCTBD by editorial
"These kids came together and did a heck of a job for a great cause," said Team West coach Keith Jones, whose 6-year-old son, Harris, a CHaD patient, participated in the pre-game coin toss.
Harris was involved in a freak snowmobile accident three years ago. His father has said many times if not for CHaD, right-leg amputation would have been required.
On gameday, the soon-to-be first-grader made an appearance in Team West's locker room prior to warm-ups. It gave the players an additional boost, which carried over to kickoff.
Several playmakers fueled Team West's 37-point first half.
Brown caught a pair of 9-yard TD passes from Manchester West High's Aaron Martin, who also used his speed to sneak inside the left pylon for a 2-yard rushing score.
Merrimack High's Jackson King returned an interception 19-yards for a TD.
Nashua South's Johnny Bieren was crucial to posting a second-quarter safety. He also forced and recovered a fumble on one of his three quarterback sacks.
Central's Stephen Grzywacz – who raised a players-best $5,965 for CHaD – converted five extra points (6-for-6 overall).
East's all-stars committed five of the game's eight turnovers. The favored squad fell behind, 30-0, before Salem High's Jerickson Fedrick returned a kickoff 96 yards to paydirt.
Fedrick, and Pinkerton Academy of Derry stars Kevin Davies and Emmitt Smith, were all neutralized. Combining to rush for 4,649 yards and 57 TDs last fall, the trio managed 99 yards – 28 through two quarters.
Conor Donovan of Division VI cooperative team Inter-Lakes-Moultonborough scored East's second TD early in the third. Derek Paradis of Nashua South answered with an up-the-gut run.
"The first series, I thought we did pretty well. We stopped them (but) right away turned the ball over," Raycraft said. "That's not the way you want to start an all-star game. From there, we pressed a little bit more than we probably should have and, because of that, created more turnovers.
"But, like I told the kids, I had a blast these last (10) days," he added. "I couldn't have asked for a better group of kids. It's going to be fun watching where they go from here. The score will fade, but they set the tone for fundraising."
BASEBALL CHAMPS
Division I
: Dillon Emerson's extra-inning hit snapped two droughts, including a lengthy one for Concord High.
The senior's single down the right-field line scored Pat Cannon and gave the top-seeded Crimson Tide a 5-4 walk-off win over No. 3 seed Merrimack High in the state final June 16 at Northeast Delta Dental Stadium, home of Double-A baseball's New Hampshire Fisher Cats.
Emerson's hit snapped an 0-for-4 skid in the title game and earned Concord (18-4) its first crown since 1980. The Tide lost the state final in 2011.
"I was in the dugout upset over all the missed opportunities I had when coach [Scott Owen] came up to me and said, 'Stick with it. You'll get your at-bat and you'll come through.' He was right," Emerson told the
New Hampshire Sunday News
.
December, 12, 2011
12/12/11
6:26
PM ET
Last week we unveiled our second annual
MIAA All-State Team
. Today, we're unveiled our second annual Prep All-State Team, limited to schools competing under the NEPSAC umbrella.
OFFENSE
QB - Tate Jozokos, Jr., Governor's Academy
RB - Chris Coady, Sr., BB&N
RB - Abner Logan Jr., Sr., Dexter
OL - Eric Olson, Sr., BB&N
OL - Robert Perdoni, Sr., Belmont Hill
OL - Shane Donovan, Sr., Thayer Academy
OL - Costa Toubekis, Jr., Dexter
OL - Billy Oldach, Sr., Rivers
TE - Brendan O'Neil, Jr., BB&N
WR - Bryan Viera, Jr., Thayer Academy
WR - Bryson Gilbert-Bono, Sr., Middlesex
DEFENSE
DL - Dan Connaughton, Sr., BB&N
DL - Tucker Oniskey, Sr., Governor's Academy
DL - Sam Caldwell, Jr., Groton
LB - Kirk Ryder, Sr., Governor's Academy
LB - Jack Connolly, Sr., St Sebastian's
LB - Nick DiChiara, Sr., BB&N
LB - Nick Antonucci, Jr., Pingree
DB - Kenny Abragye-Adinka, Sr., Pingree
DB - Sam Davis, Sr., Governor's Academy
DB - Kendall Dardy-Jones, Jr., St Sebastian's
DB - Richard Bradley, Jr., St Paul's
December, 8, 2010
12/08/10
6:07
PM ET
Offense
QB – Eric Bertino, Sr., BB&N
QB – Charlie Storey, Sr., Milton Academy
QB – Shaquor Sandiford, Jr., Rivers
RB – Ben Patrick, Sr., Rivers
RB – Chris Coady, Jr., BB&N
RB – Anthony Knight, Sr., Lawrence Academy
FB – Tommy Kelly, Sr., Nobles
TE – Josh Rivers, Sr., Roxbury Latin
OL – Jeff Winthrop, Sr., St. Paul's
OL – Max Ricci, Sr., Lawrence Academy
OL – Eric Olson, Jr., BB&N
OL – Paul Nwokeji, Sr., Thayer
OL – A.J. Walsh, Sr., Rivers
WR – Taariq Allen, Sr., Rivers
WR – Marcus Grant, Sr., Lawrence Academy

Defense
DL – Tyler Cardoze, Sr., Lawrence Academy
DL – John Bergantino, Sr., Belmont Hill
DL – Dan Connaughton, Jr., BB&N
DL – Ryan Welch, Sr., Lawrence Academy
LB – Dan Giovacchini, Sr., Lawrence Academy
LB – Peter Savarese, Sr., BB&N
LB – Brian Bowser, Jr., Belmont Hill
LB – Nick DiChiara, Jr., BB&N
DB – Mike Orloff, Sr., Lawrence Academy
DB – Brian Strachan, Sr., St. Sebastian's
DB – Joe Giandomenico, Sr., Roxbury Latin
DB – Ben Ticknor, Sr., Milton Academy