Boston High School:

St. Thomas Aquinas (N.H.)
June, 30, 2013
6/30/13
10:28
AM ET
By
Roger Brown
| ESPNBoston.com
DURHAM, N.H. -– Very little separated the teams in Saturday's CHaD New Hampshire East-West All-Star Football Game at the University of New Hampshire's Cowell Stadium.

The West prevailed 13-7 when Goffstown tailback Connor Benjamin scored on an 8-yard run in overtime.

"I wanted to get in and score more than anything," Benjamin said. "I ran my hardest and it paid off. We worked hard all week for this."

The West had an opportunity to win the game in regulation, but Portsmouth's Rick Holt blocked Zach Ziemba's 41-yard field goal attempt as time expired. The East fumbled on the 1-yard line on its overtime possession.

"I feel bad for the kid who fumbled, but what are you going to do –- that's part of the game," West coach Jim Schubert said. "I thought our kids played real hard, and that's all I cared about."

The game raises money for Children's Hospital at Dartmouth-Hitchcock. The West won the inaugural game 44-12 last summer.

"Real good football game," East coach Bob Camirand said. "Obviously we were disappointed losing, but I can live with this. It was a great effort on both sides. Two quality teams and I thought two well-coached teams."

The East trailed by seven until St. Thomas Aquinas running back Ryan Monette scored on a 1-yard run with 10:48 to play. Monette rushed for a game-high 102 yards on 25 carries. He also caught a 15-yard pass and gained 22 yards on two punt returns.

The only scoring in the first half came on a 1-yard pass from quarterback James Caparell to former Bedford teammate Brian Collins with 3:42 left in the first quarter. The scoring drive covered 60 yards in six plays. The big play was a 47-yard pass from Caparell to Collins, who had three catches for 53 yards in the victory.

Benjamin, who was a quarterback during his junior and senior seasons at Goffstown, led the West's running game with 57 yards on 14 carries.

DEFENSE DOMINATES
Holt, a defensive tackle who will play at the University of New Hampshire, was named the game's Most Valuable Player. In addition to blocking what could have been a game-winning field goal, Holt had 8-1/2 tackles, including a sack.

"I knew (UNH coach) Sean McDonnell was here and I wanted to leave it out on the field to the best of my ability, and I think I did that," Holt said. "Thankfully he let me play in this."

The West averaged 3.6 yards per play. The East averaged 3.5.

Nashua North linebacker/defensive end Deric Wagner recorded a game-high 10 tackles. The West received 9-1/2 tackles from Bedford linebacker David Cannone and 7-1/2 from Stevens linebacker C.J. Gosselin.

"We were a little undersized, but the kids really stuck in there on defense," Schubert said. "No. 71 (Holt) was by far the best player on the field. We couldn't handle him. He disrupted our three-step drop and our five-step drop so we had to start sprinting out in the third quarter.

"When you only have 10 days (to prepare) defense is always going to dominate. If you can look at film of a defense then that's different."

MONEY MATTERS
According to CHaD officials, the game raised $301,500, which included $48,000 in in-kind donations (uniforms, food, etc.)....Souhegan's Tyler Ford had a 74-yard punt....Caparell, who is New Hampshire's leader in career passing yardage (5,389), completed 8 of 12 pass attempts for 97 yards. He will play for the University of Rhode Island....Philadelphia Eagles head coach Chip Kelly, a former assistant coach at UNH, was among those in attendance.

September, 28, 2012
9/28/12
5:04
PM ET
By
Marc Thaler
| ESPNBoston.com
Rising star J.D. Dudek was considering verbal full-scholarship offers from Hockey East schools Maine and New Hampshire when the league-rival Eagles swooped in.

Boston College matched the offer. Dudek didn't hesitate to accept.
"The hockey is, obviously, pretty incredible there," Dudek said of BC, the defending NCAA Division I national champion and rink king in three of the past five years. "I'd love to pursue my career there."
[+] Enlarge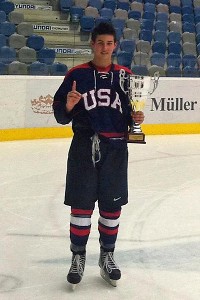 Courtesy of Dudek familyBC hockey commit J.D. Dudek
The 16-year-old resident of Auburn, N.H., verbally committed to BC on Aug. 23. It was shortly after he returned from a sensational performance at the Five Nations Tournament in Chomutov, Czech Republic.
Dudek – whose father is New Hampshire college football legend Joe Dudek – scored three goals for the United States Under-17 Select Team. The 5-foot 11-inch, 175-pound forward twice scored game-winning goals.
Team USA went 4-0 and won the tourney featuring clubs from the Czech Republic, Germany, Slovakia and Switzerland.
"The showing I had ... I'm just ecstatic with what the coaches and people think of me now," said the high school junior, who transferred to Kimball Union Academy in Meriden, N.H., after two year's at Pinkerton Academy.
The talented teen helped lead the Derry, N.H., school to its second NHIAA Division I boys' hockey title as a sophomore. He scored 20 goals and 34 assists, played the point on the power play and served as the team's top penalty-killer.
Pinkerton coach Casey Kesselring, a former hockey standout at Merrimack College (Class of 1998), said the attention his former player received was strictly from skating with the national team.
"USA hockey has a pretty good model to identify players," Kesselring said. "You try out for Team New Hampshire. They pick the team. Then you go to the New England festival. They pick Team New England. I know he was one of the highest-rated at that camp.
"When you're at a national camp," Kesselring added, "all the Division I coaches are there."
Dudek said he plans to complete his junior and senior years at KUA. He will remain in contact with BC coaches, and decide whether to join the Eagles directly out of high school or play junior hockey for a season.
Dudek's father – who became a national name at Division III Plymouth State University – said he never received Division I college interest as a high school athlete. The elder Dudek, of course, graced the Dec. 2, 1985, cover of
Sports Illustrated
as "The thinking fan's vote for the 1985 Heisman Trophy."
"It all happened so quickly," the former PSU star said of his son's recruitment. "A year ago, if you told me J.D. would have schools interested in him playing Division I hockey, I'd say you were crazy. He stepped it up at the USA camp, and it was fast forward from there."
QUEEN CITY CONTROVERSY
The fact there's only one regular-season all-Manchester matchup per year – the result of the Queen City's four high schools no longer all playing Division I football – generates considerable buzz.
But this year, talk leading up to the Week 5 Central-Memorial clash focused on possible sanctions related to a player's transfer between schools.
A sophomore living in Central's district transferred to Memorial. The boy's father, in an unpublished interview with the
New Hampshire Union Leader
, said the reason was related to playing time – specifically, receiving it.
Transferring for athletic purposes violates Section 4 of By-Law Article II in the "NHIAA Handbook."
The rule "assists in the prevention of students switching schools in conjunction with the change of athletic season for athletic purposes; (and) impairs recruitment and reduces the opportunity for undue influence to be exerted by persons seeking to benefit from a student-athlete's prowess."
The schools are under investigation by the New Hampshire Interscholastic Athletic Association (NHIAA), the state's governing body for interscholastic athletics. Officials from both schools were instructed to submit reports that NHIAA executive director Pat Corbin will review.
Corbin, who said he has received conflicting reports from several sources, is expected to make a decision on possible punishments before Week 6 games on Oct 5 and 6.
Forfeiting wins is a possible penalty, as is a three-year postseason ban for either or both schools.
The bulk of responsibility lies with the school receiving a transfer student. In this case, Memorial needed to file a waiver affidavit for NHIAA approval.
Central principal Ronald Mailhot said his school followed student-transfer procedure.
Memorial principal Arthur Adamakos, who took a sick leave last spring and did not return until the 2012-13 school year started, told the
Union Leader
"we goofed on" the paperwork process. Adamakos, a longtime Queen City principal, said he has always abruptly ended any conversation with individuals seeking a transfer for athletic purposes.
The player – whose name was withheld from publication in the statewide newspaper – was deemed ineligible to play in the Central-Memorial game.
'COMPETITION FOR A CAUSE'
Windham's Jaguars sold "Black Out Cancer" t-shirts and purchased alternative jerseys for their Sept. 24 Division IV football game against St. Thomas Aquinas.
The Jags – donning all-black uniforms with green numbers – won the Week 4 clash between last year's Division V finalists, 51-16. They also raised $3,000 for the American Cancer Society's "Coaches vs. Cancer" program.
The fundraising goal was $2,000, said Bill Raycraft, Windham's head coach and athletics director.
STA head coach Eric Cumba, whose team's many supporters wore white t-shirts in support of the fight against cancer, called the game "competition for a cause."
Windham used portable lights to play the Friday night game. Raycraft said the head count was tough to estimate.
"It was deep around the field," Raycraft said. "I know the principal said there were no parking spots left. It was a packed house."
Marc Thaler is a reporter for the New Hampshire Union Leader. He co-hosts the "N.H. High School Football Show" on WGIR-AM 610 and WQSO-FM 96.7. Read his blog at NewHampshireGameDay.com and follow him on Twitter: @marc_thaler.
May, 30, 2012
5/30/12
8:00
AM ET
This morning, ESPNHS and Gatorade announced the Gatorade Players of the Year for baseball across each of the 50 states and District of Columbia. BB&N's Rhett Wiseman took the honors in Massachusetts; below are the winners for the five other New England states.

CONNECTICUT: BRYAN DANIELLO, BRIEN MCMAHON

The 5-foot-10, 165-pound senior shortstop/right-handed pitcher led the Senators to a 16-7 record entering the Class LL playoffs against New Milford, scheduled for May 29. Daniello owned a 7-1 record and a 1.35 ERA on the mound along with a .400 batting average with six home runs and 18 RBI at the plate through 23 games. He was a First Team All-State selection and the Fairfield County Interscholastic Athletic Conference Player of the Year as a junior.

Daniello has maintained a B average in the classroom. He has volunteered locally on behalf of an area soup kitchen, youth baseball camps and his church's Bible camp.

"Daniello is fast, he plays a great shortstop and he has tremendous power," said Mark Caron, head coach at Fairfield Warde High. "I think he's the best player we've seen all year."

Daniello has signed a National Letter of Intent to play baseball on scholarship at the University of Connecticut this fall.

RHODE ISLAND: DAVID HOPKINS, EAST GREENWICH

The 5-foot-9, 170-pound junior shortstop led the Avengers to a 9-10 record and a berth in the Division 1 state tournament, scheduled to begin May 29. A returning First Team All-State and two-time First Team All-Division selection, Hopkins batted .370 with one home run and 18 RBI through his first 19 games. He collected 20 walks and scored 19 runs while producing a .551 on-base percentage and .537 slugging percentage. Also a right-handed pitcher, Hopkins owned a 4-4 record with a 3.50 ERA and 51 strikeouts against 14 walks in 48 innings pitched.

A survivor of leukemia, Hopkins has maintained a 3.16 GPA in the classroom and represents one of the state's top academic candidates in meeting the Gatorade Award's broad criteria. He has donated his time as a youth sports instructor for the past two summers.

"He's a pretty special kid," said East Greenwich head coach Bob Downey. "He's our best player and our best hitter. He's a better shortstop than he is a pitcher, and he's a pretty good pitcher. He carries us at times. He does all the little things. He gives us a chance to win every time he takes the field, and we've faced some wicked competition. Our guys really look up to him."

Hopkins has verbally committed to play baseball on scholarship at the University of Rhode Island beginning in the fall of 2013.

NEW HAMPSHIRE: JORDAN BEAN, ST. THOMAS AQUINAS

The 5-foot-9, 175-pound senior right-handed pitcher led the Saints to a 15-1 record entering the Div. 2 playoffs, scheduled for May 31. Through 16 games, Bean owned a 5-0 record and a 1.29 ERA on the mound along with a .463 batting average with 14 RBI at the plate. He is a three-time All-State selection.

Bean has maintained a 4.30 GPA in the classroom. A peer tutor in his school, he has volunteered locally on behalf of food drives to benefit the needy, youth baseball programs and in association with his church's vacation Bible school.

"Bean is a clutch player who just doesn't make mistakes," said Eddy Coulombe, head coach at Goffstown High. "He throws a fastball, curve, slider, change and he has uncanny control. He's also a good hitter and he's solid defensively. He's been dominant."

Bean will attend Tufts University this fall, where he will play baseball.

MAINE: LUKE FERNANDES, MARSHWOOD

The 6-foot-1, 170-pound senior right-handed pitcher/shortstop led the Hawks to a 13-2 record entering the regular-season finale against Sanford, scheduled for May 29. Through 15 games, Fernandes owned a 4-1 record and a 1.83 ERA on the mound along with a .404 batting average with 14 RBI at the plate. He recorded 47 strikeouts against just four walks in 30.2 innings pitched. A three-time First Team All-State honoree, he was also a Rawlings/Perfect Game First Team All-Region selection.

Fernandes has maintained a B average in the classroom. A member of his school's wellness council, he has volunteered locally on behalf of youth baseball and basketball programs.

"Fernandes has an above-average fastball, a very good breaking ball and he understands what pitching is all about," said Marc Boissonneault, head coach at Sanford High. "When he's on the mound he's in command of everything around him. He's also one of the tougher outs in the league; just a good, solid, all-around ballplayer."

Fernandes has signed a National Letter of Intent to play baseball on scholarship at Boston College this fall.

VERMONT: CODY SHARROW, MT. MANSFIELD UNION

The 6-foot, 170-pound senior shortstop/right-handed pitcher led the Cougars to a 12-4 record entering the Div. I state playoffs against St. Johnsbury, scheduled for May 30. Through 16 games, Sharrow owned a .538 batting average with 21 RBI at the plate along with a 5-1 record and a 1.75 ERA on the mound. Sharrow is a two-time All-Metro selection.

Sharrow has maintained a 3.29 GPA in the classroom. Also a basketball standout, he has volunteered locally on behalf of athletic programs for special needs students.

"Sharrow is a great all-around player," said John Learned, head coach at Milton High. "He's a very, very solid shortstop who hits well, and he's a well-rounded pitcher too. He's pretty masterful when he's on his game, which is most of the time."

Sharrow has signed a National Letter of Intent to play baseball on scholarship at South Dakota State University this fall.
February, 7, 2012
2/07/12
2:30
PM ET
By
Marc Thaler
| ESPNBoston.com
Too often powerless on the power play and generally struggling to generate offense during the hockey season's first half, Hanover High tinkered with its top line.

If the first game with captain Peter Bensen centering Connor Gordon and Ryan Brigman was any indication, hovering-around-.500 Hanover could pose problems in Division I.
"In any sport you play, in any season, there's going to be a turning point … I think this is going to be our turning point," Bensen said Jan. 28 after he paced the reigning state-runner-up to a commanding 5-2 road win over No. 2-ranked Manchester Memorial High at JFK Coliseum.
Perennial power Hanover owned a 4-4 record when it faced the league's only 10-win team. Losing 13 players from a year ago contributed to the club's mediocre mark.
Coach Dick Dodds felt change up front was needed.
Brigman moved from the blue line to right wing. It didn't take the long for Dodds' decision to pay off.
Hanover's senior winger buried a first-period rebound. The goal erased Memorial's early 1-0 lead, served as the first of Hanover's two power-play strikes, and set off a run of three unanswered goals.
"He created a lot of havoc in the offensive zone," Dodds said. "It really helped. That group works well together. They had a nice game for us."
Bensen (two goals, two assists), Gordon (goal, three assists) and Brigman (goal, two assists) factored in all five goals for the Marauders.
But Brigman's equalizer was significant for another reason: The goal was a quick response to falling behind midway through the opening frame.
Hanover trailed for a mere 3 minutes, 28 seconds.
Roles were reversed in the club's previous contest, a 3-2 home loss to Nashua North High. The Marauders twice surrendered markers within 50 seconds of tallying their goals.
"We just pointed out to our kids how important the next shift is," Dodds said. "We worked on it in practice. So, it was encouraging to see us come back and score."
The Marauders were oh-so-close to clinching a comeback win Feb. 1 against Concord High. The game ended in a 3-3 tie.
Hanover's three goals in the final frame erased a two-goal deficit. The club's third connection, a shorthanded goal with 73 seconds left, was offset by Concord's ability to capitalize in 5-on-3 play.
Five league games remain on the regular-season schedule for Hanover (5-5-1 Div. I).
New Hampshire's club from the Upper Valley starts the stretch with four straight road games. Defending champ Trinity High of Manchester (Feb. 11) and another bout with Concord (Feb. 15) are on the slate.
"I think that our team really thrives in a tough environment when we're under pressure," Bensen said.
Hanover won't lack chances to prove it.
January, 19, 2012
1/19/12
3:43
PM ET
By
Marc Thaler
| ESPNBoston.com
Draining the game-winning shot is a dream shared by most, if not all, hoop junkies.

Now add this element to the drama: Knocking down the 3-pointer that serves as the knockout punch to your former team.
Manchester Central High's Dawson Dickson didn't just dream such a scenario. He lived it Jan. 10. The sophomore point guard's trey earned the Little Green a 41-40 Division I boys' basketball road win over fierce Queen City rival Trinity High.
"I've wanted to hit a game-winning shot my whole life," said Dickson, who transferred from Trinity, this year's championship favorite, after his freshman year. "I didn't even think about the situation. I was open, so I shot it."
Reacting rather than thinking served the sophomore well. McHugh Gym – one of the smaller, yet most electric hoop venues in the state – was packed.
"It was my old school and bragging rights were on the line," Dickson said.
It was hot. It was loud. And, hardly surprising, the home team's unforgiving student section didn't give Dickson a break for four quarters.
On the court, the game was tied at 38-apiece inside the final minute. Dickson, a year removed from shooting countless jumpers on Trinity's home court, hadn't attempted a single 3-point shot.
Until, that is, a defensive breakdown left him open beyond the arc.
Muscle memory – and a go-for-the-jugular mindset – kicked in. Dickson lofted the 3-ball with 52 seconds to play.
Dagger.
Central's one-possession lead, however, was trimmed to a point. The Pioneers also had a chance to take the lead in the final seconds, but couldn't convert the critical field goal.
Dickson's former team was saddled with its first league loss of the season.
As for the underclassman, hardly overwhelmed with the game in the balance, what was he feeling once the score went final?
"Relief," Dickson said. "The Trinity kids were on me the whole game."
October, 28, 2011
10/28/11
4:21
PM ET
By
Marc Thaler
| ESPNBoston.com
Show of hands: Who's surprised by Spaulding High's success this season on the gridiron?

Ask that question in Rochester and, truthfully, throughout New Hampshire. You'll find the team's head football coach is among many with an arm stretched high to the sky.
"Kind of. I didn't think we'd win three in a row," head coach Dennis Fontaine said shortly before his Red Raiders added a fourth straight win to their resume Oct. 21. "For the kids to grasp the new systems on offense and defense, they picked it up quick. They're executing what we showed them."
Those new systems on both sides of scrimmage are the result of Fontaine's appointment to the head coaching post this fall. Spaulding's once-proud program is under new leadership for the second time in as many seasons.
Fontaine is the fifth head coach since 1998, the first season after legendary Hugo Bolin retired with a 198-127-3 career record and five state titles.
The post-Bolin era hasn't been pretty.
Spaulding went 28-107 from 1998-2010, a span that included time in Divisions I and II. The program celebrated just one playoff season in those 13 campaigns. Jim Keays, known for his championship success at Somersworth High years ago, led the '06 Red Raiders to the Division II semifinals.
Considering the coaching turnover and run of football futility, there was nothing in the preseason that indicated Spaulding (4-4 overall, 3-3 Div. II) would compete for the playoffs.
There weren't any signs in September, either.
The Red Raiders went 0-4, including three consecutive setbacks to perennial contenders in league play. They suffered three shutout losses. They were outscored, 125-8.
Then came the turning point. Rather than fight the formula for winning -- from yet another head coach -- the players bought into it.
"They're realizing it's not just a bunch of hot air. They're taking it and applying it on the field," said Fontaine, previously a longtime assistant for recently retired Rod Wotton, who owns New England's record for career wins (342), and led Maine's Marshwood High and Dover's St. Thomas Aquinas High to a combined 21 state titles.
Spaulding rattled off four straight wins from Sept. 30 to Oct. 21.
The Red Raiders stunned Keene High, 25-17. They whacked Manchester West High, 47-14. They slammed Merrimack High, 39-0, for the program's first shutout win since the '06 season.
Handling Hudson's Alvirne High with ease, 39-13, Spaulding celebrated its first four-game win streak since 1999, when Dave Keller was at the helm.
Fontaine said the turnaround has been a team effort.
There are, however, standouts in the group. The Scott brothers, Tyrone and Trey, are running the football with purpose. Linemen Dillon Couture and Ben Lafond are providing push up front.
Safety Nate Zriny "is playing fantastic defense," Fontaine said. "He'll play anything for us. He'll play nose tackle if we ask him to."
Fontaine's gridders have two regular-season games remaining, though they close their league slate Oct. 28 at Hugo Bolin Field against Plaistow's Timberlane Regional.
A win for the Red Raiders earns them the No. 3 playoff seed.
Surely, Fontaine is excited by his squad's stunning second half to the season. Right?
"Yes and no. I've been there before from prior coaching. You can't get too excited in front of the kids," he said. "We just do our normal practice, work on what we need to do on offense and defense."
Spoken like one very focused head football coach.
June, 13, 2011
6/13/11
2:10
PM ET
By
Marc Thaler
| ESPNBoston.com
The resume: Seven consecutive appearances in the Division I boys' lacrosse final.
The crown count: Four.
The program celebrating those staggering statistics: Nashua's Bishop Guertin High.

Guertin tightened its grip on the sport June 8 with a first-time feat for the program. Coach Chris Cameron and his Cardinals clinched their second straight title with an 11-8 win.
"This one feels good," said Cameron, whose team finished 14-1 in league play. "This one feels good."
Success was indeed sweet, considering second-seeded BG beat its fiercest rival. Top-seeded Pinkerton Academy of Derry entered the tournament final undefeated (20-0 overall) and perfect in NHIAA finals since 1997 when boasting an unblemished record (3-0).
Roughly 1,500 fans filed in to Stellos Stadium for the much-anticipated matchup played in extreme humidity. The final marked the fourth time BG and Pinkerton fought to finish No. 1 since 2005.
BG now owns a 3-1 record in those colossal clashes.
What prepared BG's young and inexperienced squad for this giant win? Try six grueling out-of-state games that left the team linked to an uncharacteristic 0-6 record.
Cameron annually schedules the most unforgiving non-league schedule of any team playing NHIAA lacrosse. After his team topped No. 3 seed Hanover High in the semifinals, 15-6, the eighth-year coach said this spring's out-of-state slate was the toughest to date.
The Cards lost to Massachusetts squads Lexington (6-4), Needham (14-11), Cohasset (7-4) and Duxbury (15-3). New Jersey's St. Joseph Metuchen (11-3) and Rhode Island's La Salle Academy (6-5) also beat BG.
There was also an 8-7 loss to the Astros, which snapped BG's 48-game regular-season win streak against in-state foes. Guertin had as many losses this spring (seven) as the 2008, 2009 and 2010 seasons combined.
Shut-down junior defenseman Bob Fahey said team confidence took a hit. But the losses served a purpose.
"It got us ready for this exact game, right here," said Fahey, who has already committed to UMass. "Coach Cameron gives us that great out-of-state schedule to get ready for these games."
Cameron's club took control of the final after halftime. The teams took the field for the third quarter knotted at 6-apiece.
BG's midfield- and close-defense – operating without defensive slides – caused all kinds of problems for Pinkerton. Fahey, Kyle Karaska and Jay Krzyston forced the Astros to shoot from the perimeter. Long-stick midfielder Brody Smith locked off lanes to the cage. Colin Delea (14 saves) made the necessary stops between the pipes.
"You've got to give credit to them," said Pinkerton coach Brian O'Reilly, noting his offensive-minded club was contained to four goals in 6-on-6 play. "It's not like we were missing the cage. It's just the shots didn't seem to be there."
May, 13, 2011
5/13/11
1:29
PM ET
By
Marc Thaler
| ESPNBoston.com
It's a head-scratcher of the highest order.

Tony Johnson, among the Granite State's most successful head football coaches, will not return for his 18th season at powerhouse Bishop Guertin High, the three-time defending Division II champion.
Also the Nashua school's athletics director for the past four years, Johnson announced his stunning decision on May 6. He first broke the news to his assistant coaches and student-athletes.
Word spread quickly.
Pinkerton Academy head football coach Brian O'Reilly – whose Division I champion Astros play yet another much-anticipated season-opening crossover contest with BG this fall – said his reaction was complete disbelief.
"Tony has obviously done an exceptional job at Bishop Guertin," said O'Reilly, entering his 34th season at the helm in Derry. "When I think of Bishop Guertin football, I immediately think of Tony Johnson."
O'Reilly, whose program is a 10-time Division I king, isn't alone.
On this topic, easily obtainable answers exist to four of journalism's five W's: Who?, What?, When?, and Where? The fifth question is much tougher to explain.
Why?
"My passion is coaching," said Johnson, who will remain BG's athletics director. "But really, (BG officials) wanted me to focus on being AD."
Four years earlier, Johnson became AD in addition to coaching football. He said his performance in both roles has been reviewed annually.
Johnson, a Guertin graduate (1977), simply said the powers-that-be wanted him to focus more attention on all sports programs.
Minus any details, which haven't emerged from behind Guertin's doors, this move is baffling. Guertin fields championship-caliber teams in a variety of fall, winter and spring sports.
Let's see how much longer Guertin football remains a force. Johnson and his loyal assistants are a big reason for BG's stranglehold on Division II.
Johnson took over in 1994, fresh off a winless campaign. BG reached the final in 1997, the first of 10 title-game trips under Johnson's tutelage.
The Cardinals finally finished No. 1 in 2004, securing their first crown since Johnson starred for the school's 1975 title team as a junior.
Johnson's juggernaut has won six of the seven state championships since 2004. All that separates the Cards from seven straight titles is, quite possibly, a controversial pass interference penalty late in the 2007 final against Exeter High. The infraction gave Exeter life, and led to a 14-13 comeback decision.
"It will not be the same," O'Reilly said. "Whoever follows (Johnson) is behind the 8-ball."
That's because the successor will work in a giant shadow cast by the former coach, still serving as AD.
"We'll open this thing up. We're going to do an open search," Johnson said. "I owe it to my kids to find the best coach I can."
JOHNSON'S PREPARED STATEMENT
BG's former head coach read this statement to select media members after informing the football team of his decision to leave the sideline:
"My heartfelt thanks goes to the thousands of young men I have had the honor of coaching and teaching over the past 17 years. I want to thank my loyal coaches, thousands of great parents, alumni and friends of BG for their contributions in achieving an unparalleled record of winning football games, developing outstanding scholar-athletes, and to their dedication of the highest principles of good sportsmanship and citizenship."
CLIPPERS CLOSE TO RECORD
Portsmouth High's baseball team (10-0) is close to tying the national record for consecutive wins.
The three-time defending Division II champion won its 73rd consecutive game on May 11. The Clippers beat Amherst's Souhegan High, 9-3.
But it was Portsmouth's 70th straight win that stands out. It certainly qualified as nail-biter baseball. The Clippers clinched a 4-3 comeback win against Dover's St. Thomas Aquinas High on May 2.
Pitching ace Keegan Taylor was tagged for a first-inning home run that placed the Clippers in a 2-0 hole. Jordan Bean, STA's top hurler and Taylor's teammate on the celebrated Portsmouth Little League squad that reached the national semifinals of the 60th World Series in 2006, belted Taylor's third toss of the game.
Portsmouth's third-inning four-spot erased the deficit.
Bill Hartman cracked an RBI double. Matt Feeney ripped a two-run single. Taylor tripled to plate Feeney with the game-winning run.
Taylor threw a four-hitter on 100 pitches. Northeastern's recruit recorded 10 strikeouts and walked one.
The current win streak record-holder is Michigan's Homer High, which beat 75 teams in a row, according to the National Federation of State High Schools Association.
If the Clippers defeat Durham's Oyster River High on May 13, they'll play for a share of the record on May 16 at Kingston's Sanborn Regional.
The potential record-breaker game is May 18 at Pembroke Academy.
LANCERS LOCKED IN
Londonderry High survived a fierce five-game stretch from April 30 to May 11, which kept its state-best girls' lacrosse win streak alive. The streak reached 48 straight games with a 14-4 Division I win over arch-rival Pinkerton on May 11.
It was Londonderry's lone lopsided win in the 12-day span.
The Lancers (11-0) edged the Bay State's Duxbury High, 12-11, on April 30. They worked a 10-8 comeback win at Pinkerton on May 3.
Three days later, Londonderry beat Concord High, 8-6. The Lancers kept the Crimson Tide off the scoreboard for the final 22 minutes, and erased a 6-2 second-half deficit.
They again faced Concord on May 10, and topped the Tide, 12-9.
From front to back, the Lancers displayed their balance. Attackers Leah Walter and Julia Wasserman, midfielders Jenny Thompson and Alexa Bedell, defenders Amy Johnson and Lindsay Conroy, and goalkeeper Crystalle Parent all made critical contributions.
"All the stuff we've been trying to teach throughout the year is just starting to come into place," Londonderry coach Bob Slater said. "This is when we wanted it. This is when we needed it."
SCHOLAR-ATHLETES HONORED
Twenty-nine seniors from schools throughout the state were the honored guests at the 24th annual Joe Yukica New Hampshire Chapter of the National Football Foundation and College Hall of Fame scholar-athlete dinner on May 4.
The number of standouts – celebrated by 200-plus members of the state's football community at the Executive Court in Manchester – tied the record set last year. At least one school from each of the six New Hampshire Interscholastic Athletic Association (NHIAA) football divisions was represented.
A five-man selection committee from the Yukica foundation chose from nearly 50 candidates nominated by their coaches. Prerequisites for consideration included football talent, good grades and high character.
This year's winners included:
Chris Almeida, Souhegan (Amherst)
Jared Barczak, Trinity (Manchester)
Nick Kepka-Calvetti, Souhegan
Matthew Cannone, Salem
Sam Carney, Hanover
Tim Croteau, Nashua North
Stephen Cuipa II, Bishop Guertin
Joseph DiPalma, Salem
Keith Farkas, Nashua South
Benjamin Fee, Winnacunnet (Hampton)
Dan Folger, Bishop Guertin
Nick Hession, Souhegan
Jake Holmes, Laconia
Max Jacques, Salem
Brandon Karkhanis, Nashua North
Jim Kemos, Bishop Guertin
Kevin Kosiorek, Mascoma (Canaan)
Doran Logsdon, Laconia
Anton Marinchik, Nashua North
Sam McClain, Bedford
James Murphy, Nashua North
Cody Patch, Lebanon
Jack Pearl, St. Thomas Aquinas (Dover)
Jonathan Roth, Lebanon
Michael Seaman, Epping
Luke Somers, Pinkerton
Matthew Sullivan, Winnacunnet
Michael Sullivan, Winnacunnet
Nicholas Sullivan, Newport
STARS TO SHINE
The Children's Hospital at Dartmouth-Hitchcock (CHaD) recently announced plans for New Hampshire's first East-West high school football all-star game. The inaugural contest is June 23, 2012, at the University of New Hampshire's Cowell Stadium.
The game will benefit CHaD and the Kristen's Gift fund for pediatric oncology.
Each team's roster will include 36 players based on nominations made by their head coaches. Players must compete for schools recognized by the NHIAA.
Every division will be represented by, at minimum, one athlete. A maximum four players may be chosen from a single team.
Route 3 and Interstate-93 are the dividing lines that create the "East vs. West" matchup.
"The team of organizers that we've assembled will do a masterful job in premiering the state's only all-star football game," event founder Nick Vailas said in a written statement. "New Hampshire football will be elevated by this platform, and players should aspire to make the teams' rosters in order to showcase their skills in an event that will raise awareness and funding for CHaD and Kristen's Gift."
GRANITE STATE GREATS
Bedford High goalkeeper Austin Lauzier made at least 20 saves in consecutive Division II boys' lacrosse contests on May 7 and 9. He stopped 21 shots in a 17-10 loss at Souhegan on May 7. He made 20 saves in an 11-8 win over Portsmouth two days later.
Jack Dowst, a midfielder at Manchester's Derryfield School, totaled seven goals and three assists on May 9. His 10-point effort paced the defending Division III boys' lacrosse champion in a 13-10 win over Lebanon High.
Pinkerton's Ryan Feney was a double threat on the baseball diamond May 9 at Rochester's Spaulding High. He struck out nine batters and hit a two-run homer in his team's 5-3 Division I win.
Mickenzie Larivee and Meggie Whitney each recorded five goals and an assist in Souhegan's 19-3 Division I girls' lacrosse win over Manchester Central High on May 10.
Julia Nolan led Litchfield's Campbell High to a 1-0 Division III softball win over Conant High of Jaffrey on May 11. She fanned 14 batters and celebrated her 100th strikeout of the season.
Oyster River girls' basketball star Danielle Walczak, a scholarship recruit for the University of Maine, secured a spot on Parade Magazine's 35th annual All-America high school team. The 6-foot 1-inch center will be profiled in the publication's May 15 issue.
Marc Thaler is a staff writer for the New Hampshire Union Leader & Sunday News. He can be reached at marc.thaler@gmail.com. You can read his blog, "New Hampshire GameDay" and follow him on Twitter @marc_thaler.
February, 23, 2011
2/23/11
5:53
PM ET
By
Marc Thaler
| ESPNBoston.com
MANCHESTER, N.H. -- Manchester High School West's Valentine's Day victory made basketball coach Nick Moutsioulis wish his wallet could support a team trip to the Magic Kingdom.
"If I could pay for every one of the girls to go, I'd do it in a heartbeat," said Moutsioulis, his reference to Disney World and the visit made by the Super Bowl MVP after winning the biggest of games.

You see, West entered its Feb. 14 girls' hoop contest lugging a 77-game losing streak that dated to the 2007-08 season opener. But after three consecutive winless campaigns, and another 14 straight losses this winter, the Blue Knights stopped the frustration-filled skid with a 38-33 Division II road win at Pelham High.
"I'm still processing it. I don't even know how to react to a win," said 5-foot 8-inch forward Emily Colon, one of three seniors on West's varsity team that features just eight active players.
West's low participation in athletics isn't limited to girls' hoop. The loss of Bedford student-athletes to the opening of Bedford High in 2007 has affected most sports programs at the school.
The exodus that eventually shrunk West's population from 2,000-plus students to roughly 1,100, took place over several years. But West's ability to compete in most sports quickly declined.
Colon and classmate Brooke Brown were freshman call-ups to the varsity in 2007-08, West's first winless campaign. Routinely losing was a foreign feeling to these stars of the streak-snapping win; as ninth-graders they led their freshman team to a 12-4 record.
"We tried not to think about the negative," said Brown, a 5-foot-11 center, noting the team became the punchline to jokes that spread throughout the school.
Over time, however, staying positive proved tough. One winless season grew into two, which reached three last winter.
But worse than the lopsided losses -- and jokes generated by them -- was the sinking feeling caused by looking into the stands during home games.
February, 9, 2011
2/09/11
3:10
PM ET
By
Marc Thaler
| ESPNBoston.com
Mike Kelly's dream of playing Division I college football turned nightmarish before the high school campaign built any momentum.

"When it happened (last September), I got down. Like anyone else would," Kelly said of the Week 2 foot injury that ended his senior season for Nashua's Bishop Guertin High, the eventual Division II three-peat champion. "It just didn't seem possible."
Nor did this: Verbally accepting a partial scholarship offer on Jan. 27 to play football for the University of New Hampshire, which competes in the Football Championship Subdivision's super-competitive Colonial Athletic Association.
"Knowing most colleges go off senior tape, I didn't think it would be enough for colleges to assess me," said the 5-foot 9-inch, 176-pound talent, a projected slot receiver, kick- and punt-returner, and possible cornerback for the Wildcats. "I was nervous about that. In one game, to seemingly have (my dream) taken away, it was a hard thing to come to grips with."
Good thing Kelly, a Merrimack resident, enjoyed a career contest in the season-opener. Guertin routed defending Division I champ Salem, the heavy preseason favorite to repeat, 48-21.
Kelly was impossible to contain.
The top weapon in BG's spread-option attack totaled 310 yards of offense and five touchdowns. His 17 carries generated 193 rushing yards and four touchdowns. He also caught three passes for 117 yards, including a 65-yard catch-and-run TD on the season's first play from scrimmage.
Running a crossing pattern toward the left sideline, Kelly snared in stride Steve Cuipa's 20-yard toss and hit high gear. He burned past Salem's secondary for the final 45 yards.
It was vintage Kelly, who a year earlier scored three touchdowns in Guertin's Division II title-game clincher.
"He's gifted. He's got tremendous speed. And on the football field, speed is everything," BG athletics director and head football coach Tony Johnson said, noting Kelly ran the 40-yard dash in 4.55 seconds before injuring his foot. "(UNH coaches) looked at his ability to change directions, excel quickly, sustain speed for a long period of time. They were interested in him in spring of his junior year."
December, 23, 2010
12/23/10
1:18
PM ET
ESPN Boston correspondent Roger Brown reports on his
New Hampshire Football Report
that St. Thomas Aquinas football head coach Rod Wotton is stepping down.
Wotton accumulated a career record of 342-81-3 and passed Brockton's Armond Columbo in 2007 as the winningest football coach in New England history. The 71-year old coached at South Berwick High School and Marshwood High School of Maine before taking the post at St. Thomas Aquinas.