Boston High School:

Stephanie Cornish
April, 9, 2013
4/09/13
11:19
PM ET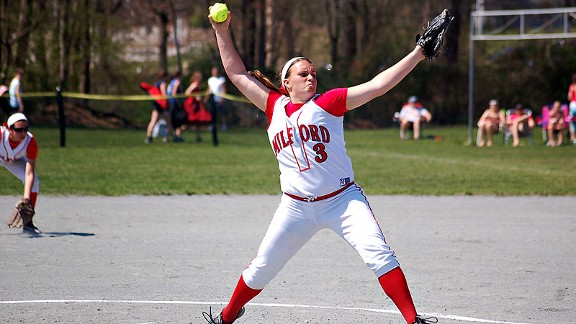 Brendan Hall/ESPNBoston.comReigning ESPN Boston Miss Softball Award winner Shannon Smith hopes to lead Milford to back-to-back Division 1 state titles.
STARTING ROTATION
Megan Colleran, Jr., North Attleborough
Anna O'Neill, Sr., King Philip
Lauren Ramirez, Sr., Dracut
Kendal Roy, Jr., Grafton
Shannon Smith, Sr., Milford
STARTING NINE
Tori Constantin, Sr. 2B, King Philip
Stephanie Cornish, Sr. 3B, Abington
Alexis DeBrosse, Sr. SS, New Bedford
Caroline Fairbanks, Sr. 3B, Milford
Nicole Lundstrom, Sr. C, Dighton-Rehoboth
Bella Picard, Sr. SS, Blackstone Valley Tech
Madi Shaw, Jr. SS, Bridgewater-Raynham
Dakota Smith-Porter, Sr., P/SS, Turners Falls
Reilly Weiners, Sr. C, Agawam
WATCH LIST
Olivia Antczak, Soph. P, Central Catholic
Allie Colleran, Jr. SS/OF, Concord-Carlisle
Megan Cook, Jr. P, Bellingham
Haley Currie, Sr. 3B, Burlington
Sara Dawson, Soph. P, Bridgewater-Raynham
Kaleigh Finigan, Sr. 3B, St. Mary's (Lynn)
Bridget Furlong, Sr. 2B, Malden
Courtney Girouard, Jr. P, Fairhaven
Galen Kerr, Sr. P, Concord-Carlisle
Taylor LeBrun, Soph. C, Milford
Rachel Levine, Sr. CF, Milford
Michaela Mazure, Soph. INF, Burlington
Shannon McLaughlin, Jr. P, Tewksbury
Paige Mulry, Jr. C, Boston Latin
MacKenzie Navarro, Jr. 1B, Taunton
Alicia Reid, Sr. CF, Abington
Kelsey Saucier, Jr. P, Holy Name
Rachael Smith, Jr. P, Winchester
Lauren Tuiskula, Sr. P, Leicester
Jurnee Ware, Sr. P, Hudson
June, 10, 2012
6/10/12
11:11
PM ET
By
Bruce Lerch
| ESPNBoston.com


TAUNTON, Mass. -- A year ago, the Abington softball team was in the midst of a comeback bid against Coyle-Cassidy in the Div. 1 South semifinals when third baseman Stephanie Cornish slid into second base and broke two bones in her leg.

After undergoing surgery and not being able to walk for two and a half months, Cornish missed the fall soccer season while rehabbing. She was able to get back in time for basketball in the winter, but when spring rolled around, Cornish and her Green Wave teammates felt they had some unfinished business to take care of.

With Cornish playing a pivotal role in what was a stellar defensive performance, No. 1 Abington finished what they tried to do last year by capturing the south sectional title with a 3-1 victory over No. 3 Fairhaven Sunday at Taunton High School.

"Last year I broke my ankle. We were in the middle of a comeback too," Cornish recalled. "We were playing Coyle-Cassidy and I slid into second base and I broke my ankle - but I was safe though so that was good. But I think that kind of slowed our comeback a little and we ended up losing. Making it all the way this year is a great feeling. I can't describe it."

Cornish recorded a putout and three big assists in the later stages of Sunday's contest, emblematic of the way the Green Wave (22-2) settled down defensively after committing a pair of first inning errors that led to Fairhaven's (20-3) only run.

The defense provided a big boost behind Abington ace Kelly Norton, who scattered four hits and struck out six while setting down 16 of the last 17 hitters she faced from the third inning on.

"Since I have been at Abington Kelly has won 43 games and only lost four," said Green Wave coach Ernie Ortega. "That will tell you what kind of competitor she is and she does not let things get her down. It was very easy for them to get down after being down 1-0.

"We weren't making contact but once we tied the game and then took the lead, there was no looking back" he continued. "It's only the second time we've been down since I think the beginning of May. That was a testament to these girls. They showed they can play with the best of them."

A bit of nervousness played a role in a choppy start for Abington as the Lady Blue Devils put together a run when Kayli Moniz led off the game with a double and scored two batters later on a throwing error.

The Green Wave were to cash on mistakes as well, as Liz Morgan tied the game in the second, scoring after a double and a throwing error. Abington took the lead for good in the third when both MacKenzie Gillis and Jill Marella came all the way around after a pair of errors on Marella's bunt attempt.

Norton slammed the door shut from that point on, shaking off the nerves and allowing just a sixth inning double over the final five innings.

"Everyone just needed to take a deep breath because we always get nervous," Norton admitted. "Everyone's on the bus freaking out and jittery and we all just need to remember its just a game. We've played what, 23 times before this game? Everyone just relaxed and got back at it and collectively we did our job."

Norton added, "After the first two innings, I could tell I wasn't fully warmed up. Yesterday I was on it, I could feel I was in the zone. But after those first couple of innings I got down to basics and it just worked I guess."


June, 12, 2011
6/12/11
11:40
PM ET



TAUNTON, Mass. -- Can anybody cool down the bats of Coyle-Cassidy softball?

The Eastern Athletic Conference champions mashed their way through the regular season, scoring 205 runs in the regular season, or greater than 10 runs a game. C-C began the Division 2 South tournament by hanging a pair of 16-run performances on Norwell and Hanover.

The Warriors kept swinging Sunday in their D2 South semifinal against Abington at Jack Tripp Field, pounding out 14 hits and doubling up the Green Wave, 8-4.

"They all know their job," C-C head coach Russell Hunt said. "I could be the number three hitter, or the five-hitter that needs to execute, either on the bunt or to make some contact. They know their jobs and we try to keep it simple here and thus far they've executed."

Part of the key to C-C's success has been its stacked batting order, as exhibited on Sunday. Every Warrior starter had at least one hit and four players (Patty Borges, Julie LeClair, Tricia Quinn and Genna Whelan) had multi-hit games.

Quinn and center fielder Megan Ritchie led C-C (19-4) both drove in a pair of runs.

"The bottom third of our order could be the top third," said Katie Bumila, the Warriors' senior catcher. "You could turn our lineup all around and we would still have the same results because we have that power and we have really just good hitters all the way through the lineup."

That bottom of the order made its presence felt in C-C's four-run fourth inning.

Ritchie, batting out of the sixth-hole, clubbed a two-run single to left. Next up, Warriors starter Katherine Clark delivered an RBI single. Then, No. 8 hitter Brittany Perdigao beat out an infield hit, scoring Clark.

It wasn't all smooth sailing for the Warriors, however. The top-seeded Green Wave (21-2) crawled back within a run at 5-4 in the fifth inning.

Lead-off hitter Mackenzie Gillis hit an RBI double to left-center; she later came around to score on Stephanie Cornish's two-out single.




On the following play, in a scary moment, Cornish went sliding into second base on Haylee Rogers' infield hit. Cornish slid safely into the bag, but her left spike dug into the clay. Play was stopped for nearly 20 minutes as Cornish was taken by ambulance to Taunton's Morton Hospital with a broken ankle.

When play resumed, Clark got Alex Powers to pop out to second with the bases loaded to close the inning.

"We had a good rally going there," Abington head coach Ernie Ortega said. "The kids played hard. They gave up a few more errors than you can commit against a team like Coyle, they take the extra bases. We prepared as well as we could for them, but they played better."

The Green Wave committed three errors in the field, providing the Warriors with several extra outs.

"That's kinda' how we play," Bumila said of C-C's aggressive play on the base paths, "we go all out and we try to make them make mistakes and put pressure."

Katelyn McCarthy earned the save after entering the game for Clark in the sixth. McCarthy retired the final four Green Wave batters in order. Clark earned the win, scattering six hits over 5 2/3 innings while allowing three earned runs and striking out four.

"It's been a full team effort," Hunt said. "They've all given it all that they possibly can, you've got to appreciate that."

Fifth seed C-C will face No. 2 seed Hopkinton for the D2 South title Monday at Taunton High. First pitch is at 7 p.m.