Boston High School:

Stephen Camaro
November, 28, 2012
11/28/12
12:14
AM ET
By
Roger Brown
| ESPNBoston.com
LOWELL – His football team was held to 66 yards of total offense and failed to score in the first half of Tuesday night's Eastern Massachusetts Division I semifinal against Andover, so St. John's Prep coach Jim O'Leary exited the locker room at halftime with a simple plan: Give the ball to Jonathan Thomas.

Thomas, a junior running back, ran for three second-half touchdowns to propel St. John's Prep to a 21-0 victory at Cawley Stadium.

Thomas finished the game with 208 yards rushing on 28 carries.

"They take chances [on defense]," O'Leary said. "So at halftime the coaches made some adjustments in our blocking scheme. We came out and knew what we were going to do. We were going to pound it at them.

"He can play. There's a reason he's a Division I scholarship player, and it showed tonight. We're gonna put the ball in the hands of people who can make plays."

Thomas scored on runs of 1, 19 and 47 yards. His 1-yard touchdown run opened the scoring with 3:31 left in the third quarter. His two other touchdowns came in the fourth.

Thomas gained 184 of his 208 yards after halftime.

"We're a second-half team, and we knew what we had to do," Thomas said. "We came out and executed."

The game's turning point seemed to come late in the third quarter, after a 22-yard completion from Andover quarterback C.J. Scarpa to Will Heikkinen brought the ball to the St. John's Prep 12-yard line. Before Heikkinen was brought to the turf, however, Alex Moore forced a fumble and scooped up the loose ball.

The Eagles then drove 90 yards in nine plays and took a 14-0 lead when Thomas scored from 19 yards away and Stephen Camaro added the second of his three point-after kicks. Thomas accounted for all 90 yards in the drive. He gained 71 yards on the ground, and caught a 19-yard pass.

It was victory No. 200 for O'Leary. It also earned St. John's Prep (10-1) a berth in Saturday's Division I Super Bowl. St. John's Prep will face Brockton (9-3) at Bentley University at either 2 p.m. or 6 p.m.

Brockton advanced by beating Weymouth, 33-7, in Tuesday's other semifinal. St. John's Prep defeated Brockton 27-12 during the regular season.

"Coach O [O'Leary] is a great coach," Thomas said. "I'm happy for him.

"We still have a lot of work to do. We have one more game, and I'm ready for it.

POINTLESS EXERCISE
Andover moved the ball inside the St. John's Prep 15-yard line four times in the loss. Two of those drives ended with a missed field goal.

"I take responsibility," Andover coach E.J. Perry said. "We should have been able to punch it in, and that's my fault."

It was the third time St. John's Prep has shut out an opponent this season. Andover scored at least 40 points in six of its 11 regular-season games and entered the contest averaging 40.8 points per game

"Against this team here you can't let them have the home run," O'Leary said. "You just can't give up the big play. When they get down close, our athletes are very, very good. From the 30 in, we started running man to man because we can run with them there. Then we can put extra people in the box and bring pressure."

Thomas has played sparingly on defense this season, but was used there Tuesday night. He made a big hit on Scarpa on a fourth-and-five play in the fourth quarter. Scarpa was held to a 1-yard and Andover turned the ball over on downs. Two plays later Thomas powered his way through the line for his 47-yard TD run.

"We let up a lot of yards, but when other teams get into the red zone we don't let them score," St. John's Prep defensive back Lucas Bavaro said. "We knew we had to step it up because they were knocking on the door a couple times in the first half."

FOOTNOTES
Scarpa completed 16 of 28 passes for 162 yards. He was intercepted twice. Scarpa entered the contest with 32 touchdown passes and five interceptions this season. … Andover running back Jack Sylvester gained 146 yards on 15 carries. … St. John's Prep has won eight games in a row since dropping a 19-7 decision to Everett. … The Eagles will be making their first Super Bowl appearance since 2010.

ST. JOHN'S PREP 21, ANDOVER 0
St. John's Prep 0 0 7 14 – 21
Andover 0 0 0 0 –0

Third Quarter
SJP—Thomas 1 run (Stephen Camaro kick), 3:31.

Fourth Quarter
SJP—Thomas 19 run (Camaro kick), 7:12.
SJP—Thomas 47 run (Camaro kick), 4:48.
October, 13, 2012
10/13/12
8:58
PM ET
By
Brendan Hall
| ESPNBoston.com
DANVERS, Mass. -– Through the first five weeks of the 2012 season, this much was known about St. John's Prep and its vaunted rushing attack: the Eagles can play powerful.
And after this afternoon's 49-8 shellacking of St. John's of Shrewsbury, before a Homecoming crowd at Cronin Memorial Stadium, we now know this too: the Eagles (5-1) can play fast.
[+] Enlarge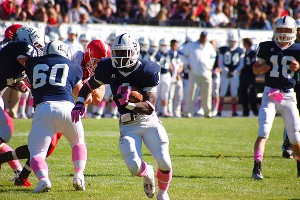 Brendan Hall/ESPNBoston.comSt. John's Prep running back Jonathan Thomas (19 carries, 238 yards, 3 TDs) went over 200 yards for the second time in three weeks as the Eagles rolled, 49-8.
Prep had a field day against the Pioneers' front seven, piling up over 330 yards in the first 22 minutes with the help of a hurry-up tempo, en route to a 35-0 halftime lead. On the ground, they ran for a total of 355 yards, with almost all of it coming from the two-headed monster of junior Jonathan Thomas (19 carries, 238 yards, 3 TD) and senior Alex Moore (8 carries, 82 yards, 2 TD). Moore also had a 54-yard touchdown catch to put him over the century mark in all-purpose yards yet again.
If you've ever watched the Eagles under head coach Jim O'Leary, you know their affinity for the power and the counter trap. But it was the way they did it today that was uniquely appealing, matching the Pioneers' Oregon-like "Blur" tempo by going equally as fast with no huddle.
"We match up against spread teams. We built our team against spread teams, because we see so many of them now," O'Leary said. "And the last couple of games, we've been going against power teams – and not that we matched up badly, we just didn't have a whole lot of points. But we're built this way. We have good athletes."
The game started off a bit wild, with a Prep three-and-out punt on the game-opening drive getting blocked by the Pioneers' Kyle Roy. Two plays later, however, Moore came up with a pick, jumping a route in the left flat and leaping at a pass from Pioneers quarterback Andrew Smiley (32-of-47, 280 yards, TD, 3 INT) for running back Shadrach Abrokwah (11 carries, 129 yards).
On the ensuing drive, Gerald Kahari set up the first of three Moore scores with a 57-yard scamper off a short screen to the left flat. Kahari accelerated then cut twice – first northeast, then at a right angle with a short step-back –- to completely reverse direction before getting hauled down out of bounds just short of the right pylon, at the Pioneers two. Moore punched it in on a dive the next play, for a 7-0 score less than four minutes into the game.
From there, seemingly the heavens opened up on the Pioneers' front seven. Moore made it 14-0 with a 54-yard touchdown reception off a simple pop pass from the left slot, and that was followed by three more scores for the 35-0 score. Thomas reeled off touchdown runs of five and 68, then Moore capped off the explosive first half with a 44-yard counter trey, shrugging off a would-be tackler amidst a scrum to break free down the left sideline.
[+] Enlarge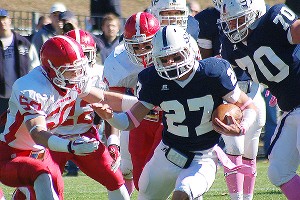 Brendan Hall/ESPN.com"It was intense" trying to replicate St. John's of Shrewsbury's speed in practice this week, said Prep's Alex Moore (8 carries, 82 yards, 2 TDs).
"I followed my pulling tackle up the hole," Moore explained. "He made a great block and I made a cut, and someone hit me, but I was able to shed it and get to the outside and get a touchdown."
(The play, we kid you not, is called "Brockton Left". Why? Moore didn't have an answer, saying simply "I don't know why, but it's a great play.")
On the first play of the second half, Lucas Bavaro picked off Smiley for a 33-yard interception return. Thomas finished off the Prep scoring on the next drive with a 75-yard scamper, followed by a six-yard dive into the end zone.
"The offensive line did a great job," said Thomas, who went over 200 yards rushing for the second time in three weeks. "That's all I can say. They opened up the holes, and I just went right through them. Alex [Moore] and I had a great day, and we give all the credit to the offensive line."
Tempo recognize tempo:
Shrewsbury is operating at a frenetic pace this season, running a "Blur" offense that is similar to the style Chip Kelly deploys at the University of Oregon, looking to snap the ball within 15 to 20 seconds after the previous play is whistled dead.
With that pace, a sharp inside zone read game with Smiley and Abrokwah, and a number of perimeter receivers sitting in zone holes, it's not uncommon to see the Pioneers score in bunches – coming into this game, they had surpassed 40 points twice and were averaging 39 points per game.
The Eagles deployed a unique method of preparation this week to get used to the frantic pace of the game, lining up two scout offenses on opposite 40-yard lines during the team defense portion of practice, and having the defensive players sprint back and forth from one scout team to the other each play.
"I really didn't expect it [the Pioneers' tempo] that much, we were pretty gassed at some times," admitted Prep defensive end Anthony Bongiorno, who registered two sacks and a few tackles for loss. "I mean, that was a fast-paced team. We kinda kept it together long enough to make some big plays."
Said Moore, "It was pretty intense...St. John's Shrewsbury gets their offense off fast, 15 seconds, it's like a blur and you don't really have time to mistakes. You gotta be ready for everything."
ST. JOHN'S PREP 49, ST. JOHN'S (SHREWSBURY) 8

SJS (4-2) 0 0 0 8 --- 8
SJP (5-1) 14 21 14 0 --- 49
First Quarter
SJP - Alex Moore 2 run (Stephen Camaro kick) 7:07
SJP - Moore 54 pass from Jack Sharrio (Camaro kick) 4:23
Second Quarter
SJP - Jonathan Thomas 5 run (Camaro kick) 10:56
SJP - Thomas 68 run (Camaro kick) 7:05
SJP - Moore 44 run (Camaro kick) 1:57
Third Quarter
SJP - Lucas Bavaro 33 interception return (Camaro kick) 10:45
SJP - Thomas 6 run (Camaro kick) 6:25
Fourth Quarter
SJS - John Giacoppe 19 pass from Andrew Smiley (Shadrach Abrokwah run) 6:25