Boston High School:

Steve Addazio
June, 26, 2014
Jun 26
5:33
PM ET
By
Roger Brown
| ESPNBoston.com
Chris Garrison and the Boston College football program had been flirting with each other for a long time before Garrison committed to BC last weekend. So long, in fact, that Frank Spaziani was BC's head coach when the school offered Garrison a scholarship.

Garrison, a 6-foot-3, 215-pound tight end/split end who will be entering his senior year at Lawrence Academy, said he was sold on BC when he learned what kind of offense BC head coach Steve Addazio has planned for the Eagles in the near future.

"BC has been at the top of my favorites since they offered me two years ago," Garrison, a Goffstown, N.H., resident, said. "Then a new staff came in and my big question was, 'How are they going to use me?'

"Everyone knows they were a running team last year with a Heisman finalist (running back Andre Williams). Coach Addazio and Coach Day (offensive coordinator Ryan Day) explained to me the new vision for their offense. They're building something new at BC. It's more of a spread offense and they brought in a couple of dual-threat quarterbacks.

"Coach Addazio said he doesn't like to use the example, but I'll be playing a similar position that Aaron Hernandez did when he recruited him at Florida. They plan to use me more as a big wide receiver, but I'm sure I'll still be doing some of the dirty work."

Garrison, who ran the 40-yard dash in 4.51 seconds at BC camp last week, also had scholarship offers from Maryland, Duke, Connecticut, New Hampshire, Massachusetts, Syracuse and Wake Forest. BC was the second school to offer Garrison, after UMass.

Garrison said he felt a connection with Day, who played high school football at Manchester (N.H.) Central and then at the University of New Hampshire. Goffstown and Manchester neighbor each other.

He became the sixth in-state player from the Class of 2015 to commit to the Eagles, joining Shepherd Hill offensive lineman Chris Lindstrom, Brockton lineman Aaron Monteiro, Everett defensive back Lukas Denis, St. John's Prep tight end Jake Burt and St. John's of Shrewsbury defensive back Davon Jones.

"After I talked to the BC coaches I spoke to my dad," Garrison said. "I wanted to commit before next season, so I said, "Why am I waiting?' The whole recruiting process was overwhelming at times."

Garrison said his decision came down to Duke or BC. He was at Duke earlier this month.

"I was comfortable with Duke, but I was more comfortable with BC," he said. "BC was where I wanted to go."
February, 7, 2014
Feb 7
6:14
PM ET
NATICK, Mass. – The name Flutie is synonymous with Boston College. But it wasn't just family lineage which led Natick's Troy Flutie to the Eagles and Steve Addazio's program.
"Meeting with him the first time, I was just like, 'Wow, this guy is awesome!'" Flutie said of Addazio.
[+] Enlarge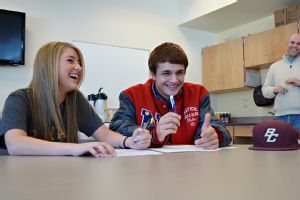 Scott Barboza/ESPNReigning ESPN Boston Mr. Football award winner Troy Flutie signed his national letter of intent to Boston College this week.
The Redhawks quarterback and this year's ESPN Boston Mr. Football award winner is part of a large haul of homegrown talent headed to the Heights in the 2014 recruiting class. This year, the greatest number of Eagles recruits came from the Commonwealth with seven, ahead of New Jersey's six.
The commitment to seeking out talent around the home base has become a priority for BC under Addazio – or "building a fence" around in-state prospects as he's termed it. Looking to revitalize local interest in the program, the effort has created a twofold benefit for Massachusetts' recruits, such as Flutie. Not only has it created greater opportunities for the state's football elite to play and stay close to home, it has gone a long way to reestablishing its roots in the area.
"I think it's real important for BC to recruit around here because I think, for a while, they lost that for a couple years previous to Coach Adazzio," Flutie said Friday, "and I think he really wanted to bring that back and make BC really feel like a community with a lot of Massachusetts guys representing."
After Wednesday's National Letter of Intent signing at Natick High was snowed out, the school hosted a celebration in honor of its signees, with soccer standout Haley Reddish (Bryant University) joining Flutie for a photo-op on Friday. The moment was strictly ceremonial though, as both athletes had already submitted their paperwork at the beginning of the signing period on Wednesday.
Flutie enjoyed a historic season in his senior year, breaking state records in career touchdown passes (112), career passing years (9,014) and single-season passing touchdowns (47).
However, Flutie's role with the Eagles is to be determined. Recruited first as a wide receiver, the 6-foot, 178-pounder should also see time with BC's quarterbacks this summer.
Addazio mentioned Flutie by name when outlining the competition at quarterback during a conference call with reporters on Signing Day.
"We had Troy in camp and he's just got 'it,'" Addazio said
earlier this week
. "He's a guy that has a knack for anticipating guys being open. He's got a really unbelievable confidence about him. And he's just got that demeanor that's got leadership to it. He's a dynamic athlete."
Flutie was listed on BC's Signing Day materials as a "quarterback/athlete."
Whether Troy Flutie will follow in the footsteps of Heisman-winning uncle, Doug, at quarterback or his father, Darren, at wide receiver with the Eagles, the youngest member of Massachusetts football's first family is only focused on contributing.
"It's a nice opportunity that I have to play quarterback or wide receiver, I just want to get on the field as quick as possible," Troy Flutie said.
Flutie stressed the importance of learning Ryan Day's offense as his primary goal. He spoke of the opportunity to learn the ropes under Florida graduate transfer Tyler Murphy as a tremendous help.
"Realistically, I'll play wherever I can get on the field the quickest and where they need me as a team. Wherever they want me to play, I'll play. Anything I can do to help the team, I'll do – if it's wide receiver, quarterback, special teams, I'll do it."
For now, Flutie's biggest priority is working out in preparation for June's camp. He's given up basketball this winter to spend more time in the gym, but plans to play one last season of baseball.
He's learned of the vigor of the Eagles' strength program from midyear signees Jon Baker (Millis/Hopedale) and Isaac Yiadom (Doherty). The Eagles' Massachusetts contingent has already formed a kinship.
"We all went to the official visit together and we really bonded," Flutie said. "We're all very close right now and I can't wait to get there with them and spending those next four years, maybe five, with them."
January, 23, 2014
Jan 23
9:16
PM ET
For Catholic Memorial senior Kevin Bletzer, the changing of the seasons is marked with an exchange of sporting equipment.
A three-sport captain who'll graduate to Boston College next year and play football, the Medfield native makes – what appears to be – a seamless transition from one to the next.
But even for a Division 1-caliber athlete, there's one time of the year that's particularly challenging. It comes the week after Thanksgiving, when the football spikes go in the closet and the skates come out.
"It's like walking on water," Bletzer said. "It's brutal."
[+] Enlarge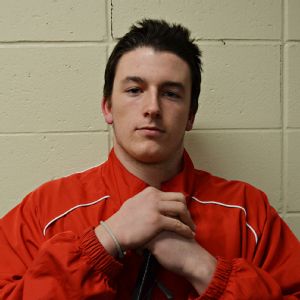 Scott Barboza/ESPNCatholic Memorial senior Kevin Bletzer passed up opportunities to play Division 1 college lacrosse to pursue his dream of playing Division 1 football at Boston College next year. He's still playing one more season of high school hockey.
The 6-foot-2, 200-pounder is a jack-of-all-trades.
On the football field, Bletzer has been a Swiss Army knife for the Knights – lining up at cornerback, safety and inside and outside linebaker on defense, while playing running back, full back, tight end, wide receiver and even a little quarterback. He even returned punts during his high school career.
When lacrosse season comes, he's heat-seeking missile in the defensive midfield while enough stick still to play in the offensive half as well. Earlier in his high school career, Bletzer had offers in hand from UMass-Amherst and Penn State for lacrosse.
Then there's Bletzer's "first love."
"I remember my dad putting me in Learn to Skate and I absolutely hated it," Bletzer said of his earliest hockey memories. "My feet hurt in the skates, and we weren't actually playing hockey, we were just skating around. It was brutal.
"But then, when we started playing, a lot of my friends that I'm still playing with now were the ones I played with then. I was hooked."
Since around the age of 3, when his father, Kurt, first laced up his skates, Kevin's been a rink rat in the winter. That also extends to the Bletzer family's ice sheet in the backyard, where Kevin, younger brother, Kurt, and members of CM's hockey team can be found just about any afternoon.
With a program rich in tradition as Knights hockey is under the direction of Bill Hanson, many Boston-area skaters dream of pulling on Montreal Canadiens' style "CM" sweater. For many, it's the zenith of their life in the game.
But, for Bletzer, with a promising future on the gridiron ahead of him, a major decision came during his junior season, last year, when he considered giving up one of his passions in order to pursue a full-fledged shot at big time college football.
"I asked him if he could do me a favor, I told him I needed him in the locker room," Hanson said of a conversation he had with Bletzer during tryouts last year. "He hadn't developed as a hockey player that way we thought he would, but that's because he hasn't played as much as everybody else. But I knew we were going to be young last year and we needed him in that room."
Bletzer had resigned himself to running track and putting extra time in the weight room, preparing for football season. That experiment lasted a couple of days before his hunger to return to the ice took over.
"I was like, 'This is all we do?'" Bletzer said. "I was missing it too much."
Bletzer rejoined the team, contributing to a Knights team that endured a first-round, best-of-three Super 8 tournament duel with archrival BC High, before bowing out to eventual champion Malden Catholic in the semifinals.
"He ended up having a hell of a year," Hanson added.
And so the challenge for Bletzer and Co. entering the 2013-14 season was how to keep that momentum going. For Bletzer, himself, naturally, it takes a little while to get going.
"It takes about a month to get your skating legs back," Bletzer said after a recent practice at the Cleveland Circle rink, a stone's throw from BC's Alumni Stadium. "The hardest part of the transition is getting to the point where I was at the end of the last season."
Not matter how the Knights season might end, however, this will be Bletzer's last go playing competitive hockey. And, as soon as lacrosse season concludes, he's divesting his former interests to jump into football entirely.
While those elements of Bletzer's athletic career will go away, it's part of what made him alluring to BC's coaching staff.
Bletzer first's Division 1 FBS scholarship offer was his last, as he gave his
verbal commitment
to the Eagles following their camp in June. He received the call that the Eagles intended to offer him from assistant coach Ryan Day while he was at a lacrosse tournament with his Laxachusetts travel team.
Even though Bletzer has yet to sign his National Letter of Intent, Steve Addazio and staff didn't want him to deviate from his original plan.
"They were more than OK with me playing every single sport because they liked that about me," Bletzer said. "Just as long as I know, after lacrosse season, that's it's all football, and just to be ready for that."
The intent is for Bletzer to work with Eagles defensive backs coach Kevin Lempa as a safety when he arrives at the Heights.
It will mark yet another transition for Bletzer. But for a player who's prided himself on versatility and doing whatever is required for his team, it seems a natural progression.
"Not very many freshman make the varsity football team at CM," Knight football head coach and athletic director Alex Campea said. "At the time he made the team, we had some pretty talented kids on that team -- Cam Williams, Armani Reeves, A.J. Doyle. They really took him under his wing and were great teammates to him. They showed him the ropes.
"Now, in his time, he's done that for his teammates, too, which is really an indication of his leadership qualities."
For now, Bletzer's focused on making the most of hockey season, taking advantage of even the smallest time with his younger brother. With a sizeable contingent of players from Medfield on this year's roster, Kevin Bletzer's led the morning caravan to West Roxbury, then to the rink, then home, and then maybe some time for a little pond hockey.
"I think this hockey season has been a breath of fresh air for him," Hanson said. "He's playing with his brother, he's captain of the team and playing for a team that is really a great group of kids to be around.
"This team is kind of like a group of kids who play pond hockey, that's how they approach the game together, in games, too – they're having fun."
April, 21, 2013
4/21/13
10:19
PM ET
Roxbury Latin tight end/defensive end Kevin Cohee has given a verbal commitment to Boston College, he tells ESPN Boston.

The 6-foot-3, 240-pounder is a resident of Chestnut Hill and becomes the third in-state recruit to join Steve Addazio's 2014 recruiting class.

"Once they gave me the offer, I was learning toward to committing," Cohee said in an interview Sunday night. "I didn't want to commit right away, and I wanted to be sure about it, but it's been a dream of mine. I grew up going to football games [at BC] and it's been like a second home to me."

Cohee is the second Foxes player to give his commitment to BC in as many years, joining signee quarterback Mackay Lowrie.

At the time of his commitment, Cohee also held offers from UMass and UConn.

"They were after Kevin after they saw his game tape, and they pursued him with heartfelt purpose," Roxbury Latin head coach Pat Ross said. "Coach [Addazio] really wants to build from the inside out, and to build a program that attracts the top Massachusetts kids, and make sure they are here to stay."

Aside from the chance to play within earshot of his home, Cohee cited BC's business curriculum and the Eagles' intent to play within a spread offense as influencing factors.

Though Cohee said he was open to playing on either side of the ball and could be used in multiple roles by the Eagles' coaching staff.

"[BC] was mostly recruiting from outside states, like New Jersey and Pennsylvania," Cohee said. "But we're starting to lay the foundation with the players we have coming in from in-state. I wanted to be a part of that."
February, 11, 2013
2/11/13
10:52
PM ET
By
Roger Brown
| ESPNBoston.com
From a New England standpoint, perhaps the most noteworthy item on national signing day was Tim Boyle's decision to remain in his home state and sign with the University of Connecticut.

Boyle, a 6-foot-4, 215-pound quarterback, led Xavier High School (Middletown) to its third consecutive Class LL state championship last fall. He passed for 2,483 yards and 24 touchdowns during his senior season.
Boyle originally committed to Boston College, and remained committed to BC after Connecticut native Steve Addazio replaced Frank Spaziani as BC's head coach. Addazio's offense requires a dual-threat quarterback, however, and although he ran for 295 yards and five touchdowns on 60 carries last season, Boyle is considered to be more of a pro-style passer.
He decommitted from BC and gave a verbal commitment to UConn earlier this month, and made things official on national signing day.
"This is a good day for me," Boyle said after signing his National Letter of Intent. "It's been a long process because BC was the first school to offer me a scholarship back when I was a sophomore. I'm happy it's over."
Boyle is one of five Connecticut residents in the Class of 2013 who signed National Letter of Intent to play at UConn. The others are linebacker Cory Jasudowich (Cheshire Academy), tight end Thomas Myers (Coventry), defensive end Cole Ormsby (Windsor) and fullback Matt Walsh (Daniel Hand).
BLOCKS OF GRANITE
The University of New Hampshire brought in a small class – 11 players – but three of them were in-state linemen: Portsmouth defensive tackle Rick Holt, Souhegan offensive tackle Jake Kennedy and Bedford offensive tackle Will McInerney.
Holt and Kennedy have been playing against each other since they were freshmen.
"There was some trash-talking between us when we were freshmen and sophomores, but we developed a level of respect for one another during our junior year," Holt said. "We've played against each other for a long time, but it's pretty cool that we're both going to UNH as friends and teammates."
McInerney, who is 6-foot-7 and weighs 290 pounds, may be the most intriguing prospect of the three. He had surgery on both knees last year, and did not play during his senior season.
"It was unfortunate that he missed his senior year, but he was very impressive in our camps and clinics last spring, so we knew he was the right fit for us," UNH coach Sean McDonnell said.
LIKE FATHER, LIKE SON
Bangor (Maine) wide receiver Matt Cosgrove is one of three players who signed a National Letter of Intent to play at the University of Maine. Cosgrove's father Jack is Maine's head coach.
"It's exciting, I think, for both of us," Jack Cosgrove told the
Bangor Daily News
. "It's something we talked about up front. Matt gets it -- he knows what we're all about. He's seen it growing up with big eyes as a little boy and with small eyes as a big boy."
Defensive back Spencer Carey (Lawrence) and tight end Dakota Tarbox (Thornton Academy) were the other Maine players who signed with the Black Bears.
DELAY OF GAME
Running back Jerickson Fedrick, who grew up in Lawrence but played high school football in Salem, N.H., said he has accepted a scholarship from the University of Maine, but will redshirt next season.
Fedrick graduated from Salem in 2012 and played prep school football for Choate Rosemary Hall in Wallingford, Conn., last season. He ran for a team-high 1,268 yards and 16 touchdowns last fall.
Fedrick, who was also a track standout in high school, rushed for 4,568 yards and scored 75 touchdowns for Salem.
SEE YOU NEXT YEAR
Five of the top recruits from New England in the Class of 2014:
Jon Baker, OL, Millis/Hopedale
Manny Latimore, RB, Pinkerton Academy (N.H.)
Arkeel Newsome, RB, Ansonia (Conn.)
Connor Strachan, LB, St. Sebastian's
Jon Thomas, RB, St. John's Prep
Strachan and Thomas are both on the ESPN Watch List.
Information about high school or prep school recruits in New England can be sent to Roger Brown at rbrown@nhfootballreport.com.
January, 18, 2013
1/18/13
9:03
AM ET
By
Roger Brown
| ESPNBoston.com
St John's Prep running back Jonathan Thomas may be known for his above-average speed, but he appears to be in no hurry to select the school where he'll play college football.

Thomas, who will be among the top recruits from New England in the Class of 2014, raised his profile by running the 40-yard dash in 4.47 seconds at the Under Armour Combine earlier this month. His time was the second fastest overall at the event, and the top time among juniors.
"Right now it's early in the process for me," Thomas said. "I don't have a No. 1 school. I'll be taking a lot of [unofficial] visits to schools before next season."
Thomas said Massachusetts is the only school that has extended a scholarship offer, but he expects both Boston College and Virginia to offer soon. Brown and Dartmouth have also shown strong interest.
"My grades are there, but I don't think I'll be going to the Ivy League," Thomas said. "I want to play at the [FBS] level, and I know I can."
Thomas, a Peabody resident, said Connecticut and Penn State are two other schools that have shown serious interest. He attended camps at BC and Virginia last summer, and said he's being recruited exclusively as a running back.
"I would like to go down South and play, but right now [BC] is an option," Thomas said. "Coach Addazio [BC head coach Steve Addazio] is good friends with Coach O'Leary [St. John's Prep coach Jim O'Leary] and he knows what he's doing. He's no stranger to big-time football programs. They're definitely on my list."
Thomas, a 5-10 1/2, 200-pound junior, helped St. John's Prep win the Division I Super Bowl last season. St. John's Prep defeated Brockton, 48-28, in the championship game.
Thomas finished the season with 1,794 yards rushing and 15 touchdowns on 220 carries. He also caught nine passes for 153 yards and three touchdowns.
"I just want a good academic school with good Division I football," Thomas said. "Whoever has interest in me, I have interest in playing for them."
QUARTERBACK KEEPER
Bedford (N.H.) High School's James Caparell may have been the best quarterback in New Hampshire last season, but he's still waiting for his first scholarship offer.
Caparell has received interest from mix of FCS and Division II schools, but said at this point his future is unclear. A postgraduate year at Worcester Academy is also a possibility.
Rhode Island, Marist and Albany are among the FCS schools that have shown interest. He's also been contacted by several Division 2 schools in the Northeast-10 Conference, including Merrimack, New Haven, St. Anselm and Stonehill.
"Merrimack and Stonehill have already said they were going to give me money, it's just a matter of how much," Caparell said. "I'm just looking for a good program at the highest level I can compete at."
New Hampshire has also shown interest in Caparell, but not as a quarterback. The Wildcats already have several young QBs on their roster.
"They're really the only school looking at me as an athlete," Caparell said. "I would still get some reps at quarterback, but they see me as a potential wide receiver or defensive back, which I've played.
"I'd like to play quarterback [in college], but it'll really come down to money and the school. Picking the right school is important just in case something happened and I couldn't play football."
Caparell completed 153 of 233 passes for 2,265 yards and 25 touchdowns last season. He also rushed for 536 yards and 11 touchdowns on 87 carries. He completed 579 passes for 5,389 yards during his four-year varsity career.
NOTEWORTHY
Sanford (Maine) High School running back Alex Shain has accepted a full scholarship from Division 2 Assumption last week. Shain rushed for 1,413 yards and scored 28 touchdowns last season, when he also made 43 solo tackles. He is one of three finalists for the Fitzpatrick Trophy, which is awarded annually to Maine's top senior football player. … Running back/defensive back Brendan Flaherty, a key piece on the Beverly High School team that won last year's Division 2A championship, committed to Holy Cross earlier this week. Flaherty rushed for 1,496 yards and 18 touchdowns on 160 carries last season. He also caught 10 passes for 236 yards and four touchdowns. … BC High fullback/linebacker Luke Catarius couldn't pass up an opportunity to play in the Ivy League. Catarius committed to Bryant in December, but told ESPN Boston earlier this week that he intends to attend Princeton. Catarius suffered a broken bone in his right ankle during BC High's first scrimmage last season, and missed first seven regular-season games. He learned that he had been accepted to Princeton last weekend. …. Three-star wide receiver David Coggins (Sacred Heart/Waterbury, Conn.) said he plans to attend prep school next season, but has yet to select a school. Coggins committed to Boston College last year, but parted ways with BC before the start of his senior season.
Recruiting information regarding high school or prep school players in New England can be sent to Roger Brown at rbrown@nhfootballreport.com.
May, 16, 2012
5/16/12
1:21
PM ET
By
Roger Brown
| ESPNBoston.com
Has Mark Ecke's tenure as Cheshire High School's varsity football coach come to an end?

Right now that's a question Ecke can't answer.
Ecke was suspended following an incident during a junior varsity lacrosse game between Cheshire and Glastonbury on May 3. According to published reports, Ecke berated officials after his son Tucker, a freshman who plays for Cheshire, was hit by a Glastonbury player. Ecke apparently felt the hit was illegal and was upset that no penalty was called.
"Whatever happen with my future as a coach at Cheshire High, it doesn't matter," Ecke told the
Connecticut Post
. "For me, my family is first priority. This was about my son and I'm very protective of him. That's what this was about."
Ecke was reportedly escorted from the field by three police officers. According to the incident report, police were summoned to deal with "unruly behavior."
Ecke, who is employed as a Cheshire police officer, is awaiting a personnel hearing with the Cheshire Board of Education. He was reportedly asked to resign, but refused.
"It was among one of the worst hits I've ever seen in lacrosse," Ecke told the
Post
. "I've been involved in lacrosse for 15 years. I've been a player. I've been a coach. I've taken officiating courses. The official didn't call a blatant illegal hit.
"That's what got me. That's what brought this all about. And as a father, watching this happen, I got upset. I probably yelled more than I should have and I regret that it went down the way it did."
Ecke has guided Cheshire to four state titles in his 17 years as the program's head coach. He coached under current Temple coach Steve Addazio on the Cheshire staff, and was promoted to head coach after the 1994 season.
Cheshire had a 49-game winning streak, which ended in 1996.
Ecke's overall record is 118-64-3.
SOFTBALL STREAK ENDS
When the St. Joseph softball team defeated Westhill 10-6 on May 7 it ended the Vikings' 54-game winning streak in FCIAC games.
Westhill grabbed a two-run lead by scoring three runs in the sixth, but the Cadets responded with a six-run seventh. Taryn Figmic collected the game's big hit, a three-run double with two outs in the seventh and the score tied, 6-6. Figmic had two hits and five RBIs in the victory.
It was Westhill's first regular-season FCIAC loss since a 3-2 setback against Darien in 2009. The program's only other conference loss since then came against Fairfield Ludlowe in the opening round of last year's playoffs.
RALLY KILLER
The Simsbury baseball team was in position to hand Northwest Catholic-West Hartford its first loss of the season. Trailing 7-5, Simsbury loaded the bases with no outs in the seventh, but Northwest Catholic-West Hartford erased the threat by turning a game-ending triple play.
Second baseman Ryan Coursey fielded a soft liner for the first out. The runners were moving on the pitch, so Coursey stepped on second for the second out and then threw to to first for the game's final out.
KINGS OF THE HILL
The first victory of Noah Hahn's varsity pitching career was a memorable one. Hahn, a sophomore, pitched a no-hitter to lead the Avon baseball team to a 12-0 victory over Windsor on April 30.
Hahn, who plays shortstop when he's not pitching, struck out 12 and walked three.
Three other no-hitters have been thrown since that contest. Bristol Central's Matt Blandino didn't allow a hit during a 7-0 triumph over Maloney on May 7, Hamden Hall's T.J. Linta tossed a no-hitter in a 4-0 victory over Greens Farms Academy on May 8 and John Amoroso tossed a no-hitter to help St. Joseph defeat McMahon on May 12.
Blandino struck out 16 and walked one. Linta, a sophomore, struck out six. Amoroso struck out seven and walked two, but wasn't in position to collect the win until Mark Hirschbeck singled in the go-ahead run in the seventh.
LAX POWERS
Henry West and Peter Lindley each scored four goals and Case Matheis collected five assists as the Darien boys lacrosse team defeated Ridgefield 14-11 on May 8 in a matchup between teams that entered the contest undefeated in the FCIAC.
Roger Brown is a freelance writer who has been reporting on high school sports in New England since 1992.
January, 12, 2012
1/12/12
7:03
PM ET
By
Roger Brown
| ESPNBoston.com
Temple coach Steve Addazio's familiarity with the football landscape in Connecticut has paid off this month, when Temple received verbal commitments from two former Connecticut high school standouts: running back Montrell Dobbs (Ansonia) and 6-foot-1, 215-pound linebacker Tyler Matakevich (St. Joseph).

Both Dobbs and Matakevich graduated from high school in 2011, and played prep school football at Milford Academy in New Berlin, N.Y., last season.
Addazio is a Connecticut native who played at Central Connecticut State (1978-81) and coached at Cheshire High School (1988-94).
Dobbs originally committed to Connecticut, but could not gain admission because of an academic issue. He said he thought about playing for Marshall, until Temple entered the picture. He met with Addazio and Temple assistant coach Sean McGowan last Friday. Temple extended a scholarship offer Tuesday.
"I really didn't have to think about it much, especially since Tyler and I have become good friends and he's going there," Dobbs said. "I wanted to stay closer to home anyway. I was a good fit for me."
Dobbs rushed for 3,445 yards and scored 45 touchdowns during his senior season at Ansonia. He was Milford Academy's offensive MVP last season.
Dobbs said he may be a partial qualifier and not allowed to play next season.
"I don't know if I'm going to be playing this year," he said. "I'm gonna find that out. All I know is I'm definitely going to school at Temple."
An injury forced Matakevich to miss the first five games of his senior season, when he helped St. Joseph win the second of back-to-back Class S championships. St. Joseph beat a Dobbs-led Ansonia team 49-28 to win the 2010 championship. Matakevich scored four touchdowns in that victory.
Matakevich was a two-time all-state selection who caught Temple's eye at a postseason college combine.
"I love everything about Temple," Matakevich told the
Connecticut Post
. "I'm so happy to finally get this done after all that hard work. It's finally paid off."