Boston High School:

Steve Moyers
June, 22, 2012
6/22/12
2:09
PM ET
STARTING ROTATION
RHP – Matt Tulley, Sr., Lowell
The Virginia Tech signee lived up to every ounce of his preseason hype, taking ESPN Boston's 2012 Mr. Baseball Award earlier this week as the state's top player. He earned his third consecutive Merrimack Valley Conference Player of the Year honor, going 7-1 with 90 strikeouts in 59 innings and one save, for a 1.46 earned run average. Opponents batted just .159 against Tulley on the season. At the plate, Tulley batted .306 for the Raiders, leading the team in RBI (20) and ranking second in runs scored (19). For his career, Tulley went 20-2 with a 1.57 ERA and 200 strikeouts in 140 innings.
RHP – Pat Ruotolo, Jr., Peabody
The 5-foot-10 craftsman caught national attention this year after throwing three no-hitters in a span of four starts, and finished the season as the state's runner-up in strikeouts (130). In 76 innings of work, he went 8-1 with two saves, 31 hits allowed and 12 walks, for an ERA of 0.83, to earn Northeastern Conference MVP honors. He has 232 strikeouts since the start of his sophomore season, and over 300 for his career. Ruotolo is considering interest from a handful of Division 1 schools.
RHP – Alex Rozak, Sr., Plymouth North
The UMass-bound Rozak catapulted himself into discussion as one of the state's best pitchers with his postseason play, winning three games as the Blue Eagles made their fourth Division 2 state final appearance in five seasons. He also carried a no-hitter into the final out in the Division 2 Eastern Mass final. For the season, Rozak was 8-3 with 61 strikeouts and 13 walks, with a 1.02 ERA. He won 24 games in his career at North, including a 9-1 campaign in the Eagles' 2011 state championship season.
LHP – Steve Moyers, Sr., East Longmeadow
One of a handful of returning All-Staters, the University of Rhode Island signee is making his second appearance in the "Starting Rotation" after compiling a 7-2 record with 106 strikeouts. Over his last two seasons, he has gone 15-3 with 194 strikeouts, and he leaves East Longmeadow as one of the school's winningest, compiling a 30-3 career record.
LHP – Ben Bowden, Jr., Lynn English
The 6-foot-4, 220-pound southpaw got off to a hot start, throwing a perfect game on April 7, and didn't cool off. On the mound he had six wins, with 82 strikeouts in 51.2 innings for a 2.19 ERA. At the plate, he played a key role in the Bulldogs' stunning upset of Peabody in the Division 1 North tournament; on the season, he batted .394 with 21 RBI, two home runs and nine extra-base hits, and also drew 17 walks.
STARTING NINE
CF – Casey DeAndrade, Sr., East Bridgewater
The speedster joins exclusive company as one of several players to make All-State in two sports, having made the football squad last fall. This spring, he put up .455/.506/.682 totals at the plate, with 25 RBI, two home runs, 19 runs and 15 stolen bases. On the mound, he went 5-2 with 67 K's in 50.2 innings, holding opponents to a .106 average as the Vikings captured their first Division 3 South title since 1993. DeAndrade is headed to the University of New Hampshire in the fall for football.
2B – Chris Hoyt, Sr., Xaverian
Nobody elevated their stock in the playoffs more than the Stonehill College-bound Hoyt, who pounded out eight RBI in the MIAA tournament – including four in the Division 1 state final. Batting out of the leadoff spot this spring, Hoyt batted .411/.477/.526 totals, with 19 RBI, two home runs, stole 19 bases and only struck out three times in 107 plate appearances. He also posted a ridiculous OPS of 1.003.
C – Bobby Melley, Sr., BC High
A returning All-Stater, the 6-foot-3, 200-pound Centerville resident was one of the state's most dangerous power hitters, compiling .370/.557/.685 totals with 13 RBI, three home runs and drawing 22 walks. Behind the plate, only two runners attempted to steal on him, both of which were caught out. Melley will continue his career next year at UConn.
1B – Chris Shaw, Sr., Lexington
A returning All-Stater, Shaw was one of three Bay Staters taken in this year's MLB Draft, going to the New York Mets in the 26th round. This spring, he batted .480 with seven home runs and 27 RBI, and also went 5-0 on the mound with 95 strikeouts in 45 innings. Shaw will be honoring his commitment to Boston College rather than signing.
3B – Frank Crinella, Sr., Springfield Cathedral
In addition to flawless defense, Crinella was a tough out at the plate, hitting .456 on 26 hits, with 27 RBI and four home runs to go along with it as the Panthers went 18-2 before a surprise upset in the Division 1 West quarterfinals. Crinella will continue his career next year at Merrimack College.
SS – Matt O'Neil, Sr., East Longmeadow
Coupled with Moyers, the returning All-Stater formed an imposing 1-2 punch on the mound for the Spartans, who suffered a surprise upset in the Division 1 West semifinals. O'Neil batted four home runs to go along with 21 RBI; on the mound, he was 4-3 with 70 strikeouts in 41.1 innings. O'Neil will continue his career next year UConn.
1B – John Jennings, Sr., Newton South
The Dual County League's Large Division MVP was a force at the plate for the Lions, batting .415 with five home runs and 31 RBI. On the mound, he was 4-1 with 31 K's in 27.2 innings, for a 1.27 ERA. He will continue his career next year at UMass.
SS – Regan Aghdam, Sr., Burncoat
One of the state's premier leadoff hitters, Aghdam was solid at the plate, leading the Inter-High league in batting average (.463). On the mound, he went 6-0 with 43 strikeouts in 49 innings pitched. Aghdam will continue his career next year t the University of Rhode Island.
SS – Brandon Bingel, Jr., St. John's Prep
The Catholic Conference's co-MVP was a driving force for the Eagles, hitting .418 with 25 RBI and five home runs. On the mound, he was 5-1 with a 1.20 ERA in 40.2 innings pitched. Bingel is currently committed to Bryant University.
BULLPEN
LHP – Scott Tully, Jr., Reading
Tully had a breakout junior season, going 8-2 with four saves with a 0.99 ERA and 122 strikeouts in 63.1 innings, tied for third-most K's in the state. Tully also allowed just 27 hits this spring. He is currently committed to Notre Dame.
RHP – Pat Delano, Sr., Braintree
Nearly two years after Tommy John surgery, the 6-foot-7 fireballer found his way back to the top, going in the 35th round to the Boston Red Sox in the MLB Draft, and earning MVP honors in the Bay State Conference's Carey Division. He posted a 1.21 ERA with four wins and 50 strikeouts in 57 innings, and added four home runs at the plate. He was also named a Region 1 All-American by the American Baseball Coaches Association. Delano is currently committed to Vanderbilt, but has until the August 15 deadline to decide whether he'll sign or not.
RHP – Charlie Butler, Sr., Nashoba
A returning All-Stater, Butler was once again dominant on the mound for the Chieftains, striking out 90 in 54 innings for a 0.91 ERA and 6-2 record. At the plate, he batted .365 with 14 RBI and two home runs. Butler will continue his career next year at the University of Maine.
RHP – Mike Walkowicz, Sr., Amherst
Another one of the state's strikeout kings, Walkowicz went 5-4 on the mound as he rang up 112 batters in 65 innings of work for an average of nearly two K's per inning. He will continue his career next year at Endicott College.
LHP – Tyler Buck, Sr., Franklin
One of the state's most elusive lefties, Buck went 7-1 on the mound with 80 strikeouts and a 1.42 ERA for the Panthers, who were the No. 1 overall seed in Division 1 South. He also went .378 at the plate with 18 RBI and two home runs. Buck will play next year at St. Anselm College.
LHP – Mac Curran, Jr., Coyle-Cassidy
The hard-throwing 6-foot-4, 240-pound Lakeville resident was an intimidator for the Warriors, going 6-1 with a 0.52 ERA and 63 strikeouts in 49 innings. He also batted .351 at the plate, and is 14-3 so far as a starter for Coyle. Curran is currently fielding a slew of Division 1 interest.
RHP – Brandon Shileikis, Jr., Dighton-Rehoboth
The workhorse logged 68 innings and struck out 74 while walking just 12, going 9-1 with three saves, an ERA of 1.75 and a WHIP of 0.96. At the plate, Shileikis had .427/.456/.524 totals with 28 RBI and 27 runs. Shileikis is currently fielding various Division 1 interest.
RHP – Keegan Dellacona, Sr., Barnstable
The 6-foot-3 Dellacona formed a dynamic 1-2 punch on the mound along with UConn-bound Willie Nastasi, as the Red Raiders won the Old Colony League outright. For the season, Dellacona struck out 67 in 49.1 innings, for a 4-0 record and 0.89 ERA. He also threw 70 percent of his pitches for strikes, registered a 0.67 WHIP, and held opponents to just a .136 batting average. Dellacona is undecided on college plans.
LHP – Ryan McDonald, Sr., Acton-Boxborough
Another of the state's most deceiving lefties, McDonald went 5-2 with 71 strikeouts in 46 innings, for a 1.98 ERA. He also led the Dual County League in batting average (.468) and plated 16 runs, including two homers. McDonald had previously signed with Bryant University, but is currently uncommitted.
RHP – Lee Albertson, Sr., Westfield
Albertson was the ace of a Bombers staff that won its third Division 1 West title in five years this spring. He went 6-2 on the mount with two saves, and struck out 58 batters in 54 innings. Albertson will be heading to Holyoke Community College next season.
UTILITY
3B – Joelfi Arias, Sr., Springfield Central
The Eagles scored one of the biggest upsets of the MIAA tournament by knocking off Springfield Cathedral, and Arias played a big role. He had five home runs on the season to go with 24 RBI, and on the mount he had 65 strikeouts in 62 innings, logging a 5-2 record. Arias is headed to Juco power Indian Hills Community College, in Ottumwa, Iowa.
OF – Adam Benvie, Sr., Dighton-Rehoboth
One of several mashers on a lineup that batted nearly .400 as a team, Benvie posted .386/.538/.771 totals with 37 RBI and five home runs, scoring 27 runs and drawing 22 walks. Benvie will continue his career next year at UMass.
C – Joe Walsh, Sr., Taunton
The Old Colony League MVP led the Tigers on a surprise run to the Division 1 South final, where they lost to eventual state champ Xaverian. He batted .447 with 31 RBI, 23 runs scored and three home runs, for an on-base percentage of .562. He leaves Taunton a career .379 hitter with a .486 on-base percentage and 50 RBI. Walsh will play next year at Eckard College in St. Petersburg, Fla.
SS – Evan Mondor, Sr., Dighton-Rehoboth
One of several big bats that led the Falcons to the No. 1 seed in Division 2 South, Mondor posted .478/.617/.791 totals with 10 doubles, three home runs, and 20 RBI. Mondor also scored 35 runs and only struck out three times all year. He will continue his career next year at Bentley University.
SS – Brendan Skidmore, Sr., Franklin
Skidmore took home Hockomock MVP honors this season after batting .467 with five home runs and 21 RBI for the Panthers, who won the league outright as well as the No. 1 seed in Division 1 South. Skidmore will do a post-graduate year at Bridgton Academy next season.
OF – Jarrod Casey, Sr., Milford
A returning All-Stater and the reigning Mid-Wach A MVP, Casey put in another dominant season for the Scarlet Hawks, batting .490 with 22 RBI. On the mound, he was 6-2 with 73 strikeouts in 47 innings, for a 0.91 ERA. Over the last two years, Casey has gone 14-3 on the mound.
SS – Sean O'Neill, Sr., Norwood
The senior played a significant impact on the Mustangs' run to the Division 1 South quarterfinals, taking MVP of the Bay State Conference's Herget Division in the process after batting .416 with 16 RBI and a home run in the wood-bat league. O'Neill will play next year at Merrimack College.
SS – Dan Cellucci, Sr., Lincoln-Sudbury
Another returning All-Stater, Cellucci was consistent once again for the Warriors, batting .435 with 18 RBI and two home runs as the Warriors came up short in the Division 1 state title defense. Cellucci will continue his career next year at Bryant University.
1B – Adam Mayhew, Sr., Westfield
His numbers probably don't reflect his importance to the team (12 RBI; 3-0, 15 IP), but his defensive presence was without question as the Bombers won their third Division 1 West title in five years. Mayhew will continue his career next year at Westfield State University.
Photos of Adam Mayhew, Mike Walkowicz, Lee Albertson, Matt O'Neil and Joelfi Arias are courtesy of the Springfield Republican. Photos of Pat Ruotolo, Ben Bowden and Mac Curran are courtesy of the Area Code Games.
May, 6, 2012
5/06/12
10:36
PM ET
WESTFIELD, Mass. -- Historically speaking, geography makes the best rivalries. The proverbial border wars that come year in and year out are must-see matchups regardless of records.

A rivalry brought on by nearly unmatched success between two teams over a certain timespan, however, shouldn't be discounted. And in the case of Westfield and East Longmeadow, two of the premier baseball programs in Western Massachusetts year in and year out, that rivalry has never been better.

Sunday's latest installment was a testament to that.

Westfield, the No. 14 team in the latest ESPN Boston MIAA Baseball poll, used a three-run first-inning and an efficient and otherwise dominant complete-game effort from senior Lee Albertson to knock off No. 4 East Longmeadow. It was the first loss of the season for the Spartans (12-1) while the Bombers improved to 11-1.

With four-year starter and URI commit Steve Moyers on the mound, Westfield didn't waste any time or allow him to settle in. A leadoff single from Conner Laraway followed by a sacrifice attempt turned two-base throwing error led to early scoring opportunities for the Bombers. Billy Smith, Adam Mayhew and Dan Jacques all drove in runs in succession, giving Westfield a 3-0, first-inning lead against the usually unflappable Moyers.

"[Moyers] is a great pitcher and we've seen him before," said Mayhew, who finished 2-for-3 with a double and two RBI. "We wanted to get to him early and get deep in the count. This is definitely a statement win for us."

The Spartans grabbed a run in their half of the second inning but that was as much offense as they'd see the rest of the night thanks to Albertson.

The senior righthander threw a complete-game and improved to 4-0 on the season. He allowed just two hits and struck out five, gaining momentum as his efficient outing progressed. He closed out his 79-pitch masterpiece with back-to-back 1-2-3 innings, including a punch out for the final out.

"Lee is throwing harder now than he was in the beginning of the season and that's helped him," said Westfield head coach Rich Discenza. "He throws the cutter and that's what helped him today. He's around the plate and is able to get out of tough spots and get back on track."

This was the fifth time these two teams have met since the 2009 season. East Longmeadow came out on top last season, defeating Albertson, 4-2. In 2010, the Spartans beat Westfield twice, 3-2 in the regular season and again by the same score in the sectional semifinal. The Bombers avenged a regular season loss in 2009 by knocking off the Spartans in the Western Mass. championship game.

If recent history is any indication, these two teams haven't seen the last of each other this season. With Westfield's win over East Longmeadow, there are now only three one-loss teams in the region (Springfield Cathedral is the other). Westfield was the only team to knock off Cathedral and the two rivals play again May 18. East Longmeadow and Cathedral square off Wednesday.

"Now it's back to work for us," said East Longmeadow shortstop and UConn signee Matt O'Neil. "They beat us today, they were a better team. If anything this loss will help us out a bit. If we see them in playoff time, we'll have this thought in the back of our minds."

Moyers lost his first of the year, falling to 4-1. He scattered nine hits and struck out five.

Conner Laraway had two hits and scored twice and Tim Donahoe had a pair of hits, including a double, for Westfield. Moyers and Brian Casey had East Longmeadow's two hits.
April, 27, 2012
4/27/12
10:16
PM ET
By
John McGuirk
| ESPNBoston.com



EAST LONGMEADOW, Mass. -- Steve Moyers admitted he wasn't getting a feel for his fastball. It's a wonder if the ace pitcher of East Longmeadow Spartans felt any of his extremities at all yesterday on a cold and blustery afternoon.

What the crafty lefthander did have working for him was a hard-breaking curve and a baffling change up. Both proved more than effective as Moyers went the distance, handcuffing Minnechaug 1-0 in a battle between two of the top programs in the state.

"My fastball wasn't really working today," said Moyers, who will pitch for the University of Rhode Island next season. "I had to rely a lot on my other stuff. I was throwing a lot of first-pitch curves to keep their hitters guessing. It ended up working out as I hoped it would."

Moyers (now 4-0 on the hill) silenced the Falcons, holding them to just a pair of singles while striking out 14 on 114 pitches. Not to shabby for a player who wasn't totally on his game.

"Steve pitched superbly today," said first-year Spartan coach Scott Whelihan, whose team improved to 11-0. "He kept (Minnechaug) off-balance and he does what Steve does. He was holding back a little because of the cold weather and trying to protect his arm. Normally he throws a lot harder than that but he was still hitting his spots today so it worked out."

Besides doing it on the mound, Moyers also came up large at the plate when his team needed him to most. As anticipated, this contest was a tight-fisted duel between two of the state's elite pitchers. Thus far this season, the Spartans had yet to be involved in a close game. Needless to say, against Falcons pitcher Bryan Goossens, their mettle would be truly tested.

"Our closest game before today was a 4-1 win," Whelihan said. "In a lot of our other games we've been putting up some crooked numbers. This was the kind of game I wanted today and I know it's the kind of game Steve likes too. He enjoys competing against somebody. He enjoys games like this more than ones that are 10-0. That's the kind of competitive edge he has."




While Moyers and Goossens were racking up zeros on the scoreboard early on, that would change in East Longmeadow's half of the fourth. Moyers led off the frame by working a 2-1 count. Goossens then delivered a high fast ball which Moyers slammed through the swirling winds high over the left field fence for the eventual game-winner.

"Bryan is really good and he was hitting all of his spots all game," Moyers said. "In these conditions that was pretty awesome by him. On that home run, he threw it where I wanted it. I really wasn't thinking home run to be honest. I was up there thinking base hit but it ended up working out for us."

For Goossens (3-1), who will play for Siena College next year, that was the only mistake he would commit during his stellar complete-game effort. The righty scattered three hits and struck out seven.

"We know East Longmeadow is a class program and have talent all-around the field," Minnechaug coach Erik Mandell said. "It was a mistake pitch Bryan left up and Moyers really turned on it. It's not the first time (Moyers) has done that and it probably won't be the last time either. Bryan was very good. When he pitches the way he pitched today you expect to win the game. It was a good pitcher's duel and it was a playoff-like atmosphere today.

"Overall, I thought our bats were pretty good. We weren't chasing pitches out of the zone and the gameplan was for us to try and make Moyers throw a lot of pitches. We just weren't able to square up on any balls, and the balls we did put in play were taken care of by their defense. If you only give up one run to a team of that caliber it's a pretty-good performance but you still expect to win."

Minnechaug, which reached the Division 1 state final last year before falling to Lincoln-Sudbury, drops to 9-2. Incidentally, yesterday's contest was a rematch of last year's Western Mass. final won by the Falcons, 9-2.

As far as East Longmeadow is concerned, this year has been regarded as a boom or bust campaign. Including this season, the Spartans have been the favorite to win Western Mass. and beyond the past three years. There is certainly enough talent here for them to do so.

In 2010, East Longmeadow Post 293 won the state American Legion crown. Many of those players from that squad play on this current Spartan team. Before losing to the Falcons in last year's final, East Longmeadow dropped a 1-0 decision to eventual state champion Amherst-Pelham Regional in 2010.

"So far we've been doing really good," said Moyers. "We're practicing hard and doing everything we can possibly do and continue to stay on track. (Winning a state title) is our main goal so hopefully we can get it this time. There's a little bit of pressure on us but we know what we have to do. We just take it one game at a time and what happened in the past is in the past."



April, 13, 2012
4/13/12
11:41
AM ET
We're back with another installment of "Roundtable", our weekly takes on the hot topics of the spring season. This week, we discuss who is the best boys' lacrosse goalie in the state; which lefthanded pitchers will make the most noise; the state's best slap hitter; and who had the best individual performance of the season's first two weeks.

Joining us this week are correspondent Bruce Lerch, New England Prep Stars founder and editor Ryan Kilian, MassLive.com producer Ben Larsen, and Brockton Enterprise staff writer John Botelho. Without further ado:

1. BETTER GOALIE –- WELLESLEY'S CONNOR DARCEY OR FOXBOROUGH'S GREG STAMATOV?

ESPN Boston High Schools Editor Scott Barboza: That's a tough one. In many regards, they're similar players in that they're both not afraid to step up into the play when its warranted. They're not going to just clear and retreat when the opportunity presents itself. Stamatov had one clearing pass to the midfield during the third quarter against Barnstable that was a thing of beauty. And, of course, we all know that Darcey is capable of scoring when he carries the ball past midfield. This all makes no mention of their ability to stop the ball either. Either way you dice it, they're among the very best in a deep field of MIAA goaltenders along with Duxbury's Henry Buonagurio, Concord-Carlisle's Doug Gouchoe and Billerica's D.J. Smith.

Ryan Kilian, New England Prep Stars: Connor Darcey is the best goalie I have seen in New England Public High School lacrosse over the past two years. Darcey is the real deal. He possesses confidence, quickness, and exceptional hand-eye coordination.

The goalie position in Massachusetts in the Class of 2012 is as strong as it has been in many years. Doug Gouchoe of Concord-Carlisle (Air Force), Greg Stamatov of Foxborogh (Villanova), Jared Fong of Weston (Gettysburg), and Miles McCarthy of Catholic Memorial (Williams) are all exceptional athletes with bright futures at the next level and all have a unique set of skills that they bring to the table.

Darcey is also a born leader and that is an essential trait that all great goalies, like the above mentioned, share.

Bruce Lerch, correspondent: Both players have excelled for their respective teams and made a big splash over the summer participating in the Warrior 40 at Harvard Stadium. Both have also drawn the attention of Division colleges, as Darcey is committed to play for Penn State while Stamatov will take his talents to Villanova. Darcey was a key factor in Wellesey's 16-0 regular season a year ago, while Stamatov helped propel Foxborough to its best season ever by reaching the Division 2 semifinals. Darcey was rated eighth in ESPN High School's national goalie rankings back in February, but even if you have the second pick in this draft, you won't come away disappointed as Stamatov was not too far behind at No. 14.

2. WHAT HAS BEEN THE BEST INDIVIDUAL PERFORMANCE SO FAR?

ESPN Boston High Schools Editor Brendan Hall: I think any time you throw a perfect game at any level, you should be highly commended as such. So here's my kudos to Lynn English's Ben Bowden, who had a clean sheet for the Bulldogs in their 5-0 win over Marblehead. Bowden struck out 14 in the full seven innings, and got some assistance from the infield behind him late to seal the deal. He is an imposing player to watch at 6-foot-4 and 200 pounds, equipped with a high-80's fastball, so it's hardly the last time we'll hear from him.

That said, I'm always impressed when a pitcher goes into the triple-digits in pitch count this early in the season – and even moreso when it's as efficient as Milford's Jarrod Casey was on April 3. In the Scarlet Hawks' season-opening 3-1 win over Westborough, the reigning Mid-Wach A MVP and returning ESPNBoston All-Stater threw 125 pitches and struck out 15 batters; he also belted an inside-the-park, two-run homer to give them all the insurance they needed.

John Botelho, Brockton Enterprise: The Bridgewater-Raynham softball team has shown plenty of early fireworks this season. Senior Audrey Dolloff twirled a four-hitter and struck on eight on opening, all while going 4-for-4 with a pair of homers and four RBI for the Trojans. Freshman Emily Kurkul has homered in all three games so far. Most recently, Dolloff tossed a no-hitter against Durfee, and her performance might not have even been the best one on the field that day for B-R. Sophomore Madison Shaw went 4-for-4 with two homers, a double and seven RBI as the Trojans cruised.

Ryan Kilian: The best individual performance that I have seen on the lacrosse field so far was Westford Academy attack Jay Drapeau scoring six goals and dishing out one assist in a 12-11 opening day win over Billerica. The sophomore scored the game winner in the fourth quarter and was exceptional dodging from X all afternoon. Drapeau also did this against a very formidable defense led by Tommy McLaughlin (UMass) and one of the state's best goalies in DJ Smith (UMass).

Ben Larsen, MassLive.com: It would be hard to top this one. Noah Parker, a terrific talent hidden at St. Mary's of Westfield was perfect in a six-inning game against Pioneer Valley Christian. He threw only 57 pitches, striking out 14. At the plate, he narrowly missed hitting for the cycle, going 3-for-3 with a home run and three RBI.

Bruce Lerch: On the lacrosse fields, several players have produced nine-goal games in the early going. Kobie Sullivan had seven, nine and eight goals in Fairhaven's first three games. On the girls side, Wayland's Amy Cunningham, Amy also struck for nine against Bedford. But my top effort goes to Masconomet's Jake Gillespie, who potted nine in the Chieftans' second game of the year against a BC High defense that includes a pair of Division 1 recruits.

3. A LEFTHANDED STARTER CAN BE INVALUABLE AT THE HIGH SCHOOL LEVEL. WHICH LEFTIES WILL YOU BE WATCHING THE MOST?

Brendan Hall: The Class of 2012 is littered with Division 1-bound lefties, between Oliver Ames' Ryan O'Shea (Central Michigan), East Longmeadow's Steve Moyers (Rhode Island), Pentucket's Alex Ministeri (Coastal Carolina), Auburn's Connor Fuller (Fordham), Xaverian's Tim Duggan (Fairfield) and Acton-Boxborough's Ryan McDonald (Bryant). One we might be adding to that list in a year's time is Wellesley senior Tim Superko.

Superko is already off to a great start in 2012, with wins in his first two starts in dominant fashion -- 23 strikeouts in 12 innings, an ERA of 0.75, a strikeout-to-walk ratio of nearly four, and a strike percentage of 67. I'm obviously working with a stat system pretty sophisticated for the high school level, but I can assure you Superko could care less. He's a competitor, unafraid to challenge hitters in the middle of the order, but also very coachable. Raiders coach Rob Kane raves about Superko's curveball, and he sets it up well with his heat. From the plate, he's not that bad either; so far he's hitting .500/.562/.786 with five RBI, two triples, seven runs and three stolen bases.

Superko is heading to Philips Andover for a post-graduate year next season. I expect him to have a Division 1 scholarship offer in his lap by this summer's end.

I'd also keep an eye on the aforementioned Ben Bowden from Lynn English. He's got an ideal power pitcher's frame, and if the reports about him topping out at 89 miles per hour in his perfect game are true, then he has a chance to rise quickly on the radar. But to be a reliable starter at this level, you need a quality changeup, and Bowden's is pretty nice.

Boston Latin sophomore Pat Naughton is certainly another one to look out for over the next two years. He fanned 17 Wayland batters in an outing last year as a freshman, and is already off to a good start this year with 14 K's in the Wolfpack's season-opening win over Latin Academy. Also keep an eye on Reading junior Scott Tully, who committed to Notre Dame last February, as well as Malden Catholic junior Joe Velozo.

John Botelho: One of the best lefties in the state hasn't even thrown a pitch yet. Oliver Ames' Ryan O'Shea, a 6-foot-3 southpaw already signed on to play at Central Michigan next year, will take to the mound for the first time next week. Hall of Fame coach Leo Duggan aired on the side of caution as O'Shea was battling shoulder soreness. He has a chance to come back and be the best pitcher on an O-A team that has still gone 3-0 without him in the lineup.

Brockton's Joe Sever has a live arm and features impressive off-speed stuff. The ace of the Boxers' staff this year, he has a chance to catch a lot of eyes with the schedules Bill Maloney's squad plays.

Bridgewater-Raynham features a pair of hard-throwing lefties who should cause problems for hitters throughout the regular season. Senior captains Pat Chalmers and Shane Holmes have more varsity experience than many of the guys they'll square off against this year - Chalmers was pitching on varsity at B-R as a sophomore and Holmes spent his freshman and sophomore years on the varsity squad at East Bridgewater before transferring to B-R as a junior. Chalmers took a no decision in his first start, but struck out nine in 5 2/3 innings. Holmes picked up the first win for the Trojans, a complete-game two-hit 12-strikeout performance against Milton.

Ben Larsen: Undoubtedly, Steve Moyers is the guy to follow. He has been unbelievable in his first three years as the ace of the East Longmeadow rotation and he's hoping to reach the 30-win plateau for his career, which is no small feat in the short Massachusetts season. That said, Michael Walkowicz of Amherst has been the Cy Young in the early going. In two starts, he has a 17-strikeout, one-hitter and 12 Ks in a loss to Northampton.

Bruce Lerch: I find myself greatly intrigued by the seemingly rubber of Franklin southpaw Tyler Buck. As a junior, Buck tossed multiple gems during the Panthers run to the Div. 1 state championship game, including a 166-pitch effort to upset BC High in last year's D1 South semifinals. After starring for Franklin's Legion team over the summer, I'm interested to see how far the Panthers ace can take them once again.

4. WHAT WILL BE THE MOST COMPETITIVE LEAGUE IN GIRLS' LACROSSE THIS YEAR?

Brendan Hall: I'm going with the Dual County League. Four members of the 10-team league currently sit in our MIAA Top 25 poll, including No. 1 Lincoln-Sudbury. And we're not even including Acton-Boxborough, which began the season as our preseason No. 10 before dropping to 0-5. Talk about a misnomer -- the Colonials' five losses are to No. 1 L-S, No. 5 Needham, No. 6 Notre Dame (Hingham), No. 17 King Philip, and No. 23 Walpole. Also throw in unranked Wayland, which has one of the state's best goalies in Quinnipiac-bound senior Rachel Massicotte.

Let's now throw in the DCL's other three currently-ranked teams -- Concord-Carlisle, Weston and Westford -- and we're talking six teams that can be troublesome. I expect L-S to rise above it all, but the rest of the way down may or may not be a crap shoot.

Bruce Lerch: While most league's across the state in girls lacrosse are fairly top-heavy, I would say that top to bottom, the Middlesex League's large division may have the largest number of competitive teams as all five made the playoffs in 2011. Winchester is annually among the state's top programs and is among the favorites to challenge for the Div. 2 crown once again. Reading went 15-5 before running into state finalist Lincoln-Sudbury. Lexington is a perennial tourney team who, aside from last season, routinely rolls up 15-plus wins a year. Belmont also won 15 games in 2011, and Woburn qualified for the postseason as well. As of the time I am writing this, the five teams hold a combined record of 8-0-1 through the first two weeks of the season.

Ben Larsen: The Valley Wheel in Western Mass. is off to a strong start with no team worse than 2-0, including Agawam on top with four wins already. Perennial power Longmeadow and last year's upstart Minnechaug are bound to contend with powerful Agawam in this loaded league but don't count out East Longmeadow and South Hadley from at least making some noise.

5. YOU CAN NEVER HAVE ENOUGH SLAP HITTERS. WHO ARE THE ONES TO PAY ATTENTION TO?

Scott Barboza: I'm looking no further than Mansfield's Bri Chiusano. The Coastal Carolina signee is the most dynamic lead-off hitter in the state and, as she showed earlier this week against King Philip, she also has some pop in the bat while taking a full swing. You have to take pause and applaud anybody who can launch a home run off of Meghan Rico after all.

Bruce Lerch: Bri Chiusano of Mansfield, who showed Tuesday that she can do a bit more than slap by cranking a three-run homer off of King Philip ace and reigning Miss Softball Meghan Rico. A four-year player for the Hornets manning centerfield and batting at the top of the lineup, Chiusano makes life miserable for opposing pitchers with her quick hands and tremendous speed and has an uncanny ability to survey how the defense is playing her and place the ball accordingly. The senior was named to ESPN Boston's preseason All-State team and will play for Coastal Carolina next year.

Ben Larsen: Typically a speedy singles hitter who uses his speed to get on and wreak havoc on the basepaths, Westfield's Billy Smith got into the power game Monday, blasting a three-run homer in the Bombers' rout of Belchertown. Smith, who also served as the Westfield football team's quarterback this past season, has started out slow but is undoubtedly a player to watch moving forward.

6. WHAT'S BEEN THE MOST SURPRISING UPSET OF THE FIRST TWO WEEKS OF THE SEASON?

Brendan Hall: My brethren on the Cape will call me Captain Hindsight with this one, but maybe Dennis-Yarmouth baseball is better than we've given them credit for after knocking off Plymouth North 8-2 on Wednesday. I think it was universally agreed that North, routinely one of the best hitting teams in Division 2, would be the favorite again in the South region even after losing key bats like Matt Walsh. But maybe D-Y should get more notice, with talented players like Matt Montalto, Matt Peterson and Miles Tuohy-Bedford. The Dolphins (2-1) got off to a hot start last season, including coach Paul Funk's 100th win, before coming back to Earth. Can they keep the hot start going this year?

Scott Barboza: If I told you I'd called Reading boys' lacrosse's overtime win over Westford Academy, I'd be lying. The Grey Ghosts entered this season with a lot of attention, particularly with the addition of Alex Eaton, in an already loaded Dual County League and the No. 6 ranking in our preseason Top 25 poll. Meanwhile, Reading was tough to read coming in because the Rockets lost some key cogs from last year's squad. What the Rockets did is prove that they should again challenge for the Middlesex League title.

Bruce Lerch: In boys lacrosse, certainly the most eye-opening result of the early season came when Melrose upset Lexington, 11-6. This is just the fourth year of the Red Raiders program, and in their first three years Melrose went a combined 9-44. Meanwhile, Lexington is an annual state championship and Middlesex League contender and reached the postseason in each of the three years since Melrose started its team. It was certainly a program defining victory for the Red Raiders.
March, 1, 2012
3/01/12
11:45
AM ET
ESPNHS kicks off its baseball season coverage by unveiling its preseason All-State Teams for all 50 states plus the District of Columbia. A number of stars litter its Massachusetts squad, including BB&N's Rhett Wiseman, Lowell's Matt Tulley, Lexington's Chris Shaw and Braintree's Pat Delano.
You can find the entire list, which includes "Other Top Players"
by clicking here
. Below is ESPNHS' All-State Team for Massachusetts:
POSITION PLAYERS

Anthony Capuano, St. John's Prep, OF, Senior
Led SJP in hits, runs and stolen bases last year.

Jarrod Casey, Milford, OF/LHP, Senior
Batted .530 and posted an 8-1 record on the mound.

Dan Cellucci, Lincoln-Sudbury, SS, Senior
Posted a .536 BA and scored 44 runs for Division 1 state champs.

Chris McCarthy, Everett, C, Senior
Hit .585 and drove in 28 runs as a junior.

Bob Melley, BC High, C, Senior
Productive backstop has signed with UConn.

Matt O'Neil, East Longmeadow, SS/RHP, Senior
Batted .447 with 15 stolen bases last year, committed to UConn.

Christopher Shaw, Lexington, 1B/RHP, Senior
Boston College recruit hit eight home runs last year.

Ryan Summers, Westfield, C, Junior
Hit six home runs and drove in 27 last year; headed to Louisville.

Matt Tulley, Lowell, SS/RHP, Senior
Has signed to play at Virginia Tech.

Rhett Wiseman, BB&N, OF, Senior
Vanderbilt recruit hit .447 with 11 HRs and 29 SBs last year.


PITCHERS

Austin DeCarr, Xaverian, RHP/SS, Junior
Strong-armed athlete also took snaps as a quarterback in the fall.

Patrick Delano, Braintree, RHP, Senior
Big power pitcher is headed to Vanderbilt.

Tyler Dowd, Springfield Central, RHP/OF, Senior
Should be among state leaders in K's this spring.

Mike Krupczak, Springfield Cathedral, RHP, Senior
Went 7-0 with a 1.85 ERA last year.

Ryan McDonald, Acton-Boxboro, LHP, Junior
Posted a 0.90 ERA last year, striking out 71 batters over 55 innings.

Steve Moyers, East Longmeadow, LHP/OF, senior
Went 8-1 last year while posting a 0.44 ERA; career record of 23-2.

John Nicklas, St. Sebastian's, RHP, Senior
Has signed to play at Boston College.

Pat Ruotolo, Peabody, RHP, Junior
Struck out 102 batters last year, including three games of 15-plus K's.

Max Tishman, Lawrence Academy, LHP, Senior
Polished left-hander has signed with Wake Forest.

Troy Whitty, Dexter, RHP, Senior
Transferred from Oliver Ames, where he posted a 0.90 ERA last year.
July, 8, 2011
7/08/11
12:46
AM ET
Courtesy of Bay State Games media relations director Peter Cohenno:

BASEBALL
Bentley University – Waltham, MA

Metro 15, Central 7

In an offensive showcase, Metro earned a decisive 15-7 victory against Central in the opening game on Thursday.

Metro scored six runs on six hits in the top of the first inning to help propel the squad to an early lead, however, Central retaliated in the bottom of the inning, plating five to pull within one.

Metro pulled ahead, 7-5, in the second, as sophomore leftfielder Malcolm Nachmanoff (Boston, Boston Latin) drilled a RBI single, which scored junior right fielder Bartley Regan (Boston, Boston College HS), who had singled up the middle.

In the bottom of the third, sophomore first baseman Zackary Tower (Auburn, Auburn HS) nailed a RBI single and sophomore leftfielder Jake Ryan (Northbridge, Northbridge HS) drew a walk for a RBI to help Central knot the game at 7-7.

Metro put the game out of reach with seven runs in the fourth inning and added one more in the fifth to earn the 15-7 victory.

Nachmanoff and junior second baseman Austin Teal (Malden, Malden HS) led the offensive effort for Metro, going 2-for-2 with one RBI apiece. Sophomore shortstop Michael Woll (Milbury, Holy Name Central Catholic HS) was 1-for-1 at the dish with two RBI for Central.

Junior pitcher James Mulry (West Roxbury, Boston Latin) registered the win for Metro, hurling 21/3 scoreless innings, while tallying four strikeouts and allowing just one hit.

Northeast 8, West 0

A complete game shutout from junior pitcher Ryan McDonald (Boxboro, Acton-Boxboro Reg. HS) propelled Northeast to an 8-0 victory against West in game two on Thursday. McDonald tallied seven strikeouts and allowed just one hit in the solid outing.

Northeast jumped out to an early 2-0 lead in the first, thanks to RBI from junior designated hitter Peter Franchi (Lynnfield, Lynnfield HS) and junior right fielder Sean Glabicky (Peabody, Malden Catholic HS).

The only hit of the game for West came in the fourth, when junior centerfielder John Kinne (Great Barrington, Monument Mountain HS) sent a leadoff single to left field.

The Northeast squad never looked backed, adding six insurance runs on seven hits in the sixth to secure the victory.

Southeast 5, Coastal 5

In the third game on Thursday afternoon, Southeast and Coastal played a hard fought, back-and-forth contest that ended in a 5-5 draw.

Southeast broke the game open in the second inning, when junior first baseman Sean Greene (Hingham, Hingham HS), junior third baseman Mark Pomella (Marshfield, Marshfield HS), and junior centerfielder Jake O'Rouke (Medway, Medway HS) recorded consecutive singles to put their squad up, 1-0. Pomella scored on a wild pitch, giving Southeast an early 2-0 lead.

Southeast added a third run in the third, but Coastal would not go quietly. Sophomore centerfielder Dan Dougherty (Pembroke, Boston College HS), who singled to right field, set up a rundown, which allowed sophomore leftfielder Spencer McCaffrey (South Dennis, Dennis-Yarmouth HS) to score in the bottom of the third. In the squad's next at bat, Coastal registered three runs on four hits to take a 4-3 lead through four innings of play.

Southeast tied the game at four in the fifth on a RBI triple from junior designated hitter Phil Sciretta (Duxbury, Nobles & Greenough HS), but Coastal pulled ahead in the following inning, as junior leftfielder Aaron Chouinard (Swansea, Joseph Case HS) tallied a sacrifice fly to score junior catcher Brian Hocking (Duxbury, Boston College HS).

Southeast plated the tying run in the top of the seventh, when Sciretta lifted a RBI sacrifice fly to right field. The squad then shutdown Coastal in the bottom of the inning to end the game deadlocked at five a side.

West 3, Central 1

West used a seventh-inning rally to defeat Central, 3-1, in a defensive showdown on Thursday afternoon.

The squads were deadlocked at zero until the fourth inning, when junior centerfielder Steve Moyers (East Longmeadow, East Longmeadow HS), drew a walk to get on and scored on a throwing error by the Central pitcher to break the game open for West.

Central retaliated in the fifth, as junior first baseman Adam Goldstein (Worcester, Doherty Mem HS) knocked in junior leftfielder Matt Lavin (Worcester, Burncoat HS) with a single to center, knotting the game at 1-1.

West earned the go-ahead runs in the top of the seventh, as junior first baseman Brenden Geary (South Hadley, Tabor HS) and Moyers registered RBIs to put the squad on top. The West then retired the Central side in the home half of the inning to take the 3-1 victory.

The squads were led by outstanding showings from their pitchers, who each turned in complete game performances. West's junior Rory Ziomek (Amherst, Phillips Andover) allowed just two hits and one run, while striking out six in seven innings of work. Junior Tyler Wager (Uxbridge, Uxbridge HS) struck out seven for Central.

ICE HOCKEY
New England Sports Center – Marlboro, MA

Boys Scholastic

Northeast 5, West 1

Junior forward Joe Czarnota (Reading, Reading HS) tallied two goals and an assist to lead Northeast over West, 5-1. Pat Flanagan (Westford, Westford Academy), Brett Buckley (Wakefield, Wakefield HS) and Blaise Heally (Melrose, Tilton School) also potted scores for the winners. Sophomore David Senecal (North Adams, Drury HS) lit the lantern for West's only goal.

Southeast 9, Central 7

Southeast's Dean Chandler (Hanover, Hanover HS) and Jason Riley (Dedham, Dedham HS) each scored a pair of goals to help their team fend off Central, 9-7. Junior Paul Curran (Milton, Milton HS) chipped in with a goal and three assists. For Central, Tyler Kirby (Hudson, Hudson HS) and Brett Lawson (Milford, St. Mark's School) potted two goals apiece with Kirby also dishing out an assist.

Metro 4, Coastal 1

Junior forward Conal Lynch (Charlestown, Boston Latin) had a hat trick and Kevin Cotrone (West Roxbury, Boston Latin) tallied four points with a goal and three assists to lift Metro over Coastal, 4-1. Defenseman Max Sherman (Rochester, Old Rochester Reg HS) potted the lone goal for Coastal. In net, Peter Cronin (Norwell, Boston College HS) and Ryan Ciavette (Medford, Matignon) combined to 43 saves for the winners. Sean Cleary (Centerville, Barnstable HS) came on in relief for Coastal to make 18 saves while allowing a single goal.

Northeast 5, Southeast 2

Northeast jumped out to a three-goal lead in the first half and held on to defeat Southeast, 5-2. Forward Kevin Doherty (Wakefield, Wakefield HS) potted Northeast's second and third goals. Also chipping in on the Northeast attack was Blaise Heally (Melrose, Tilton School) who registered a goal and an assist. Southeast came out storming in the second half and began its comeback with two quick strikes by David Consigle (Medway, Catholic Memorial) and Brian Higgins (Milton, Milton HS) in the fourth and ninth minute, respectively. Southeast goaltender Stephen Jenner (Abington, Archbishop Williams) made 19 saves including two spectacular diving saves.

Girls Scholastic

Southeast/Coastal 4, Central/West 4

Southeast/Coastal scored twice in the final three minutes to salvage a 4-4 tie with Central/West. Southeast/Coastal got two goals apiece from freshmen Emily Kelly (Norwood, Norwood HS) and Brooke Matherson (Walpole, Walpole HS) including a score from each in the critical final minutes. Kelly also added an assist. Central/West had a balanced offensive attack that was lead by Shannon Reynolds (Belmont, Belmont HS) who had an assist on Colleen Lynch's (Worcester, South High Community School) strike in the first period, and scored in the third period to push the score to 4-2.

SOCCER
Waltham High School – Waltham, MA

Boys Scholastic

Northeast 0, Southeast 0
Great two way game by both teams.

Metro 8, Central 1
Dumbuya (ME) (unassisted) at 2min
Nichole (CE) from Lajoie at 12min
Chajon (ME) from Desouza at 15min
Chajon (ME) from Lo at 17min
B. Pires (ME) from Rolim at 24min
Dumbuya (ME) from Chajon at 45min
B. Pires (ME) from Teixeira at 55min
Murrill (ME) from Irazo at 66min
Murrill (ME) from Irazo at 68min

West 2, Coastal 1
Oupka (WE) unassisted at 33min
Thompson (CO) from Phillips at 55min
Merdcer (WE) from Friedman at 62min

Girls Scholastic

Northeast 2, Metro 0
Havelinan (NE) on assist from McDonough at 20min
McDonough(NE) from DesRosiers at 27min

Central 2, Southeast 0
Miele (CE) from Costa at 6min
Kane(CE) from Adams at 18min

West 3, Metro 0
Delasco0 (WE) from Caney at 22min
Caney (WE) from Bates at 27min
Bovat(WE) at 60min unassisted

Northeast 3, Southeast 0
McDonough(NE) from Cunnerty 10min
May(NE) from Newhall 30min
Digiacomo (NE) from McDonough 44 min

SOFTBALL
Regis College – Weston, MA

Coastal 4, West 3
Northeast 8, Central 1
Southeast 7, Metro 4
Metro 7, Central 0

Northeast v Southeast
Results not available
July, 6, 2011
7/06/11
10:41
PM ET
Courtesy Bay State Games media relations director Peter Cohenno:

BASEBALL
Bentley University – Waltham, MA

Northeast 8, Metro 5

Northeast opened the first inning with four quick runs and hung onto their early lead, going on to defeat Metro by an 8-5 margin.

Metro scored once in the first inning, followed by scoreless second and third innings for both squads. Northeast answered in the fourth inning, with a double by sophomore second baseman Riley Warnock (North Reading, North Reading HS), who stole third base as well. Junior catcher Brendon Canavan (Carlisle, Concord Carlisle) and junior shortstop Jenssy Troncoso (Salem, Salem HS) both crossed the plate, increasing the lead to 6-1.

Metro kept working to battle back in the fourth inning with another sole unearned run scored by junior second baseman Adam Lucey (Malden, Malden HS).

The squads traded two runs each in the fifth inning. Northeast earned its runs on a series of three singles by junior Hector Perez (Lawrence, Lawrence HS), junior first baseman Sean Glabicky (Peabody, Malden Catholic), and junior catcher Brendon Canavan (Carlisle, Concord Carlisle). Metro answered with a single by sophomore catcher Jake Porrazzo (Medford, Malden Catholic) and an unearned run by junior catcher Connor Murray (Lexington, Lexington HS).

Metro held Northeast scoreless through the sixth. Metro's junior first baseman Robert Wesoloski (Arlington, Arlington Catholic) singled up the middle during the bottom of the sixth, going on to earn Metro's fourth run of the game. However, it wasn't enough to overtake Northeast's commanding lead.

Northeast pitcher, sophomore Scott Tully (Reading, Reading HS), picked up the win, allowing four runs in as many innings, and striking out four batters. He was buoyed by closer junior Ben Panunzio (Middleton, Masconomet Reg. HS), who allowed one run and struck out one in the final two innings.

Southeast 7, Central 6

Junior second baseman Chuckie Connors (Hingham, Boston College HS) went 3-for-3 with a walk, RBI and two runs scored and helped ignite a comeback in the bottom of the sixth inning that lifted Southeast over Central, 7-6.

Southeast scored four runs in the first two innings to take control of the game, 4-0. In the first, batting in the leadoff spot, Connors walked and then came around to score on a double by junior first baseman Phil Sciretta (Duxbury, Nobles and Greenough). With two outs, sophomore leftfielder Cameron Hanley (Walpole, Walpole HS) singled up the middle to drive in Sciretta and junior designated hitter Will Cousins (Medfield, Medfield HS) followed with a base hit to score Hanley. Southeast tacked on an unearned run in the second.

Central took a big bite out of the deficit in the fourth with three runs. After a pair of walks, junior designated hitter Andrew Montiverdi (Worcester, Worcester Tech HS) singled to right center to push home junior catcher Daniel Whigham (Barre, Quabbin Reg HS). With two outs, junior right fielder Thomas Paine (Upton, Nipmuc Reg HS) singled to right to drive in Montiverdi and junior third baseman Sam Ashline (Clinton, Nashoba Reg HS).

Southeast added a buffer with a run in the fifth to make it 5-3. Junior designated hitter Sean Greene (Hingham, Hingham HS) tripled to left center to drive in junior leftfielder Jake Petruzzelli (Abington, South Shore Voc Tech HS).

Despite trailing the entire game, Central battled back to snatch the lead, 6-5, in the sixth inning. After a double by junior designated hitter Matt Leahey (Rutland, Wachusett Reg HS) put runners on second and third, sophomore first baseman Zackary Tower (Auburn, Auburn HS) doubled to right center to knock in both runners. A costly error with two outs allowed Tower to come around to put Central on top.

Southeast recaptured the lead for good in the bottom of the sixth. Junior centerfielder Nick Ahearn (Norfolk, Xaverian Bros HS) earned a walk to start the inning and came home on a triple by Connors to tie the game. However, Connors got cut down at home on a fielder's choice off the bat of Adams later in the frame. After advancing on the play, Adams scored the winning run on a single to right by Sciretta, who was 2-for-4.

Junior pitcher Connor Farrell (Hopkinton, Hopkinton HS) earned the save after he was able to escape the seventh inning unscathed despite surrendering a leadoff walk.

West 10, Coastal 3

Junior centerfielder John Kinne (Great Barrington, Monument Mountain) went 2-for-4 with five RBI and two runs scored to pace the West's offense on the way to a decisive 10-3 victory.

Coastal's sophomore centerfielder Dan Doughtery (Pembroke, Boston College HS) tallied the first run off a ground out from sophomore first baseman Zachary Perry (Rochester, Tabor Academy). Junior shortstop Jake Salpietro (Berkley, Somerset HS) scored an unearned run after, which would prove to be Coastal's last run until the seventh inning.

West took command of the game in the second inning when its offense was ignited by a two-run triple from Kinne. West scored four runs on four hits in the frame.

West maintained control of the game's momentum into the third and fourth innings, scoring another six runs. Junior centerfielder John Kinne (Great Barrington, Monument Mountain) contributed to the team's offense once again, with a three-run double to left field. Junior rightfielder Anthony Nomakeo (Westfield, Westfield HS) contributed as well, driving home Kinne.

West stretched their lead by another two runs in the fourth inning after junior first baseman Brenden Geary (South Hadley, Tabor) and junior shortstop Frank Crinella (East Longmeadow, Cathedral HS) both scored on Coastal errors.

Coastal's offensive was quelled by a stellar performance by West junior pitcher Steve Moyers (East Longmeadow, East Longmeadow HS). He pitched the first five innings, facing 18 batters and allowing only two runs. His reliever, junior Joelfi Arias (Springfield, Central HS), finished off Coastal, allowing only one run in two innings of work.

Southeast 12, Metro 8

Southeast had five batters with multiple-hit efforts led by Walpole High School sophomores Johnny Adams (Walpole, Walpole HS), who went 4-for-5 with four runs scored, and leftfielder Cameron Hanley (Walpole, Walpole HS), who was 2-for-4 with a walk, three RBI and two runs, in a 12-8 victory over Metro.

Junior first baseman Sean Greene (Hingham, Hingham HS), junior catcher Will Cousins (Medfield, Medfield HS) and sophomore designated hitter Mark Poli (Medfield, Nobles and Greenough) each reached base three times with two hits and a walk for Southeast.

Southeast jumped out to an 11-0 advantage before Metro was able to claw back and make it interesting with two runs in the fifth and six in the bottom of the seventh.

Sophomore Andrew Dawson (Medway, Medway HS) earned the win on the hill for Southeast, going three shutout innings while allowing just one hit and fanning three.

June, 29, 2011
6/29/11
9:19
AM ET
THE STARTING ROTATION

Adam Ravenelle, Sr. RHP, Lincoln-Sudbury
The 6-foot-4, 185-pound fireballer was an integral part of the Warriors' run to the Division 1 state championship this season, going 8-0 with 93 strikeouts in 56 innings -- including a career-high 18 in a win over Arlington. He also batted .481 with 44 RBIs. Earlier this month, the Vanderbilt-bound Ravenelle was drafted in the 44th round by the New York Yankees.

Pat Connaughton, Sr. RHP, St. John's Prep
The 6-foot-4 Connaughton, who was also a starter on ESPNBoston's inaugural All-State basketball squad, strung together some dominant performances this season, including a no-hitter against his hometown Arlington High. On the mound, he went 2-2 with one save, with 86 strikeouts in 50 innings for an ERA of 1.83. At the plate, he also hit .400 with four home runs, a .547 on-base percentage and .750 slugging percentage. Earlier this month, Connaughton was drafted in the 38th round by the San Diego Padres

John Gorman, Sr. RHP, Catholic Memorial
The Boston College-bound Gorman was named the state's Gatorade Player of the Year last month, and was also named the Catholic Conference MVP, after a stellar senior season with the Knights. As the No. 1 ace, Gorman went 6-2 with 80 strikeouts and an ERA of 0.24. At the plate, he also hit .354 with 11 RBI, 14 runs scored an a home run. Earlier this month, the Norwood resident was drafted in the 50th round by the Boston Red Sox.

Steve Moyers, Jr. LHP, East Longmeadow
One of the state's most elusive lefties, Moyers turned in another strong campaign on the mound as the Spartans advanced to the Division 1 West Final. He went 8-1 this season, with 88 strikeouts in 64 innings with an ERA of 0.44. For his career, Moyers is 23-2 and has averaged better than a strikeout per inning. He is receiving various interest from Division 1 schools in the Atlantic-10, Patriot League and Big East conferences.

Garrison Banas, Sr. LHP, Hopkins Academy
Stats-wise, there isn't another pitcher in the state who can lay claim to the numbers Banas put up this season. He went 9-2 this season for the Golden Hawks, with 173 strikeouts in 87.2 innings for an ERA of 0.48, before bowing out in the Division 3 West final. For his career, Banas was 26-6 with five no-hitters and a perfect game, and is in the state's ever-exclusive 400-strikeout club with 415 career K's. He will pursue a post-graduate season next year at Salisbury School, in Connecticut.
STARTING NINE
Matt Walsh, Sr. C, Plymouth North
The Franklin Pierce-bound Walsh was one of the more intimidating hitters in the region this season, as he led the Eagles to their second Division 2 state title in four years by hitting over .530 with 36 RBIs. But the most outstanding stat on Walsh has to be the respect he commands behind the plate. Counting the playoffs, only five runners attempted to steal on Walsh, and four were thrown out.
Chris McCarthy, Jr. C, Everett
Equipped with a live arm, the junior backstop was as efficient at the plate as he was at throwing out runners, batting over .585 with 28 RBIs and an on-base percentage close to .700. McCarthy is receiving varied degrees of interest from Division 1 schools in the Big East, Atlantic Coast and Atlantic 10 conferences.
Mike Barry, Sr. C/OF, Lincoln-Sudbury
The 6-foot-2 Barry was one of the most prolific hitters on arguably the state's most dangerous lineup, as the Warriors captured their third state title in seven seasons. For the season, he hit .437 with 38 RBIs and seven home runs,
Matt O'Neil, Jr. SS, East Longmeadow
As one of the premier position players in Western Mass, O'Neil turned in a solid junior season for the Spartans, batting .447 with six home runs and stealing 15 bases. He was also efficient on the mound, going 6-1 and striking out 69 batters in 43 innings. O'Neil is verbally committed to UConn.
Chris Shaw, Jr. 1B, Lexington
As the Middlesex League co-MVP alongside teammate Will Marcal, Shaw put on a clinic at the plate, with the numbers to show. He batted over .490 with eight home runs, and plated 41 runs. Shaw is verbally committed to Boston College.
Ryan Summers, Jr. C, Westfield
The junior got off to an explosive start to the season for the Bombers, with 21 RBIs and six home runs through the first three weeks of the season. He finished the year with 27 RBIs and six home runs.
Jarrod Casey, Jr. OF/LHP, Milford
The latest in a line of Caseys to succeed on the diamond at Milford, the 5-foot-11 junior was one of the premier hitters in Central Mass, hitting .530 while also going 8-1 on the mound. Casey was also the Mid-Wach A Most Valuable Player.
Lorenzo Papa, Sr. 1B, Arlington Catholic
The Stoneham resident led the state in home runs last season with 10, and followed up with another solid campaign in 2011, finishing with eight homers for the Cougars. Papa will continue his career at the University of Rhode Island next year.
Sean Amaru, Sr. 1B, Westwood
Also a star on the gridiron, Amaru was a standout in the Tri-Valley League in 2011, turning in a monster season. He batted .515 with 34 RBIs, and also led the state in home runs with 10.
BULLPEN
Will Archibald, Sr. RHP, Milton
Freddy Andujar, Sr. LHP, Holyoke
Dan Dymecki, Sr. RHP, Wellesley
Evan Mackintosh, Sr. LHP, Northbridge
Will Marcal, Sr. LHP, Lexington
Ryan McDonald, Jr. LHP, Acton-Boxborough
Victor Mendez, Sr. RHP, Lawrence
Donny Murray, Sr. RHP, BC High
Matt Tulley, Jr. RHP, Lowell
Brandon Walsh, Jr. RHP, North Andover
UTILITY
Charlie Butler, Jr. IF/RHP, Nashoba
Dan Cellucci, Jr. SS, Lincoln-Sudbury
Aaron Fossas, Sr. SS, Holy Name
Matt Goreham, Sr. 1B, Catholic Memorial
Keith Kelley, Sr. SS, St. John's (Shrewsbury)
Dan Light, Sr. 1B, St. John's (Shrewsbury)
Bob Melley, Jr. C, BC High
Rory O'Connor, Jr. OF, Lowell
Tyler Sterner, Sr. SS, Doherty
Ramses Vittini, Sr. OF, Peabody
Alex Witkus, Sr. OF, North Attleborough
Paul Yanakopulos, Sr. SS, Malden Catholic
May, 29, 2011
5/29/11
6:27
PM ET
By
John McGuirk
| ESPNBoston.com
EAST LONGMEADOW, Mass. -- With the myriad of success the East Longmeadow baseball team has attained over the last several seasons, it will never be good enough until the Spartans are able to hoist a championship.
Highly regarded as one of the best programs in the state, the Spartans have posted an 89-12 mark since 2007, but they don't take much homage over such an accomplishment. That's because the ultimate goal of winning a state crown has eluded them. The Spartans got close in 2007, but lost to Algonquin Regional in the Division 1 state semifinals.
Needless to say, this team expects more of itself and expects nothing less than a championship.
[+] Enlarge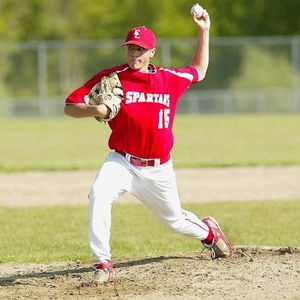 Moyers Family PhotoLefty Steve Moyers (6-0, 0.16 ERA) is one of the biggest reasons for East Longmeadow's success.
East Longmeadow, which presently sits at 17-3, has the necessary talent again this season to win a state title. But the folks in this Springfield suburb town have heard that story before. The last two years, in fact, when the Spartans have reached the district championship game only to fall short despite being considered the unanimous favorites both times.
Two years ago, they let a big lead slip away in the final inning against Westfield and lost by a run. Last year, they were blanked by reigning state champ Amherst, 1-0.
Even though East Longmeadow has been dominated on the diamond in the regular season, it's the postseason that matters most and this team won't be satisfied until it gets the proverbial monkey off its back.
"It's been really tough coming up short like we have," said senior tri-captain and outfielder Ken Morrisino, the bitterness still lingering in his voice. "We know we can win but we just need to stay loose and not think too much about it."
Morrisino -- who will prep at the Canterbury School next year in New Milford, Conn. -- along with fellow captains Steve Moyers and Matt O'Neil, were all part of the disappointment of having to bear witness of watching someone else celebrate a title they felt should have been theirs the past two years. As expected, those painful memories of the past two postseasons have not subsided and all three captains are using it as motivation to win it all this year.
"That's been our goal every year," said Moyers, the junior ace of the pitching staff who, in three seasons, has a career record of 22-1, with a 0.40 ERA and is 6-0 this season with a 0.16 ERA. "We want to get a Western Mass. championship and after that try and go on and win states."
Even though there are many new faces on this year's squad, the objective has not changed. The rest of the team, according to eight-year coach Kevin Magee, looks up to the three captains because of what they have accomplished at East Longmeadow as high school and Legion players.
Morrisino, Moyers and O'Neil certainly bolstered their reputations this past summer as they were all key contributors on the East Longmeadow Post 293 Legion state champion team -- a club that needed to come out of the loser's bracket and would go on to sweep Milton Post 35 in a doubleheader with both O'Neil and Moyers earning back-to-back victories, respectively on the mound.
The question by all three captains coming off that Legion title is, why can't the same be done at the high school level?
"To not win here the last two years and then we can win it all in Legion is a bit strange," said O'Neil, a junior shortstop/pitcher who is batting .469 and is 4-1 on the hill and has already made a verbal commitment to play at UConn in two years. "We need to win Western Mass. and go from there. We want it really bad."
Moyers, who is still undecided over his future college plans, added "We just need to buckle down come postseason time. We know we've been considered the team to beat the last couple of years. What we need to do in the postseason is get a lead early and as a pitcher go out, throw strikes and try to put the other team away early. If we can do that we'll be effective."
Behind this array of winning consistancy is Magee -- a player's coach who constantly instills proper fundamentals and a positive attitude to his team. As much as he too would like to celebrate a championship Magee's primary objective all along has been team unity.
"My number one goal has been to get them to work on sportsmanship and their work ethic by putting the team first," he said. "That's been the theme ever since I got here. We talk about championships two-percent of the time but 98 percent of the time we talk about sportsmanship, work ethic and putting the team first.
"Every person on our roster at some point this season has said they'll do whatever is best for the team and what is in the best interest for the team. I'm fortunate to have a team like this. I can tell you that they're aren't many teams that have a full roster of players who would put the team first. We do here."