Boston High School:

Sue Breen
August, 1, 2013
8/01/13
6:14
PM ET
By
Brendan Hall
| ESPNBoston.com
North Andover High Athletic Director Jon Longley announced this afternoon the promotion of Megan Pinksten to head coach of the girls basketball program.
Pinksten has been the JV coach the last two seasons for the Scarlet Knights, who this past season reached the MIAA Division 2 North Final for the first time in three decades. She takes over for Sue Breen, who stepped down as varsity head coach at the end of the season.
Here is the official release from the athletic department:
We are excited to announce the hiring of Megan Pinksten as our new Girls Basketball Coach at North Andover High School. Coach Pinksten has been our JV Girls Basketball Coach for the past two seasons. Megan also served as an assistant Girls Basketball Coach at Andover High School from 2007-2011. Megan graduated from Andover High School in 2002 and went on to play college basketball at Assumption College in Worcester where she Graduated Magna Cum Laude in 2006. Megan recieved her Masters Degree in Education from Boston University in 2007.

Megan is a dynamic leader who is determined and committed to the development of student athletes. Megan is a person who is passionate about her role as an educator/coach and is leader within the athletic department as well as the school community at large. We are looking forward to a very bright future in Girls Basketball at North Andover High under the direction of Coach Pinksten.

Ms Pinksten has been employed as a Guidance Counselor at North Andover High School since 2007 and also serves as the JV Coach for the Girls Volleyball program.
March, 9, 2013
3/09/13
2:27
PM ET
By
Brendan Hall
| ESPNBoston.com
LOWELL, Mass. -– Few players across Massachusetts have separated themselves from the pack the way Reading's Olivia Healy has this season. But you don't get to 48 straight wins and now two straight Division 2 North titles with one player carrying the team on her back every night.
[+] Enlarge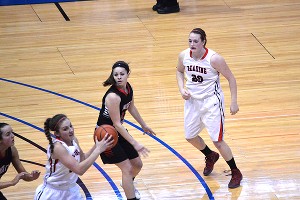 Brendan Hall/ESPN BostonWith star Olivia Healy facing a box-and-one, Sarah Haase (19 points, 11 rebounds) stepped up to deliver Reading its second straight D2 North title and 48th straight win.
Championship-caliber teams always get clutch production from serviceable role players. This morning in the D2 North final at the Tsongas Center, in a sluggish day of offense, that fell unto junior forward Sarah Haase. The 5-foot-9 pivot came up with 19 points and 11 boards as the Rockets downed North Andover easily, 50-33, for their second straight D2 North title.
"We've been here before, so I kind of expected what the stadium would look like," Haase said. "We came here early, got a good warmup. I just came to play, and I had my team's support, my team's help with the assists and everything. That helped out a lot."
The Richmond-bound Healy ended up with a quality night as well, tallying a double-double (18 points, 10 rebounds) while facing a box-and-one defense. But her ball movement helped the Rockets break their sluggish offensive start, tallying five assists on the afternoon -– several of those going to Haase.
"She was unbelievable," Healy said of Haase. "She owned the points, she kept on putting it in strong, but her rebounding was ridiculous too. She got some crucial rebounds, she got them for us at the Comcast Tournament [last month]. She's been stepping her game up."
Said Reading coach Kim Penney, "She's been working hard. We keep telling her, when Liv [Healy] gets the ball down low, you've got to dive because she's going to see you, and she made some nice passes to her."
Reading lead North Andover 23-11 at the break, holding the Scarlet Knights to just 26 percent from the floor (5-of-19) in the first half. Holding a 31-22 lead after three, the Rockets finished strong, shooting 60 percent from the floor (6-of-10) and going a near-perfect 7-of-8 from the line, including a 6-for-6 clip from Healy.
Defending Lumb:
Coming into the tournament with eight losses, North Andover made a surge to its first D2 North Final appearance since 1988 behind the returning health of senior forward Morgan Lumb, a University of Hartford signee.
This morning, the defensive duty fell unto senior guard Katie Starble, who marked Lumb the whole game; and while Lumb finished with 17 points, eight of those points came in the fourth quarter when the lead was already in hand.
"We take pride in our defense, we like to run the floor so hopefully our D sparks that. But it started with Katie tonight," Healy said. "She had a hand in her face every single time. Yeah, she got some shots off, but everything was contested. Nothing was open for her."
Swift dishes
: This isn't the first time Healy has seen a box and one, and it may not be the last in her high school career. So the 5-foot-10 senior knew exactly what to do – set up her teammates cutting to the basket.
"We have an offense off of box and one," Healy said. "If someone sets that, the rest of the team says 'It's my time to step up', and it's my job to give it to them as much as possible. Bridget [Clements] hitting threes, Katie [Starble] taking that outside shot…I mean, I'm already down low. I would rather see box-and-one more than anything, because it frees up my teammates on the court."
It's not often the Knights bust out the defensive call. But NA head coach Sue Breen applauded Mackenzie Mello's efforts marking Healy around the perimeter.
"She's just such a good defensive player for us," Breen said. "I don't think most teams have a kid that is that quick and long [Healy], and I think Mackenzie just did a great job on her. We haven't played a box-and-one much this year, because usually we can just go straight up, but we found we needed to do something different because we didn't want Olivia to score 45 points."
January, 7, 2011
1/07/11
11:32
PM ET
By
Brendan Hall
| ESPNBoston.com
NORTH ANDOVER, Mass. -- Amanda Foote, like the rest of her North Andover High teammates, admitted to some nerves throughout all of Friday morning and afternoon. Although, maybe that's typical of a Cape Ann League team when perennial Division 3 power No. 12 Pentucket Regional rolls through town. Emotions tend to run high on Sachems night.

Lucky for the senior guard, though, she has a lot of latitude from Knights head coach Sue Breen to shoot whenever she gets the space. And when she got a wide-open look behind the three-point line at the right wing with a little over two minutes to go, she didn't hesitate, swooshing a feathery, high-arching three-ball to make it a two-possession game. Her teammates did the rest with several key turnovers late, to seal an historic 38-31 win over the Sachems.

"Obviously, I'm not the number one shooter on the team," Foote smiled. "But it feels great to just come down and hit that and really secure the lead in the final minutes, to get us pumped up to win the game."

Said Breen, "Footie, she'll probably be kicking herself because she got alot of traveling calls, but that was probably the biggest play of the game."

For the Knights (4-2), it's the first win over Pentucket (6-1) since 2006. So yeah, emotions were running high in the post-game; it's just, they had trouble putting those feelings into words.

"It's crazy. It's amazing," senior forward Erika Zahoruiko (17 points, nine rebounds) said. "We all came to play, and...I don't even know what to say. I can't even explain the feeling right now."

Said Foote, "I feel like we're CAL champs right now. This feels great."

What the Sachems lack in experience -- having graduated several key stalwarts from last year's Division 3 state finalist squad, including Erin McNamara and Ashley Viselli -- they make up for in length and speed. Early on, they made their best efforts at dictating a quick pace, with junior Sarah Higgins and sophomores Alex Moore and Nicole Viselli leading the way. But with tight defensive pressure in both the halfcourt and in full-court -- routinely bringing as many as four players above half-court for man-to-man and diamond-and-one looks -- the Knights got called for alot of contact, but forced a slew of turnovers and bad shot selection.

The Knights' lead was slim, just 16-15 headed into the break. But looking at the offensive totals -- the teams combined for a miserable 9 of 48 from the field, with Pentucket making just four field goals -- a point had been made.

Then in the third, the Knights got it going with a series of ball reversals, making it a two-possession game with two perfectly-executed plays off a very familiar connection. Tied at 22-all with 3:30 to go in the quarter, Zahoruiko stepped up in the key and fed her familiar soccer teammate Alex Medlock with a bounce pass as she cut to the basket unguarded. The next time down, the roles reverse, Medlock took a jab step and threw an entry pass to Zahoruiko, who backed in and nailed a turnaround hook shot to make it 26-22.

"When we see each other on the court, we've just been playing together for so long, that we just find each other wherever," Zahoruiko said. "We're just connecting."

From there, the offense began to find its rhythm, culminating in Foote's key three.

"They're a very tough team, they're an awesome team, they have an awesome program," Breen said. "You know, I just think my kids played a little bit better."

Pentucket head coach John McNamara didn't dispute that.

"Give credit to North Andover," he said. "They outplayed us, they out-hustled us, they out-scrapped us, they wanted it more than us. We're kind of a young team, and I think hopefully we can use this as a learning experience. They dominated us in every phase of the game."