Boston High School:

Sunapee
June, 27, 2012
6/27/12
2:07
PM ET
By
Marc Thaler
| ESPNBoston.com
Fundraising totals between the teams competing in the inaugural New Hampshire East-West High School Football All-Star Game couldn't have been much closer.

The game itself? That's a different story.
West's all-stars – widely considered underdogs for the June 23 contest at the University of New Hampshire – proved too tough. The combination of overpowering offense and dominant defense led to a 33-point halftime lead and 44-12 final score.
Thaddeus "Junior" Brown was toughest to cover. Manchester Central High's 6-foot 3-inch, 180-pound receiver made all four of his catches for 87 yards in the first half. Three receptions went for touchdowns, including a 50-yard down-the-right-seam dagger that helped Team West build a 37-6 halftime lead.
"This means a lot. I worked hard for it," Brown, the game's first Bo Dickson MVP, said of the trophy he was handed for his efforts. "The coaches helped me out a lot. I just busted my butt for 10 days. The outcome was this MVP."
Off the field, the outcome of Brown's efforts, as well as the 73 other all-stars, was even more impressive.
Teams East and West combined to raise $51,301.21 for Children's Hospital at Dartmouth-Hitchcock (CHaD) in Lebanon.
Team East was designated the home team. It earned use of UNH football's locker room for winning the head-to-head fundraising contest. Coach Bill Raycraft's players raised $25,751.21 – a mere $201.21 more than West's standouts.
In total, $301,000 was raised for CHaD.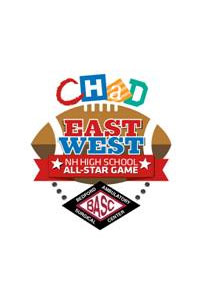 BASCTBD by editorial
"These kids came together and did a heck of a job for a great cause," said Team West coach Keith Jones, whose 6-year-old son, Harris, a CHaD patient, participated in the pre-game coin toss.
Harris was involved in a freak snowmobile accident three years ago. His father has said many times if not for CHaD, right-leg amputation would have been required.
On gameday, the soon-to-be first-grader made an appearance in Team West's locker room prior to warm-ups. It gave the players an additional boost, which carried over to kickoff.
Several playmakers fueled Team West's 37-point first half.
Brown caught a pair of 9-yard TD passes from Manchester West High's Aaron Martin, who also used his speed to sneak inside the left pylon for a 2-yard rushing score.
Merrimack High's Jackson King returned an interception 19-yards for a TD.
Nashua South's Johnny Bieren was crucial to posting a second-quarter safety. He also forced and recovered a fumble on one of his three quarterback sacks.
Central's Stephen Grzywacz – who raised a players-best $5,965 for CHaD – converted five extra points (6-for-6 overall).
East's all-stars committed five of the game's eight turnovers. The favored squad fell behind, 30-0, before Salem High's Jerickson Fedrick returned a kickoff 96 yards to paydirt.
Fedrick, and Pinkerton Academy of Derry stars Kevin Davies and Emmitt Smith, were all neutralized. Combining to rush for 4,649 yards and 57 TDs last fall, the trio managed 99 yards – 28 through two quarters.
Conor Donovan of Division VI cooperative team Inter-Lakes-Moultonborough scored East's second TD early in the third. Derek Paradis of Nashua South answered with an up-the-gut run.
"The first series, I thought we did pretty well. We stopped them (but) right away turned the ball over," Raycraft said. "That's not the way you want to start an all-star game. From there, we pressed a little bit more than we probably should have and, because of that, created more turnovers.
"But, like I told the kids, I had a blast these last (10) days," he added. "I couldn't have asked for a better group of kids. It's going to be fun watching where they go from here. The score will fade, but they set the tone for fundraising."
BASEBALL CHAMPS
Division I
: Dillon Emerson's extra-inning hit snapped two droughts, including a lengthy one for Concord High.
The senior's single down the right-field line scored Pat Cannon and gave the top-seeded Crimson Tide a 5-4 walk-off win over No. 3 seed Merrimack High in the state final June 16 at Northeast Delta Dental Stadium, home of Double-A baseball's New Hampshire Fisher Cats.
Emerson's hit snapped an 0-for-4 skid in the title game and earned Concord (18-4) its first crown since 1980. The Tide lost the state final in 2011.
"I was in the dugout upset over all the missed opportunities I had when coach [Scott Owen] came up to me and said, 'Stick with it. You'll get your at-bat and you'll come through.' He was right," Emerson told the
New Hampshire Sunday News
.
November, 10, 2011
11/10/11
6:13
PM ET
By
Marc Thaler
| ESPNBoston.com
In his 41st year at the helm of Plymouth Regional's storied football program – a span that's produced a state-record 334 wins and 18 championships – Chuck Lenahan has surely experienced it all.

Yet it was the manner in which the Bobcats won their most recent matchup that had the gruff-voiced grid coach admitting, "I'm kind of numb."
It's understandable. Lenahan approved the call for a fourth-quarter fake punt that produced the game-winning touchdown. Plymouth celebrated a 21-14 Division IV semifinal win Nov. 5 against longtime rival Laconia High.
The scenario: Plymouth was forced to punt from its 32-yard line in a 14-all game. The game clock showed less than nine minutes remained in regulation.
Special teams coach Chris Sanborn persuaded Lenahan to fake the punt. The Bobcats desperately needed a spark. Their rushing attack, which generated two lengthy first-half scoring drives capped by Cole Brooker touchdown runs, was stifled after halftime.
Standout senior Taylor Newberry (37 carries for 205 yards) was asked to fake the punt for the first time in his career. It worked out better than even Lenahan could have expected.
Newberry gained the three yards necessary to extend the drive. He also picked up 65 more yards, cutting left-to-right across the field, dodging would-be tacklers, and ultimately celebrating a 68-yard TD run.
"We actually just set that up (in the week leading up to the semifinal). We were 50-50 on it," Newberry said. "I guess it worked."
Plymouth – a year removed from missing the playoffs on a three-team tiebreaker – actually plays the role of underdog in the Nov. 12 final.
The second-seeded Bobcats (9-1) travel to Manchester's Gill Stadium for a showdown with No. 1 seed Trinity High (10-0). The Bobcats were stunned at home in Week 4 by the Pioneers, allowing a pair of late-game touchdown passes in a 12-7 loss.
It snapped Plymouth's 40-game home win streak.
"Another week," Lenahan said. "The kids wanted it bad. What the heck. We might as well take a trip to Manchester."
June, 22, 2011
6/22/11
8:43
PM ET
By
Marc Thaler
| ESPNBoston.com
Considering the contest's national significance and how the seven-inning bout played out, there's just one way to sum up the Division II baseball final.
It was sensational.

Portsmouth High prevailed in a thriller – a game played in 2 hours, 8 minutes but over the course of two days – to stun Seacoast rival St. Thomas Aquinas High of Dover. The Clippers clinched a 9-6 win at the home of Double-A baseball's New Hampshire Fisher Cats.
The last title game of the NHIAA's "Super Saturday," a June 18 quadruple-header at Northeast Delta Dental Stadium in Manchester, ended with No. 1 seed Portsmouth (20-0) celebrating a fourth consecutive crown and national record-extending 83rd straight win.
"What the program has accomplished and what we've gone through, and the attention (the win streak) has earned, to get to this point and not finish it with a win, that wasn't something I was prepared to deal with," Portsmouth coach Tim Hopley said. "It was a real important game for us."
Three storylines from the much-anticipated matchup:
Strange time to start. The game was scheduled to start at 8:15 p.m. Portsmouth ace and Northeastern-bound Keegan Taylor didn't fire the first pitch until 10:23.
The last out wasn't recorded until 12:45 Sunday morning.
STA-Portsmouth followed the Division IV final, delayed 50 minutes by thunder. Weather was just one factor contributing to the lengthy game that pushed back the main event's scheduled start time.
"We gave both teams the option of coming back (to play Sunday). It was late. But everybody preferred to get it in," NHIAA executive director Pat Corbin said. "We had a tremendous crowd. For the kids, they'll always be able to say, 'We're the ones that played the latest game in the history of New Hampshire.'"
Dueling aces. Five summers ago, they were the Nos. 1 and 2 pitchers for Portsmouth's Little League World Series team that reached the U.S. semifinals. As the clock approached 1 a.m. Sunday, STA ace Jordan Bean and Taylor squared off in the game's key sequence.