Boston High School:

T.J. Kelley
March, 3, 2014
Mar 3
1:43
AM ET
By
Chris Bradley
| ESPNBoston.com
WORCESTER, Mass. –- Just when it looked as if St. Peter-Marian might finally get past archrival St. John's in the Division 1 tournament, the Pioneers had one more comeback up their sleeve.

In front of an electric, standing room-only crowd at Worcester Polytechnic Institute's Harrington Auditorium on Sunday night, the Pioneers overcame a seven point halftime deficit to knock SPM out of the Division 1 Central tournament for the second time in three years, sealing a 61-59 victory via two free throws by senior captain Charlie Murray with ten seconds left.

"I never look at the guy at the free throw line, 'cause it doesn't do you any good," St. John's coach Bob Foley joked after the game, "He's a kid who sometimes struggles from the free throw line, but our kids have the confidence to put the chips on the table and put those [free throws] in...and he put those right down the middle."

Murray, the Pioneers' "energy-guy" who is known for his ferocity on the defensive glass and his ability to get to the free throw line, got to the free throw line in the closing moments following a perfect no-look pass from sophomore Adham Floyd (14 points).

"It's hard, it's definitely hard," said of the pressure of hitting the free throws, "Just a lot of practice. It's great that I got to the line and made the free throws, hard work pays off, but at the end of the day it takes the hard work of all 15 of us to get where we are now. It's great I made them, but I wouldn't be able to do it without anyone else."

Floyd leads Pioneer defense: Floyd, who suffered a serious injury to his knee last spring, helped anchor a second half where St. John's was able to dictate the pace of the game. The Pioneers struggled to keep up with Guardians' star sophomore Makai Ashton-Langford (25 points) in the first half, but Foley made the decision to go to a man defense in the second half.

The decision paid dividends quickly for St. John's, as they forced turnovers on the first three SPM possessions of the second half. Following each turnover, the Pioneers added two points quickly on the other end. In what seemed like the blink of an eye, the Guardians' lead had disappeared.

"It's a chess match. We had played zone most of the first half and came out man-to-man, and played a whole lot of man-to-man in the second half. You never know what's going to work until you try it in a game, you just have to bounce back and forth," Foley said.

Floyd made two big stops for the Pioneers in the closing moments of the game, blocking a putback attempt by SPM senior Connor Brown that would have put the Guardians ahead. After he found Charlie Murray in the post and Murray converted the free throws at the other end, it was on Floyd to stop Ashton-Langford, one of the best scorers in the state, from getting a basket.

"I thought Adham Floyd did a great job, he played great defense coming off a bad knee injury. His speed isn't there yet but he's so good with his hands and getting his hand on the ball," Foley said.

Murray added: "[Floyd] stepped up, he had a great game. Even on that last play, he made that drive and made a great dish to me – very unselfish. He's a great player, he played hard today."

The streak continues: The win puts the Pioneers in the Central Mass. Division 1 title game this coming week against Franklin. The game will be St. John's seventh consecutive appearance in the Division 1 Central title game. As a program they have made the championship game 31 times. Foley was quick to point out that not all of those championship games were his teams, but getting deep into the tournament all those times has given him plenty of experience in tuning out crowds.

"You pray a lot," Foley said with a laugh, "I don't hear the crowd, I never hear the crowd at the game because I focus on what's happening. It's no problem for me, you're just hoping that your kids do the right thing. I thought we just did everything right at the end of the game."

They're a great group of kids, they hung together. It's a game that just drains you emotionally, physically, and whatever, but they hung in there at the end."

Floyd agreed, saying that the Pioneers' confidence in Foley's gameplan was the difference down the stretch:

"We just listen to coach. It comes with confidence...and being a team. I think we're a better team than them, we stayed together."

Far from his first appearance at WPI, Murray said the Pioneers are motivated to avenge their loss to Milford in last year's Central Mass. final.

"We're back, it seems to be a habitual thing, but I'm just happy I get to play another game with these guys. I love the team I'm on."

TJ Kelley and Davon Jones scored 13 and 12 points, respectively, while Greg Kuakumensah contributed 13 points for the Guardians.
January, 8, 2014
Jan 8
12:51
AM ET
By
Chris Bradley
| ESPNBoston.com
SHREWSBURY, Mass. -- When Davon Jones got fouled and fell hard on his elbow late in the fourth quarter, St. John's (Shrewsbury) head coach Bob Foley asked his star point guard a question that the coach probably already knew the answer to.

"Davon, you OK?" Foley shouted from the end of the bench.

Wincing in pain and holding his elbow, Jones jumped up and waved off his coach — he wanted to be the one to shoot the free throws. He swooshed the first, then the second, giving the Pioneers their first lead of the second half, 64-62, with less than a minute to go in the game.

As an encore, he nailed two more from the charity stripe to put the game out of reach just moments later. Senior T.J. Kelley (14 points, 10 rebounds) sealed the deal by hitting two free throws of his own with 12 seconds left, giving the No. 10 Pioneers a 68-62 victory over rival No. 11 St. Peter-Marian in front of a standing-room only crowd.

The standout defensive back has taken plenty of hits in his career though, and for Jones the hard foul certainly wasn't worse than some of the hits he's taken on the gridiron.

"I'm fine," Jones said. "I play football, so I'm kind of used to it."

Jones is a rare breed in Foley's system — a junior point guard who is also a three-year starter. An exceptional on-ball defender with lightning-quick bursts of speed with or without the ball, Jones' poise and hard-nosed style of play gave Foley no choice but to put him in the starting lineup nearly from the time he arrived at St. John's.

"He's such a tough kid that he banged it really good and I was all set to send a sub in … and he just goes 'No, no, no,'" Foley said. "It's great to have tough kids."

The Pioneers' comeback was one that will be talked about for a long time.

When St. Peter-Marian coach Marcus Watson called timeout with 3:23 left in the game, the Guardians (4-2) led St. John's, 62-51. Despite the eleven-point deficit, Foley encouraged his team to stay together and stick to their gameplan of putting ball pressure on SPM and get the ball inside the paint offensively.

"Coach Foley just told us to stay together," Jones said. "Whenever we listen to coach, good things happen. I just think we came out and said together that we'll play defense, we'll talk, and we just played together."

To little surprise, it was Jones (11 points) who helped set fire to the comeback. Shortly after the timeout, Jones drove into the paint and fed big man Alex Fisher (15 points) with a beautiful no-look pass, Fisher finished off the conventional three-point play after getting fouled. The next time down Jones did the exact same thing, this time feeding sophomore guard Nick Lukasevicz, who hit two free throws after getting fouled.

"The kid I thought did a great job tonight was Nick Lukasevicz — the sophomore who had barely even played in the game," Foley said, "he played a couple minutes earlier, but he got in there and we feel like he's a very steady kid who never turns the ball over. When he was in there we didn't turn the ball over."

The Pioneers (7-1) were able to capitalize on SPM's inexperience down the stretch, putting a trap on their guards defensively while the Guardians forced shots and got away from the ball movement that helped them pull away at the end of the first half.

"The kids believe in each other and I believe in them," Foley said. "We threw that half-court trap at [St. Peter-Marian] and got them to turn the ball over. They took a couple long shots and we got every rebound off that situation, we got every rebound, I thought we got every loose ball at the end, and everyone just kind of did their job."

St. John's had no answer for Guardians' star sophomore Makai Ashton-Langford (18 points) in the first half. Ashton-Langford, a heralded Division 1 recruit who was playing in front of University of Maryland assistant coach Scott Spinelli, got to the rim nearly at will in the middle quarters — enabling SPM to go on a 15-1 run spanning from the end of the second quarter to the middle of the third.

Another sophomore, Greg Kuakumensah (13 points, 8 rebounds) was the only other Guardians' player who finished in double-figures. Tom Annan and Jamal Smith each scored eight points for SPM, which will face No. 1-ranked Putnam in Springfield on Sunday.

The Pioneers, who have now won five in a row after losing to Leominster in their second game of the year, will host another league foe, St. Bernard's, on Friday night.

"[Beating St. Peter-Marian] doesn't boost our confidence as much as it just makes us work harder. We understand where we stand now," Jones said, "tomorrow we'll be back at practice ready to go."
December, 24, 2013
12/24/13
1:01
AM ET
By
Chris Bradley
| ESPNBoston.com
FITCHBURG, Mass. –- St. John's coach Bob Foley has no problem admitting it. The inside toughness was lacking in the Pioneers' loss to Leominster last week, especially with Co-captain Charlie Murray out of the lineup.

But the opposite was true on Monday night's showdown with rival Fitchburg. Behind a spirited post attack led by Alex Fisher (16 points, 9 rebounds), Drew Vittum (8 points, 12 rebounds), and Murray (8 points, 8 rebounds), the Pioneers (2-1) knocked off the Red Raiders (3-1) on their home floor at Doug Grutchfield Fieldhouse, 63-51.

"I was just so happy with this game, Fitchburg's got a heck of a club and [Fitchburg coach] Jack Scott's doing a great job with them," Foley said. "They've got a very, very good team. To come out of the gates, get our lead...in their gym you kind of wait for them to make their run, and every time they started to make a run our kids responded."

With two practices in the days following the Leominster loss, St. John's made a concerted effort in those two practices to get the ball into the paint more often offensively, as well as ease the transition from football to basketball for point guard Davon Jones (8 points, 5 steals) and forward T.J. Kelley (12 points) -- both of whom were integral members of the Pioneers' MIAA Division 2 State Finalist football squad.

"They seemed like they were ready to go tonight. They let us make runs to get it to nine, 11, and then they'd make a couple plays to stretch it out to 12 or 14 -- and that's the sign of a good team," Scott said. "They're playing like we want to be playing in February, they're playing like that right now -- at least they did tonight."

Fitchburg was led in scoring by junior guard Anthony Salome, who nailed four 3-pointers on his way to 16 points. The Red Raiders' usual go-to scorer, Mick Snowden, was contained to just three points -- an outside jumper that came midway through the first quarter.

Murray, Jones the backbone for Pioneers: Jones and Murray may not have led the Pioneers in scoring against Fitchburg, but Foley came away most impressed by the play of the duo whom he considers to be the Pioneers' leaders. Playing with a wrist that was heavily taped up didn't stop Murray from making hustle plays -- whether that was pulling down offensive rebounds, or nearly tackling the players on the Pioneers' bench in pursuit of a loose ball.

"He's our co-captain, he's a pretty tough kid under there -- a real competitor. He's a leader, he's encouraging all the other players. We still don't play that many seniors, he's always encouraging the other kids, he mixes it up under the boards, he's always on the floor rolling around," Foley said. "The big thing there is that the other kids on our team see that…it makes them raise their level of toughness a little bit."

Jones has built a reputation for making plays all over the football field the last two years, but it was his playmaking ability on the hardwood that gave Scott and the Red Raiders headaches all night.

Scott called a timeout in the third quarter for the sole reason of strategizing how to keep Jones out of the paint, as the point guard was penetrating the Red Raiders' defense at will, giving the Pioneers' bigs plenty of open looks inside. Jones proceeded to, again, get into the paint on Fitchburg and set up three of the Pioneers' next five baskets following the timeout.

"We were consciously trying to prevent that, and yet he still managed to weave his way into the lane," Scott said.

Foley had major praise for his point guard.

"Davon is ultimate quickness," Foley said. "It's not very often you have a kid with that speed, but he's not only fast, he's a strong kid out there. He's our leader out on the court, and Charlie is our emotional leader overall."

SJ owns the glass
The major difference in the game was the rebounding margin, which St. John's won 37-18. Boasting the aforementioned front line, Foley came away satisfied with the Pioneers' effort on the glass—particularly on the defensive end.

"I thought the defensive glass in the second half was the key to the game," Foley said. "On the offensive game we got a lot of shots, unfortunately we should have put more of them in, but pounding away out there in that last six or seven minutes they got one offensive rebound."

Scott agreed, mentioning that the box out will certainly need to be a point of emphasis in practice for Fitchburg for the foreseeable future.

"It was just a dominant performance on the offensive glass," he said. "We didn't do a good job of rotating on the swings around the perimeter and get in good position to get a weak side rebound here and there. It was a combination of us failing to do what we wanted to do on the defensive end and them capitalizing on it."
December, 7, 2013
12/07/13
8:56
PM ET
By
Chris Bradley
| ESPNBoston.com


FOXBOROUGH, Mass. – Mansfield made a living off of their vaunted and talented offense this year, but it was the defense that won them the Division 2 state championship against St. John's (Shrewsbury) on Saturday afternoon.

The biggest focus for Mansfield coach Mike Redding coming into the game was game-planning for St. John's dual-threat quarterback Andrew Smiley, an offensive player of the year candidate who has torched opposing defenses this year with his feet as well as his arm.

"Oh man, he's a great athlete, we knew we had our hands full with him and Combs running the zone read, they do that so well and they keep you honest with the four great receivers," Mansfield coach Mike Redding said.

Smiley has found his deep core of receivers early and often this year, especially junior Davon Jones and seniors T.J. Kelley and Mike McGillicudy. On Saturday though, Jones and McGillicudy were only able to pull in a combined three catches for 22 yards. Smiley, who threw two interceptions and scored a rushing touchdown, was able to muster just 80 total yards.

"The goal was to try to get six in the box to handle the run game, we tried to double Davon Jones because he's an exceptional athlete. Then we got away from that and we got seven in the box because of the run game and to mix it up," Redding said, "we played man, we played zone, we mixed in some blitzes. If you stay with any one thing their coordinator and their guys will eat you alive. They hit us now and then and we bent a little at times but never broke, never gave up the big one, and really played tough in the red zone."

Michael Hershman, who has been playing the majority of this year with a sports hernia, picked Smiley off in the second quarter to help the Hornets stay in it after five first half turnovers—which resulted in a 14-7 halftime lead for the Pioneers. Mike Barresi intercepted a Smiley pass of his own early in the third quarter, initiating an 89-yard drive that brought the Hornets back to 14-13.

"To have five turnovers and only be down seven, we felt good about things at halftime. I thought the big thing in the third quarter was if they scored next then we were in trouble. We were trying to get a stop, we had to get the next one, then Barresi makes the pick and we punch it in. It's a whole new game, you've got your confidence back, you've got momentum," Redding said.

St. John's was held scoreless after halftime—managing just over 100 total yards in the final two quarters. Shane Combs finished with 100 yards on 14 carries on the afternoon for the Pioneers, one of the lone bright spots for St. John's in the second half.

"We've thrown the ball very well, but tonight it was defense and it was running the football. Bottom line, to win championships you have to do both of those—our O-line did a great job blocking and we threw a little bit, but we just didn't have to," Redding said, "to shut them out in a half, I don't think they've been shut out all year, just an unbelievable defensive effort. Mark DeGeronimo just made this young defense so good over the course of the year—it won us a championship today."

Smiley, a Navy lacrosse commit, received high praise from Redding after the game for his play this year, as well as a very bright future waiting for him:

"The thing I'm most proud of playing against a guy like that who goes off to Navy to play lacrosse, he's gonna serve his country. It's so neat to compete against young men like this who are great athletes and will be doing even bigger things after high school."



October, 26, 2013
10/26/13
11:22
PM ET
By
John McGuirk
| ESPNBoston.com
SHREWSBURY, Mass. -- Marlborough did everything right in the first half. The Panthers dominated time of possession, and outside of a 73-yard Drew Smiley to Mike McGillicuddy touchdown pass, they were in total control against St. John's (Shrewsbury), holding a 13-point edge.

But, as we know, it takes two halves to win and Marlborough learned that lesson the hard way. The No. 21 Pioneers reversed roles over the final 22 minutes, scoring 28 unanswered points to post a 35-20 victory this afternoon at windy Pioneer Field.

"The first half we were like 'Dawn of the Dead' out there," St. John's coach John Andreoli said. "But in the second half we played our butts off. The kids never quit and we ran the ball with some authority in the second half. Defensively we dug in and gave our offense a chance to go back to work. Marlborough is a good football team but at times we shot ourselves in the foot in that first half by turning the ball over or having penalties on first down. We had to flush the first half and needed to come out and play hard in the second which we did."

What went so well for the previously undefeated Panthers (6-1) in the opening half turned into a house of horrors following intermission. After managing a paltry 106 yards of offense in the first half, St. John's (5-2) started to find its groove offensively and finished the game with 343 yards.

Unable to successfully move the ball early on, the Pioneers began to gain traction midway through the third quarter. Holes in Marlborough's defense began to widen and Smiley, a senior, was starting to find receivers getting open in the secondary.

The start of St. John's turnaround came midway through the third. On their second possession, the Pioneers drove 81 yards behind hard-charging junior running back Shane Combs (8 carries for 79 yards). That would lead to a 1-yard Smiley dive over the goal line, narrowing the deficit to 20-14 with 1:52 remaining in the quarter.

Marlborough's offense, which conjured up 205 first half yards but only 64 the rest of the way, failed in its attempts to move the ball against a rejuvenated St. John's defense. The Panthers' continuing efforts of keeping the Pioneers offense off the field eventually would backfire.

Early in the fourth quarter, Marlborough managed to reach the Pioneers 37. Facing a fourth-and-5 Marlborough opted to go for it. Quarterback John Rumney was stopped in his tracks for no gain, thus turning the ball back over to St. John's. Rumney, a senior, threw for 106 yards on 12-of-28 passing. He also led his team in rushing, gaining 72 yards on 14 carries.

"We thought we had a play there," Panthers coach Sean Mahoney said. "We didn't want to give their offense the ball back. Offensively, their offense was starting to click at that point.

"Defensively, I felt our kids got worn down a little bit. We threw the ball fairly well in tough, windy conditions but so did they. We weren't able to run the ball and that was a big difference. When we needed to run it we weren't able to. We battled them but we needed to convert on a couple of third and fourth downs in the second half and we didn't."

With the ball back in the hands of the St. John's offense, a 23-yard completion by Smiley to T.J. Kelley set up Smiley's 37-yard scamper down the left side line into the end zone. Jack Coveney's PAT put St. John's ahead to stay 21-20 with 3:38 to go.

"Our coaches told us we needed to come out with more intensity in the second half," said Smiley, who completed 9-of-16 passes for 147 yards, a touchdown, and rushed for 106 yards on 21 attempts, finding the end zone three times. "That first half was the worst half of football this team has played. We came out of halftime and played with a lot more intensity. We knew we could pound the ball and finally got it going in the second half. The way we played in the second half is the way we need to play throughout the entire upcoming playoffs."

While the Panthers, suddenly anemic, offense continuing to struggle, the Pioneers got the ball back on Marlborough's 28. Needing just one play, Smiley darted around left end for the score to put his team up 28-20 with 2:32 left. On the Panthers' next possession, Rumney was blindsided by defensive end Jeff DeMango, which resulted in a fumble that was recovered by Mike Duquette on the Marlborough 1-yard line. Running back Brad Sylvester closed this contest out with an easy plunge over the middle to make it a 15-point contest.

"When our offensive line started to get off the ball we and started to gain some confidence," Andreoli said. "Shane [Combs] was getting some tremendous yards after contact and that really got us going. Then we were able to use the wind in the fourth quarter and started to throw the ball and move the ball down field. I think the field position game really came into play for us in that fourth quarter."

McGillicuddy's early touchdown catch staked St. John's out to a 7-0 lead.

The Panthers answered two series later after Rumney hit receiver Matt Thall for a 9-yard scoring reception. Marlborough had to settle for just the six points after the following PAT sailed wide. With Thall, who also plays linebacker, given the assignment to shadow Smiley, the senior did an outstanding job containing a serious running threat. After its first score, St. John's offense did little the remainder of the half.

Marlborough took advantage of that by grabbing a 13-7 lead at 6:44 of the second quarter on Jose Caquias' 6-yard sprint around left end. Following another Pioneer four-and-out, the Panthers set up shot at their 48. A Caquias option pass to Alec Deveau netting 50 yards set the stage for Rumney's 2-yard run at 4:57, pushing the margin to 20-7. St. John's would have the ball three more times before the half was completed but could do nothing with it.
March, 27, 2013
3/27/13
8:15
PM ET
By
Brendan Hall
| ESPNBoston.com
Some final thoughts as we put a close on the 2012-13 high school basketball season...
***
A FLU SHOT HE'LL NEVER FORGET
After committing to Vanderbilt last August, Lynn English's Ben Bowden told ESPNBoston.com he was
leaning towards not coming back out for basketball his senior yea
r, saying "it delayed my pitching", that he lost "alot of interest" from some colleges "because I didn't throw hard as they wanted me to."
"I'm leaning that way so I can be fully prepared, because we've got the [MLB] draft and everything," Bowden told us at the time. "Where it's at right now, I don't see myself playing. But it was fun while it lasted."
Bowden, a 6-foot-4 lefty flreballer, is one of the state's most heralded prospects following his junior season, which started with a perfect game against Marblehead and ended with a spot on ESPN Boston's All-State Team and whispers of draft potential. He was 10 minutes away from spending his winter in the gym sharpening his craft, on his own; but a chance encounter on the first day of basketball tryouts changed all that.
The school was conducting flu shots that day, and the location just happened to be near basketball coach Mike Carr's office. As Bowden's girlfriend was getting her shot, Carr light-heartedly ribbed him about spurning one last winter with the team. After Bowden wished Carr good luck and the two parted ways, Bowden bumped into a half-dozen Bulldogs players, who gave him even more ribbing.
Bowden went home, thought about it, and by 5 p.m. had changed his mind.
And boy, was he glad. The Bulldogs captivated the City of Lynn over the second half of the season and throughout their sudden run to the MIAA Division 1 North finals, with Bowden starting at power forwrad, drawing fans from all four of the high schools to come see their wildly-entertaining brand of run-and-gun. He called the Bulldogs' wild 94-87 win over Everett in the D1 North semifinals "the best atmosphere I've ever played in any sport", and doesn't regret a minute of his time this winter.
"It got me into very good shape, obviously I have no regrets at all," he said. "Even if I got hurt, I wouldn't have regretted playing at all. It was an awesome experience."
Vandy head coach Tim Corbin encourages multi-sport activity out of his high school recruits, a sentiment many high school baseball coaches support for a multitude of reasons -- primarily, that it encourages competitive spirit, and also works different muscle groups to keep the body in prime shape.
Carr heavily emphasized conditioning this year with his team, concluding practice each day with a grueling 10-minute session up and down the school's four flights of stairs, and it's paid off for Bowden. Headed into his first start of the spring, currently slated for April 10, he says this is the "best I've ever felt going into a baseball season."
"I feel my legs are stronger, I'm pushing off the mound better," Bowden said. "My core has gotten stronger. Everything we did for basketball has helped me in a positive way for baseball."
Talking about keeping his arm loose, he added, "I feel the best I've ever felt going into a baseball seasons, and I think it's because I've lost quite a bit of weight. I'm feeling a lot better and a lot lighter, and also because I was throwing more...By the time baseball started [this season] I was on my seventh week of throwing. I was a lot more ready than I was in any other season. I was smart about my decision to play basketball because I knew I had to get throws in."
As basketball becomes more individualized at younger and younger ages in this AAU-ized era of specialization, we sometimes forget that these sports can bleed into each other. Notre Dame hoop coach Mike Brey first heard about Pat Connaughton after a tip from the Irish's baseball coach. Soccer prowess helped Danvers' Eric Martin and Melrose's Frantdzy Pierrot become more elusive runners in the open floor. And some are quietly wondering if football may end up being the meal ticket for Wakefield super-sophomore Bruce Brown, who excels with the Boston Amateur Basketball Club (BABC) but also turned in a pretty nice campaign last fall at wide receiver. Same with another budding BABC star, Brendan Hill of Mansfield.
Unless you're one of the top players in the country at your position, I'll never understand why some physically-mature high school guards don't at least give an additional sport a try -- but that's a probably a topic for a whole other day. Know that for as much accolades as we've all poured on English's talented trio of guards, Bowden may have played the most important position of all -- the Joey Dorsey, the rock-solid post player down low counted on for rebounds that can keep possessions alive, and facilitate a whip-quick fast break going the other way.
And to think, if his girlfriend hadn't gone to get a flu shot that first day of tryouts, we might be talking about a whole different story in Lynn.
***
MORE THAN JUST 'WANTING IT MORE'
You have to think long and hard to find the last time a kid in the Merrimack Valley Conference went from benchwarmer on one team in one season, to league MVP on another team the next.
Chris Bardwell's transformation from garbage-time go-getter at Central Catholic in 2012 to an ESPN Boston Super Team selection at North Andover in 2013 is one that will be held up as a model example of will power. At least, that was the rhetoric being told this winter -- that if you want it bad enough as Bardwell, if you train hard enough, you can make the jump.
Sure, some of this transformation has to do with the mental element. But Mansfield wanted it just as bad as Putnam in the Division 1 state title game, and was unable to prevent the Beavers from continuously leaking out for some uncontested fast break points. Scituate wanted to just as bad as Brighton in the Division 2 Eastern Mass. title game at the Garden, but couldn't cleanly escape on-ball pressure from Nate Hogan long enough to prevent Malik James' last-second heroics.
I think of Bardwell -- also a lefty pitcher with reportedly mid to high-80's velocity -- and I think back to my first months at ESPNBoston.com, in the summer of 2010, when St. John's Prep star Pat Connaughton was one of the hottest names nationally on the recruiting front. In basketball, he was an ESPN 100 prospect with a lengthy list of suitors east of the Mississippi. On the mound, he was an overpowering righty with first five round potential, named by
Baseball America
as one of the nation's top 100 high school prospects.
Connaughton had big hype, and in turn put in a legendary summer workout regimen to back it up, sometimes putting in eight hours of training a day -- quite literally, treating it like a 9-to-5. After signing with Notre Dame, the results spoke for themselves -- a state championship, All-State recognition in both sports, and a Day 3 selection by the San Diego Padres.
OK, so Bardwell's not Connaughton. The point is, situations like Bardwell's are the product of both opportunity and preparation, and all that will power is for naught if you're not training right. Bardwell came into the last offseason more determined, but he also upped his daily cardio, played more basketball, and changed his diet, cutting out junk and carbonated beverages and increasing his protein intake. Training for both basketball and baseball certainly helped him stay sharp.
Let's not forget had Bardwell stayed at Central, he would have been battling for playing time among a deep stable of forwards, duking it out with the likes of Doug Gemmell, Nick Cambio, Joel Berroa and Aaron Hall. At North Andover, he could fit in snugly as a terrific compliment to one of the state's best bigs in Isaiah Nelsen -- though in the end, obviously, Bardwell turned out to be the star of the show.
Success stories come from anywhere. Just take a look at another former Central Catholic baseball product, Dennis Torres, who was cut four times by the varsity during his high school years yet was drafted by the Orioles last June after walking-on at UMass.
Like Bardwell, he wanted it badly. Clearly, Torres was sick and tired of being sick and tired. But as usual, it's never as simple as pure will power and mental maturation. There's a method, and Bardwell played it right.
***
RE-BIRTH OF THE RUN?
When you think of the MIAA's most dominant running teams of the 21st century, there are two programs that come to mind. One is the Charlestown juggernaut of the early 2000's, ranked nationally by USA Today and led by electric scorers like Rashid Al-Kaleem, Tony Chatman, Ridley Johnson and Tony Lee. The other is Newton North, winners of back-to-back D1 state titles behind one of the East Coast's best backcourts in Anthony Gurley and Corey Lowe.
Not about to call it a renaissance, but if there's one thing I'll take away more than anything else from this MIAA season, it's the return of quality running teams to the upper echelon. The two best running teams we saw this season represented two different styles.
There was Lynn English, pushing a white-knuckle pace, using more than 15 seconds of the shot clock only sparingly, and blitzing the opposition coming the other way with in-your-grill, full court man-to-man pressure. It took about half a season for Mike Carr's unique system to click -- but once it did, they were firing on all cylinders. The Bulldogs' backcourt of Freddy Hogan, Stevie Collins and Erick Rosario was as good as any in the state the second half of the season, with the former two earning ESPN Boston All-State honors earlier this week.
With just one real post pivot, senior Ben Bowden, the Bulldogs relied on their guards to generate transiton by forcing turnovers, sometimes flat out ripping the ball out of players' grips for easy fast break points. Carr's emphasis on conditioning was well-known, the the Bulldogs never looked tired.
Many will point to Central Catholic's stark rebounding advantage as to why they were able to lay a dump truck on English in the D1 North Final (they held a 28-7 advantage at the half), but -- follow me here -- that was practically by design. The Bulldogs flat out bailed on offensive possessions once the shot went up, surrendering the advantage and forcing Central's guards to make plays (they did, and did often).
That philosophy stood in contrast to what I felt was the state's best running team this year, Division 1 state champion Putnam. They seemed to play a physical brand of basketball in the City of Springfield this year, and nobody exemplified this better than the Beavers, who made up for lack of height with plenty of linebacker-like bulk in forwards KayJuan Bynum and David Murrell, both ESPN Boston All-State selections.
Throughout the season, Putnam coach William Shepard demonstrated enough faith in Bynum and Murrell's ability to get defensive rebounds that the Beavers' guards could continually leak out of possessions early to get fast break after fast break (Bynum and Murrell combined for 11.4 defensive rebounds, and 19.6 overall, per game this season). When an opposing team's shot went up, guards started strafing up the sidelines in anticipation of a long outlet pass. This led to a slew of production in the D1 state title game from guards Ty Nichols, Dizel Wright, Ki-Shawn Monroe and Jonathan Garcia.
Best of all, these two squads return a ton of talent to keep them in Top 10 consideration for the next two seasons. Both teams must find a replacement for their best big (English with Bowden, Putnam with Bynum), but feature a slew of talented backcourt and wing players to keep the tempo frenetic and the opposition uncomfortable.
***
INTERVIEWS OF THE YEAR
My personal favorites for interviews of the year. First, the short category...
And now, the long category...
***
WILL JACK EVER COME BACK?
After Brighton won its first ever state title, Bengals coach Hugh Coleman held court in the media room at the DCU Center, dedicating the state title trophy and season to his lifelong mentor, legendary former Charlestown boss Jack O'Brien.
Anyone familiar with the bond between O'Brien and Coleman knows it is strong. O'Brien came into Coleman's life at a very hectic time -- being born when his mother was 20, becoming the man of the house at just 6 years old, and watching a number of his family members get rung up on drug arrests. He was under supervision of the Department of Social Services when he first met O'Brien as a freshman at Charlestown in 1993.
O'Brien is probably most known for his run of five D2 state titles in six seasons from 1999-2005 at Charlestown, and Coleman was an assistant on the last three. It's worth noting the 2003 squad, which Coleman's brother Derek captained, was the last squad to win both a city and state championship before Brighton did it this year.
"The way Jack O'Brien came into my life...He never recruited me, no one ever said I was going to Charlestown, I ended up going there by chance, he ended up going to Charlestown and it was special," Coleman said. "I lucked out and got the Brighton job four years ago. I probably wasn't supposed to get it, but I did. A lot of people recruited him out of middle school to go to different schools, but he ended up at Brighton with me. So I think that's such a great blessing. I'm glad that I've been able to be a part of his life, and him a part of my life. He's made me a stronger person and I hope that I was able to rub off on him. He led us to victory this entire season, including today.
"I definitely want to dedicate this to Jack O'Brien. He should be coaching. He should be coaching, and I have no idea why he's not coaching in the state of Massachusetts. In my opinion, he is the best coach in the state of Massachusetts. He is, and not just because he won games. He changed the lives of so many of us young men at Charlestown during that time. We went on to go to college. We went on to be great men, fathers, husbands, and you know what? It's because of what he helped us do from the inside out. He helped us to be great men.
"I'll be honest with you, I coach and I took the coaching job because he's not coaching. I couldn't allow that to...When they said he couldn't coach, or they wouldn't allow him to coach for whatever reason, I said I've got to keep the legacy going. He's healthy, he's a 10 times better man, whatever lesson I guess he was supposed to learn. It's a shame he's not coaching, because he is all that and then some."
Wherever he has gone, O'Brien has had dramatic results, producing McDonald's All-Americans at Salem High and nationally-ranked squads at Charlestown. But he has remained out of coaching since his 11th-hour departure from Lynn English hours before the first practice of the 2006-07 season. His name has been linked to jobs throughout Eastern Mass. over the years, most notably Somerville in 2008, but it's unclear when he'll return to coaching.
Still, with 400-plus wins, six state titles, some of the Bay State's most captivating running teams of the last quarter-century, and his age (he just turned 55 last month), there remains faith that he will turn up somewhere. Just where is anyone's guess.
***
HALL'S TOP 10 FOR 2013-14
1. Mansfield
Hornets lost just one senior from their 2013 Division 1 state championship run and return the most talent of anyone in the state, including reigning Hockomock MVP Brendan Hill. A healthier Michael Hershman should bolster an already-deep lineup featuring Rocky DeAndrade, Michael Boen, Ryan Boulter, Kevin Conner and Kyle Wisniewski.
2. Lynn English
The returning backcourt of Freddy Hogan, Stevie Collins and Erick Rosario, along with wing Danny Lukanda, makes this team a preseason Top 5. Key will be the development of promising 6-foot-6 sophomore Johnny Hilaire, whose pogo-like leaping ability has begun to draw comparisons to former All-Stater Keandre Stanton.
3. St. John's (Shrewsbury)
Pioneers return arguably the state's best backcourt in Davon Jones and Adham Floyd, along with a dynamic frontcourt of T.J. Kelley, Drew Vittum and Charlie Murray. Next year gets interesting in D1 Central, with stalwarts such as Franklin, Westford and Acton-Boxborough joining the fray.
4. Central Catholic
A returning core of Tyler Nelson and Nick Cambio makes the Raiders one of the premier perimeter teams in Eastern Mass once again. Six-foot-6 junior Aaron Hall has big shoes to fill in the frontcourt, with the graduation of center Doug Gemmell.
5. Brookline
If all goes as planned and everyone returns, you're looking at a coach's dream. Elijah Rogers is a virtuoso at the point, and a supporting cast of Obi Obiora, Anthony Jennings, Tyler Patterson and Mark Gasperini makes them a formidable foe on size and skill alone.
6. Springfield Putnam
Beavers stand a legitimate chance at going back-to-back as D1 state champs as long as they can find an able replacement for graduating senior post KayJuan Bynum. By season's end this was the best running team in the state –- who knows what another season of David Murrell, Dizel Wright, Jonathan Garcia, Ty Nichols and Ki-Shawn Monroe will bring?
7. Brighton
All signs point to Malik James having played his last game as a Bengal in the state championship game, but freshman Javaughn Edmonds shows promise to potentially fill the point guard role. Should All-State forward Nick Simpson return, you're looking at a front line of Simpson and 6-foot-5 sophomore Jason Jones that is as good as any across Division 2.
8. Melrose
Scary as his junior season was, reigning Middlesex League MVP Frantdzy Pierrot could turn in an even more monstrous senior campaign in 2013-14 for the Red Raiders. With realignment shifting many teams in the North, and a quality stable of underclassmen led by freshman point guard Sherron Harris, next year is as good a time as any to strike.
9. Wakefield
Sophomore Bruce Brown is expected to return next season, and that alone makes the Warriors a favorite in D2 North. The question will be whether they can turn their early-season promise into deep playoff production, and whether they can get past the semifinal round.
10. Springfield Central
The Golden Eagles are not without talent, with one of the state's most promising big men in sophomore Chris Baldwin. The question will be if the guards and forwards can get on the same page, and we think after some growing pains this year, cousins Ju'uan and Cody Williams will make this team sharper coming off a disappointing Division 1 state title defense.
Others to watch:
Acton-Boxborough, Andover, Braintree, Boston English, Catholic Memorial, Danvers, Haverhill, Holyoke, New Bedford, New Mission, Newton North, St. John's Prep, Wachusett, Watertown
March, 4, 2013
3/04/13
3:06
AM ET
By
Brendan Hall
| ESPNBoston.com
WORCESTER, Mass. -- Even as he heard his coach from the sidelines clamoring for him to hold the ball, not shoot, St. John's Kenny Harrington couldn't resist instinct.
"I clearly had an off night shooting, but shooters shoot," the senior guard said with self-awareness. "So I kept looking for my shot. Davon [Jones] found me down in the corner, and I took advantage."
[+] Enlarge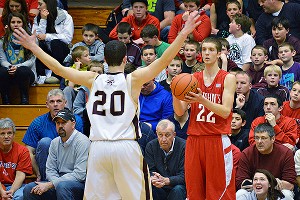 Brendan Hall/ESPNKenny Harrington struggled from the field, but redeemed himself in the waning seconds with a three-pointer from the corner
The result was eight seconds of chaos that won't soon be forgotten. The Pioneers held on for a 52-51 win over Algonquin in the nightcap of the Division 1 Central semifinals, at the hallowed Harrington Auditorium on the Worcester Polytechnic Institute, to advance to next Sunday's district finals at the same venue. But it was how it got to that final score that will be talked about for quite some time.
Harrington's initial attempt in the possession, a layup through traffic, hit iron and was tapped out to the top of the key, where the sophomore Jones cradled it away from an Algonquin defender. From there, Jones took two dribbles and kicked out to the left corner, where Harrington had drifted for the dramatic shot with eight seconds to go. That gave the Pioneers a 52-48 lead.
The ensuing inbounds pass was immediately heaved upcourt to Algonquin's Brandon Lukoff, who dribbled to the top of the key and dished to senior Brad Canova at the left wing. Canova sank the open three, and fell to the floor as he got contact from a St. John's player on the way down. Not enough contact was induced to call a foul, the officials determined -- to the chagrin of Tomahawk players, coach Brian Doherty, and just about everyone else in the building there to support Algonquin.
Fans stayed in their seats to protest loudly for several minutes, and Doherty had some choice words for the officials as police escorted the referees off the court.
"It's not worth commenting on officials," Doherty said. "It is what it is. You can't change it. They know what they did, I can't change it, so hey, move on. I don't comment on officials."
Asked in a follow-up question whether he felt there was enough contact to initiate a foul call, Doherty replied tersely, "I've got video I'm going to show them. That's all I'm going to say."
All that, of course, shouldn't overlook what was an otherwise climactic moment of redemption for Harrington, who struggled mightily tonight. Prior to his last-second shot, Harrington was 1-for-13 from the field.
Confirming Harrington's tale that he was told not to shoot, St. John's coach Bob Foley had a few laughs as he recounted the moment.
"I don't want to say that, but you're right," he said. "Well, it was 17 seconds to go, and we're ahead one point with a new shot clock. So yeah, I kinda said to take it out, and all of a sudden, bang."
With a dash of sarcasm, Foley quipped, "Yeah, good shot Kenny," adding with a chuckle, "Sometimes it's good when kids don't listen to you."
The Pioneers took command early in this one, taking a 36-21 halftime lead and going up as much as 20 (41-21) early in the third quarter. But the Tomahawks turned in quite the rally, outscoring the Pioneers 30-11 over the final 14 minutes of play.
Six-foot-8 sophomore A.J. Brodeur (17 points, 12 rebounds, five blocks) dominated on the defensive end early, registering four blocks in the first quarter and racking up seven rebounds by halftime, but he was only 4-for-11 from the field in the first half. Brodeur encountered similar struggles in the second half (2-for-7), but facilitated a terrific high-low game in the half-court, flashing in the post to generate open perimeter looks for Canova (14 points) and sophomore Michael Stamas (11).
"We knew what they were going to do in the second half was lay back, and we didn't shoot well at all in the first half," Doherty said. "I knew if we picked up our shooting a little bit, they're going to double A.J. harder, then he's just got to kick it. We talked alot about just attacking."
Jones led the way with 11 points for the Pioneers. Junior Charlie Murray, freshman Adham Floyd and junior T.J. Kelley all added 10 points apiece in the winning effort.
December, 7, 2012
12/07/12
12:43
AM ET
By
Chris Bradley
| ESPNBoston.com
SPRINGFIELD, Mass. –- Notes and observations from today's scrimmage between No. 1 Springfield Central, widely considered as the best team out of western Mass. this year, against St. John's-Shrewsbury, Central Mass' highest ranked team.:

Kelley the catalyst: The biggest surprise of this scrimmage was the play of St. Johns' 6-foot-6 junior forward T.J. Kelley. Kelley played second-fiddle last year to forward Matt Palecki, but with the big man graduated, Kelley appears to be taking much more of a leadership role for the Pioneers. Returning All-State forward Kamari Robinson was matched up with Kelley on several defensive possessions for Central, but Kelley never faltered or backed down. He finished around the basket through contact all night, was the Pioneers' most consistent rebounder, and, when need be, even did a little ball handling for the Pioneers.

Central's dominant frontcourt: Springfield Central's post combination of 6-foot-5 senior Kamari Robinson and 6-foot-7 sophomore Chris Baldwin could very well be the MIAA's best this year. Robinson helped lead Central to last year's Division 1 State Championship, the program's first since 1991. The Golden Eagles had trouble at times getting their bigs the ball, and St. John's 2-3 zone defense certainly didn't help matters. For example, Baldwin only had two decent looks from the post the entire third quarter.

As Baldwin becomes more comfortable playing with new teammates, Robinson takes more of an assertive role offensively, and Central improves at guard, this Golden Eagles squad has the talent to make a deep run in the state tournament.

Young guns step up for SJ: It was clear from the start tonight that Coach Bob Foley completely trusts Davon Jones with the Pioneers offense -- not bad for a sophomore who was playing safety for the Pioneers in last Saturday's Division 1 Central Super Bowl loss to Leominster. Jones showed clearly that he is one of the most reliable point guards in the Western half of the state.

Though his jumpshot may take a couple weeks to come back, Jones did a great job of running the Pioneer offense. He made a few big stops defensively, and he showed the quickness to penetrate Central's defense on many different occasions.

Freshman Adham Floyd also played a big role for the Pioneers off the bench. A highly-touted 6-foot-1 guard, Floyd stepped up and gave St. John's an extra ballhandler when Jones or senior Ken Harrington needed a breather. Sophomore Stefan Masciarelli was very efficient off the bench, scoring ten points on five shots.

Eagles' point guard woes: Cornelius Tyson was huge for Central during their state title run last season, but it looks as if for the forseeable future, Tyson won't be a part of the team due to academic ineligibility. The Golden Eagles graduated a lot of talent in the backcourt, including Lee Turner, Chris Prophet, and ESPN Boston Super Teamer Tyrell Springer. In addition, junior guard Cody Williams -- whom Central was expecting to carry the load at guard -- is out for three weeks due to an ankle injury sustained while quarterbacking the Eagles to the Division 1 West Super Bowl championship over Longmeadow. His cousin Ju'an, a junior and three-sport standout, got some significant minutes tonight at guard.

November, 25, 2012
11/25/12
1:34
PM ET
With the first MIAA-sanctioned practices of the 2012-13 season set to commence tomorrow, today we're looking at the top storylines and top players from across the state.

Check back with us later in the preseason for our first Top 25 poll and our Preseason All-State Teams. But for now, here are the storylines to watch, and our projected Super Teams.

***

Brendan Hall
ESPN Boston High Schools editor

Reading Machine Rages On
Had it not been for Andover and superstar Nicole Boudreau, the Division 2 state champ Reading Rockets would have been garnering far more attention last season. The Rockets were one of the state's most dominant forces from wire to wire, going 25-0 en route to the program's first state title. They were one of the state's most explosive offenses (64.3 points per game), and blew out nearly everyone -- their average margin of victory was 27.1, with their only threats coming in the North final (49-46 over Arlington Catholic) and Eastern Mass. Final (71-64 over Scituate, in overtime).

The conversation in Reading starts with Richmond-bound guard/forward Olivia Healy, a two-time ESPN Boston All-State and one of the early favorites for our Miss Basketball award. The 5-foot-10 senior can play any position on the floor, excels on the boards, and is as physical as they come. But every superstar needs a supporting cast, and you can't do much better than Assumption-bound guard Morgan O'Brien in that regard.

With Andover expected to level off following the graduation of one of the MIAA's best ever (Boudreau), we're most likely looking at Reading starting the year at No. 1 in our statewide girls' poll, which will be released later this preseason.

Fierce, Fierce City A
Over the offseason, the Boston City League voted overwhelmingly to split into three tiers for boys basketball, based on competitive balance. And with it, the city's "A" division instantly becomes the state's toughest league. City A is comprised of Brighton, New Mission, Madison Park, Charlestown and East Boston -- all teams expected to start the season in our statewide Top 25 poll -- and with the new scheduling setup, we're looking at appointment viewing in the city nearly every night.

Charlestown-Eastie, Mission-Brighton and Eastie-Madison are the city's three fiercest basketball rivalries. Now, on top of those series, we're getting two installments of Mission-Madison, Brighton-Eastie, Charlestown-Mission, Madison-Brighton, and so forth. Brighton and MP figure to be the favorites here, but this is going to be an absolute grinder of a league. Of the highest degree.

Swat Team
Anyone that watched the University of Kentucky last season can tell you how valuable Anthony Davis was despite an unpolished offensive game. Heck, he was named the Most Outstanding Player of the Final Four despite going just 1-for-10 from the field in the championship game.

Last year our Defensive Player of the Year award went to a guard, Stoughton's Marcus Middleton, but I'm looking at a number of frontcourt shot-blockers to contend for the award. Any conversation about swatters in the MIAA has to begin with New Mission's Isshiah Coleman, but keep an eye on Cambridge's Fredens Deneus, a 6-foot-6 junior who is expected to have a breakout season. Rockland's Tyler Gibson, a UMass-Lowell commit, will alter many a shot in the South Shore League. Also keep an eye on Holy Name's Dan Kegbeh, only 6-foot-1 but blessed with some impressive ups.

On the girls' side, Holy Name's Brianna Frias is my early favorite for Defensive Player of the Year. The 6-foot junior committed to Providence over the summer, and averaged six blocks per game last season as the Naps went 20-0 in the regular season and captured the No. 1 seed in Division 1 Central.

Sizzlin' Sophs
Across the state, there are a number of Class of 2015 players to get excited about. Springfield Central's Chris Baldwin has yet to play in an MIAA game, having played his freshman season down the street at Hillside School, but he is already garnering significant hype. Wakefield's Bruce Brown showed freak athletic ability at times during his freshman campaign for the Warriors, and figures to be regarded as one of the state's elite by season's end. Same for Mansfield's Brendan Hill and St. John's of Shrewsbury's Davon Jones.

Central Catholic junior Tyler Nelson is on the short list as everyone's favorite shooter, and deservedly so, but Newton North sophomore guard Tommy Mobley is as automatic as they come. He plays a different role for the Tigers than his older brother, 6-foot-8 Yale forward Greg Kelley, did several years ago. But when you talk about the elite shooters in the state, Mobley has the potential to be in that conversation.

Also keep an eye on Falmouth guard Craig Green, a three-sport star who's already on the radar for track and field. He turned many heads last June, when he placed third in New Englands in the 100-meter dash. He has run as fast as a 10.6 in the event so far in his young career.

On the girls' side, we all know the capabilities of Braintree's Molly Reagan. The 6-foot-1 center was a key cog in the Wamps' run to the Division 1 South title last March, and she already holds Division 1 offers. On the flip side, Archbishop Williams' Jaylen Williams committed to Penn State this past summer despite playing limited minutes for the Bishops.

But the potential speaks for itself. For one, Williams is 6-foot-3 and long. For another, there is plenty of pedigree. She is the daughter of former New England Patriots defensive lineman Brent Williams, and the younger sister of two high Division 1 college football players -- North Carolina offensive tackle Brennan Williams, and Ohio State linebacker Camren Williams.

Open Waters in the North
I'm not sure which will be the more interesting race in the North -- Division 1 girls, or Division 2 boys.

In Division 1 girls, we're looking at a number of contenders in the North. Nobody's counting out Andover in spite of the talent graduated, but it should be an interesting race in the Merrimack Valley Conference with Central Catholic and Billerica figuring to start the year high in many polls. Lincoln-Sudbury will be another contender, led by Lafayette-bound forward Ashley Lutz, as will be Lynn English and reigning Northeastern Conference MVP Catherine Stinson. The ultimate wild card might be Cambridge, led by Georgia Tech-bound guard Donnaizha Fountain. And don't count out Somerville, either, with Indira Evans in the fold.

Division 2 North will be an interesting bracket. New Mission returns a strong core, but so does Brighton, behind returning All-State guard Malik James, forwards Nick Simpson and Prince Unaegbu, and one of the state's best shooters, Daivon Edwards. Ditto Wakefield, with Bruce Brown expected to have a breakout year alongside seniors Kendall Hamilton and Mikol Blake-Green.

SUPER TEAMS

Boys
G - Jameilen Jones, Sr., BC High
G - Tyler Nelson, Jr., Central Catholic
G - Malik James, Jr., Brighton
F - Kamari Robinson, Sr., Springfield Central
F - Tyler Gibson, Sr., Rockland

Girls
G - Donnaizha Fountain, Sr., Cambridge
G - Sarah Hope, Sr., Medway
G/F - Olivia Healy, Sr., Reading
F - Ashley Lutz, Sr., Lincoln-Sudbury
C - Molly Reagan, Soph., Braintree

***

Ryan Kilian
Editor-in-Chief, New England Prep Stars

Central Reign
Can Central Catholic represent Eastern Massachusetts in the state finals this season in Division 1? Central returns a battle tested and veteran group that represented EMass Division 1 as the top seed in last season's MIAA tournament. Central boasts key returnees Tyler Nelson, Joel Berroa, Doug Gemmell and Nick Cambio.

Veteran Sophomore Talent
Mansfield's Brendan Hill and Wakefield's Bruce Brown are two of the top returning players in Massachusetts. They are also only sophomores. Both sophomores started and lead their respective teams deep into tournament play as freshman and we can expect even bigger seasons from both this year.

Best Frontcourt?
Massachusetts has a very strong group of point guards this season but the depth in the frontcourt is down in part of the continued flood of players to prep schools. New Mission (Nate Anderson and Isshiah Coleman) and Central Catholic (Gemmell and Cambio) are at the top of the frontcourt ranks but look out for North Andover and Charlestown to also have improved front lines with the development of returning veterans as well as additions of new talent to the mix.

Replacing Boudreau
It will be impossible to replace two-time Miss Basketball Nicole Boudreau (Boston College), but Andover does return senior Devon Caveany, and the glue of the squad in top defenders Jackie and Rebecca Alois. Expect some more classic Central Catholic and Andover battles for years to come in the MVC.

Special time for City of Braintree
The city of Braintree boasts some the best young female talent in the state, with Braintree High School and Archbishop Williams sharing city quarters.

Braintree returns Coach of the Year Kristen McDonnell and a lineup featuring returning senior Rachel Norton, and sophomores Ashley Russell, Bridget Herlihy, and Molly Reagan. Archbishop Williams returns Southern New Hampshire commits Olivia Conrad and Sara Ryan along with Alana Gilmer and Penn State commit Jaylen Williams.

SUPER TEAMS

Boys
G - Bruce Brown, Soph., Wakefield
G - Tyler Nelson, Jr., Central Catholic
G - Jameilen Jones, Sr., BC High
F - Brendan Hill, Soph., Mansfield
F - Kamari Robinson, Sr., Springfield Central

Girls
G - Kayla Burton, Sr., Newton South
G - Donaizha Fountain, Sr., Cambridge Rindge
G - Olivia Healy, Sr., Reading
G - Tajanay Veiga-Lee, Sr., Fenway
F - Saliah Serrette, Sr., Weston

***

Chris Bradley
ESPN Boston correspondent

Springfield Central Is Back
Saying that Kamari Robinson and sophomore transfer Chris Baldwin are the best frontcourt in the state is no stretch. Robinson helped lead Central to last year's division 1 state title, averaging a double double while the Golden Eagles went undefeated against MIAA opponents. The 6-foot-7 Baldwin is already drawing in interest from high major division 1 college programs. A strong, athletic forward who is known for his rebounding and sky-rising dunks, he'll make quite a duo with Robinson, a member of last year's ESPN Boston All-State Team.

Senior Cornelius Tyson could be primed for a big year as well. The 6-foot-1 guard made quite a showing in last year's state championship game against Brockton, knocking down four 3-pointers in the second half to lead Central to the Division 1 title.

Can anyone knock off St. John's of Shrewsbury?
The Inter-High has two legitimate Top 25 teams in Worcester South and Doherty. Will this finally be the year that St. John's doesn't run away with the Division 1 tournament in Central Mass.? The Pioneers have won five consecutive Central Mass. Division 1 championships, and return yet another talented core from last year's team. Sophomore point guard Davon Jones has already asserted himself as one of the best guards in the western half of the state, juniors Charlie Murray and TJ Kelley will be a tough duo on the post, and 6-foot-5 senior Ken Harrington is one of the best shooters in central Mass.

Brighton looking for revenge
Last year's loss to Mahar in the Division 2 state title game was demoralizing to say the least for the Bengals, but another year of maturity should help Brighton come tournament time this year. Junior playmaking guard Malik James will be one of the very best in the MIAA, and he'll have plenty of weapons around him with forward Nick Simpson and guards Theo Oribhabor and Daivon Edwards. The Boston City League will be a rock fight this year, but battle-tested Brighton will reap the benefits of a tough schedule come tournament time.

New Mission young, but talented
Sophomore guards Greg Bridges, Randy Glenn, and Juwan Gooding will make for quite a show this year when put together with 6-foot-5 forward Isshiah Coleman and 6-foot-7 forward Nate Anderson. The Titans will be young, with less experience at the guard position than many of their opponents, but when all is said and done this could end up being the most talented team in the state this year.

Who will emerge in D3?
Picking favorites in Division 3 is like splitting hairs. Wareham has Darien Fernandez, a waterbug considered one of the best point guards in the state. Danvers returns four starters from last year's state title team. Quaboag has one of the best inside-out duos in D3 with Thomas Jankins and sophomore Jake Wisniewski. Hopedale has a deep, versatile lineup. Whitinsville Christian has won three straight central Mass. championships. Out in Pittsfield, St. Joseph Central returns the majority of their core from last year's state finals team—including scoring guard Taverick "Tank" Roberson. Any of these teams could emerge and make a deep run into the tournament in February and March.

SUPER TEAMS

Boys
G - Malik James, Jr., Brighton
G - Tyler Nelson, Jr., Central Catholic
F - Jameilen Jones, Sr., BC High
F - Kamari Robinson, Sr., Springfield Central
F - Tyler Gibson, Sr., Rockland

Girls
G - Kayla Burton, Sr., Newton South
G - Sarah Hope, Sr., Medway
G - Donnaizha Fountain, Sr., Cambridge
F - Casey McLaughlin, Sr., Central Catholic
F - Olivia Healy, Sr., Reading

September, 8, 2012
9/08/12
10:04
PM ET
By
Brendan Hall
| ESPNBoston.com
SHREWSBURY, Mass. -- Mike Pucko sat on the bench next to one of his linebackers, who was sobbing softly with his left knee heavily wrapped in ice, and watched as the paramedics lifted him onto a stretcher.
By this point, Pioneer Field had cleared out, and the Holy Name coach was once again left with nothing but a long, deflated sigh that shouted,
Just what do I have to do to beat these guys?
[+] Enlarge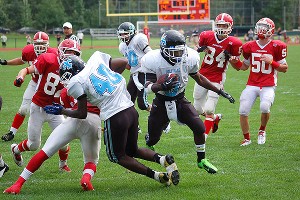 Brendan Hall/ESPNBoston.comHoly Name's Quron Wright gave the St. John's defense fits, rushing for four touchdowns and a career-best 282 yards.
Under Pucko, the Naps have become something of folklore with their less-is-more modus operandi, playing a Division 1 schedule with essentially a Division 4 student body. They've rolled into this annual season-opener with rival St. John's of Shrewsbury carrying a little over two dozen of the toughest kids in Worcester, and have come at them with pretty much everything but the kitchen sink.
For all of the Super Bowl championship success under Pucko, the Naps haven't been able to get an elusive victory over St. John's under John Andreoli. In recent years, the Naps have lost 9-8 and 22-21 to the Pioneers. Today, it was a recovered fumble by St. John's Sam Norton with under four minutes left that did the Naps in, as the Pioneers eked out a 47-40 shootout victory in which neither defense was able to contain the other's running back.
Of his own Lilliputian scatback, Quron Wright, Pucko was asked about the career day of the waterbug generously listed at 5-foot-7, and without initiation fired one of his trademark shots from the hip.
"Anybody that thinks he's too short to play college football can kiss my a--," Pucko said of Wright, who finished the day with a career-best 282 yards on 28 carries for four touchdowns. "He showed what he can do against any competition, any time."
When he was done talking, for good measure, Pucko brisked by Wright and slammed his open palm on the senior's right shoulder pad.
Between Wright and St. John's senior tailback Shadrach Abrokwah (24 carries, 205 yards, 3 TD), this was a must-see clinic for rushing, albeit in styles at opposite ends of the spectrum -- Wright the patient breaks behind sweeping convoys in the Double Wing, Abrokwah the darting cutbacks in an uptempo Inside Zone Read scheme.
The best story of the day, however, might have on the other side of the ball, where Andrew Smiley stepped in for the injured Connor Kurtz in his first varsity start and promptly accumulated 353 yards of offense (226 passing, 127 rushing) and four touchdowns (three passing). The 6-foot-3 junior connected with wideout Micah Cummins for two of his passing touchdowns, the second a soft goal line fade to the back pylon early in the fourth quarter that rounded out the wild scoring.
[+] Enlarge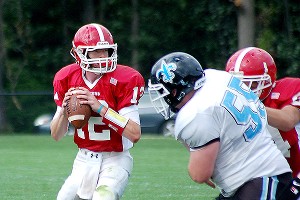 Brendan Hall/ESPNBoston.comMaking his first varsity start, St. John's QB Andrew Smiley accounted for 353 yards of offense and 4 TDs.
"I was rolling out, and I saw the corner jump the under route," Smiley said of his second scoring strike to Cummins. "I saw a little window, tried to fit it in, and Micah made a nice play."
After pounding the ball in between the tackles all afternoon, routinely drawing nine Pioneer defenders into the box, Naps quarterback Shamus Malley caught the secondary sleeping for a wide-open 41-yard scoring strike to tight end Robert Baker. The pass, a play-action post with Baker slipping behind the safeties, was his only completion of the day, and cut the Pioneers' lead to 41-40 with 8:06 to go.
St. John's fired right back with a seven-play, 62-yard scoring drive marching through the middle of the Naps' defense with a series of zone read plays. Smiley finished the drive with his rollout floater to Cummins.
Five plays into the ensuing Holy Name drive, the ball was fumbled near the line of scrimmage, and sophomore defensive tackle Sam Norton was there to fall on it and give the Pioneers the ball back with under four minutes to go. St. John's effectively ran out the clock with steady inside zone plays to Abrokwah.
"We thought we could have won 48-47," Pucko said. "We were starting to drive again, the kids were sucking it up even though they all had cramps, they were giving everything to stay out there…But hey, what are you going to do?"
The Pioneers totaled 558 yards of offense, while Holy Name amassed 504 yards –- 463 of it coming on the ground –- giving the teams over 1,050 yards for the day.
Read to Achieve:
Pucko plays scout team quarterback each week in practice – "I can look into kids' eyes and know where our problems are," he explained – and this week he felt they were able to defend it sufficiently.
Clearly, that was easier said than done. The Pioneers are going with an Oregon-like "blur" tempo this year, a spread-based option look aimed at snapping the ball in less than 20 seconds, and the most effective staple of Andreoli's game plan today was the inside zone read.
Abrokwah chose his cutbacks wisely and used his superior lower-body strength to brush through the second level. But they were at their most effective when a Holy Name defensive end crashed, forcing Smiley to call his own number. That's because the middle of the field was usually wide open.
Not bad for his first varsity start under center. It was evident this afternoon how much time Smiley and Abrokwah have put into selling the fake.
"We stay on them all the time about it," Andreoli said. "Every drill we do about carrying out the fakes, because what happens is it's like a block, really. Even if you don't pull the ball as a quarterback, but you carry out the fake, you might freeze a high safety, and that's the difference between a guy making the play on the backside and not.
"If you can get them to carry out their fakes, and then they pull it, they [the defense] have to respect that. And he [Smiley] has the kind of speed that when he pulls it, he's got a one-on-one, and he runs pretty good. So, that helped us today."
The Wright Stuff:
At this point, Pucko is clearly ticked at the lack of attention from college coaches towards Wright, who is now roughly 1,000 yards from breaking the school's all-time rushing yardage record held by former UMass tight end Emil Igwenagu (who himself was one of the Philadelphia Eagles' final cuts this preseason).
Generously listed at 5-foot-7 and 170 pounds, there are obvious questions about whether his frame would be able to take on the level of physicality demonstrated in Division 1.
To put his frustration in perspective, Pucko brought up one of the greatest running backs to ever come through Massachusetts. He coached Joe Morris as an assistant at Ayer High in the late 70's, and recalls how tough it was to get the 5-foot-7 fire hydrant his due diligence, even from Pucko's alma mater UConn. Morris went on to endure an All-American career at Syracuse, before winning a Super Bowl with the New York Giants and appearing in two Pro Bowls.
"He gives 100 percent all the time, and if they think height is an issue, watch our game films and watch him tear people up all the time," Pucko said of Wright. "[He's been doing this] all his career, and I can't get anybody to chase me down.
"We'll get it, we'll get it. Somebody's finally gonna realize they're an idiot and make a move on him, like with Joe Morris. I lost that fight with UConn, my alma mater wouldn't take him, he ends up doing all that and his whole career. I guarantee that's going to happen with Quron."
ST. JOHN'S (SHREWSBURY) 47, HOLY NAME 40
HN (0-1) 6 14 12 8 --- 40
SJ (1-0) 14 6 14 13 --- 47
First Quarter
S – Shadrach Abrokwah 57 run (Micah Cummins pass from Andrew Smiley) 10:39
H – Quron Wright 10 run (rush failed) 4:39
S – Abrokwah 16 run (rush failed) 2:51
Second Quarter
H – Wright 5 run (rush failed) 7:07
S – Cummins 75 pass from Smiley (rush failed) 6:07
H – Jeff Holland 4 run (Holland rush) 1:25
Third Quarter
S – Smiley 23 run (Abrokwah rush) 7:38
H – Wright 65 run (pass failed) 7:21
S – T.J. Kelley 7 pass from Smiley (kick failed)
H – Wright 9 run (rush failed) :30
Fourth Quarter
S – Abrokwah 6 run (Pat Lehane kick) 10:48
H – Robert Baker 41 pass from Shamus Malley (Wright rush) 8:06
S – Cummins 11 pass from Smiley (kick failed) 6:17
March, 28, 2012
3/28/12
6:49
PM ET
By
Brendan Hall
| ESPNBoston.com
With the unveiling of our MIAA All-State Teams for Boys and Girls late last week, the 2011-12 basketball season has come to close. But before we officially slam the book on another exciting season of hoop, and move on to spring sports, I wanted to get out a few thoughts on the landscape for next season.

To whet your appetite for the 2012-13 season, here are my early projections on the state's must-see teams to watch:

BOYS

Central Catholic - Plenty of talent returning with this squad, which captured the No. 1 overall spot in Division 1 North despite missing Luis Puello (ankle) for most of the season. ESPN Boston All-State guard Tyler Nelson returns as one of the state's top shooters, but the Raiders also return all three of their regular bigs in Joel Berroa, Doug Gemmell and Nick Cambio.

New Mission – Apparently it's never too early for bulletin board fodder, because head coach Cory McCarthy is already making some barnstorming rounds, telling ESPNBoston.com this afternoon that if the Titans don't win the Division 2 state title next year, "I should be fired." Bold, yes, but it's hard not to like a lineup of Isshiah Coleman, Nate Anderson, Greg Bridges, Damion Smith and Shaquan Murray. There is some promising talent in those ranks.

Mansfield – Folks are talking about the Hornets being one of the South region's top teams in two years' time, between promising freshman Brendan Hill and sophomore Michael Hershman. I'm of the camp that believes with those two versatile parts, paired with a terrific coach in Mike Vaughan, the future is now.

Taunton – Shaquille O'Neal Davis. That's legitimately his full name, and one you certainly will not forget by this time next year, for reasons that have nothing to do with The Big Aristotle.

West Springfield – Terriers return virtually everyone, including Chris Lipscomb, Paul Bessette, Andy McNulty, Dewey King, and leading scorer Riyadh Asad. West Side is the early favorite next year in Division 1 West.

St. John's (Shrewsbury) – Junior transfer Tarik Octave was one of the nice surprises of the playoffs, and freshman Davon Jones has shades of former Pioneers great David White all over him (Doesn't hurt that Jones was also the Pioneers' starter at safety last fall, too). A boat load of underclassmen return, including Ken Harrington and T.J. Kelley, which should more than make up for the graduation of Matt Palecki.

Danvers – Falcons graduate 6-foot-7 center George Merry, an ESPN Boston All-State selection, but return some terrific guards. Nick McKenna, Nick Bates, Eric Martin and Dan Connors can all shoot the ball, and are perfectly-suited for John Walsh's four-out offensive system. My early pick to repeat at D3 champs.

BC High – Eagles return what ought to be one of the state's best backcourts in point guard Charles Collins and ESPN Boston All-State swingman Jameilen Jones. Throw into the mix one of the region's best basketball minds in Bill Loughnane (he of four state titles) and it's hard to think of the Eagles as anything but a favorite in the South.

Springfield Central – A plethora of talent graduates, including Chris Prophet, Lee Turner, Jevaughn McMilian, and ESPN Boston Super Teamer Tyrell Springer. But All-State forward Kamari Robinson should have another terrific season, and the way Cornelius Tyson exploded onto the scene in the Division 1 state final makes us all wonder if he's about to realize the potential that many in the Springfield area have been talking about for so long.

Stoughton – Super Teamer Aaron Calixte and Defensive Player of the Year Marcus Middleton formed the state's best backcourt in 2011-12. If all goes as planned, they'll be well-equipped to defend that notion next season.

Wareham – Vikings might not endure an unbeaten regular season again next year. But another year of All-State point guard Darien Fernandez means they're not going anywhere.

GIRLS

Braintree – Wamps started three freshmen this year: Ashley Russell, Bridget Herlihy, and 6-foot-1 center Molly Reagan. Expect them in conversation for state title contention from now until their time runs out in 2015.

Archbishop Williams – Ditto the Bishops, who have two 6-foot freshmen to look forward to the next three seasons. Add in sophomores Olivia Conrad and Leah Spencer, and their fiery mouthpiece Sara Ryan, and this could be another top-five team come December 2012.

Reading – The Rockets made a flawless run through the Division 2 gauntlet, winning their first Division 2 state title in school history as one of two final unbeaten squads in Massachusetts. Two-time Middlesex MVP and ESPN Boston All-State Olivia Healy returns, as does guard Morgan O'Brien.

Andover – Golden Warriors are expected to come down to Earth with the graduation of two-time ESPN Boston Miss Basketball, Nicole Boudreau, and UConn lacrosse commit Ally Fazio. What might be overlooked amidst Andover's unprecedented run to a third straight state title is that there were plenty of terrific complimentary backcourt pieces in the underclass.

Central Catholic – Raiders treaded water after some injuries early on. But once junior forward Casey McLaughlin was back to full strength, they made a run all the way to the Division 1 North semifinals. Have to imagine they'll be in conversation again next year.
March, 11, 2012
3/11/12
10:37
PM ET
By
Jay King
| ESPNBoston.com
WORCESTER, Mass. -- Months ago, Davon Jones sat on a chair and practiced his shooting form on an invisible basket.
The freshman point guard for St. John's needed to improve his accuracy, and he could think of nobody better to help him than coach Bob Foley. The chair technique wasn't orthodox, but Foley's record of success makes his methods difficult to doubt. And so Jones swallowed his pride and he stuck his butt on that chair, and he shot at a rim that didn't exist.
There was a rim on Sunday during the Central Mass. Division 1 Central sectional title at WPI's Alumni Gymnasium, and Jones could hardly miss the middle of it. The point guard drilled three triples in the first half as St. John's built an early lead, and he made six straight free throws in the final minutes to fend off a St. Peter-Marian rally.
[+] Enlarge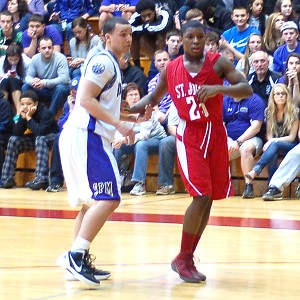 Brendan Hall/ESPNBoston.comFreshman Davon Jones (15 points), a major contributor to St. John's fifth straight district title, credited an unorthodox shooting drill for his improvement.
After scoring 15 points as the Pioneers sealed their fifth straight sectional title with a 72-63 victory, Jones attributed some of his makes to luck. But he also thought back to the hours he spent on that chair.
"I thank coach for that. Every day from the beginning of the year, I asked him to help me become a better shooter," he said.
Earlier in the week, before the Pioneers used a balance effort to hold off SPM, a number of St. John's alumni returned to the school to scrimmage the current team. Chris Harrington, Matt Harrington, Pete Richard, Chad LaBove –- the former St. John's stars all came back to help, and they collectively imparted one piece of advice:
"Just do what coach tells you," the alumni said, according to forward Ken Harrington.
"Coach has been here so many times that he knows what to do. If we just listen to him, it's going to work out for us," center Matt Palecki said.
On Sunday, Foley told his subjects to start in a 2-3 zone defense to limit Matt Mobley's penetration. The SPM star scored just five points on 2-of-4 shooting in the first half as St. John's took a 34-28 advantage into intermission.
Foley told them to box out and limit SPM's second chances. St. John's secured a 34-20 edge on the glass against one of Central Mass.'s biggest teams.
Foley told them to share the basketball. Palecki finished with 16 points, Jones had 15, Harrington added 14, Tarik Octave pitched in nine, and T.J. Kelley and Charlie Murray both scored eight.
"That's a credit to coach Foley and their system and how it works, and we would be wise to try to model it," SPM coach Marcus Watson said.
Foley left his fingerprints all over the latest Pioneers sectional championship. The coach has won more than 800 games, but this season brought unique challenges. The Pioneers start a freshman and two sophomores. Jones is a starting safety for the football team, so he took time to adjust to basketball shape once joining the team. Octave, one of the team's key subs, transferred to the school from New Hampshire prep school power Kimball Union Academy, and struggled to learn Foley's system.
In early January St. John's was 3-4, reeling after consecutive losses in the Assumption tournament, and Foley, for once, was a bit flustered.
"I was searching for answers after we lost those two games at the Assumption tournament. I'm thinking, 'What do we do? What do we do?'" Foley admitted.
What did they do? They did what Foley's teams normally do –- they focused on confidence, execution and teamwork. January's insecurities gave way to a 15-game winning streak entering Sunday's finals. Make it 16 now.
Youth became polished. Potholes were filled and smoothed. Learning is a process, and Foley was there to guide St. John's through the murky waters.
It helped that Palecki was inside the paint to stabilize everything, but Foley oversaw the transformation from a struggling young team searching for an identity into a powerhouse that hasn't lost since early January.
Octave knows what it's like to play for another coach, in another system. He took time to grasp Foley's style, but now vouches for it.
"I want to thank coach fully for having patience with me," Octave said. "My old school was a lot of one-on-ones, isolations and things like that. But at St. John's it's all teamwork –- passing, cutting, which I wasn't really used to. It's really old school, but it works. It obviously does, because we're the district champs right now."
The junior wing came off the bench to nail a trio of three-pointers, the last of which gave St. John's a 42-31 lead in the third quarter.
The Pioneers added onto the lead, eventually seizing a 48-33 advantage near the end of the third quarter before SPM raised the level of intrigue with a late run.
Brian Foley (19 points) led SPM's charge, scoring 12 points in the fourth quarter before fouling out with a minute left. Mobley came alive, netting 11 of his 16 points in the period as SPM cut the deficit to four on three separate occasions.
But Jones and Palecki drilled their free throws down the stretch and St. John's held tough to advance to the state semifinals against Western Mass. champion Springfield Central on Tuesday night at Springfield's MassMutual Center.
"Right now, those kids buy into everything that we try to do out there," coach Foley said.
The Streaky Mobley And Surging Foley:
For much of Sunday's contest, Matt Mobley failed to find shots against St. John's zone defense. The leading scorer in Central Mass. during the regular season, Mobley mustered just four shot attempts in the first half and did not score in the third quarter.
"I don't have the quickest guys. My point guard's quick, but the other guys we have aren't very quick out there. So we felt he would go by us (in man-to-man), and we thought that we could play zone. And any time he tried to penetrate, we just put two guys there and we've got Palecki behind those two guys. And it made them try to beat us with outside shots," coach Foley explained.
As usual, Mobley worked himself into a groove, pouring in 11 of his 16 points during SPM's fourth-quarter run. But those buckets all came after St. John's built a 15-point lead, and SPM was unable to get fight all the way back.
It seemed that Mobley should have been more aggressive the entire game, but SPM coach Watson said the star's early unselfishness was by design.
"I found that when we had Naadir two years ago, when he got his points our bigs didn't work as hard, because they felt, 'Why run?'" Watson said, referring to Naadir Tharpe, the former Guardians star who now plays at Kansas.
"Matt, I showed him a lot of Naadir's tapes. I took out his book and showed him: 'Look at the difference when we won games and when we lost games.' And Matt truly bought into that. If I truly turned Matt loose, I think he could have been a 30-plus point scorer."
As Mobley asserted himself in the fourth, Brian Foley dominated the painted area. The 6-foot-5 senior scored 12 of his 19 points in the final frame, teaming with Mobley to force the competitive conclusion.
"He's got a great jump shot and he does a great job on the boards too," Palecki said of Foley. "With SPM, it's pick your poison because they've got Mobley and (Steve) Flynn and Foley, too. All of them can shoot the basketball, so if you stop one of them, somebody's going to score. And tonight that was Foley for them."
The War Horse:
Early in the first half, Palecki scored a bucket inside and the St. John's student section erupted in chants of, "He's our war horse."
"It just started about halfway through the season," Foley said of the chant. "But if you watch him play, it's obvious."
"I like that chant," Palecki said before reverting to his humble self. "I just try to go out there and play defense and rebound and finish those little chippies inside. If I can do that –- I guess that's what makes the nickname stick."
The senior center finished with 16 points and nine rebounds, continually getting inside position against Flynn, Foley and Tim Berry – "some of the best post guys in Central Mass.," Palecki called them.
"He's just a beast. He's an animal," Jones said of Palecki.
And the bruiser is also a stellar captain.
"Palecki just keeps those other kids going," said Foley, adding, "He's the ringleader. He's the glue that holds us together."
"He's a great leader," added Octave. "He always gets us together. If we're down, he tells us to keep our head up. He's just a good motivator. I love him as a captain. I'm going to miss him next year."