Boston High School:

Tarik Octave
March, 28, 2012
3/28/12
6:49
PM ET
By
Brendan Hall
| ESPNBoston.com
With the unveiling of our MIAA All-State Teams for Boys and Girls late last week, the 2011-12 basketball season has come to close. But before we officially slam the book on another exciting season of hoop, and move on to spring sports, I wanted to get out a few thoughts on the landscape for next season.

To whet your appetite for the 2012-13 season, here are my early projections on the state's must-see teams to watch:

BOYS

Central Catholic - Plenty of talent returning with this squad, which captured the No. 1 overall spot in Division 1 North despite missing Luis Puello (ankle) for most of the season. ESPN Boston All-State guard Tyler Nelson returns as one of the state's top shooters, but the Raiders also return all three of their regular bigs in Joel Berroa, Doug Gemmell and Nick Cambio.

New Mission – Apparently it's never too early for bulletin board fodder, because head coach Cory McCarthy is already making some barnstorming rounds, telling ESPNBoston.com this afternoon that if the Titans don't win the Division 2 state title next year, "I should be fired." Bold, yes, but it's hard not to like a lineup of Isshiah Coleman, Nate Anderson, Greg Bridges, Damion Smith and Shaquan Murray. There is some promising talent in those ranks.

Mansfield – Folks are talking about the Hornets being one of the South region's top teams in two years' time, between promising freshman Brendan Hill and sophomore Michael Hershman. I'm of the camp that believes with those two versatile parts, paired with a terrific coach in Mike Vaughan, the future is now.

Taunton – Shaquille O'Neal Davis. That's legitimately his full name, and one you certainly will not forget by this time next year, for reasons that have nothing to do with The Big Aristotle.

West Springfield – Terriers return virtually everyone, including Chris Lipscomb, Paul Bessette, Andy McNulty, Dewey King, and leading scorer Riyadh Asad. West Side is the early favorite next year in Division 1 West.

St. John's (Shrewsbury) – Junior transfer Tarik Octave was one of the nice surprises of the playoffs, and freshman Davon Jones has shades of former Pioneers great David White all over him (Doesn't hurt that Jones was also the Pioneers' starter at safety last fall, too). A boat load of underclassmen return, including Ken Harrington and T.J. Kelley, which should more than make up for the graduation of Matt Palecki.

Danvers – Falcons graduate 6-foot-7 center George Merry, an ESPN Boston All-State selection, but return some terrific guards. Nick McKenna, Nick Bates, Eric Martin and Dan Connors can all shoot the ball, and are perfectly-suited for John Walsh's four-out offensive system. My early pick to repeat at D3 champs.

BC High – Eagles return what ought to be one of the state's best backcourts in point guard Charles Collins and ESPN Boston All-State swingman Jameilen Jones. Throw into the mix one of the region's best basketball minds in Bill Loughnane (he of four state titles) and it's hard to think of the Eagles as anything but a favorite in the South.

Springfield Central – A plethora of talent graduates, including Chris Prophet, Lee Turner, Jevaughn McMilian, and ESPN Boston Super Teamer Tyrell Springer. But All-State forward Kamari Robinson should have another terrific season, and the way Cornelius Tyson exploded onto the scene in the Division 1 state final makes us all wonder if he's about to realize the potential that many in the Springfield area have been talking about for so long.

Stoughton – Super Teamer Aaron Calixte and Defensive Player of the Year Marcus Middleton formed the state's best backcourt in 2011-12. If all goes as planned, they'll be well-equipped to defend that notion next season.

Wareham – Vikings might not endure an unbeaten regular season again next year. But another year of All-State point guard Darien Fernandez means they're not going anywhere.

GIRLS

Braintree – Wamps started three freshmen this year: Ashley Russell, Bridget Herlihy, and 6-foot-1 center Molly Reagan. Expect them in conversation for state title contention from now until their time runs out in 2015.

Archbishop Williams – Ditto the Bishops, who have two 6-foot freshmen to look forward to the next three seasons. Add in sophomores Olivia Conrad and Leah Spencer, and their fiery mouthpiece Sara Ryan, and this could be another top-five team come December 2012.

Reading – The Rockets made a flawless run through the Division 2 gauntlet, winning their first Division 2 state title in school history as one of two final unbeaten squads in Massachusetts. Two-time Middlesex MVP and ESPN Boston All-State Olivia Healy returns, as does guard Morgan O'Brien.

Andover – Golden Warriors are expected to come down to Earth with the graduation of two-time ESPN Boston Miss Basketball, Nicole Boudreau, and UConn lacrosse commit Ally Fazio. What might be overlooked amidst Andover's unprecedented run to a third straight state title is that there were plenty of terrific complimentary backcourt pieces in the underclass.

Central Catholic – Raiders treaded water after some injuries early on. But once junior forward Casey McLaughlin was back to full strength, they made a run all the way to the Division 1 North semifinals. Have to imagine they'll be in conversation again next year.
March, 11, 2012
3/11/12
10:37
PM ET
By
Jay King
| ESPNBoston.com
WORCESTER, Mass. -- Months ago, Davon Jones sat on a chair and practiced his shooting form on an invisible basket.
The freshman point guard for St. John's needed to improve his accuracy, and he could think of nobody better to help him than coach Bob Foley. The chair technique wasn't orthodox, but Foley's record of success makes his methods difficult to doubt. And so Jones swallowed his pride and he stuck his butt on that chair, and he shot at a rim that didn't exist.
There was a rim on Sunday during the Central Mass. Division 1 Central sectional title at WPI's Alumni Gymnasium, and Jones could hardly miss the middle of it. The point guard drilled three triples in the first half as St. John's built an early lead, and he made six straight free throws in the final minutes to fend off a St. Peter-Marian rally.
[+] Enlarge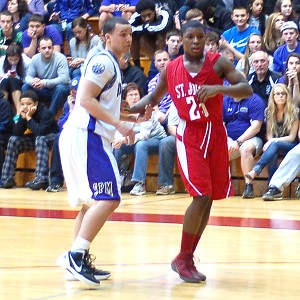 Brendan Hall/ESPNBoston.comFreshman Davon Jones (15 points), a major contributor to St. John's fifth straight district title, credited an unorthodox shooting drill for his improvement.
After scoring 15 points as the Pioneers sealed their fifth straight sectional title with a 72-63 victory, Jones attributed some of his makes to luck. But he also thought back to the hours he spent on that chair.
"I thank coach for that. Every day from the beginning of the year, I asked him to help me become a better shooter," he said.
Earlier in the week, before the Pioneers used a balance effort to hold off SPM, a number of St. John's alumni returned to the school to scrimmage the current team. Chris Harrington, Matt Harrington, Pete Richard, Chad LaBove –- the former St. John's stars all came back to help, and they collectively imparted one piece of advice:
"Just do what coach tells you," the alumni said, according to forward Ken Harrington.
"Coach has been here so many times that he knows what to do. If we just listen to him, it's going to work out for us," center Matt Palecki said.
On Sunday, Foley told his subjects to start in a 2-3 zone defense to limit Matt Mobley's penetration. The SPM star scored just five points on 2-of-4 shooting in the first half as St. John's took a 34-28 advantage into intermission.
Foley told them to box out and limit SPM's second chances. St. John's secured a 34-20 edge on the glass against one of Central Mass.'s biggest teams.
Foley told them to share the basketball. Palecki finished with 16 points, Jones had 15, Harrington added 14, Tarik Octave pitched in nine, and T.J. Kelley and Charlie Murray both scored eight.
"That's a credit to coach Foley and their system and how it works, and we would be wise to try to model it," SPM coach Marcus Watson said.
Foley left his fingerprints all over the latest Pioneers sectional championship. The coach has won more than 800 games, but this season brought unique challenges. The Pioneers start a freshman and two sophomores. Jones is a starting safety for the football team, so he took time to adjust to basketball shape once joining the team. Octave, one of the team's key subs, transferred to the school from New Hampshire prep school power Kimball Union Academy, and struggled to learn Foley's system.
In early January St. John's was 3-4, reeling after consecutive losses in the Assumption tournament, and Foley, for once, was a bit flustered.
"I was searching for answers after we lost those two games at the Assumption tournament. I'm thinking, 'What do we do? What do we do?'" Foley admitted.
What did they do? They did what Foley's teams normally do –- they focused on confidence, execution and teamwork. January's insecurities gave way to a 15-game winning streak entering Sunday's finals. Make it 16 now.
Youth became polished. Potholes were filled and smoothed. Learning is a process, and Foley was there to guide St. John's through the murky waters.
It helped that Palecki was inside the paint to stabilize everything, but Foley oversaw the transformation from a struggling young team searching for an identity into a powerhouse that hasn't lost since early January.
Octave knows what it's like to play for another coach, in another system. He took time to grasp Foley's style, but now vouches for it.
"I want to thank coach fully for having patience with me," Octave said. "My old school was a lot of one-on-ones, isolations and things like that. But at St. John's it's all teamwork –- passing, cutting, which I wasn't really used to. It's really old school, but it works. It obviously does, because we're the district champs right now."
The junior wing came off the bench to nail a trio of three-pointers, the last of which gave St. John's a 42-31 lead in the third quarter.
The Pioneers added onto the lead, eventually seizing a 48-33 advantage near the end of the third quarter before SPM raised the level of intrigue with a late run.
Brian Foley (19 points) led SPM's charge, scoring 12 points in the fourth quarter before fouling out with a minute left. Mobley came alive, netting 11 of his 16 points in the period as SPM cut the deficit to four on three separate occasions.
But Jones and Palecki drilled their free throws down the stretch and St. John's held tough to advance to the state semifinals against Western Mass. champion Springfield Central on Tuesday night at Springfield's MassMutual Center.
"Right now, those kids buy into everything that we try to do out there," coach Foley said.
The Streaky Mobley And Surging Foley:
For much of Sunday's contest, Matt Mobley failed to find shots against St. John's zone defense. The leading scorer in Central Mass. during the regular season, Mobley mustered just four shot attempts in the first half and did not score in the third quarter.
"I don't have the quickest guys. My point guard's quick, but the other guys we have aren't very quick out there. So we felt he would go by us (in man-to-man), and we thought that we could play zone. And any time he tried to penetrate, we just put two guys there and we've got Palecki behind those two guys. And it made them try to beat us with outside shots," coach Foley explained.
As usual, Mobley worked himself into a groove, pouring in 11 of his 16 points during SPM's fourth-quarter run. But those buckets all came after St. John's built a 15-point lead, and SPM was unable to get fight all the way back.
It seemed that Mobley should have been more aggressive the entire game, but SPM coach Watson said the star's early unselfishness was by design.
"I found that when we had Naadir two years ago, when he got his points our bigs didn't work as hard, because they felt, 'Why run?'" Watson said, referring to Naadir Tharpe, the former Guardians star who now plays at Kansas.
"Matt, I showed him a lot of Naadir's tapes. I took out his book and showed him: 'Look at the difference when we won games and when we lost games.' And Matt truly bought into that. If I truly turned Matt loose, I think he could have been a 30-plus point scorer."
As Mobley asserted himself in the fourth, Brian Foley dominated the painted area. The 6-foot-5 senior scored 12 of his 19 points in the final frame, teaming with Mobley to force the competitive conclusion.
"He's got a great jump shot and he does a great job on the boards too," Palecki said of Foley. "With SPM, it's pick your poison because they've got Mobley and (Steve) Flynn and Foley, too. All of them can shoot the basketball, so if you stop one of them, somebody's going to score. And tonight that was Foley for them."
The War Horse:
Early in the first half, Palecki scored a bucket inside and the St. John's student section erupted in chants of, "He's our war horse."
"It just started about halfway through the season," Foley said of the chant. "But if you watch him play, it's obvious."
"I like that chant," Palecki said before reverting to his humble self. "I just try to go out there and play defense and rebound and finish those little chippies inside. If I can do that –- I guess that's what makes the nickname stick."
The senior center finished with 16 points and nine rebounds, continually getting inside position against Flynn, Foley and Tim Berry – "some of the best post guys in Central Mass.," Palecki called them.
"He's just a beast. He's an animal," Jones said of Palecki.
And the bruiser is also a stellar captain.
"Palecki just keeps those other kids going," said Foley, adding, "He's the ringleader. He's the glue that holds us together."
"He's a great leader," added Octave. "He always gets us together. If we're down, he tells us to keep our head up. He's just a good motivator. I love him as a captain. I'm going to miss him next year."