Boston High School:

Tevin Falzon
January, 13, 2012
1/13/12
6:00
AM ET
Boston Amateur Basketball Club (BABC) Director of Operations Jay Demings forwards along some information regarding this weekend's BABC Prep School Classic, this Saturday and Sunday at the Kroc Center in Dorchester.
BOSTON -- This weekend's Boston Amateur Basketball Club (BABC) Prep Classic at the Kroc Center in Boston will not only feature some great games, but will give fans an up-close look at the elite-level basketball talent that permeates the New England region.

In the event's first matchup on Saturday, two talent-laden teams in Notre Dame Prep and the Tilton School (NH) feature two potential NBA lottery picks in Notre Dame's Steven Adams and Tilton's Nerlens Noel.

Adams is a seven-foot center from New Zealand who just arrived at Notre Dame Prep as a post-graduate and will make his debut on Saturday. He is signed to play at the University of Pittsburgh for the Fall of 2012. Only a junior, Noel is a 6'11'' center from Everett, MA who is ranked second in the class of 2013 by ESPN. Both players have drawn serious attention from NBA scouts.

"I have yet to see Steven Adams play live but, based on all accounts and video I've seen, this is a can't-miss matchup between him and Nerlens," said BABC's Director of Operations, Jay Demings. "Many of us are familiar with Nerlens' skill set, but fans will get to see how Adam's size, strength and skills translate to the American game. Experts believe that both players are certain future NBA lottery picks."

The two-day event will also feature many signed Division 1 collegiate players and those that are expected to make their college choices soon. The field of teams include the following committed players:

Myles Davis - ND Prep - Xavier
Adonis Filer - ND Prep - Clemson
Mandell Thomas - ND Prep - Fordham

Georges Niang - Tilton - Iowa State
Dominique Bull - Tilton - Missouri
Kevin Crescenzi - Tilton - Dartmouth

Evan Cummins - NMH - Harvard
Tommy Carpenter - NMH - Dartmouth
Ethan O'Day - NMH - Vermont

Nick Lund - Rivers School - Claremont McKenna

Akosa Maduegbunam - Winchendon - Penn State
Tevin Falzon - Winchendon - Sacred Heart

Jake Fay - Brimmer & May - Fordham

Others to watch:

Tilton - Goodluck Okonoboh, Wayne Selden, Jr., John Witkowski, Cameron Durley
Wilbraham & Monson - Kamali Bey, Jaylen Brantley, Marcel Pettway, Djery Baptiste
Worcester Academy - Matt Cimino, Rene Castro
Marianapolis Prep - Kristian Medina, Nigel Sydnor, Bobby Ahearn
Brimmer & May - John Powell, Adrian Oliveira
Rivers School - Shaquor Sandiford, Kyle Reardon, Andrew Kaufman, Carlin Haymon
Boston Trinity - Elijah Okagbare, Zach Petion
Winchendon - Tre Tipton, Tom Bajda, Malique McLaren, Malcolm Smith
Putnam Science - Oscar Assie, Tyree Robinson, Jonathan Joseph, Dayshon Smith
Notre Dame Prep - Sam Cassell, Jr., Nehemias Morillo
Northfield Mount Hermon - Ryan Oliver, Lucas Van Nes, DeKeeba Battee
October, 27, 2011
10/27/11
5:58
PM ET
Newton North alum Tevin Falzon committed to Sacred Heart on Tuesday. The commitment comes nearly ten days after Falzon, who is currently in the midst of a post-graduate year at the Winchendon School, took an official visit to Sacred Heart's Connecticut campus for their Midnight Madness celebration and opening weekend of practice.
[+] Enlarge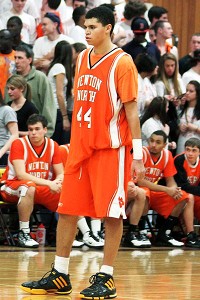 Ryan Kilian for ESPNBoston.comAfter missing most of his senior year at Newton North with a wrist injury, Winchendon post-grad Tevin Falzon committed to Sacred Heart this week and could have an impact as a stretch four.
For Falzon, the decision is obviously the culmination of years of work on the basketball scene. He's been a fairly well known prospect since he was a freshman at Newton North, when his big feet and soft touch gave him the reputation of being a prospect on the rise.
While his skill set has developed nicely since that time, his overall impact didn't necessarily progress at the same rate, as he was often limited by an inconsistent motor and suspect conditioning.
That all began to change during his senior season at Newton North and by the time the spring AAU season came around, college coaches were already noticing a difference as he was generally more mobile and active on both ends of the court, while displaying the same combination of size and skill that had made him intriguing from the beginning.
Because of NCAA rules, Division I coaches weren't allowed to see Falzon until the summer and by that point his name was already generating a little bit of a buzz playing alongside the likes of Jesse Chuku, Dimitry Coronel, and Rony Fernandez on the Metro Boston AAU squad.
Sacred Heart became the first Division I school to offer Falzon a full scholarship in August, and on Tuesday they were rewarded for being proactive as they landed his verbal commitment.
With his recruitment now a thing of the past, the question now becomes how will Falzon fit on this Sacred Heart team.
The most important indicator of any incoming freshman's potential impact is opportunity, and Falzon should have plenty of that. He'll arrive at a time when Sacred Heart's top four big men (6-foot-9 Nick Greenbacker, 6-foot-9 Justin Swidowski, 6-foot-6 Femi Akinpetide, and 6-foot-8 Mostafa Abdel Latif) will all be entering their final two seasons of eligibility.
That means two things for Falzon's purposes. First, he'll have the opportunity to learn on the job and be brought along slowly, but secondly, there will be an opportunity to play a major role during his junior and senior seasons in the Northeast Conference.
Even before he becomes an upperclassman, Falzon could potentially develop a niche for himself. Greenbacker, Akinpetide, and Abdel Latif are all more traditional post players than Falzon, with less natural skills stepping out and facing the basket from the perimeter.
Sacred Heart has always been a perimeter-oriented team, utilizing high-low offensive concepts within the context of a four-out, one-in system, meaning they need one of their big men to play on the perimeter, diagonal their one primary low post player.
Swidowski is really the only other guy on the roster who can do that, and his nature is almost exclusively as a "stretch four-man" who excels at pulling an opposing post defender away from the basket thanks to his shooting range.
Falzon's niche could be two fold next year. First, he may be the only frontcourt player on the roster comfortable enough on the perimeter to back Swidowski up. Secondly, while he'll be the youngest, he could also be the most versatile of the group as someone who can score and pass both inside and out.
Overall, Falzon appears to be in control of his own destiny. If he continues to improve his body by cutting up his frame and consequently getting stronger and more athletic, his versatility not only gives him the potential to play a big role as an upperclassmen but possibly even to contribute right away as a freshman.
Adam Finkelstein is the founder and editor of the New England Recruiting Report and also covers recruiting in the northeast for ESPN Scouts Inc. Adam has the rare distinction of having coached or scouted at the high school, NCAA, and NBA levels, having worked as a Division I assistant at the University of Hartford and spent three years under the NBA's director of scouting Marty Blake.
August, 21, 2011
8/21/11
1:51
PM ET
By
Matt Stout
| ESPNBoston.com
CAMBRIDGE, Mass. -- For nearly an hour Thursday, the pace was frenetic. Weaving through a maze of cones and crossovers, 17 basketball players sprint back and forth from all corners of the Frisoli Youth Center. Their only break from the tireless shooting and dribbling drills is the occasional one-minute breather -- and the far more frequent set of push-ups.
"Stop! Stop!" a voice shouts, freezing everyone on the court. "Push-ups! I'll tell you why afterward."
Dwight Brewington walks around his players as most struggle to finish the set. He then grabs a ball and instead of telling his players the reason for the punishment, he shows them. His slick, 6-foot-5 frame glides quickly through the cones at a gear coaches love to call "game-speed," and Brewington would too if he called himself a coach.
"You gotta push it!" he tells them.
"You're supposed to be doing this at home, aren't you?" he asks.
"Do NOT cheat yourself!" he says.
That encouragement is something Brewington said was rarely passed to him during his formative years.
[+] Enlarge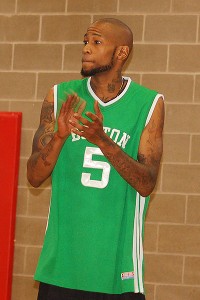 Brendan Hall for ESPN.comAfter stints in two Division 1 programs, the D-League and Europe, Dwight Brewington has discovered a niche in coaching.
Born profoundly deaf, he knows he wouldn't have been able to hear it. But he's making sure others do now.
"Believe me, I'm going to have kids that make it to the NBA," Brewington says, with both defiance and a smile. "I'm going to have kids in the NBA -- with my help."
A NEW DREAM
Once driven by a dream to be the first deaf player in the NBA, Brewington says he's finding true happiness in his second basketball career.
Since May, the 27-year-old Lynn native -- who starred at two colleges before playing in the NBDL and overseas -- has run the Active Skills Basketball Training Program in conjunction with his AAU team, the Active Skills All-Stars.
Together, they draw athletes from Lynn, Cambridge, Boston, Winthrop and beyond. On Thursday, they included kids prepping for middle school tryouts to teenagers preparing for the next step, such as former Newton North star Tevin Falzon, who's set to begin a post-grad year at Winchendon; his brother, Aaron Falzon, who plans to enroll at St. Mark's; and Macam Bak Macam, a deaf Sudan native whom Brewington is trying to help land at a prep school.
Brewington runs training sessions where he can find court time, most recently for two days a week at the Frisoli Youth Center in Cambridge and every Sunday at Winthrop High School. Soon, he'll return every Monday and Wednesday to Breed Middle School in Lynn for a six-day-a-week schedule he's more than happy to offer.
The goal, Brewington said, is to give athletes the help he never had. He's a trainer, he says, not a coach because his focus in on improving the individual as opposed to a team. His sessions feature seemingly non-stop movement, and when a player blows a lay-up or junks a drill, he has push-ups waiting for him.
How many is hard to tell. On Thursday, some did 10, some did eight, others did five. After what mounts to countless sets, they seemed almost eager to get back to running.
"I can feel it when I go to sleep," said Deondre Starling, the former Cambridge star who's training with Brewington before heading to play at Dean College in Franklin. "And I can feel it when I wake up."
Perhaps most importantly, the players display the same passion for playing Brewington does for training them.
"He's found himself," said Mauricio "Mo" Vasquez, Brewington's mentor and former AAU coach with Metro Boston. "It's something where he kind of controls his destiny. It's not up to someone else. And he enjoys seeing guys develop."
'THE KID IS UNIQUE'
There are obstacles, of course. In an area filled with established AAU programs -- Metro Boston, Boston Amateur Basketball Club (BABC) and the Bay State and Middlesex Magic are just a few -- Brewington will have to find his niche.
Born without 60 percent of his hearing in both ears, Brewington still wears hearing aids, and as he did Thursday, he will demonstrate almost as often as he instructs, in case his players don't understand him.
As a child, his disability made him introverted and anti-social, he said. For a long time, it hindered him in school before he utilized professional note-takers. He admits he "didn't want to trust people" when he is was younger, and his guarded nature often went misunderstood. In college, he often butted heads with the coaching staff at Providence College before transferring to Liberty University in Virginia, and he admits he didn't take orders well.
"For some reason, people don't look at me as Dwight Brewington," he said. "They look at me as Dwight Brewington, that deaf guy. People never gave me the chance to get to know me. If you don't give me the chance to get to know me, I'm not going to get to know you."
Even during Brewington's recruitment, Vasquez told coaches that "this kid is unique" and cautioned them of the extra steps needed to make him feel comfortable. For instance, as smart as Brewington is, Vasquez said, he never could grasp sarcasm, most times taking everything anybody said literally.
"You don't understand it because you don't hear it," Vasquez would tell him. "And I used to tell him, 'You think too much.' He's always trying to please everyone. But when he took something in the wrong manner, he already built a wall."
This was the same kid that questioned Vasquez's ability to help him when he first came to him in the eighth grade. The then-6-foot-2 teenager would look down on the 5-foot-6 coach and quip, "For a little guy, you bark a lot."
"Mind you, I'm a short guy," Vasquez said, laughing at the memory of how Brewington would sometimes shut his hearing aids off in a huddle. "The first thing out of his mouth was, 'Are you sure your guys get better?'"
But Brewington remained as loyal as they come. He stayed with Vasquez through all four years of high school, even as he jumped from Wakefield High to Lynn English to Worcester Academy, emerging as a star wherever he went.
LONG ROAD
When he ascended to the collegiate level, he struggled to adjust in many phases -- except for basketball. As a sophomore, he averaged 13.3 points and 4.3 rebounds a game, giving the Friars a second weapon past star Ryan Gomes.
Being deaf never hindered him on the floor, where his athleticism was almost equaled by what Vasquez called a "sixth sense" for feeling the game. As long as Brewington kept eye contact with the coach, the point guard and others around him, he didn't need to hear a play call to make a play.
The problem was, Providence coach Tim Welsh and him "weren't seeing eye to eye," Brewington said. Welsh publicly supported the guard when he decided to transfer, but it wasn't a secret that Brewington was uncomfortable there.
He sat out the fall semester of his junior year, weighing where to go. Arizona and Ohio State courted him, he and Vasquez says, as did Gonzaga. Then, literally days before he was set to leave Providence, Brewington was struck by tragedy. Four of his closest friends were gunned down in a basement recording studio, a brutal killing that shook the Dorchester neighborhood where it occurred.
Edwin Duncan, 21, was shot three times; Jason Bachiller, 20, seven times; Christopher Vieira, 19, four times; and Jihad Chankhour, 22, was shot as he ran for the door, according to news reports. It leveled Brewington, who says there are very few people in the world he can point to and say, "That's my boy."
"There are only like five of them like that," he said. "Four of them are dead."
Feeling lost, he turned to Liberty, a private university steeped in Christian values.
"Even though I knew there was the chance it would hurt me with the NBA and my resume, I needed God," Brewington said of going to the mid-major school. "Liberty was the first school who wanted me. They knew about my four people getting killed. I said, 'I needed God.'"
But despite averaging more than 14.7 points and 4.7 rebounds per game there and declaring early for the NBA draft, Brewington said he sensed he wasn't close to realizing his dream. He wasn't selected and later was taken in the NBDL draft. Never called up to an NBA team during his time there, he then played in Israel, the American-based Premier Basketball League and finally Slovakia.
He returned last December after injuring his left Achilles, again feeling lost and disappointed. He was happy to be back in the U.S. with his wife, Gabrielle, and two children, 7-year-old Dantia and 4-year-old Malakai, but he said he stayed in the house "24/7, trying to figure out what the hell went wrong with my life."
"It made me decide I'm done [playing] ball," Brewington said. "Being far away from home, being far away from your family and knowing that I have two kids and a wife, I'm overseas and [thinking], 'Why am I here? I should be in the NBA.' That was my dream. It was always the NBA. I could never see myself waking up in the morning and going to work."
So he made his own work. In less than five months after starting his program, he's drawing close to 20 kids a night for training, whom he then funnels into his AAU team. This fall, he's planning to coach players at both the junior high and high school levels, and on Sept. 17, he is hosting the Love of the Game Mass. Basketball Tournament Classic at Cambridge Rindge & Latin School, which figures to draw some of the top AAU talent in the region.
It's helped Brewington come to terms with never reaching the NBA.
"Because I'm doing this, it makes me look back and say, 'I'm OK with it,'" he said.
PROVIDING THE PUSH
The night is winding down at the Frisoli Youth Center, and in a circle surrounding their trainer, 17 kids are doing push-ups.
They're sore, they're tired. But you never hear one groan about Brewington's regiment. In fact, most manage a smile while they rest between sets.
"I've never had somebody who sticks on me like he does," said Dan Trentsch, a rising junior at Swampscott High School who's trained with Brewington for the last five months.
In the beginning, Trentsch says, he couldn't get through half of one of Brewington's practices. Push-ups were a foreign concept.
Today, he does more than 300 a day, is taking 500 shots a day under Brewington's watch and can dunk.
"On a good day," Trentsch said with a smile. "He loves to push me, and that's what I love about it."
That's why they're all here. It's why Brewington is too.
"Me being deaf, there were a lot of things I had to deal with it that made me look back and say, 'I want to be in kids' lives,'" he said. "I want to be that guy who can help kids get to where they can be at. They just need someone to push them."
March, 11, 2011
3/11/11
11:24
PM ET
By
Corey J. Allen
| ESPNBoston.com


BOSTON, Mass. -- Why play hard when you can play smart?

With three seconds left in the game, Mansfield's Michael Lofton was being contested for the potential go ahead point after battling back to break even after being down as many as eight points in the fourth quarter. Instead of scoring point 18, he dumped off to his teammate Chris Johnson, who had scored earlier in the fourth, for the go ahead win, sending the Hornets (24-2) into the Eastern Mass Division 1 finals against St. John's Prep on Tuesday night.

"Michael's been our best player all year long," Mansfield head coach Michael Vaughn said. "But the staple of our team has been our ability to pass the basketball and share. I really think if Michael goes up with that, now it's a challenged shot, the result might have been a little bit different, but just playing the way we've been playing all year, he throws the extra pass to an uncontested (player)."

"It feels good that I know that I have other scorers that can score like CJ," said Lofton (16 points, 12 rebounds, three steals). "He's a great scorer. He's one of those 50/50 winners that can get the ball and score in the paint… He came through for us."

With 1:50 left in the game, after Lofton got one of his three steals on the day, Jeff Hill made the layup in transition to tie the game at 42.

"The shot clock was running down and I just took it to the hoop, which was open so I took the layup," said Hill (6 points, 10 rebounds, 4 steals)

Luke Westman made the return basket for Newton North (19-7) on as assist by Avi Adler-Cohen to put the Tigers up 44-42. Lofton got an offensive rebound off of a miss on the next possession and tied the game up again, at 44. Playing tenacious defense, the Hornets had the Tigers on their heels, and as Adler-Cohen dove out of bounds near the scorers' table to keep the wayward ball in play, Lofton intercepted the save, zoomed half the distance of the court to the basket and flushed the ball with :35 left, sending the Mansfield pride soaring behind the same basket that he had just kissed with the ball, putting his team up 46-44.

"I was getting a little tired," added Lofton. "But the drive to keep me going, keep me on my feet was that this is my senior year, and we had to put it all out there to win this game. Not many people get this opportunity to play at The Garden twice."

After a Newton North timeout, Tevin Falzon (14 points, 16 rebounds, two blocks) drained another two free throws after being fouled on a rebound to tie the game up at 46. Coming down the court, the Tiger defense was expecting for Lofton to take the last second shot, but he found the rolling Johnson down low who put it in without opposition, putting the Hornets up 48-46 with three seconds left.

"He had great court vision looking for me and finding me under the basket wide open," said Johsnon. "I'm just glad that I finished it."

The ensuing inbounds pass was deflected by Johnson (12 points, five rebounds, four steals), sending the ball up in the air and the Mansfield boys into each other's arms, celebrating their comeback victory, as Newton North held the lead since 4:25 in the second quarter, when a Brian Santana layup pushed the Tigers past the Hornets 18-17.

"I think that's how our whole team has been made up all year," added Vaughan of Johnson, who had three steals in the first quarter, but didn't make another standout defensive stop until the last seconds of the game. "Guys like Johnson who come up with big plays when we need them."



March, 6, 2011
3/06/11
2:41
AM ET
By
Ryan Kilian
| ESPNBoston.com
WEYMOUTH, Mass. -- Newton North got out to an early 14-3 lead and never looked back, as the Tigers defeated Weymouth, 54-45, in a Division 1 South quarterfinal Saturday night.

After splitting their two regular season matchups, both Bay State league teams took the court Saturday night in front of a packed and energetic Weymouth gymnasium.

The game was physical early and the defensive intensity of North (18-6) proved to be the key factor in controlling the pace and tempo of the game.

Newton North junior point guard Michael Thorpe got going early scoring seven of his game high 15 points in the first half. Thorpe led the offense and teamed with senior guard Avi Adler-Cohen (11 points) to hold the perimeter game of Weymouth (18-4) in check.

"We have been a tremendous defensive basketball team all season long," Newton North head coach Paul Connolly said. "They (Weymouth) averaged 67 points a game this season and we held them to 45 tonight."

The Tigers led, 30-17, with under a minute remaining in the first half when Weymouth sophomore Jared Terrell converted back to back three point plays as he knifed through the middle of the defense to cut the lead to, 30-23, at the half.

Newton North maintained their defensive superiority in the third quarter holding Weymouth to five points until Weymouth junior guard Damian Lugay hit a three at the buzzer to cut the Newton North lead to seven points, 38-31.

Brothers Tevin and Aaron Falzon controlled the middle of the paint all night for Newton North, making it difficult for Weymouth to get to the hoop. The brothers owned the glass in the game and eliminated second chance shot opportunities for Weymouth.

"We really rebounded the basketball well tonight," said Connolly. "Getting Tevin back has been huge. He is such a big presence in there for us.

Tevin Falzon (six points) missed most of his senior season with a wrist injury but has been a big lift for the Tigers during their two tournament wins.

Terrell led Weymouth with 15 points on the night and Lugay added 11.

The Tigers advance to the Division 1 South semifinals, where they will face New Bedford at UMass-Boston on Tuesday. Tip time is scheduled for 7 p.m., with the winner moving on to the TD Garden in the sectional finals.

February, 20, 2011
2/20/11
11:45
PM ET
By
Lucas Shapiro
| ESPNBoston.com
DORCHESTER, Mass. –- It just didn't feel like a consolation game at the Comcast IAABO Board 27 Tournament, at Boston College High School's McNeice Pavilion. Andover coach Dave Fazio even said it himself.

"You play in this tournament and it's all about pride," said Fazio. "So any game you play in any tournament against a quality team like Newton North is all about pride. We try to instill in our kids that it doesn't matter whether its checkers or chess, it doesn't matter, if you play in something competitive, you always play to win. That's what it's all about."

And they did indeed play to win. The Golden Warriors bounced back from Saturday's tough loss against St. John's Prep to beat Newton North in a 75-66 win.

In the first 45 seconds of the game, sophomore Sam Dowden knocked down two three-pointers to give Andover a solid six point lead for the entire first quarter. Then, in the second quarter, Andover's star Joe Bramanti scored 15 of his team's 21 points to put his team up by 13. At this point, it looked as though it was Andover's game for the taking. It was not, however, even close to being over.

After a Tevin Falzon basket with a foul to finish the second quarter, and a Luke Westman dunk to start the third, Newton North took the momentum back. Powered by Michael Thorpe's 19 third-quarter points -- including three acrobatic three-pointers -- the Tigers went on a 20-6 run to take the lead at 51-46.

"That's the player that I've been waiting for all season long," Newton North head coach Paul Connolly said. "Michael has only averaged 13 points per game this year. He hasn't shot the ball well. We've been a different team this year. That's the level he's capable of playing at. That's what we need. Your leading scorer needs to play like that in the tournament. Mike had a period there where he was phenomenal but you know, they have Joe Bramanti, and he took over the game."

Said Bramanti, who only scored two points in the third, "After [Thorpe] hit the third three-pointer, coach put me on him just to contain him and keep him out of his rhythm. Once someone catches fire like that, they are just going to keep going and going and going so you just put the clamps on him and hope he doesn't keep going."

Andover decided to then take a page out of Newton North's book. Coach Fazio told his team to get the ball to Joe, and it turned out that was the right decision. Bramanti went off for 21 fourth-quarter points on various drives, three-pointers, and 11 free throws.

"[Getting to the line] is definitely a big part of my game," Bramanti said. "I was really trying to facilitate early on, but when we got down to the fourth quarter it was necessary for me to get to the line. We needed a break, and those are easy points."

Bramanti finished with 38 points, going nine for 16 from the field (including three 3-pointers) and stayed perfect from the line by sinking 17 free throws.

"This is a big win for us. This is a big win for our program," said Fazio. "You've got to remember, the last two we lost was probably to the number one team in the state and the number two team in the state. Those two losses were against two really good teams. I think we have the best schedule in New England. We play against everyone. It was another great fight by our kids."

Future Reference

-- While Bramanti may be known as the star for Andover right now, keep your eyes on junior James Costello. Costello finished with 20 points. Whether he was using his mean jab step to get by his man or jumping over defenders for offensive rebounds, there is no doubt that Costello is a unique player. At 6-foot-3, he does not have a true position but is the type of athletic player that every team could use. His coach and teammate would agree.

"I think these past few games, [James] has been tremendous," said Bramanti. "He's been stepping up big time. He's definitely progressed exponentially. I think it is good for him to have two good games for our game Thursday night against Brockton."

"He is playing better and better," Fazio said. "He is going to be phenomenal. Hopefully, he's going to carry the torch from Bramanti."

-- For those of you making your predictions for the MIAA playoffs, coach Connolly shed some light on who he thinks will be the most successful teams. After having a surprisingly early exit last year, Connolly thinks the teams with the best guards are the most dangerous.

"Hurley took over the game against us yesterday," Connolly said. "Pat Connaughton is capable of taking over games. When you have a player who can take over a game with the ball in his hands, you are dangerous. We had Greg [Kelley] last year but it's different when you have a big guy. Those are the guys who will make the big tournament runs."

January, 25, 2011
1/25/11
3:20
PM ET
Thirty-eight athletes playing at Massachusetts high schools have been nominated for this year's McDonald's All-American basketball games, and it is quite the interesting list. On the boys side, Notre Dame Prep has a whopping six players nominated; also of note, Newton North's Tevin Falzon gets a nomination despite not playing a minute all season due to a wrist injury.

Below is the complete list of nominees for the boys and girls games:

BOYS

Pat Ackerman, Worcester Academy
Khem Birch, Notre Dame Prep
Joe Bramanti, Andover
Ryan Canty, Brimmer & May
Sam Cassell Jr., Notre Dame Prep
Dennis Clifford, Milton Academy
Pat Connaughton, St. John's Prep
Aaron Cosby, Northfield-Mt. Hermon
Myles Davis, Notre Dame Prep
Tevin Falzon, Newton North
Grandy Glaze, Notre Dame Prep
Jon Henault, St. Bernard's
Kyle Kager, Deerfield Academy
James Kennedy, Cushing Academy
Samir McDaniels, New Mission
Joe Mussachia, Manchester-Essex
Angel Nunez, Notre Dame Prep
Kachi Nzerem, New Mission
Andrej Pajovic, Wilbraham & Monson
Joe Sharkey, Northfield-Mt. Hermon
Chris Sherwood, Brimmer & May
Tyler Strange, Notre Dame Prep
Vincent Van Nes, Northfield-Mt. Hermon
Jimmy Zenevitch, Central Catholic

GIRLS

Nicole Beresford, Marshfield
Sophie Bikofsky, Newton South
Kendall Burton, Newton South
Blake Dietrick, Wellesley
Amber Dillon, Brookline
Tori Faieta, St. Mary's
Julie Frankian, Millbury
Natalie Gomez-Martinez, Andover
Brenna Goncalves, Coyle-Cassidy
Briana Hunt, Newton North
Mariah Lesure, Tabor Academy
Samantha Mangano, Winchester
Gabie Polce, Central Catholic
Clare Sullivan, Rivers