Boston High School:

Theo France
October, 2, 2012
10/02/12
1:57
AM ET
RAIDER NATION HAS OFFICIALLY ARRIVED
Barnstable head coach Chris Whidden had barely left the turf of Everett Memorial Stadium on Friday night before his phone began buzzing like crazy. To call the city of Hyannis' reaction to the Red Raiders' double-overtime upset of the No. 1 team in the land an outpour would be on diplomat's terms.

"Let's put it this way, I think I had eight or nine texts on my phone by the time I got on the bus," he said.

It's been a wild few days south of the Sagamore Bridge since the the Red Raiders pulled off the virtually unthinkable. Many pundits predicted the hard-hitting, fundamentally disciplined Raiders to keep it close with Everett, holders of a 28-game win streak and the top spot in ESPNBoston.com's statewide poll since October 2010 -- but on the mainland, nobody actually believed they'd actually pull it off. And with it, Barnstable moves up two spots in our poll to No. 1, becoming the first Old Colony League team to be anointed the top team in the land in the history of our poll.

What statement does this make about Cape Cod football? Not much, really. That was made last year, when an unprecedented five teams from the Cape & Islands region (including Barnstable) qualified for postseason, with four of them winning a Super Bowl (Dennis-Yarmouth, Bourne, Mashpee, Nantucket). And the Cape is strong once again, with Nauset, Bourne, Wareham, Sandwich, Martha's Vineyard and the aforementioned Raiders all off to at least 3-1 starts or better.

No, this is more about the Barnstable program itself. After some tumult the last few years, the Raiders have taken off after settling with Whidden as their head coach, and Nick Peabody as their quarterback. Friday night, after going 0-for-10 with an interception in the first half, Peabody showed why he is on the short list for ESPN Boston's Mr. Football Award by throwing two second-half touchdown passes to his favorite target Dylan Morris, including the crucial one in the second overtime that clinched it.

The Red Raiders can score -- this much we know, after putting up 110 points in the first eight quarters of the season -- and have some gifted athletic versatility between Morris, Theo France and junior Hayden Murphy. But Friday's stunning upset was more a statement of Whidden's defensive prowess.

Barnstable threw a variety of man and zone coverages at Everett, primarily out of a three-deep shell, aimed at containing Everett's two superstar receivers, Jakarrie Washington and Jalen Felix. Up front, the Raiders began in a three-man front, but quickly found more success with four down linemen, and stuck with it. Where there was a weight disadvantage -- the Tide average over 300 pounds across, led by Notre Dame-bound left tackle John Montelus -- the Raiders made up for with quickness, athleticism, and length, behind Jason Freih, D.J. Goncalves and John Eldridge.

Whidden is known for his knack as a defensive play-caller. But it also doesn't hurt having two NFL vets and Cape football legends coaching up the defense, either. Falmouth grad and former Oakland Raider Willie Ford has the secondary's ear, while Barnstable grad and former Dallas Cowboys lineman Mike Dwyer has the defensive line.

"They're able to get so specific with the technique," Whidden said. "For a defensive lineman working different skills, different technique, whether it's pass rush or run defense, they're not the same moves or same techniques, so that's crucial. Same with the secondary, playing man coverage and zone coverage are completely different techniques. They got that repetition during the week."

This year's team-issue shirts at Barnstbale feature a bulls-eye on the back, a statement more to do with the target that comes with being the regining OCL champ. That target has just gotten a little bigger.

A lot, actually.

"They know now that teams are really gunning for us," Whidden said. "We pay attention to the way we celebrated on their field after the game. Now we've got teams coming at our place as the top dog, and we've got to make sure we avoid having anyone celebrate like that against us."

KEN LACHAPELLE -- VISIONARY, INNOVATOR, GRANDFATHER
For as long as Ken LaChapelle has been at the helm of Northbridge High football, there has always been a good quarterback calling the shots. But there is but one name to trump all names: Danny Brown.

Brown, widely considered the greatest in a long line of great Rams signal-callers, reminisced about his recruiting during the 2001 and 2002 seasons, when reached last week by ESPNBoston.com to reflect on LaChapelle. The one moment of the process that's always stuck with him, he says, is a meeting with the Dartmouth coaching staff during a visit, in which the staff raved about LaChapelle's offensive innovation, telling him the coach is "always one step ahead".

LaChapelle became the third coach in MIAA history to achieve 300 career wins on Sunday, with a 42-12 victory over Southbridge, to go along with 10 Super Bowl titles. Unique from the other two to achieve the milestone is that LaChapelle has done it all in one place, holding the Northbridge job continuously since 1976.

Unique, too, was his foresight to install the Run-and-Shoot offense upon taking the head coaching job, at a time when power-running formations like the Wishbone were all the rage. LaChapelle has light-heartedly mentioned in the past his desire to one day coach a game in which he didn't attempt a run (that was short-lived on Sunday, as quarterback Matt Phelan racked up 154 yards on 5 carries). Many of the spread principles you see in the state's top teams? Northbridge has been running it for decades, going back to the days of the San Diego Chargers' revolutionary "Air Coryell" offense.

Brown, like many Northbridge alums, was a lifer, first getting a taste of Rams football as a waterboy. He endured a great career at Harvard and had a brief stint in Europe before returning to Northbridge, where he is happily engaged and makes the hour commute each way every day to the Xenith helmets sales office in Lowell. It bears asking: What keeps a guy like LaChapelle, a 1965 grad, in Northbridge for 50 years?

The short answer is family. He has a half-dozen children and nearly two-dozen grandchildren littered around the southern plateau of Worcester County. He currently coaches two grandchildren, Daiton LaChapelle and Koby Schofer, and by the looks of it could coach many more.

How many more years? Brown says, with an honest tone, "he could go another decade".

That leaves plenty more opportunities for that elusive run-less game.

FAMILIAR TERRITORY
Bob Bancroft left a lasting legacy at Whitman-Hanson in his tenure as head football coach. On Friday, Bancroft's Pembroke squad left a loss behind.

The Titans rolled over their current head coach's old team in a 19-3 win. The Panthers entered the game with the momentum gained off a tight win over Foxborough.

But after taking an early 3-0 lead on a 28-yard field goal on Friday, it was all Pembroke. The Titans quickly reclaimed the lead with Brian Tinkham's first touchdown of the game before Ken Blasser's pick-six extended the Titans' lead in the fourth. Tinkham added his second score of the game as added insurance late in the fourth.

What's more is that it marked the second straight year Bancroft claimed victory over his former side, proof that the master still reigns.

WILD NIGHT IS CALLIN'
More than a change in No. 1 teams, Friday night was ripe with upsets as the rain poured down in bowls across the state. No place was that more prevalent than in the Hockomock League, where a couple of teams in Davenport (small school division) claimed wins over their Kelley-Rex counterparts.

Foxborough's defense stymied North Attleborough's offense, holding the Red Rocketeers to just 91 offensive yards, in a 21-0 blanking. Dynamic Warriors running back Kiivone Howard outgained North by himself, running for 130 yards.

North wasn't the only Kelley-Rex team with a struggling offense. For the second straight year, Stoughton knocked off Mansfield with a 25-6 win. Meaning that the Hornets came away with a grand total of six points during their meetings with the Black Knights in the last two seasons. Stoughton again showed its defensive mettle, with Adam Leonard notching a key strip-sack early in the game and Aaron Mack's strong play in the secondary.

With both teams coming off notable upsets of Top 25 squads, the Davenport picture will come into clearer view when the Black Knights and Warriors tangle this Friday.

IN MEMORIAM
With the one of the biggest football games of the season coming, football seemingly is the last thing on the minds of the Stoughton High community this week.

Less than 24 hours after celebrating another win over Mansfield, Black Knights player David Wade, 17, was killed on Saturday by a gunshot wound to the chest. Wade played football this year after being a member of the Black Knights cheerleading squad. He also competed with Stoughton's winter track team and played tennis.

Our thoughts are with David's friends and family at this time.
December, 6, 2011
12/06/11
7:40
PM ET
OFFENSE

QB – Jonathan DiBiaso, Sr., Everett
Statistically the state's best all-time quarterback, the ESPN Boston Mr. Football recipient finishes his storied career in Everett as the state's all-time leader in touchdown passes (103) and passing yards (7,052). This season he broke his own state single-season record for TD passes (44), and threw for over 2,800 yards. In the last two seasons alone, both perfect Super Bowl-winning campaigns, he threw for 87 touchdown passes to better the previous state all-time mark of 85. DiBiaso is undecided on college plans.

QB – Matt O'Keefe, Sr., Duxbury
In his first season as the full-time starter under center, the Johns Hopkins lacrosse commit was a finalist for ESPN Boston's Mr. Football award. The 6-foot-3, 185-pounder totaled nearly 3,000 yards from scrimmage, throwing for 2,321 yards, rushing for another 670, and totaling 39 scores. O'Keefe, a defender for the defending Division 1 state champion Dragons, is currently ranked as the No. 32 overall lacrosse player in the Class of 2012 by ESPNU.

QB – Matt Montalto, Sr., Dennis-Yarmouth
The 5-foot-10, 170-pounder led the Dolphins to their best season in school history, finishing a perfect 13-0 campaign by winning the Division 2A Super Bowl title – their first championship of any kind in the Super Bowl era. For the season he completed 61 percent of his passes for 2,065 yards and 25 touchdowns to just seven interceptions. He also carried 134 times for 1,219 yards and 16 more scores. Montalto is fielding various college interest, including, New Hampshire, Albany, Colgate, Brown, Sacred Heart and Bentley.

QB – Michael Walsh, Sr., Swampscott
The 6-foot-2, 205-pounder was a force on both sides of the ball for the 9-2 Big Blue, completing nearly 60 percent of his passes for 2,129 yards and 25 touchdowns to go along with 930 rushing yards and 13 more scores. Defensively, he totaled 47 tackles from the free safety position, forcing three fumbles and making two interceptions. Walsh will continue his career next fall at Brown as a safety.

RB – Melquawn Pinkney, Sr., Springfield Putnam
The 5-foot-9, 170-pound Mr. Football finalist ended his career with the Beavers in record-breaking fashion. With 341 rushing yards and two touchdowns in 48-6 win over Commerce for the Division 2 Super Bowl title, Pinkney broek Cedric Washington's 15-year-old state all-time record for single-season yardage (2,889), and set the new state single-season mark for rushing touchdowns (43). Earlier in the season, Pinkney set a Western Mass single-game record with 421 rushing yards in a win over Agawam. For the season, he averaged 8.4 yards a carry. Pinkney is currently undecided on college plans.

RB – Sacoy Malone, Sr., Springfield Central
Both Malone and his cross-town foil Pinkney eclipsed the 2,000-yard mark on the season, as the Eagles returned to the Western Mass. Division 1 Super Bowl for the second straight year. On the season, Malone had 257 carries for 2,001 yards and 22 touchdowns; since the start of the 2010 season, he's accumulated over 3,200 yards and 35 touchdowns. The 5-foot-8, 175-pound Malone is currently fielding interest from several Division 1 FCS schools.

RB – George Craan, Sr., Concord-Carlisle
Craan, the reigning Dual County League MVP, was the catalyst for the Patriots' historic Super Bowl-winning season. He followed up a 1,900-yard junior season with just as explosive numbers in 2011, carrying 220 times for 1,761 yards and 24 touchdowns, as the Patriots went 13-0. The 5-foot-10, 205-pound Craan is currently undecided on college plans.

RB – Charles Ruffin, Sr., King Philip
The 5-foot-10, 180-pounder is the second Warrior in four seasons to capture Hockomock League Offensive Player of the Year honors. On the season he amassed over 1,300 rushing yards and 20 touchdowns, and led the Warriors to their first postseason berth of the Super Bowl era. Ruffin, who also stars in lacrosse and track and field, is currently fielding interest from several Division 1 schools.

TE – Mark Riley, Sr., Needham
One of several All-Staters previously known most for their lacrosse exploits, the 6-foot-1, 200-pounder was a force to be reckoned with for the 9-4 Rockets. Utilized as both a receiver and tight end, Riley caught 72 balls for 1,266 yards and a school record 15 touchdowns. He is currently undecided on college plans, but fielding Division 1 interest in lacrosse.

TE – Jameson McShea, Sr., BC High
The 6-foot-4, 245-pound Temple commit didn't put up eye-opening numbers in the passing game, but his support in the running game was without peer as he helped paved the way for both Preston Cooper and Deontae Ramey-Doe. As a defensive end, he recorded 68 tackles (12 for loss) and was named the Catholic Conference's Lineman of the Year.

WR – Khary Bailey-Smith, Sr., Weymouth
One of the state's best deep-ball threats, the 6-foot-3, 185-pounder tallied 936 receiving yards and 13 touchdowns for the 9-2 Wildcats this fall. Since the start of his junior season, Bailey-Smith has caught over 2,000 yards and 27 touchdowns. He is also a state champion in track and field, having cleared 6-foot-10 in the high jump. Bailey-Smith is fielding interest from Division 1 schools.

WR – Gordon McLeod, Sr., BC High
One of the most versatile threats on the Eagles' Division 1 Super Bowl champion squad, McLeod was one of the leading receivers in Eastern Mass., with 755 yards receiving and 11 touchdowns as they captured their second title in four seasons.

WR – Don Webber, Sr., Duxbury
Considered one of the state's best route-runners, the 5-foot-11, 180-pounder was the 13-0 Dragons' most dangerous weapon in space. Webber led the team with 52 receptions for 776 yards and 11 touchdowns, as the Dragons won a second consecutive Super Bowl at Gillette Stadium and extended the state's longest winning streak to 26 games. Webber is leaning towards the Ivy League for college plans.

WR – Malcolm Brown, Sr., Pope John XXIII
Statistically, the 6-foot-1 Brown graduates from the Everett campus as one of the state's most decorated receivers of all-time. This fall he caught 71 passes to set school records of 1,306 yards and 20 touchdowns, both tops in the state. He also racked up 918 return yards and three touchdowns, ran for 328 yards, and threw for another 267. Defensively, he recorded 65 tackles (10 for loss) and three interceptions, including a pick-six. For his career, he has 192 receptions for 3,447 yards and 44 touchdowns, and 56 total scores. Brown currently has interest from schools in the Northeast-10 and MEAC conferences.

OL – Andrew VanderWilden, Sr., Concord-Carlisle
At 6-foot and 245 pounds, VanderWilden was arguably one of the most efficient pound-for-pound centers in the state. He led a Patriots rushing attack that racked up 53 touchdowns and nearly 3,000 yards the ground, part of one of the state's highest scoring averages (35.4). VanderWilden, a two-time Dual County League Lineman of the Year, will continue his career at Brown next fall.

OL – Keith Sullivan, Sr., Oliver Ames
The 6-foot-9, 300-pounder was arguably the most crucial two-way player for the Tigers' historic run, winning their first Hockomock title since 1964 and qualifying for their first championship game of the Super Bowl era. Sullivan is currently undecided on college plans, but fielding Division 1 interest.

OL – John Montelus, Jr., Everett
DiBiaso's blind side is quickly rising as one of New England's top Class of 2013 prospects. The last two seasons the 6-foot-4, 290-pounder has allowed DiBiaso to throw 87 touchdown passes and keep his jersey clean. Montelus received four offers before his 16th birthday this fall, and counts UConn, Syracuse, NC State, Virginia and Boston College.

OL – Gordon Acha, Sr., Duxbury
Acha, the Dragons' left tackle, was named ESPN Boston's inaugural Lineman of the Year this week after helping pave the way to a second straight 13-0 season. The Dragons averaged 302 yards of offense and had 36 touchdown passes. The 6-foot-4, 255-pound Acha is currently fielding interest from Division 1 schools, including Boston College and Maryland.

OL – Rob Kosharek, Jr., Duxbury
Together with Acha, the 6-foot-6, 250-pound Kosharek created one of the state's best tandems on the left side of the 13-0 Dragons' line. Behind Kosharek at left guard, the Dragons won their second straight Division 2 Super Bowl title and rang their winning streak up to a state-best 26 games.

ATH – Geeavontie Griffith, Sr., Boston Cathedral
The 12-1 Panthers experienced one of the state's most dramatic turnarounds under first-year head coach Duane Sigsbury, and leading the charges was Griffith. The 5-foot-7, 175-pound Randolph native carried 152 times for 2,244 yards and 29 touchdowns, as the Panthers advanced to the Division 4A Super Bowl. He is currently undecided on college plans.

ATH – Armani Reeves, Sr., Catholic Memorial
Don't let the Mr. Football finalist's limited touches fool you. Reeves, a Penn State commit and the state's No. 1 overall prospect, was electric practically every time he touched the ball. He ran for 1,001 yards on just 46 touches, caught another 205, and returned a punt for a touchdown to total 15 scores for the 7-2 Knights. That averages out to almost a touchdown every three touches.

K – Jules Murphy, Sr., Xaverian
Murphy has been known to regularly hit from 40 yards and further, and while he didn't have many opportunities this season, he was a near-perfect 27-of-28 on extra points. Murphy is undecided on college plans.
DEFENSE


DL – Ralph Jonathas, Sr., Everett
The 6-foot-2, 215-pounder was a mainstay of the Crimson Tide's back-to-back Super Bowl championship teams and a defense that allowed just over 12 points per game this season. Jonathas has received interest from multiple Division 1 programs, but is undecided on college plans.

DL – Brendan Battles, Sr., Nauset
At 6-foot-3, 240 pounds, the UConn commit was one of the most feared defensive presences in the state. But the bruising lineman also did double time, serving as the play-caller in Nauset's single wing offense, paving the way as the lead blocker out of the backfield. Battles also won the Division 1 and All-State wrestling crowns in the 215-pound divsion, advancing to the New England finals.

DL – Maurice Hurst Jr., Jr., Xaverian
The 6-foot-2, 275-pound defensive tackle was a physical presence in the middle of the Hawks defense. Hurst finished the season with 61 tackles, including 13.5 tackles for loss and seven sacks. Hurst also showed off his athleticism in one of the more improbable performances of the season, rushing for over 200 yards in the Hawks' win over St. John's of Shrewsbury, including an awe-inspiring 75-yard touchdown run.

DL – Henry Bumpus, Sr., Concord-Carlisle
The 6-foot-6, 218-pound defensive end was one of the more imposing physical presences in the state, as well as an important part of C-C's rushing attack at tight end. The senior captain helped to guide the Patriots to a Division 3 Super Bowl championship. A feared rusher off the edge, Bumpus finished with 9.5 sacks and 66 tackles. He also nabbed four interceptions on the season. Bumpus will attend Brown University next year.

LB – Tim Joy, Sr., Chelmsford
The Boston College-bound 'backer was the heart and soul of the Lions defense, leading the team with 155 tackles, including eight for a loss and three sacks. The 6-foot-2, 215-pounder also had an interception in addition to three passes defensed. Joy was also a steady contributor to Chelmsford's offense, as a punishing lead blocker at full back in front of running back Eddie Sheridan.

LB – Luke Catarius, Jr., BC High
The 6-foot-1, 215-pounder lead the Eagles in tackles, despite playing 10 regular season games with 129 tackles, including 24 tackles for loss. Catarius was also a mainstay of BC High's offense, providing lead blocks at fullback in front of Preston Cooper and Deontae Ramey-Doe for the Division 1 Super Bowl champions.

LB – Vondell Langston, Sr., Everett
The Crimson Tide senior captain was an integral part of Everett's offensive and defensive units in each of their back-to-back Super Bowl championship seasons. As a linebacker, Langston was tough against the ran and a threat to drop back in coverage, coming away with three interceptions on the season. Langston tallied 15 touchdowns on the season at running back. He is undecided on his college choice.

LB – Cam Williams, Sr., Catholic Memorial
The 6-foot-2, 215-pound linebacker was named one of 50 national finalists for the high school Butkus Award, honoring the nation's top linebacker. The Penn State commit totaled 119 tackles (81 solo), including 18 tackles for loss. Wiliams was also effective in pass defense with an interception and seven passes defensed.

LB – Nick Schlatz, Sr., Bridgewater-Raynham
The Trojans' senior captain was part of a dynamic 1-2 punch at running back along with Brandon Morin, totaling nine touchdowns. Schlatz was the fulcrum of Bridgewater-Raynham's defense, which allowed just under 14 points per game this season.

LB – Dan Flink, Sr., Auburn
Flink was the heart of the Rockets' defense, which surrendered just over 10 points per game this season. He totaled 141 tackles, including 27 tackles for loss, along with seven forced fumbles, three fumble recoveries and eight sacks. Flink played running back with the same mentality he brought to his play at linebacker with 1,393 yards and 27 touchdowns in his senior season. The three-year starter was part of four Super Bowl championship teams at Auburn and is looking to study at Mass Maritime Academy next year.

DB – James Burke, Sr., Duxbury
The senior captain was a stalwart in the Dragons' defense in their back-to-back Super Bowl titles. The 6-foot, 165-pounder formed a vicious safety duo along with Reilly Naton and led the secondary with 76 total tackles (50 solo) and had three interceptions with nine passes defensed. Also a standout on Duxbury's state-title winning lacrosse team, Burke has signed a letter of intent to play lacrosse at Penn State.

DB – Quinton Perkins, Sr., Fitchburg
The 6-foot, 170-pound wideout and safety was one of the most dynamic talents in the state, nevermind Central Mass. Perkins, who holds offers from UConn and UMass-Amherst, tallied 35 tackles and two interceptions on defense. He racked up 20 total touchdowns with 10 rushing, nine passing and a kickoff return. Perkins also racked up over 1,300 all-purpose offensive yards. He also racked up 200 all-purpose offensive yards and three touchdowns in the Red Raiders' playoff loss to Leominster.

DB – Casey DeAndrade, Sr., East Bridgewater
The University of New Hampshire commit was one of the most electrifying offensive talents in the state this year, but also played lock-down corner for the Vikings. DeAndrade tallied one interception in his senior season to push his career total to 11, a testament to opponents' weariness in throwing in his direction. The multi-talented athlete tallied 22 touchdowns with nearly 1,400 all-purpose offensive yards.

DB – Obi Melifonwu, Sr., Grafton
The UConn commit was a big-play threat on both sides of the football for Grafton, leading the Indians with three interceptions. The 6-foot-4, 195-pounder also ran for nearly 1,400 yards in a shortened season along with 17 touchdowns.

RET – Chucky Ortiz, Sr. Woburn
Ortiz was a jack of all trades while taking MVP honors of the Middlesex League Large division. In racking up 24 touchdowns, Ortiz tallied two pick-sixes, and a pair punt returns and kick returns for scores. Ortiz had six interceptions on defense while finishing a shade under 1,200 rushing yards. He also handled place kicking duties for the Tanners, connecting on 15 PATs and one field goal.
Best of the Rest
A.J. Baker, Sr. WR, Swampscott
Dan Barone, Sr. QB, Holliston
Vincent Burton, Sr. RB, Blue Hills
Kenny Calaj, Jr. WR, Everett
Andrew Coke, Sr. RB, Andover
Preston Cooper, Sr. RB, BC High
A.J. Doyle, Sr. QB, Catholic Memorial
Brian Dunlap, Fr. WR, Natick
Aaron Dyke, Jr. OL, Auburn
Andrew Ellis, Jr. LB, Barnstable
Joe Epps, Sr. RB, Bourne
Theo France, Sr. RB, Barnstable
Brett Harrington, Sr. DL, Chelmsford
Jack Harris, Sr. TE, Lincoln-Sudbury
Greg Heineman, Sr. QB, Minnechaug
Damion Johnson, Sr. WR, Dennis-Yarmouth
Jordan Keli'inui, Sr. RB, Mashpee
Thomas Kleyn, Sr. LB, Concord-Carlisle
Zack Hume, Jr. LB, Nashoba
Nick LaSpada, Sr. QB, Billerica
Cam McLevedge, Sr. QB, Weymouth
Reilly Naton, Sr. S, Duxbury
T.J. Norris, Sr. RB, Longmeadow
Mike Prendeville, Sr. OG, BC High
Will Quigley, Sr. RB, Marblehead
Deontae Ramey-Doe, Sr. RB, BC High
Max Randall, Sr. LB, Duxbury
Zack Schafer, Sr. LB, Mansfield
Eddie Sheridan, Sr. RB, Chelmsford
Jarod Taylor, Jr. RB, Mashpee
Shawn Whouley, Sr. WR, Weymouth
November, 14, 2011
11/14/11
11:32
AM ET
HOW THE CONTENDERS FARED

George Craan, Sr. RB, Concord-Carlisle - Carried 28 times for 164 yards and two scores in the Patriots' 27-0 shutout of Lincoln-Sudbury.
Casey DeAndrade, Sr. RB, East Bridgewater - Ran for 116 yards on 19 carries, and returning a kickoff 71 yards to the house, in a 16-6 loss to Mashpee.
Jonathan DiBiaso, Sr. QB, Everett - Threw for 232 yards and four touchdowns, and added 97 rushing yards and a fifth score, in the Crimson Tide's 42-20 win over Malden that clinched their 17th straight Greater Boston League title. DiBiaso is now at 97 career touchdown passes.
A.J. Doyle, Sr. QB, Catholic Memorial - In the No. 5 Knights' win over Xaverian, threw for 167 yards and three scores and added 72 rushing yards and a fourth score.
Matt Montalto, Sr. QB, Dennis-Yarmouth - Completed 14 of 15 passes for 170 yards and 3 TD, and added 124 rushing yards and two more scores on just three carries, in a 42-7 win over Sandwich.
Sacoy Malone, Sr. RB, Springfield Central - Carried 14 times for 94 yards in a 34-25 win over Holyoke, the first time since the Eagles' season-opening loss to Putnam that he's been held to under 100 yards.
T.J. Norris, Sr. RB, Longmeadow - Spraing his ankle in the opening five minutes of an 18-6 win over Minnechaug. Reports have surfaced that Norris, who has nearly 1,400 rushing yards on the season, sprained it somewhat significantly.
Matt O'Keefe, Sr. QB, Duxbury - In the Dragons' 34-7 league-clinching win over Hingham, completed 14 of 25 passes for 248 yards and four scores, and also added 95 rushing yards and a fifth score.
Melquawn Pinkney, Sr. RB, Putnam - Carried 33 times for 168 yards and two scores in the Beavers' 22-12 win over South Hadley.
Armani Reeves, Sr. RB/WR, Catholic Memorial - Opened up the floodgates in the first quarter of a 33-11 win over Xaverian, with a 92-yard touchdown scamper, before Doyle took over.
Michael Walsh, Sr. QB, Swampscott - In the Big Blue's 33-15 win over Gloucester, he was 13 of 22 passing for 251 yards and four touchdowns, and carried nine times for 63 yards. On the season, the Brown commit has over 2,900 yards of offense.

ON THE RISE

Dan Barone, Sr. QB, Holliston - In the Panthers' 48-22 win over Norton, completed a perfect 7 of 7 passes for 227 yards and three scores, and added two rushing scores.
Andrew Coke, Sr. RB, Andover - Totaled 283 yards of offense and four rushing touchdowns in a 26-21 win over Lowell.
Mike Decina, Sr. QB, Hopkinton - Threw for 300 yards and six touchdowns in the Hillers' 42-13 beatdown of Westwood.
Theo France, Sr. RB, Barnstable - Last week, it was carving up the B-R defense on the ground. This week, he had 103 receiving yards and three touchdowns, in a 20-10 win over Plymouth North.
Jordan Keli'inui, Sr. RB, Mashpee - Carried 18 times for 98 yards in the Falcons' 16-6 win over East Bridgewater.
Cam McLevedge, Sr. QB, Weymouth - Threw for four touchdowns in a 50-0 shutout of Framingham, bringing his season touchdown pass total to a Division 1-best 34.
Chucky Ortiz, Sr. RB, Woburn - Did it all in the Tanners' 24-7 win over Lexington, running for two scores, throwing for another, and kicking a field goal.
Matt Owens, Sr. QB, Boston Cathedral - Threw for 270 yards and four touchdowns in the Panthers' win over Trinity Catholic that clinched the Catholic Central Small.
Quinton Perkins, Sr. RB, Fitchburg - Ran for four touchdowns in the Red Raiders' 26-15 win over Holy Name.
Karl Sery, Sr. RB, Hudson - The Bryant commit carried 34 times for 239 yards and two scores in the Hawks' 25-14 win over Clinton.
November, 7, 2011
11/07/11
11:03
AM ET
HOW THE CONTENDERS FARED

Jonathan DiBiaso, Sr. QB, Everett - Brought his career touchdown pass total to 93 in a 48-12 rout of Somerville. He completed 14 of 22 passes for 326 yards and five touchdowns.
Dan Flink, Sr. RB, Auburn - In the Rockets' 42-35 shootout win over rival Northbridge, carried 33 times for 245 yards and six touchdowns.
Nick LaSpada, Sr. QB, Billerica - In the Indians' 44-28 loss to Andover, LaSpada was 14 of 21 for 306 yards and three touchdowns, but also threw three costly interceptions.
Matt Montalto, Sr. QB, Dennis-Yarmouth - Was his usual dominant self in the Dolphins' 40-14 dismantling of New Bedford, rushing for 140 yards and passing for another 87, totaling three scores.
Matt O'Keefe, Sr. QB, Duxbury - In the Dragons' 49-0 rout of Hanover, completed 21 of 28 passes for 251 yards and six touchdowns.
Armani Reeves, Sr. ATH, Catholic Memorial - Bookmarked the Knights' 26-0 shutout of Brockton with rushing touchdowns in the first and fourth quarters.
Nick Schlatz, Sr. RB/LB, Bridgewater-Raynham - Was off to a dominant start in the Trojans' 26-20 overtime loss to Barnstable, before leaving the game in the second quarter with a concussion. Up to that point, he had 122 yards and a touchdown on 14 carries, and an interception.
Brandon Walsh, Sr. QB, North Andover - In the Knights' 35-10 win over Peabody, had racked up 84 rushing yards and two touchdowns before leaving with an injury. His younger brother, Casey, took over and finished with a touchdown on the ground and through the air.
Michael Walsh, Sr. QB, Swampscott - Racked up 240 all-purpose yards and all three of the Big Blue's scores in their 21-13 win over CAL/NEC rival Beverly.

ON THE RISE

Andrew Coke, Sr. RB, Andover - Ran for 115 yards and two touchdowns on 24 carries, in the Golden Warriors' 44-28 win over Billerica.
Jamison Craft, Sr. RB, Gardner - In the Wildcats' 41-7 rout of Groton-Dunstable, carried 22 times for 176 yards and two scores, and added two touchdown receptions.
Troy Flutie, Soph. QB, Natick - Threw for 163 yards and three touchdowns in the Red and Blue's 39-20 win over Wellesley.
Theo France, Sr. RB, Barnstable - Keying the Red Raiders' upset of Bridgewater-Raynham, carried the ball 17 times for 159 yards and a touchdown to keep the Trojans on their heels.
Geeavontie Griffith, Sr. RB, Boston Cathedral - In arguably the most are-you-kidding-me state line of the season, Griffith led the Panthers to a 44-20 win over Matignon with 10 carries for 377 yards and five touchdowns. That's an average of nearly 38 yards per carry.
Chucky Ortiz, Sr. RB, Woburn - Ran for four touchdowns in the Tanners' 39-14 win over Belmont.
John Parsons, Sr. RB, Wilmington - Accumulated 277 all-purpose yards and four touchdowns, including a 75-yard kickoff return, in the Wildcats' 47-14 win over Watertown.
Jim Perkins, Sr. RB, Millis/Hopedale - Wrapped up the Tri-Valley Small title for the Mohawks with 280 rushing yards and two scores in a 48-6 rout of Bellingham.
Deontae Ramey-Doe, Sr. RB, BC High - Propelled the Eagles to a 16-6 win over Xaverian with 206 rushing yards and two scores. In his two starts in place of the injured Preston Cooper, he has ran for nearly 310 yards.
Geraldo Rivera, Sr. RB, Leominster - Ran for 113 yards and a score on 20 carries, and added a touchdown reception, in the Blue Devils' 27-14 win over Shrewsbury.
Charles Ruffin, Sr. RB, King Philip - In the Warriors' 41-7 win over Attleboro, carried 21 times for 252 yards and six touchdowns.
November, 5, 2011
11/05/11
1:19
AM ET
By
Brendan Hall
| ESPNBoston.com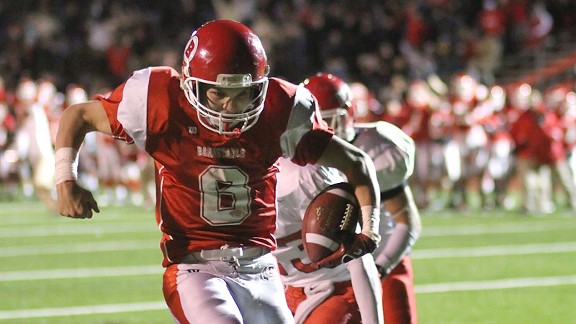 Eric Adler for ESPNBoston.comHayden Murphy's 5-yard touchdown in OT clinched Barnstable's first playoff berth since 2002, and sent the home crowd into euphoria.
HYANNIS, Mass. -- All 16 years and childish looks about him, Hayden Murphy could only offer sheepish grins to the cameras and tape recorders suddenly crowding the two feet in front of his face.
"This is my first interview, I can't talk, I'm sorry," he shrugged. "So much adrenaline."
How else should the floppy-haired slash-back have reacted after etching his name into Barnstable High's history books? The sophomore took a direct snap and darted across the goal line from five yards out, to deliver the host Red Raiders a thrilling 26-20 overtime shocker over No. 3 Bridgewater-Raynham. With the plunge, Murphy handed Barnstable its first outright Old Colony League title -- and postseason berth -- since 2002, and assured the Trojans no post-Thanksgiving football for the first time since 2008.
The call on Murphy's plunge was one that had worked for most of the second half for the Raiders (5-4, 3-0). With the Trojans (6-2, 1-1) respecting the passing attack of head coach Chris Whidden's spread scheme, that often left five or six players in the box. But rather than feed running back Theo France (17 carries, 159 yards, TD) the draw in conventional manners, Whidden called up a "Wildcat" package over a half-dozen times, with junior quarterback Nick Peabody split wide and Murphy -- a wideout, but also the team's third option under center -- taking the direct snap alongside France.
On this play, a designed quarterback counter, Murphy pushed the ball into France's belly as he pushed forward, but tucked it in himself and hauled it up the middle. The bench immediately emptied, and Murphy was mobbed.
"The linemen made me a huge hole, and I just ran right through it," Murphy smiled.
Said head coach Chris Whidden of the Wildcat strategy, "We've been repping it a lot in practice with Hayden, and as effective as it was, we kept going with it. Nick [Peabody] is one of our best blockers on the outside as a receiver, so it gets one of our best ballcarriers the ball, and one of our best blockers on the perimeter. Because either way, they're both going to be on the field, so you don't know what look we're going to give you."
But terrific as it was, the Trojans nearly pulled this one out after Branden Morin punched it in from five yards out with 2:09 left, to knot the game at 20. The Raiders fumbled the handoff at the Trojans' 14, but were able to force a three-and-out and take over at their own 37 with 52 seconds left.
Peabody marched the Raiders into B-R territory with two completions to James Burke, and with six seconds left Tom Mullen came in to attempt a 51-yard field goal. The sophomore's kick had the distance, but came up wide left.
B-R took the ball first in overtime, and on fourth down missed a short field goal attempt to give way to Murphy's heroics.
Concussion for Schlatz:
B-R head coach Dan Buron confirmed that senior captain and running back/linebacker Nick Schlatz went down with a concussion early in the second quarter.
An ESPNBoston preseason and midseason All-State selection, Schlatz scored on the very first play of the game, taking a sweep around the right 73 yards for the Trojans' initial 7-0 lead. He suffered the injury in the Trojans' first offensive series of the second quarter, getting stopped by Barnstable junior linebacker Andrew Ellis trying to convert a third and goal. The very next play, quarterback Brad Delulis rolled to his left and hit Eric Warbek for a two-yard touchdown pass an 13-6 lead, their final lead of the game.
Up to that point, Schlatz had 122 yards on 14 carries. He also picked off Barnstable's Nick Peabody on the Raiders' opening drive.
Fight the power:
Bridgewater kids come out of the womb rolling right, and while Buron sprinkled in some twins and trips looks out of one-back sets, the gameplan didn't deviate from those waggle and power principles that have made B-R one of the most consistent programs over the last two decades.
As usual, the Trojans looked to the stretch the field horizontally, with a convoy of blockers making room downfield. But the Raiders' linebacking corps was on its A-game tonight, between Ellis, Bryan Hardy and Ryan Litchman. After Schlatz's 73-yard scamper to start things off, the Raiders didn't allow another Trojans gain over 20 yards.
"Against Mansfield [last week, a 34-33 overtime loss], we struggled on anything C-gap and out," Whidden said. "So I put a little twist to our three-man front defensively, where Litchman's able to flow free, and I think that makes your blocking schemes a little bit more difficult. Now it's Andrew, Bryan or Ryan, one of the three of them is going to a little more space to roam."
Frenetic France:
One of the criticisms of Barnstable early in the season was that it was a team perceived to abandon the run too quickly when playing from behind.
And while Peabody deserves plenty of praise for the job he's done since taking over for the injured D.J. Crook under center, equal amounts need to be heaped the way of France's, for the balance he's given the Raiders this year out of the backfield. No longer a pass-happy bunch, the Raiders have often gone to France for draws and counters, to keep the defense honest when they leave too many players out of the box.
Witness France's 50-yard touchdown run late in the second quarter, a simple draw play in which he put on the burners once he got to the second level and blew by the safeties.
Raiders' playoff opponent set:
Lincoln-Sudbury beat its archrival Acton-Boxborough tonight, 21-14, to clinch their second straight Division 1A Playoff berth. They will face the Red Raiders, who will be looking for their first Super Bowl championship since beating BC High for the Division 1 title in 1999.
BARNSTABLE 26, BRIDGEWATER-RAYNHAM 20
BR (6-2, 1-1) 7 - 6 - 0 - 7 - 0 --- 20
BA (5-4, 3-0) 6 - 7 - 7 - 0 - 6 --- 26
First Quarter
BR - Nick Schlatz 73 run (Kevin Wadsworth kick) 10:42
Barn - Theo France 4 run (kick failed) 2:57
Second Quarter
BR - Eric Wabrek 2 pass from Brad Delullis (pass failed) 4:51
Barn - Theo France 50 run (Tom Mullen kick) 3:54
Third Quarter
Barn - Tedaro France 9 pass from Nick Peabody (Mullen kick) 6:17
Fourth Quarter
BR - Branden Morin 5 run (Wadsworth kick) 2:09
Overtime
Barn - Hayden Murphy 5 run
November, 3, 2011
11/03/11
9:35
PM ET
By
Brendan Hall
| ESPNBoston.com
HYANNIS, Mass. -- In what is rumored to be the final year of the Old Colony League, can the Barnstable Red Raiders end No. 3 Bridgewater-Raynham's streak of league titles?

Two years ago, it was a coin flip at a Friendly's on the Cape that ended the Raiders' playoff hopes. Last fall, the Raiders traveled up to Bridgewater and were promptly handed a 50-14 beating, as the Trojans went on to the Div. 1A Super Bowl title game. Needless to say, not a lot needs to be said.



October, 29, 2011
10/29/11
2:14
AM ET


MANSFIELD, Mass. – For a time, Mansfield's second-stringers lined up against Barnstable's first-teamers in the fourth quarter of Friday night's game.

Then, what Hornets head coach Mike Redding aptly called "a playoff game with no implications" turned into exactly that after the Red Raiders put up 17 unanswered fourth-quarter points to tie the game 27-27.

In the end, No. 11 Mansfield survived with a 34-33 victory in overtime, running their record to 7-1. It was more of the usual from perhaps the state's most entertaining team.

"Well, we hadn't done overtime yet this season," Redding commented on the Hornets' rash of close shaves this year. "It's always something."

The Hornets held a three-score lead as late as the three minute mark of the fourth quarter.

But Barnstable junior quarterback Nick Peabody engineered two quick touchdown drives, both culminating in passing scores to Tedaro France. After Terrence Mudie's recovery of an on-side kick, the Red Raiders (4-4) moved the ball down the field once more, setting up Tom Mullen's 26-yard field goal, tying the game with 31 seconds remaining.

Peabody kept the momentum rolling into overtime, punching in a 10-yard touchdown on the first play of the extra session. Playing for the win, Peabody rolled right on a bootleg on the ensuing 2-point try, but Mansfield defensive back Matt Barsomian batted down the pass.

"In our minds, they had missed the two PATs early, so we thought they were going for two anyway," Barnstable head coach Chris Whidden said of the decision to go for two. "We thought our best chance to win was to go for two, but they made a play."

Greg Donahue scored on a 5-yard run to tie the score once again and Matt Bukuras chipped in the point-after try for the win.

"The good thing is that we found a way to hang in there and win in the end," Redding said. "The bad is all those little things that let them hang around and come back and haunt you."

TWO TEAMS LOOKING AHEAD
No doubt both sides played their hardest, but both sides realized there's more to the season than the non-league matchup. So Friday's battle could serve well for both teams chances as they face critical league challenges in the coming weeks.

Barnstable, for one, has a penultimate Old Colony League contest with No. 3 Bridgewater-Raynham next week. And Mansfield hopes to close out a Hockomock large division title with two more victories.

"We wanted to get our kids out and gear up for Franklin and North [Attleborough]," Redding said, "but that backfired."

Nonetheless, Barnstable can take with it the confidence of hanging with one of the state's premiere programs year after year while building confidence in Peabody, who's filled in admirably in D.J. Crook's absence. After a slow start in the first half, when Barnstable had just 18 offensive snaps, Peabody was able to move the chains when it counted most.

"He's proved that he's a high quality quarterback," Whidden said of Peabody. "That's one position that we knew, coming into the year, that we had a lot of depth. But we just weren't aware how good he could be and we didn't realize we were going to have to use him."

VIVE LA FRANCE
Whether its Theo France in the running game or Tedaro France streaking down field to snatch a pass, the Red Raider brothers pose matchup problems for opposing defenses.

On Friday night, it was the younger France stealing the show.

"Tedaro's a playmaker and he wants the ball in his hands," Whidden said. "He's proven that he's a kid that we have to find a way to get the ball into his hands. Nick [Peabody] was a receiver before he became our quarterback, so he developed the rapport before he played that position and know it's paid off."

GUTTING IT OUT
Although they had problems containing the Hornets rushing duo of Donahue and Blayne Taylor at times, the Red Raider defense made some significant plays down the stretch that shouldn't be ignored.

Defensive lineman Jason Freih (2 sacks) was a disruptive force throughout and recovered a fumble that set up Barnstable's second touchdown of the fourth quarter.

Barnstable (4-4) 0 3 7 17 6 -- 33
Mansfield (7-1) 6 6 8 7 7 -- 34

1st quarter
M - Greg Donahue 2-yard run (kick failed)

2nd quarter
B - Tom Mullen 25-yard field goal
M - Mike Blackman 11-yard pass from George Busharis (kick failed)

3rd quarter
M - Zach Schafer 22-yard pass from Busharis (Dan Gilmore pass from George Busharis)
B - Hayden Murphy 23-yard run (Mullen kick)

4th quarter
M - Mike Farrell 6-yard run (Matt Bukuras kick)
B - Tedaro France 49-yard pass from Nick Peabody (Mullen kick)
B - Tedaro France 28-yard pass from Peabody (Mullen kick)
B - Mullen 26-yard field goal

OT
B - Peabody 10-yard run (pass failed)
M - Donahue 5-yard run (Matt Bukuras kick)
October, 10, 2011
10/10/11
10:52
PM ET
LONG LIVE THE ROCKETS…?
Call it a fluke, a trap game, or just plain bad night for special teams coverage. However you choose to draw it up, the nation's third-longest active win streak was snapped last Friday night at 41 games.
Unranked Shepherd Hill played foil to SWCL rival No. 5 Auburn, upsetting them 32-22, thanks to a series of long runs. Kenny Mardirosian returned a kickoff 85 yards to the house in the third quarter, and then Brad Picard broke through for a 60-yard touchdown scamper to start the fourth quarter with a 26-7 lead. When the Rockets responded with a 35-yard touchdown pass from Drew Goodrich to Connor Fuller, the Rams immediately fired back with a 51-yard run by Anthony Wilga, for a 32-13 lead and essentially the game.
Aberration? Of course. This is a stout Rockets defense that is sturdy in the trenches and, quite frankly, doesn't give up many long gains.
Shocker? You bet. The Rams are always a tough out, with their vaunted Double-Wing scheme, but few predicted this (including us).
It's a period, not a comma, in the Rockets' storied history under coach Jeff Cormier; but it's hardly the end. The Rockets face Leicester and Tantasqua the next two weeks, followed by a tough three-game road swing against Northbridge, Grafton then Westborough, before the Thanksgiving matchup with Oxford/Sutton.
LIKE FATHER, LIKE SON
[+] Enlarge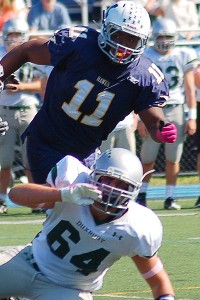 Brendan Hall for ESPN.comXaverian's Maurice Hurst Jr. is establishing himself as one of the state's premier interior defensive linemen.
The picture on the front page of the
Boston Globe's high school section
says it all: yes, that's Maurice Hurst Jr. –- all 6-foot-2, 275 pounds of him –- chasing down Duxbury wide receiver Reilly Naton all the way downfield after a big gain.
Few defensive linemen in Eastern Mass. have asserted themselves the way this junior three-technique has. In Saturday's showdown with No. 2 Duxbury, Hurst fought through double-teams all game to make quarterback Matt O'Keefe's life tough in the pocket, sacking him twice.
"He played a hell of a game," Naton noted. "He was in our face all day, getting double-teamed and making plays."
For those familiar with the Parcells-era Patriots, Hurst's father, Maurice Sr., manned the right cornerback spot for New England for seven seasons, making 102 starts and 27 interceptions; he was named to the team's All-1990s squad for his efforts.
A quick glance at
these highlights from 2011 (so far)
indicate the speed is in the blood. His backside pursuit is exemplary, with a strong bull rush to boot. In other words, keep this kid on your radar.
UNDERRATED? DIAL 4-1-3
Three weeks ago, in an interview with ESPN Boston, Putnam's Melquawn Pinkney declared the Springfield area
"very underrated"
for football, saying "I guess they don't think our players are as good or as talented, but we've got some good players coming out of here, and they'll soon see…I went to a lot of showcases over the summertime, and I'll hang with the best of them."
The reason for us coming out to Springfield, of course, was to honor the 5-foot-9 senior with our Player of the Week honors after rushing for a Western Mass record 421 yards and six scores on just 17 carries, in a 66-0 win over Agawam (four yards off the state record, too). No matter how you cut, 421 yards is pretty darn impressive.
Last season, Pinkney spelled his cousin Lavaughnte Lowe in a terrific season for the Beavers. Both went for over 1,000 yards, as Putnam accumulated over 2,600 on the ground and lost to South Hadley in the Division 2 Western Mass Super Bowl. This season, Pinkney has exploded as the Beavers' feature back, leading all rushers statewide with 1,229 yards and 19 touchdowns. In the last three games
alone
, he's racked up 1,035 yards.
Combined with Longmeadow's T.J. Norris (101 yards last week) and Springfield Central's Sacoy Malone (141), that's a trio that would make the short list on any All-Star team in Central or Eastern Mass.
Give these guys some credit –- it's long overdue.
DRAGONS DOMINEERING UP FRONT
A look down the Duxbury roster shows senior left tackle Gordon Acha at 6-foot-4, 255 pounds; and junior left guard Rob Kosharek, at 6-foot-6, 250 pounds.
A quick glance across the line tells us two things about them: 1. Those listed heights and weights are no stretch, and 2. These two kids are pretty athletic.
[+] Enlarge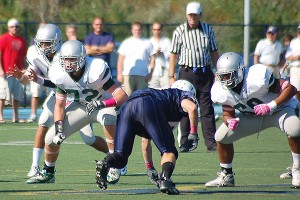 Brendan Hall for ESPN.comDuxbury's Rob Kosharerk (72) and Gordon Acha (69) are both potential Division 1 line prospects.
"They're beasts," senior wide receiver Reilly Naton said following the team's win over Xaverian. "That was a huge game for Gordon, he wants to go play college football, and he proved he can play against the great players like that.
"Kosharek, the kid's amazing. He's gonna be the heart and soul of the team next year on the line, and that's just a great way for them to go out in this game –- on top."
At the end of the day, this might be one of the state's best guard-tackle combinations; the two demonstrated fluid footwork in the passing game, and sturdy leg power in run-blocking. The two matched up with Maurice Hurst Jr. at different times, sometimes combining for double-teams, traps and chips.
Aaron Kramer, a redshirt-freshman left tackle for Boston College, is the measuring stick by which linemen inevitably get judged by in Duxbury. The 6-foot-7, 296-pounder transferred back home from BC High before his junior year, and immediately made his impact felt, helping lead the Dragons to a rout of Gloucester in the 2008 Division 2A Super Bowl and bulling them back to the playoffs a season later.
Asked if he sees shades of Kramer in Kosharek, Naton quickly concurred.
"For sure, he's definitely proven to be one of the best linemen to come through this program in a long time," Naton said. "I mean, the kid's still growing. He's huge. Kid gets bigger every day."
Head coach Dave Maimaron sees the comparison as well.
"Junior year, comparing him to Aaron, I mean yeah, there's definitely some crossover there in their skill level," Maimaron said. "They're both very athletic for their size. Aaron kept getting better, and as long as Rob keeps improving, yeah he could be a D1 kid."
The same could be said for Acha, who like Kramer, plays center for the school's basketball team. Like Kosharek -– and like Kramer before them –- Acha wears a long, lean frame with high athleticism and projectability. BC and Maryland are among the Division 1 feelers who have expressed interest in his services.
"Gordon also has great size and he's really progressing," Maimaron said. "He's real athletic. He has great feet, very similar to Aaron Kramer's, and he has the size."
THROWN FOR A LOSS
You knew something was off. As D.J. Crook, Barnstable quarterback, split out wide in a formation, you expected some kind of trick play, maybe some sort of double pass.
However, that was the last time Crook was on the field during the Red Raiders' game at New Bedford. What at first head coach Chris Whidden thought was an elbow problem, later thought to be a thumb dislocation, turned out to be a fracture of the thumb on his throwing hand.
While Crook's prospect of return is questionable (his father said he hopes to return to game form in 3 to 4 weeks) the injury seemingly will affect his assault at the state's career touchdown pass record; Crook is five off from Tommy Colombo's record of 79 touchdown passes. But more than that, Crook could be absent for the Red Raiders' Old Colony League schedule, which starts this Friday against Dartmouth.
While some on the Cape might be fearful that a promising season might have been lost on a twist of fate, fear not. We're here to provide Red Raider nation with three reasons why 2-3 Barnstable could still pull out an OCL championship sans-Crook.
Barnstable is more than a passing attack: A quick observation of the Red Raiders' opening drive against Whalers shows that the Red Raiders' attack is built on more than just their talented signal-caller. Running back Theo France nearly single-handedly cut through the Whalers' defense, capped off by a 44-yard touchdown run to give Barnstable a 7-0 lead.

An extension of pont No. 1 ... This defense is pretty darned good: Not every Barnstable win needs to be a track meet anymore. Ask any coach who's played against the Red Raiders about junior linebacker Andrew Ellis and they'll throw praise at the 5-11, 215-pounder and free safety Kevin Hardy is perhaps the grittiest player we've seen all year.

There are solutions at QB: Junior Nick Peabody filled in for Crook (promising sophomore Hayden Murphy also took a couple snaps) down the stretch. While the final score didn't exemplify a close game that was in doubt until its final moments, Peabody led the Red Raiders downfield on a couple of promising drives that were cut short by blocking penalties (including a potential game-tying score erased). While Peabody, Barnstable's top receiver, will subtract by being pulled to another position, the Red Raiders still have a deep receiving corps with Dylan Morris and Tedaro France.
October, 8, 2011
10/08/11
1:10
AM ET


NEW BEDFORD, Mass. -- It seemed as though the Barnstable defense was not going to let New Bedford running back Marcel DePina beat them by himself. The shifty Whaler back was limited to just 11 yards on 10 carries through the greater portion of three quarters in Friday night's game.

But, with New Bedford trailing 17-15, DePina broke loose in the passing game. His 48-yard connection from Myles Medeiros was a Barry Sanders-like highlight to the Whalers' 31-17 comeback win over the Red Raiders.

"It was a broken play," DePina said of the game-winning score. "My quarterback [Medeiros] got it off and we got good blocking and then I just found the right spots on the field and got to the end zone."

There were a multitude of issues at play as New Bedford (3-2) scored 24 unanswered fourth-quarter points.

First off was a risky maneuver on the behalf of Whalers head coach Dennis Golden. Trailing 17-7, Golden rolled the dice on a fake field goal pass play with the capable Mike Rapoza running on the bootleg left and hitting Nathan Ojuri in the back of the end zone with a 3-yard touchdown pass.

"It came from the fact that they'd blocked the first one," Golden said of the play call. "It was a good opportunity for us."

Next, the Whalers forced the potent Barnstable (3-2) offense three-and-out with quarterback D.J. Crook (13 of 19 for 135 yards) throwing his only pass attempt of the second half. Crook later confirmed to ESPN Boston that he dislocated the thumb of his throwing hand, apparently coming on a carry in the third quarter.

Junior Nick Peabody finished the game at quarterback for Barnstable.

"We didn't know what was wrong with D.J. to start with," Red Raiders head coach Chris Whidden said. "At first we thought there was something wrong with his elbow and then we realized it was his thumb."

New Bedford continued their onslaught behind a highly efficient game from Medeiros, who finished 17 of 26 for 227 yards and one touchdown to go along with 53 rushing yards on six carries.

Medeiros put the icing on the Whalers' victory with a perfectly placed 15-yard touchdown pass to Jaraud Wood, putting up a jump ball that only the rangy receiver could pluck.

SCREEN GAME
The Red Raiders offense was prodigious in the first half and beyond in its screen game. Running back Theo France (11 carries, 81 yards, TD) found big holes underneath on the New Bedford defense with wide receiver Dylan Morris catching everything in sight in the flat.

It looked as though Barnstable had gotten yet another big play with a bubble screen on what would've been a 68-yard touchdown by France to tie the score. However, the play was called back on an illegal block penalty. The Red Raiders had yet another huge play whistled dead two plays later.

After those opportunities fell by the wayside, the Red Raiders were done in.

MOVING FORWARD
This Barnstable-New Bedford series has yielded some classics in recent memory with games in each of the last four years being decided in the fourth quarter, along with a couple on the game's final play.

In the bigger picture, this was a potential season-shifting win for the Whalers. After getting roughed up by Top 10 opponents in Duxbury and Bridgewater-Raynham in the last two weeks, New Bedford was eager to snap a two-game losing skid.

"This gets our wheels turning," junior end Tyler Arena said. "It boosts our morale and maybe next week we keep on rolling."

As for Barnstable, the question surely to follow the Red Raiders in the coming weeks is the health of Crook. While Peabody, a natural wide receiver, showed that they're in capable hands indeed if Crook cannot play, the loss of one of the top quarterbacks in the state would surely hurt.

SHAKE 'N' BAKE
As Golden puts it, DePina can simply do things on a football field many cannot.

"That's what Marcel does best," Golden said, commenting on DePina's 48-yard score. "We don't have anybody who can change directions like him; he can do it with the best of them. We're fortunate he's on our team."

On the play, DePina shook no fewer than three Red Raiders defenders clear out of their boots on the way to rumbling upfield for the game-winning score. He'd also turned in a key 28-yard gain on a screen from Medeiros several plays earlier to set up the score.

While Barnstable, with talented junior linebacker Andrew Ellis, showed that DePina, if contained to running in between the tackles, can be slowed, there's simply nothing a defense can do when he hits the open field. Coupled with the hard-nosed running of Rapoza (9 carries, 60 yards), that makes the Whalers that much more difficult to stop.

Barnstable (3-2) 7 3 7 0 -- 17
New Bedford (3-2) 7 0 0 24 -- 31



1st quarter
Barnstable Theo France 44-yard run (Tom Mullen kick)
New Bedford Mike Rapoza 7-yard run (Mike Rapoza kick)

2nd quarter
Barnstable Tom Mullen 35-yard field goal

3rd quarter
Barnstable Hayden Murphy 29-yard run (Mullen kick)

4th quarter
New Bedford Nathan Ojuri 3-yard pass from Rapoza (Tyler Arena pass from Rapoza)
New Bedford Marcel DePina 48-yard pass from Myles Medeiros (Jaraud Wood pass from Medeiros)
New Bedford Wood 15-yard pass from Medeiros (DePina pass from Medeiros)
September, 17, 2011
9/17/11
2:25
AM ET
By
Brendan Hall
| ESPNBoston.com
SOUTH YARMOUTH, Mass. -- Of all the numbers that usually get piled up when these two Cape Cod rivals square off, here's the one that ought to stick out the most: five.

Yes, just five points separate Dennis-Yarmouth and Barnstable in their last three meetings together, the latest another instant classic won in the waning minutes by D-Y, 28-27, to make it two straight in this series for the Dolphins.

It was a packed atmosphere at Dennis-Yarmouth with close to 5,000 lining the fences and bleachers for what is becoming one of the Cape's biggest rivalries. And once again, Dolphins dual-threat quarterback Matt Montalto had a flair for the dramatic in front of a big crowd. It wasn't his most well-oiled game, but he still ended up with 200 yards through the air and three touchdowns, including the go-ahead with eight minutes left in the contest.

"My line stepped up on that play, that's all I've got to say," Montalto said. "They stepped up. They gave me the three yards I needed. That was one of the biggest plays of the game, three yards [and] I reached out, saw the ball go over the goal line and knew I was in."

A botched D-Y punt return with five minutes to go in the third quarter gave Barnstable new life at the Dolphins 20, and they capitalized, with Kadeem Bailey (84 all-purpose yards) taking an option pitch from 10 yards out to give the Red Raiders a 21-20 lead late in the quarter. But the Dolphins responded with a seven-minute, 12-play, 83-yard scoring drive, aided by a late hit on fourth down deep in Raiders territory. Montalto plunged through the middle on an option keeper from five yards out, stretching across the goal line for the score, and then found Dylan Hodsdon at the near pylon on the point after for the 28-21 lead.

Folks in Hyannis will be talking about head coach Chris Whidden's decision to go for two rather than kick an extra point, after Theo France's three-yard touchdown dive with 2:11 to go. Quarterback D.J. Crook (273 passing yards, 2 TD) was stopped short of the goal line on an option keeper, and the Dolphins ran the clock out with the help of a few key first down dives from fullback Joe Furness.

For the record, Whidden said the decision had nothing to do with his kicker, who missed a 25-yard field goal earlier in the contest but was 9 for 9 on extra points in last week's 65-0 blanking of Durfee.

"We win as a team, we lose as a team," Whidden said. "I didn't want to put it on one kid's foot and have him responsible for the whole outcome. The coaches, we talked about it during the drive, and it's on the whole group, not just one kid."

He continued, "I have all the confidence in the world in him, he's a great kicker. It's just, it's a team effort, and I wanted to make sure as many people as possible felt accountable for what we did."

Said D-Y head coach Paul Funk, "I would have went for two, too."




Some other key points from the game:

Johnson on elite status: After tonight's first-half performance, we should go ahead and stitch Damion Johnson's name along with Montalto's into the ESPNBoston Mr. Football Watch List. The 6-foot-2 senior ended up with seven catches for 125 yards and scores, and has put himself into the conversation as one of the state's most talented wideouts -- if not in the very least one of the most physical at jump balls.

Early on, the Raiders pressed Johnson tight in man coverage (literally, you could probably stick a credit card between him and his defender) only to watch him rip through his man, charge down the sideline and pluck a high fade out of the air. When they backed off, he took advantage of the space and made a few nice catches off 10-yard curls.

In the first half, Johnson caught two such fades for touchdowns. A third one, muscled through double-coverage, set up Joe Furness' one-yard plunge that gave D-Y a 14-0 first-quarter lead.

Whidden is a defensive guy, and as one might expect the Raiders adjusted by shading the safeties and deploying double, sometimes triple coverage. Johnson had two catches in the second half, for 39 yards. But a bold statement was made tonight.

"I knew he was one of their best players, if not their best player, and I knew he was a very, very good player -- [but] I think I even underestimated him," Whidden said. "He's a phenomenal player. If I'm a college coach and I'm anywhere near Cape Cod recruiting, I'm all over Damion Johnson. He's a hell of a football player."

Crook gets rolling: Last year's meeting between these two schools was a forgettable one for Crook, who threw five picks (including one to Montalto, who didn't play any defense tonight). In his fourth and final year under center, the 6-foot-2 Crook is not yet a finished product, but gained respect from the opposition tonight, some of the players remarking, "He played a lot smarter."

At times last year, Crook seemed to rely on short passes to All-State wideout Jordan Henderson and was thought to be mechanical at times. Tonight, he distributed the ball evenly to a half-dozen receivers, including Dylan Morris (six catches, 99 yards), Tedaro France and Bailey.

Barnstable's receiving corps boasted advantages both in size and speed against the Dolphins' secondary, and Crook was able to hit them in stride, finding the most success on crossing routes. When flushed out of the pocket, he was able to turn things around and connect with one of several speedy targets for a deep pass downfield.

For those keeping score at home, Crook is now 16 touchdown passes away from the state all-time record.

Promising against the pass: At 5-foot-9 and a twig-like 150 pounds, junior Kevin Hardy doesn't look the part of a ball-hawking free safety. But he, along with fellow junior safety Ryan Litchman (also undersized at 5-foot-9 and 170 pounds), made things difficult back there. Couple that with two juniors at linebacker in Bryan Hardy and Andrew Ellis (a tri-captain and Division 1 prospect), and you have a stout defense that could be stingier come Old Colony League play.

Fleeting France: Theo France ripped off runs of 33 and 10 yards to start the second half to keep the D-Y defense honest, and finished the night with 69 yards rushing and another 23 receiving. Whidden was encouraged by his performance, which could provide the right balance to an offense that's been pass-happy the last few seasons.

"He's a tough kid," Whidden said. "He proved last week and this week that we can be a multi-dimensional team. I mean, he put a lot of work in during the offseason, and he wanted to get to the point that he's at. He's a threat. He gives us a good run game."

Slowing it down: D-Y has been known in the past few years to go with a high-octane, no huddle pace. Tonight was a different sight, Montalto getting the play in from the sidelines and reporting to a huddle.

Allow Funk to explain:

"We went no-huddle against Taunton [a 41-7 win last week]. It's hard against them [Barnstable], it's a track meet and we don't have enough kids. We will be no-huddle throughout the course of the year. We pick our shots, but there's so many kids on that team playing that it's tiring. You gotta pick your shots. We're playing everybody both ways."

DENNIS-YARMOUTH 28, BARNSTABLE 27
BA (1-1) 0 14 7 6 --- 27
DY (2-0) 14 6 0 8 --- 28

First Quarter
D - Damion Johnson 10 pass from Matt Montalto (John Terrio kick) 8:46
D - Joe Furness 1 run (Terrio kick) 5:12

Second Quarter
B - Nick Peabody 17 pass from D.J. Crook (Tom Mullen kick) 3:38
B - Tedaro France 21 pass from Crook (Mullen kick) 1:30
D - Johnson 18 pass from Montalto (kick failed) :27

Third Quarter
B - Kadeem Bailey 1 run (Mullen kick) 7:46

Fourth Quarter
D - Montalto 5 run (Dylan Hodsdon pass from Montalto) 8:25
B - Theo France 3 run (rush failed) 2:11