Boston High School:

Thomas Flibotte
June, 29, 2011
6/29/11
2:21
PM ET
STARTING 10

Attack - Kane Haffey, Duxbury
The Duxbury captain helped lead his team back to the top of Massachusetts' Division 1 ranks, scoring six goals in the title game against St. John's Prep. The All-American scored 43 goals with 18 assists this season and also helped Duxbury football to another Division 2A Super Championship in the fall. Haffey is headed to Phillips Exeter for a post-graduate year.

Attack – Connor Hall, Lincoln-Sudbury
The Warriors' senior captain was named Dual County League Player of the Year after tallying 56 goals and 55 assists. The Eastern Mass. All-American was also named the Dual County League's Player of the year and will attend Union College next year.

Attack – Will Stenberg, Needham
The two-time All-American finished his career with 432 points for the Rockets after posting 67 goals and 54 assists this season. Stenberg was also a three-time Eastern Mass. All-Star. The Rockets' captain received Needham's Leadership and Community Service award and will play lacrosse at SUNY-Albany.

Attack – Grant Whiteway, Billerica
The prolific Indians captain became one of just six high school players to ever crack the 500-point plateau, finishing with 539 points. Whiteway, a UMass-Amherst commit, also broke his single-season state scoring record (which he'd previously broken last year) with 182 points, including 116 goals, this year.

Midfield – Bryan Barry, Duxbury
The All-American wrapped up his senior season with 32 goals and 18 assists while helping the Dragons to their eighth state title in the last decade. Barry was also captain of Duxbury's hockey team and will continue his lacrosse career at Fairfield next year.

Midfield – Thomas Flibotte, Cohasset
The two-time All-American finished his Skippers career with 285 points, including a 75-point season as a senior. Flibotte, who was also a standout on Cohasset's football and wrestling teams, will play a prep lacrosse season with Deerfield Academy next year.

Midfield – Jimmy O'Connell, St. John's Prep
The senior led the Eagles to their second straight D1 finals appearance, scoring 54 goals for 60 points. The National Honor student will attend Trinity College in the fall.

Defense – Michael Anastos, Concord-Carlisle
The All-American and three-year starter led the Patriots to a 20-2 season and an Eastern Mass. D2 finals appearance. The Patriots' captain also served in the same role on C-C's hockey team and was a DCL/MVC All-Star defenseman. The two-time Dual County League lacrosse all-star will attend Dennison University in the fall.

Defense – Peter Willauer, Duxbury
The senior captain and All-American built the foundation of the Dragons defense, leading Duxbury to its eighth state title in the last decade. The National Honor Society member will attend Colby College in the fall.

Goaltender – Connor Darcey, Wellesley
The junior All-American netminder led the Raiders to a 71.0 save percentage while being named the Bay State League's MVP. The Penn State commit was also aggressive from the crease, scoring a goal and tallying and assist while scooping up 30 ground balls.
SECOND TEAM
Attack – Kevin Blair, Hingham
Attack – Klye Guilbert, Walpole
Attack – Paul Hellar, Duxbury
Midfield – Sam Lawrence, Wellesley
Midfield – Billy Polk, Dover-Sherborn
Midfield – Kurt Hunziker, Masconomet
Midfield – Mark Riley, Needham
Defense – Mike Curley, Billerica
Defense - Eric Marcantonio, Lexington
Goaltender – Jeff Williams, Dover-Sherborn
BEST OF THE REST
Sam Aronson, G, Medfield
Seth Bird, A, Concord-Carlisle
Peter Crane, A, Wellesley
Ben Cook, D, Andover
P.J. Copponi, A, Dover-Sherborn
Dan Delaney, M, Lincoln-Sudbury
Jared Fong, G, Weston
Todd Galvin, A, BC High
Ty Martina, M, Marshfield
Nick Morello, A, Billerica
Connor Nugent, A, Framingham
Joey Pasquale, A, Weston
John Powers, A, Marshfield
Max Randall, D, Duxbury
Garrett Read, D, Medfield
Connor Roddy, A, Medfield
Jack Rodgers, G, Acton-Boxborough
Will Siefert, M, Duxbury
Cam Slatton, A, Billerica
Greg Stamatov, G, Foxborough
Paul Tocci, D, Lincoln-Sudbury
Tim Towler, M, Masconomet
BEST LONGSTICK MIDFIELDER
Reilly Naton, Duxbury
BEST FOGO (Face-off, get-off)
Clay Richard, Medfield
COACH OF THE YEAR
Jim Wilcon, Weston
June, 1, 2011
6/01/11
2:22
PM ET
The Eastern Mass boys' lacrosse All-Americans along with Academic All-American honors were announced today.

The honorees, as selected by Massachusetts coaches through U.S. Lacrosse, the national governing body of the sport, are list below:

EASTERN MASS ALL-AMERICANS
Mike Curley, Billerica, D, Sr. (Plymouth State)
Grant Whiteway, Billerica, A, Sr. (UMass)
Thomas Flibotte, Cohasset, M, Sr. (Deerfield)
Michael Anastos, Concord-Carlisle, D, Sr. (Dennison)
Billy Polk, Dover-Sherborn, M, Jr.
Jeff Williams, Dover-Sherborn, G, Sr. (St. Lawrence)
Bryan Barry, Duxbury, M, Sr. (Fairfield)
Kane Haffey, Duxbury, A, Sr. (Exexter Academy)
Pete Willauer, Duxbury, D, Sr. (Colby)
Kevin Blair, Hingham, A, Jr.
Eric Marcantonio, Lexington, D, Sr. (Laselle
Conor Hall, Lincoln-Sudbury, A, Sr. (Union)
John Powers, Marshfield, A, Sr. (Assumption)
Kurt Hunziker, Masconomet, M, Jr. (UMass)
Tim Towler, Masconomet, M, Jr.
Mark Riley, Needham, M, Jr.
Will Stenberg, Needham, A, Sr. (Albany)
Jimmy O'Connell, St. John's Prep, M, Sr. (Trinity)
Kyle Guilbert, Walpole, A, Sr. (Merrimack)
Conor Darcey, Wellesley, G, Jr. (Penn State)
Sam Lawrence, Wellesley, M, Sr.

ACADEMIC ALL-AMERICANS
Calvin Williams, Wayland
Peter Trombly, Acton-Boxborough
Sean Carroll, Hull
John Carrier, Cohasset
Colin Clark, Marshfield
Daniel Cashman, Pentucket
Kevin Dunn, Pentucket
Benjamin Cook, Andover
Evan Katz, Hopkinton
Peter England, Milton
Conor Nugent, Framingham
Jay Rosenberg, Milton
Edan Lewis, Gloucester
June, 1, 2011
6/01/11
1:09
AM ET
With the boys' lacrosse MIAA tournaments underway, we took a minute to break down the brackets and gaze into the crystal ball for some predictions.
As always, tell us what
you
think.
EASTERN MASS
Division 1
Favorites:
Duxbury (15-2), Billerica (18-2)
Sleepers:
Marshfield (20-0), St. John's Prep (10-7), BC High (14-4), Masconomet (17-1).
Barboza's take:
Many felt St. John's Prep's victory over Duxbury in last year's state championship game was still an upset, even after the Eagles had beaten the Dragons during the regular season. This year, Duxbury looks to reclaim its crown and, unlike last year, nobody has touched them in Massachusetts with all the third-seeded Dragons' losses coming out of state. Perhaps their closest opponent, No. 2 seed Billerica didn't take precedent from Prep's run last year, but the Indians may have laid the blueprint to upsetting Duxbury while leading the Dragons through three quarters before losing a 12-9 decision in an early April meeting. Unfortunately, the teams can only meet again in the D1 semifinal, so there's no chance for a rematch at Harvard Stadium. That also means the opportunity is ripe for another challenger to arise from the other side of the bracket with Marshfield (No. 1 seed), Prep (No. 9), Masconomet (No. 4) and Needham (No. 5) joining in the fray. It would be a rather unlikely path for the Eagles, who as recently as two weeks ago looked as though they might not qualify for the tournament, to return to Harvard. But fans might just get treated to another Duxbury-Prep classic, like last year's overtime thriller.
Prediction:
Prep over Needham, Duxbury over Billerica in semifinals; Duxbury over Prep (and redemption is found) in the final.
Division 2
Favorites:
Wellesley (16-0), Concord-Carlisle (16-1), Hingham (16-4).
Sleepers:
Walpole (13-4), Reading (13-5), Winchester (12-5).
Barboza's take:
Many felt that Division 2 helded the deeper pool of talented teams in Massachusetts this year. No. 1 seed Wellesley, No. 2 C-C and No. 3 Hingham were all fixtures in the top 10 of the ESPN Boston Top 25 poll throughout the season. The Bay State champion Raiders have been perhaps the state's most consistent team wire-to-wire and are led by conference MVP and Penn State commit goaltender Conor Darcey. The key to this tournament could be who isn't there with talented C-C attack Seth Bird lost to a broken collarbone, so the question will be if Tom Dalicandro's team has enough offensive firepower left to make a long run. You can never count out perennial power Hingham, which was a Eastern Mass. finalist last year. The darkhorses include Walpole behind a healthy Kyle Guilbert and Charlie Hardy's young but pesky Reading squad.
Prediction:
Wellesley over Reading, Concord-Carlisle over Hingham in semifinals; Wellesley over C-C in final.
Division 3
Favorites:
Dover-Sherborn (16-2), Weston (16-2), Cohasset (13-5).
Sleepers:
North Reading (18-2), Hamilton-Wenham (11-5), Arlington Catholic (15-4).
Barboza's take:
Does Dover-Sherborn have the monkey off its back now that the Raiders put down Medfield and claimed the TVL title for the first time? The top-seeded Raiders enter the tournament as the favorites but face an explosive Weston team behind Joey Pasquale and you can't forget about the defending champion Skippers of Cohoasset with the uber-talented Thomas Flibotte. Cape Ann League entrants North Reading and Hamilton-Wenham should also prove to be tough outs as the fourth and fifth seeds, respectively.
Prediction:
Dover-Sherborn over Hamilton-Wenham and Cohasset over Weston in semifinals; Cohasset over Dover-Sherborn in final.
CENTRAL MASS
Division 2
Favorites:
Algonquin (16-4) and St. John's of Shrewsbury (13-5)
Sleepers:
Oakmont (15-1) and Grafton (18-2)
Barboza's take:
Even though Algonquin takes top seed in Central, the team that could end up on top is St. John's. The Pioneers took both contests against Algonquin this season and also claimed a victory over fourth seed Grafton in addition to a key win over Western power Longmeadow.
Prediction:
Algonquin over Grafton and St. John's over Oakmont in semifinals; St. John's over Algonquin in final.
WESTERN MASS
Division 2
Favorite:
South Hadley (14-4)
Sleeper:
Longmeadow (12-6)
Barboza's take:
This has traditionally been Longmeadow's tournament to lose, but if we learned anything from the regular season it's that Western Mass was a whole new frontier this season. South Hadley has been perhaps the most consistent of the bunch, but West Springfield's early win over Longmeadow set a whole row of dominoes in motion. So you have to think the Terriers are very much in this. But, in the end, the sectional still goes through the Lancers.
Prediction:
South Hadley over Longmeadow.
May, 11, 2011
5/11/11
12:00
AM ET
COHASSET, Mass. -- When Thomas Flibotte gets going, he's nearly unstoppable.

The Cohasset boys' lacrosse All-American had another one of those nights, striking for five goals against No. 7 Hingham on Tuesday. And, after watching Flibotte notch a hat trick in the second quarter while falling behind the 12th-ranked Skippers by four goals, the Harbormen could have packed it in.

"But we didn't buckle," Hingham head coach John Todd said.

The Harbormen scored four straight goals to open the second half and slowed Flibotte down just enough to give themselves a chance.

Hingham held an 11-10 lead with less than a minute to play when Flibotte held the game on his stick. The Bucknell commit streaked in on the wing and let off a shot from 15 yards out, but Harbormen goaltender Derek McInnis made the save, preserving the victory.

"You couldn't ask for anything more," Todd said. "Maybe it's that we matched up well against them. But Thomas Flibotte is amazing. I think we had all we could handle in just trying to be with him, never mind controlling him."

Hingham (11-2) had its own offensive stars with junior captain Kevin Blair collecting a six-point game (3 goals, 3 assists). Karl Weller chipped in a three-point game with two goals while Noah Ellis also netted two goals, including the game-winner.

Kyle Livingstone, who missed significant time with an injury, marked his return to the Cohasset lineup with a two-goal game.

The Harbormen emerged from a two-goal halftime deficit to score the first four goals of the second half.

Blair figured prominently in the comeback. He set up David Freitas' goal to start the third quarter before tying the game with 37 seconds remaining in the period.

Blair netted his hat trick one minute into the fourth, providing Hingham with a 9-7 lead. John McGoldrick and Flibotte countered to tie the game 9-9, but Hingham captain Tim Driscoll broke the deadlock with 5:30 to play.

Ellis netted the game-winner with 2:47 remaining with an assist by Blair. Undaunted, Flibotte responded to draw the Skippers (10-4) with a goal with 1:32 to play.

However, Cohasset wasn't able to find the net again despite having three offensive possessions within the final minute. The best chance came on Flibotte's break with 25 seconds remaining with McInnis making a sensational save.

"That was a huge save," Todd said. "But then we were able to clear the ball. We made some stupid mistakes within a minute there. We stepped out of the box when we could've gotten a little more time off the clock.

"But, hey, it all worked out."
April, 27, 2011
4/27/11
12:16
AM ET
By
Brendan Hall
| ESPNBoston.com
DUXBURY, Mass. -- It was a special return for Cohasset's T.J. Bicknell, when the lights went up last night on Duxbury High's FieldTurf. So special, that Skippers head coach Tom Flanagan had made the senior goalie honorary captain for this one game with No. 1 Duxbury.
And while the ex-Dragon dazzled between the pipes all night, its was his ex-teammates who got the best of this night. The Skippers took a quick 2-0 lead in the game's opening minutes before Duxbury answered with eight unanswered goals to take this one going away, 8-2, to remain undefeated within the state.
[+] Enlarge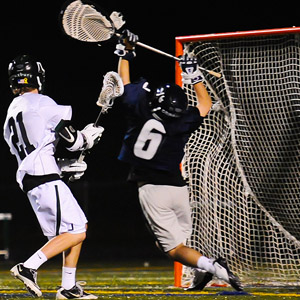 Jim Tarbox for ESPNBoston.comTBD
"We just had to hit the shots, we were getting them," said junior long-stick midfielder Reilly Naton, who had a goal and two assists. "I mean, he [Bicknell] played great. Gotta give T.J. credit, we've all grown up with him. But it just came down to shooting and scoring."
Indeed, Bicknell -- who transferred out of Duxbury after three years as the backup goaltender -- stole the show for periods of time in this one, stuffing attackers at the doorstep and showing off his quick reflexes against a barrage of mid-range shots. Head coach Tom Flanagan praised the goalie's poise, calling him "just an amazing player."
"He came over here to Cohasset, this was his shot, and he's done everything," Flanagan said. "It's such a great story for a senior. He's taken advantage of it, probably one of our most valuable players."
The Skippers (8-3) jutted out to a 2-0 lead with 5:06 left in the first quarter, with goals from Tom Flibotte and then John McGoldrick just 31 seconds apart. But when the Dragons (6-3) get rolling, it's a pretty thing to watch.
Kane Haffey put back a dish from Mitch Barrington, driving off a give-and-go, for the Dragons' first score two minutes after McGoldrick's tally. He found the back of the next again with four minutes left in the second quarter, taking a pitch from Will Siefert from behind the net, to knot it at 2.
The upshift then came with 30 seconds to go in the half, this time Siefert taking a Naton dish in transition down the left flank and beating Bicknell top corner, far side for the 3-2 halftime lead.
"In the second quarter, we kinda turned it up," Siefert said. "We started slow. That third goal got us the momentum shift, got us back in the game. [After that] we just went out there and started playing better lacrosse."
Said Duxbury head coach Chris Sweet, "I think at halftime, they figured out that Cohasset's a really good team, and we have to play really hard and physical, with energy and a lot of effort, to beat a team like that. That's what happened in the second half."
The Dragons rattled off five more goals in the final two quarters, including two more from Siefert, to close the game out.
April, 16, 2011
4/16/11
8:02
PM ET
By
Bruce Lerch
| ESPNBoston.com
COHASSET, Mass. -- The Chowda Cup tournament will always be held close in the heart of Marshfield head coach Rick Bagby.

Four years ago, when Bagby was the head coach at Scituate, he teamed with Scituate native Bill Gray to put the two-day lacrosse tourney together to celebrate the memories of five players from Scituate and Cohasset who tragically passed away well before their time.

Former Cohasset players Bourke Corcoran and Justin Langham were both lost to car accidents in their youth, as was Scituate's Tim Mahoney. Former BC High players from the area P.J. Trendowicz and Ryan Flannery are also commemorated and played for both Bagby and former Cohasset coach Stew Curran when both coached the Eagles.

Fittingly, one of the tournament's founders was able to raise the championship trophy for the third time as a coach. Will Contento stopped 14 shots and was named Most Valuable Player of the tournament, while Ty Martina, Connor Bagby, John Powers and Matt Entwistle each scored two goals as No. 14 Marshfield defeated No. 12 Cohasset, 9-4, in the Chowda Cup final at Cohasset's Alumni Field.

"They were such great kids," said Coach Bagby of the five players in whose honor the tournament is held. "We had a speech before the first games and I told all four teams to play with a lot of pride and a lot of passion. Respect the game, respect your opponents, the referees, the coaches. That's how those kids played the game. I would do anything to have them back here with us. I get choked up talking about it. I miss those guys so much."

Marshfield (5-0) set the tone on defense, and with two starters out had to rely on reserves Brennan Quackenbush and Luke Cavallaro to fill those minutes alongside Ryan Connors, Jake Norris and Colin Clark.

Long stick midfielder Josh White played brilliantly within the confines of the Rams' "Tiger Zone" defense, shadowing Cohasset star and returning All-American Thomas Flibotte while his teammates stepped up to help with double and triple teams. A lot of the extra attention paid to Flibotte was because the Skippers were without do-it-all midfielder Kyle Livingstone, who suffered a broken thumb a week ago against Barnstable.

Behind them was Contento, a first-year starter playing in his biggest game thus far. The senior proved more than up to the task, joining his defensive mates in holding the Skippers scoreless in the first half.

"It was incredible. It's my first experience as a goalie in the Chowda Cup and I can't explain how good a feeling this is," Contento said. "My defense was incredible today. We were missing a couple of starters but I wasn't even worried going into the game because I knew those guys could step in and do what they did and they played incredible."

John McGoldrick scored twice for Cohasset, with Flibotte and Alex Evans getting the others.

"It's bittersweet because I coached with these guys last year," added Cohasset coach Thomas Flanagan, who was a Rams assistant after three years as the head coach at Norwell. "They came in and played hard. We had a couple of good looks in the beginning and we didn't score, and when they had their looks, they did score. That was the big difference."

In the consolation game, Sharp Jones scored four goals and freshman Jake Reynolds made 11 saves as Scituate (4-1) topped Catholic Memorial, 10-3. John Brown and Harold Gerbis each added a pair for the Sailors.

All-Tournament Team: Will Contento (MVP), Ty Martina, Connor Bagby, Josh White and Ryan Foohey (Marshfield); Sam Leahy, T.J. Bicknell, Thomas Flibotte and John McGoldrick (Cohasset); Tucker Ciessau, Lucas Barisano and Jake Reynolds (Scituate); Chris Ryan and Miles McCarthy (Catholic Memorial).
October, 16, 2010
10/16/10
2:17
AM ET


COHASSET, Mass. – Mike Driscoll was strewn out across the field with the crown of his helmet touching the goal line, his facemask planted into the turf. It was as though the air had slowly been let out of a balloon.

It was only the second quarter, but with Friday night's South Shore League duel of unbeatens between Driscoll's Rockland Bulldogs and the Cohasset Skippers shaping up to be a low-scoring struggle, he knew failing to get in on the two-point play could be costly.

"I was hoping it wasn't going to come down to that. Thankfully, our kicker, Ricky Witt, put that kick through."

Down 8-6 at halftime, after Driscoll fell an inch short of tying the game in the second quarter, the Bulldogs emerged from the locker room refocused and intent on taking it to the Skippers. Rockland embarked on an Odyssean 15-play drive that spanned nearly eight minutes of the third quarter, led by the bruising runs and blocks of Driscoll.

The result of that drive — a 20-yard field goal by Ricky Witt — coupled with Driscoll's 117 yards on 23 carries and the persistence of Rockland's defensive front would make the difference in the Bulldogs' 9-8 win to remain undefeated at 6-0 and 3-0 in the South Shore.

"I have to give the kids a lot of credit for overcoming a lot of early mistakes in the first half," Rockland head coach Ken Owen said. "We were only down two points at halftime and I think we felt fortunate to be in that situation the way we played early.

"We kept telling our kicker Ricky Witt that [he was] going to have to win a game for us, whether it be in overtime, It happened to be earlier in the game here, but I credit him for putting the ball through the uprights on a windy night."

The Bulldogs had great field position to start the game, after Cohasset (5-1, 2-1) fumbled on the opening kickoff. Rockland's offense took over at the Skippers' 23-yard line. The Bulldogs were poised to score before Cohasset defensive lineman Kyrel Jaundoo scooped up a fumble by Bulldogs running back Tim Fitzgerald (13 carries, 53 yards) at the Skippers' 3-yard line and returned it 61 yards to set up his team with good field position.

Three plays later, Thomas Flibotte (18 carries, 91 yards) hit paydirt on a 3-yard run. The following two-point try was successful with quarterback Jeff Cavanaro (8 of 14, 75 yards) hitting Robbie Mahoney in the end zone.

Rockland continued to be their worst enemy on the ensuing drive when Driscoll fumbled the ball into the hands of junior linebacker Sean McKenna.

However, the ensuing Cohasset drive stalled when the defensive struggle between the two teams began in earnest. Three times the Skippers were stopped with a yard-to-go and Rockland regained the ball via a turnover on downs.

The teams traded punts before Rockland gained its first legitimate offensive traction of the game. Driscoll capped a 17-play, 78-yard drive with a 6-yard touchdown run. But his two-point conversion run fell short.

"We killed ourselves in the first half, we killed ourselves with two fumbles, both me and Timmy [Fitzgerald]," Driscoll said. "We messed up, but you can't do anything about those. But, as we say, halftime is not our enemy, so we just came out in the second half and mowed them."

It was then the Bulldogs made their game-changing charge with Witt's kick proving the difference.

Then, it was just a matter of not giving the Skippers anything back.

"Our defensive interior and, in particular, Steven Copeland, they just had a great, great second half," Owen said. "Of course, Brian Harrington plays well at defensive end, he had some nice stops on them, too. We were able to put a little bit of pressure on the quarterback and on the bootleg in the second half and I think that helped us in our pass coverage."

Having survived another week unscathed, Rockland has the pleasure of looking forward to yet another matchup next week with an undefeated team atop of the South Shore standings — Abington.

"We knew it was going to come down to Abington and one of us," Driscoll said. "Now, next week, we have the two of us."

Rockland 0 6 3 0 -- 9
Cohasset 8 0 0 0 -- 8

1st quarter
Cohasset Thomas Flibotte 3-yard run (Robbie Mahoney pass from Jeff Cavanaro)

2nd quarter
Rockland Mike Driscoll 6-yard run (rush failed)

3rd quarter
Rockland Ricky Witt 20-yard field goal
October, 11, 2010
10/11/10
2:14
PM ET
Another Monday, another wrap up of another stellar week of football. Here's a look back at the weekend that was, and what we've learned...
METHUEN'S OFFENSIVE LINE IS GOOD. LIKE, '97 BRONCOS GOOD.
"Best offensive line in the state," repeated Ryan Savastano to reporters, after marching his Methuen Rangers teammates to a 31-21 win over Chelmsford, to the tune of 223 yards on 32 carries.
Sometimes the o-line shoutouts can be a forced axiom grilled into a kid's head from the coaching staff --
mention the line, mention the line!
-- but in Methuen's case, these are far from canned quotes.
With quarterback Cal Carroll treading carefully with a hairline fracture on his left (non-throwing) thumb, the Rangers dialed up inside zone runs almost exclusively against their Merrimack Valley Large counterparts. The gameplan was methodical and pretty simplistic -- Savastano zone left, Savastano zone right, Carroll keeper, vertical pass, rinse and repeat -- and yet Chelmsford's vaunted defense, hailed by some as one of the state's best, struggled all night to put a helmet on the ball carrier on running plays.
Led by Steve DiZazzo and Dan Cormier on the left, and Sean Whittaker on the right, the senior-laden line has excelled in a zone-blocking scheme. With a linebacking corps as active at Chelmsford's, led by Zach Hayes and monster middleman Tim Joy, the Rangers often chipped off double-team blocks and accelerated downhill to drive the outside shoulder of a linebacker or defensive back away from the play. Sometimes, though, they simply pushed back the defensive linemen right into linebackers.
"I thought the o-line got some great push," Methuen head coach Pat Graham said. "It was probably tough for Tim (Joy), with the d-linemen getting knocked back into him a little bit, I'm sure it was tough for him to try and find the running back. Ryan's just a little guy, he's behind all those big guys, it's just tough to find him sometimes. But the big thing is our o-line got a great push up front."
Graham, one of the area's best coaching minds, has kept his quotes pretty vanilla and straightforward so far this season, to keep his players grounded and focused. But after a win as impressive as last Friday's, even Graham has to let out a sigh and a smile.
"Chelmsford's one of the best teams, year in and year out, in the state," he beamed. "It's a great feeling."
...ALL OF WHICH MAKES PLYMOUTH NORTH'S WEEK ONE WIN OVER THE RANGERS THAT MUCH MORE IMPRESSIVE
The Eagles, led by ice-in-his-veins running back Matt Walsh, are essentially a muffed two-point conversion attempt from being 4-1 and an ESPNBoston Top 25 team. In Week One, North held the Rangers to just one touchdown, and escaped with a 13-7 win thanks to a 70-yard Walsh touchdown run with four minutes and change to go.
Last Friday, it was Cody Merritt providing the spark, scoring three times (two rushing, one receiving) to lead the Eagles to an impressive 20-7 win over Bridgewater-Raynham.
Week by week, as the Rangers continue to pound away at the MVC's best and brightest, that is looking more and more intriguing.
JUST HOW GOOD IS ST. JOHN'S OF SHREWSBURY?
The No. 3 Pioneers lambasted cross-town rival Shrewsbury High, 52-7, their second straight week hanging half-a-hundred on the opposition. That brings their scoring margin through five games to 221-34, with a state-best average of 44.2 points per game.
A quick look inside the numbers:
Yards per game: 372.6
Yards allowed per game: 243
Points allowed per game: 6.8
Dan Light, Sr. QB: 48 carries, 426 yards, 8 TD; 44 of 77 passing, 935 yards, 15 TD, 3 INT
Richard Rodgers, Sr. WR/DE: 18 catches, 372 yards, 7 TD; 5 sacks
In Week Two, the Pioneers pasted Longmeadow, 37-8; the Lancers visited Catholic Memorial last Friday and beat them on a last-second field goal, 27-26. Two weeks ago, St. John's clobbered Fitchburg, 56-12, in the rain; last Friday, the Red Raiders almost beat Brockton, faltering in the fourth quarter.
We'll see just how good the Pioneers are this Saturday, when they travel to St. John's Prep to take on the No. 16 Eagles, and on October 30, when they host No. 1 Xaverian.
R-E-S-P-E-C-T
Akin to Aretha Franklin, or that old Adam Sandler album skit, Norton is just asking for a little of it these days.
"We didn't get shown much respect in our league and everyone thought Westwood was going to beat us," Lancers junior running back Zach Schweiger told correspondent Phil Perry on Friday. "Everyone thought their big running back [Sean Amaru] was going to do a whole bunch against us but we shut him down and executed on offense."
With a convincing 28-6 win over Westwood, the Lancers have certainly earned it, sitting at 5-0 and the prohibitive favorites to win the Tri-Valley League.
Norton stands a game ahead of Holliston, Medway and Westwood (all 4-1). Perhaps, more importantly, the Lancers now have recorded wins over Medway and Westwood with only an Oct. 22 date with the Panthers remaining on their slate.
ROUGH AND TUMBLE SOUTH SHORE
Speaking of potential Division IIIA playoff scenarios, it's anybody's guess which team will survive what has shaped up to be a very tough South Shore League.
Cohasset (5-0) remained unbeaten against another formerly unbeaten squad in an upstart East Bridgewater team Friday night behind Thomas Flibotte's 101 yards on 18 carries. Meanwhile, Rockland (28-0 win over Hull) and Abington (34-0 whitewashing of Carver) also improved to 5-0.
However, things at the top could sort themselves out pretty quickly as the Skippers host Rockland this weekend (Friday, 6 p.m.) and the Green Wave travels for a tough road game at Masphee (4-1, 1-1) Friday at 7 p.m.
All will be appointment viewing.
DOUBLE DRAGONS
The play of Duxbury quarterbacks Matt O'Keefe and Kane Haffey puts head coach Dave Maimaron in an enviable position every weekend.
Typically, O'Keefe and Haffey split time under center. They have combined for a .567 completion percentage and have both had success moving the ball down the field. On the season, O'Keefe has completed 31 of 48 pass attempts for 449 yards, seven touchdowns and one interception. Haffey has gone 37-of-72 for 490 yards, five touchdowns and one pick.
But Maimaron's depth at quarterback only helps when the injury bug comes calling.
When it became apparent Haffey wasn't going to be able to go in Friday's game at Quincy, there was no sweat calling upon O'Keefe to carry the load. The junior responded with a 242-passing yard performance and accounting for all of the Dragons' five touchdowns (four passing, one rushing).
HEAD OF THE CLASS
VALVOLINE PEAK PERFORMER OF THE WEEK: TYLER COPPOLA, SR. RB/DB, ST. JOHN'S PREP
What else is there to say after a performance as dynamic as Coppola's? Last Saturday against visiting Mount St. Joseph of Baltimore, the senior carried 19 times for 338 yards and five touchdowns, with all five of his scores coming on runs of 42 yards or more. Adding in return yardage, he finished the day with 473 all-purpose yards and a long ride home for the visiting Gaels. Yep, not a whole lot of hyperbole needed after this one, but with a day like that, credit is due to the Eagles' offensive line led by Nathan Cyr.
THE CLASSMATES
Brian Bourque, Sr. QB, Reading
- He totaled 183 yards of offense (135 passing) and four touchdowns as the Rockets cruised to a 42-0 beatdown of Wakefield.
Jonathan DiBiaso, Jr. QB, Everett
- The coach's son threw for six touchdown passes in the first half of a 42-7 win over Taunton, breaking two school records in the process -- passing touchdowns in a game and one half (himself, two weeks ago against Barnstable), and career touchdown passes (now at 34, breaking Matt Nuzzo's mark of 31 set earlier this millennium).
Chris Coady, Jr. RB/LB, BB&N
- Coady was omnipresent in the Knights' 33-28 win over Governor's Academy. He carried the ball 18 times for 86 yards and a score; caught three passes for 63 yards and a second score; made seven tackles on defense; and returned an interception to the house for a third and final score.
Dylan Colarusso, Sr. RB, Weymouth
- The hard-nosed Colarusso bulldozed his way to 220 rushing yards and two touchdowns as the Wildcats rolled to a 43-0 shutout of Dedham.
Alex Furtado, Sr. RB, Archbishop Williams
- Furtado led the Bishops with 236 yards and three touchdowns on 27 carries in a 32-22 win over Whittier Tech.
Matt O'Keefe, Jr. QB, Duxbury
- With injured quarterback Kane Haffey on the mend, O'Keefe stepped up and threw for 237 yards and five scores (four passing, one rushing) in the Green Dragons' 35-7 win over Quincy.
Trevon Offley, Sr. RB, Brockton
- The hard-running Offley ran for 217 yards and two scores in the Boxers' 27-20 win over regional rival Fitchburg.
Nate Robitaille, Sr. QB, Attleboro
- Another week, more heroics. This time, he carried the ball seven times for 132 yards and a score; and completed 10 of 26 passes for 178 yards and two scores, including the game-winner with time expired, as the Blue Bombardiers downed Foxborough, 26-24.
Ryan Savastano, Jr. RB, Methuen
- The diminutive Savastano carried the ball 32 times for 223 yards and two touchdowns in the Rangers' 31-21 win over Chelmsford.
Matt Silva, Sr. QB, Dracut
- In yet another shootout, this time a 45-35 win over Lowell and old coach Jeff Moore, Silva threw for 171 yards and two scores, and ran for 213 more and a third score.
Kenny Woods and Troy Salvatore, Sr. RB's, Walpole
- The two combined for 325 yards rushing and five touchdowns in the Rebels' 34-21 win over Braintree.