Boston High School:

Thomas Murphy
May, 4, 2012
5/04/12
11:51
PM ET
By
Ryan Kilian
| ESPNBoston.com
CHELMSFORD, Mass. -– Chelmsford starting pitcher Tanner Houle tossed a complete game on Friday afternoon to pick up the win as Chelmsford (9-4) defeated Merrimack Valley Conference rival Lowell, 4-2, for their second victory over the Red Raiders this season and their fifth win in a row.
The Lions wasted little time getting on the board as they plated three first inning runs, sending seven batters to the plate in a 15-minute opening inning.
[+] Enlarge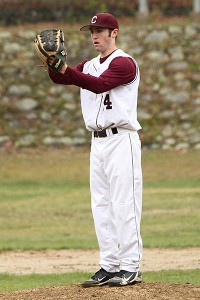 Ryan Kilian for ESPNBoston.comTanner Houle picked up his second win this season over No. 1 Lowell, going the distance on the mound in a 4-2 battle.
Chelmsford senior first baseman Thomas Murphy struck the biggest blow in the inning as the lefty clean-up hitter took a breaking ball the other way for a two-run double over the head of the left fielder. The RBI double plated Matt Rabbito and Michael DeDonato. Rabbito had previously raked a double off the left field rock wall that scored lead-off man Mason Trubey.
"I was down in the count so I was just trying to battle back," said Murphy. "He left one over the plate so I was just trying to go the opposite way."
The Lions would score their fourth run in the third inning as Russell Olive walked with the bases loaded to force DeDonato in for his second run scored of the game.
With a 4-0 lead Houle made quick work of the Red Raiders in the fourth inning as he did a great job of mixing up his pitches and keeping the Lowell hitters off balance all afternoon. The only trouble that Houle encountered on the day came in the fifth inning as Lowell mounted a rally behind a leadoff single from R.J. Noel and an RBI double from Joe Parisi that would lead to two runs in the inning.
"It feels real good as last year they got us pretty good both games," recalled Houle. "To get them back this year makes me so happy."
Houle also picked up the win out of the bullpen during the first meeting between the two teams on April 13. Chelmsford defeated Lowell 11-5 in that contest.
Momentum killer:
The Red Raiders scored two runs in the fifth inning and were looking for more as they had runners on the corners with one out.
Rabbito would then come up with the game's biggest play as the junior backstop threw out R.J. Gray trying to steal second base. The caught stealing halted a feverish Lowell rally and gave Chelmsford a key second out to help curb the Lowell comeback.
"Knowing I have him makes me so happy out there," said Houle of his battery mate. "I can throw a slow curve and he can still beat them out there and if I throw it in the dirt he will knock it down."
The Beauty of Ayotte:
Ayotte Field in North Chelmsford is one of the classic fields in Eastern Massachusetts as it sports a short, sloped rock wall in left field that often draws the attention of batters. The neighborhood ballpark is set on the banks of Freeman Lake and is named after legendary long time Chelmsford coach Harry Ayotte, who passed away last year.
Friday afternoon was no different, as Rabbito pelted the rock wall on the fly, resulting in a first inning RBI double.
"The rocks are there and that ball that he hit could have bounced any direction," said Chelmsford head coach Mike O'Keefe. "It is a unique field and we are happy that it is ours."
Red Hot Lions:
The Lions have now won five games in a row, and eight out of their last nine, as they head into the home stretch of their schedule.
"We are working on team chemistry as we go along," explained Murphy. "Each game we seem to be getting better and I am excited to play the next couple of games."
The Lions get back to action on Monday as they host Andover in another MVC Large battle. First pitch is scheduled for 3:45 p.m. at Ayotte.
"We are starting to understand who we are and what we do well," O'Keefe said. "As long as we don't beat ourselves it gives us an opportunity to do what we did today."
March, 18, 2011
3/18/11
3:53
PM ET
By
Brendan Hall
| ESPNBoston.com
We've got you covered from the first tip-off to the final buzzer tomorrow at Worcester's DCU Center, home of six MIAA basketball state championships. But for now, to whet your appetite, here's high school editor Brendan Hall's picks for each of the six games.
DIVISION 3 GIRLS: LEE (24-1) VS. ST. MARY'S OF LYNN (23-4)
The Lowdown:
In a season of relative unknowns in Division 3, the Wildcats of Lee dominated Western Mass again, albeit to nobody's surprise. Puncutated by wins over Division 1 finalist Amherst and Division 3 juggernaut Sabis (which was averaging nearly 70 points per game before falling in the D3 West final to Lee), the Wildcats are at it again with that famously dogged press of theirs. Always undersized yet always relentless, they blitzed Pentucket a year ago on the DCU floor en route to their sixth state title in 20 years, and could be up to their same old tricks tomorrow morning. St. Mary's, meanwhile, has size all over the place, led by the senior "Twin Towers" of 6-foot-2 center Tori Faieta and 5-foot-11 forward Cassi Amenta. The Spartans beat Lee a month ago, 71-60, in a tournament just before the start of the MIAA playoffs.
Hall's Pick:
History says to never take Lee lightly -- no matter what shape or size it comes in. But unfortunately, there is just too much size to be accounted for on St. Mary's side of things. Not that they're unbeatable, but I just think the Spartans will control the glass.
St. Mary's, 50-45.
DIVISION 3 BOYS: WHITINSVILLE CHRISTIAN (22-2) VS. WATERTOWN (19-5)
The Lowdown:
Another matchup that on paper looks uneven, the Whitinsville Christian Crusaders boast plenty of size behind 6-foot-9 Hans Miersma, who dominated Lenox in Wednesday night's Central/West semifinal. Meanwhile, Watertown's tallest player is 6-foot-3 senior forward Connor Stockdale -- whom head coach Steve Harrington likens to another point guard on the floor -- and Marco Coppola, one of the state's leading scorers with 25 points per game. Whitinsville excels in the 2-3 zone but isn't afraid to quickly drop it and play straight man should they get into early trouble. But this is Harrington's Raiders, which means you're likely to see four things: weakside post, four out, pick and roll, perimeter shots. In other words, don't take the Raiders lightly, especially if they don't try to challenge Miersma immediately at the rim.
Hall's Pick:
The tale of the tape favors Whitinsville, just based on the size it wields in the frontcourt. But Steve Harrington is one of the best coaches in New England, and you can guarantee he's going to draw up a hell of a game plan to try and neutralize the size advantage.
Whitinsville Christian, 65-64.
DIVISION 2 GIRLS: ARLINGTON CATHOLIC (20-6) VS. MILLBURY (23-1)
The Lowdown:
The Arlington Catholic Cougars -- led by Emma Roberson, Nicole Catizone, and sisters Rachel and Maura Buckley -- can be viewed as a green bunch with all of their youth abound. But on Monday night at TD Garden, they pulled off one of the more impressive feats in recent EMass Finals history, clawing back from 18 down with six minutes left in the first half to take a halftime lead over Hopkinton and hold it up. Meanwhile, Millbury has burned opponents in the transition game all season long, beating opponents in the playoffs so far by an average of 16.5 points per game. Out on the break, seniors Julie Frankian (19.1 points, 8.3 rebounds) and Sydney Bloomstein (9.5, 6.1) have been as formidable duo as we've seen in Division 2.
Hall's Pick:
Sorry, AC. That was an amazing comeback you pulled over Hopkinton over the Garden. But this is Julie Frankian's moment in the sun.
Millbury, 60-48.
DIVISION 2 BOYS: NORTHBRIDGE (20-5) VS. NEW MISSION (21-4)
The Lowdown:
Mission was the odds-on favorite in Division 2 headed into the season, and hasn't done a whole lot to convince otherwise. Led by three Northeast-10 ready senior guards in Samir McDaniels, Kachi Nzerem and Darius Davis; as well as Charles Gunter, Leroy Hamilton, and Isshiah Coleman on the blocks; the Titans have begun to find that scoring touch around the rim that was missing for stretches this season. They also like to wear opponents out with a smothering, physical man-to-man defense -- as head coach Cory McCarthy often tells reporters, "The uglier, the better." Good news for the Titans: Northbridge relishes in that style, too. Eight of its players were on the Rams squad that won a Division 2 football Central Mass Super Bowl this past fall, and have brought that aggressive mentality to the floor with forwards (and brothers) Thomas and Harrison Murphy. Also watch out for Corey Pryor, who burned Sabis on Wednesday night with a series of uncontest layups en route to 24 points.
Hall's Pick:
Cory McCarthy is known to fill up a reporter's notebook fairly quickly with his endless arsenal of money quotes. But the one that still resonates above the rest is the one he gave our correspondent Adam Kurkjian back in
December
: "I love these kids. I would do anything for these kids. And I feel like they will eat glass for me." Remember that one if this is close in the waning minutes.
Mission, 58-47.
DIVISION 1 GIRLS: ANDOVER (26-1) VS. AMHERST (22-2)
The Lowdown:
Amherst, written off the in preseason after the transfer of Mariah Lesure to Tabor Academy, has rolled through Western Mass, and arrives in Worcester after a thrilling overtime defeat of Algonquin in Tuesday's Central/West state semifinal. Much of the Hurricanes' emergence has to do with the maturation of their junior class led by Brianna Leonard (11.1 points), Morbasaw Nkambeo (10.0) and Kristen Ferrola (9.3). The Golden Warriors, meanwhile, were one of several heavy favorites in Division 1 headed into the season, and save a lone regular-season blip to Central Catholic have done nothing to deter that thinking. Much has been made of Andover's Division 1-ready backcourt led by Marist-bound senior Natalie Gomez-Martinez and BC-bound junior Nicole Boudreau, the state's newly-anointed Gatorade Player of the Year. But the Warriors excel on the boards, too, behind junior Ally Fazio and sophomore Devon Caveney.
Hall's Pick:
At the risk of jinxing this...should Andover win, I don't think it's out of the realm to think the Warriors have a shot next season at making it the first Division 1 girls three-peat since Haverhill in the mid-90's. Long Live The MVC.
Andover, 70-60.
DIVISION 1 BOYS: ST. JOHN'S PREP (24-1) VS. ST. JOHN'S OF SHREWSBURY (21-5)
The Lowdown:
After the loss of Ryan Kelley (ACL tear) and stalemate of a Central Final defeat of Fitchburg (40-38), some questioned whether Shrewsbury was ripe for the picking. The Pioneers put an end to that doubt on Wednesday night, handling a talented Northampton squad with physical defense and clutch shooting from Matt Harrington. Head coach Bob Foley is known for his Princeton-ish offense, this year led by forward pivots Matt Palecki and Richard Rodgers, but we've seen the Pioneers transition teams to death in state championships past (Lynn English, 2009, anyone?). This marks the fourth straight D1 final appearance for SJS, while Prep is making its first appearance since 1974. The matchup of the day might be Pat Connaughton versus Rodgers (we'll just assume that's what Prep head coach Sean Connolly will do for now), but the Eagles have prided themselves all year long on the work of their role players. Every game, it's a different kid stepping up, between Steve Haladyna, Freddy Shove, Mike Carbone, Owen Marchetti and Isaiah Robinson.
Hall's Pick:
It's going to be a rockfight on the court, and both student sections are going to be rocking out. And I do mean rocking. I literally can't wait. By the way, every high school fan ever, you've got your work cut out for you after Northampton's "Full Metal Jacket" routine the other night at DCU.
Prep, 45-41.
March, 17, 2011
3/17/11
1:32
AM ET
By
Brendan Hall
| ESPNBoston.com



WORCESTER, Mass. -- There is cleaning up on the glass. And then there is flat out owning.

In last night's Division 2 Central/West boys basketball state semifinal at the DCU Center, Northbridge might as well have fallen unto the latter. The Rams controlled the glass, especially defensively, holding a 39-15 advantage over Western Mass champ Sabis International as they used a strong third quarter to cruised to a 57-41 victory.

Northbridge (20-5) moves on to face Eastern Mass champ New Mission in Saturday's Division 2 state championship at the DCU Center.

"We knew we had to control the game, because they (Sabis) are very tenacious," said senior forward Thomas Murphy, who combined with his younger brother, junior Harrison, to pull down 14 rebounds. "We focused on helping, because we knew they were going to beat our guards at some point; and rotating, because as long as we help and rotate, we'll still be able to get a hand up, and then we'll still be on the box. It doesn't matter if you're covering somebody else's man, as long as you're covering somebody we'll still get the rebound."

Said Northbridge head coach Paul Baker, "They (Sabis) are very athletic, they get on the glass, and we really focused on rebounding tonight. We've been a good rebounding team all year, but we really went after it tonight."

While at times Murphy's assertion of the backcourt play by Sabis (15-9) proved true, with Jahson Hollett (13 points) and Xavier Garcia (13) giving trouble with their dribble penetration, it was the play of one of Northbridge's own guards in the third quarter that lifted the spirits. Senior Corey Pryor (24 points) sparked an 11-1 run to open the third quarter and extend their lead to 35-20, with three nifty baskets.

First, he took a handoff from Thomas Murphy on the right wing, planted and sunk an 18-footer near the corner. Pryor then grabbed the loose board on the ensuing Sabis possession, ran the length of the court and lofted up a soft finger roll while twisting his body to avoid a charging call. He then capped the run and made it 35-20 with a three-pointer just a few feet behind the spot he had just sank an 18-footer a few possessions ago.

"I just tried to let the game come to me," Pryor said. "I don't try to force shots -- if someone's there, I try to give the ball off to them. But just lately, everything's been falling for me, so I'm just going with it."

In all, Northbridge outscored Sabis 19-9 in the third quarter, including a 13-2 advantage on the glass. And all of it left Sabis head coach James Mack dejected afterwards.

"I thought we lacked energy the first three quarters," Mack said. "I don't think it was just the third. We didn't do a great job on the boards, we didn't do a great job of containing, our transition defense was not very good. I think that let us down."