Boston High School:

Thornton Academy
February, 13, 2014
Feb 13
1:57
PM ET
By
Matt DiFilippo
| ESPNBoston.com
Connections can change your life. Andrew Libby found his connection from painting houses with his father.

Libby's a senior at Thornton Academy, and was Maine's Gatorade Football Player of the Year as a junior before missing most of his senior season with a knee injury. He was trying to decide on a college, and in the second week of January, he discovered that a man he and his dad paint houses for knew someone at the University of Massachusetts. That led to a college visit, and shortly thereafter, Libby verbally committed to play football at UMass.
"It just felt like the right place," Libby said. "All the coaches were nice to me, and the campus was beautiful."
In UMass, Libby is joining a program that went 1-11 in each of the last two seasons and fired its head coach in December. Thornton won the state championship when Libby was a junior and still reached the regional final without him this fall.
"I've always been in favor of being an underdog," Libby said. "It gives us an incentive to set our goals high."
Thornton had no chance of being an underdog with Libby in the lineup this fall.
As a junior, he carried the ball only 151 times, but still gained over 1,000 yards. Coach Kevin Kezal planned to give Libby the ball more often and in about every way possible. Libby was going to play fullback sometimes, Wildcat quarterback other times, and split wide as a receiver just to mix things up. Kezal even planned to keep Libby – a natural linebacker -- at free safety, in part because he would be so active on offense.
"He would have done a little bit of everything for us," Kezal said.
But everything changed about five minutes into the first regular season game against South Portland. Libby broke a kickoff return down the right sideline.
"He had about a 50-yard kick return, and he got hit high and low at the same time, and he tore his ACL," Kezal said.
The Golden Trojans lost that game, and Libby missed the rest of the season. He still showed up at most practices, and he uses an F-word you don't usually associate with rehab.
"It's actually been a lot of fun on the way," Libby said. "Every time I came in, I was like a little kid on Christmas Day. There was always something new, and I was excited to do it.
"Right now, I'm actually pretty close to full strength," Libby added. "I've already been running around. I've already been cutting."
Kezal speaks highly of Libby, and part of the reason is the way Libby reacted to his injury.
"As good a football player as he is, he's a better person," Kezal said. "(For) the coaching staff, the players, and the community, it was hard to deal with. Andrew dealt with it better than anybody."
Like Libby said, he has always favored being the underdog, and he's one now. He's a native of a state not known for producing high-level football prospects, although he can look at a player like Quinton Porter, who went on to Boston College and a career in the Canadian Football League.
"He's set a goal that he wants to," Kezal said, when asked about Libby playing at UMass. "I'm sure he'll do everything in his power to be able to. He knows it's a tough road. He's excited about the challenge."
For Libby, the first part of that goal is showing up at practice and proving to the coaches that he can play fullback or H-back in their offense.
"I'm going to set my goals high," Libby said. "I'm going to take it step by step. My dream is to win a Heisman. With the team, a national championship. That'd be a story in its own."
How many kids dream of winning the Heisman Trophy, or playing in the NFL? How many people just wish someone else would believe in their dream?
"I've had a dream ever since I was a kid to play Division I football," Libby said, "and my big dream is to play at the next level. I was very happy to know that there was a team out there that would give me a chance to prove that I could play Division I football."
February, 11, 2013
2/11/13
10:52
PM ET
By
Roger Brown
| ESPNBoston.com
From a New England standpoint, perhaps the most noteworthy item on national signing day was Tim Boyle's decision to remain in his home state and sign with the University of Connecticut.

Boyle, a 6-foot-4, 215-pound quarterback, led Xavier High School (Middletown) to its third consecutive Class LL state championship last fall. He passed for 2,483 yards and 24 touchdowns during his senior season.
Boyle originally committed to Boston College, and remained committed to BC after Connecticut native Steve Addazio replaced Frank Spaziani as BC's head coach. Addazio's offense requires a dual-threat quarterback, however, and although he ran for 295 yards and five touchdowns on 60 carries last season, Boyle is considered to be more of a pro-style passer.
He decommitted from BC and gave a verbal commitment to UConn earlier this month, and made things official on national signing day.
"This is a good day for me," Boyle said after signing his National Letter of Intent. "It's been a long process because BC was the first school to offer me a scholarship back when I was a sophomore. I'm happy it's over."
Boyle is one of five Connecticut residents in the Class of 2013 who signed National Letter of Intent to play at UConn. The others are linebacker Cory Jasudowich (Cheshire Academy), tight end Thomas Myers (Coventry), defensive end Cole Ormsby (Windsor) and fullback Matt Walsh (Daniel Hand).
BLOCKS OF GRANITE
The University of New Hampshire brought in a small class – 11 players – but three of them were in-state linemen: Portsmouth defensive tackle Rick Holt, Souhegan offensive tackle Jake Kennedy and Bedford offensive tackle Will McInerney.
Holt and Kennedy have been playing against each other since they were freshmen.
"There was some trash-talking between us when we were freshmen and sophomores, but we developed a level of respect for one another during our junior year," Holt said. "We've played against each other for a long time, but it's pretty cool that we're both going to UNH as friends and teammates."
McInerney, who is 6-foot-7 and weighs 290 pounds, may be the most intriguing prospect of the three. He had surgery on both knees last year, and did not play during his senior season.
"It was unfortunate that he missed his senior year, but he was very impressive in our camps and clinics last spring, so we knew he was the right fit for us," UNH coach Sean McDonnell said.
LIKE FATHER, LIKE SON
Bangor (Maine) wide receiver Matt Cosgrove is one of three players who signed a National Letter of Intent to play at the University of Maine. Cosgrove's father Jack is Maine's head coach.
"It's exciting, I think, for both of us," Jack Cosgrove told the
Bangor Daily News
. "It's something we talked about up front. Matt gets it -- he knows what we're all about. He's seen it growing up with big eyes as a little boy and with small eyes as a big boy."
Defensive back Spencer Carey (Lawrence) and tight end Dakota Tarbox (Thornton Academy) were the other Maine players who signed with the Black Bears.
DELAY OF GAME
Running back Jerickson Fedrick, who grew up in Lawrence but played high school football in Salem, N.H., said he has accepted a scholarship from the University of Maine, but will redshirt next season.
Fedrick graduated from Salem in 2012 and played prep school football for Choate Rosemary Hall in Wallingford, Conn., last season. He ran for a team-high 1,268 yards and 16 touchdowns last fall.
Fedrick, who was also a track standout in high school, rushed for 4,568 yards and scored 75 touchdowns for Salem.
SEE YOU NEXT YEAR
Five of the top recruits from New England in the Class of 2014:
Jon Baker, OL, Millis/Hopedale
Manny Latimore, RB, Pinkerton Academy (N.H.)
Arkeel Newsome, RB, Ansonia (Conn.)
Connor Strachan, LB, St. Sebastian's
Jon Thomas, RB, St. John's Prep
Strachan and Thomas are both on the ESPN Watch List.
Information about high school or prep school recruits in New England can be sent to Roger Brown at rbrown@nhfootballreport.com.
November, 29, 2012
11/29/12
6:33
PM ET
The Gatorade Football Players of the Year across all 50 states were announced today. Here's a look at the winners from across New England:

CONNECTICUT: COLIN MOORE, SR. RB/DB, AVON
The 5-foot-11, 185-pound senior running back and defensive back has led the Falcons to a 10-0 record and a berth in the Class L state quarterfinals against New Canaan High, scheduled for Nov. 28. At the time of his selection, Moore had rushed for 2,012 yards and 29 touchdowns on 243 carries. In the defensive secondary, the 2011 All-Pequot Uncas League First Team selection had recorded 21 tackles and an interception.

Moore has maintained a B average in the classroom. During the 2011 Halloween snowstorm, he volunteered as an electrician's assistant to help restore power in the area. He has also donated his time as a peer mentor to intellectually and physically challenged students and also serves as a youth counselor.

"Colin Moore is a tremendous football player," said Paul Philippon, head coach of Canton High. "He's tough, consistent and relentless—he produces in every game. He could have played in any era."

Moore remains undecided upon a collegiate destination.

Moore joins recent Gatorade Connecticut Football Players of the Year Casey Cochran (2011-12, 2010-11, Masuk High School), Kevin Pierre-Louis (2009-10, King Low Heywood Thomas), Mike Osiecki (2008-09, Seymour High School) and Alex Thomas (2007-08, Ansonia) among the state's list of former award winners.

MAINE: ANDREW LIBBY, JR. RB/S, THORNTON ACADEMY
The 6-foot, 195-pound junior running back and safety led the Golden Trojans to an 11-1 record and the Class A state championship this past season. Libby rushed for 1,091 yards and 23 touchdowns on 182 carries, caught 17 passes for 190 yards and two scores and returned four punts for touchdowns, including one in the state title game win over Lawrence High. Libby also recorded 98 tackles, six interceptions, returning one for a touchdown, and forced a fumble.

Libby has maintained a 3.37 GPA in the classroom. He has volunteered locally on behalf of a homeless shelter and food bank, and as part of a fundraising campaign to benefit cancer research. Libby has also served as an area youth football and track coach.

"Andrew is the most important player on Thornton Academy's senior-laden team," said Matt Perkins, head coach of Windham High. "Their offense goes through him. On defense, he's their free safety and allows them to over-play one side of the field because he will control the other side. He is one of the most dynamic players I've seen."

Libby will begin his senior year of high school next fall.

Libby joins recent Gatorade Maine Football Players of the Year Louis DiTomasso (2011-12, Wells High School), Peter Gwilym (2010-11, Cheverus High School), Jack Mallis (2009-10, Windham), Jack Heary (2008-09, Deering High School) and Justin Villacci (2007-08, Gorham) among the state's list of former award winners.

NEW HAMPSHIRE: TYLER GRANT, SR. RB/S, EXETER HIGH
The 5-foot-11, 175-pound senior running back and safety led the Blue Hawks to an 11-1 record and the Division I state title this past season. Grant rushed for 1,238 yards and 20 touchdowns on 173 carries and caught 12 passes for 217 yards and three scores. On defense, he recorded 47 tackles, three interceptions, three forced fumbles and three fumble recoveries. The 2011 New Hampshire Union Leader First Team All-State pick returned both an interception and a fumble for touchdowns this fall.

Grant has maintained a 3.67 GPA in the classroom. He has volunteered locally as part of fundraising campaigns to benefit juvenile diabetes and breast cancer research. Grant has also donated his time as a youth baseball coach and on behalf of a literacy-outreach program.

"Tyler Grant is the main reason for Exeter's success," said Eric Brown, head coach of Concord High. "He truly stands out on both sides of the ball and special teams as well. Not only is he a physical talent, he is a very intelligent football player as well."

Grant will attend Maine's Bowdoin College next fall where he will play football.

Grant joins recent Gatorade New Hampshire Football Players of the Year Jake Kiley (2011-12, New Hampton School), Max Jacques (2010-11, 2009-10, Salem High School), David Zocco (2008-09, Nashua High School South) and Billy Ferriter (2007-08, Nashua South) among the state's list of former award winners.

RHODE ISLAND: ANTHONY FRANCIS, SR. QB, LA SALLE ACADEMY
The 6-foot-1, 193-pound senior quarterback has led the Rams to a 9-1 record and a berth in the Division I state semifinals against Portsmouth High, scheduled for Nov. 28. At the time of his selection, Francis had passed for 2,013 yards and 18 touchdowns, completing 110-of-181 attempts while throwing just two interceptions. A 2011 Providence Journal First Team All-State honoree, he rushed for 633 yards and nine touchdowns on 116 carries through 10 games.

Francis has maintained a B average in the classroom. A member of the La Salle Academy Debate Team, he has volunteered locally on behalf of a day care center, at a homeless shelter and as a youth football coach.

"With Anthony this year it is like having a young coach on the field," said Geoff Marcone, head coach of La Salle Academy. "Anthony knows the offense so well we have given him authority to check in and out of plays. He is the guy that makes the call."

Francis remains undecided upon a collegiate destination.

Francis joins recent Gatorade Rhode Island Football Players of the Year Josh Morris (2011-12, La Salle Academy), Ben Willett (2010-11, Portsmouth High School), Mike Read (2009-10, Barrington), Dave D'Errico (2008-09, North Kingstown High School) and Bobby Bentsen (2007-08, Warwick Veterans) among the state's list of former award winners.

VERMONT: MICHAEL DULAC, SR. OL/DL, HARTFORD HIGH
The 6-foot-3, 272-pound senior offensive and defensive lineman led the Hurricanes to an 11-0 record and their third straight Division I state championship this past season. A three-time First Team All-State selection, Dulac compiled 26 pancake blocks for an offense that accumulated 4,056 rushing yards and averaged 37 points per game. He started 43 consecutive games and helped Hartford to 26 straight wins to close out his career.

Dulac has maintained a 3.71 GPA in the classroom. An active member of his church community, he has volunteered locally as a youth mentor and in association with Hurricane Irene relief efforts.

"Michael Dulac is not only the best lineman we have faced the last two seasons, he is also one of the best players Vermont has produced in the past 20 years," said Sean Murphy, head coach at St. Johnsbury Academy. "He is big, strong and quick and looks like a man against boys when he plays."

Dulac remains undecided upon a collegiate destination.

Dulac joins recent Gatorade Vermont Football Players of the Year Jake Stalcup (2011-12, Burr & Burton Academy), Christian McCormick (2010-11, Rice Memorial High School), Max Librizzi (2009-10, Essex), Mick Wong (2008-09, Hartford High School) and James Durham (2007-08, Spaulding) among the state's list of former award winners.
June, 25, 2012
6/25/12
3:17
PM ET
By
Gary Hawkins
| ESPNBoston.com
Longtime Bangor High School boys' basketball coach Roger Reed reluctantly resigned recently after being informed by the administration to make a choice between coaching and serving in the legislature.

Leonardi Reed, 73, submitted his resignation a day before winning the Republican primary to represent House District 23 in the Maine Legislature. Reed will face Democrat Richard Thomas in the Nov. 6 general election for the right to fill the seat formerly held by Rep. David E. Richardson, who is also a Republican.
Reed, who retired this spring after a 47-year career as a teacher, hoped to continue coaching the Rams. In 27 seasons he led them to eight Class A state championships. In a career than began at Bangor Christian Academy, Reed has a career record of 571-201, a .740 winning percentage. After going 7-11 in his first year at Bangor, Reed's teams posted 26 straight winning season including a 14-6 mark last winter. The Rams won their eighth state title under Reed in 2011.
Reed wanted to continue coaching next season but was told Bangor principal Paul Butler that demands of time and travel to Augusta would be too great to do both jobs. The Legislature is in regular session during the winter months.
"Somewhere and sometime ago, it was decided that I wouldn't be allowed to do both," Red told the
Bangor Daily News
. "I really don't think that it has anything to do with logistics. I was assured by all who encouraged me to run that I would have no reason to give up coaching."
Butler, who played for Reed in the late 1980s, said he asked several people if someone could serve in both capacities and do justice to both jobs. He determined than it wasn't "It was an honest, good-faith decision. I think Bangor High School athletes and our program deserve 100 percent of a person's attention, and I just felt that it was untenable for somebody to do both," he told the BDN.
"Once I made the decision, I waited until after the season and asked Roger to choose us," Butler said. "I wanted, and offered, to have Roger back as coach and gave him until June to make that decision. I told him the only time I ever rooted against him was going into the primary."
WESSEL WINS JOHN WILKIN AWARD
Scarborough High School senior Ben Wessel won the Dr. John Winkin Award, presented annually to the state's top baseball player at the senior all-star game. Wessel sustained a torn ulnar collateral ligament which prevented him from pitching the Red Storm in the second half of the season but he returned to the lineup as a designated hitter and helped the team to the Western Maine Class A title.
Wessel led the Southern Maine Activities Association in batting average (.486), slugging (.943), on-base percentage (.600), RBI (21), triples (4) and home runs (2). As a pitcher the right-hander went 6-0 with a 0.62 earned run average and struck out 45 batters in 34 innings.
He expects to undergo Tommy John surgery in July and will attend the University of Rhode Island this fall.
GEAUMONT NAMES MISS MAINE SOFTBALL
Thornton Academy senior Julia Geaumont could have won the Miss Maine Softball Award as a pitcher or a hitter. She excelled at both. Geaumont got the good news at last week's senior all-star games. The award is presented annually by the Maine High School Softball Coaches Association.
This season Geaumont went 14-2 on the mound with an 0.84 earned run average and 136 strikeouts. At the plate, she batted .679 with 10 home runs and 38 RBI. Geaumont, who will attend Bowdoin College next fall, was also named Gatorade and Southern Maine Activities Association player of the year.
SANFORD NAMES NEW MASCOT
Soon after its boys track and field team won the Class A state championship, Sanford High School announced its new mascot.
Superintendent David Theoharides reported the new mascot will be the Spartans. Students in grades seven through 12 voted on four new nicknames — Spartans, Pride, Stampede and Cardinals. The Spartans claimed 587 votes to 423 for Pride, 202 for Stampede and 113 for Cardinals. The new mascot will go into effect starting with the 2012-2013 school year.
Sanford's school committee voted 4-1 last month to retire the Redskins mascot, the last high school in the state with such a nickname.
STATE CHAMPIONSHIPS
Baseball and softball championships in four classes were decided on June 16 at venues in Bangor and Windham. Eastern Maine teams swept the softball championships while East and West split for the baseball titles.
Class A Baseball
Messalonskee 6, Scarborough 3: The Eagles took advantage of seven errors by the Red Storm to win their first Class A title. All six of Messalonskee's runs were unearned. The Eagles turned two double plays including a memorable one in the bottom of the fifth when shortstop Sam Dexter dove for a ball in the hole, relayed it to second to younger brother Jake who threw to first. Messalonskee finished at 15-5, winning its last 10 games.
Class B Baseball
Falmouth 2, Foxcroft 0: Ninth-place hitter Ryan Conley ripped a two-run double in the second inning to lead the Yachtsmen to their first state title since 1998 and their first in Class B. Starter Thomas Fortier pitched a complete game, holding the Ponies to two hits while striking out six. Falmouth finished at 17-3.
Class C Baseball
Dirigo 6, Calais 1: The Cougars took an early lead and senior Ben Holmes preserved it to give the Cougars their second title in three years. Dirigo took a 4-0 lead in the bottom of the second, the big hit a two-run double from Caleb Turner. Holmes finished with eight strikeouts in running his season record to 12-1. Dirigo finished at 19-1 overall while three-time reigning Eastern champion Calais closed at 18-2.
Class D Baseball
Bangor Christian 7, Buckfield 3: Sophomore Cody Collins drove in four runs on a pair of singles and a double to lead the Patriots to their first baseball title. The Eastern Maine champs scored five runs in the first inning en route to the win. They finished at 19-2 while Buckfield closed at 17-2.
Class A Softball
Cony 2, South Portland 0: Junior Sonja Morse pitched a one hitter and struck out 10 to lead the Rams to their first state title since 1983. Morse lost her no-hitter with two outs in the bottom of the seventh inning. She also issued a walk but both runners were picked off as she faced the minimum number of batters. Cecelia Fuller singled home both Cony runs in the fifth inning.
Erin Bogdanovich allowed three hits and struck out 13 for South Portland (17-3). Cony finished at 20-0.
Class B Softball
Old Town 4, Fryeburg 1: Junior Kendra Hayward struck out 15 and contributed a two-run double to lead the Coyotes to their first state championship. Hayward allowed three runs in four Eastern Maine games while striking out 38 batters in 28 innings for fifth-seeded Old Town. The Coyotes finished at 17-4 while defending Class B champion Fryeburg closed at 18-2.
Class C Softball
Bucksport 2, Dirigo 0: Cassidy Adams pitched a two-hitter to lead the Golden Bucks to their first Class C title. The Bucks, who dropped down a class this season, reached the Class B title game last year before losing to Fryeburg. They last won a Class B title in 2006 and have gone five for eight in championship games. The win completed a perfect season at 20-0.
Class D Softball
Penobscot Valley 4, Richmond 2: Jenna Hope's two-run single in the third inning capped a three-run rally to lead the Howlers to their first state championship. Winning pitcher Kayla Dube allowed four hits, including three bunt singles, while striking out 14. Penobscot Valley finished at 19-1, while Richmond, playing in its third straight state title game, finished at 16-2.
LACROSSE
Class A Boys
Scarborough 9, Cheverus 4: Ryan Pallotta scored five goals as the Red Storm rolled to its third straight state championship. Scarborough finished at 14-1.
Class B Boys
Falmouth 7, North Yarmouth 4: Charlie Fay scored three goals to lead the yachtsmen to their second straight state championship. It was Falmouth's third win this season against North Yarmouth and also the second straight time the Yachtsmen have beaten the Panthers in the state final.
Class A Girls
Scarborough 11, Brunswick 9: Mary Scott scored four goals to lead the Red Storm to their third consecutive state championship. Scarborough (15-1) also defeated Brunswick (14-2) in last year's state final by a score of 13-11.
Waynflete 16, Freeport 5: Martha Veroneau had four goals and five assists to lead the Flyers, who were playing in their fourth straight championship game. Sadie Cole added five goals and Walker Foehl scored four for Waynflete (14-1) which rallied for wins against Falmouth and Cape Elizabeth in the regional tournament.
June, 25, 2012
6/25/12
2:54
PM ET
By
Roger Brown
| ESPNBoston.com
Frank Pecora's last season as the Northfield High School varsity baseball coach ended like many others: with a state championship.

Top-seeded Northfield defeated second-seeded Blue Mountain 10-1 in the Division III championship game earlier this month. The victory gave Pecora his 15th state championship during his 38-year coaching tenure at Northfield.
After the contest Pecora made it clear that this season was his last.
"That [the 15 titles] says a lot for all the kids who played in this program," Pecora told
The Burlington Free Press
. "I coached half their parents. Well, I always said that the first kid that walked up to me and said, 'My grandfather played for you.' I was handing him the keys.
"We haven't gotten to that point, but we're pretty close. It's been an awesome ride."
Northfield's Billy Whaley pitched a complete game against Blue Mountain. He allowed two hits, and struck out 10.
Zach Daley collected three hits and had three of Northfield's seven stolen bases.
Northfield completed its season with a 17-1 record, which pushed Pecora's career record to 488-157-1. The Marauders had one losing season during his 38 years as the program's head coach.
Recapping Vermont's other state championship games:
Division I:
Champlain Valley Union pitcher Curt Echo didn't allow a baserunner until the fifth inning as second-seeded CVU beat fifth-seeded BFA-St. Albans, 5-0.
CVU (18-2) scored four of its five runs in the third inning. Echo went the distance and allowed three hits.
Division II:
Second-seeded Vergennes overcame a 3-0 deficit by scoring four runs in the sixth inning and hung on to defeat 13th-seeded Missisquoi Valley, 4-3.
Devin Hayes scored the go-ahead run on Tommy Shea's infield single. Vergennes finished with a 15-5 record. Missisquoi Valley, the first 13th seed to reach the Division I championship game, ended up with an 8-12 record.
Division IV:
Top-seeded Danville scored during five of its six at-bats and repeated as the Division IV champion by beating third-seeded Mount St. Joseph 12-0.
Scott Remick, Brett Elliot and Erick Remick each had two hits and scored twice for Danville, which finished its season with a 13-5 record. Danville's Kyle Johnson pitched a three-hit shutout and struck out 10.
SOFTBALL: PROCTOR GIRLS FIND A WAY
Fifth-seeded Proctor scored four runs in the first inning without a base hit and hung on to defeat third-seeded Whitcomb 4-3 in the Division IV championship game.
Proctor's first inning featured three walks, one hit batter and two Whitcomb errors. Proctor completed its season with a 17-3 record. Whitcomb finished 15-3.
Division I:
Jordi Begin broke a 2-2 tie by hitting a home run in the bottom of the fourth and top-seeded Essex went on to beat second-seeded BFA-St. Albans 6-3.
Division II:
Freshman Kayla Mathieu struck out 13 and held Lyndon to three hits to help BFA-Fairfax post a 4-1 victory. It was the program's first Division II state championship, and first title since 1981 (Division III).
Division III:
People's did all of its scoring in the sixth inning and won its second title in as many years by beating Windsor 3-1. It was the program's 11th state championship.
BOYS' LACROSSE: REBELS SHOW GOOD TIMING
Second-seeded South Burlington lost to top-seeded Essex twice during the regular season, but the Rebels defeated the Hornets 9-7 when the teams met in the Division I championship game.
Dan Cone scored three goals for South Burlington, which finished with a 17-2 record. Essex, which beat South Burlington 5-4 and 6-3 earlier in the year, ended its season 16-3. The team's two other losses came against out-of-state competition.
In the Division II title game, Hans Halvorsen tied the game by scoring with less than a second remaining in regulation and teammate Graham Quisenberry scored 23 seconds into overtime to give second-seeded Green Mountain Valley an 8-7 triumph over fifth-seeded Colchester.
GIRLS' LACROSSE: REPEAT PERFORMANCE IN DIVISION I
Anne-Marie Farmer and Sarah Fisher each collected three goals and an assist to lead top-seeded South Burlington to a 14-11 victory over second-seeded Middlebury in the Division I championship game.
South Burlington also beat Middlebury to win last year's Division I title. The teams split two regular-season meetings.
In the Division II title game, top-seeded Rice extended its winning streak to 13 games by beating seventh-seeded BFA-St. Albans 13-11. Junior Emily Cutting scored five goals for the Green Knights.
GRIBBON JUMPS FOR JOY
South Burlington's Mollie Gribbin won the triple jump (39 feet, 4.75 inches) at the 67th New England Track and Field Championship, which was held June 9 at Thornton Academy in Saco, Maine.
Gribbin also finished fourth in the long jump (17-9.25), sixth in the 100-meter dash (12.29) and sixth in the 200 (25-11).
St. Johnsbury's Elijah Doerfler picked up Vermont's other victory. Doerfler won the javelin (185-10).
Roger Brown is a staff writer for the New Hampshire Union Leader and has been reporting on high school sports throughout New England since 1992.
June, 6, 2012
6/06/12
8:01
AM ET
This morning, ESPNHS and Gatorade announced the Gatorade Players of the Year for baseball across each of the 50 states and District of Columbia. Milford's Shannon Smith took the honors in Massachusetts; below are the winners for the five other New England states.

CONNECTICUT: KELLI CONNORS, WATERFORD
The 5-foot-9 senior right-handed pitcher led the Lancers to a 24-1 record entering the Class M state semifinals, scheduled for June 5. A two-time returning Class M All-State selection as named by the Connecticut High School Coaches Association, Connors owned a 20-1 record in the circle with a 0.87 ERA and 151 strikeouts in 137 innings-pitched entering the state final four. Also the returning All-Area Player of the Year, she batted .379 with one home run and 19 RBI through 25 games. A member of Waterford's 2009 and 2010 Class M state championship teams, she entered the state tournament with a 67-4 career pitching record.

Also a volleyball standout, Connors has maintained a 3.04 GPA in the classroom. In addition to donating her time as a youth softball instructor, she has volunteered as a physical education teacher's assistant at The Friendship School and on behalf of The Colby Sousa Scholarship Fund.

"She's a hard-working kid," said Kate Peruzzotti, head coach at rival Fitch High. "What I admire most about her is how well she's done over the past four years—just the growth has been amazing, how she's dominated in the circle over her entire high school career. It says a lot about her. She's been remarkable."

Connors has signed a National Letter of Intent to play softball on scholarship at Florida Southern College this fall.

MAINE: JULIA GEAUMONT, THORNTON ACADEMY
The 5-foot-6 senior right-handed pitcher led the Trojans to a 14-2 record entering the Class A state quarterfinals, scheduled for June 7. Geaumont posted a 14-2 record in the circle along with a 0.84 ERA and 136 strikeouts in 96 innings-pitched. A two-time First Team All-State selection, she is batting .679 with 10 home runs and a 1.509 slugging percentage through 16 games.

Geaumont has maintained a 4.09 GPA in the classroom. The vice president of her school's chapter of the National Honor Society, she has volunteered locally as a student tutor, a youth softball coach and on behalf of fundraiser walks to benefit cancer research.

"Student athletes like Julia Geaumont are the reason we go into the coaching profession," said Thornton Academy head coach John Provost. "After just two years in our program, she was voted team captain because of her ability to lead, her dedication to the program and her outstanding contributions during game play and at practice."

Geaumont has signed a National Letter of Intent to play softball on an athletic scholarship at Bowdoin College this fall.

NEW HAMPSHIRE: TAYLOR CARBONE, ALVIRNE
The 5-foot-10 senior right-handed pitcher and first baseman led the Broncos (16-4) to the Division I semifinals, scheduled for June 5. Carbone posted a 13-2 record in the circle along with a 1.02 ERA and 131 strikeouts in 96 innings-pitched through 20 games. Also the 2010-11 Gatorade New Hampshire Softball Player of the Year, Carbone owned a .581 batting average with three home runs, 28 RBI and a .951 slugging percentage entering the state final four.

Carbone has maintained a 3.35 GPA in the classroom. She has volunteered locally on behalf of the US Marine Corps Toys for Tots Foundation and has donated her time collecting baseball equipment for needy youth players in Nicaragua.

"Taylor Carbone is one of the most complete players that we have faced," said Jimmy Clavette, head coach at Timberlane High. "She is a consistent hitter, a solid pitcher and plays multiple positions very well."

Carbone has signed a National Letter of Intent to play softball on an athletic scholarship at the University of Massachusetts at Amherst this fall.

RHODE ISLAND: LINDSAY MAYER, LINCOLN
The 5-foot-4 junior pitcher and shortstop led the Lions to a 19-0 record and a berth in the Division I winner's bracket semifinals, scheduled for June 4. At the time of her selection, Mayer owned a 16-0 record and a 0.67 ERA with 163 strikeouts in 104 innings-pitched. At the plate, the 2011 First Team All-State honoree hit .467 with three home runs, 23 runs scored, 24 RBI, a .657 on-base percentage and a .911 slugging percentage through 19 games.

Mayer has maintained a 3.72 GPA in the classroom. An accomplished piano player, she has volunteered locally as a youth softball coach and mentor.

"Lindsay Mayer is the best all-around player in the state," said Chris Luppe, head coach of rival Westerly High. "She is as close to a dominant pitcher as there is in the state. She is also a very good defensive shortstop as well as an excellent hitter."

Mayer has made a verbal commitment to attend the University of Virginia on an athletic scholarship beginning in the fall of 2013.

VERMONT: ALEXIS PERRY, ESSEX
The 5-foot-8 senior right-handed pitcher led the Hornets to a 17-0 record entering the Division I semifinals against Missisquoi, scheduled for June 6. Perry owned a 14-0 record and a 0.43 ERA in the circle, and a .511 batting average with 21 RBI at the plate through 17 games. A two-time First Team All-Metro selection, she recorded 173 strikeouts against just 15 walks in 98 innings pitched.

Perry has maintained an A-minus average in the classroom. She has volunteered locally on behalf of youth softball programs.

"Perry has just been lights out," said Leslie Dunn, head coach at North Country High. "She's using different pitches, hitting her spots more often and her pitches are moving more. I feel like she's even more dominant than she was in the past."

Perry has signed a National Letter of Intent to play softball on scholarship at Merrimack College this fall.
March, 26, 2012
3/26/12
2:46
PM ET
By
Gary Hawkins
| ESPNBoston.com
Hampden Academy senior Christian McCue was named Mr. Maine Basketball recently at the Maine McDonald's all-star banquet. The 6-foot-2 McCue moved the point guard this season and led the Broncos to a 20-2 record and a berth in the Class A state championship game.

He recently answered some questions about his season and career:
Q: Who got you started playing basketball and when?
A: "My dad is the one who got me started. He put the ball in my hands when I was 5 years old. I remember it was my birthday and he told me I finally was old enough to start practicing, and he began taking me to the local middle school gym to shoot and do drills with my older brothers."
Q: Who have been your most important influences in the game?
A: "My most important influences have definitely been my two older brothers, Jesse and Daniel McCue. My oldest brother Jesse is the best shooter I have ever seen, and honestly I have been working my entire life to shoot like him. My middle brother Daniel is an amazing point guard with the highest basketball IQ you can imagine. The two of them have spent countless hours with me over the last 10-plus years teaching me everything I know about the game. Jesse played at Palm Beach Atlantic University where he still holds the all-time school record for 3's made in a game, season, and career.
"Daniel is graduating from MIT this year where he helped lead the team to its first D III Final Four appearance ever, and best school record in history. I think I got the best of both worlds and became a combination of two of them after receiving both their expertise. I also think my father has been a huge influence on me. He has always pushed me extremely hard, sometimes harder than I would have liked. But he never hesitated to rebound for me no matter how late at night, or how many times a week."
Q: What do you most enjoy about basketball?
A: The thing I enjoy most about basketball is that it's the perfect combination of team and individual moments. There are times when it is completely mano a mano, like when you are guarding someone man to man, or trying to score, and there is a lot of individual pride on the line. But there is also a beautiful team aspect, whether it is a fastbreak with a couple quick passes, or you taking a charge on help-side when your teammate gets beat. The camaraderie of the game of basketball, on the court and in the locker room, is amazing, but it also gives you an opportunity to showcase your individual talent.
Q: What parts of your game have you worked on the most in the past couple of years and where do you need to improve?
A: "Over the last two years I have really tried to develop my ability to take it to the basket. I have stood on the three point line and shot threes my whole life, but one-dimensional players are easy to guard, and that became apparent to me early in my varsity career after a couple games of being face guarded. So over the last two years I have made a very conscious effort to try and attack when I am playing pickup basketball, or with my friends, and have spent a lot of time playing by myself taking it to the basket.
"I still need to improve on this ability, and also the ability of knowing when to pass and when to shoot it myself. I stepped into the roll of point guard this year for Hampden Academy, and sometimes I would get into the paint and be in between dishing it to a teammate and taking it all the way myself. I just need to keep working on the feel for that part of my game."
Q: Were you surprised you were named Mr. Maine Basketball? What are your thoughts on winning?
A: "I wouldn't say I was surprised as much as relieved. I thought if they called my name at the McDonald's banquet I would have earned it, but I was also worried because the other finalists, Cam Sennick and Cole Libby, are great players, with impressive résumés. Winning the award has always been a secret dream of mine, and is something I will always be profoundly proud of.
"It means a lot to me because I feel like I have brought honor to my family, the ones who have always supported me. Winning the award was also a moment of vindication for me, because there have always been a lot of coaches and people who have doubted my ability. Sometimes this made me doubt myself too, but winning an award like this makes it feel like it has all been worth it."
Q: What teams have you played for outside of school and how did this impact your development?
A: "I have played for various AAU teams and various coaches. Throughout high school I played for both MBR and ME Hoops, two great programs. AAU has been really great because it gives you a chance to not only keep playing in the off-season and to keep getting better, but also to see what else is out there. Being from Maine especially, going to the bigger tournaments in Boston, New York, Las Vegas, Orlando, etc. was always an eye-opening experience. Seeing the best of the best always motivates you to improve your game, and expand it past what you previously knew."
Q: Which of your skills on the court do you take the most pride in?
A: "The skill I take most pride in is definitely my shooting ability. I have always regarded shooting as an art, and taken in extremely serious. I know I have racked up 100's of thousands of repetitions, all in attempt to perfect that art. One of my worst fears is to have somebody see me shoot an ugly jump shot. I am well aware that I can't take it to the hoop and dunk on someone, so I have always felt shooting a deep jumper is my chance to wow someone on the court."
Q: What other sports and activities do you enjoy?
A: "I enjoy pretty much all sports; I used to play soccer and baseball but stopped after middle school. When not playing basketball I enjoy spending time with my friends, and we usually kill time playing ping pong and video games. I also like music, and can play the saxophone."
Q: Do you think Hampden overachieved this season? If so, why?
A: "I think we had a spectacular run this year, but I wouldn't say we overachieved. I am very close friends with the guys on the team, and have played with them for a really long time. Ever since we were in middle school we envisioned playing in a state championship. The core group of guys on the team played and practiced a lot together in the off season, and would have settled for nothing less than what we achieved this year."
Q: What lessons away from the court or field have you learned from playing sports?
A: "I think I have learned a few critical lessons from basketball. First, is how to deal with pressure. I remember this year when we played at Mt. Blue during the regular season, the gym was absolutely packed. Mt. Blue was the other top team in the conference, and it was probably the biggest game of the season to that point. It had been a hard fought battle, but we were down by two with no time left when a kid on the other team got a technical foul.
"I was sent to the line, and remember a tremendous roar coming from the stands, as I was forced to just take a deep breath and knock them down. I ended up hitting both to send it in to OT, and we ended up winning. Pressure like that will be hard to replicate in my regular life, and I think experiences like that have prepared me to handle tough situations when they arise."
Q: Where do you plan to attend college and do you hope to play basketball?
A: "I am not positive where I will end up next year, but I will definitely be playing basketball. If everything works out right, I will most likely end up in Cambridge playing for the MIT Engineers."
BEAL WINS GATORADE AWARD

Garet Beal of Jonesport-Beals High School is the Maine Gatorade boys' basketball Player of the Year.
The junior forward led the Royals (19-2) to the Class D state championship this past winter. The 6-foot-5 Beal averaged 22.3 points, 8.7 rebounds, 3.8 steals and 3.6 assists per game. He shot 61.5 percent from the field and 81.2 percent from the line.
Beal is the first player from Jonesport-Beals High to win the Gatorade Player of the Year.
HOCKEY TITLES DECIDED

Thornton Academy won its second straight Class A championship while Greely won in Class B in games played recently at the Androscoggin Bank Colisee in Lewiston. Thornton defeated St. Dominic 5-1 behind three goals and an assist from senior captain C.J. Maksut. Adam Carrigan added a goal and two assist for the Trojans who finished three season at 20-1-1. Included in their wins were three victories over St. Dom's.Greely downed Messalonskee 6-2 to win its first Class B title since 2009. The Rangers scored three goals in a 62-second span in the first period. Peter Stauber and Ted Hart each scored twice for Greely which finished at 15-4-2. Ben Hackett added a goal and two assists while Pete Hurley scored a goal.
Travis St. Pierre and Sam Dexter scored for Messalonskee which finished at 18-4 and made its first trip to a state title game.
MAKSUT WINS TRAVIS ROY

Thornton Academy senior C.J. Maksut won the 17th annual Travis Roy Award given annually to the top Class A hockey player in the state. The award is named for the former Yarmouth and North Yarmouth Academy star who was paralyzed 11 seconds into his first collegiate shift at Boston University.
Maksut scored 32 goals and 27 assists this season to lead the Trojans to their second straight Class A championship. For his career he finished with 90 goals and 64 assists, setting a school record of 154 points.
February, 10, 2012
2/10/12
2:15
PM ET
By
Gary Hawkins
| ESPNBoston.com
That Travis and Karen Magnusson would become high school basketball coaches, given their backgrounds as point guards and students of the game, seemed inevitable. So does the success that the husband and wife coaches are having this season at their respective schools.

Travis, who coaches the Dirigo High School boys team, came within a whisker of a perfect season before falling to Spruce Mountain, 39-34 Wednesday night. Still, his Cougars finished the regular season at 17-1 and enter the upcoming Western Maine Class C tournament as the top seed. Karen, who coaches the Cony High School girls team, finished at 18-0 Thursday and her Rams will enter the Eastern Maine Class A tournament as the top-seeded team.
There wasn't much talk between Karen and Travis about going unbeaten this season — both recognize winning a state title as a larger goal — but it's still hard to avoid.
"Honestly we try not to do it," Karen said. "But it's something that comes up with other people."
The couple rarely get to see one another's teams play since they usually play on the same night. Fans at both schools, however, recognize what's going on.
[+] Enlarge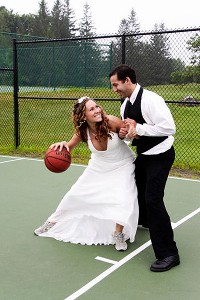 Courtesy of Karen Magnusson Travis and Karen Magnusson are having success coaching high school hoops in Maine.
"It's almost like we share our programs with each other," Karen said. "His fans ask how I'm doing and my fans ask how Trav's doing."
The Magnussons are both basketball junkies, a passion that began long before they met at the University of Maine at Farmington a few years ago. Karen Sirois starred at Cony in Augusta while Travis played for Georges Valley in Thomaston. Both played point guard at UMF and each of them totaled over 1,000 points and 500 assists in their careers.
Farmington women's coach Jamie Beaudoin and men's coach Dick Meader saw coaches in the two long before their playing careers ended.
"I knew from the first moment I watched her play that she was going to be a coach," Beaudoin said. "She was able to see things on the floor that many times an experienced coach wouldn't pick up on. She's just a student of the game."
Meader echoed those thoughts about Travis, who served as a varsity assistant at UMF the year after he graduated. Travis was hired as boys coach at Livermore Falls a year before Karen go the job at Cony so she helped him out and gave him an unbiased look at the players and the team.
"There was nobody I listened to more, especially with my team that first year," Travis said.
Travis turned the Livermore program around, reaching a tournament prelim game his first year in 2009 and the tournament itself the next two. He lost his job when Livermore and Jay high schools combined this year to form Spruce Mountain, but when the Dirigo job opened up he applied. The Cougars reached the state final last year and return many of those players.
The Magnussons talk basketball most of the time, often while breaking down film at home another or swapping drills.
"I get some of my plays and sets from him," Karen said. "I know his personnel, we definitely help each other out. Sometimes we sit up until 11:30 or 12 talking about it. We watch game film together. It's like having an assistant coach at home."
They also share a similar philosophy, borne from the way they played the game.
"We both like to run and gun, play pressure defense and give our players freedom to take shots." Travis said. "As I've gotten older I've realized the importance of quality shots."
The Magnussons are competitive by nature and haven't played a serious game of 1 on since Travis came away with a bloody nose when the got together on the court in college.
"He's competitive and I'm competitive so we never really have the fun 1-on-1," Karen said.
Well, they did have a little fun on the court on the day they were married, playing a friendly game, she in her wedding dress and he in his tuxedo.
They'll get a chance to watch the other's team play in about 10 days when their teams will be favored to win regional championships at the Augusta Civic Center.
October, 26, 2011
10/26/11
4:04
PM ET
By
Gary Hawkins
| ESPNBoston.com
Madison Memorial High School senior Seth Sweet has established himself as the top high school golfer in the state.

Sweet recently won his second straight Class C state individudal title, shooting a 2-under par 70, the lowest in any class. Last summer he was one of two Maine golfers to qualify for the U.S. Junior Amateur. He also finished fourth in the Maine Amateur last year and, when he was 12, he was the youngest qualifier ever for that tournament. He recently answered questions about himself and the game he loves.
Q: How did you get started in golf?
A: "My dad introduced me into the game when I was 2 years old. He brought me out to a little par three course with a plastic set of Little Tikes golf clubs. I didn't play that often but he brought me to the golf course just enough so I could really get a liking for this game. After a while I knew there was something about this game that was special and I knew it would be able to take me places."
Q: When did you first get hooked on the game?

SWEET
A: "I first became serious around the age of 10. I played my first tournament when I was 7 but did not realize what it took to really become an elite golfer. I started playing several tournaments when I turned 10, and began to practice a lot harder. I tried to take my game to the next level and set different levels of goals that I needed to achieve."
Q: Who have been your greatest influences in the game?
A: "My dad has definitely been the biggest influence in my game. He taught me everything I needed to know to become who I am today. He made it so I could play in every tournament I wanted to play in, and would do everything for me. My mother has also been there supporting me and always telling me that if I want it I can get it. She is always there to watch me play tournaments, and I couldn't do it without them. My brother Zack also has been there to push me as he is a good golfer and always taught me how to act, as well as made me the best I could ever be. My swing coach has also been able to bring me to the tip top in my game and has taught me how to play this game like the pros.
Q: What do you consider your greatest accomplishment to date?
A: "I believe my greatest accomplishment has been making the U.S. Junior Amateur in Bremerton, Washington where I played two great days to make a playoff to make the cut for match play. Unfortunately, I missed the playoff, but was the proudest to place 55th best junior in the nation. I may not have met my goal, but was very pleased with how I played."
Q: How often do you play and practice?
A: "I play every day and practice every day. In order to be the best you have to have the club in your hand acting like it is your lifeline."
Q: What do you work on?
A: "Lately I work on the short game because I am able to hit the ball on the green, but where I am going to save strokes is making the putts for birdies. I will also work on hitting the ball in different shapes, I usually hit a draw but I understand that I need to be able to hit the cut to be one of the best as well. I believe that short game is where the pros make it look easy and win the tournaments."
Q: Where will you attend school next year?
A: "I have recently just verbally committed to Old Dominion University in Norfolk, Virginia."
Q: How did this come about?
A: "I had a friend from Rhode Island who is a freshman there and had told the coach about me. He must have put in a good word for me because the next week I got a call from the coach and it eventually led to an official visit offer. I visited the campus and fell in love with it and
fell in love with the golf facilities this school has to offer."
Q: What are your short and long-term goals in the game?
A: "My short term goal for golf is to really become a better player and win my state amateur, and qualify for the U.S. Junior Amateur again. My long term goals are to become a golf professional and play on the PGA tour, I do realize this will be a tough task but I am ready to make a run for it. I also want to be in a scoring spot all four years in college and be a key asset in our successful team.
Q: What are your strengths and weaknesses?
A: "My strengths are definitely being able to drive the ball, chip the ball and putt the ball. I hit the ball about 290 yards down the middle and my short game has grown incredibly and improved greatly. I also am able to keep a great state of mind while playing golf which is to my advantage. I believe my weakness is paying too much attention to other people, I shouldn't watch my competitors, but I do and get caught up in their game a little too much."
Q: Who is your favorite pro golfer and why?
A: "My favorite player used to be Tiger Woods because I idolized his work ethic, he won his tournaments by out-working his competitors and there was no question that he did every week. I also loved watching how he worked on the golf course he made himself expect the best of the competitors so he would not be surprised when they hit a good shot. My new favorite player is Bubba Watson, I enjoy how he hits the ball so long and is changing the game with his stride in great length. I also like how he has fun while he is playing and is very personable while he is playing. It is truly an awesome thing for him to be able to enjoy the game the way he does."
Q: What other activities or sports do you enjoy?

A: "I enjoy playing basketball with a passion; it is a very fun game for me and keeps me in shape during my long winter up in Maine. I enjoy running, and weight lifting as it keeps me in shape and I enjoy doing that every day."
Q: What are your plans for the summer before college?
A: "I plan on playing in 5-10 golf tournaments and practice my short game and the little details golf demands you to do. I am going to play in the big tournaments in the state and going to qualify for some USGA events. I just want to keep my competitive edge and make my game in fine tune for the fall college season."
March, 25, 2011
3/25/11
5:00
PM ET
By
Gary Hawkins
| ESPNBoston.com
The Maine high school basketball season concluded with the McDonald's Senior All-Star games at Husson University. Prior to the games, Mr. and Miss Maine Basketball winners were announced. Tyler McFarland of Camden Hills was named Mr. Basketball while Kayla Burchill of Deering High was named Miss Basketball.

McFarland, a 6-foot-6 forward, led the Windjammers to an unbeaten season and a state Class B title. He averaged 24.6 points and 12.1 rebounds per game. Burchill, a 6-1 forward who will play at the University of Vermont next season, averaged 22.6 points and 9.4 rebounds a game while leading Deering to a 19-2 record and top seeding in Western Maine Class A.
McFarland Q & A
Q: How do you feel about being named Mr. Maine Basketball? Were you surprised?
A: "It's rewarding to be recognized as Mr. Basketball this season. There were many deserving players of this award throughout the state this year including the other two finalists; Graham Safford of Hampden Academy and Bowen Leary of Edward Little High. I felt that either three of us could have been named Mr. Basketball. I spent the majority of the banquet (in which the announcement was made) cracking jokes to my friends Graham Safford, Ray Bessette, and Josh Walker. I wasn't concerned about who was going to win the award, because all of us players were enjoying a good meal, so I wasn't necessarily surprised, but nervous about what I was going to say to the 400 people in attendance. It was gratifying to win the award, but if Graham or Bo were to be named Mr. Basketball it would have been equally as rewarding to see another great player/good kid to be presented with the award."
Q: What was the highlight of the season for you?
A: "Winning the state championship was easily the most memorable moment the year."
Q: What goals had you set for yourself and the team?
A: "Personally my focus was to lead an undefeated season this year, and we did that at 23-0. We overcame some adversity early in the year to accomplish that, which made this team stronger as well as more confident come playoff time."
Q: Who have been the greatest influences in your basketball career?
A: "Chronologically, I'll begin with my Dad as he has pushed me to compete and play the game year round starting at a very young age. He recognized my passion for the game and provided me with opportunities to compete and play the game, whether he was coaching or driving me and my friends to AAU practice.
"Dan Gabriele is the father of the starting 2 guard on our High school team this year. Very much like my father he coached my friends from Camden and I since the age of 11. Dan piled the travel team known as "The Rock" into his black mini-van dozens of times to travel hours at a time in any direction where we could meet good competition. Jeff Hart took me under his wing in 2007 as my high school basketball coach. Coach Hart has molded me as a basketball player instilling confidence, awareness, and selflessness on the court. He has taught me that sacrifice is at times as rewarding as individual accomplishment. Looking back at myself as a freshman there are so many traits that I have attained through competing in the basketball program at Camden Hills (from then until now) that are very important to who I am as a player/person today. Carl Parker is my AAU coach of two year now and has influenced my mindset towards the game of basketball as well as life in general. Simply playing for Coach Parker has led me to become competitive to another dimension. I seek to play against the best and hope for the opportunity on any occasion which has been part of my decision to attend prep school in order to allow myself the opportunity to play at the highest level possible in the future. Coach Parker wants to see me reach my full potential with the game as much as anyone. His belief and confidence in me as a player has caused me to strive for more out of this game."
November, 4, 2010
11/04/10
1:11
PM ET
By
Gary Hawkins
| ESPNBoston.com
One upset and another near-upset marked the opening round of the Class A football playoffs last week.

In the Southern Maine Activities Association (SMAA) quarterfinals, top-seeded Cheverus needed to rally for a pair of second-half touchdowns to defeat defending state champion Windham 34-27. The Stags trailed 27-14 before putting three touchdowns on the board, the first a 21 yard pass from Peter Gwilym to Louie DiStasio.
Evan Jendrasko evened the score with a 1-yard run and Gwilym completed the comeback with a scoring pass to Jack Bushey. Gwilym completed a 11 of 18 passes for 176 yards and four touchdowns.
In other SMAA quarterfinal games, fifth-seeded Scarborough knocked off No. 4 Biddeford 48-14 and third-seeded Deering downed No. 5 Thornton Academy 56-18.
In the Pine Tree Conference quarterfinals, No. 8 Brunswick upset No. 1 Lawrence for the second year in a row, beating the Bulldogs 14-13 on their home field. The visiting Dragons trailed 13-0 before rallying for a pair of scores, the second a 34-yard option pass from Keith Kitchens to Donald Benbow.
In other PTC games, second-seeded Bangor shut out No. 7 Edward Little 16-0, fourth-seeded Lewiston topped No. 5 Messalonskee 42-13 and No. 3 Mt. Blue edged No. 6 Cony 20-12. Cony quarterback Luke Duncklee rushed for two touchdowns, giving him 18 for the season. The senior rushed for 1,201 yards this season and also passed for 1,512 yards and eight touchdowns. Over the past two seasons, Duncklee has accounted for 50 touchdowns, rushing and passing, and 4,805 total yards.
October, 7, 2010
10/07/10
12:13
AM ET
By
Gary Hawkins
| ESPNBoston.com
Two more teams were knocked form the ranks of the unbeaten in Week 5 of high school football. Thornton Academy of Saco had outscored its Class A opponents 201-13 coming into its game against Deering, but the Trojans were dominated by the Rams, 35-6.

Deering quarterback Jamie Ross did most of the damage, passing for 125 yards and three touchdowns while also rushing for 134 yards and two more scores. Deering sustained its only loss in Week 3, losing 34-12 to Bonny Eagle.
In a Class C battle of unbeatens, Yarmouth's Bryce Snyder kicked a 28-yard field goal with 19 seconds left to lift the Clippers to a 16-14 victory over Lisbon. Yarmouth, which has only had varsity football for five years, was led by Anders Overhaug who rushed for 169 yards on 14 carries.
There are only 12 unbeaten teams left in the state, five in Class A — Cheverus, Bonny Eagle, Lawrence, Lewiston and Bangor. That number will be reduced this week when Lawrence hosts Lewiston. Unbeaten teams in Class B include Gardiner, Leavitt, Cape Elizabeth and Mountain Valley while Stearns, Winthrop and Yarmouth are all 5-0 in Class C.
Top performances:
Rockland's Derek Miller scored eight touchdowns in a 66-6 rout of Dexter. Miller passed for one score, rushed for five, caught one TD pass and scored another on a punt return.
Cony's Luke Dunklee threw for 158 yards and two touchdowns and also rushed for 205 yards and two scores in a 28-21 win against Brunswick. Duncklee has rushed for 13 touchdowns and 743 yards and passed for three scores and 653 yards.
Messalonskee's Keenan Knox rushed for 176 yards and four scores in a 48-8 win over Brewer. Knox has rushed for 827 yards on the season.
Bonny Eagle's Matt Rollins passed for three touchdowns and rushed for two more as the unbeaten Scots downed Massabesic, 40-20.
Traip Academy's Tyler Nay rushed for 203 yards and four touchdowns as the surprising Rangers moved to 4-1 with a 34-25 victory over Livermore Falls.
John Bapst's Jordan Charpentier passed for four touchdowns in the Crusaders' 36-13 win over Foxcroft Academy.
Big games to watch for:
Oct. 15, Bangor at Lawrence. A potential battle of Class A unbeatens if Lawrence gets past Lewiston this week. The teams were in the same position last season when Bangor nipped Lawrence 28-21 on its way to a state title appearance.
Oct. 16, Bonny Eagle at Cheverus. Bonny Eagle has developed into a Class A power under oach Kevin Cooper, winning four state championships in the past six years. Cooper is assisted by his father Pete who led Lawrence to several state titles. Cheverus' program has been resurrected under John Wolfgram, the state's winningest coach. Wolfgram and Pete Cooper met a number of times when Wolfgram coached Gardiner to three state titles in the late '70s and '80s.
Oct. 22, Gardiner at Leavitt. Another potential battle of unbeaten teams in the Pine Tree Conference's Class B division. Both are led by outstanding juniors, Gardiner by running back Alonzo Connor and Leavitt by quarterback Jordan Hersom. Leavitt is defending Class B state champ while Gardiner won the title in 2007.
Oct. 29, Cape Elizabeth at Mountain Valley. These teams gained a measure of statewide immortality when the film "The Rivals" was produced in 2008 documenting the rivalry between wealthy Cape Elizabeth and Rumford, the mill town where Mountain Valley is located. It was recently shown on the Smithsonian Channel. So far this season, Mountain Valley has outscored opponents 212-12 while Cape holds a 152-27 advantage.
Gardiner's Connor sets school record
Gardiner High junior running back Alonzo Connor has packed nearly a season's worth of statistics into his first five games. The 6-foot-2, 185-pound tailback has already rushed for 1,022 yards and 17 touchdowns.
Two weeks ago against Mount Desert Island, Connor rushed for a school record 346 yards and scored five touchdowns. He also scored five times the previous week in a week against Waterville.
Against MDI, Connor pulled off one of the most memorable runs in school history. With Gardiner at the MDI 35 and a second left in the half, quarterback Spencer Allen threw a screen to Connor who headed down the left sideline. He ran into a pack of defenders near the 20-yard line and reversed fields, circling back 15 yards to pick up blocks. With all 11 defenders in pursuit, he weaved his way through traffic, took a hit near the goal line and scored. The run brought the Tigers in a 21-all tie and
changed the momentum of the game.
"That's the best play I've ever seen," Gardiner coach Jim Palmer said. "I've never seen anything like that."
Football Top 10
1. Bonny Eagle
2. Cheverus
3. Bangor
4. Lawrence
5. Lewiston
6. Mountain Valley
7. Deering
8. Leavitt
9. Scarborough
10. Cape Elizabeth
Leonardi's big day
Kennebunk High School junior Abbey Leonardi won the annual Festival of Champions cross country race in Belfast on Saturday.
The race attracted over 100 boys and girls teams and nearly 1,300 runners. Leonardi finished the 5K course in 17 minutes, 58 seconds while Madison junior Matt McClintock won the boys race in 16:06. Leonardi has long been considered one of New England's top distance runners. She won the New England high school cross country race her freshman year and last spring as a sophomore set state records in the 1,600 (4:51) and 3,200 (10:42) meter runs. She followed by winning the New England 3,200 in 10:26. She closed her sophomore year by placing fourth in the 3,200 in the New Balance Nationals, also in 10:26. The 5-foot-1, 16-year-old placed second last year in the Foot Locker Northeast Regionals and 22nd in the national race.
Scarborough won the boys' team title at the Festival while Cheverus captured the girls' title. In the latest girls' coaches poll, Cheverus is ranked first with Cape Elizabeth second. In the boys poll, it's Gorham followed by Falmouth.
Boys' soccer Top 10
1. Bangor
2. Scarborough
3. Yarmouth
4. Portland
5. Ellsworth
6. Brunswick
7. Cape Elizabeth
8. Gorham
9. Maranacook
10. Camden Hills
Girls' soccer Top 10
1. Brunswick
2. Scarborough
3. Yarmouth
4. Bangor
5. York
6. Cheverus
7. Hampden
8. Waterville
9. Thornton
10. St. Dominic
September, 22, 2010
9/22/10
9:37
PM ET
By
Gary Hawkins
| ESPNBoston.com
Performances by a number of running backs highlighted Week 3 of the Maine high school football season.

The fledging co-operative program between Calais and Woodland high schools took its lumps last season in the Class C Little Ten Conference, but is off to a 3-0 start this season, thanks in large part to running back Spencer McCormick who rushed for 292 yards on 20 carries and scored five touchdowns in a 54-7 win against Orono.
Gardiner's Alonzo Connor also turned in a five-touchdown performance as the Tigers downed Class B Pine Tree Conference rival Waterville 32-20. Connor, a junior, rushed for 172 yards on 26 carries.
Jack Powers of Camden Hills scored three touchdowns while rushing for 291 yards on 23 carries as the Windjammers nipped Morse 34-28 in a PTC Class B game. In another PTC Class B contest, Hampden Academy's Nick Stevens rushed for 227 yards and four touchdowns to lead the Broncos to a 35-28 victory against Winslow.
Portland's quarterback experiment with Imahdi Zagon is apparently over. Coach Mike Bailey put his talented running back in a number of different sets against Westbrook but not under center. Junior Matt McInnis is now the full-time quarterback with Zagon in the backfield. He responded by rushing for 258 yards on 37 carries to lead the Bulldogs to their first win of the season, a 27-15 over the Blue Blazes.
In other standout performances, Biddeford remained unbeaten in Class A Western Maine with a 47-21 win over Kennebunk behind Nick Gagne who rushed for four touchdowns and 145 yards.
Oak Hill's Josh Allen put the Raiders in the win column against Jay by rushing for 227 yards and four scores.