Boston High School:

Tim Preston
January, 3, 2014
Jan 3
11:27
AM ET
By
Roger Brown
| ESPNBoston.com
Before the 2013-14 season began, a handful of New Hampshire boys basketball coaches were asked to name the best players in Division I. None of them mentioned Nashua South point guard Yordy Tavarez.
Perhaps it was a case of out of sight, out of mind. How else to explain the oversight?
Tavarez, a 6-foot senior, was on South's varsity roster during his freshman and sophomore seasons, but he was academically ineligible last season, when South finished 19-5 overall (16-5 in Division I) and reached the Division I semifinals.
[+] Enlarge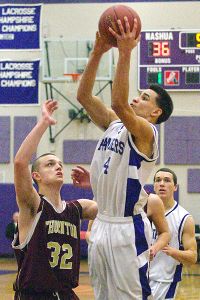 NH-Highschool SportsYordy Tavarez is averaging 27 points per game so far this season for Nashua South.
Tavarez has been a scoring machine so far this season. He opened the season with a 25-point performance during a victory over Spaulding (Rochester), and then tossed in 28 when South beat Pinkerton Academy (Derry).
Tavarez scored a career-high 32 points when South beat Alvirne (Hudson) 61-59 in the Chick-fil-A Holiday Tournament's championship game last weekend. That victory raised the team's record to 5-0. Tavarez is averaging 27 points in those five contests.
"We have other kids who are capable (scorers), but he's so quick and so athletic," Nashua South coach Nate Mazzerole said. "He's doing it from inside and outside. He's gets to the rim very well and he's increased his range. He's a very good 3-point shooter. He's also a very good on-ball defender.
"He's tough-nosed, talented and the hardest worker on the court -- everything you'd want as a coach," Mazzerole continued. "He's lacked some guidance in his life, so getting back into basketball is so good for him. He told me, 'After one game everyone in the state is going to know who I am again.' He's a man of his word."
South needed someone like Tavarez this season, since the Panthers lost four starters from their 2012-13 team. Point guard Tim Preston is among those who is no longer with the team. Preston transferred from South to Lawrence Academy following his junior year.
"Tim Preston would have arguably been one of the top five players in the state, but Yordy worked with us in the summer and we knew what he was capable of," Mazzerole said. "We're undersized, but I thought because of our athleticism we would be competitive every night."
Trevor Knight, New Hampshire's Gatorade Player of the Year for football, is among those who compliment Tavarez. Knight made a buzzer-beating layup in South's victory over Alvirne.
"Trevor is an athlete," Mazzerole said. "He's a winner."
The rest of the starting lineup features Vinny Ortolano, Cam Joyal and 6-foot-5 center Mike Osgood.
"He's really more of a small forward who can shoot it," Mazzerole said. "We're really 12 guards and one 6-5 kid."
Although several coaches wrote off Nashua South when Preston transferred, the Panthers have been one of the state's bigger surprises thus far. Of course tougher tests await.
"We're playing solid," Mazzerole said. "We're progressing the way we had hoped.
"Having Yordy back helps. He's worked hard, so hopefully some college coaches will see what he's capable of. He's definitely someone who could use basketball to get a college education."
Roger Brown is a staff writer for the New Hampshire Union Leader and covers New Hampshire high school sports for ESPN Boston. Follow him on Twitter: @603SportsMedia
.
October, 5, 2013
10/05/13
10:03
PM ET
By
John McGuirk
| ESPNBoston.com
Milton, Mass. -- It can now be said that Milton Academy belongs in the conversation.

When the pundits started the discussion as to which teams were the front-runners in the ISL during the preseason, few, if any, spoke of the Mustangs. Following a pedestrian 5-3 season a year ago, that was to be expected.

But three weeks into the regular season and lo-and-behold Milton Academy sits atop the league standings at 3-0, following tonight's 38-20 triumph over Lawrence Academy at Stokinger Field. In just three weeks, the Mustangs have already attained signature wins over two of the ISL power programs in St. Sebastian's and Lawrence Academy.

"As a team we knew we had the potential to be a good team," said Milton Academy senior running back Drew Jacobs. "We all worked very hard during the summer and believed in ourselves. We used the newspapers not saying much about us as motivation."

Jacobs, who is listed at 5-10,190 pounds, proved to be the catalyst behind this victory. The Marblehead native tore through the Spartans defense for 175 yards on 25 carries, finding the end zone three times.

It was his 22-yard gallop with 9:26 remaining in the third quarter which finally set the gears in motion, as it put the Mustangs, which finished with 356 yards offensively, ahead 17-7. But to Lawrence Academy's credit, it did not go down without a fight.

Minutes after the Jacobs' score, Spartan defensive back Tim Preston stepped in front of a Anthony Scurto pass and returned it 48 yards helping set up a 20-yard scoring strike from Kyle Howes to Chris Garrison and slicing the deficit to 17-14.

But the Spartans failed in their opportunity to seize the moment. On its next possession, Milton Academy drove 62 yards before Jacobs barreled in from 10 yards out to open the final quarter to push the Mustangs' advantage to 24-14. Once again, the Spartans (1-2) stormed back. After Austin Luckey secured a Scurto fumble, Lawrence Academy turned that into points as freshman A.J. Dillon scored on a 4-yard run to make it a 24-20 contest with 6:46 on the clock.

Despite their efforts to hang with Milton Academy, the Spartans defense failed to come up with a big play when they needed to. On the Mustangs' ensuing possession, Scurto, who finished with 123 yards on 8-of-10 passing, found receiver John Cahill for a key 38-yard reception on third-and-11. Jacobs, who finished with 175 yards on 25 attempts, busted up the middle for 24 yards, setting up his own 1-yard keeper over the goal line with 2:40 showing and increased Milton Academy's lead to 31-20.

"Drew is just a great football player and he's all football," said Milton Academy head coach and recently-inducted Massachusetts High School Football Coaches Hall-of-Famer Kevin MacDonald. "He's just a great football player."

Now in desperation mode, the Spartans needed to rectify their passing game in a hurry.

It seemed to be effective once Howe connected with Preston on a 60-yard pitch-and-catch, moving the ball to the Mustangs' 25. But on the next play, Howe (11-of-25 passing for 152 yards) was picked off by Cahill, who returned it 78 yards untouched to advance Milton Academy's margin to 18 points with just over a minute remaining, and, in the process, close the book on Lawrence Academy, which gained 261 yards.

"Our goal is to get better every week and I think we are," MacDonald said. "We need to get over a few things. We seem to come out at the beginning of games and don't play much defense and then later in the game we start to tighten things up. We need to smarten up and play defense right off the bat. We have good resiliency and we don't quit so I do like that about our team. I don't think we'll ever give up. We're always going to be a good offensive team but sometimes we don't play the type of defense I would like to see us play."

That defense was nowhere to be found early. On their first possession, the Spartans grabbed the early lead. Following a Mustangs' fumble on their opening drive, Lawrence Academy marched 65 yards before Dillon (60 yards on 17 carries) capped it off with a 1-yard touchdown run. Unable to sustain any momentum in the early going, Milton Academy finally settled for a Justin Yoon 48-yard field goal midway into the second quarter to make it 7-3.

A few minutes later, senior linebacker Matt Morin pounced on a Howes' fumble giving the Mustangs the ball at the Spartans' 33. That would eventually lead to a Scurto 3-yard touchdown run to put Milton Academy in front, 10-7, with just 27 seconds to go before halftime. Fortunate to take the lead heading into the break, Milton Academy was able to parlay its momentum off of that late score into 28 second half points and roll on to victory.

"Our kids played OK but we're not a very good tackling team right now," Lawrence Academy head coach Paul Zukauskas said. "Today that was the difference. We have some very good players on our team but they didn't tackle well. Both teams worked really hard but for us, it comes down to blocking and tackling and tonight that was the difference."