Boston High School:

Tim Superko
May, 23, 2013
5/23/13
2:27
PM ET
By
Paul Lazdowski
| ESPNBoston.com
ANDOVER, Mass. -– Over the course of the 2013 season, the success of the Phillips Andover baseball team has hinged on three arms, or, more specifically, two right-handers and a southpaw.
Senior Rory Ziomek and sophomore Tim Salvadore, or simply 'Sal' to teammates and coaches, have brought power from the right side, while post grad Tim Superko has added craftiness from the left.
This talent -– Ziomek and Superko are headed to Tufts University next season, and Salvadore has verbally committed to Boston College –- led Big Blue to an 8-6 regular season record and a second straight Central New England Prep School Baseball League (CNEPSBL) title. Last weekend in Worcester, Mass., PA defeated Deerfield Academy in the semis and Worcester Academy in the finals for the crown.
[+] Enlarge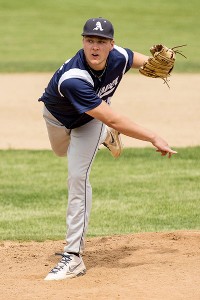 Karen Leavitt for ESPNBoston.comTufts commit Rory Ziomek, younger brother of former Amherst southpaw Kevin, distinguishes himself with his demeanor on the mound.
"Rory's been with us for three seasons now, and he's like an old pro," said fifth-year head coach Kevin Graber when asked to breakdown his three hurlers. "He understands every facet of this program and how we pitch. Superko is equally experienced, but it's his first year (here). Sal is young, has a year under his belt and he's kind of a phenom. He's still got two years of high school; he throws really hard (and) competes like you wouldn't believe. They all bring a little different piece to the equation.
"I have to think ... this is the strongest pitching staff we've had in recent memory."
In Ziomek, a 6-foot-4-inch, 210-pound, Amherst native, Graber has what he describes as "John Wayne because he's like the gunslinger at the OK Corral. He just stands on the rubber, looks at you over the top of his glove and you know you're gonna get his best."
Heading into the season finale this Saturday against Phillips Exeter Academy, Ziomek has pitched 37.1 innings and posted a 1.50 ERA and 52 strikeouts. His last two regular season starts were back-to-back complete game shutouts, including a one-hitter with 12 strikeouts versus Tabor Academy to clinch a playoff berth.
Ziomek's arsenal features mid-80s four-seam and two-seam fastballs, a slider in the mid-70's and a changeup around 70 mph. But his on-mound demeanor –- best summed up as fierce and intense –- is what distinguishes him from Superko and Sal.
"He knows what pitch to throw and when and where," said senior catcher Harry Roche after describing Ziomek as magical. "He will hit you in your weak spot whenever he feels it's necessary to hit you there. And he'll make sure you end up grounding out if he wants you to or striking out if he wants."
In three years at PA, Ziomek's evolved from a thrower to a pitcher. And when he takes the mound for Tufts next spring, he will do so as the second person in his family currently pitching in college. Older brother, Kevin, a lefthander, is a junior at Vanderbilt University who this season has racked up two SEC Pitcher of the Week awards, 10 wins and a 1.99 ERA.
Superko also understands how to pitch, but according to the lefty tends to rely more on his curve. With only one season at PA, the Wellesley product developed most of his pitching acumen at Wellesley High in the Bay State Conference.
"Polished," said Graber when asked what differentiates Superko. "When he came to me he knew how to pitch."
The 6-foot-2-inch, 170-pound post grad throws a mid-80's fastball, a curveball he acknowledges as his 'out pitch' and "lots of changeups to right-handed hitters to keep them off-balance." It's been a successful recipe. Over 26 innings he has a 2.42 ERA and has held opponents to a .170 batting average.
"I'm competitive," Superko said. "Once I get on the mound I'm kind of in the zone. People will be like, 'Did you hear me cheering for you?' or something. I'm like, 'Nah, I was pitching. I can't hear anything.'"
It's this mindset which led his fellow starters to label him as both calm and tenacious.
"Superko's really good at mixing up his pitches," said Roche, a day student from Andover who plans to walk on at Villanova University. "You never know what's coming. I was hitting off him the other day and he was throwing a curveball when I wasn't expecting it. And his changeup, it's the best on the team in my opinion."
The triumvirate's youngster, Sal, has the potential to not only excel at Boston College but perhaps beyond.
[+] Enlarge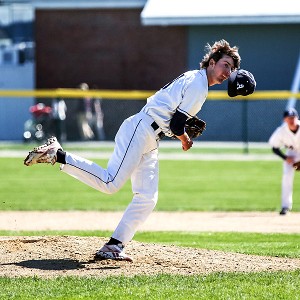 Karen Leavitt for ESPNBoston.comPhilips Andover head coach Kevin Graber believes sophomore righthander and Boston College commit Tim Salvadore is potentially "a future Major Leaguer."
"Future Major Leaguer," said Graber of his sophomore stud from Holliston. "I work in scouting and I have a background in professional baseball. I believe in my heart that he will play in the Major Leagues."
In his second season at PA, the fiery and vocal 6-foot-3-inch, 180-pound hurler pitched 29.2 innings and led the staff with a 1.18 ERA and 4-0 record.
"I look to get ahead in the counts and get quick outs," Sal said. "That allows me to go deep in the ballgames. I feel like I can rely on a fastball/slider combination."
His four-seam fastball tops out at 90 mph, and is complimented by a sinker in the high-80s and a high-70s slider and changeup. This combination has made Sal the staff's most dominant arm and one that oftentimes leaves batters feeling uneasy.
"I would say he's wild," Superko said. "But that has a negative connotation when you're pitching. He's composed while being wild to the point of making hitters uncomfortable."
Sal boasts the deepest baseball roots. His father pitched in college for Worcester Polytechnic Institute, and his grandfather was drafted by the Montreal Expos.
Big Blue's 2013 campaign was built around three players who, at times, carried the team. Each played a pivotal role, especially during the two playoff games, in giving PA its 10th CNEPSBL title since 1988.
"Sal is a huge reason why we were able to come out on top on Saturday," Graber said. "He got the start in the semis against Deerfield and was amazing, with just one earned run in five complete innings.
"Rory came in on two days rest and pitched the sixth and seventh to close out the semifinals win."
And Superko pitched a complete game six hitter with seven strikeouts to secure the finals victory over Worcester.
Both Sal, who was named First-Team All-Central New England, and Rory, who was awarded the Central New England MVP, were individually recognized.
But their legacy along -– along with Superko –- will not be based on awards or championships. Instead it will be in their impact on future PA pitching recruits, the stories teammates will recall once their playing days are past and the cohesion with which they carried themselves.
"I think it just continues the idea that every year Andover strongly emphasizes their pitching staff," Ziomek responded when asked about their legacy. "Every year I've been here it's gotten better. I think this will help (Coach Graber) and the rest of the team (recruit) new talent, younger kids, that he can work through the ranks."
"When I caught Rory during his one-hitter against Exeter," Roche said. "I went up to him afterwards and said, 'Rory, you gave me one of the best feelings multiple times in this game.' That feeling was striking out a kid looking to end an inning, tossing the ball back to the mound (and seeing) the kid would just stare there and look at it come in."
"One of the conversations I had with them early was that you have to foster the notion that you're a team within a team," Graber said. "When you guys condition, you condition together. When you long toss, you long toss together. When you do flat ground work, you do flat ground work together. When we watch video, we watch video together. You guys need to support each other even when you're not on the mound.
"And they have totally bought into that and (that's why) they're a true pitching staff."
ISL BASEBALL: SENIOR ROUND UP
A quick look at a few of the top seniors who will be playing collegiately next season:
Brendon Canavan (Middlesex School):
Playing this season with a torn ACL suffered during an ISL ski race this winter, the 6-foot-1-inch, 180-pound catcher has been relegated to first base. But the team captain's hitting has not suffered. Canavan is batting .424 with a .548 OBP through 12 games, and also providing the tone-setting leadership that, according to his coach, John Morrissey, has led to solid team chemistry.
Next year, Canavan, who lives in Carlisle, will suit up for Bates College, a decision he based on a number of factors, including the chance to play for coach Mike Leonard, a former Red Sox catcher. With two surgeries scheduled this summer –- one on his knee and the other on his right rotator cuff –- Canavan's focused on improving his position flexibility.
"I'm working on my versatility since I can't play catcher this year," Canavan said. "When I get (to Bates) next year (Coach Leonard) will have a senior catcher. So he was talking more about if (I'll be) ready to play with my knee and shoulder and also trying first base, right field, left field...another position where I could play to get my bat into the lineup."
Cameron DiSarcina (Groton School):
Through 12 games, the 5-foot-11-inch, 135-pound shortstop, who bats lefty and throws righty, has 18 hits in 36 plate appearances with 11 RBI. Coached by his father, Glenn, a former minor leaguer, and nephew to Gary, a 12-year major league shortstop, Cameron comes from strong baseball lineage.
But when the Shirley resident opted to play for Merrimack College next fall, it wasn't a decision based solely on baseball. In Merrimack, DiSarcina found a great fit with its strong engineering department, close geographic proximity and solid baseball program. Plus, he'll have the chance to play immediately.
"My Dad got recruited to Division 1 (UMass) and all that stuff," DiSarcina said. "But he told me that it's not about going to play D1. It's about finding the place where you're going to be the happiest on and off the field."
This summer he'll hone his game -– including expanding his inside plate coverage, adding more muscle and developing as an outfielder –- as a member of the Chelmsford Legion.
And when he finally pulls on the Warriors' uniform next spring, his father will be there to watch.
"It's going to be nice to see him play for the next four years," Glenn admitted.
Trevor Holmes (Governor's Academy):
Arguably the ISL's most feared hitter Holmes leads the league with four homeruns, while also batting .462 with 15 RBI through 12 games.
The 6-foot-1-inch, 215-pound catcher is described by his coach, Mike Kinnealey, as possessing tremendous bat speed and power, a dynamic arm and the mental makeup to thrive in the most stressful game situations. It was this combination of attributes which captured the University of Connecticut's interest and earned Holmes a baseball scholarship.
In addition to catching this season, the two-year captain has also joined Governor's pitching staff. Over 21 innings, he's posted a 1.67 ERA with 26 strikeouts and six walks. His success has opened the possibility of pitching and/or catching for the Huskies.
"I used to pitch back in middle school," Holmes said, "But I came in here and the opportunity arose for me to be a catcher. I threw off the hill once last summer, and my summer coach liked what he saw so he put me on the mound and exposed me a little bit. It took off from there."
This summer Holmes will again play for North East Baseball, before leaving his hometown of Ashburnham for the Storrs, Conn. campus and summer classes on July 11.
May, 19, 2013
5/19/13
2:20
AM ET
By
John McGuirk
| ESPNBoston.com
WORCESTER, Mass. -- Up until this past week, there was no guarantee that Phillips Academy-Andover would be grab a spot in Central New England Prep School Baseball League (CNEPSBL)/Thomas Blackburn Championship Tournament. Having won the title a year ago, the Big Blue struggled this season and needed to beat Tabor Academy on Wednesday to qualify. On the strength of pitcher Rory Ziomek, Phillips Academy cruised to a 5-0 triumph to earn the bid.
With the pressure off, the Big Blue walked into Assumption College's Rocheleau Field on Saturday with a "nothing to lose" attitude. That mindset certainly paid off as the fourth-seeded Big Blue defeated top seed Deerfield Academy, 10-7, in the semifinal round before knocking off No. 2 seed Worcester Academy, 12-8, in the afternoon in the title tilt.
"This is our second championship in a row but this is a much-different team than last year," fifth-year Phillips Andover head coach Kevin Graber said. "Last year's team was very dominant. This year we had to scratch and scrap and faced a lot of adversity along the way.
"Our pitching carried us into this tournament and our depth manifested itself and we were able to get our offense to catch up in the end. My philosophy has always been for us to be playing our best baseball at the end of the season, especially in a end-of-the-year tournament. We did that this year."
On the strength of 10 hits and a multitude of wildness by the Hilltoppers' pitching corps, the Big Blue (10-6) led late, 12-4. In hindsight, they were fortunate to construct such a cushion because Worcester (19-11), which blanked Phillips Exeter in its semifinal matchup, decided to make things a bit more interesting late.
Phillips Andover jumped out to a 2-0 lead in the second inning after Hilltopper starter Nick Johnson served up four consecutive walks. A double-play later in the frame led to the Big Blue's second run.
[+] Enlarge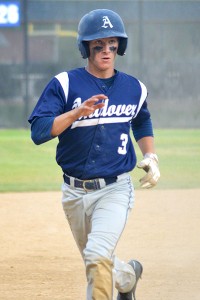 Brendan Hall/ESPNFreshman John Simourian went 5 for 7 in the championship game with 4 RBI to lift Philips Andover to its second straight CNEPSBL title
In the bottom of the inning, Worcester Academy cut the deficit to one after junior John Marculitis (3-for-4) tripled and later came home on Jessey Valdez's fly out. In the fourth, the Hilltoppers took a 3-2 lead thanks to Marculitis' two-run double. But the tide of momentum would quickly change over to the Big Blue side in the fifth. Johnson opened the frame by allowing a single and plunking the next two Phillips Andover batters to load the bases.
For the game, three Hilltopper combined to hit eight Big Blue batters. Hilltoppers head coach Dana Forsberg made the decision to pull Johnson in favor of Nick Economos. But the lanky right-hander walked John Festa to force in a run and knot the game 3-3. A passed ball ensued to plate Phillips Andover's fourth run. Harry Roche then lined a single to right for another run and push the lead to 5-2.
The Big Blue weren't done. Later in the inning they loaded the bases before Forsberg summond Greg Hemmer to the mound. But Hemmer was immediately greeted by a John Simourian a two-run single pushing Phillips Andover's advantage to 7-3. Simourian, a freshman transfer from Belmont Hill, finished 5-for-7 at the plate on the day and also drove in four runs.
"I'm just glad we came out with the win," said the Big Blue catcher. "As it showed today, everybody is a fighter on this team. There isn't one guy who wouldn't lay everything he has down for the sake of the team. I think that's what led to another championship for us."
After Worcester Academy got a run back in the fifth, the Big Blue responded with four more uns in the sixth highlighted by Joey Verhaegh's two-run double. In the seventh, back-to-back doubles from Chris Hohlstein and Connor Farrell increased the Big Blue's lead to eight runs.
To the Hilltoppers credit, they didn't go down without a fight in their final at-bats. Three errors sandwiched around a Marculitis RBI single pulled them to within four runs. But Phillips Andover and future Tufts University pitcher Tim Superko (CG, 6 hits, 7 Ks) worked through the circus-like atmosphere of the inning to nail down the victory, giving the Big Blue their 10th CNEPSBL crown since 1988.
"This is probably the most-talented team that I have ever had here," said Forsberg, who last won a title in 2011. "The kids played hard. When you are down big like that it is easy to fold but that never happened. These kids never stopped believing. We preach to our pitchers that you have to throw strikes.
"If you don't throw strikes and put people on those runs are going to cross and that bit us today. This was a special team and the toughest team that I've ever coached. They love the game of baseball. We've got some good kids coming back and some nice ones coming in so we'll be ready for next year."
Semifinals: Stefaniak shines, Dennehy says goodbye
In the day's first game, the Hilltoppers jumped on Phillips Exeter pitcher Hunter Carey for three first inning runs and made it stand due to the mound majesty of Mark Stefaniak. The lefty dominated the Big Red, striking out 15 in the process.
"I just went out tried to throw strikes and get ahead of the hitters," said Stefaniak, who also will pitch for Tufts University next year. "When you get ahead of hitters you have a much-better chance to put them away. That is what I focused on today and tried to stay ahead of their hitters."
After his rough opening frame, Carey settled down and kept Worcester Academy off the board the rest of the way. But it was the first inning that haunted the future Trinity College hurler. The Hilltoppers took a 1-0 lead on consecutive doubles by Anthony Barry and Brad Petitpas. Hemmer followed by blistering a moon shot over the center field fence for a two-run homer. That would prove to be enough run support for Stefaniak who handcuffed the Big Red (11-7) early and often.
"That team came out swinging and were ready to hit from the beginning," said 42-year Phillips Exeter coach Bill Dennehy, who is calling it quits at season's end. "I thought Hunter hung in there after that first inning but their pitcher was just too tough on us today.
"This is my last year and it's been tough to think about. You surprise yourself when you see how fast it goes even after 42 years. I couldn't have had a better job. I've been blessed here. What I'm going to miss most is being around the kids on a day-to-day basis. That was always the biggest thing for me. We've always had great kids here."
In the day's other semifinal, Phillips Andover jumped out to a 6-1 lead and held off a couple of late Big Green (10-3) surges to come away triumphant. The Big Blue put this one away with a five-run third. A two-run double from Farrell and RBIs by David McCullough and Matt Hosman pushed Phillips Andover out to a 6-1 lead. Deerfield Academy shot back in the fifth, scoring four times. Cullen Geary keyed the inning with a two-run single.
In the Big Blue's half of the sixth, they put this game out of reach after scoring three more times on a SAC fly, a fielder's choice and a Simourian double to lead 9-4. Phillips Andover led 10-5 going into the final inning. The Big Green scored a pair in the bottom of the frame on RBIs by Coltan Dana and Conor Quinn failed to draw any closer.
April, 13, 2012
4/13/12
11:41
AM ET
We're back with another installment of "Roundtable", our weekly takes on the hot topics of the spring season. This week, we discuss who is the best boys' lacrosse goalie in the state; which lefthanded pitchers will make the most noise; the state's best slap hitter; and who had the best individual performance of the season's first two weeks.

Joining us this week are correspondent Bruce Lerch, New England Prep Stars founder and editor Ryan Kilian, MassLive.com producer Ben Larsen, and Brockton Enterprise staff writer John Botelho. Without further ado:

1. BETTER GOALIE –- WELLESLEY'S CONNOR DARCEY OR FOXBOROUGH'S GREG STAMATOV?

ESPN Boston High Schools Editor Scott Barboza: That's a tough one. In many regards, they're similar players in that they're both not afraid to step up into the play when its warranted. They're not going to just clear and retreat when the opportunity presents itself. Stamatov had one clearing pass to the midfield during the third quarter against Barnstable that was a thing of beauty. And, of course, we all know that Darcey is capable of scoring when he carries the ball past midfield. This all makes no mention of their ability to stop the ball either. Either way you dice it, they're among the very best in a deep field of MIAA goaltenders along with Duxbury's Henry Buonagurio, Concord-Carlisle's Doug Gouchoe and Billerica's D.J. Smith.

Ryan Kilian, New England Prep Stars: Connor Darcey is the best goalie I have seen in New England Public High School lacrosse over the past two years. Darcey is the real deal. He possesses confidence, quickness, and exceptional hand-eye coordination.

The goalie position in Massachusetts in the Class of 2012 is as strong as it has been in many years. Doug Gouchoe of Concord-Carlisle (Air Force), Greg Stamatov of Foxborogh (Villanova), Jared Fong of Weston (Gettysburg), and Miles McCarthy of Catholic Memorial (Williams) are all exceptional athletes with bright futures at the next level and all have a unique set of skills that they bring to the table.

Darcey is also a born leader and that is an essential trait that all great goalies, like the above mentioned, share.

Bruce Lerch, correspondent: Both players have excelled for their respective teams and made a big splash over the summer participating in the Warrior 40 at Harvard Stadium. Both have also drawn the attention of Division colleges, as Darcey is committed to play for Penn State while Stamatov will take his talents to Villanova. Darcey was a key factor in Wellesey's 16-0 regular season a year ago, while Stamatov helped propel Foxborough to its best season ever by reaching the Division 2 semifinals. Darcey was rated eighth in ESPN High School's national goalie rankings back in February, but even if you have the second pick in this draft, you won't come away disappointed as Stamatov was not too far behind at No. 14.

2. WHAT HAS BEEN THE BEST INDIVIDUAL PERFORMANCE SO FAR?

ESPN Boston High Schools Editor Brendan Hall: I think any time you throw a perfect game at any level, you should be highly commended as such. So here's my kudos to Lynn English's Ben Bowden, who had a clean sheet for the Bulldogs in their 5-0 win over Marblehead. Bowden struck out 14 in the full seven innings, and got some assistance from the infield behind him late to seal the deal. He is an imposing player to watch at 6-foot-4 and 200 pounds, equipped with a high-80's fastball, so it's hardly the last time we'll hear from him.

That said, I'm always impressed when a pitcher goes into the triple-digits in pitch count this early in the season – and even moreso when it's as efficient as Milford's Jarrod Casey was on April 3. In the Scarlet Hawks' season-opening 3-1 win over Westborough, the reigning Mid-Wach A MVP and returning ESPNBoston All-Stater threw 125 pitches and struck out 15 batters; he also belted an inside-the-park, two-run homer to give them all the insurance they needed.

John Botelho, Brockton Enterprise: The Bridgewater-Raynham softball team has shown plenty of early fireworks this season. Senior Audrey Dolloff twirled a four-hitter and struck on eight on opening, all while going 4-for-4 with a pair of homers and four RBI for the Trojans. Freshman Emily Kurkul has homered in all three games so far. Most recently, Dolloff tossed a no-hitter against Durfee, and her performance might not have even been the best one on the field that day for B-R. Sophomore Madison Shaw went 4-for-4 with two homers, a double and seven RBI as the Trojans cruised.

Ryan Kilian: The best individual performance that I have seen on the lacrosse field so far was Westford Academy attack Jay Drapeau scoring six goals and dishing out one assist in a 12-11 opening day win over Billerica. The sophomore scored the game winner in the fourth quarter and was exceptional dodging from X all afternoon. Drapeau also did this against a very formidable defense led by Tommy McLaughlin (UMass) and one of the state's best goalies in DJ Smith (UMass).

Ben Larsen, MassLive.com: It would be hard to top this one. Noah Parker, a terrific talent hidden at St. Mary's of Westfield was perfect in a six-inning game against Pioneer Valley Christian. He threw only 57 pitches, striking out 14. At the plate, he narrowly missed hitting for the cycle, going 3-for-3 with a home run and three RBI.

Bruce Lerch: On the lacrosse fields, several players have produced nine-goal games in the early going. Kobie Sullivan had seven, nine and eight goals in Fairhaven's first three games. On the girls side, Wayland's Amy Cunningham, Amy also struck for nine against Bedford. But my top effort goes to Masconomet's Jake Gillespie, who potted nine in the Chieftans' second game of the year against a BC High defense that includes a pair of Division 1 recruits.

3. A LEFTHANDED STARTER CAN BE INVALUABLE AT THE HIGH SCHOOL LEVEL. WHICH LEFTIES WILL YOU BE WATCHING THE MOST?

Brendan Hall: The Class of 2012 is littered with Division 1-bound lefties, between Oliver Ames' Ryan O'Shea (Central Michigan), East Longmeadow's Steve Moyers (Rhode Island), Pentucket's Alex Ministeri (Coastal Carolina), Auburn's Connor Fuller (Fordham), Xaverian's Tim Duggan (Fairfield) and Acton-Boxborough's Ryan McDonald (Bryant). One we might be adding to that list in a year's time is Wellesley senior Tim Superko.

Superko is already off to a great start in 2012, with wins in his first two starts in dominant fashion -- 23 strikeouts in 12 innings, an ERA of 0.75, a strikeout-to-walk ratio of nearly four, and a strike percentage of 67. I'm obviously working with a stat system pretty sophisticated for the high school level, but I can assure you Superko could care less. He's a competitor, unafraid to challenge hitters in the middle of the order, but also very coachable. Raiders coach Rob Kane raves about Superko's curveball, and he sets it up well with his heat. From the plate, he's not that bad either; so far he's hitting .500/.562/.786 with five RBI, two triples, seven runs and three stolen bases.

Superko is heading to Philips Andover for a post-graduate year next season. I expect him to have a Division 1 scholarship offer in his lap by this summer's end.

I'd also keep an eye on the aforementioned Ben Bowden from Lynn English. He's got an ideal power pitcher's frame, and if the reports about him topping out at 89 miles per hour in his perfect game are true, then he has a chance to rise quickly on the radar. But to be a reliable starter at this level, you need a quality changeup, and Bowden's is pretty nice.

Boston Latin sophomore Pat Naughton is certainly another one to look out for over the next two years. He fanned 17 Wayland batters in an outing last year as a freshman, and is already off to a good start this year with 14 K's in the Wolfpack's season-opening win over Latin Academy. Also keep an eye on Reading junior Scott Tully, who committed to Notre Dame last February, as well as Malden Catholic junior Joe Velozo.

John Botelho: One of the best lefties in the state hasn't even thrown a pitch yet. Oliver Ames' Ryan O'Shea, a 6-foot-3 southpaw already signed on to play at Central Michigan next year, will take to the mound for the first time next week. Hall of Fame coach Leo Duggan aired on the side of caution as O'Shea was battling shoulder soreness. He has a chance to come back and be the best pitcher on an O-A team that has still gone 3-0 without him in the lineup.

Brockton's Joe Sever has a live arm and features impressive off-speed stuff. The ace of the Boxers' staff this year, he has a chance to catch a lot of eyes with the schedules Bill Maloney's squad plays.

Bridgewater-Raynham features a pair of hard-throwing lefties who should cause problems for hitters throughout the regular season. Senior captains Pat Chalmers and Shane Holmes have more varsity experience than many of the guys they'll square off against this year - Chalmers was pitching on varsity at B-R as a sophomore and Holmes spent his freshman and sophomore years on the varsity squad at East Bridgewater before transferring to B-R as a junior. Chalmers took a no decision in his first start, but struck out nine in 5 2/3 innings. Holmes picked up the first win for the Trojans, a complete-game two-hit 12-strikeout performance against Milton.

Ben Larsen: Undoubtedly, Steve Moyers is the guy to follow. He has been unbelievable in his first three years as the ace of the East Longmeadow rotation and he's hoping to reach the 30-win plateau for his career, which is no small feat in the short Massachusetts season. That said, Michael Walkowicz of Amherst has been the Cy Young in the early going. In two starts, he has a 17-strikeout, one-hitter and 12 Ks in a loss to Northampton.

Bruce Lerch: I find myself greatly intrigued by the seemingly rubber of Franklin southpaw Tyler Buck. As a junior, Buck tossed multiple gems during the Panthers run to the Div. 1 state championship game, including a 166-pitch effort to upset BC High in last year's D1 South semifinals. After starring for Franklin's Legion team over the summer, I'm interested to see how far the Panthers ace can take them once again.

4. WHAT WILL BE THE MOST COMPETITIVE LEAGUE IN GIRLS' LACROSSE THIS YEAR?

Brendan Hall: I'm going with the Dual County League. Four members of the 10-team league currently sit in our MIAA Top 25 poll, including No. 1 Lincoln-Sudbury. And we're not even including Acton-Boxborough, which began the season as our preseason No. 10 before dropping to 0-5. Talk about a misnomer -- the Colonials' five losses are to No. 1 L-S, No. 5 Needham, No. 6 Notre Dame (Hingham), No. 17 King Philip, and No. 23 Walpole. Also throw in unranked Wayland, which has one of the state's best goalies in Quinnipiac-bound senior Rachel Massicotte.

Let's now throw in the DCL's other three currently-ranked teams -- Concord-Carlisle, Weston and Westford -- and we're talking six teams that can be troublesome. I expect L-S to rise above it all, but the rest of the way down may or may not be a crap shoot.

Bruce Lerch: While most league's across the state in girls lacrosse are fairly top-heavy, I would say that top to bottom, the Middlesex League's large division may have the largest number of competitive teams as all five made the playoffs in 2011. Winchester is annually among the state's top programs and is among the favorites to challenge for the Div. 2 crown once again. Reading went 15-5 before running into state finalist Lincoln-Sudbury. Lexington is a perennial tourney team who, aside from last season, routinely rolls up 15-plus wins a year. Belmont also won 15 games in 2011, and Woburn qualified for the postseason as well. As of the time I am writing this, the five teams hold a combined record of 8-0-1 through the first two weeks of the season.

Ben Larsen: The Valley Wheel in Western Mass. is off to a strong start with no team worse than 2-0, including Agawam on top with four wins already. Perennial power Longmeadow and last year's upstart Minnechaug are bound to contend with powerful Agawam in this loaded league but don't count out East Longmeadow and South Hadley from at least making some noise.

5. YOU CAN NEVER HAVE ENOUGH SLAP HITTERS. WHO ARE THE ONES TO PAY ATTENTION TO?

Scott Barboza: I'm looking no further than Mansfield's Bri Chiusano. The Coastal Carolina signee is the most dynamic lead-off hitter in the state and, as she showed earlier this week against King Philip, she also has some pop in the bat while taking a full swing. You have to take pause and applaud anybody who can launch a home run off of Meghan Rico after all.

Bruce Lerch: Bri Chiusano of Mansfield, who showed Tuesday that she can do a bit more than slap by cranking a three-run homer off of King Philip ace and reigning Miss Softball Meghan Rico. A four-year player for the Hornets manning centerfield and batting at the top of the lineup, Chiusano makes life miserable for opposing pitchers with her quick hands and tremendous speed and has an uncanny ability to survey how the defense is playing her and place the ball accordingly. The senior was named to ESPN Boston's preseason All-State team and will play for Coastal Carolina next year.

Ben Larsen: Typically a speedy singles hitter who uses his speed to get on and wreak havoc on the basepaths, Westfield's Billy Smith got into the power game Monday, blasting a three-run homer in the Bombers' rout of Belchertown. Smith, who also served as the Westfield football team's quarterback this past season, has started out slow but is undoubtedly a player to watch moving forward.

6. WHAT'S BEEN THE MOST SURPRISING UPSET OF THE FIRST TWO WEEKS OF THE SEASON?

Brendan Hall: My brethren on the Cape will call me Captain Hindsight with this one, but maybe Dennis-Yarmouth baseball is better than we've given them credit for after knocking off Plymouth North 8-2 on Wednesday. I think it was universally agreed that North, routinely one of the best hitting teams in Division 2, would be the favorite again in the South region even after losing key bats like Matt Walsh. But maybe D-Y should get more notice, with talented players like Matt Montalto, Matt Peterson and Miles Tuohy-Bedford. The Dolphins (2-1) got off to a hot start last season, including coach Paul Funk's 100th win, before coming back to Earth. Can they keep the hot start going this year?

Scott Barboza: If I told you I'd called Reading boys' lacrosse's overtime win over Westford Academy, I'd be lying. The Grey Ghosts entered this season with a lot of attention, particularly with the addition of Alex Eaton, in an already loaded Dual County League and the No. 6 ranking in our preseason Top 25 poll. Meanwhile, Reading was tough to read coming in because the Rockets lost some key cogs from last year's squad. What the Rockets did is prove that they should again challenge for the Middlesex League title.

Bruce Lerch: In boys lacrosse, certainly the most eye-opening result of the early season came when Melrose upset Lexington, 11-6. This is just the fourth year of the Red Raiders program, and in their first three years Melrose went a combined 9-44. Meanwhile, Lexington is an annual state championship and Middlesex League contender and reached the postseason in each of the three years since Melrose started its team. It was certainly a program defining victory for the Red Raiders.